It was a sensation in 2016. A multi-purpose waterproof metal detector for standard and under water treasure hunting (up to 100 feet/3 meters deep). The operation frequency of the device is 13,8 kHz, it has 20-tone audio identification plus lots of useful options.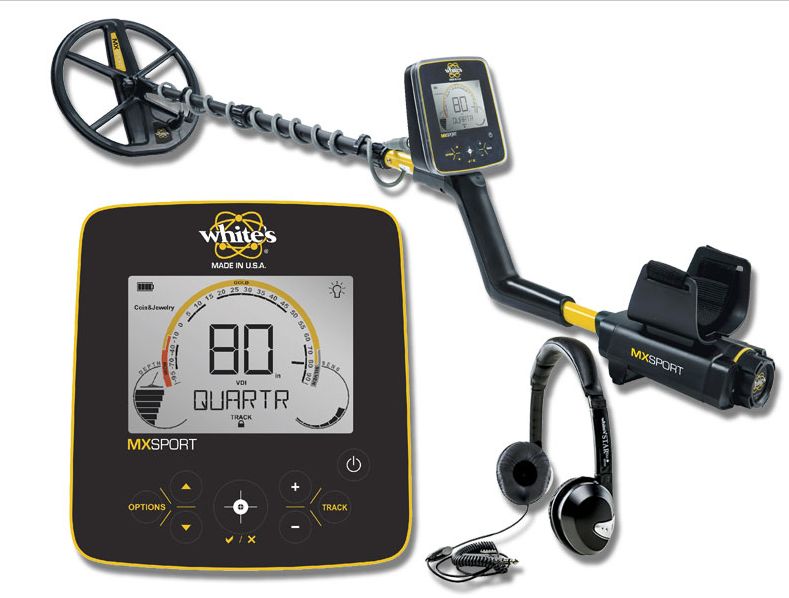 The manufacturer has endeavored to implement modern technologies in this MD design. For example, the device has an extremely powerful processor MX Sport that ensures high recovery speed and search depth both for large and small targets.
The latter is a huge competitive advantage over other metal detector models such as E-trac and CTX 3030.

Unlike MX Sport they have quite old-fashioned processors and 28 operation frequencies as well. White's MX Sport uses 13,9 kHz operation frequency, i.e. the device deals rather well with large and average sized targets (coins), however, it can also find some smaller targets like jewelry when hunting at the beach.
In general, I prefer metal detectors with several operation frequencies, but let's keep in mind that such MDs cost from 2 to 3 times more.
This metal detector can be put under water up to 10 feet deep. As for the device waterproofness, I'd give 10 out of 10.
All its components and units are perfectly protected from any water ingress, all of them are well-designed.
| | |
| --- | --- |
| Model | White's MX Sport |
| Weight | 4 lbs |
| Length (Adjustable) | 41″ – 50″ |
| Batteries | 8 AA |
| Headphones | Included |
| Warranty | 2 years |
| Operating Principle | VLF |
| Standard Searchcoil | 10″ DD |
| Operating Frequencies (kHz) | 13,9 |
| Water resistance | Waterproof |
| Submersion Depth | up to 10 feets |
| Ground Balance | Manual, Auto |
| Search Modes | 6 (All Metal, Coins & Jewelry, Beach, Relics, Prospecting, Hi-Trash) |
| Audio Threshold | No |
| Electronic Pinpointing | Yes |
| VDI (0 to 99 scale) | Yes |
| Build-in flashlight | Yes |
Ground balance can be adjusted both manually and automatically. It has become current practice to include this option for all modern metal detectors.
White's MX Sport has 10″ DD coil. This is the most multifunctional coil diameter, though you can use some additional coils as well.
The device is excellently balanced. This is important, since the MD weighs 4 pounds (1800 grams). Therefore, the device's perfect balance is exactly what allows neutralizing its weight.
Another feature of this MD is its high recovery speed. It means that MX Sport defines targets located close to each other more precisely. This important function is indeed useful when you go treasure hunting in sites with high level of litter.
MX Sport has a wide range of sound identification of target. You can turn on one-tone, two-tone, 4-tone, 8-tone and 20-tone acoustic mode. At one-tone mode all targets provide the same sound response, but at 20-tone mode each discrimination segment has its own response sound.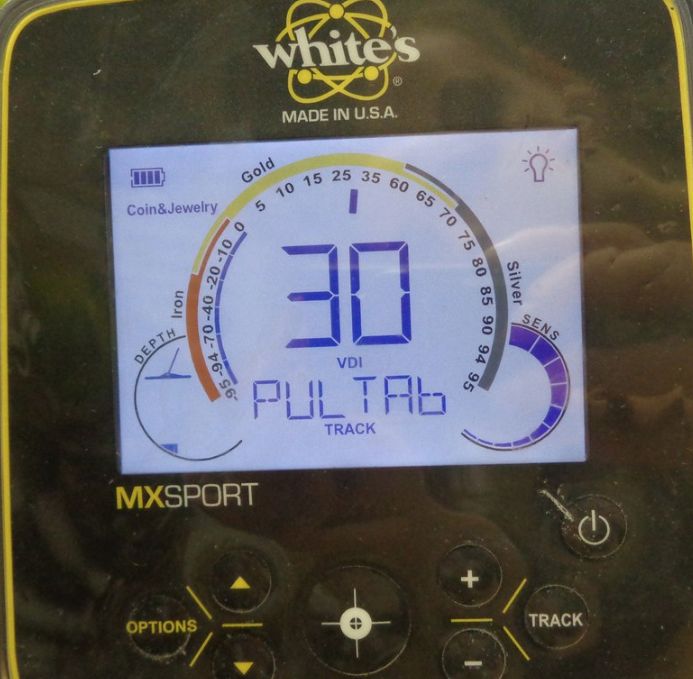 At 4-tone identification mode iron target will produce the lowest sound, foil and metal corks sound a bit higher, nickel coins sound higher than foil and corks, though the highest sound will be produced by non-ferrous coins (silver and gold ones).
I assume that 20-tone identification mode will do for users with good ear for music, therefore I prefer 6-8 tone mode – this is quite enough to identify the most common metals.
Besides the MD has VCO function, which provides signal amplification and fidelity when the device's coil gets closer to a target. When the coil moves aside from the target the signal becomes weaker; correspondingly, the signal becomes clear and loud when the coil is directly above the target center.
Salt Track function enables defining the ground salinity and this way ensures proper ground balance when hunting at wet salt water sand.
Rejection Volume
Another really useful feature of White's MX Sport metal detector is Rejection Volume function. It is responsible for turning up/down signals from ignored targets (closed by means of discrimination).
This means that the user can stop hearing the discriminated objects at his discretion or set the response signal sound on the level that differs from valuable targets response volume.
For example, it may be 20% of valuable targets response volume. Thus, the user clearly sees between rubbish and valuable targets without losing general view of the search process.
A small shift of operation frequency is possible, which is quite helpful in case if some electric noise occurs.
Pros
The price
Waterproofness and ability to search under water
High speed processor
Good target determination
6 search modes
Illumination
VCO function
Cons
The device weight
One operation frequency
8 batteries
Summary
It is rather interesting metal detector for those who need a multipurpose one to go treasure hunting under water and on firm ground.
It has very few significant demerits – just its weight and only one operation frequency, but on the other hand it costs times less than MDs with several operation frequencies.
However, it can be put under water, but as for the top MD models, only 3030 can do this (it is incredibly high priced as well).