Metal detector Minelab X-Terra Pro is a 2023 novelty introduced by Minelab in the IWA exhibition in Germany. X-Terra Pro model is a modern, updated version of the legendary X-Terra series currently discontinued that was quite popular in the past.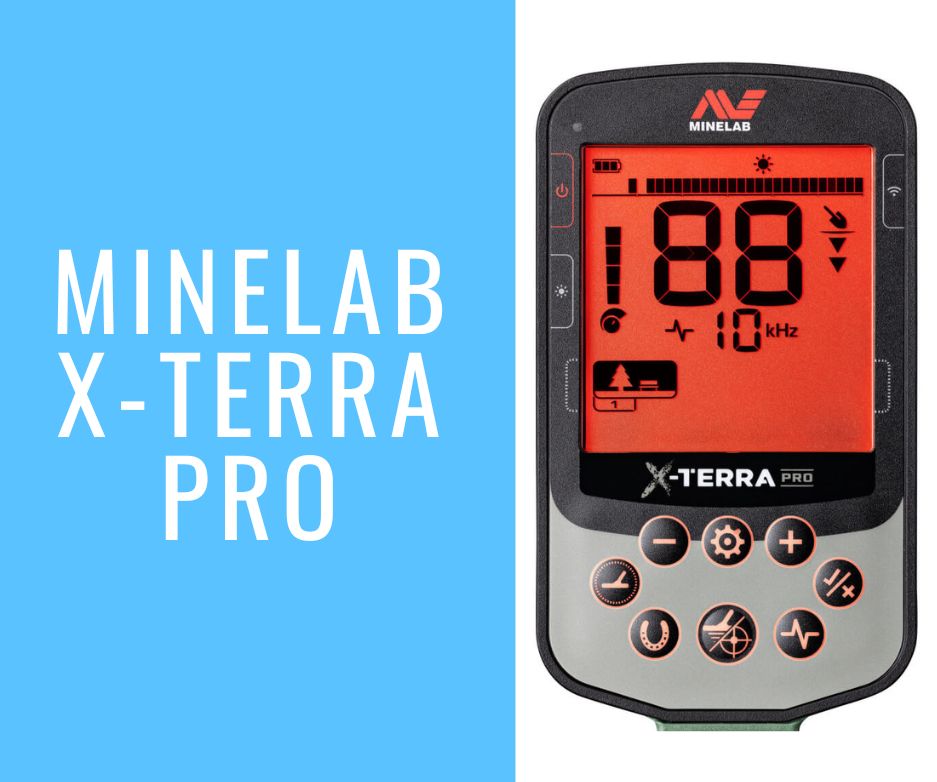 Nevertheless, it has little in common with the previous models. It is more like a simplified Equinox model. The metal detector does have quite much in common with Equinox. For example, all Equinox search coils will work for X-Terra Pro, plus the devices look the same.
X-TERRA PRO TECH SPECS
| | |
| --- | --- |
| All-Metal Shortcut | Yes |
| Custom Search Profiles | 6 |
| Ground Balance | Auto, Manual, Tracking |
| Noise Cancel | Auto (19 Channels) |
| Operating Frequencies (kHz) | Park and Field: 5, 10, 15 | Beach: 8 |
| Search Modes | Park, Field, Beach |
| Sensitivity | 1 to 25 |
| Target Identification (TID) | 119 segment notch discrimination: Ferrous: -19 to 0 I Non-ferrous: 1 to 99 |
| Target Tones | l, 2, 5, All Tones (At), Depth (dP) |
| Target Volume | 0 to 25 |
| Threshold Level | 0 to 25 |
| Threshold Pitch | Fixed |
| Tone Break | Ferrous (FE) |
Minelab X-Terra Pro metal detector uses 5, 10, 15 kHz operation frequencies and 8 kHz for gold nuggets search mode. It doesn't have multi-frequency technology, Multi IQ. The device has an IP68 protection level, and it can be submerged up to 5 meters deep. The device package set includes a 12х9 inch search coil. Also, there you can find a magnetic charging cable and a manual.
Minelab X-Terra Pro Waterproof Metal Detector Bundle with Case and Pro-Find 35 Pinpointer…
Bundle Includes: Minelab X-Terra Pro Waterproof, Simple to Use, Light, and…
Fully Waterproof: With a waterproof control pod and coils to 5 m, take X-Terra…
Beach Performance: The X-Terra Pro by Minelab dominates at the beach and a…
Light and Compact: Comprising lightweight 3-piece shafts, X-Terra Pro weighs…
Simple to Use: A large LCD and intuitive user interface make it easy for…
Last update on 2023-09-30 / Affiliate links / Images from Amazon Product Advertising API
If needed, you can additionally get a power adapter cable to charge the device in a car and headphones adaptor from 6,35 to 3,5 mm, three types of headsets (one is for underwater search and the other is wireless); plus two DD-coils (8х5 inch and 10х7 inch, waterproof up to 5 m deep).
Minelab X-Terra Pro has three search modes "Park," "Field," and "Beach." It uses Pro Switch technology with an operation frequency setting.