American manufacturer Quest Metal Detectors has produced a new pinpointer with a metals discrimination function. Quest XPointer Max is completely waterproof, and it has an illuminated display, internal battery; and can also see between ferrous and non-ferrous metals.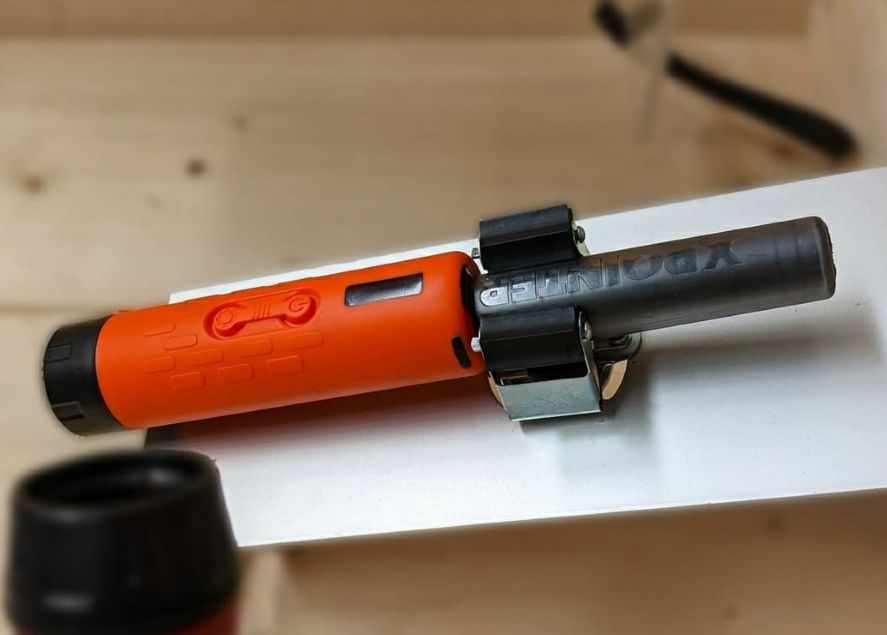 Review
Quest XPointer MAX has a new design. Its bright orange body contrasts with grass and ground, and besides, it is easily seen under water.
For convenient control, it has a small illuminated display to see if a detected object is a ferrous or non-ferrous metal. You can see a scale in the display that grows as you approach the target (also, the intensity of sound signals raises).
Except that, on display, you can see the mode the pinpointer is currently using (no more problems when using the device in the dark).
| | |
| --- | --- |
| Operating Principle | VLF |
| Operating Frequency | 9.5 kHz |
| Waterproof | 16 ft / 5m |
| Detection Modes | Audio, Vibration, LED Beam Lights |
| Sensitivity | 4 Levels, LED flashlight, Re-tune (Once power on) |
| Length | 3.8 x 24 cm |
| Weight | 400 gr |
| Battery | 1000 mAh Li-Po Rechargeable Battery |
| Indicators | Battery Status, Lost Alarm |
| Warranty | 2 years |
Last update on 2023-09-30 / Affiliate links / Images from Amazon Product Advertising API
Discrimination
The main advantage of Quest Xpointer MAX, compared with its rivals, is the metal discrimination function, which means defining ferrous and non-ferrous ones. Not every pinpointer has such a function that very often significantly helps during metal detecting.
Waterproofness
The pinpointer waterproofness is up to 5 meters or 16 ft deep. For a fully-featured treasure hunting, this isn't too much, although most of the finds are detected less than 5 meters deep. However, this isn't just protection from water ingress. Also, you get the highest protection level from dust, dirt, temperature gradients.
Accumulator
It has no batteries. It has a 1000 mAh internal battery with a USB Type-C charger. This should be enough for 14 hours of continuous operation.
Modes
XPointer Max has three modes: sound, vibration, and sound plus vibration simultaneously. You can control these modes using the second pinpointer button.
Besides, you can adjust 4 sensitivity levels for each mode – low, middle, high, and boost. To switch between these sensitivity levels, you should press and hold the 1st button and push the 2nd one.
Sound volume is adjusted easily. You should press the 2nd button and hold it for 5 seconds. Five levels are available.
Last update on 2023-10-01 / Affiliate links / Images from Amazon Product Advertising API
Sound
XPointer Max has an internal speaker mounted in the cap of the battery unit, due to which you can hear any signal clearly. If you remove the battery unit cap, you'll see that the speaker is connected to a 3.5 mm jack. This is a controversial but unusual idea, which has never been used in any other pinpointer design. When removing the cap, you can connect the pinpointer directly to wired headphones.
The pinpointer has two tones and two LEDs on its body. The high tone is used for non-ferrous targets, and when detecting these, a green LED is on. Low tone and red LED are used for ferrous targets. The information about the metal type is displayed on the screen.