Our current review contains the most essential information about the best pinpointers made by the most famous brands. The article will save your time and money since you'll be able to select the pinpointer that meets your specific requirements and search conditions. There is a wide range of devices on the market. About two dozens of various pinpointers that make detectorists life easier can be found there.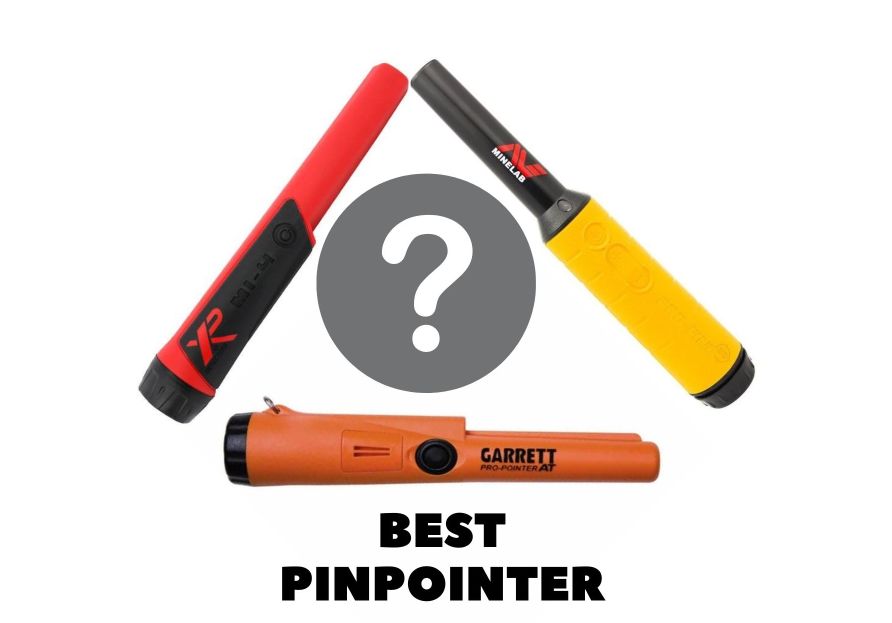 What is a pinpointer for?
First of all, let's get it clear with the term. There are two things which are called pinpointers.
The first one is a metal detector mode that activates when a user pushes a button. The device starts emitting a signal that gets stronger as the metal detector approaches the target.
The second one is a device aimed to perform the same task – to help the user find the target. The difference is that this device does it efficiently and with high precision, unlike the metal detector pinpointer mode.
Why?
Challenges in small-sized targets localization is a well-known issue of modern metal detectors equipped with DD (Double D) search coils.
Alongside with all the DD scheme advantages, it has one bottleneck. It is an imprecise detection of the target center. Such inaccurate identification puzzles the user who is not ready to do it just by means of the search coil.
Let's imagine: a metal detector has captured a target, and you, with the help of pinpointer mode, detect its center and dig out a clod of earth. Then you have to check the hole (if the target is still there or there is one more target there) and check the clod if the target is there.
Then you should either check the hole or divide the clod into pieces and wave with each of them near the metal detector coil.
This is the case when you'll need a pinpointer as a device. Just push the button to turn on the device, it'd take a second, but then it saves your time and efforts as well as prevents your findings from damaging.
If the target is still in the hole, using the pinpointer, you can define: if you should dig it deeper or dig one of its walls. If you have already dug the coil out and it is somewhere inside the clod of earth, things are much easier in this case. You move it several times and see where the target is and break the clod.
As for the methodology of using the device, it's not rocket science. You'll quickly get used to it.
Searching for small-sized targets without a pinpointer is a rather challenging task, which requires loads of time and effort.
As for the beach hunting, it is quite difficult to dig there without a pinpointer, since the area is trashy as usual and dry sand always slides into the hole.
So, what are the advantages that a pinpointer can give you?
The device saves time sufficiently. It reduces the time you spend searching the target by folds, which means that you can get more findings at the same time.
It decreases the number of efforts spent. Without using a pinpointer, you'll spend quite a lot of time to make the hole wider and deeper. When you use the device, you just see where the target is, which quite often helps to take it from the ground with one move.
It gives the possibility to go treasure hunting at night time. Almost all models of the device are equipped with LED flashlight. It allows continuing digging even after the sun goes down. Also, the flashlight helps to find the target in the hole quickly.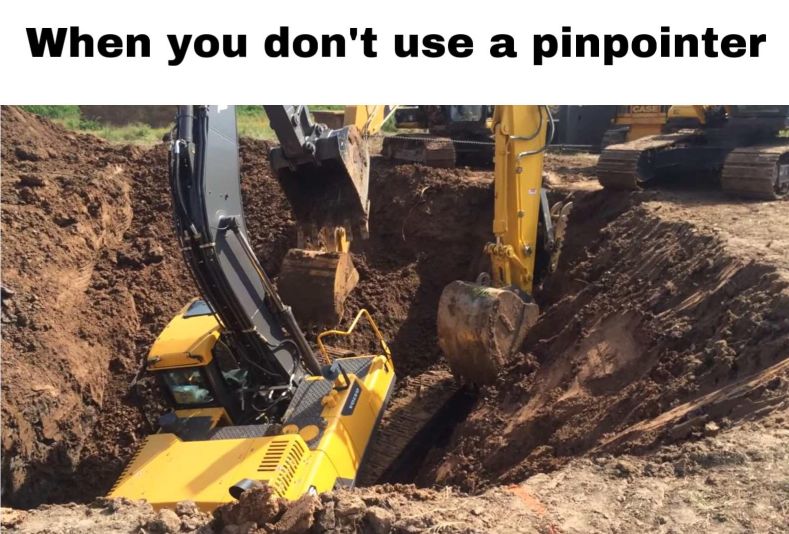 How to use a pinpointer properly?
Although quality pinpointers have 3600 sensitivity area, maximum detection depth can be obtained only on top of the device. Thus, this means you should move with the tip of the device nose around the hole walls, not with its lateral sides.
Check the batteries charge before each of your treasure hunting trips. If these are battery accumulators, it's better to recharge them. Otherwise, the pinpointer may start malfunctioning: it beeps all the time, sometimes the detection depth decreases.
If you use an ordinary battery, I'd advise putting a spare one into your backpack to avoid the situation when at the worst possible moment, the device turns off and becomes a useless piece of plastic in your hands.
When searching in the hole with a pinpointer, your movements should be smooth, since when the device hits the walls, it may emit some signals which have nothing to do with the target.
You should turn on the device outside the hole because if you turn it near a metal object, the pinpointer may consider the latter as some kind of discrimination and will not react when detecting this type of metal till the next time you turn the device on/off.
When working in humid conditions, make sure that water doesn't ingress into the service openings (into the speaker apertures, for example) if the pinpointer is not a waterproof one.
So, here is the last, but not least note you should keep in mind.
During your treasure hunting trips, don't forget to check if the pinpointer is still with you. It's advisable to do it each 15-20 minutes since you won't go far from the possible place where you lost the device during this time, and thus you will have a chance to find it.
Best pinpointers
There are just six models on the list. I consider this range rather wide to cover most of the tasks that arise during treasure hunting. Besides, in our site, there is a detailed article describing each of the devices from the list.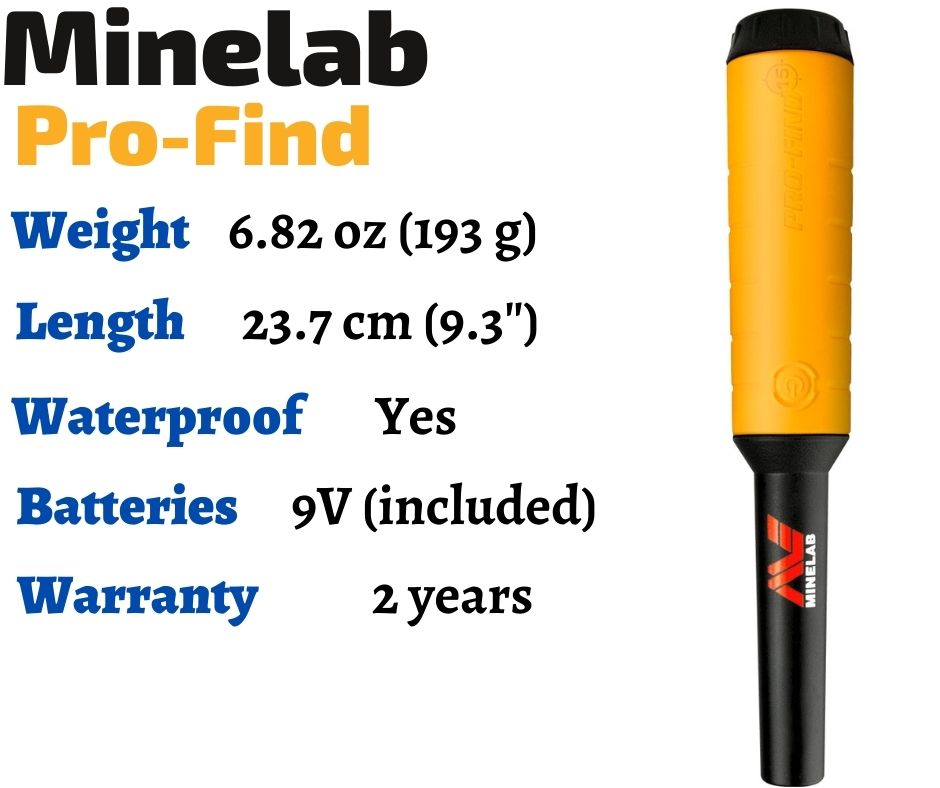 This is a new pinpointer model by Minelab. Minelab Pro-Find 35 is easy to use the device; however, it is one of the most technologically advanced pinpointer models. It has five levels of sensitivity, audio, and vibro target identification, metal discrimination (different signals for ferrous and non-ferrous metal), brightly colored case.
Yellow-colored pinpointer handler, a hole to attach a lanyard or a safety cord, an alarm signal in case if the device is on and inactive for a long time – these are additional measures taken by the manufacturer to keep the device safe and make sure you won't lose it.
This is the first in the world and the only one pinpointer for now that has metal discrimination function – it offers different sound identification for ferrous and non-ferrous metals as well as it is a waterproof device, submergible up to 10-ft (3m).
Except for the pinpointer with digital index 35, there is also the one with the index 15.
Pro-Finder 15 is an alternative to Minelab Pro-Find 35 as well as it costs less, but the device offers a limited set of functions and only the most important ones. This pinpointer is missing an LED flashlight, vibro target response, target signal of various tones, and the device is not a waterproof one.
Minelab PRO-FIND 35 Pinpointer
WATERPROOF DESIGN: Full waterproof housing allows this pinpointer to be effectively used on beaches, riverbeds and wet soil.
DIF TECHNOLOGY: Detector Interference Free (DIF) technology reduces interference with an operating metal detector.
FERROUS TONE ID: Two different responses help distinguish ferrous junk from nonferrous treasure. It adds another layer of...
Last update on 2022-05-20 / Affiliate links / Images from Amazon Product Advertising API
White's Bullseye TRX has audio and vibro target response modes, it uses 2 AA batteries or one 9V battery as a power supply, the device is equipped with a rather powerful LED flashlight. You can use the LED indicator to control the battery charge level (when the charge is close to its minimal value, the indicator starts blinking).
A standard package set of the pinpointer includes a holster. Also, there is a special clip on the device cap to attach a security lanyard to it.
Whites Bullseye TRX uses 12 kHz operating frequency, without intersecting with operating frequencies of other similar devices working in a close to the pinpointer.
There is one button to control the device, you should push it to turn the pinpointer on/off, and if you forget to turn it off, it will do it automatically.
This device is an upgraded version of its predecessor Pro-Pointer I. The device has a range of improvements if compared with the previous device modification.
Now Pro-Pointer II has become an all-weather device (it has IP66 according to the classification), the device has a lost device alarm as well as the pinpointer automatically turns off when lost.
This pinpointer is not submergible, but it is a dampproof one, so running water won't damage it while you are cleaning the device.
Garrett Pro-Pointer II
Water Resistant
360° Side-Scan Detection Area
Patented Features like Audible/Vibrating Alarms and Scraping Blade
Last update on 2022-05-20 / Affiliate links / Images from Amazon Product Advertising API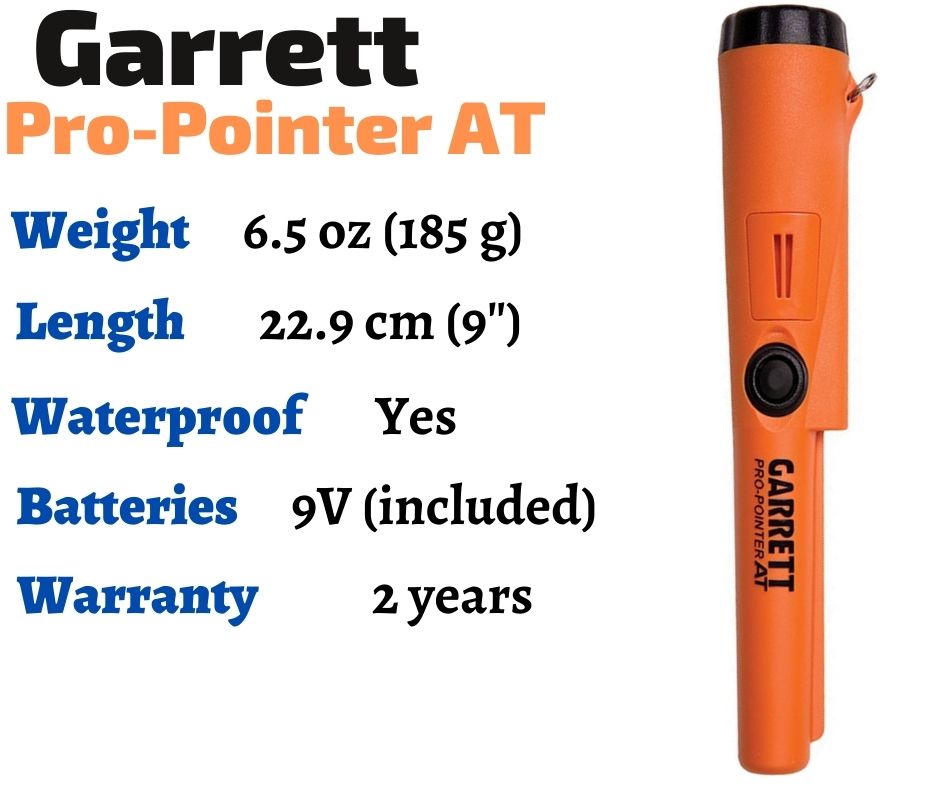 It has all functions of Pro-Pointer II, plus it is submergible up to 10 feet / 3 meters deep, and it has three sensitivity levels. Garrett Pro Pointer AT is a multi-purpose metal detector, and its case has maximal protection (IP 68).
Due to these design features, you can use the device to search for objects in rivers or seas. Besides, the pinpointer bright orange color makes it almost impossible to lose it in muddy water.
This pinpointer is a true multi-purpose one. It's hard to damage it, and it can be recommended almost to anyone, both to beginners and experienced detectorists.
Garrett Pro Pointer AT Metal Detector Waterproof ProPointer with Garrett Camo Pouch
Includes Garrett Pro Pointer AT and Garrett Camo Digger's Pouch (2 Year Warranty)
Fully waterproof to 10 feet with orange color for added visibility underwater. Maximum Sensitivity for improved detection of...
Fast Retune: Quick button press instantly tunes out environment or narrows detection field for precise pinpointing of larger...
Last update on 2022-05-20 / Affiliate links / Images from Amazon Product Advertising API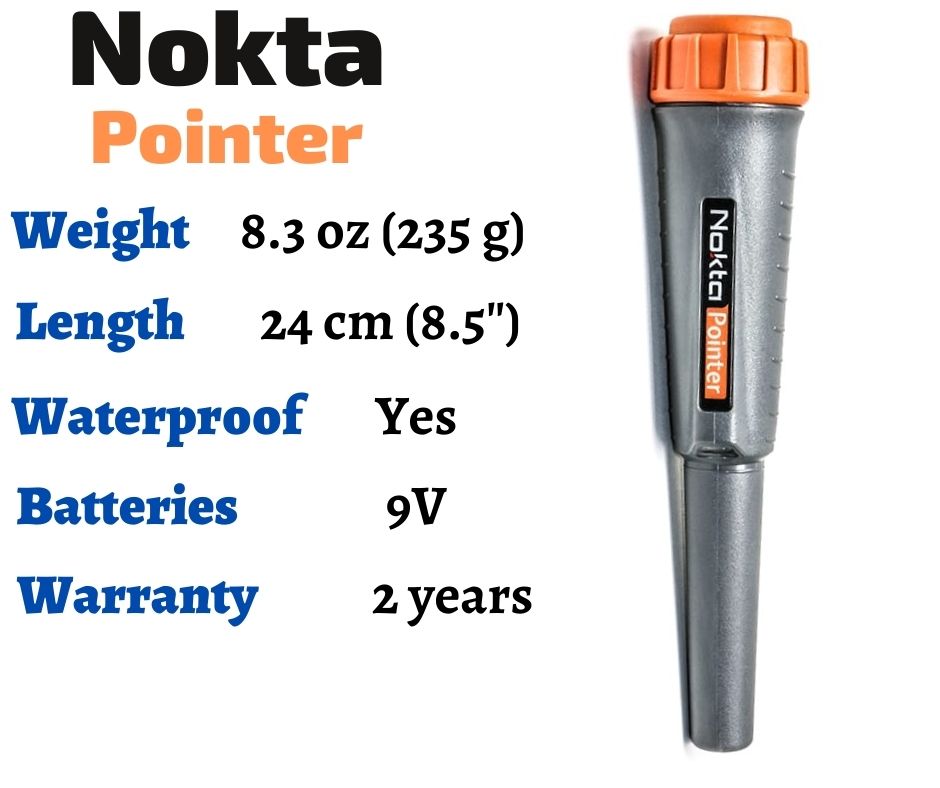 This device is an inexpensive pinpointer produced by the Turkish company.
Nokta Pointer is reliably protected from any natural precipitation, dust, and wet dirt. The device protection class is IP 67! Even if you leave the pinpointer in water for a week, nothing bad will happen to it, it will still work.
The pinpointer control is located on its battery holder cap, which is not very convenient. The device control buttons location appeared a bit unusual and inconvenient for the users.
Nevertheless, the main aim was to ensure efficient control when submerging the pinpointer because the device was designed to function in the aquatic environment.
The device has an Alarm mode, which additionally functions as an automatic shut off mode. Five minutes after the mode turns on, the pinpointer turns off automatically.
Let us mention the device package set, which has quite a lot of items. A quality battery accumulator is included in the set, but there is a lot more there! You can put the metal detector and transport it in a special rigid case (the shoulder belt for it is also included in the package set) as well as you can use a holster to carry the device and attach it to the belt.
The standard package set also includes plastic protection shells (caps) for the pinpointer working area and soft neoprene box to store them (it can also be used to store your findings, especially fragile ones).
Last update on 2022-05-20 / Affiliate links / Images from Amazon Product Advertising API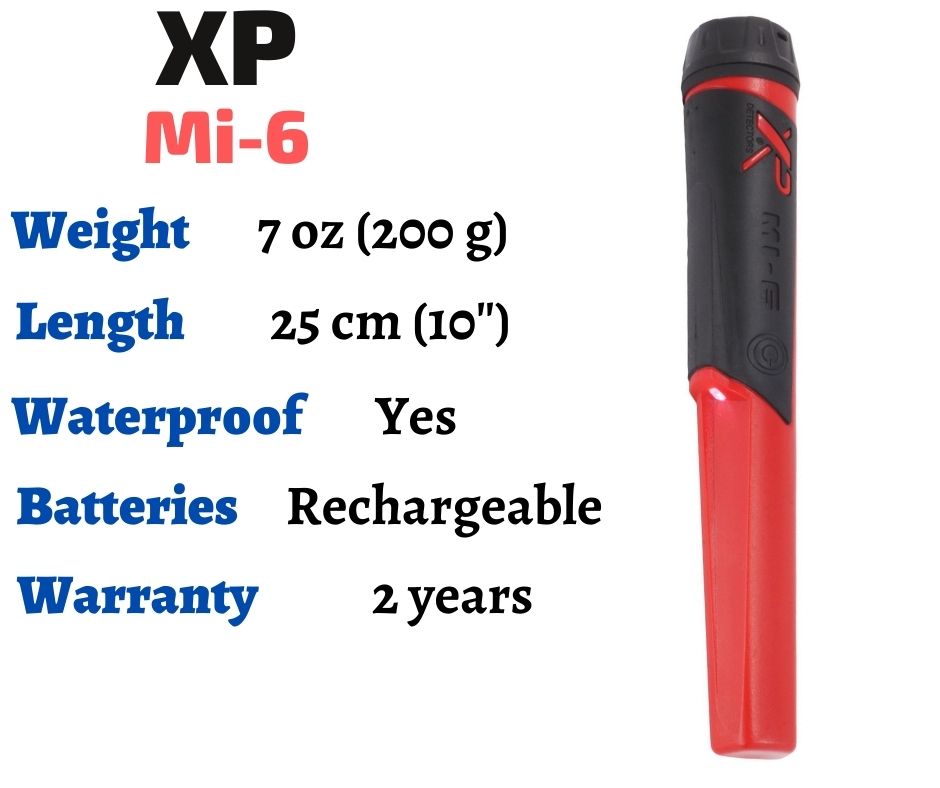 XP Mi-6 is an excellent pinpointer model, but I'd recommend this device for those who use XP Deus and XP ORX metal detectors. If you are a lucky owner of XP Deus, this pinpointer is the best one you may ever want.
XP owners can enjoy the following features when the pinpointer is paired with the metal detector:
You can hear the sound indication in your headset;
The device has a noise cancel mode, so the pinpointer and Deus metal detector won't interfere with each other's operation;
Offline operation time for both devices is about 90 hours (which is 3-4 times longer than that of the rest devices on the market)
50 sensitivity levels;
Don't worry if you don't have XP metal detector, since you can use this pinpointer as a standalone device, but at that, you won't be able to use all its functions to the full.
Mi-6 is submergible up to 20 feet deep, plus the device can float, and it won't sink. The pinpointer has a Lithium accumulator battery with a mini-USB jack, which is very convenient since you can charge the device using a cigar socket or a mobile phone.
Last update on 2022-05-20 / Affiliate links / Images from Amazon Product Advertising API
Fakes
In general, the device is simple enough that it can be constructed on your own if needed. But the quality of its operation can be a far cry from branded pinpointers.
Several Chinese manufacturers create fakes of world-famous brands. These pinpointers visually don't differ from the original devices, but at the same time, they have inferior technical characteristics and low prices. The latter attracts beginner detectorists.
Here are common issues of all fake pinpointers:
Non-uniform detection accuracy, rather unstable signal, the pinpointer detects stones;
These pinpointers can't detect small-sized objects, their detection depth/sensitivity is quite insufficient;
Poor build quality and low durability;
As a rule, they consume three times more energy due to using PI approach (instead of VLF).
However, there are original Chinese pinpointers. Some of them have high ratings, but they are not included in this review.
Why?
Because here we are discussing the best pinpointer models, and I don't pursue an objective to name just as much as possible models in the review.
Functions
Pinpointer is a straightforward device. All we need from it is to function successfully, desirably providing the user with maximum sensitivity.
However, in this case, all pinpointer models will be the same. So, how are they supposed to sell you a pinpointer model of some brand… (you can select any brand you like)
Right! They should add a unique feature to make the device differ from others.
Let's see what may and must a good pinpointer offer.
VLF vs PI
These are two different technologies used by metal detectors. I won't get deep into details here. I'll just tell you that you go beach hunting or on the highly mineralized ground, you should get a pinpointer using PI technology.
In this case, you'll receive less phantom signals. For all other pinpointers, this issue isn't that significant.
Operation mode
Most pinpointer models offer the following modes:
audio+vibration
vibration
audio
Holster and safety lanyard
These are a must-have. Recently I was lazy, and I didn't fasten the lanyard snap link to my belt and guess what's happened? Right, I spent about half an hour to find the device.
Besides, not all pinpointer models from the list have this option. If there is no lanyard in the device package set, you must order it optionally.
Lost pinpointer alarm
All pinpointers from the list have this mode. How does it work? You turn on the device, dig the target, put the pinpointer away, and leave — the pinpointer which is on waits for 5 minutes and then starts emitting the alarm signal.
It lasts for 30 minutes, and then the pinpointer turns off automatically.
The above mentioned is a rather good mode, which can be entirely substituted by using an ordinary lanyard.
Bright coloring
Things are pretty simple here – red, orange, or yellow pinpointer can be much easily seen on the grass or on the ground.
Not all pinpointers are brightly colored, while not all users like acid colores. This is a matter of preference.
Protection class
In general, we can divide the pinpointers into two categories – submergible and not submergible. If you go treasure hunting in parks and fields, then why would you need a pinpointer with protection class IP68 (this is the highest protection level for civil devices)?
This protection class enables submerging the device up to 50 meters deep, and you worry if the rain will damage your device?
In this case, the metal detector will suffer more, since the pinpointer is protected from all kinds of natural precipitations for sure.
If you go beach hunting or need a pinpointer for the underwater search, this is definitely the device you need.
Automatic adjustment function
Ground balancing function is also essential for pinpointers. This function operates as follows: you push the button, and your pinpointer performs ground balancing, which is quite convenient and useful.
LED-flashlight
This is a handy feature, especially for underwater search or when working at night – it is not convenient to hold a flashlight in your hand, but yet you need some extra light.
Internal rechargeable battery
It is convenient since you don't have to buy anything extra. However, there are disadvantages – you can't replace the power supply on-the-spot in the fields, and if the battery breaks, you should turn to specialized service centers.
As a rule, most of the pinpointer models do not use standard batteries.
Sound discrimination
Only one pinpointer from the list has it. Sound discrimination is made rather simple. If, when pointing on the target, the sound breaks, this is a ferrous target; if not, the target is a non-ferrous one.
The function is handy, but…yet I will dig the target, since the pinpointer may be wrong. The pinpointer task is to provide the user with the precise location of a metal target, not to tell about the metal it is made from.
'A shovel is the best discriminator.'
Which can be paraphrased as: 'You should dig, and then you'll know what is hidden under the ground since the rest is just your guessings.'
This review includes the best pinpointer models. You will find out what makes them different from each other, whether they are submergible, what their functions are, and what they can do.