Here you will find White's TRX Bullseye pinpointer review. The article contains information about the device operating frequency, whether it can operate under water, what type of batteries it requires, how long the device works using one battery set and many other important things.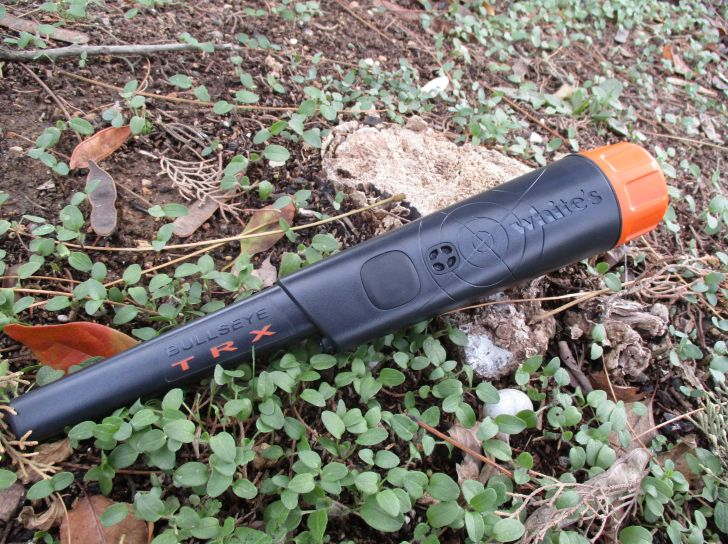 The backstory
This pinpointer model was designed in 2014 by a famous American company Whites. I think we should mention that the previous model Bullseye 2 also dealt well with its tasks, but modern diggers have rather high requirements to pinpointers.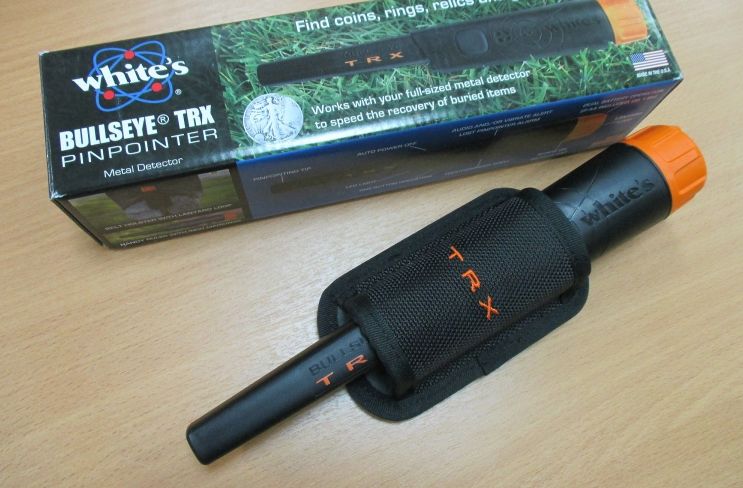 The review
The pinpointer with 2 AA batteries in it weighs 185 gram or 6.5 ounces. Its length is 25 cm or 10 inches.
The device has rather stylish appearance; it is black colored and the battery holder has an orange cap. This is rather convenient, when you are looking for the device lost in grass or leaves. Also, the pinpointer has a lanyard attachment loop. The package set includes a convenient holster as well.
Besides the pinpointer has a Lost Pinpointer Alarm function. If you leave the device on, then in 5 minutes it'll start producing alerts, which will be repeated each 15 seconds. This will continue for 5 minutes and then you'll hear a two tone signal and Bullseye TRX will go off completely.
Bullseye TRX uses 12 kHz operation frequency, which ensures that the device doesn't interfere with most of modern metal detectors that can be around.
Detection area of the pinpointer is concentrated around its tip (not along the whole length of the device), which guarantees quick and precise detection of the target location.
Bullseye TRX has a weatherproof shell. However, the recommended temperature range is from -15 to + 70 °C. The battery holder cap has a sealing rubber to prevent water ingress inside. The control button of the device also has a reliable rubber cover.
The same thing is about the speaker jack and LED flashlight – the device designers developed proper protection for these as well.
The pinpointer assembly is of very high quality. It uses durable plastic, which is definitely aimed at using under poor weather conditions. However, the manufacturer has gone even further.
Quite often pinpointers are used at rather rough conditions, so despite the fact that the device shell is made of rather durable and solid plastic, eventually it wears out.
Bullseye TRX was designed so, that it won't be a problem to replace its plastic shell. Which means, that in future you won't have to get a new device, since it'll be enough just to replace the shell of the old one, which will save you some money.
The device has a ruler on its case to define the target detection depth, in case somebody needs to do this.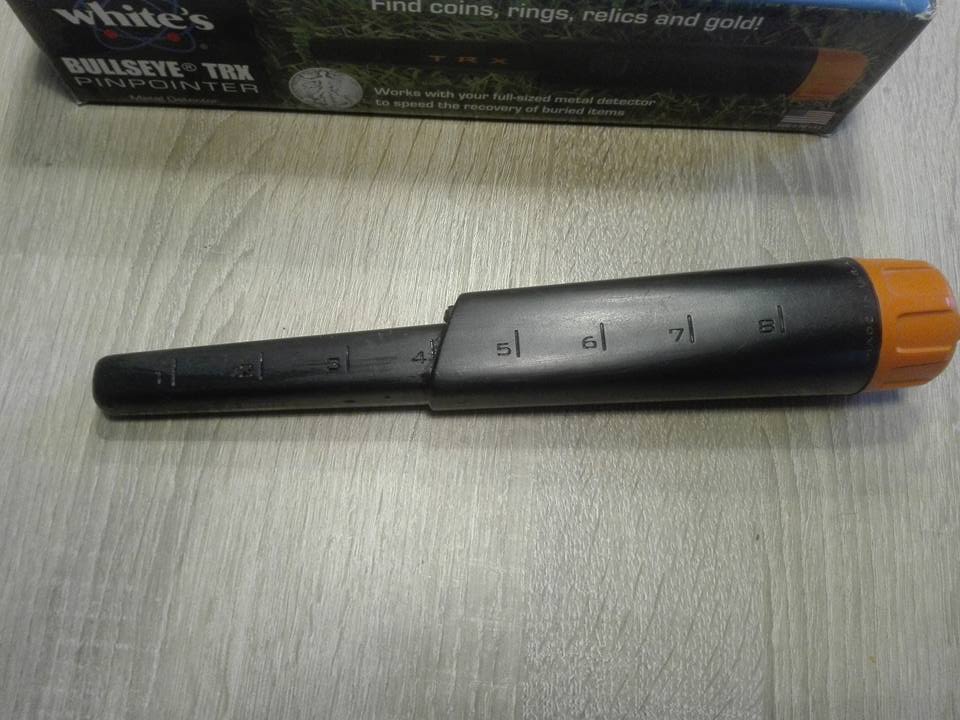 The battery
In terms of power supply, the device is a rather multi-purpose one. Now the user can select the battery type, since one 9V battery (accumulator battery) or 2 standard AA batteries will do for the device as a power supply. The pinpointer has a special adapter for this purpose; it is included into the device package set.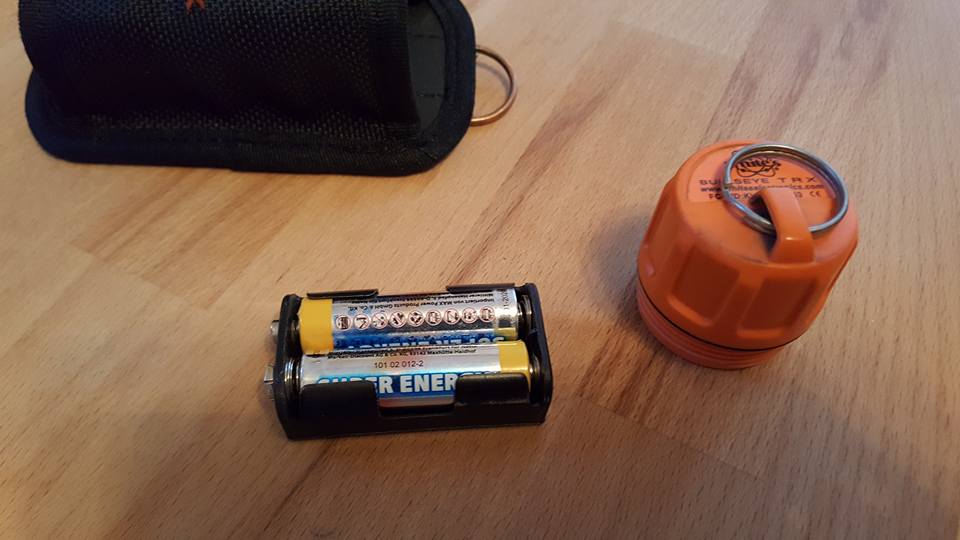 Waterproofness
Though White's Bullseye TRX pinpointer is promoted by the manufacturer as a waterproof device, which means that it's not designed to be deep submerged, but the level and the quality of the pinpointer protection allow safe operation under the rain, in dirt and at conditions of high humidity.
| | |
| --- | --- |
| Model | White's TRX Bullseye |
| Weight | 185 gram (6.5 ounces) |
| Length (Adjustable) | 25 cm (10 in) |
| Batteries | 2 AA or 1 9 Volt |
| Warranty | 2 years |
| Operating Principle | VLF |
| Operating Frequencies (kHz) | 12 |
| Water resistance | Yes |
| Submersion Depth | Up to 10 ft (3 m) |
| Discrimination | No |
| Ground Balance | Yes |
| Vibrating alert | Yes |
| Sensitivity – Depth Adjustments | Yes |
| Build-in flashlight | LES-light |
White's Electronics White's TRX Bullseye Waterproof Pin-Pointer with Holster and...
White's Bullseye TRX pinpointer with holster and 8 inch Coin probe - waterproof to 10 feet. Display 68 certified
36 khz operating frequency doesn't interfere with any other metal detector Audio and/or vibrate alert automatic power off...
Holster (up to 3" belt) Lanyard attachment loop on TRX and holster LED light lost pinpointer alarm overload indicator...
Last update on 2020-11-22 at 18:22 / #ad / Images from Amazon Product Advertising API
Settings
The pinpointer has 4 sensitivity levels and two modes of target detection alerts – audio and vibro alerts. Another plus is that the device has manual increase of detection depth according to some specific signal received. You should just bring the device to the target and push the button, at that the pinpointer sensitivity level is cut off.
As for me, I mainly used the 3rd sensitivity level, which is pre-set by the manufacturer + vibro alert. It was quite enough for me. There is a possibility to use either just audio alert or just a vibro one, you can decide upon this depending on the circumstance.
I have also tested the maximal sensitivity level (the 4th one), but it seemed to be too much for me.
So, I can say for certain that nowadays Whites TRX is the most complete device on the market in terms of detection depth and sensitivity level.
Another important thing is that TRX area of sensitivity is located at the very tip of the device, not along the whole pinpointer length as most of pinpointers on the market have it. If you ask me, I like this feature a lot, since target detection precision increases multi-fold, especially for small sized objects.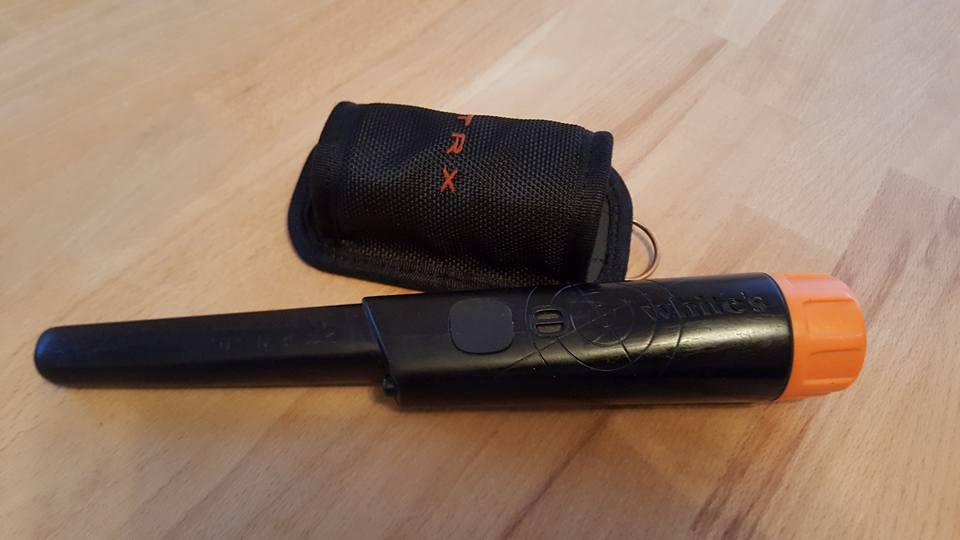 Alerts
Bullseye TRX produces a repeated audio alert when it detects a target. The alert becomes more frequent as the digger approaches to the target and finally, when the device is maximally close to the target the audio signal becomes continuous.
When the pinpointer is using a vibro mode, it produces short repeated vibro alerts together with audio alerts when getting closer to the target.
Last update on 2020-11-23 at 06:25 / #ad / Images from Amazon Product Advertising API
The LED light enables focused light when probing, which may be useful when treasure hunting at poor lighting conditions. Besides, you can also use this LED light as an indicator if the pinpointer is on or off.
The pinpointer has an overload indicator – if the target is too large, the device will produce a sequence of long audio signals.
Low battery alert – when you turn the device on, you'll hear 3 cycles of two tone signal. When using the pinpointer, every time you push the button, it will produce the same audio signal. If the LED light starts to blink, it also means that the battery is low.
Ground balance
If the pinpointer demonstrates unstable performance at maximum sensitivity level, you should adjust its ground balance. One short push of the button when the device is on and it will adjust its ground balance settings automatically.
At that, the pinpointer tip should be directed towards some clean ground area (without signals). This procedure can be performed in advance, if maximal or minimal level of sensitivity is required. All the adjusted settings are saved after you turn off the device.
Last update on 2020-11-22 at 19:20 / #ad / Images from Amazon Product Advertising API
Conclusion
This pinpointer has the highest sensitivity level.
For some reason, some users consider the fact that area of the device detection is concentrated only around its tip a disadvantage, while actually this is the main advantages of this pinpointer. It can clearly detect the target and ignore all the trash around.
We should also mention excellent detection depth of the device and its ability to use both AA batteries and 9V ones, which is very convenient. If the pinpointer were waterproof completely, it would be above price! Due to this fact, it can't compete with Garrett and Teknetics Tek-Point.