Here you will find a review of Teknetics Tek-Point – the pinpointer was introduced on the market in 2017, it was made by American metal detector manufacturer. It has 3 sensitivity modes, adjustable flashlight, audio target response and mixed mode (audio + vibro-signal). In addition, there is a lost mode and automatic shutoff of the device.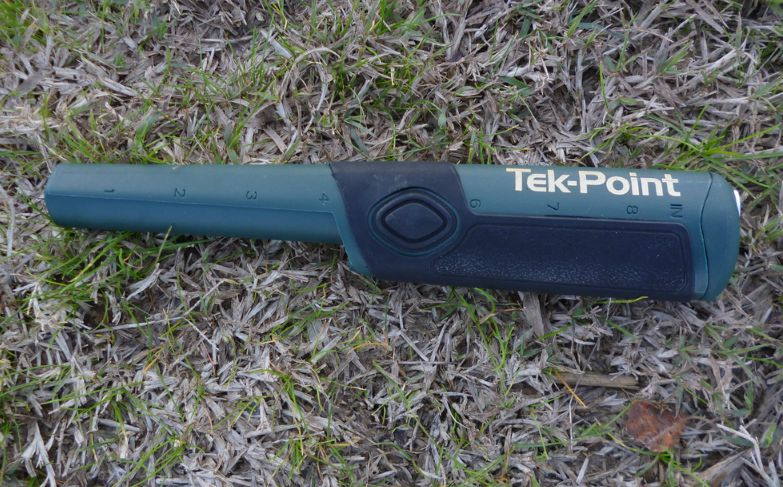 Operation principle
Let me warn you right away, that Fisher F-Pulse and Teknetics Tek-Point are one and the same metal detector model. Yes, they have different names and colors (one of them is red and the other is green), but this is all about their differences.
And you know why? Because both brands belong to the same company. So, all information you find below is true for Fisher F-Pulse as well.
Tek-Point operates using pulse induction approach (PI) unlike most of its rivals that use VLF principle. As a rule, underwater metal detectors use PI operation principle as well as some gold nuggets prospecting metal detectors.
As for the advantages of this technology, we can mention its low sensitivity to soil mineralization and brackish water, while its drawbacks are low discrimination and high energy consumption.
However, discrimination function isn't of high importance for a pinpointer, since the device is used after the target was located by the metal detector. As for the high energy consumption, this isn't a problem since from one hand one set of batteries is enough for the whole day of operation, and on the other hand, the pinpointer isn't on all the time unlike the metal detector. Usually, one set of batteries is enough for several treasure hunting trips.
Tek-Point will help you in the areas, where other pinpointers demonstrate low performance. For example, sea beaches and highly mineralized soils aren't a problem for this device. The pinpointer demonstrates stable performance, while its rivals produce phantom signals or loose sensitivity.
| | |
| --- | --- |
| Model | Teknetics Tek-Point |
| Weight | 180 grams |
| Length | 240 mm x 45 mm x 35 mm |
| Batteries | 2-AA batteries (not included) |
| Battery life | AA Alkaline 25 hrs, NiMH rechargeable 15 hrs, Lithium 50 hrs |
| Warranty | 2 year |
| Operating Principle | Pulse Induction |
| Lost mode alarm | Yes |
| Water resistance | Yes |
| Submersion Depth | up to 6 feet |
| Discrimination | No |
| Ground Balance | Yes |
| Adjustable LED light | Yes |
| Auto shutdown | Yes |
| Proportional response | Yes |
| Single button operation | Yes |
Teknetics TEK-Point Waterproof Metal Detector Pinpointer Probe,Green
Pulse Induction Technology: High performance in saltwater and highly mineralized...
Superior Battery Life: our 2xAA operating cost is 1/8th that of any 9V design.
Deepest Detection Available: powerful Pulse Induction design detects coins up to...
Waterproof down to 6 feet deep.
Abrasion Resistant: Tip will not wear through like pinpointers made from general...
Last update on 2023-10-01 / Affiliate links / Images from Amazon Product Advertising API
The review
The pinpointer is delivered in a carton box with a manual and a protective case in it, but without a retractable hanging wire.
The device isn't bright colored, it uses restrained dark green color. Though, recently the tendency is to apply bright and even vibrant colors to the devices appearance, which can't be encountered in the wild. This is done on purpose, to make sure that the device can be easily seen in the grass, on the ground or in the water.
The handler has a rubberized anti-slip cover. There is a ruler on the device case – it has inches on one side and centimeters on another one. This thing may be helpful when you need to measure how deep the target was under the ground. On one hand this looks convenient, on the other hand I have never met a digger who uses it.
The device nozzle is rather thick, so you can use it to dig or to loosen the earth. The scanning area of the nozzle is 360 degrees, which means that it uses the entire surface for scanning.
The pinpointer size is 240 mm x 45 mm x 35 mm, and it weighs 180 grams.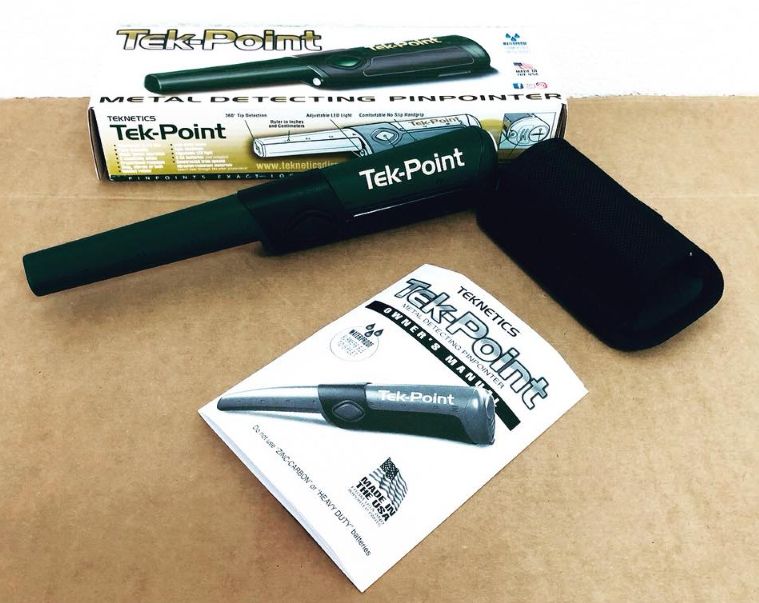 The battery
Tek-Point uses 2 AA batteries as a power supply, which are enough for several days of treasure hunting depending on the rate of usage. For example, my old pinpointer used one battery and it was enough almost for the whole season. Of course, you can use accumulator batteries, but keep in mind that they will work during shorter period time and you'll have to recharge them from time to time.
The battery holder cap is made as a large metal screw with a sealing gasket.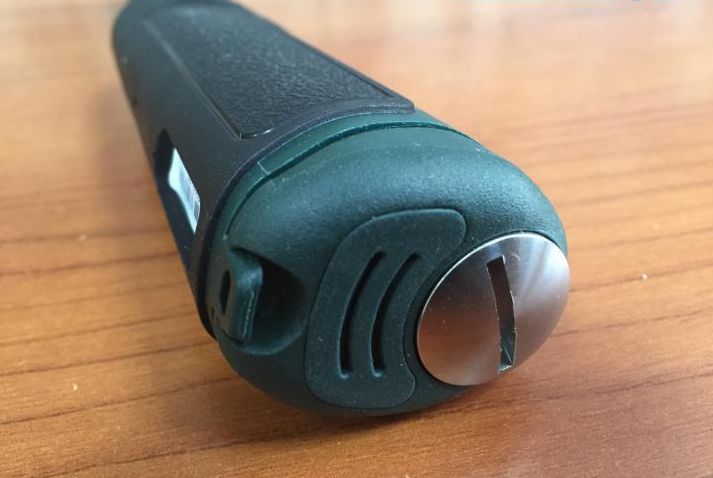 The batteries are put inside once you unscrew the battery holder cap. Which is another advantage, since this pinpointer can be used under water – you can submerge it up to 2 meters (6 feet) deep.
If the battery charge is low and you need to replace batteries, you will hear short warning audio signals. If the battery charge is critically low, you will hear a long audio signal, after which the device will turn off.
Water-resisting properties
Tek-Point is a totally waterproof pinpointer, you can submerge it up to 2 meters (6 feet) deep and it can function both in brackish and fresh water. However, the device shouldn't stay under water longer than an hour.
Frequency Shifting
Quite often you go treasure hunting with a company of diggers, and you have lots of metal detectors working around at various frequencies. It is good for detecting different kinds of targets, but it happens that quite often metal detectors operating closely to each other create electric noise which affects proper performance of the device.
Tek-Point was designed to function with various metal detectors and the digger can select the operating frequency, which won't create any electric noise that can impact the metal detector performance.
At that the device has 16 channels! Which means, that you have 16 options of operation frequency switching. Even if you are surrounded with other diggers, you still will be able to find another vacant operating frequency. Besides, the pinpointer saves the operation frequency settings and when you turn it on you don't have to adjust the settings one more time from the very beginning.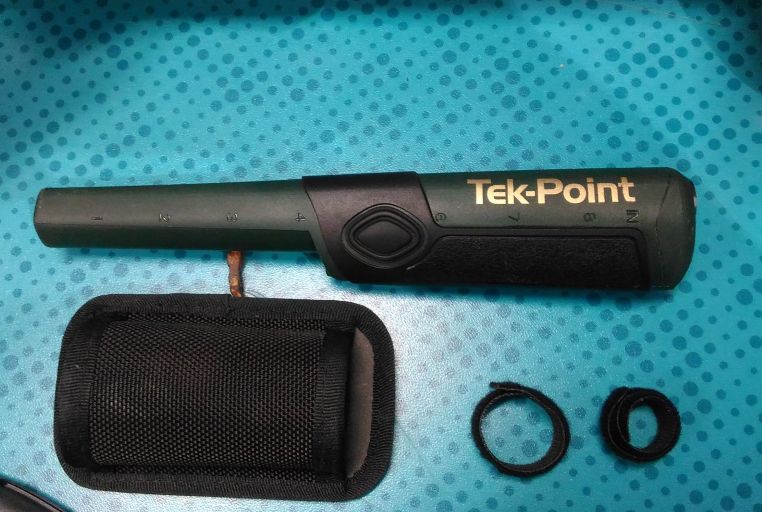 Automatic Ground Calibration
If the pinpointer operates using its maximum sensitivity level, it may produce phantom signals. You can stop it by pushing just one button. You push it and perform automatic ground calibration the same way as it is done with metal detectors.
Settings
Tek-Point is controlled by means of just one button. You can adjust three sensitivity levels (minimal, medium and maximum) for each of modes, you can search receiving sound signals and vibration or separately either just a sound or a vibration.
To make the device more convenient to use, it has an adjustable LED Flashlight, which you can switch off or select minimal level of light.
To make sure you won't lose the device, it has a special function – Lost Mode. If the pinpointer is on but not active for 5 minutes, it starts producing a sound signal and the flashlight starts to blink. It produces the signal at 15 second intervals and at that the pinpointer switches to energy saving mode.
This was done to let the user find the device in the grass, if he left it there. In 10 minutes of working in this mode the pinpointer switches off due to Auto Shutoff function.
It is quite strange, that the company decided to add such a useful function to the device properties, but they didn't include a standard retractable hanging wire into the device package set. Since it provides more reliable protection of the device from being lost than the alarm system it has.
Conclusions
As for the pinpointer advantages I'd like to mention its waterproofness, high quality case, AA batteries used as a power supply, manual frequency shifting, possibility to adjust the flashlight, reliable metal cap of the battery holder.
As for the disadvantages: you should apply a lot of efforts to take AA batteries from the battery holder and the device has rather poor package set (it doesn't have a retractable hanging wire, but it has a fixation for it).
In general, this is one of the best pinpointers on the market plus it has an affordable price. Sure, it has a lot of rivals, including Garret Pro Pinpointer, but very few of the rivals can offer the same functions.