In this article we are reviewing Garrett GTI 2500. This metal detector is quite old, but unlike other models it is still up-to-date. The device main feature is the ability to detect rather deeply located targets.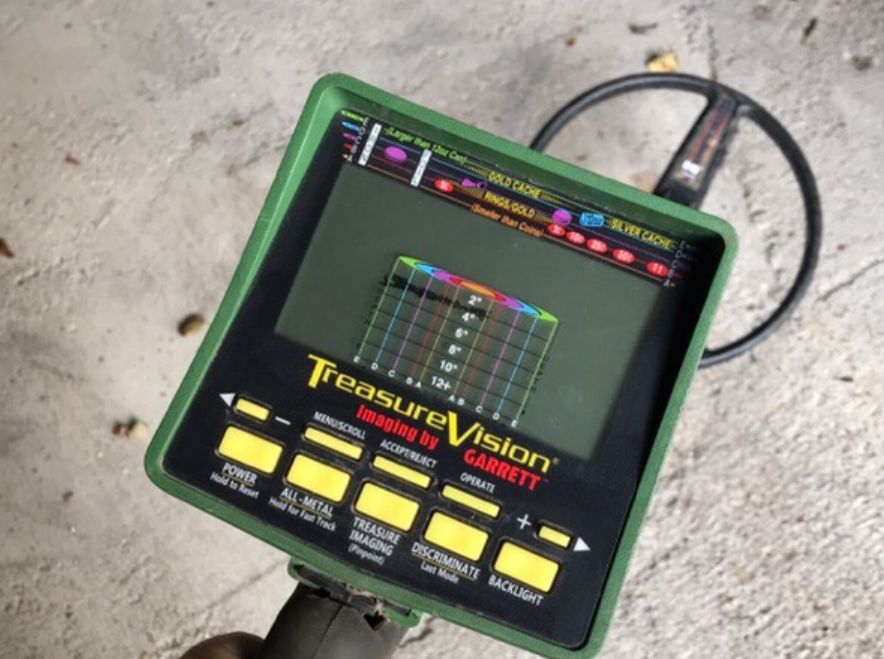 The story of the device
In 1996 Garrett introduced a new metal detector using a patented technology called Graphic Target Imaging (GTI). The device has become an ancestor of the whole metal detector series and it has got the name GTI 2000.
The peculiarity of Graphic Target Imaging (GTI) technology is that it analyses the target size and shows the result on the metal detector display.
Visually the inductivity is depicted as one of 5 ovals of different size. Starting with the smallest one, they have letter symbols from A to E. The first value is an object smaller than a coin, the 2nd one is similar to an average sized coin, the 3rd value is similar to a large bottle cap, the 4th – to a beer can, the 5th is an even larger object.
What can we say about GTI system – this is a quite useful function, which simpler metal detectors often lack. The 2500 model very successfully combines GTI system and detection depth indicator, since these two parameters are interrelated.
Some time later the company has decided to design an improved model of the device. It was Garrett GTI 2500 with some changes and improvements introduced to improve the detection depth and discrimination quality.
| | |
| --- | --- |
| Model | Garrett GTI 2500 |
| Weight | 4.6 lbs (2.1 kgs) |
| Length (Adjustable) | 40″ to 51″ (1.01m – 1.29m) |
| Batteries | 8 AA (included) |
| Headphones | Yes |
| Warranty | 2 year |
| Circuit Type | VLF |
| Standard Searchcoil | 9.5″ PROformance™ Imaging |
| Operating Frequencies (kHz) | 7.2 |
| Water resistance | Waterproof coil |
| Submersion Depth | No |
| Iron Discrimination Segments | 3 |
| Ground Balance | Manual or Auto |
| Search Modes | 5 (plus Imaging/Pinpoint) |
| Audio Threshold | No |
| Sensitivity/Depth Adjustments | 24 |
| Electronic Pinpointing | Yes, with size/depth display |
| VDI (0 to 99 scale) | No |
| Build-in flashlight | Yes |
Last update on 2023-09-30 / Affiliate links / Images from Amazon Product Advertising API
Review
The shaft
The metal detector construction is S-shaped: the device control unit is attached to the upper shaft section; the shaft itself consists of three sections.
The bottom shaft section is made from carbon – plastic, which enables using not only the searchcoil that comes in the device set, but also larger and heavier coils.
Middle and upper shaft sections are from aluminum alloy covered with green powder paint.
The middle shaft has nine length-adjustment holes to adjust the shaft length to the user's height.
The shaft sections are connected by means of spring buttons, which makes the assembling/dissembling process easy and not time-consuming. To simplify the process the length-adjustment holes in the middle shaft are made so, that you don't have to think which end should be inserted into the upper shaft section.
The armrest has a dismountable battery unit in the bottom: designers have put it there to improve the device balance.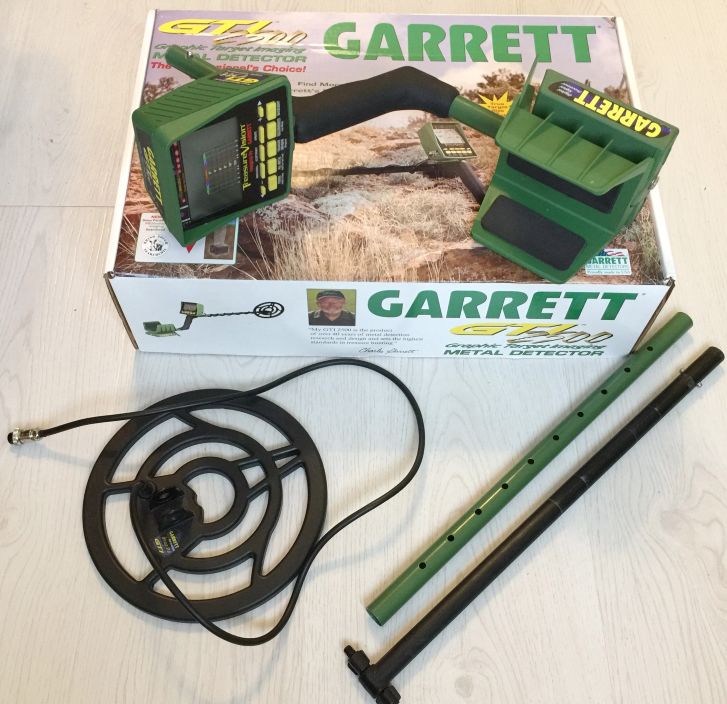 Besides, you can make the metal detector less heavy, by removing the battery unit from the armrest and attaching it to your belt. The battery unit is connected with the control unit by means of a stranded cable and it has a clamp to fasten it to the belt.
To do this you should pull the battery unit and move it forward along special guiding ways and the cable will ensure comfortable treasure hunting process.
The batteries are put into two battery holders – 4 batteries into each (8х1.5В). Also, the battery unit has a ¼ " headphones jack and a speaker.
The headphones jack is located not on the control unit, but on the battery unit: such a construction allows comfortable searching and cables don't get tangled regardless of the battery unit location (on the belt or under the armrest).
When working with a shaft and a coil the headphones cable goes along the operating arm. The drawback in this case is that you can easily forget about the cable at all. And then if you put the metal detector on the ground, the cable may pull the user's head hard.
The coil
Garrett GTI 2500 metal detector has 9.5 inches PROperformance Imaging mono coil. The searchcoil operating frequency is 7.2 kHz. The coil is completely leakproof, therefore you can use it for treasure hunting in puddles or shallow waters on the beach.
Garrett GTI 2500 metal detector has two package sets – a standard one and Pro package set, which additionally to the device itself contains a mono searchcoil 12.5 inches PROformance Imaging, the headphones with volume control function for each speaker and a stranded wire, protective case for the control unit as well as a comfortable carry bag with two additional sections for accessories and findings.
The searchcoil 12.5 inches PROformance Imaging is required where targets may be located rather deep in the ground.
You can use not only the standard search coil for this device, but also some additional coils. There are many of them and they are designed for different purposes. What you have to keep in mind is, that these searchcoils should be the ones designed for GTI devices.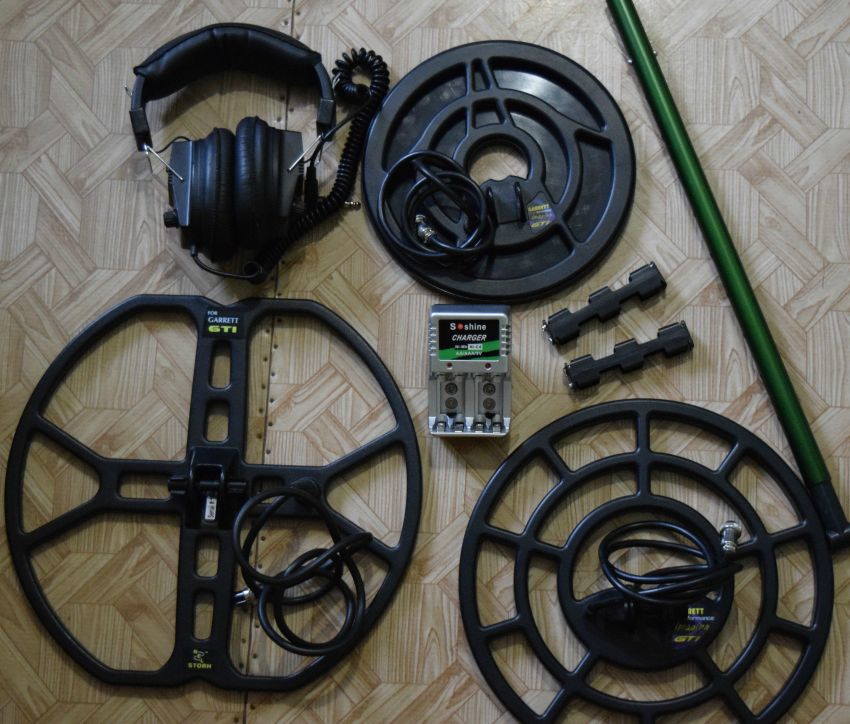 Moreover, this metal detector can be equipped with a coil for deep search and then you can continue treasure hunting with more significant detection depth! Relics may be located quite deep, where they won't be reachable for standard mono and DD coils, since such targets can be detected only by means of good deep search metal detectors, which are quite expensive.
With Garrett GTI 2500 you'll be able to use EagleEye (you can buy it separately from the device). This is a specialized system of searchcoils capable of detecting large metal objects located deeper than standard coils can detect them.
Detection depth amplifier Treasure Hound Eagle Eye consists of two separate coils located at some distance from each other and fixed to a rigid shaft.
Once you install the control unit on this shaft, the metal detector is ready to work! In this case the device works only in ALL METAL mode. Except searching for large metal objects this system also enables defining their precise location.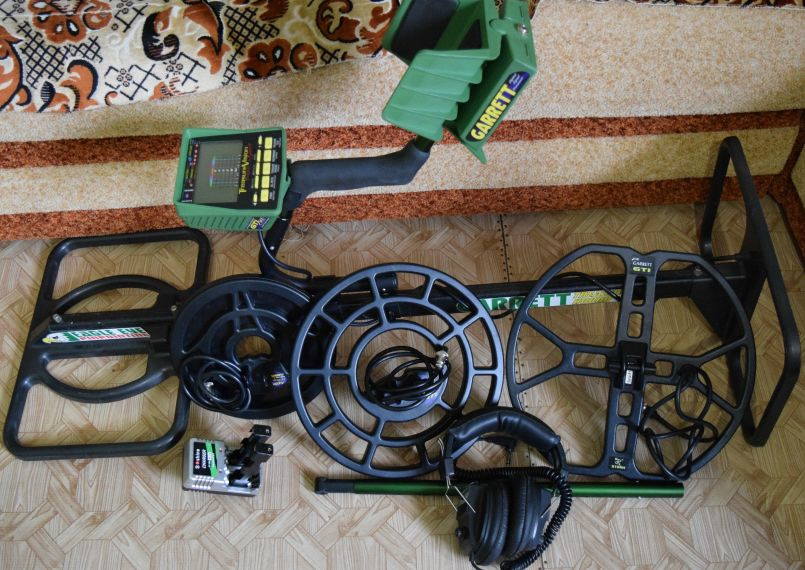 The headphones
Branded Garrett headphones are very convenient for long-term use: they have soft and comfortable ear cushions which isolate your ears from unwanted sounds.
The audio level control allows adjusting the sound separately for each ear. The metal detector carry bag has soft packing material and it is perfect for safe transporting of the device, its coils and headphones.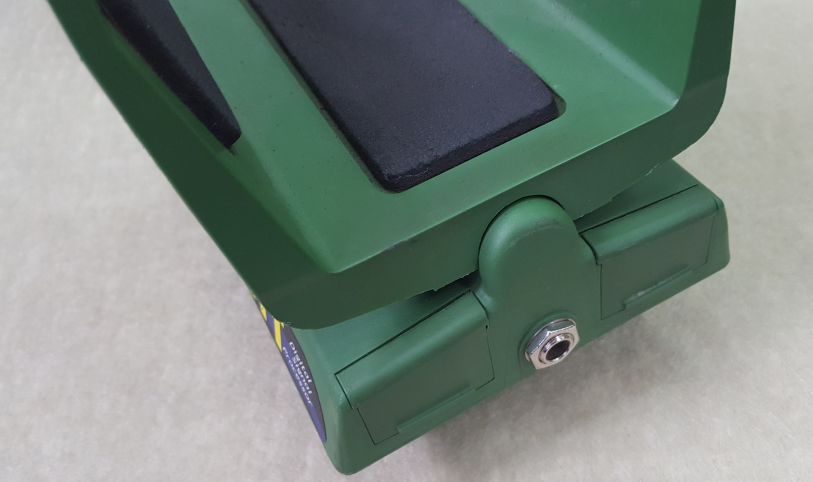 The battery
The metal detector uses 8 AA batteries as a power supply. They are put into two special battery holders.
For active and long-term usage, you should get only high-quality lithium and alkaline batteries and accumulator batteries. It is not recommended to use saltwater batteries.
Last update on 2023-09-30 / Affiliate links / Images from Amazon Product Advertising API
The control unit
The front panel of the control unit has an LCD display with 10 control buttons. You can see the currently used mode of operation and search program as well as the battery charge indicator on it.
Except the above mentioned, there is a discrimination scale with 24 scale marks (GTI technology) which takes most of the display space. The scale is located horizontally in the upper half of the display. The target size indicator (GTI technology) also combines the target depth indicator.
The LCD display is a monochrome one, but colorful stickers-hints make it user-friendly and easy to read. In the bottom-right corner there is a graphical icon that displays batteries charge level.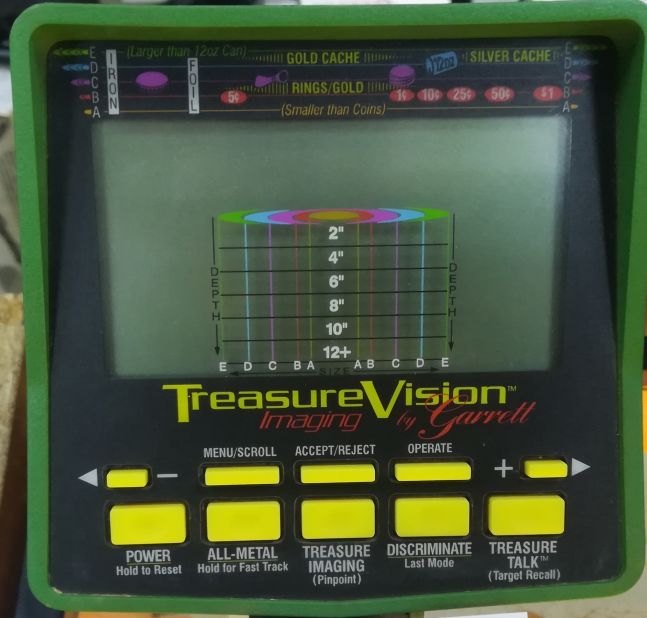 Modes of operation
The metal detector has 5 standard modes of operation. Also, there is a possibility to adjust the device settings to your needs and requirements.
Here are the modes of operation:
COINS – the metal detector sets itself to detect the metals which coins are from and it doesn't react on large metal objects, also the device ignores any targets smaller than coins.
JEWELRY – this is the optimal mode for detecting rings, earrings, chains. So, if you like beach hunting, this mode is definitely for you.
RELICS – when using this mode metal targets are ignored.
ZERO – all metal targets are detected. It is recommended to switch to this mode when you receive a signal from the target.
CUSTOM – this is the mode you can use to adjust the device to your needs and requirements. You can block any signals you don't need, you also can scan any object and enter the data into the program.
When you are using CUSTOM mode, the metal detector saves the user's settings. All the rest of the modes of operation have pre-set manufacturer's settings which the user can adjust.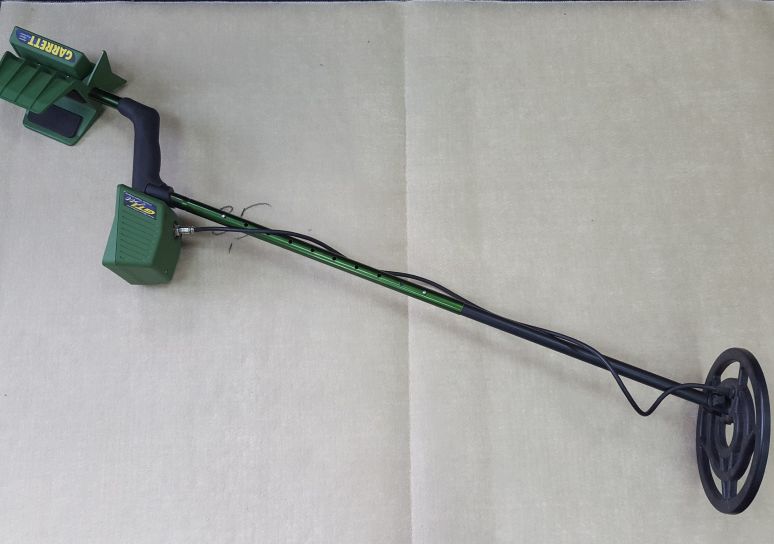 Feature set
I don't think we should spend time on discussing typical functions of the device sensitivity adjustment or how to set the discrimination function to create some specific discrimination pattern and other standard features of this metal detector.
Let's discuss in detail some special features of the device.
Namely, the following:
PowerMaster (this is an exclusive patented technology of detection depth increase, which is rather efficient when you go treasure hunting in some places popular among the detectorists);
Garrett's True Size Imaging – when using this function, you will get the information about the target size;
ScanTrack (automatically adapts the device to the detection speed); the main and the most important thing that GTI 2500 performs by means of Scantrack is, that it adapts to the style and individual peculiarities of the user and by this the metal detector partially compensates some drawbacks of some specific actions of the user.
For example, it can be when the user moves the searchcoil too fast, the target response time decreases automatically, maybe due to some detection depth decrease. When you move the coil slowly you can both increase the detection depth and the device sensitivity.
Possibility to search in a static mode (enables full and detailed ground examination in ALL METAL mode);
Suppressing frequency jamming (helps to ignore other metal detectors working nearby, electricity transmission lines, cell-phone transmitting stations, etc.);
Besides automatic ground balance function, there is also a manual one (it allows to perform deeper detection and go treasure hunting regardless of the soil type);
Salt Elimination (includes automatic and manual mode of soil mineralization compensation; it allows quick adaptation to mineralized soils and to any type of beach hunting);
Other, not that essential, but rather necessary functions: excellent pinpointer and lighting, a lot of convenient functions such as a button to get back to the previous mode, voice acting of the last target properties, etc.
Another patented technology used by Garrett in GTI 2500 metal detector is ScanTrack and FastTrack.
They enable treasure hunting in automatic mode using ground balance function. Many metal detectors have automatic ground balance function. GTI 2500 can automatically adjust to the changing level of soil mineralization, which allows changing locations without losing time to readjust the device.
Areas with lots of iron rubbish on the surface (bottle caps, nails) are rather challenging and quite often have no findings for users of various metal detectors. The device discriminator reacts on these iron rubbish targets, and it can't detect any really valuable targets that are beneath the rubbish.
GTI 2500 metal detector easily deals with such areas by applying Surface Elimination function. This GTI 2500 function allows ignoring signals from surface rubbish and start detecting not from 0 inches depth (as all metal detectors do), but from 4 inches and this way the device ignores all unwanted targets located on the ground surface.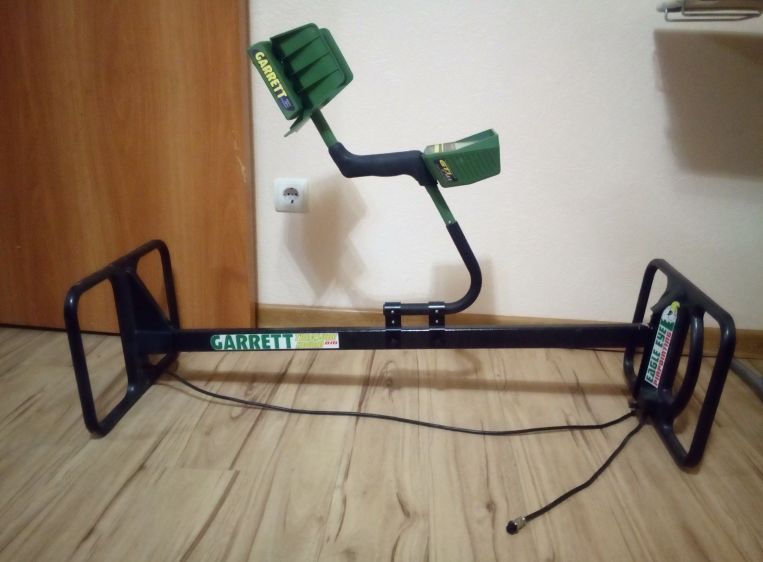 Discrimination
During the tests GTI 2500 has demonstrated excellent efficiency of detection depth, performance stability and discrimination quality.
GTA discrimination system peculiar to Garrett DSP microprocessors has proven to be a quality and precise metal identifier.
The device doesn't have VDI numbers, discrimination is performed using a scale. The discrimination scale consists of 24 segments and ensures precise target identification.
Since the more discrimination segments the device has, the more precise adjustment is available to receive signals from valuable targets and ignore those from unwanted ones.
The bottom row of graphic icons is for discrimination, so you can always see which discrimination sectors are excluded and you are not receiving signals from these targets and which are active. In ALL METAL mode the scale displays the distance from the searchcoil to the detected object in inches.
At the left side of the display there is a list of the metal detector modes of operation. That's why for quick adjustment of some specific mode you just have to select the one that is required according to the current search conditions.
Besides, you can always correct the discriminator settings and set the parameters at your discretion.
Discrimination adjustment can be performed in two ways.
The first one: when using any operation mode by means of button + and — set the cursor on the bottom scale to the required discrimination segment. If the segment under the cursor starts blinking, it means that it is on and it is included into the detection range; if not, the segment is excluded.
By pushing ACCEPT/REJECT button we turn the segment on and off.
The second way is: move the searchcoil above the unwanted object. The coil should be about 2 inches high and push ACCEPT/REJECT to include or exclude the specific discrimination segment. You can define whether the segment is active the same way as in the previous case.
Pros
Wide range of available searchcoils;
High speed DSP processor and quick target response;
Function to adapt the device to its user – ScanTrack;
Manual and automatic ground balance function;
The function to increase the detection depth – PowerMaster;
Manual and automatic adaptation to soil mineralization;
Function to suppress signals from surface rubbish;
High performance discrimination function with 24 segment scale;
5 modes of operation;
Adjustable threshold tone;
The function to suppress electronic noise and this from other metal detectors;
backlit;
voice announcement (for settings and targets);
Signal audio control (volume and tone);
Cons
DD coil is not included into the standard device package set (though it has PowerMaster);
One operating frequency (with the possibility of insignificant frequency shift to suppress the electronic noise);
The device is rather heavy
Comparison
Garrett GTI 2500 vs Garrett AT Pro
Standard Searchcoil
8.5″ x 11″ DD PROformance
Operating Frequencies (kHz)
Detect Modes
6 (3 Standard, 3 Pro modes)
Operating Frequencies (kHz)
Standard Searchcoil
8.5″ x 11″ DD PROformance
Operating Frequencies (kHz)
Detect Modes
6 (3 Standard, 3 Pro modes)
Last update on 2023-10-01 / Affiliate links / Images from Amazon Product Advertising API
Garrett GTI 2500 vs AT Max
Standard Searchcoil
8.5″ x 11″ DD PROformance
Operating Frequencies (kHz)
Operating Frequencies (kHz)
Standard Searchcoil
8.5″ x 11″ DD PROformance
Operating Frequencies (kHz)
Last update on 2023-10-01 / Affiliate links / Images from Amazon Product Advertising API
Garrett GTI 2500 vs Equinox 800
Operating Frequencies (kHz)
Multi-IQ (5, 10, 15, 20, 40 kHz)
Batteries
In-built rechargeable Lithium-ion
Detect Modes
5 (All metals, Park, Beach, Field, Gold)
Operating Frequencies (kHz)
Operating Frequencies (kHz)
Multi-IQ (5, 10, 15, 20, 40 kHz)
Batteries
In-built rechargeable Lithium-ion
Detect Modes
5 (All metals, Park, Beach, Field, Gold)
Last update on 2023-10-01 / Affiliate links / Images from Amazon Product Advertising API
Conclusions
As all metal detectors Garrett GTI 2500 has its advantages and disadvantages. Considering large number of manufacturer's search modes and pre-set settings, we can state that even a beginner detectorist can use the device.
But just reading the user's manual won't be enough to understand what all the metal detector functions are for and get the advantages they provide you with. You will have to spend a lot of time treasure hunting in the fields.
Also, the device has a unique additional function of deep detection, which hardly ever any other metal detector has.
Due to the device rather essential weight, I wouldn't recommend it for women without any physical training experience (at first, the device may be unexpectedly heavy even for a men).
Of course, we may say that one operating frequency is not enough, and some users may miss VDI numbers. However, all the drawbacks mentioned, either don't have any significant impact on the metal detector performance or are more than outweighed by other advantages of the device.