I remember how I was choosing my first metal detector. Yesterday I was just dreaming about it and now I'm already studying all these frequencies, VLF, discrimination, DD coils and VDI. Frankly speaking, I felt lost. Reading forums and watching videos clarified everything a bit, but they weren't of much help. It was an experienced seller of metal detectors, who helped me make up my mind and recommended a good device for me.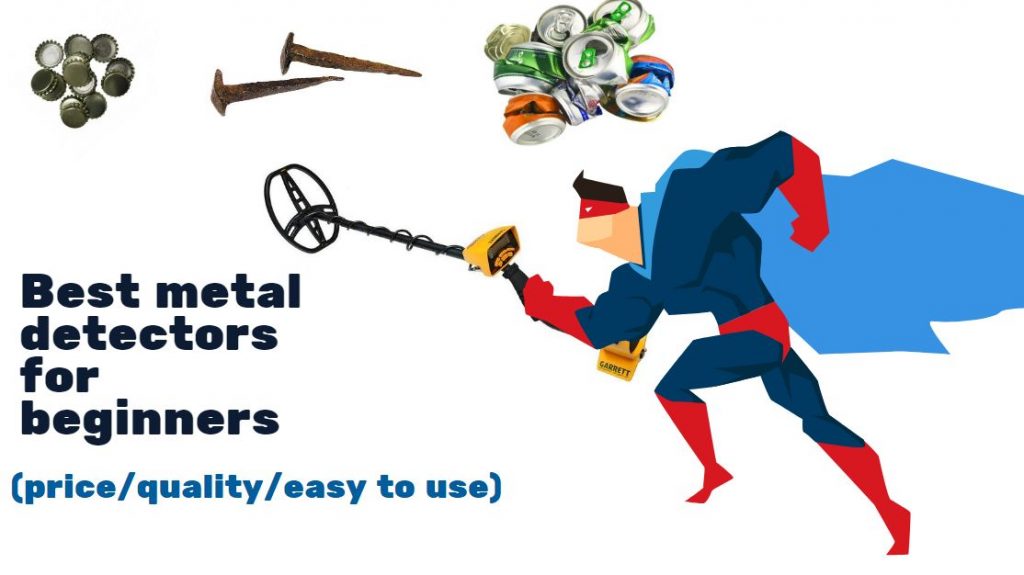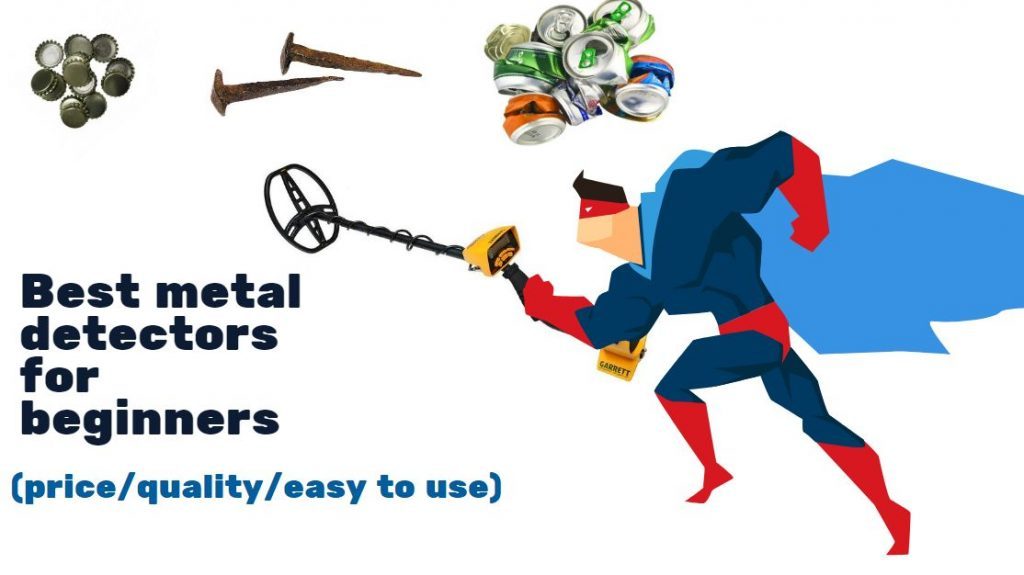 Now, I've tested far more than one metal detector and I have even written an article about the best metal detectors (I do recommend you to read it, since you can find quite a lot of useful info there). Now, I want to share this experience with you.
I'm warning you – this is quite a long read, but if you are looking for the best metal detector, you can just go and see the another huge article.
However, I'd advise you to make yourself a cup of tea and read the article attentively. Here I've collected all the stuff; at that I'll try to describe it using the most easy and understandable language.
After reading these recommendations, you won't have to surf the Internet and read forums asking one and the same question everywhere. All you have to do is to read this article till the end and then you will get the idea what kind of the device you need for the start.
If this hobby turns out to be really your cup of tea, you will sell this device and get yourself a new improved model, if not – you still can sell it as well.
Within the past year I used several metal detectors which I borrowed from my friends, so I can recommend the devices you should pay your attention to.
Let me remind you the main idea of treasure hunting – it's not a metal detector who finds something, it's you. The metal detector is a tool that helps you and gives a signal where the target is, but to dig or not to dig – this is completely for you to decide.
Though, the more you dig, the more you find.
Best models for beginners
Beginner level of metal detectors means not the detection depth (as customers often mistakenly think) or the number of findings. Such models are equipped with a standard set: discriminator with preset and user set masks, pin point, average sized coil.
Most of the settings are set automatically. On one hand, it sufficiently eases the process of learning how to go metal detecting, but on the other hand the user doesn't have a chance to set his own search parameters.

Yet, it is better to start from using metal detectors for first level. This will let you start treasure hunting right away without detailed studying of the device manual and deep understanding how the things work here.
Metal detector for beginners is a device that you can turn on and go searching for your treasures at once. These are the models that are presented in my rating. It is based on my personal experience and opinion, so please keep this in mind.
Of course, most of the models are the same as the best . But there are some models that are not in the list.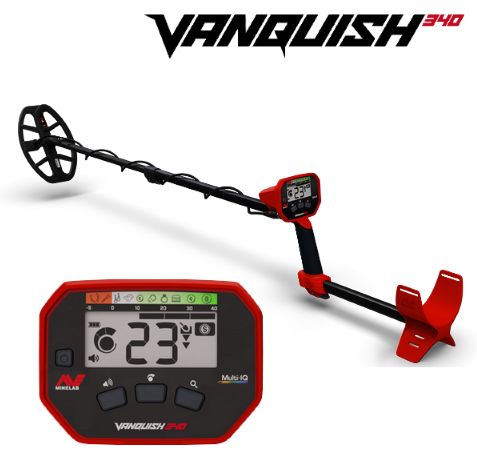 This device is a 2020 novelty in the world of metal detectors designed by Minelab. Here you can find a detailed review, technologies it uses, the device models, and the difference between them.
However, I'd recommend considering this product line.
Why?
First of all, I think so because this is the first metal detector in the world that uses a multi-frequency technology Multi-IQ and, at the same time, belongs to budgetary and medium price brackets. The technology ensures stable signal detection on any kind of soil (complex soils, sea beaches), and the target is detected through several frequencies at the same time.
Before Vanquish was designed, Multi-IQ was used only for expensive metal detectors.
Secondly, Vanquish belongs to a category of metal detectors that don't require any special skills to use them ('turn on the device and go'). They are easy to use, small-sized, and convenient.
Thirdly, there are four models in the product line. They vary from the inexpensive and simple one to the Pro version of the device that has two search coils.
Fourthly, Minelab is a renowned company that has a technical support department, offers warranty for its devices, and ensures high product quality.
Minelab Vanquish 540 Metal Detector with V12 12" x 9" Double-D Waterproof Coil
MULTI-IQ TECHNOLOGY: Minelab's revolutionary technology combines the power of multiple detectors into one, allowing you to...
TURN ON AND GO: Engineered to let you start accurately searching right out of the box.
ALL-TERRAIN: Outperform other detectors and dominate detection in wet sand and saltwater using one of four find modes –...
Last update on 2022-05-20 / Affiliate links / Images from Amazon Product Advertising API
Summary
In a word, if you are a beginner detectorist, I do advise you to take a closer look at this product line. The quality meets the price almost completely in case of this model. Besides, you can select the device model that fits your budget. Just don't buy the first model, since its functionality is significantly lower while the price isn't that low. However, you are welcome to read about this in our detailed review.
---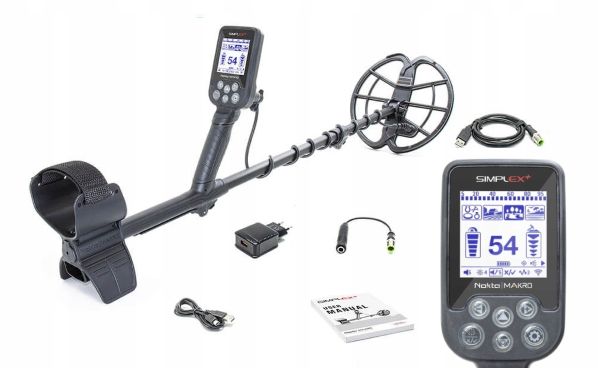 This is another detector made in 2020, and this device is a good alternative to the Vanquish product line. If you want to know more details about this metal detector, you can read our review.
Nokta has been on the market not that long, but it designs metal detectors that can compete with the leading devices on the market, as well as they offer better functionality.
For example, you can compare the functions of this metal detector with those of all other devices given below. Or you can just trust me when I say that models designed about 3-5 years ago can't compete with this device at all.
This is Nokta, who dramatically changes the market, and even Minelab has to consider this.
Simplex Plus is an easy-to-use device that will definitely be appreciated by beginner diggers. The metal detector has four pre-set search modes: All metal, Beach, Field, Park.
The device search coil is 11 inches large, and it provides a good response on any kind of soil due to the frequency shift function.
This device model is equipped with a 2300 mAh battery accumulator that provides continuous operation of the metal detector. Due to this, you don't have to get any extra batteries.
The device package set also foresees and unit by means of which you can connect wireless headset to the metal detector.
The main difference between this device and Vanquish product line is that you can use this metal detector not only for beach hunting but for underwater one as well. The device is designed to have a waterproof shell that is submergible up to 10 feet (3 meters) deep.
The handle vibrates when the device detects a valuable target in the ground. Such a feature allows underwater treasure hunting without using a display and headphones.
Last update on 2022-05-20 / Affiliate links / Images from Amazon Product Advertising API
Summary
To cut a long story short – are you a fan of beach hunting? This is a device for you. It won't be a perfect one, but many metal detectors fail during beach hunting, especially on black sand. However, you won't find anything better for this price.
---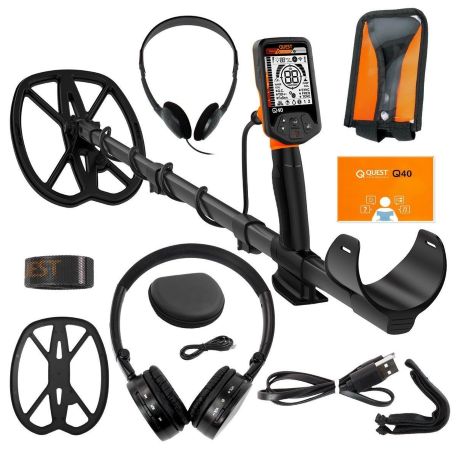 We should mention that Quest is a whole product line of metal detectors, which we have already reviewed. Currently, this is not a world-famous brand; moreover, these devices are produced in China. However, the company makes quality metal detectors, and it constantly develops and improves its products.
Due to the mentioned above, the company can set lower prices for its models while they offer the same characteristics. Besides, the metal detectors have simple settings and quite a lot of pre-set search modes.
Quest Q40 is for ground search, but also it is an all-weather device protected from dust and moisture ingress. The device protection level is IP66.
This detector supports using wireless headphones that are included in the device package set.
The device construction includes a 3-segment shaft, a convenient armrest, a small control unit with a bright display, and a stylish appearance. Also, it has an internal rechargeable battery that can be charged using a USB cable.
Branded TurboD search coil has an original shape, and its size is 9×11 inches ( 22,5 x 28 cm). The device uses 13 kHz operating frequency, which makes the detector especially sensitive to small objects such as coins and small-sized jewelry.
The discriminator has a 20-segment scale located vertically on display. Additionally, you can track the discrimination function using the VDI number that varies from 0 to 99.
Quest Q40 has five pre-set search modes, which you can select depending on current search conditions and tasks.
Quest Q40 Metal Detector with 11x9 TurboD Waterproof Search Coil
13kHz VLF (Very Low Frequency) Induction Balance, Fast Release Camlock 3 Sections Straight Rods Extendable From 80CM to...
Built-in Speaker, Wireless/Wire Headphone LCD, Display: 60X70mm With Backlight, All Metal, Discrimination, 6 Tones Selectable
1350g with Raptor coil, 1050g with Blade coil, Battery Life: Up to 20Hrs on Wireless, 30 Hrs on Speaker, Operating Ambient...
Last update on 2022-05-20 / Affiliate links / Images from Amazon Product Advertising API
Summary
There is a wide selection of metal detector models in this product line, and they vary from simple to above the average level. I can't select the best one from them, but Quest Q40 currently seems to be the most optimal from my point of view.
---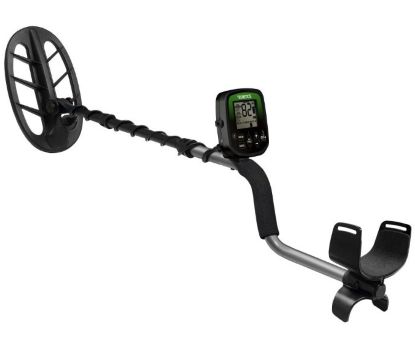 This is a time-proven and inexpensive model.
Delta 4000 can be called a metal detector for beginners, but at that, this is a device that has such characteristics and features that allow not beginners using it successfully.
So, don't think that this is a simple device since it has several quite serious functions: 2-digital target identificatory, All metal mode, and a pinpointer mode.
Teknetics Delta 4000 uses 7,8 kHz operating frequency, which allows detecting deep targets.
The device has two pre-set discrimination modes: "All metal" and "Coin." On display, you can see information about the target – VDI number, depth, etc.
The metal detector is easy to use and master as well as it is rather undemanding in the field conditions.
Also, this model will attract beginner detectorists with its price.
Teknetics Delta 4000 Metal Detector
User-friendly metal detector ideal for coin shooting, relic hunting, and gold prospecting
Large, easy-to-read LCD display with 2-digit numerical target ID system
Running depth indicator identifies target depths from 0 to 8 inches
Last update on 2022-05-20 / Affiliate links / Images from Amazon Product Advertising API
Summary
This is inexpensive, but a time-proven metal detector. To tell the truth, it offers poorer functionality than the models at the beginning of the list, but it will cost less as well.
---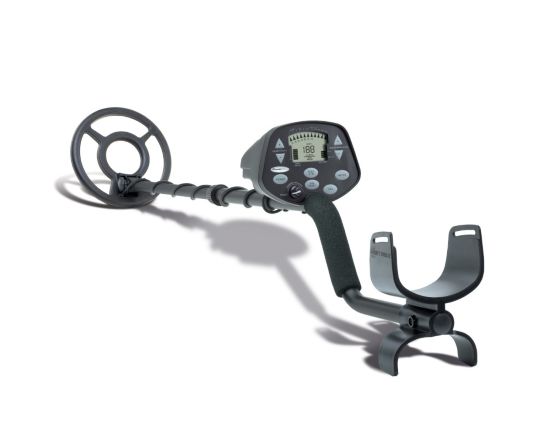 This metal detector is promoted as a model of beginners, but at that, it has rather good characteristics.
Bounty Hunter Discovery 3300 is a device that offers all functions necessary for convenient treasure hunting – it's not heavy and well balanced as well as it has a perfect design solution and advanced search functions.
At that Discovery 3300 has the best price-quality relationship.
The device is quite easy to adjust since it has no complicated settings.
If compared to the earlier models, Discovery 3300 has some extra functions: manual ground balance, possibility to create user's discrimination mode pattern, PinPoint mode.
The manual ground balance function performs better than the automatic one. With the help of this function, you can adjust the metal detector for noise-free search without any phantom signals on the highly mineralized ground.
The device discriminator has seven segments that allow focusing on the metal type required during this specific search trip. This function will help the user find some peculiar metal type in trashy areas.
Last update on 2022-05-20 / Affiliate links / Images from Amazon Product Advertising API
Summary
The metal detector offers a rather wide range of functions to qualify for a model of the medium price bracket, but at that, it costs less.
---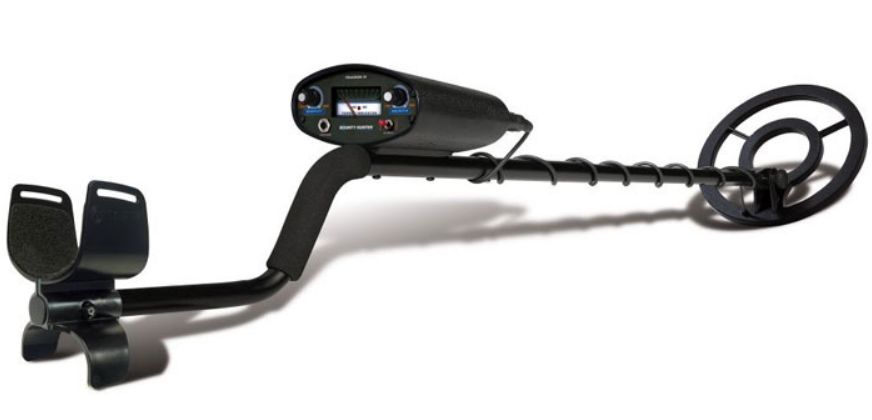 Bounty Hunter TK4 Tracker IV — is a great device for those who know how to get the biggest bang for their buck. I've been rather leery of the device till I tested it.
Yes, it is very simple, though it has quite a lot of fans for whom this metal detector became the first one in their practice. Yet I keep recommending another model made by the same company, but if its price exceeds your budget, you can get Bounty Hunter TK4 Tracker IV without any doubts. The device is cheap and at that it really works and can detect something – it's not just another useless toy.
This metal detector is quite user-friendly; it has 3 operation modes (discrimination mode, tone discrimination and All-Metal mode), several settings and a screen with a needle indicator.
The device has automatic ground balance that allows working at highly mineralized soils. It is a multi-purpose model which is suitable for any kind of soil and can be used on the beach since its 8″ concentric coil is water-resistant.
Tracker IV is light weighted and easy-to-use, so it won't be a burden during a long journey. You can go treasure hunting with it and you won't get tired. The device has ¼" plug connection for headphones. It is powered by 2 batteries. Full charge is enough for 35 hours of continuous work.
Last update on 2022-05-20 / Affiliate links / Images from Amazon Product Advertising API
Summary
Bounty Hunter TK4 Tracker IV decidedly deserves attention. It is cheap, but at that it is capable of detecting something. It is an interesting option, though provided with a bit larger budget you can get much better models. Of course, this device won't be considered as the one worth buying by experienced amateurs and professional treasure hunters due to its minimal number of settings and characteristics.
---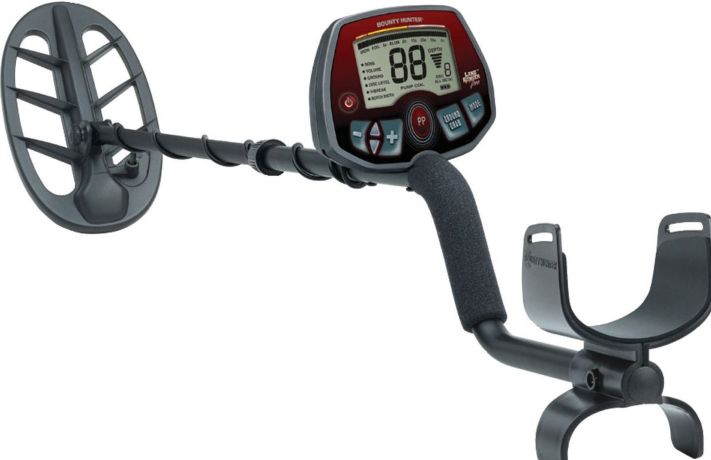 This is the metal detector that I've started my treasure hunting experience with. It is still considered to be the best one. If you make up your mind to buy this one, I do recommend you to read the complete review.
Land Ranger PRO – is a top model of Bounty Hunter product line. There are two more models in this line. However, despite their slight difference in price, they are essentially worse than the top model in terms of their functionality.
This detector has 7 preset search modes each of which you can adjust manually. This is an excellent device to search for relics, coins, gold, jewelry or all types of metals. Water resistant 11 inch DD coil comes in the device set.
Last update on 2022-05-20 / Affiliate links / Images from Amazon Product Advertising API
Summary
This model is a bit unacknowledged on the market, which is rather strange. Considering its rather low price this characteristics can compete with that of semi-pro devices. Also don't forget that this model was produced in 2014, while ACE-250 – in 2004. This is clearly seen from the device appearance, design and characteristics. I recommend Bounty Hunter Land Ranger PRO – it is an ideal combination of price and functions.
---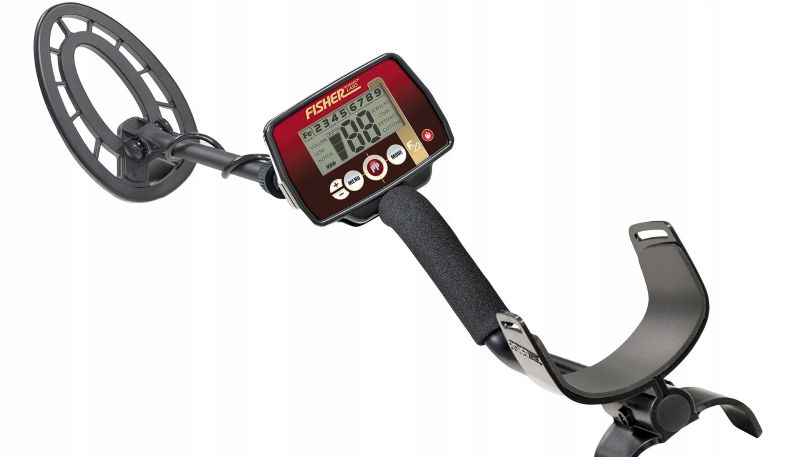 Here we have two models and they both are well acclaimed, but they have different price.
Experience has proven that though you don't know if treasure hunting becomes your hobby or not, it's better to think about the future.
We've reviewed this metal detector in detail here and here.
Nowadays, F44 is one of the devices with high potential. It can be even considered as a semi-professional device.
Fisher F22 can be considered as a good and cheap alternative to the latter; it has sufficient number of functions for quite an affordable price!
As for the device key features, this is its high processing speed, which is very helpful when walking around the area with a lot of rubbish. Due to the fast response it is easier for the user to identify several closely located objects.
Another distinctive feature of the device is its dirt and waterproof control unit with touch keys. This metal detector can be used for beach hunting (but without putting the device under water).
As for the rest, this is a quite ordinary, but high quality model.
Fisher F22 Weatherproof Metal Detector with 9 Inch Weatherproof Coil, All-Purpose,...
ALL PURPOSE METAL DETECTOR: Weatherproof metal detector that can detect Jewelry, Coins, and Artifacts on land and shallow...
TREASURE HUNT IN ANY CONDITION: This metal detector is weatherproof for use in the harshest weather and environments. Rain or...
JUST TURN-ON-AND-GO: A metal detector made for adults but easy enough for a child to operate. Easy-to-use features like...
Last update on 2022-05-20 / Affiliate links / Images from Amazon Product Advertising API
Fisher F44 Metal Detector
Perfect tool for relic hunting, gold prospecting, coin shooting, or just take it to the beach and see what you can find
Equipped with 5 operating modes: Jewelry, coin, artifact, custom, and all metal
Fine-tune your settings to perfection with 20 levels of sensitivity and volume
Last update on 2022-05-20 / Affiliate links / Images from Amazon Product Advertising API
Summary
Main features of Fisher metal detectors are the following: they are light-weighted, water resistant, they demonstrate stable performance, sufficient search depth for such class of devices, VDI figures, backlit, volume adjustment (which is especially important for those who like digging at night or in silence).
---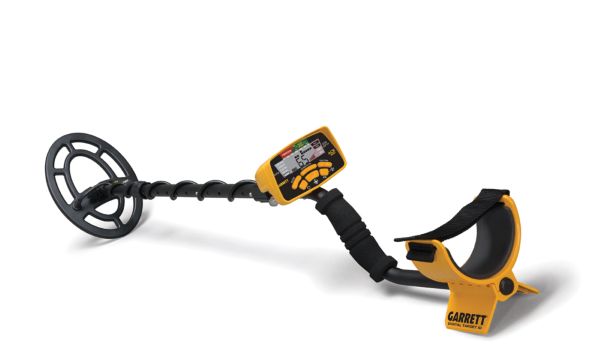 Garrett has been a leading company on market for a long time. Its Garrett Ace 250 has become a classical device for metal detecting, but by 2016 it had become out of date and the company had designed Garrett Ace 300.
We've reviewed this metal detector in detail here.
Garrett Ace 300 belongs to low-end models and it's a good device. It is very convenient that the device is fully stocked and you won't have to buy anything except a shovel.
For example, experienced treasure hunters already know that its better to wear headphones when metal detecting, because they'll be able to hear signals from small or rather deeply located targets. Here, headphones come in the set.
Garrett ACE 300 is the same easy to use and comfortable as the previous models, but at that it has lots of improvements that you can't miss: a new wider discrimination scale. You can use this metal detector to look for coins, relics, jewelry, all metals.
Sensitivity adjustment range now has 8 divisions, but the battery charge signal is the same and it has four positions. The style of discrimination performed by excluding specific sections hasn't changed.
Last update on 2022-05-20 / Affiliate links / Images from Amazon Product Advertising API
Summary
This machine is an improved classical model. Sufficient number of settings, low price and high reliability makes it a good option for those, who are taking their first steps in discovering a new hobby.
---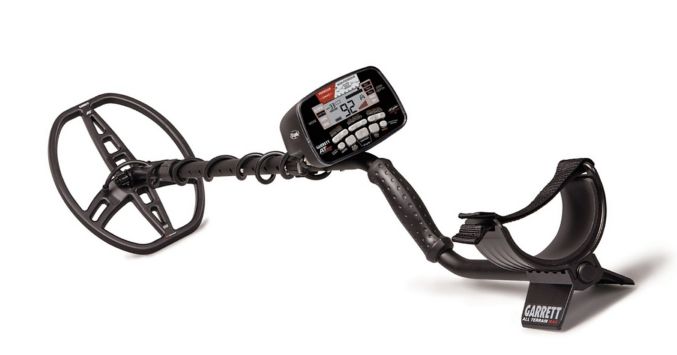 I included this metal detector into the list for one reason. Probably, this is the most easy to use device in its class. We've reviewed this metal detector in detail here.
You turn it on, set ground balance and go metal detecting. Having a super professional model you have to devote a lot of time to study the device properties and features (for example, it takes users months to learn to use Minelab 3030 CTX).
Yes, in the review it is rated as a semi-professional device and this is true, but the model is a very popular one not only on American, but on European market as well.
This metal detector is for those, who already know that treasure hunting is a true hobby for them and they don't want to make any extra purchases by getting completely simple detectors. At that the user isn't that self-reliant to get a professional device.
By the way Garrett AT Pro is in strong demand, so you can easily sell it if necessary.
Last update on 2022-05-20 / Affiliate links / Images from Amazon Product Advertising API
Summary
Garrett AT pro is the most multi-purpose device in the list. It has simple settings, demonstrates stable performance, you can use it to search gold and under water and it can be easily sold. It is also one of the most popular metal detectors in the USA and it has only one drawback – this the most expensive model in the list.
Conclusions
If you take a closer look, lots of great models are missing in my rating. However, I've tried to include in it the devices manufactured over the last few years that are time-proven and still popular among the treasure hunters.
I do hope, that my rating and recommendations on how to choose a metal detector will help you to make up your mind about which device to buy.
This review is based on my friends' and my own experience in treasure hunting. At least you should remember, that it's not a metal detector who finds treasures, it's you and I've just created a list of the most worthy assistant devices you can use in this process at the beginning of our career as a treasure hunter.
How does a metal detector function?
Any metal detector has two basic elements: a coil and a control unit. The coil forms an electromagnetic field that is sensitive to metal objects (like iron or gold).
The control unit processes the signal obtained from the coil properly and also it is responsible for control and adjustment of the device. The electric power that the device uses is obtained from accumulators or batteries.
The transmitting coil emits electromagnetic waves that easily penetrate through neutral medium. In case when a metal object is encountered the waves reflect from it and the device receives a reflected wave.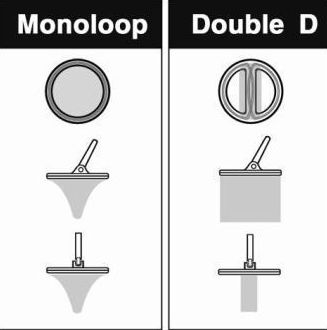 The control unit processes it and emits a sound of certain tone range by this informing the user that a target was detected. The sound may vary from a deep tone to a thin one, which depends on the metal conductivity and the settings.
Quality model also provide you with some additional info on the screen, for example: metal type (iron, copper, silver, gold), target depth.
What kinds of metal detectors are there?
Metal detectors are first of all divided into ground and underwater ones. These groups partially intersect – ground metal detectors may have waterproof coils and control units which allows using them over the coast land for treasure hunting.
With underwater metal detector you can also go detecting on the surface (for example, on the beach). As for the professional metal detectors, in most cases they are multi-purpose ones.
Except the above mentioned, there is a very conventional division of metal detectors in terms of who is going to use them – beginners, amateurs or professionals. The difference here is first of all in the price and number of features the device has.
If you are just starting to get to know the treasure hunting process, I advise you to take your time and not to buy a high-end device with lots of functions.
The best thing in the beginning is to get the experience and skills first, as well as to answer yourself a question 'is this really the hobby I like?'
Characteristics of a metal detector
In this section we'll explain the main settings and values, so I recommend it for reading if you haven't dealt with metal detectors before. Ground metal detectors are the most spread ones and they have maximal number of functions.
The most important ones are its frequency, discrimination, VDI, pin point, ground balance. Let's take a closer look at each of them.
The frequency. Coil emits signals of certain frequency. The detection depth is very important and this parameter to a large extent depends on the detector operation frequency.
Here we have a dilemma, since low frequencies penetrate the ground well, but they poorly detect small targets and the situation is completely the opposite with high frequencies.
Low operation frequency (5—9 kHz) is the best for detecting large objects that lay deep in the ground; however, small ones that are close to the surface can be missed by such a detector.
High frequency (18—100 kHz) is used to detect coins, gold nuggets and other small objects, but this kind of frequency poorly penetrates the ground, especially is it is dry.
As a rule all metal detectors use 6-8 kHz frequency. These frequencies are multi-purpose ones, they are capable of detecting both large and small targets.
Discrimination
This is the process of excluding some unwanted targets from the detecting range according to their electrical conductivity. When using this option the device will ignore false signals generated by various rubbish (nails, cans, beer bottle caps) and it will detect and inform its user only about targets worth digging.
Even a simple model must have a discrimination function. How precise this function works is another aspect. Naturally, discrimination function of cheaper and simpler devices has poorer productivity and produces false signals more often.
Depending on how close a metal detector level is to professional one its discrimination settings vary. The closer it is to beginner level, the more simplified the discrimination process is and, correspondingly, it can be less precisely adjusted.

Discrimination function set in a certain way is a mask. Various masks allow the metal detector to ignore particular types of metals.
For example, if you are walking around a farm field the discrimination should be set to ignore iron, if around the beach – set discrimination mode to ignore metal bottle caps.
Many models have some preset masks – for coins, relics, jewelry.

However, they always have the ability to set the discrimination mask by the user, which allows you to set it to look for your specific range of targets. Though, not all models of metal detectors have such an ability.
VDI
If a detector is equipped with a display, at all times it has a discrimination scale viewing that shows, as a rule, indication of the object from 0 to 99.
What does it mean? The closer discrimination indicator is to zero mark, the less is electric conductivity of the detected object.
In terms of electric conductivity of pure metals the metal detector discrimination scale should look like this: iron/nickel/zinc/aluminum/gold/copper/silver.
Such a scale is present in almost all metal detectors, but usually the scale has not only the names of metals, but also objects made of them.
This approach is completely valid considering that in most cases not pure metal, but its alloy is used to make any object, no matter whether it is a jewelry item, a coin or a bottle cap.
Depending on what metal was used as an addition alloy the electric conductivity of an object itself changes.
For example, gold jewelry depending on its manufacturing process includes zinc, nickel, platinum and even copper as additives. First three metals my have electric conductivity close to that of iron, i.e. even less than that of aluminum, that's why when detecting a gold jewelry item on discrimination scale you will see the value between aluminum and iron; correspondingly, a sound indication you'll hear will be of a deep tone.
If copper was used more often than other addition alloys during the manufacturing process, the signal will be of more thin tone (if the device is equipped with polyphony) and the indicator will show presence of the metal in a range from aluminum to copper.
PinPoint
Static mode – it helps to identify exact location of the target in the ground which helps to dig it out. This function significantly increases comfort of treasure hunting process and decreases the time required to dig out the target.
Mots of valuable findings are of small size (a coin, a ring, a cross pendant). Such a difference in size between the target and the coil multiplied by a swing (a pass coil above the target) provides you with quite an approximate location of the target.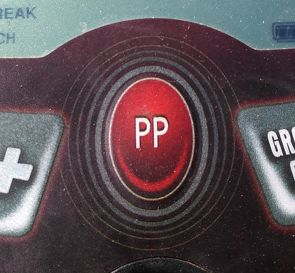 When metal detectors didn't have a pin point function, exact location of the target was defined by means of a 'cross' – it was performed by swinging the device coil two times drawing a cross in the air.
The point of the signals intersection was considered as a place where the target rests.
But when the pin point function appeared, this process significantly simplified. Now, it is enough to turn on this function and slowly move the coil over the place where the target should be and you'll get its exact location (the signal tone reaches its maximum at this point and you can see it on the screen). In the pin point mode you can also see the target depth.
Ground balance
It allows to adjust the device sensitivity to find valuable objects in highly mineralized soils. As you remember, the coil detects signal distortions obtained from metal objects.
At that the distortion type completely depends on the metal object conductivity and this is the way how the metal detector can define the type of metal the target is made from.
However, the ground distorts signals as well, at that the level of distortion fully depends only on the level of soil mineralization.
Thus, if the soil is highly mineralized, there is a lot of interference and so called false 'phantom' signals appear; on their background you just won't hear signals from targets that are small or lay deep.
To avoid this the ground balance function was designed, i.e. it allows to adjust the device so, that it can successfully detect metal objects ignoring soil mineralization.
There is a fixed, automatic and manual balance function. Let's study each of them in details.
Fixed is a delivery preset value. This is a very rough setting that suits most ground types. The device with such settings demonstrates stable performance on any ground, but at that the detection depth decreases if compared with the devices having automatic or manual balance function.
Advantage of metal detectors with a fixed ground balance can be considered as the ability to use it without having any special knowledge, experience and knowing how to set the balance manually.
As for the disadvantages – such a device can't be adjusted to certain soil properties and that's why you shouldn't expect some overwhelming results, since the device won't have proper sensitivity and depth.
Automatic ground balance allows a detector to adjust this function automatically. The user just performs some simple manipulations with the coil which take just 10-20 seconds.
The device microprocessor processes the signal obtained from the ground and adjusts itself to work on a specific search area. Experienced treasure hunters know that in some areas ground characteristics can change rather often and that's why you have to adjust the device again every time you change the location.
The benefit that the user gets from having automatic ground balance function is, that it is impossible to make a mistake in the device settings.
Manual balance differs from the above mentioned functions in the fact that the user decides how to adjust the ground balance.
The process is like the automatic balance setting, but the user has to define soil mineralization level himself relying on the instrumental data.
To do this the user has to have a lot of experience and knowledge, since if the settings are wrong, you won't find anything and vice versa – provided with properly set ground balance you will get the best results.
---