Well, I see your confusion – how to choose the best metal detector among those thousands models of already existing ones? How much it is ok to pay for it – 20, 100, 1000 or 5000 dollars? So, if you've decided to buy a metal detector but the problem is which one to choose – here you'll get the answers to all your questions about metal detecting. This article will surely provide you with the most popular metal detector reviews both for beginners, amateurs and professionals. Here you'll find out about downsides and advantages, technical characteristics, detecting features and peculiarities of modern metal detector models.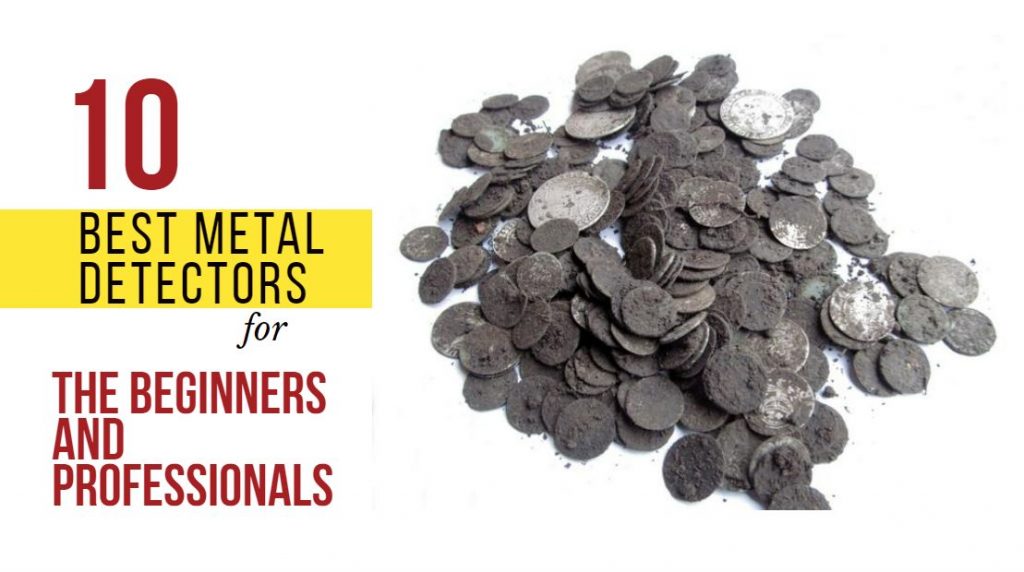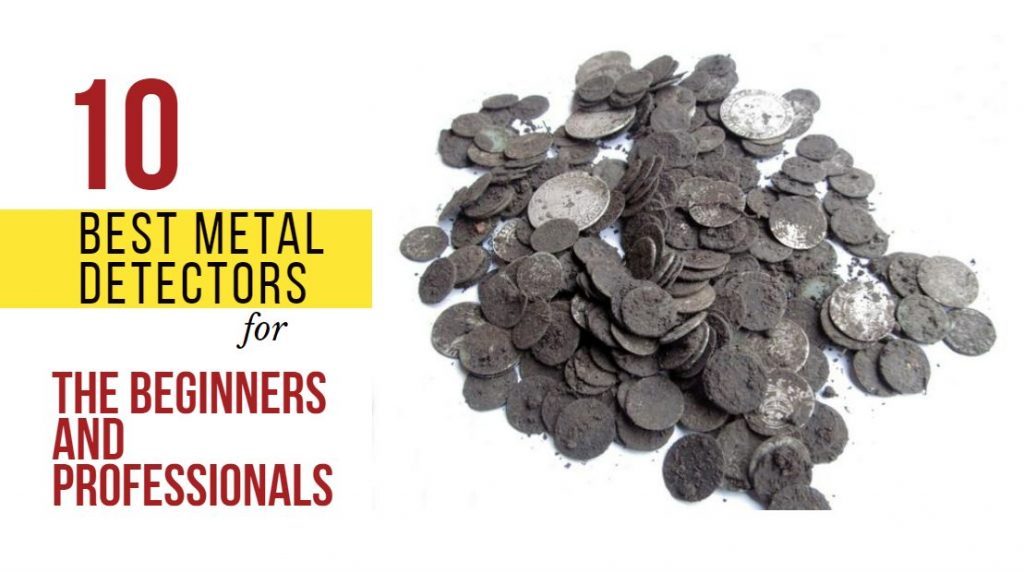 It is difficult to choose the best detector among the number of high quality ones. However, I feel that there is an optimal model (as for price-quality ratio) within each price bracket.
Here are the best metal detectors
---
Metal detector reviews
All metal detectors can be nominally divided into three classes: for beginners, semi-pro devices and those designed for professionals.
We'll overview the most popular models. Starting from the simplest and moving to more complicated ones.
Best metal detectors for the beginners
So, you need an entry-level device if you speculate as follows:
I consider treasure hunting as insignificant, but interesting hobby to spend my weekend. It involves taking a nature hike, communication with fellow-thinkers and getting some positive emotions. Possibly I will go treasure hunting for about 5-6 times a season or seldom look for nickels, dimes and pennies in the fields around. The main task of my metal detector is just to to perform properly and find targets. I don't want to make any complicated adjustments; I just want to get maximum of user-friendliness and simplicity from the device.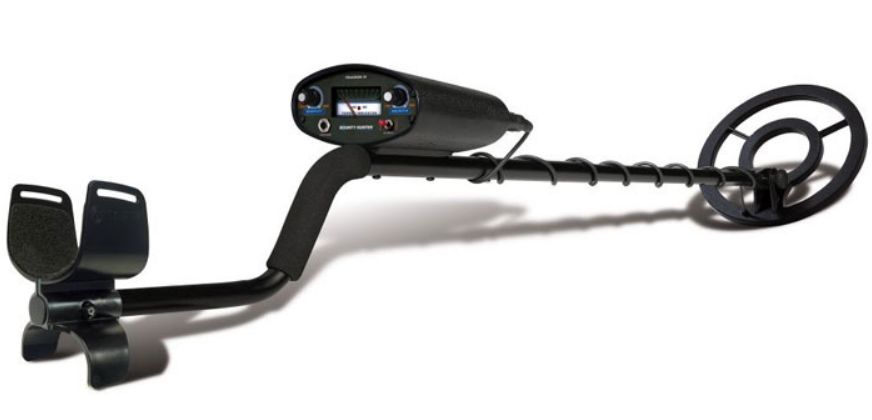 Is cheap, but effective
Bounty Hunter TK4 Tracker IV — is a perfect device for those who know how to get the biggest bang for their buck. I've been rather leery of the device till I tested it. It's best metal detector under 100.
Yes, it is very simple, though it has quite a lot of fans for whom this metal detector became the first one in their practice. Yet I keep recommending another metal detector model made by the same company, but if its price exceeds your budget, you can get Bounty Hunter TK4 Tracker IV without any doubts.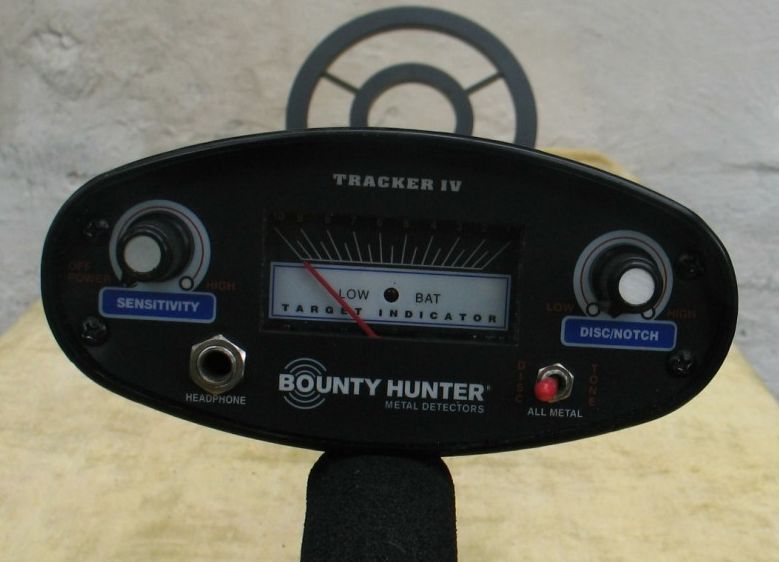 The device is cheap and at that it really works and can detect something – it's not just another useless toy.
This metal detector is quite user-friendly; it has 3 operation modes (discrimination mode, tone discrimination and All-Metal mode), several settings and a screen with a needle indicator.
The device has automatic ground balance that allows working at highly mineralized soils. It is a multi-purpose metal detector which is suitable for any kind of soil and can be used on the beach since its 8″ concentric coil is water-resistant.
Tracker IV is light weighted and easy-to-use, so it won't be a burden during a long journey. You can go treasure hunting with it and you won't get tired.
The device has ¼" plug connection for headphones. It is powered by 2 batteries. Full charge is enough for 35 hours of continuous work.
| | |
| --- | --- |
| Model | Bounty Hunter Tracker IV |
| Weight | 2,98 lbs (1,35 kg) |
| Batteries | 9v x 2 |
| Headphones | No |
| Warranty | 5 year |
| Operating Principle | VLF |
| Standard Searchcoil | 8" weather resistant coil |
| Operating Frequencies (kHz) | 6.6 |
| Water resistance | Waterproof coil |
| Submersion Depth | No |
| Discrimination | 2 discrimination levels |
| Ground Balance | Preset |
| Search Modes | 3 |
| Audio Threshold | No |
| Sensitivity/Depth Adjustments | No |
| Electronic Pinpointing | No |
| VDI (0 to 99 scale) | No |
| Build-in flashlight | No |
Last update on 2022-05-20 / Affiliate links / Images from Amazon Product Advertising API
Summary
Bounty Hunter TK4 Tracker IV decidedly deserves attention. It is cheap, but at that it is capable of detecting something. It is an interesting option for beginners, though provided with a bit larger budget you can get much better metal detectors. Of course, this device won't be considered as the one worth buying by experienced amateurs and professional diggers due to its minimal number of settings and characteristics.
Pros
Concentric coil 8″ in diameter
User-friendly
Light weighted, you arm doesn't get tired when using the device for a long time
35 hours of continuous operation (powered by 2 batteries)
3 operation modes
Preset ground balance
Cons
Minimal settings number and features
Necessity to replace batteries
Large number of false signals
Doesn't search deep
---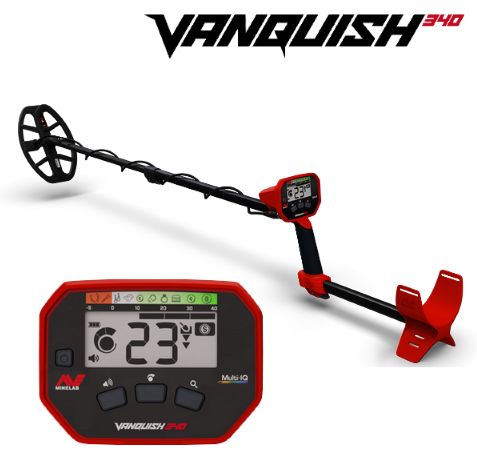 This device is a 2020 novelty in the world of metal detectors designed by Minelab. Here you can find a detailed metal detector review, technologies it uses, the device models, and the difference between them.
However, I'd recommend considering this product line.
Why?
First of all, I think so because this is the first metal detector in the world that uses a multi-frequency technology Multi-IQ and, at the same time, belongs to budgetary and medium price brackets. The technology ensures stable signal detection on any kind of soil (complex soils, sea beaches), and the target is detected through several frequencies at the same time.
Before Vanquish was designed, Multi-IQ was used only for expensive metal detectors.
Secondly, Vanquish belongs to a category of metal detectors that don't require any special skills to use them ('turn on the device and go'). They are easy to use, small-sized, and convenient.
Thirdly, there are four models in the product line. They vary from the inexpensive and simple one to the Pro version of the device that has two search coils.
Fourthly, Minelab is a renowned company that has a technical support department, offers warranty for its devices, and ensures high product quality.
| | |
| --- | --- |
| Model | Minelab Vanquish 540 |
| Weight | 2.9lbs (1.3kg) |
| Length (Adjustable) | 760 mm (30″) – 1450 mm (57″) |
| Batteries | Included, 4 x AA NiMH rechargeable |
| Headphones | Wired 3.5mm (1/8″) |
| Warranty | 3 years |
| Operating Principle | VLF |
| Standard Searchcoil | V12 12″x9″ Double-D |
| Operating Frequencies (kHz) | Multi-IQ |
| Water resistance | Coil to 1m/3-feet |
| Submersion Depth | No |
| Search Modes | Coin, Relic, Jewellery, Custom, All Metal |
| Ground Balance | Auto |
| Audio Threshold | No |
| Sensitivity | 10 levels |
| Electronic Pinpointing | Yes |
| VDI (0 to 99 scale) | Yes |
| Build-in flashlight | Monochrome LCD with red backlight |
Minelab Vanquish 540 Metal Detector with V12 12" x 9" Double-D Waterproof Coil
MULTI-IQ TECHNOLOGY: Minelab's revolutionary technology combines the power of multiple detectors into one, allowing you to...
TURN ON AND GO: Engineered to let you start accurately searching right out of the box.
ALL-TERRAIN: Outperform other detectors and dominate detection in wet sand and saltwater using one of four find modes –...
Last update on 2022-05-20 / Affiliate links / Images from Amazon Product Advertising API
Summary
In a word, if you are a beginner detectorist, I do advise you to take a closer look at this product line. The quality meets the price almost completely in case of this metal detector. Besides, you can select the device model that fits your budget. Just don't buy the first model, since its functionality is significantly lower while the price isn't that low. However, you are welcome to read about this in our detailed review.
---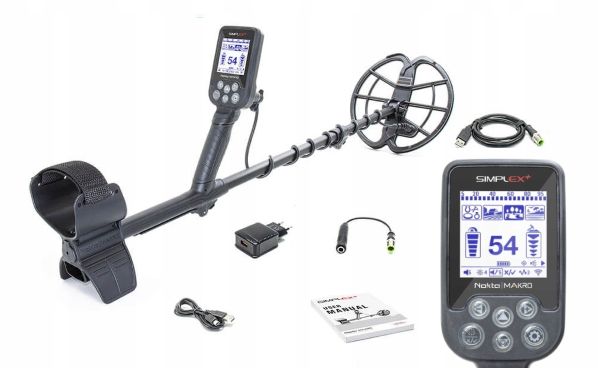 This is another metal detector made in 2020, and this device is a good alternative to the Vanquish product line. If you want to know more details about this metal detector, you can read our review.
Nokta has been on the market not that long, but it designs metal detectors that can compete with the leading devices on the market, as well as they offer better functionality.
For example, you can compare the functions of this metal detector with those of all other devices given below. Or you can just trust me when I say that metal detector models designed about 3-5 years ago can't compete with this device at all.
This is Nokta, who dramatically changes the metal detectors market, and even Minelab has to consider this.
Simplex Plus is an easy-to-use device that will definitely be appreciated by beginner diggers. The metal detector has four pre-set search modes: All metal, Beach, Field, Park.
The device search coil is 11 inches large, and it provides a good response on any kind of soil due to the frequency shift function.
This device model is equipped with a 2300 mAh battery accumulator that provides continuous operation of the metal detector. Due to this, you don't have to get any extra batteries.
The device package set also foresees and unit by means of which you can connect wireless headset to the metal detector.
The main difference between this device and Vanquish product line is that you can use this metal detector not only for beach hunting but for underwater one as well. The device is designed to have a waterproof shell that is submergible up to 10 feet (3 meters) deep.
The metal detector handle vibrates when the device detects a valuable target in the ground. Such a feature allows underwater treasure hunting without using a display and headphones.
| | |
| --- | --- |
| Model | Nokta Simplex |
| Weight | 2.9lbs (1.3 kg) |
| Length (Adjustable) | 25″ – 52″ (63 cm – 132 cm) |
| Batteries | 2300mAh Lithium Polymer |
| Headphones | Wireless |
| Warranty | 2 Years |
| Operating Principle | VLF |
| Standard Searchcoil | 11″ (28cm) DD Waterproof |
| Operating Frequencies (kHz) | 12 |
| Water resistance | Yes |
| Submersion Depth | up to 10 feet (3 meters) |
| Search Modes | 4 (All Metal / Field / Park /Beach) |
| Ground Balance | Auto, manual |
| Frequency Shift | Yes |
| Sensitivity | 6 Levels |
| Electronic Pinpointing | Yes |
| VDI (0 to 99 scale) | Yes |
| Build-in flashlight | Yes |
Last update on 2022-05-20 / Affiliate links / Images from Amazon Product Advertising API
Summary
To cut a long story short – are you a fan of beach hunting? This is a device for you. It won't be a perfect one, but many metal detectors fail during beach hunting, especially on black sand. However, you won't find anything better for this price.
---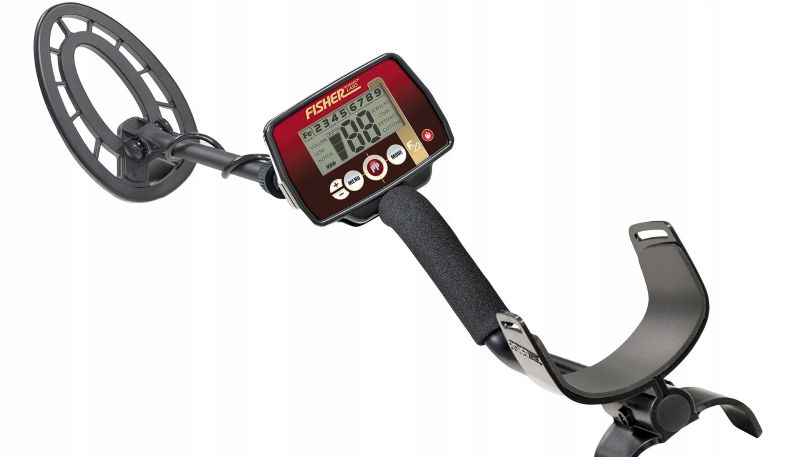 the best metal detector for beach hunting for the beginners
Fisher F22 metal detector was a long-awaited product in 2015. The device is easy to master both for beginners and experienced users, because F22 doesn't have any complicated adjustments and settings – it is simple, functional, multi-purpose, high-quality and affordable metal detector.
Its waterproof case allows searching even when it's raining. The device has 9″ concentric mono coil, pinpoint function and large LCD-display with VDI, and discrimination scale consisting of 9 segments.
Fisher F22 is the 1st weatherproof metal detector. What does weatherproof mean? Engineers in Fisher research labs have made the device control unit waterproof. Now it is protected from dust and water ingress.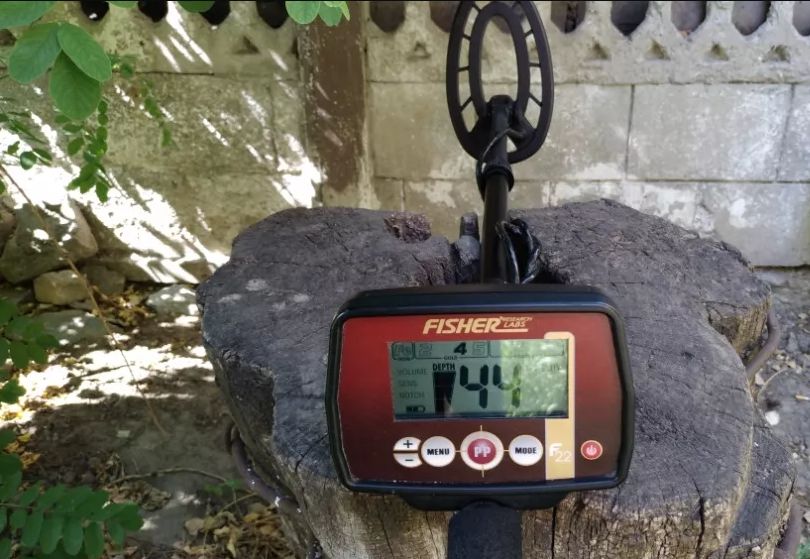 By contrast, other metal detector models eventually encounter some troubles due to dirt, water and dust ingress into conducting parts.
However, providing that the device has a waterproof case all these issues can be avoided and thus the metal detector durability can become several-folds longer.
Another new feature of Fisher F22 is that it needs just two AA batteries to function. Low energy consumption has become possible due to using of more energy efficient microchips in the device scheme.
Supplied with two alkaline batteries this metal detector is capable of functioning up to 30 hours! Such operation duration can't be reached by lots of devices made by famous brands.
Fisher F22 control unit is equipped with a large LCD-display. All signs and pictograms are clearly seen, therefore you don't waste your time while searching to get what is displayed or indicated.
In the center of the display you see a large two digit number, which indicates rating of the found metal object (VDI number). Taking VDI number into consideration quite often helps to distinguish between some metal rubbish and valuable finding.
Above VDI number you'll see the 9 segment discriminator scale and it stretches along the display full width. By switching of one or another segment you can set the metal detector to search for some specific targets.
There is a menu on the left where you can adjust search parameters and perform more accurate setting of the discrimination function. There are two indicators next to the menu list: these are depth and batteries level indicators. Interestingly, the depth-gauge has 3 levels, while the battery charge level has 7 positions.
Fisher F22 scans soil at 7,69 kHz frequency by means of 9 inch concentric coil. F22 is the first in the world production metal detector that has an egg-shaped coil. A scanning beam of such shape is more selective as for adjacent targets, which allows finding valuable things even on a very littery land area.
| | |
| --- | --- |
| Model | Fisher F22 |
| Weight | 2.3 pounds |
| Length (Adjustable) | 2 |
| Batteries | 2 AA |
| Headphones | No |
| Warranty | 5 years |
| Operating Principle | VLF |
| Standard Searchcoil | 9″ DD |
| Operating Frequencies (kHz) | 7.69 |
| Water resistance | Weatherproof metal detector |
| Submersion Depth | No |
| Ground Balance | Preset |
| Search Modes | Jewelry, Coin, Artifact and Custom |
| Audio Threshold | No |
| Sensitivity/Depth Adjustments | Yes |
| Electronic Pinpointing | Yes |
| VDI (0 to 99 scale) | Yes |
| Build-in flashlight | No |
Fisher F22 Weatherproof Metal Detector with 9 Inch Weatherproof Coil, All-Purpose,...
ALL PURPOSE METAL DETECTOR: Weatherproof metal detector that can detect Jewelry, Coins, and Artifacts on land and shallow...
TREASURE HUNT IN ANY CONDITION: This metal detector is weatherproof for use in the harshest weather and environments. Rain or...
JUST TURN-ON-AND-GO: A metal detector made for adults but easy enough for a child to operate. Easy-to-use features like...
Last update on 2022-05-20 / Affiliate links / Images from Amazon Product Advertising API
Summary
Fisher F22 is a metal detector suitable for beach hunting and using it in some rainy areas. Any digger will be able to use the device regardless of his experience. With F22 you don't have to be afraid of dust, thick fog, rain, snow, water splashes, which are so dangerous to electronics of any other device. Reasonable price, high search properties, light weight, user-friendliness make Fisher F22 a perfect metal detector for treasure, jewelry and relics hunting. Except all above mentioned add to the device advantages a waterproof mono coil (9″) and 2 dimensional graphics: graphic scale Target ID, reliable target depth indicator and digital target verification (VDI). All these together give a budget priced metal detector all functions of a professional one! Furthermore, keep in mind that Fisher F22 needs just two batteries, which is its another merit!
Pros
Quick response
Audio level adjustment
High quality discriminator
Waterproof
Requires just two AA batteries
Cons
No manual ground balance adjustment
No backlight
---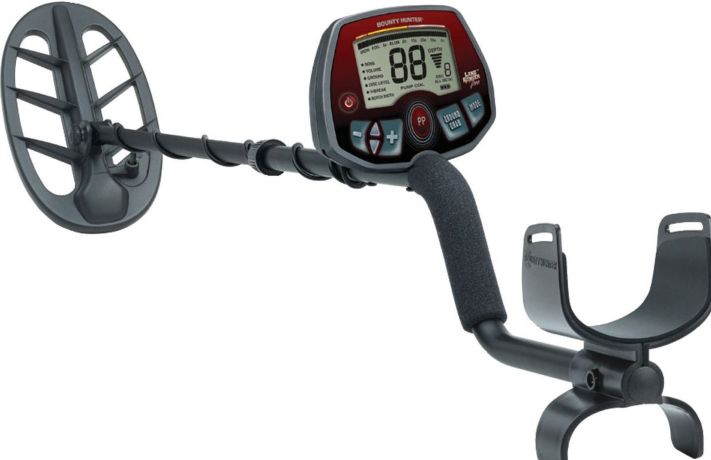 Land Ranger PRO is a flagship model of professional metal detectors product line Bounty Hunter. The full review you can find here.
The device has 7 pre-set search modes each of which can be manually adjusted. This is a perfect device for relics, coins and jewelry hunting or any metal you want. A waterproof 11 inch DD coil comes in the device set.
Land Ranger Pro metal detector produced by American company Bounty Hunter uses 6,7 kHz frequency in a dynamical mode. The ground balancing function is performed automatically and the searching can be performed both in discrimination an All metal mode. Besides this metal detector allows adjusting sensitivity and discrimination level.
The control unit has a nice LCD-display by means of which its user can control VDI number for targets found and see some settings as well.
There are several buttons of the control unit. The red one on the left is to turn on/off the device, while the red button in the center is to turn on Pinpoint mode.
On the left there are 4 buttons (up and down arrows and «+» and «-»), which are required to adjust some other functions. There are two buttons on the right: Ground Grab and Mode (to choose the mode and adjust it as you need).
Above the display there is a multicolored scale with three sections – orange, yellow and white. Under it, right on the display there is another scale with scale marks. Depending on the type of the detected metal these marks will be filled.
To make the process more clear some scale marks have notes: iron, foil, aluminum, zinc. Values 5c, 10c, 25c, 50c, 1$ stand for 5, 10, 25, 50 cents and 1 dollar. Besides, large VDI numbers are displayed as well.
When discrimination mode is on you can see on the display sensitivity level – Sens, audio signal level – Volume, ground balance value – Ground, discrimination level – Disc Level as well as V-Break and Notch Width functions. Though in All Metal mode you'll see only sensitivity, volume and ground balance.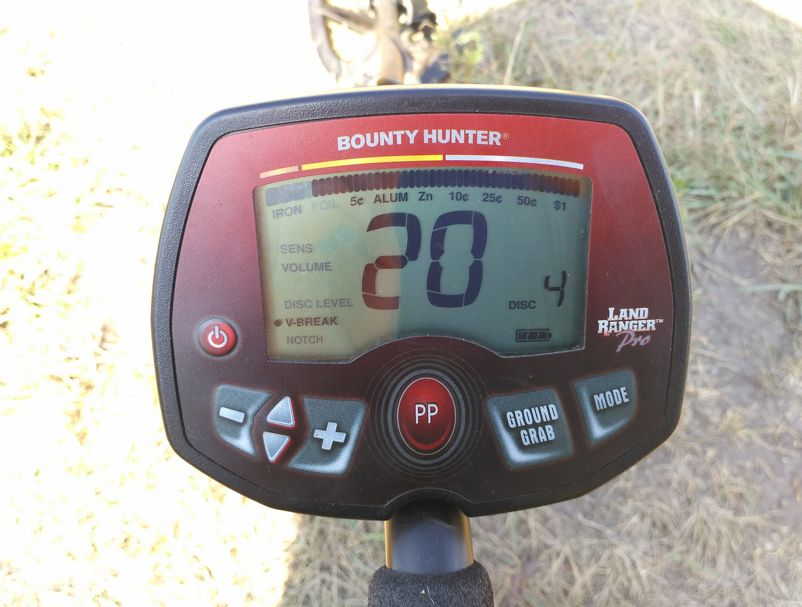 The battery level is always displayed. Depth function is activated only after you find a target and it shows how deep it is located.
You should keep in mind that it isn't the distance from the ground level to the target, since this is the one between the coil and the target. The depth-gauge has 5 levels.
You can also use the device both in All Metal and discrimination modes. When All Metal mode is on the metal detector just sees all metals. The discrimination function allows the user to exclude one or several metal types from the search.
You can use two different ways to turn on the discrimination function in Land Ranger Pro.
The 1st one is to set discrimination level by means of Disc Level. The 2nd one is to use Notch function and to «cut off» a part of the scale with the values you don't need. By the way, the device has a very useful feature to memorize its settings after turning off and on again, which is rather convenient.
As for the pinpoint mode, in Land Ranger Pro it is very handy – you just have to push PP button and hold it till the device switches to All metal mode with further detection of the object's center.
Bounty Hunter Land Ranger Pro has a standard completely waterproof 11-inch DD-type coil. You can use it for under water hunting, but remember to keep the control unit far from water.
| | |
| --- | --- |
| Model | Bounty Hunter Land Ranger Pro |
| Weight | 2.5 |
| Batteries | 1 (9V) |
| Headphones | No |
| Warranty | 5 year |
| Operating Principle | VLF |
| Standard Searchcoil | 11″ DD |
| Operating Frequencies (kHz) | 7.69 |
| Water resistance | Waterproof coil |
| Submersion Depth | No |
| Ground Balance | Manual/Auto |
| Search Modes | 7 |
| Audio Threshold | No |
| Electronic Pinpointing | Yes |
| VDI (0 to 99 scale) | Yes |
| Build-in flashlight | No |
Last update on 2022-05-20 / Affiliate links / Images from Amazon Product Advertising API
Summary
This metal detector model is a bit unacknowledged on the market, which is rather strange. Considering its rather low price this metal detector characteristics can compete with that of semi-pro devices. Also don't forget that this model was produced in 2014, while Garrett ACE 250 – in 2004. This is clearly seen from the device appearance, design and characteristics. I recommend Bounty Hunter Land Ranger PRO as the best metal detector for the beginners – it is an ideal combination of price and functions.
Pros
Fast target response
7 modes of search
Memorizes settings and when the device is off all of them (except ground balance) are saved into the device's memory
Sufficient depth
Self-sustainability
Large display
All modes perform properly
Sufficient ground balancing function
Cons
Fragile plug-connector for a coil
9 volt battery
No Noise Cancel function
No protective case for control unit
---
Best metal detectors for amateur
You require an MD of middle level if you speculate as follows:
I take seriously everything I do and I've got used to work with quality equipment. I'm a demanding user. At that I'm aware of the fact that this is a very exciting hobby, so I have free time and money for it. I'll go treasure hunting quite often. However, I'm not completely keen on all this stuff, I'm just an ordinary man that likes good devices and appreciates combination of reasonable price and corresponding properties of the goods I buy. Therefore, I'm buying a metal detector and expect I won't have to buy another one soon if I want a more powerful device.
this in an "amphibia" for beach hunting
Garrett AT Pro is a multi-purpose metal detector of semi-pro class and it is perfect for coin, jewelry and gold hunting in highly alkaline soils and on ocean beach.
The basic difference of Garret AT PRO when compared to other professional detectors is the possibility to put it whole under water. It means that you can start your treasure hunting along coastal area of any pond 10-foot depth. This is a multi-purpose amphibia, which means that it is both ground and underwater metal detector at the same time.
The device's coil DD PROformance 8,5″ x 11″ with operation frequency 15 kHz makes Garrett AT Pro International a professional metal detector when hunting for small targets. The device is designed exactly for small stuff hunting, that's why it can be called almost ideal metal detector for beach hunting.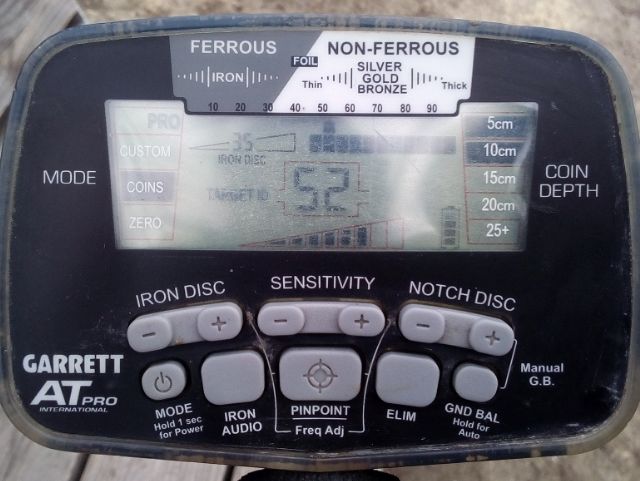 Of course, it can be used for larger targets hunting, but not so deep in the ground, as other devices of its class can search for.
We should mention as well that quite a lot of diggers provide positive feedback after using this device on alkaline soils. Surely, it's very convenient to use Garret AT PRO at the seaside, but you'll have to adjust ground balance manually and decrease the device sensitivity.
Moreover, please keep in mind that hunting under water requires using special headphones designed just for this model of metal detector. Using manual and automatic ground balancing modes make treasure hunting with Garrett AT Pro International more efficient on complex soils or highly alkaline fields.
Using PinPoint mode together with a new DD PROformance coil gives possibility of accurate defining of even the smallest target location.
| | |
| --- | --- |
| Model | Garrett AT Pro |
| Weight | 3.03 lbs (1.4 kgs) |
| Length (Adjustable) | 43″ to 56″ (1.09m – 1.4m) |
| Batteries | 4 AA (included) |
| Headphones | Included |
| Warranty | 2 year |
| Circuit Type | VLF |
| Standard Searchcoil | 8.5″ x 11″ DD PROformance |
| Operating Frequencies (kHz) | 15 |
| Water resistance | Waterproof detector |
| Submersion Depth | up to 10 feet |
| Iron Discrimination Segments | 40 |
| Ground Balance | Manual |
| Search Modes | 6 (3 Standard, 3 Pro modes) |
| Audio Threshold | Yes |
| Sensitivity/Depth Adjustments | 8 |
| Electronic Pinpointing | Yes |
| VDI (0 to 99 scale) | Yes |
| Build-in flashlight | No |
Last update on 2022-05-20 / Affiliate links / Images from Amazon Product Advertising API
Summary
Garrett At Pro can work both on the ground and under water, on the beach and in fresh water. It is possible to perform hunting in brackish water, but it requires manual adjustment and works good as well. Forests and fields can also be searched with this device. Despite having all these professional functions the metal detector is easy to master and it can be recommended both as the first device (with possibility to upgrade) and as a professional device for those who have already mastered an entry-level one.
Pros
Multi-purpose device that can work both on the ground and under water
Good for beach hunting
Suitable for highly alkaline soils
Its operation frequency allows searching for small targets (jewelry lost on the beach, for example)
Low price for the functions available
Dust and waterproof
Cons
The device may not work properly in brackish water, it requires manual adjustment for this
Plug-connectors are rather inconvenient to use
Batteries discharge quite fast
No backlight
---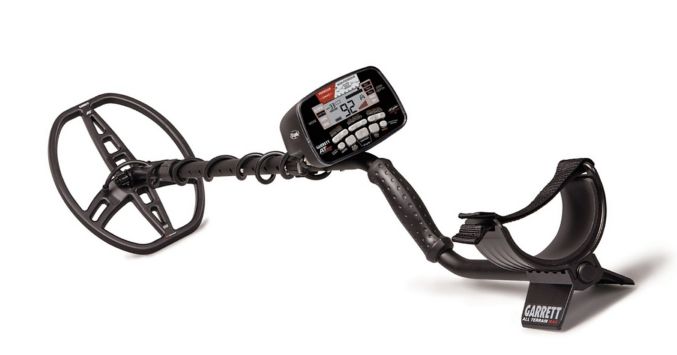 It autumn 2017 new Garrett AT MAX appeared on the market – an amphibian metal detector which you can put under water up to 10 feet (3m) deep.
This new model was designed for professional treasure hunters and it combines all the best features of AT PRO and AT GOLD since this device continues the product line. Actually, it really is an AT PRO metal detector, but this is its improved and upgraded version.
What makes Garrett AT MAX different if compared with AT Pro:
Increased search depth
Built-in wireless Z-lynk unit — allows using new wireless headphones Garrett MS-3
Improved automatic ground balance function
Adjustable threshold
Backlight was added
Improved grip, it doesn't slide and get worn out
Operation frequency 13.6 kHz
Garrett AT MAX is an amphibian metal detector and that's why its headphones and coil connectors, control buttons and battery unit lid are protected from possible moisture ingress. Due to this you can easily go coin and jewelry hunting up to 3 meters deep under water. Rain, dust, dirt and even snow are not a problem at all for this metal detector.
The headphones use wireless Z-lynk technology – it has no transmission delay and it is several times faster than Bluetooth devices. Wireless headphones are not just convenient to use, but they also provide more accurate target response.
The device search depth was improved due to its power increase and using of improved electronic components. Therefore, even when you go metal detecting around popular treasure hunting sites, there are high chances that you'll find valuable targets others have missed.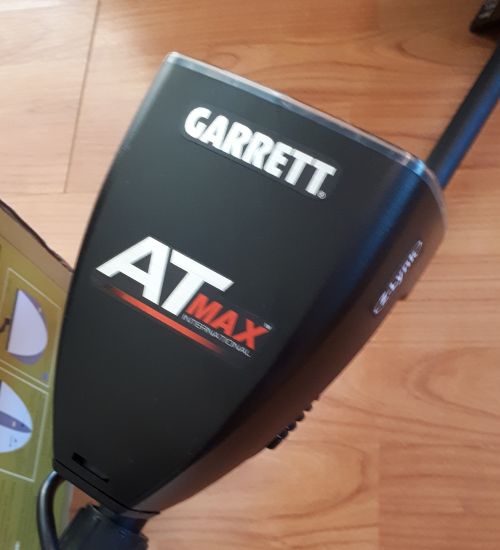 Optimized 13,6 kHz operation frequency ensures detecting even tiny objects including coins, relics and even gold nuggets, though the device isn't classified as a specialized cold prospecting metal detector.
It is possible to shift the operation frequency that's why interference from other devices or transmitting lines won't affect the MD efficiency in any way.
The display has a backlight which will be very helpful when it's dark. You can see all the info about your target on the device display including Target ID and 40-segments discrimination cursor.
Adjustable manual and automatic ground balance function allows treasure hunting on soils with high mineralization level and on saltwater beaches as well. Scalable threshold provides more precise information about the target found.
The shaft can be customized to user's height; the MD weight 3.03 lbs (1.4 kgs) ensures long term treasure hunting without getting tired. A standard 8.5″ x 11″ DD coil comes in the device set. It can be used for fast area reconnaissance as well as for speedy metal detection process.
| | |
| --- | --- |
| Model | Garrett AT Max |
| Weight | 3.03 lbs (1.4 kgs) |
| Length (Adjustable) | 43″ to 56″ (1.09m – 1.4m) |
| Batteries | 4 AA |
| Headphones | Included, wireless |
| Warranty | 2 year |
| Circuit Type | VLF |
| Standard Searchcoil | 8.5″ x 11″ DD PROformance |
| Operating Frequencies (kHz) | 13.6 |
| Water resistance | Waterproof metal detector |
| Submersion Depth | up to 10 feet |
| Iron Discrimination Segments | 44 |
| Ground Balance | Manual |
| Search Modes | 4 (all Pro Audio) |
| Audio Threshold | Yes |
| Sensitivity/Depth Adjustments | 8 |
| Electronic Pinpointing | Yes |
| VDI (0 to 99 scale) | Yes |
| Build-in flashlight | Yes |
| Enhanced Detection Depth | Yes |
| True All-Metal Mode | Yes |
| Auto Ground Balance Window | Yes |
| Iron Audio™ (Disc. Modes) | Yes |
| All Metal Iron Audio | Yes |
| Fast Recovery Speed | Yes |
| Target Depth Indicator | Yes |
| Battery Condition Indicator | Yes |
Last update on 2022-05-20 / Affiliate links / Images from Amazon Product Advertising API
Summary
This is an upgraded device for beach hunting and common treasure hunting. It is waterproof, capable of working deep under water, it has high operation frequency to look for coins and jewelry – what else could be possibly needed? As for the device demerits, sadly, none of them have been reported yet, so we have no information about them. However, considering the manufacturers experience in designing all its previous MDs, this new device has no drawbacks and none will be found.
Pros
2 years warranty
Target ID graphic scale has a digital cursor
2 display modes – standard mode and VDI
40 segment discrimination cursor
You can put the device under water
Pinpointer
MS-3 Wireless Headphones come in the device set. They have embedded Z-Lynk unit
The device uses 4 AA batteries
Cons
We have no information yet
---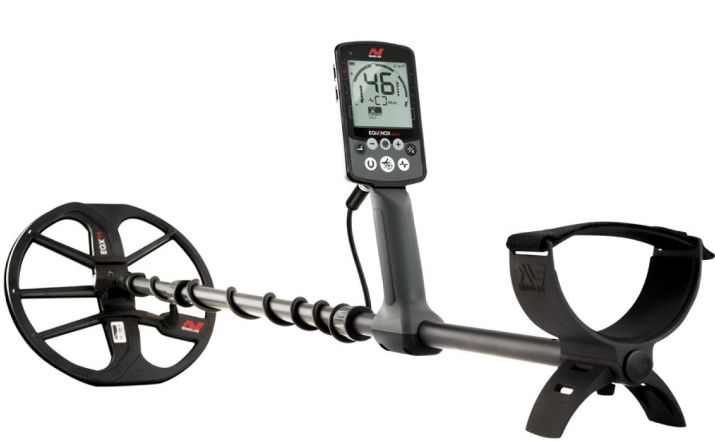 the optimal choice
Here is the latest thing from Minelab introduced on the market in 2018. This is a professional amphibian metal detector, which is sold as two types: Minelab Equinox 600 and Minelab Equinox 800.
Sure thing, model 800 of the device is much better as for its characteristics and we are going to write about it.
Minelab Equinox 800 is a multi-purpose metal detector meant for various types of treasure hunting. The device is equipped with three manufacturer's programs for beach hunting as well as for working in fields and parks.
Minelab Equinox 600 can function both in multi-frequency and single-frequency mode. The latter one works using one of the operation frequencies: low one – 5, middle one – 10 and high frequency equal to 15 kHz. Each frequency has its own advantages and peculiarities.
When using multi-frequency mode (Multi-IQ), the device scans the ground using 5 frequencies simultaneously (5, 10, 15, 20, 40 kHz), which increases the search depth and excludes phantom signals occurrence as well as allows to conduct any type of treasure hunting.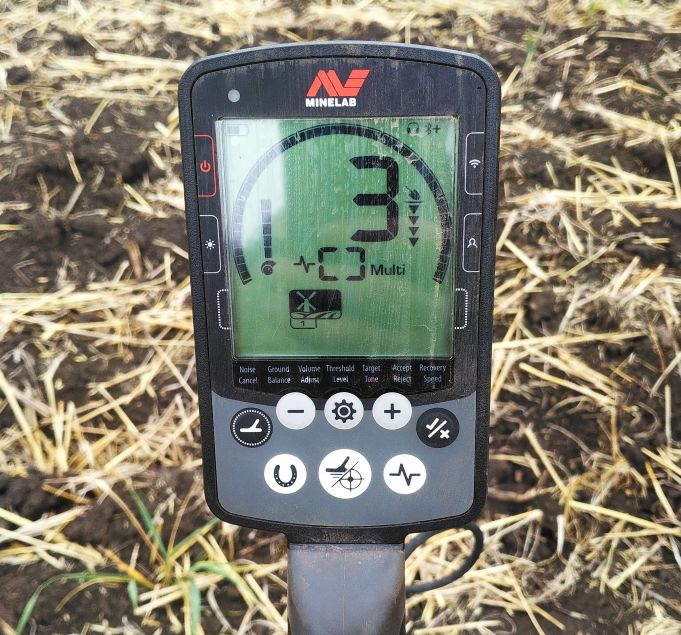 You can drown EQUINOX into water completely. It is perfect for beach and underwater.
Wireless headphones – 800 version of Minelab Equinox has wireless headphones ML 80 in its set as well as an audio unit WM 08 with very low audio delay to connect wired headphones.
In addition, the device control has been completely changed. The manufacturer decided to go back of the complicated user menu and all device settings are now set by means of the main display using control buttons without going though all these sub-menu points.
| | |
| --- | --- |
| Model | Minelab Equinox 800 |
| Technologies | Multi-IQ/Bluetooth |
| Weight | 1.34 kg (2.96 lbs) |
| Length (Adjustable) | 1440 mm (56.7″) |
| Batteries | In-built Lithium-ion |
| Headphones | Included, bluetooth |
| Warranty | 3 years |
| Operating Principle | VLF |
| Standard Searchcoil | 11-inch Double-D |
| Frequencies (kHz) | Multi, 5, 10, 15, 20, 40 |
| Water resistance | Waterproof |
| Submersion Depth | up to 3m/10-feet |
| Noise Cancel | Yes |
| Ground Balance | Auto/Manual |
| Modes | Park, Beach, Field, Gold |
| Audio Threshold | Yes |
| Sensitivity Adjustments | 1-25 |
| Electronic Pinpointing | Yes |
| VDI (0 to 99 scale) | Yes |
| LCD Backlight | Yes |
Minelab Equinox 800 Metal Detector with EQX 11" Double-D Waterproof Coil
MULTI-IQ TECHNOLOGY: Minelab's revolutionary technology combines the power of multiple detectors into one, allowing you to...
FULLY WATERPROOF: Don't stop at the beach or the bank, this fully submersible up to 10 ft. (3m).
4 DETECT MODES: Easily select from Park, Field, Beach or Gold modes to focus on target types or ground conditions.
Last update on 2022-05-20 / Affiliate links / Images from Amazon Product Advertising API
Summary
Adjustment simplicity together with professional functions the device offers allow us recommending Minelab Equinox metal detector both to professional diggers and amateurs. Several operation frequencies is all that is needed for such a thorough search, that nothing is left behind you. Besides, the device is a multi-purpose one – you can use it for beach hunting as well as to search in fields or parks. At the same time its wireless headphones won't get stuck in every bush you pass by.
---
Best metal detectors for professionals
You require the most modern metal detector if you speculate as follows:
I am a professional and whatever I do I try to do it diligently. I can afford buying a really high quality MD. Treasure hunting is a super hobby which I'm obsessed with and this is my lifestyle! I spend (or I will spend) a lot of time traveling for treasure hunting and a metal detector for me is the most crucial device just like a gun for a true hunter. Each additional inch of the depth as well as are essential to me!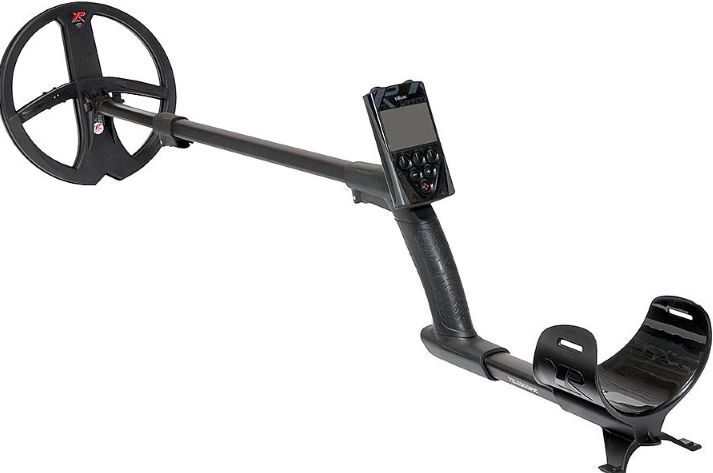 Nowadays it is the best metal detector in the world. XP Deus has accumulated all the best groundwork made by XP during all these years.The full review you can find here.
A professional metal detector XP Deus with 9 inch coil is made using modern wireless connection technology. The control unit, head-phones and the coil of XP Deus are connected with each other by means of wireless technology.
This is a huge convenience when searching – no wires, they don't cling to anything and you aren't afraid to tear the wire from the coil, which sometimes happens with other devices. XP Deus has outstanding search characteristics. At rather sufficient depth it separates the targets rather clearly.

The device can identify even the smallest coin next to hand-made nail. You can change the frequencies along the way by adjusting the device for deep and superficial search and even the smallest targets missed by other devices will be found.
To work in complicated conditions of highly mineralized soil use the ground balancing function that can be set in several modes (tracing, superficial search and manual adjustment).

The device uses one of 4 frequencies (4 kHz, 8 kHz, 12 kHz, 18 kHz), which provides to define targets of different size at the device depth limit with high precision. Though they don't work simultaneously – its only one frequency of the four possible chosen by the user.
XP Deus is as light weight as possible (it weighs 2,14 pounds), which means that the device is very convenient in use. Since we all know how hard it is to sweep with any other device and then your hand starts aching. Now these issues are settled and you can enjoy using this metal detector.
Deus is quickly assembled and dismantled and at that there is no chance of loosing or breakage of any device's components. The metal detector has embedded batteries with at least 2 years term of service and then you should replace them with new ones. The batteries high capacity ensures very long service term without recharging.
| | |
| --- | --- |
| Model | XP Deus |
| Weight | 2.14 pounds (900 grams) |
| Length (Adjustable) | 36″-52″ |
| Batteries | In-build lithium-ion |
| Headphones | Yes, wireless |
| Warranty | 5 years |
| Operating Principle | VLF |
| Standard Searchcoil | DD 9″ or 11″ |
| Operating Frequencies (kHz) | from 3.7 to 27.7 kHz + shift plus/minus |
| Water resistance | Waterproof coil |
| Submersion Depth | No |
| Ground Balance | Manual/Auto |
| Search Modes | 9 |
| Audio Threshold | No |
| Electronic Pinpointing | Yes |
| VDI (0 to 99 scale) | Yes |
| Build-in flashlight | No |
XP DEUS Wireless Metal Detector
XP Deus Metal Detector with 9″ X35 DD Waterproof Wireless Search Coil, Coil Cover, WS4 Wireless Backphone Headphones with...
The XP Deus features Audio Response, Iron level, Multi tone, Notch, Discrimination, Ground balance, Motion & 4 non-motion...
This detector is lightweight and compact, offering exceptional comfort, speed and performance.
Last update on 2022-05-20 / Affiliate links / Images from Amazon Product Advertising API
Summary
XP DEUS – is a very interesting detector and you decidedly should buy it, if you have a chance. The device requires serious and thoughtful approach. The device has lots of features all you need is to learn how to use them properly. All these unique characteristics make XP Deus the best professional metal detector nowadays. Taking into account the perfect quality of the materials and assembly ( made in France) this device leaves its rivals far behind.
Pros
Weight
4 frequencies
Wireless technology
Software is constantly upgraded
Large number of accessories
Cons
No drawbacks. Except that for the beginners the device is hard to master
---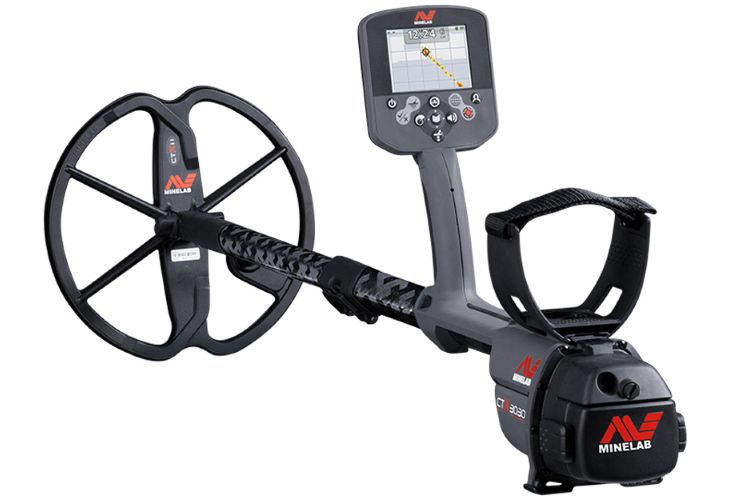 Minelab CTX 3030 was a long-awaited device of 2012. It is 2020 now, but the functionality this metal detector provides can easily compete with those newly-designed devices of 2016.
The full review you can find here.
Minelab CTX 3030 is designed for relics hunting at any weather conditions and on any soil type as well as under water (up to 10 feet deep). This metal detector has the newest equipment even for nowadays. This device is the only one that has GPS unit integrated with Google Maps.
Not a single manufacturing company in the world was able to install GPS into its metal detector. Therefore, GPS navigation is a strong benefit of this device especially when hunting on some unfamiliar area.
For example, if you've been digging out some target, but haven't finished and came back in a year. Surely, you won't exactly remember where it was, especially if some new plants/trees appeared there or the landscape has changed. GPS navigation is here to help you! You'll easily find that very spot where you were digging last time.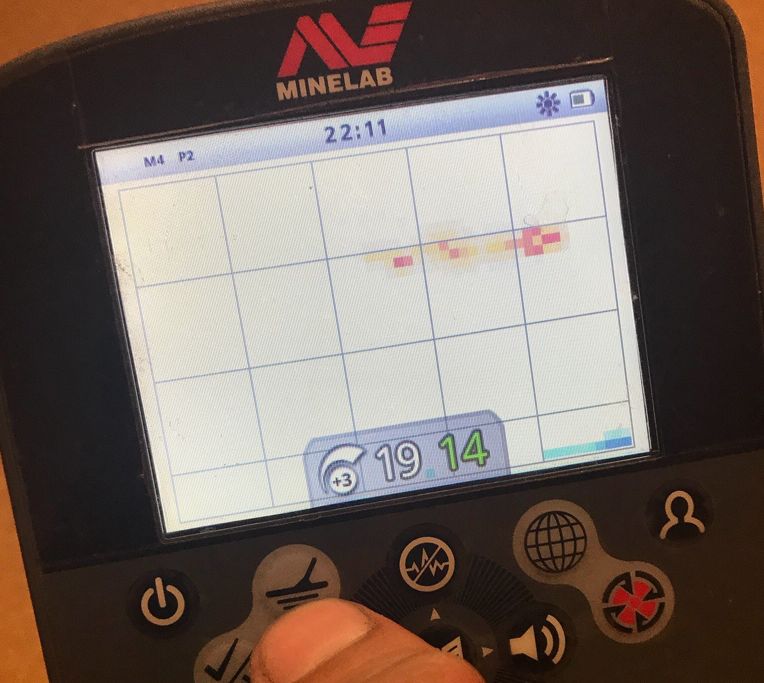 This function with the help of Google Maps and PC XChange 2 displays on your PC the spot, where each target was found. At home when looking through your root you'll be able to see which area you've missed.
This is the first time when a color LCD-display was installed on Minelab metal detector. The image on the display can be clearly seen even if the sun is shining brightly.
The improved multi-frequency FBS2 technology has become more efficient. The metal detector performs searching at 28 frequencies simultaneously in the range from 1,5 to 100 kHz. This gives an ability to work on highly mineralized soils, where one-frequency metal detectors are useless. Due to this technology the device shows sufficient results both for small and large targets; it maintains the same searching depth even on complex soils.
The upgraded technology of target identification – Smart Find 2 — now the target is detected not only according to its conductivity, but its inductivity as well. This allows more precise defining of the target type (non-ferrous or ferrous metal), its size and depth. Now apart from displaying the object, when moving the coil above it the image gets animated.
The device ranges targets found according two parameters: iron content and conductivity. CTX 3030 user can set discrimination masks – this way the metal detector will find only targets with these set inductivity and iron content values.
The device has 10 search modes: 5 modes have pre-set ground balance and Fe-Co settings.
Mode 1 — coins;
Mode 2 — beach;
Mode 3 — relics;
Mode 4 — silver;
Mode 5 — high level of litter
All these make the device very easy-to-use for those who see it for the first time. The user can choose the appropriate mode and start treasure hunting straight away.
As for modes 6, 7, 8 and 9, 10 – these are for professionals and they can be adjusted as it is required. For example, you can set the device response, target separation, sea water level (for beach hunting) and salt level (for soils), litter level and lots more. In case if the result of your manual adjustment doesn't satisfy you and you don't remember the initial settings, you can roll them back to manufacturer's default ones.
This metal detector has two adjustment modes:
Manual. A user manually adjusts the device to operate where the soil is uniform and this provides hunting at maximum depth.
Automatic mode — is used to adjust the device automatically when hunting on complex soils where searching conditions vary.
As for the device disadvantages – the batteries discharge very fast, if you aren't using accumulators. Eight batteries get discharged during day light when you search without using any additional functions, GPS and other embedded stuff.
Another sufficient drawback is the device's weight (5,2 pounds). However, its manufacturer's concentrated the main load on accumulator therefore it is the heaviest.
We should also point out another demerit – it'd be difficult for the beginner to master the device and get its maximum performance. He'd have to use just standard modes.
| | |
| --- | --- |
| Model | Minelab CTX 3030 |
| Technology | FBS 2, Smartfind 2, GPSi, Wi-Stream |
| Weight | 5.20 lbs (2.36 kgs) |
| Length (Adjustable) | 37 in. (940 mm) – 55.3 in. (1405 mm) |
| Batteries | In-build li-ion |
| Headphones | Included KOSS UR30 |
| Warranty | 3 years |
| Operating Principle | VLF |
| Standard Searchcoil | 11-inch Double-D |
| Operating Frequencies (kHz) | Multiple frequencies: 1.5 – 100kHz |
| Water resistance | Waterproof metal detector |
| Submersion Depth | up to 10 ft (3 m) |
| Discrimination | SmartfindTM 2 dimensional |
| Ground Balance | Manual/Auto |
| Search Modes | 8 (Coins, High Trash, Beach, Relics, +4) |
| Audio Threshold | Yes |
| Sensitivity/Depth Adjustments | Auto/manual setting 1 to 30 |
| Electronic Pinpointing | Yes |
| VDI (0 to 99 scale) | Yes |
| Build-in flashlight | Yes |
Last update on 2022-05-20 / Affiliate links / Images from Amazon Product Advertising API
Summary
if we could compare this metal detector with a car model, then CTX would be a Mercedes. It is the symbol of comfort, high quality standards, functionality and status. Other cars will just take you from point A to point B. There are people who will be quite happy with it though. However, some of them are all about exclusiveness and first class service. CTX metal detector is exactly for these people, for those who can afford it. The device's functionality allows conducting search in any conditions, detecting both small and large targets and ignore metal-containing rubbish. Minelab CTX 3030 is for those who are seriously keen on treasure hunting and who can afford buying a metal detector of luxury class.
Pros
High depth of target detecting
Vey good system of target separation
GPS navigation
Wireless transfer of audio signal
Full-color display
Tracking roots on the map using PC
Functionality: target tracking, inductivity analysis, GPS-unit, synchronization with a PC, amphibia. The device can be used both in the water and on the ground
Package contents: cool head-phones, WiFi-unit, accumulator and power supply unit
Cons
Complicated adjustment
High power consumption (batteries discharge fast)
Though the device is aimed to work under water, the depth shouldn't exceed 10 feet
Not a lightweight device, but among multi-frequency metal detectors it's definitely not the heaviest one
Requires professional adjustment, thoughtful approach, diligence, a desire to get into all details. Although the device's interface is quite user-friendly
Accessories, spare parts and coils price corresponds to the one of the device
---
Besides all above mentioned in our metal detectors guide we have answers to the following frequently asked questions:
What kind of metal detector performs best?
What is the best metal detector for a beginner?
What is the best metal detector for gold?
What is the most important when searching for treasures?
How deep a metal detector can detect?
Who makes the metal detector?
What is discrimination about?
What does depth of detection influence on?
What is ground balance for?
What is the best metal detector for the beach?
In what way does a pinpoint function make treasure hunters' job easier?
What is an MD detection rate and what parameters it affects?
How do mono and DD coil differ and which is better?
Who makes the metal detector?
Despite the fact that the market is saturated with all kinds of metal detector models, there are just several main rivals and they produce about 80% of all devices. More about brands – here.
The most common pitfalls
An expensive device is always better than a cheap one. It is true to some extent, but there are some exceptions as usual. The price of expensive MDs is quite often high at the account of some additional functions and settings, which won't ever be used by beginners.
Therefore, you'll pay for the functions you actually don't need. Even most of experienced metal detector users confess that though they have expensive devices, they hardly ever use all their potential.
Another important factor is that, for instance, for the device that costs $1500 and the one priced $400 the depth of detection of a coin can be just 4-5 inches different! Since, indeed, 90% of all metal detector findings are located within the reach of any name-brand detector of entry-level (a spit deep).
In case of a hoard of gold coins – due to its large size it can also be detected by any cheap device.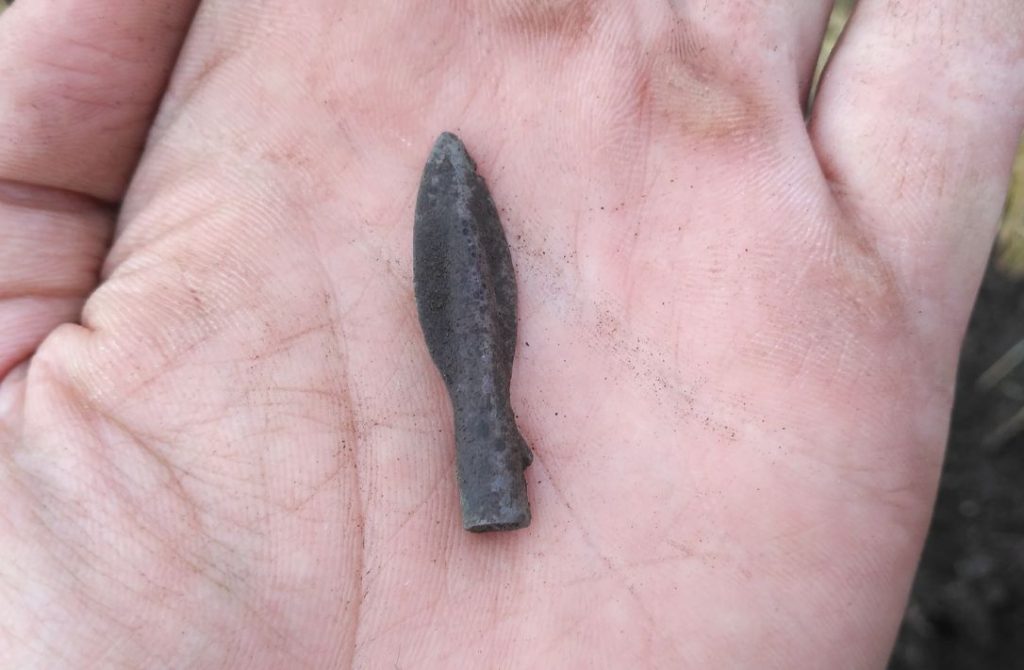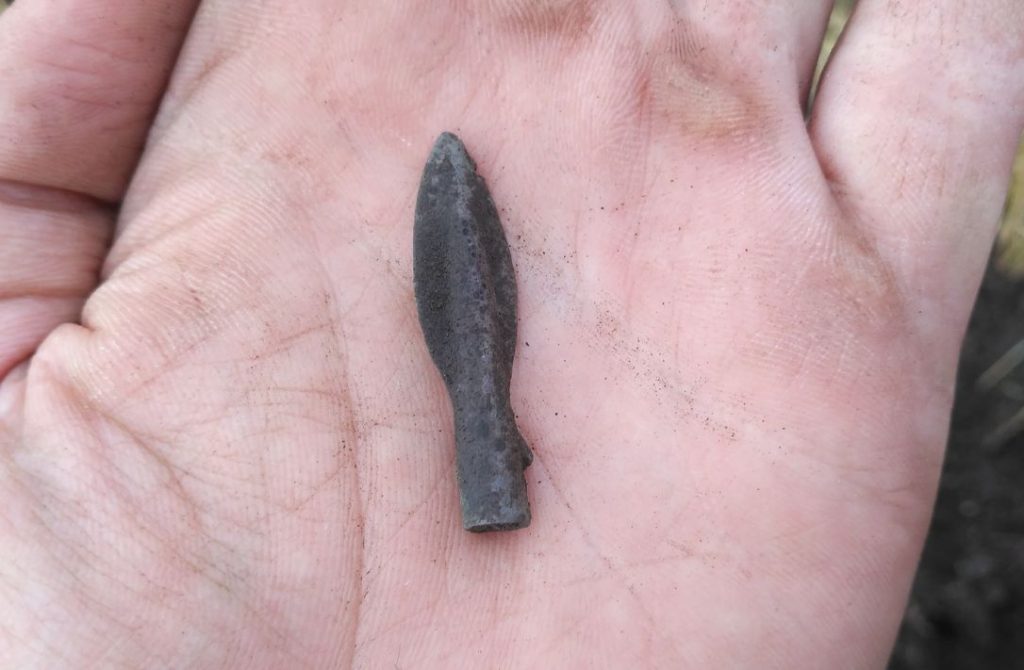 Expensive metal detectors should be bought after giving this issue your careful consideration. Only if you do need their additional functions and sensitivity. Inexpensive brand-name devices perform within their main sensitivity range the same as their highly priced rivals.
Disregard the device design completely. As for any metal detector – its audio tone is important, not the display. The latter just helps you to get used to the device at first. Most of experienced diggers work with their head-phones on and very rarely they look at the display. Audio information is of more importance when conducting some detection.
The main thing about using a metal detector is experience!
Far more depends on the user: on the place he has chosen, how attentive the user is and again – his experience. During some joint searching competitions those with the simplest and cheapest devices used to find not less, than those using expensive ones. Attentiveness is the case here, the ability to "hear" your device and choose a proper place for searching.
A cheap metal detector doesn't mean a bad one. Any inexpensive device is something in the middle between just toys and professional devices with additional functions and settings.
Such a device has everything that is necessary for successful treasure hunting: sufficient detection depth, discrimination and several audio tones to define the target. So called "happy medium" devices are those that cost from $300 to $600 as a rule.
The devices which price is less than $100 can be used just for fun.
Main features of a metal detector
When a beginner digger (and sometimes even an experienced one) opens a list of detector characteristics he gets lost in dozens of names and terms. Below you may find the main and most important ones and get the idea of how they work.
Discrimination
This allows a metal detector sense only some specific kind of metal. Do you have any idea how much iron-containing rubbish can be found in the ground? Foil from cigarette packs, aluminum beverage cans, bottle caps – if you have a metal detector that responses to all of these it'll just add some blind-alley job for the user.
Once you've adjusted the discriminator you can skip all the rubbish and concentrate on treasure hunting – notching only for gold, or copper, nickel, silver and so on.
Another big obstacle for a metal detector user is lots of ferrous materials, which are of no use for a treasure hunter unless you've decided to clean the ground from metal rubbish. To prevent the device from sensing the rubbish you need the discrimination. This way you can aim all your efforts to search the objects that are of more interest to you – coins, gold nuggets, jewelry.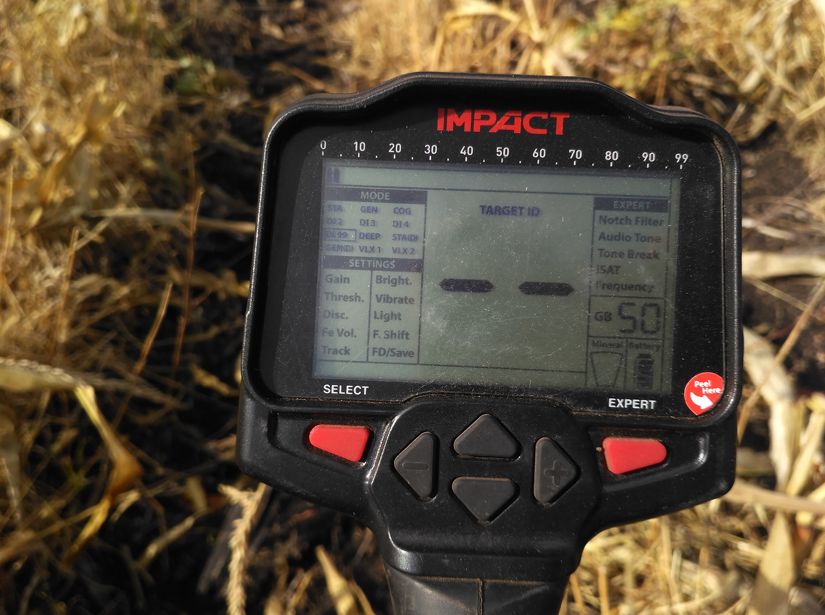 In the majority of devices the discrimination is selective – you can exclude gold from the search range, but leave nickel there (modern coins are made of copper and nickel alloy).
Due to the discriminator the user's task gets easier, therefore you should pay attention to this point when choosing a metal detector to buy. The more programs the discriminator has the easier it is to operate your MD.
You won't have to dig every time you get the device response, which sufficiently saves your time and efforts.
Depth of searching
This is what influences how deep your metal detector can "see". The depth of searching depends on the target size – the larger it is, the deeper it can be "seen". For example, the average depth of detection performed by modern professional MD with a standard 10" coil for stand alone coins is about 12 inches, for a treasure of army helmet size – is about 3 feet, for a larger target the depth is up to 5 feet.
You can increase the depth of detection by installing a coil of larger diameter, for instance, 15 or 18". This allows improving the depth of searching by 30-35%. At that it should be taken into account that such increase of the depth is possible only when using multi-frequency metal detectors.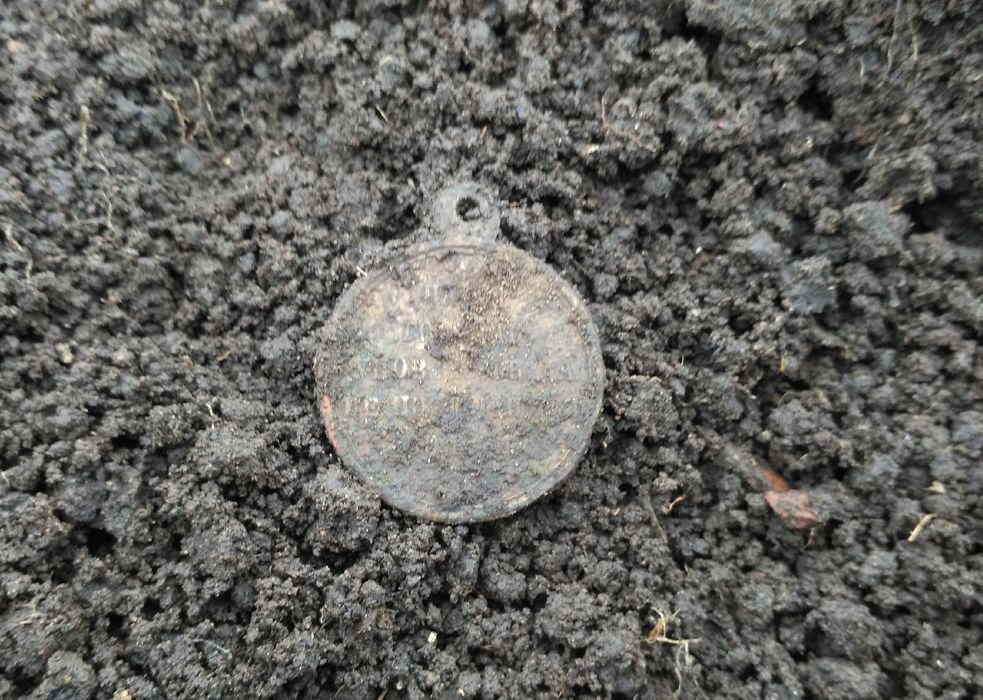 In case of inexpensive devices this value will be not more than 10-20% due to the false alarms from the ground which have increased once the coil diameter has been changed. Single frequency metal detectors deal with the soil disturbance less efficiently, than those multi-frequency ones.
Usually we search for treasures and coins in the ground full of different disturbances that prevent electromagnetic signal from passing from the device coil into the ground. Such disturbances and unwanted signals share one common term: soil disturbance.
The less is soil disturbance level, the deeper metal detector can "see". There are light-textured soils such as black soil, peatbog, sand. Soils with high disturbance level are the following: salty wet sand, soils with ceramic, burned clay and bricks inclusions as well as with corroded metal fragments and oxides. Mountainous ground, clay loam, clay, alkaline soil should also be considered as soils with high level of disturbance.
Target identification
A metal detector automatically defines a type of the target found and you get the info on LCD display or by means of sound indication. Many MD models are equipped with an identification scale that has icons/pictograms symbolizing a target type – for example, a coin, gold or relics.
Sound identification is a multi-tonal one – each height of pitch corresponds to an object with different conductivity. This function is irreplaceable for underwater metal detectors, since they don't have a display and the identification process is performed only by means of audio signals.
This function will be very handy when using the device on soils with high level of disturbance, complex and alkaline soils. However, any kind of soil always contains some percentage of minerals in it, which may give false alarms to a user. Especially the ground balance function is useful when searching for gold, because it is known to be found specifically in complex soils.
Searching along salt water beach, firing ground, alkaline soils and under other complex conditions is performed much easier if your device has a ground balance function.
It can be of 3 types – preset ground balancing feature, auto or manually adjustable one. Let's look at each of them in details.
Fixed ground balancing feature
This is when your metal detector has its ground balance adjusted by the manufacturing company in one set position and it can't be changed. This is a very rough adjustment that works for the majority of soils.
The device with such settings performs consistently on any ground, however at that it comes short of searching depth, if compared to the devices with auto or manually adjustable ground balancing features. Nevertheless, a merit of fixed ground balancing is that an unexperienced user can easily operate such a device.
A downside is that it's impossible to adjust the device to some certain soil conditions and, therefore, no high productivity should be expected, because the device just doesn't have proper searching depth and sensitivity.
Auto ground balancing
This feature allows the device to sense levels of the soil mineralization and automatically adjust accordingly. The user should just perform some simple operations with a coil, which will take just 10-20 seconds. The device microprocessor gets a signal from the ground and automatically adjusts the detector to work at this very area of search.
Experienced diggers are aware that in some areas the ground characteristics may change quite frequently and therefore you have to adjust the device each time you change the location. This should also be done is case you see some instability in the device performance.
The professionals advise even if your metal detector works consistently and you haven't changed the location of your searching, yet you should adjust ground balance at least once in two hours. This will only improve the searching process. Another benefit of auto ground balancing feature is that it's fault free.
Though, the drawback is that fine adjustment is impossible to do to improve the device performance.
Manual ground balance is different because the user itself decides is any adjustment is required. The process is similar to auto ground balance adjustment, however, the user has to define the soil mineralization level on his own using the data provided by the device.
To do this one has to know a lot and be rather experienced treasure hunter. Furthermore, when the adjustment was done wrongly the searching result will be zero and, on contrast, professionally performed ground balancing allows obtaining the best result.
Pinpoint
Static mode pinpointer ensured precise target detection. This feature of a metal detector essentially increases the convenience when using the device and decreases the time required to dig the target out. Most of valuable finds are small sized (coins, rings, jewelry). For example, if a small coin is somewhere in a peace of dug out ground the pinpointer will show where exactly you should look for your find.
Earlier, when metal detectors didn't have a pinpoint feature the target location was defined by so called "cross method" – the user swings the coil lengthwise and perpendicularly and the point where the responses intersect is considered the target location. The pinpoint function has simplified the process significantly.
Nowadays, you just have to turn the function on and slowly move the device over the estimated target location area and you'll get the precise location (you'll hear the loudest audio signal and it'll also be indicated on the metal detector display). In pinpointer mode the depth of the target location is shown as well.
Amateur one frequency metal detectors depending on their frequency are adjusted to search just for large or small targets. Their high frequency of 18 kHz allows detecting small objects of several ounces size. However, a high frequency signal faster attenuates in the ground, that's why the searching depth is a bit less. Low frequency of 3 kHz makes detecting of small objects less sufficient, although the electromagnetic signal penetrates deeper into the ground and the searching depth becomes larger correspondingly.
Therefore, first you walk around the area with a coil that has high operation frequency and then with low frequency coil. As a result, there are no missed findings.
The number of functions and user-friendly design of a metal detector
These are very important characteristics to be taken into account when choosing an MD. Quite often the beginners tend to buy a professional metal detector at once. In this case you have to keep in mind that mastering an expensive professional device may take weeks or even months.
Such detectors have a large number of features and if some mistakes are made when adjusting them the searching depth may be even less, than that of entry-level devices. That's why an inexpensive metal detector is the best choice for those, who are just beginners in treasure hunting.
Such device requires minimum adjustment. The most important is to learn the technology of using a metal detector.
Metal detector with damp proof coil
Most of metal detectors have a damp proof coil that can be used for searching soundings. However, you shouldn't let the control unit get wet. There are special cases to prevent this. As for the professional metal detectors, they are completely damp proof and usually they are designed to perform searching both on land and in water.
Modern metal detector search coils differ in their size and design. There are Mono (or so called concentric coils) and DoubleD coils. The main difference between DD and Mono coils is their signal format, which dramatically effects searching quality and focus.
Until recently, mono coils were those that came in a metal detector set. They have cone-shaped signal that is more suitable for pinpoint search or working on some contaminated land. However, such signal type captures small area of ground and the coil sweep for each step has to overlap at least the half of the previous sweep.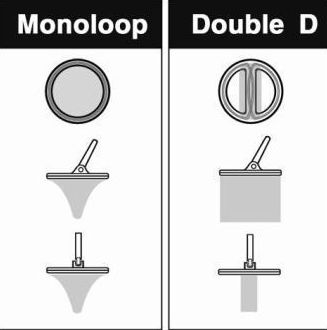 Thus, the beam diameter of 9 inch coil decreases two folds when getting 4 inches deep. It is advisable to apply mono coils after several targets were detected. This will allow reducing the amount of digging and getting clearer idea of the possible object hidden.
With the advent of DoubleD coils the efficiency of searching has improved several-fold. The metal detectors produced recently are equipped with exactly this type of coils. They got their name due to mirroring location of receiving and transmitting loops that resemble letter "D".
DD coils signal is a blade-shaped search field, that ensures uniform scanning of the surface under the coil. This type of coil is perfectly suitable for working on soils with high mineralization and for scanning large land areas. Moreover, the difference between DD and mono coil isn't the only parameter that can be used to improve your searching results.
To perform efficient instrumental search one has to take into account the coil size as well, since it may vary from 4 to 20 inches (if necessary you can find coils twice as large). Small coil size allows not only to scan some hard-to-reach places, but also to minimize the influence of soil disturbance.
When scanning using standard frequencies and a small coil you can detect even the tiniest objects and define precisely the material of the objects next to them. Though, quite frequent sweeping with the search coil and small depth are considered as drawbacks of these coils.
Middle sized coils (from 8 to 12 inches large) are believed to be more multi-purpose ones. They may be used to detect wide range of targets. As for the coils larger than 13 inches – there will do for deep search of large objects and at that they quite often miss smaller objects.
This is due to the necessity to analyze large amount of soil when small objects are treated as a part of soil disturbance.