Only one metal detector was announced in the name of the current review, but actually we"ll be discussing two devices – Minelab Equinox 800 and Minelab Equinox 600. Though they differ only in price and functionality they can offer.
I have some experience of treasure hunting using Minelab Equinox 800 and I'd like to share my opinion about it. Except this, we'll also get things clear about what exactly makes these two metal detectors different.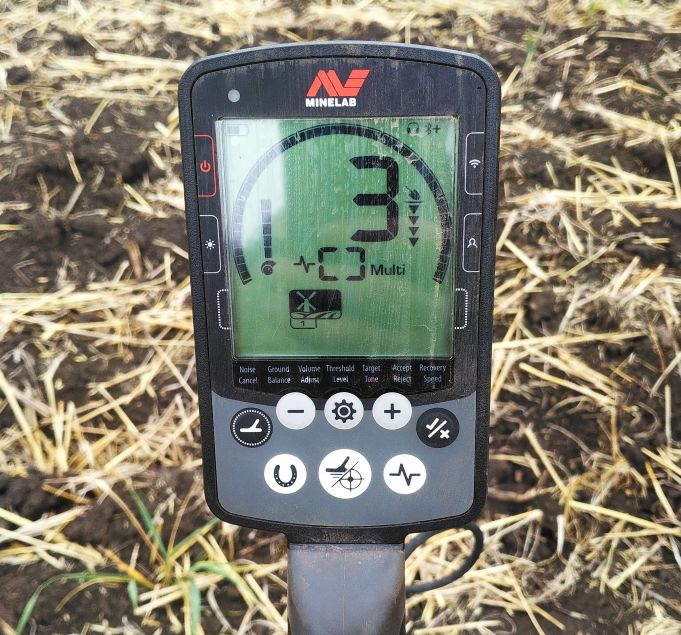 The backstory
The first models of the device were introduced to treasure hunters community in September, 16 2017 in England (Oxfordshire county), where the festival for treasure hunters called Detectival 2017 was held.
Later on amateurs started using the device. Once it was tested by the professionals and lots of reviews became available, the demand for this metal detector raised significantly.
In fact, this detector substituted the outdated Minelab x-terra product line. This is a middle market metal detector (Minelab CTX 3030 is yet the top selling one), however it also shows good results.
It looks like Minelab is going to upgrade its whole product line.
Minelab Equinox filled the middle market sector, while the announced Minelab Vanquish seems to become the device for beginners and a new top metal detector is expected to appear in future.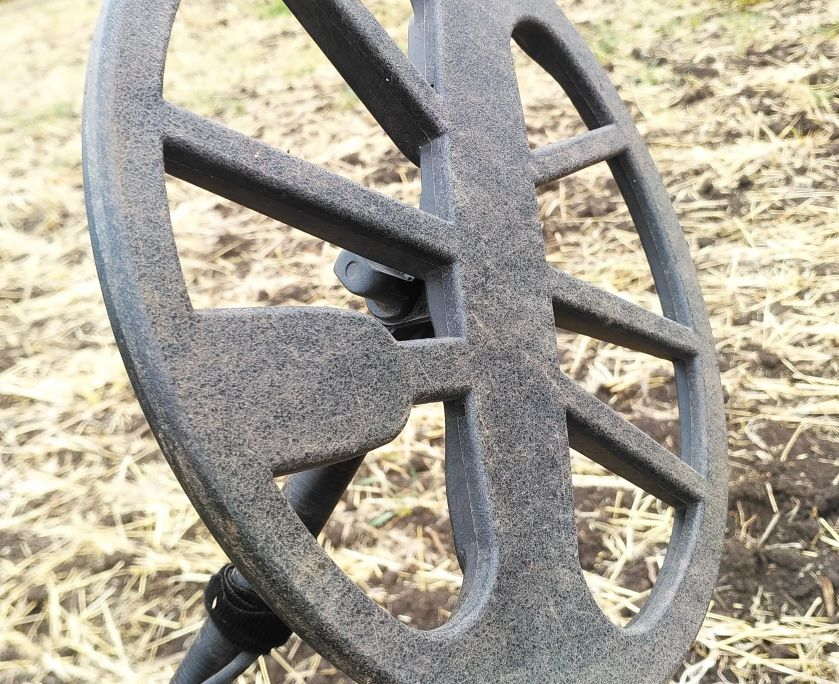 Differences between Equinox 800 and Equinox 600
How much do metal detectors Equinox 600 and Equinox 800 differ from each other? Is this difference really that essential?
Do you need to buy the more expensive version of the device or your treasure hunting ambitions can be satisfied with the simpler version?
In brief, Equinox 600 is a simplified model of the metal detector. It has less functions, which at the same time reduces its price.
So, let's discuss the differences.
| | |
| --- | --- |
| Model | Minelab Equinox 800 |
| Technologies | Multi-IQ, Wi-Stream, Bluetooth |
| Weight | 1.34 kg (2.96 lbs) |
| Length (Adjustable) | 1440 mm (56.7″) |
| Batteries | In-built Lithium-ion |
| Headphones | Included, bluetooth and aptX™ |
| Warranty | 3 years |
| Operating Principle | VLF |
| Standard Searchcoil | 11-inch Double-D |
| Operating Frequencies (kHz) | Multi, 5, 10, 15, 20, 40 |
| Water resistance | Waterproof |
| Submersion Depth | up to 3m/10-feet |
| Noise Cancel | Yes |
| Ground Balance | Auto, Manual |
| Search Modes | Park, Beach, Field, Gold |
| Audio Threshold | Yes |
| Sensitivity | 1-25 |
| Electronic Pinpointing | Yes |
| VDI (0 to 99 scale) | Yes |
| LCD Backlight | Yes |
What the package includes
This is the first thing that makes them different. Package set includes Bluetooth headphones and wireless communication unit WM 08, while Equinox 600 has wired headphones in its set.
Operation frequencies
UPD.
In June 2020, Minelab Equinox 600 and Minelab Equinox 800 metal detectors have reviewed anew firmware V 3.0. The main thing that has changed is that a single 4 kHz operatingfrequency was added for better detection of large-sized deep targets. Also, some smallchanges were made to improve the devices performance stability.The rest of the settings remained unchanged.
You can download the new firmware here: https://www.minelab.com/equinox-software-update-3-0
Equinox 800 has more operation frequencies, it can work at 5\10\15\20\40 kHz frequencies and Multi-IQ (using several frequencies at the same time), while Equinox 600 uses only 5\10\15 kHz + Multi-IQ.
Despite the larger number of operation frequencies, we should mention that during beach hunting the devices will perform almost the same.
Since to perform well on the beach and under water you should use only Multi-IQ mode.
When using 20 or 40 kHz operation frequency the device will constantly produce phantom signals.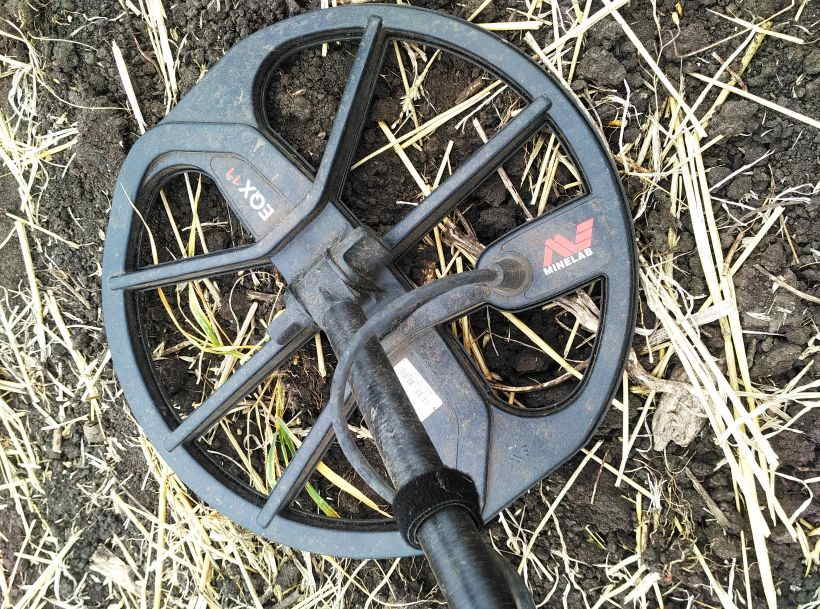 Gold mode
This is an additional search program of Minelab Equinox 800, it uses 20 and 40 kHz frequencies, which Equinox 600 doesn't have.
This mode is aimed to increase the search productivity during small gold nuggets hunting in mineralized soils.
This mode is also useful for those who go beach hunting as well as gold nuggets hunting. Though, not on all beaches the mode would work properly.
A backlit display
In the earlier model you could only turn it on and off, but the older version of the device allows adjusting it. In general, this is a useful thing, though not that crucial.
Noise Cancel
Both metal detectors have automatic noise suppressing system, the 800 model also has the ability to adjust it manually.
If you go treasure hunting in the areas with high level of electric noise or close to other metal detectors, this function will be rather helpful.
Target Tones
This is an important characteristic, especially for those who use tone response from targets during their treasure hunting process, additionally to using VDI. Minelab Equinox 800 has wider possibilities for target tone adjustment.
Equinox 600 has a wide range of volume and tone adjustment, including modes of 1, 2, 5 and 50 tones.
But the 800 model allows you doing almost everything you want with its tone settings. And this makes it a serious advantage if compared to the earlier model.
The point where the tone for ferrous metal transforms into the tone for non-ferrous metal (Tone Break), can be shifted as well as the volume of ferrous metal (Tone Volume) can be adjusted.
Equinox 800 has the ability to shift the tone of non-ferrous metal targets and change their tone, which is quite handy for those who prefer treasure hunting basing on targets tone response.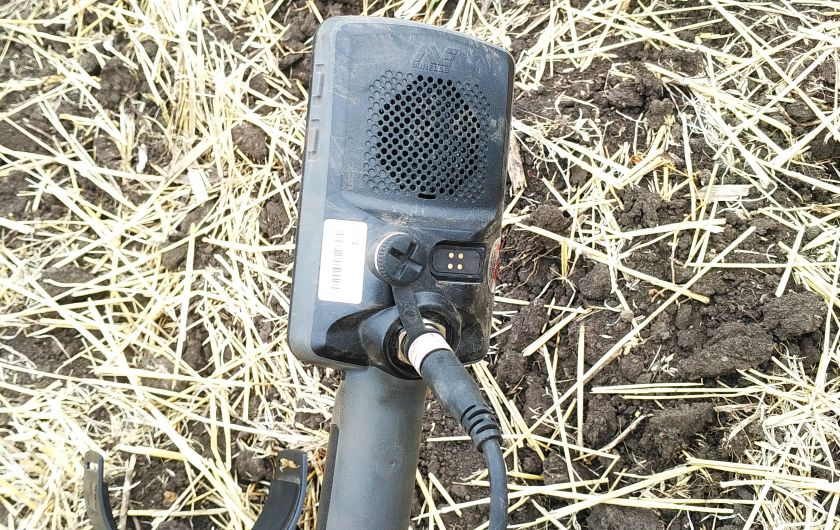 Reactivity (target response)
If there are two targets nearby and one of them is from ferrous metal and the other is a non-ferrous one, which of them will your detector see?
As a rule, this is the larger one and in 90% of cases this is a ferrous metal target.
In Equinox you can adjust the target response. Low target response level allows hunting for targets located deep under ground, but at that the level of target distinguishing will be low.
High target response allows to distinguish targets perfectly, but at that you are loosing the search depth.
As for me this is a crucial parameter, since quite often I go treasure hunting in the areas covered with iron rubbish. High target response allows to find what the rest have missed.
And this is when the difference between 800 and 600 shows. The earlier model has 3 target response levels and the new model has 8 of them.
Quick mode switching
Minelab Equinox 800 has a special button to switch to the user's search mode.
And this is a great thing! For example, I hear the signal, but I'm not sure that it's worth digging. I just need to push the button once and I'm already working in a different mode, which I use for more precise detecting, but it also sends a lot of phantom signals.
Threshold Pitch
As for the threshold pitch adjustment – Equinox 600 has a threshold pitch function, but it can't be adjusted. I seldom use this function, but it may be important for someone else.
The device package contents
Headphones
Equinox 800 has wireless headphones in its set. Actually, they are wired ones, but with a unit to plug in a wireless adapter.
The above mentioned makes the headphones not the best decision in this case. For example, XP Deus has really wireless ones.
On the other hand, you can connect them to your smartphone and receive calls while treasure hunting.
But the main important thing about headphones is, that they don't have any delay in target signal receiving.
I should mention, that the headphones do their job quite well. Through all my treasure hunting experience with this device, I've never noticed any delayed signals.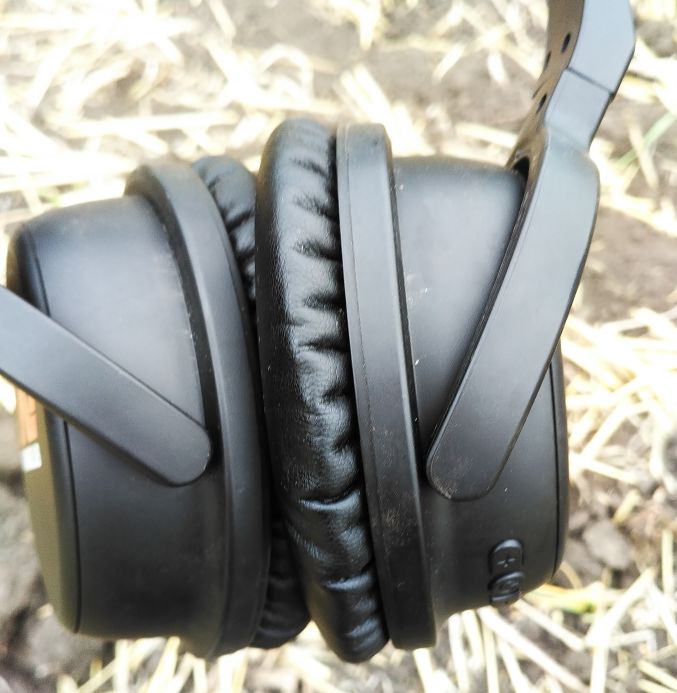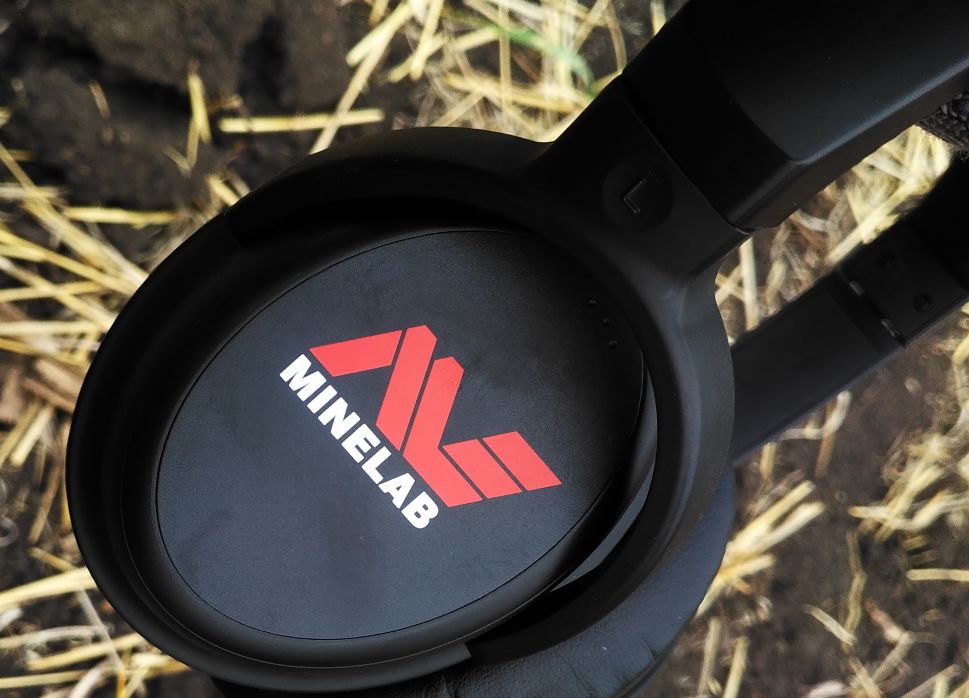 Manuals
The device has a brief multi-language manual on how to start to work with this metal detector. It is very convenient to take it with you.
Stickers
There is a screen protector for the device control unit. I do recommend using it, since the screen gets scratched easily.
Technical characteristics
The metal detector weight is 1.34 kg (2.96 lbs), length is 1440 mm (56.7″). As for the standard functions required for any professional metal detector, all models have a pinpointer, ground balance and a threshold function.
Minelab Equinox 800/600 is an amphibian metal detector. It is aimed for treasure hunting both on the ground and under water (up to 3 meters deep).
Even if you are not going to go underwater treasure hunting, such a possibility will be rather significant, since the device also won't be affected neither by rain, nor by dew.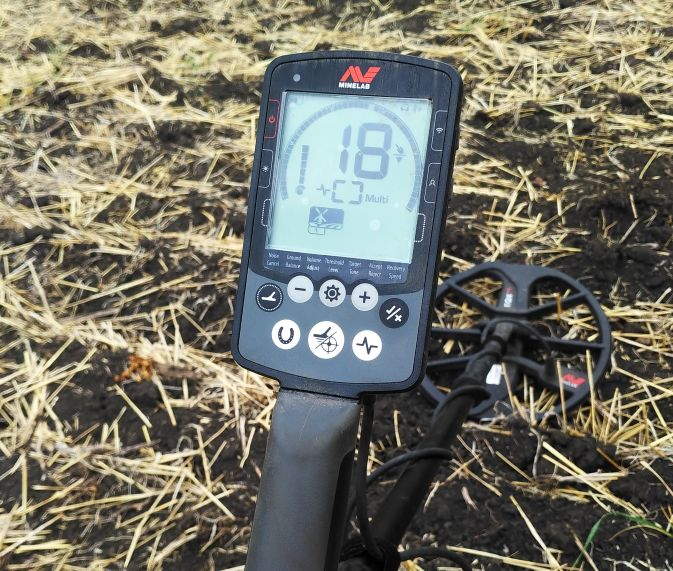 Design
The device has a straight shaft with an accumulator battery in its handle. An advantage of such a technical decision is the device small size, as for disadvantages – the device balance is not that good in this case.
Frankly speaking, after using XP Deus (I'm not tired even after 8 hours of metal detecting), Minelab Equinox 800 seemed rather heavy to me and my hand got rather tired.
Minelab Equinox 600 Multi-IQ Metal Detector with EQX 11" Double D Smart Coil
Simultaneous Multi-Frequency: True intelligent Simultaneous Multi-Frequency for maximum performance, plus a wide range of...
Waterproof Design: EQUINOX is fully submersible, ideal for detecting at the beach and in rivers, streams and lakes. (3m /...
Sleek & Lightweight: Rugged and lightweight construction allows you to enjoy long detecting sessions in any environment.
Last update on 2021-01-22 at 19:08 / #ad / Images from Amazon Product Advertising API
After some time spend with Equinox it won't be that noticeable, but everything is comparative…
The device armrest appeared too wide to me, though my hand is quite large. Yet, I won't call this issue a disadvantage, since it was in summer.
I've had a similar experience with Nokta Impact, where the armrest was also too wide for my hand. And it was quite annoying till the autumn came and I started wearing warm clothes.
This is when it turned out that my hand felt quite comfortable in the armrest and it it was more narrow, I'd feel some discomfort.
Minelab 3720-0002 Equinox 800 Metal Detector, Black
Total Weight: 2. 96 lbs (1. 34 kgs) 8 Custom Search Profiles: Each Detect Mode Features 2 Custom Search Profiles so you can...
Simultaneous Multi-Frequency For Maximum Performance, Plus a Wide Range of Single Frequencies Get Even More Control of your...
Gold detecting mode: operates the high single frequencies of 20 kHz, 40 kHz or multi to detect gold nuggets in mineralized...
Last update on 2021-01-22 at 06:50 / #ad / Images from Amazon Product Advertising API
Menu
The device menu is quite simple and easy to remember, especially in the process of continuous changes of characteristics during the treasure hunting to check the efficiency of these or those settings.
Equinox 800 has 4 search modes — Park, Field, Beach, Gold and each of them has two additional sub-modes. Therefore, all in all the device has 8 search modes.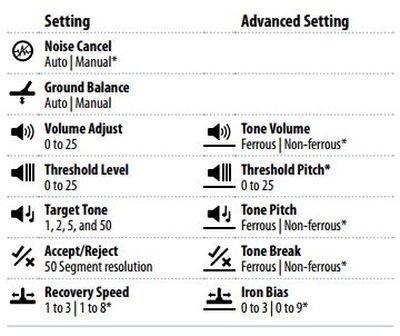 You can switch between them by means of just one button, which is very convenient, no other additional actions are required.
As we've already mentioned, only Equinox 800 has this feature that enables the user to switch to the user's search mode by just pushing one button.
When using Equinox 600 this requires pushing the button several times.
Park mode
This mode is aimed to go treasure hunting in areas with lots of litter, especially with modern one. Also it is recommended to use the mode to learn to work with the metal detector, for example, if you are a newbie in treasure hunting.
Field mode
This is the most multi-purpose mode. It is recommended go hunting for relics and ancient coins using it.
Beach mode
This mode is made for beach hunting. Its main difference from the rest is that it has more sensitive ground balance function – salty sand, wet sand and surf zone (wet sand + salt).
Also this mode is used for underwater treasure hunting. It has two sub-modes – wet/dry sand and under water/shallow water.
Gold mode
This is the mode for prospecting gold nuggets with precise ground balance function. It has two sub-modes – normal and heavy soil.
EQUINOX 800 has two modes which EQUINOX 600 doesn't have. This is «Gold 1» and «Gold 2».
These two modes are identical, but for the default settings. «Gold 1» has recovery speed set 6 by default and "Gold 2" has this parameter equal to 4.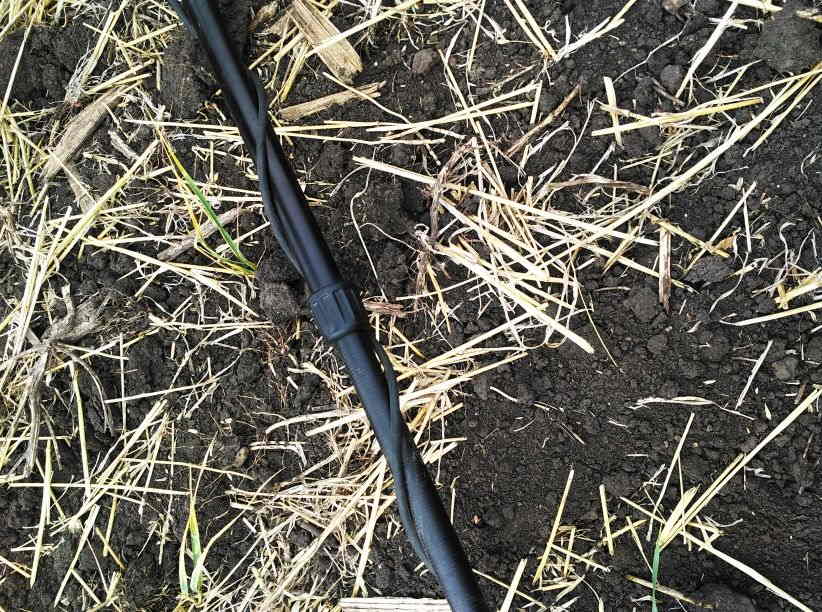 Recommendations as for the device settings and choosing the search mode
It has become a tradition, that all owners of various devices tend to make the most of them, especially if this device costs like one of Equinox models!
And this is where most of mistakes are made.
Since, quite often people who are not good at the process physics use such settings and adjust the device so, that it demonstrates maximal sensitivity in an air test, but this is the largest mistake of all the beginners and sometimes of experienced treasure hunters.
Let me emphasis, that we are going to discuss only treasure hunting on the ground without discussing aspects of beach hunting, since this is completely different topic.
Through the example of Equinox we know that the highest search depth is achieved when using the first two speeds of the device and the most sensitive search modes for all types of targets are the sub-modes (Park2/Field2).
But not everyone knows that these speeds and these programs can't be used for all types of search conditions.
Due to significant impact of high frequencies when treasure hunting on wet soils, the sub-modes demonstrate significantly worse productivity, than the main modes of the device.
From my own experience I know, that it's better to use the main search modes of the device on wet black soil (I prefer using Park1).
Also, I'd like to say, that the detection precision is influenced not only by the selected search mode, but by the speed settings as well.
For the speed from "1" to "3", (Park1) I heard some tone of 'ferrous' target at the end of wave above the coin. At that ІВ parameter on my device is always set to "0".
When reducing the amplification only the tone of target response changed. However, when selecting speed "4" I received a clear signal without essential loss of search depth.
In conclusion I'd say the following:
1. It's not worth using sub-modes on wet soils, since this may cause the device 'blindness' and phantom signals occurrence.
---
2. Sub-modes can make the device more sensitive to small and low conductivity targets on dry and light-textured soils. Therefore, it's better to select other modes to ensure comfortable metal detecting process.
---
3. Properly selected speed parameter also may significantly influence on targets identification.
---
4. Increasing of the speed parameter won't necessary have negative impact on the search depth, however, as I mentioned above, it may improve target identification process (this is absolutely true for hard soils, since it'd be different for light-textured soils).
---
5. In case of complicated search conditions the main search modes of the device perfectly work for small and low conductivity targets (this was experimentally tested).
---
6. I'd recommend to always select search modes and settings according to the specific location and targets, by burying the target to the depth limit.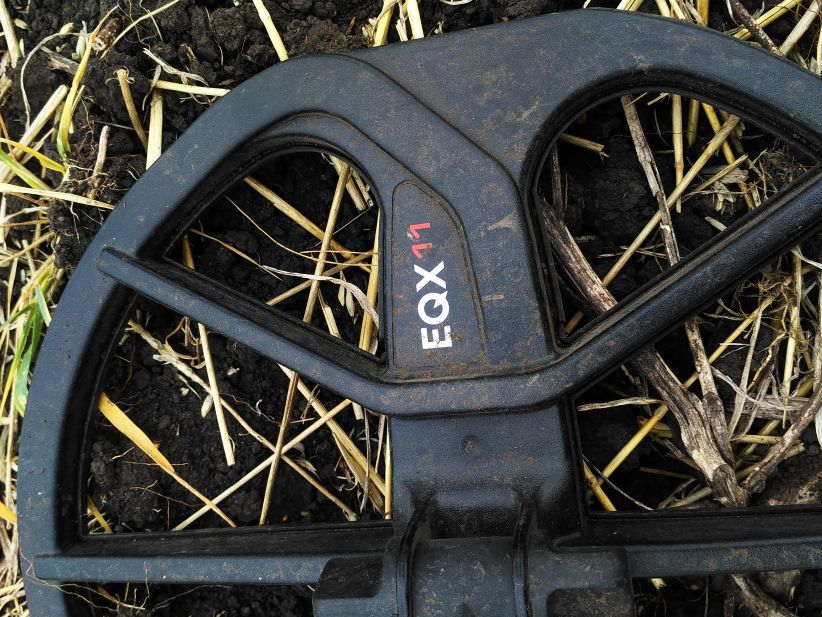 Minelab Equinox 800 vs 600
Operating Frequencies (kHz)
Batteries
In-built rechargeable Lithium-ion
In-built rechargeable Lithium-ion
Detect Modes
5 (All metals, Park, Beach, Field, Gold)
Operating Frequencies (kHz)
Batteries
In-built rechargeable Lithium-ion
Detect Modes
5 (All metals, Park, Beach, Field, Gold)
Operating Frequencies (kHz)
Batteries
In-built rechargeable Lithium-ion
Last update on 2021-01-22 at 06:50 / #ad / Images from Amazon Product Advertising API
Conclusion
So to recap, I can say that this is a multi-purpose metal detector, which can be used both in the field, on the beach and under water.
The features the device offers are definitely enough for most of treasure hunters and, moreover, they are most likely to use only the pre-set modes of the device.
This is a true amphibian metal detector, I've tested it for underwater treasure hunting.
After 3 hours under water the device was still working, there was no water ingress inside it, no corrosion was found later on after this test.
The device used accumulator batteries, which saves tons of time and other resources, not to mention, that right during the treasure hunting process you can connect the detector to a Power Bank and charge the device.
After two times in a row I went metal detecting with it the battery didn't discharge.
Even after treasure hunting during the day and then at night, which is almost 12 hours of functioning in total, only one line was missing from the battery indicator.
A very good technical decision is used for charging – this is for those, who still doubt whether to buy the device. There is no connector for it, the charging unit is using a magnet.
As for the detection characteristics – they are perfect. It seemed to me, that the device isn't that as good at detecting small targets, as XP Deus, but it has better discrimination function.
One more advantage of Equinox is its noise suppression. It essentially protects the device from influence of other metal detectors, power transmission lines and other electric noise.
I was lucky to find my best and most interesting targets where there was lots of electric noise.
The screen glass gets scratched almost immediately. So, you'll have to use the screen protector right away.
It is supplied in the device set and you should stick it once you buy the metal detector and then everything will be fine.
Wires. After using XP Deus – their presence feels awkward and disturbing.
Inconvenient shaft and poor balance of the device. But, again, I'm comparing it with XP Deus.