Here you will find a review of Minelab Go-Find metal detectors. The article has information about the differences between Minelab GO-FIND 66, GO-FIND 44 and GO-FIND 22. In what case these devices are worth buying and when it's better to get some other metal detector model; what the device weight is and many other important things.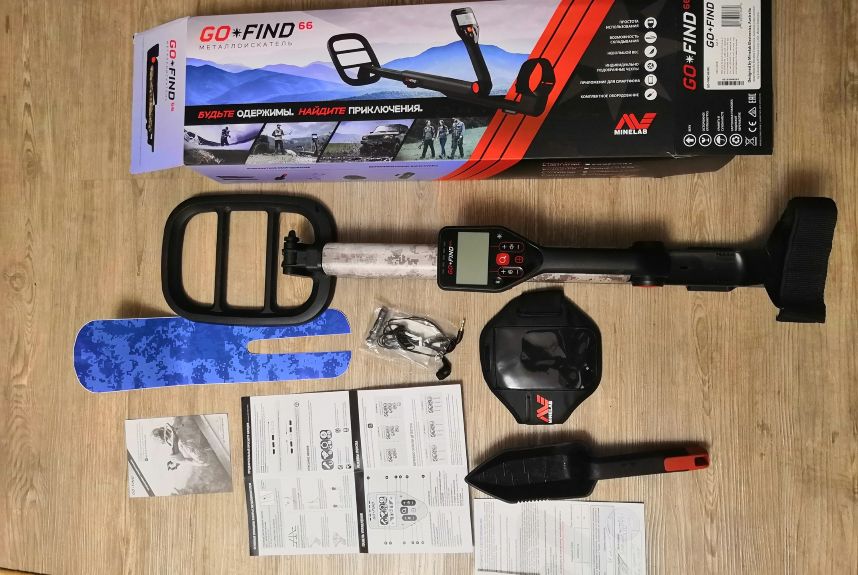 What the device was designed for
In 2015 Minelab introduced its new product line, which they decided to call GO-FIND. Actually, the devices haven't changed since then, though their index numbers have.
The main feature of this product line is its simplicity, because these devices were designed as metal detectors for beginners. However, I'd say that these are metal detectors you can use just for fun and entertainment.
The fact that supports the idea of Minelab Go Find simplicity is that its manual has just 4 pages, which is quite enough for the user to work with the device successfully.
The review
In this review we are going to discuss the flagship model of the product line – Minelab GO-FIND 66, because this device has maximum functions and there is more to tell about it, than about other devices in this product line. However, we'll surely discuss them as well, just without too many details.
So, here we go.
The metal detector package set includes:
Minelab Go-Find 66 metal detector;
Waterproof headphones;
Smartphone holder;
Smartphone application;
The shaft
Minelab has made a step forward when designing its Go Find 66, a metal detector for beginners, by changing the classical design of S-shaped shafts. For 90% of modern metal detectors the assembly process takes from 5 to 15 minutes.
However, not in this case. It takes 10 seconds for the device to become a fully-featured metal detector for adults, which is completely ready to work.
The whole product line uses the same design: one straight shaft with a small adjustable armrest, the shaft length can be adjusted as well (so it doesn't take much space when transporting the device); the search coil is already attached to the shaft, so you won't be able to take it off or replace it (it'll just break); the device handle is foldable.
Minelab Go Find 66 has a telescopic shaft of square section with the search coil cable inside it.
The metal detector shaft, search coil, control unit – all of them are made from plastic. The idea of not using metal alloys has allowed the company to design a light weighted metal detector that weighs just 2.3 lbs or 1.06 kg.
The device build quality is quite high, but keep in mind that the device wasn't made as an impact resistant one.
We'd like to mention ergonomic properties of the metal detectors in this product line. It is very convenient to hold the device, the armrest has a strap with a touch fastener and you can adjust the shaft length any time you need it to ensure a comfortable treasure hunting process.
Under the armrest there is a support you can use to put the metal detector on the ground, when digging the target.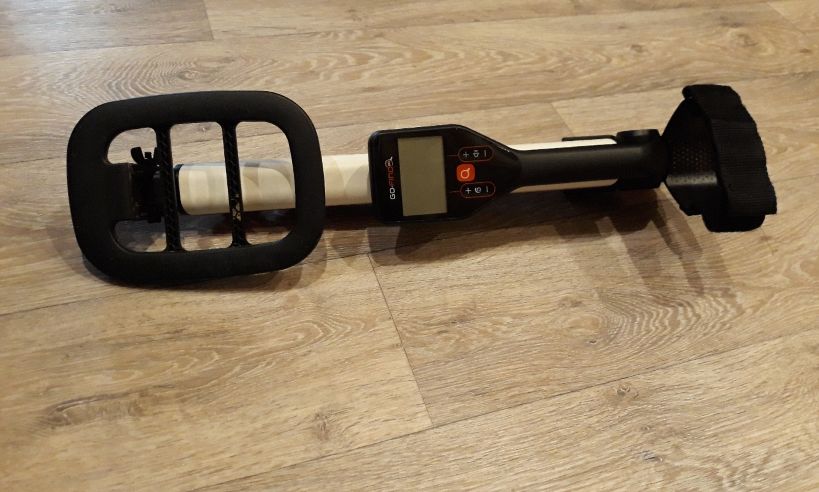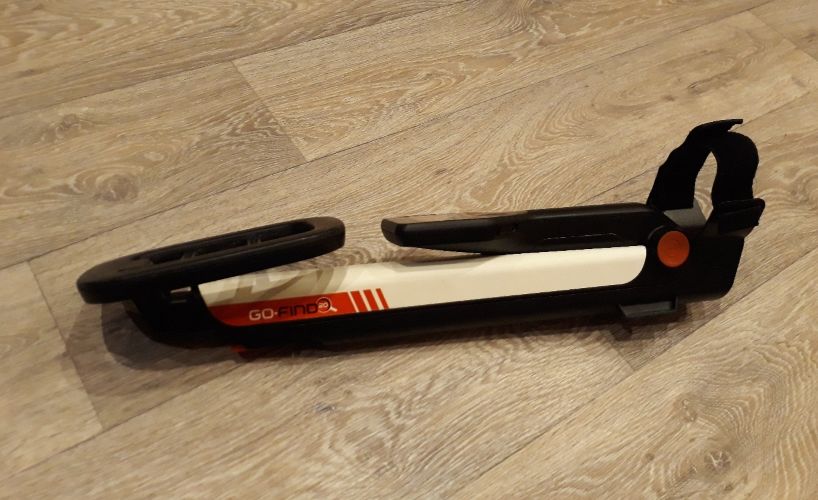 The coil
The search coil is a square shaped 10 inches or 18х24 cm large. The coil has static fixation, which in simple words means that you can neither replace the coil nor take it off.
The metal detector operating frequency is 7.8 kHz, which in not very high, but it provides good target recognition and detection depth that will definitely do for the beginner.
While shaft design is the same for all metal detectors of this product line, the search coils are different. Device models 44 and 66 have rectangular 10″ search coil and the 22 model has a smaller coil, it is just 8″ large.
All the search coils are waterproof ones, which is definitely a plus, but keep in mind that you can't submerge them too deep.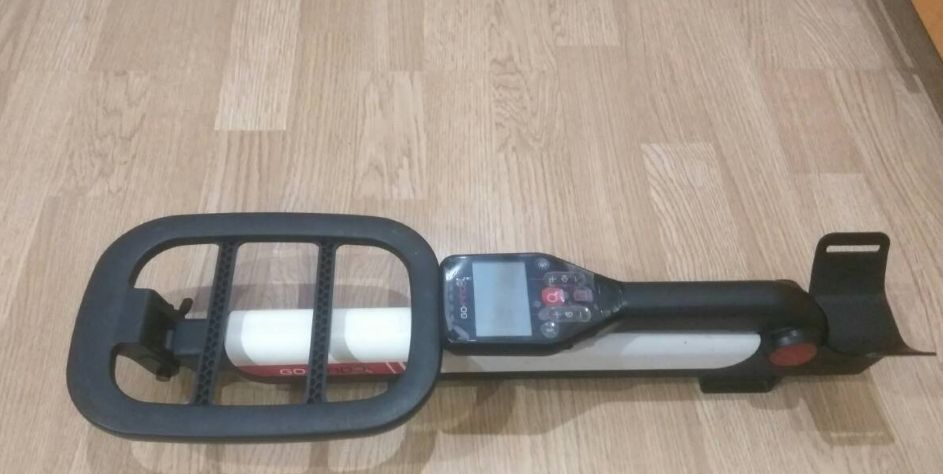 The headphones
The whole Go-Find product line has the most common for inexpensive headphones with 3,5 mm (1/4″) jack. Now you won't have to ask your friend for the adaptor or to look for it elsewhere to use headphones with a standard jack plug.
However, only GO-FIND 66 is equipped with a headset, you'll have to get headphones for the other models yourself.
The battery
All metal detectors of this product line use 4 AA batteries as a power supply. They don't use any embedded battery accumulators, since this would lead to their price rise. The device is ready to work in 30 seconds after you insert 4 AA batteries into the battery holder. The button that turns the display on in on the left.
Waterproofness
As we've mentioned above the search coil of all the metal detectors is a waterproof one. However, it will definitely do for beach hunting; the main thing is to make sure that the control unit is dry.
The control unit
Go-Find 22/44/66 control unit is made from an impact-resistant plastic and the front panel is made from plexiglass, which is also crashworthy.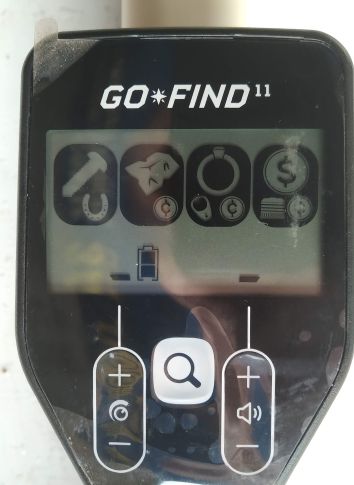 The display is large and readable; the target icons are clearly seen. When detecting an object the corresponding target icon starts blinking, which is very convenient.
For example, if there is a coin under the search coil, the target icon with a coin image starts blinking.
The device has sound and light target indication. Red LED light indicates some unwanted ferrous target, while green light means that the target can be an interesting one.
Official name for this kind of target indication is Treasure View.
The user can switch to the pinpointer mode by pushing one button. You should look for a target using approximate center of the search coil. When the pinpointer mode is on, the indicators have orange color. The more of them are orange, the closer to the target is the coil center.
The metal detector has detection depth indication. There are three scale units on the display, each of them stands for 10 cm or 4 inches of depth. However, the detection precision is rather relative, so you shouldn't completely rely on it.
Search modes
The metal detector doesn't have that many parameters and settings. Only the sensitivity level is adjustable – there is an indicator and a button for it.
The device has just one search mode – this is searching with a discrimination function.
Therefore, the user can activate or deactivate three out of four discrimination segments that hove corresponding icons by means of pushing button Find. The central red button allows selecting 4 discrimination levels. These four icons mean a mode for iron, foil and small sized jewelry, jewelry and silver coins searching.
Once the searchcoil goes above the target, one of the icons starts blinking and you'll hear a specific sound.
The search mode when all discrimination segments are on corresponds to All Metal. Probably, it will become the basic one for most of beginner detectorists.
Sound target identification uses the same approach as most of ground search metal detectors: metal objects with low conductivity have low sound tone, while metal targets with higher conductivity have higher sound tone.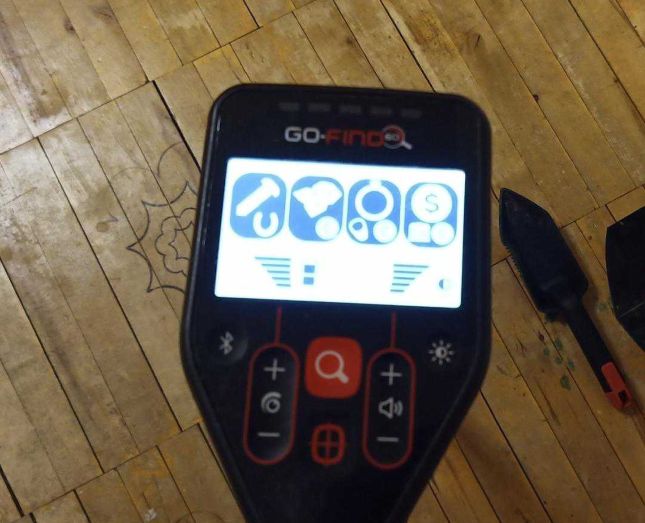 Ground balance
The metal detector has an automatic ground balance function (preset). It is recommended to start working with the device at medium sensitivity level, set it at about 3 (the scale has 5 units).
If the noise it too high, you can decrease the sensitivity level. However, the metal detector performance will decrease in this case.
Models
Go-Find product line is the first one that has metal detectors for beginners and some of them have wireless connection with a smartphone by means of Bluetooth. GO-FIND 66 and 44 have the ability to connect to smartphone using Bluetooth.
There is a special Minelab application, which you can easily download and install on your smartphone and then synchronize it with the metal detector. On the smartphone you'll be able to see all the metal detector settings as well as your current location on the map (Google Maps).
Minelab Go-Find 22
The device has a waterproof search coil 8 inches large, two search modes, adjustable sensitivity and volume level. The coil itself isn't large, so there won't be a problem to detect the precise target location. Discrimination function allows ignoring ferrous metals.
The metal detector is extremely light weighted, and it takes just a few seconds to assemble/disassemble it. I'd say that this is the best device for young treasure hunters.
This model will definitely do for a child. The device has the simplest settings and menu, so you won't dig much with this metal detector, but it will be quite good fun for your kid for rather reasonable price.
Considering that the kids are different, and they are of different age, this metal detector will do for youngsters.
Last update on 2020-11-22 at 19:20 / #ad / Images from Amazon Product Advertising API
Minelab Go-Find 44
This metal detector is a bit more complicated to use. It has a waterproof search coil 10 inches large, three search modes, 4 sensitivity levels, target response volume can be adjusted (3 tones are available).
The device has wider discrimination function if compared with the previous model – you can exclude unwanted non-ferrous targets from the search cover.
The metal detector also has a mode of precise target identification.
This model has turned out to be the most optimal one. However, in terms of detection depth, target identification and discrimination it doesn't differ much from Go-Find 66.
So, if you've decided to buy Go-Find, then you'd better get model 44. Since a good, enduring and moderately priced device will always better than Go-Find 66, which is too expensive or 22 and 11, which are too cheap and have limited set of functions.
Minelab 3231-0014 Metal-detectors, Black
Go-find 44 - advantage and discovery under your feet. Searches deeper and recovers Treasure others have missed. Search deeper...
Superior performance - Advanced technology and innovative features for performance to the max.
Compact & no assembly - it's easy. There's nothing to assemble and no loose parts that can get lost.
Last update on 2020-11-22 at 11:06 / #ad / Images from Amazon Product Advertising API
Minelab Go-Find 66
The flagship model of the product line. The metal detector has a waterproof search coil 10 inches in diameter, display backlit, four search modes, five sensitivity levels, adjustable target response (4 tones).
The device has upgraded discrimination function if compared to Go-Find 44, so you can ignore even more unwanted non-ferrous targets (bottle caps, cans pull tabs).
The metal detector has PRO software (advanced). It has a pinpoint function.
The package set includes: an armband for a smartphone, a headset, a digging trowel.
This device model is quite an interesting one, though it doesn't differ much from Go-Find 44.
The target response is a little better and more understandable, the metal detector demonstrates a bit higher performance, but for this price you can also get other metal detectors produced by other manufacturers. For example, Fisher F22, which is far better than Go-Find 66.
Minelab GO-FIND 66 Metal Detector
Four find icons with nail, foil, ring, coin and treasure view LEDs
2.36"W x 1.42"H LCD screen
Pinpoint with audio and visual indicators for better accuracy
Last update on 2020-11-22 at 11:06 / #ad / Images from Amazon Product Advertising API
Conclusions
Go-Find product line was designed more for fun and entertainment, than for actual treasure hunting. Sure, you can use these devices in the fields, but if you are planning to become a real treasure hunter, I'd recommend getting a smarter device.
However, if you are looking for a metal detector for your kid or your parents, or you want to go outside with the whole family and spend some time treasure hunting, in this case Go-Find will do perfectly well.
As for Go-Find advantages, the main one is that you won't have to assemble/disassemble it, it has no bolts or screws, the coil wire is inside the shaft to make sure that it won't get damaged.
All the devices of the product line are rather light weighted, so they will do even for kids. In this case you can adjust the shaft length, since the shaft is telescopic.
The metal detectors appearance is quite trendy and decent. Simple settings and quite essential detection depth make Go-Find a standout among other metal detectors for beginner detectorists. And the main thing is the price, which is rather reasonable.
Pros
Small size. In a stowed position the device takes up minimum space both in a rucksack and in a car trunk.
Light weighted. New advanced materials allow minimizing the device's weight
Waterproof coil. Nothing keeps you from beach hunting as well as searching along river and lake shores
Synchronization. Ability to connect the device to your smart phone
Cons
Not dismountable coil
Using of plastic instead of metal makes the device design lightweight at the same time making it more fragile
The arm rest is not very convenient, since you can lay your arm there only if it's fixed with a strap