Here you will find Teknetics T2 metal detector review. The article contains information about the device operating frequency, its coil type, if headphones are included into the device package set, how long it can work using one battery set and other stuff. In addition, you will find out what is the difference between Teknetics T2 and Teknetics T2 LTD.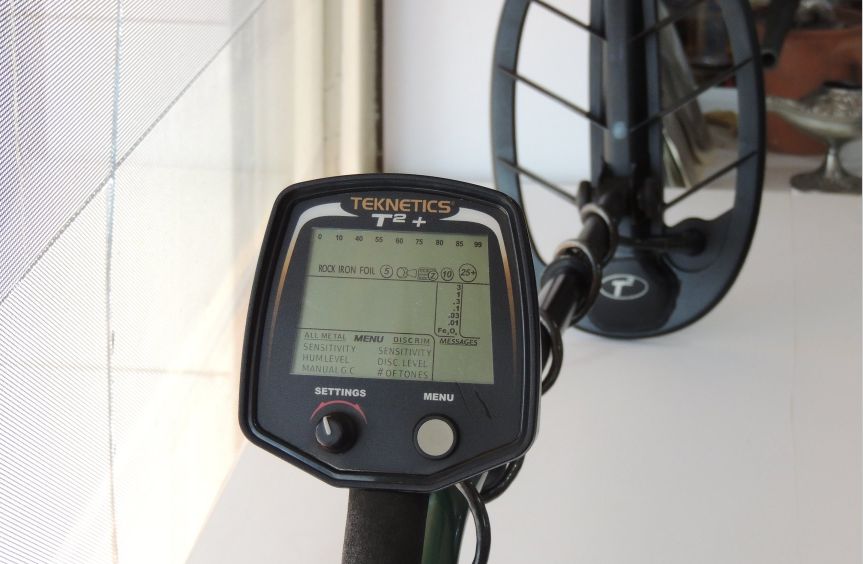 The backstory
Teknetics company has been on the market since 1983. In 1989 it joined First Texas Products, which also includes such brands as Fisher and Bounty Hunter.
Teknetics T2 is considered the most successful metal detector model produced by the company. In 2009 the company introduced a limited edition of Teknetics T2 LTD — these were devices, each of which has its unique serial number as well as a hockey puck coil and new additional features such as BOOST and CACHE modes.
Besides, the metal detector also has DST implemented — Digital Shielding Technology — which helps to suppress electromagnetic noise.
Teknetics T2 vs Teknetics T2 LTD
To a large extent Teknetics T2 LTD is quite similar to its earlier model, only several functions were added.
If comparing this metal detector with its predecessor, LTD has new appearance (the shaft is colored in black) and an improved package set (a small coil was added) and two new search programs improving the device performance.
A hockey puck coil is a really useful device, it significantly increases the metal detector abilities and makes it a more multi-purpose one at various search conditions.
You can go treasure hunting with this coil on trashy areas and receive clearer target responses due to the smaller diameter of the search coil.
If compared to T2, LTD has two additional search programs – Boost Process increases the device sensitivity level. Which is quite useful when searching for small sized objects. Chahe Location Process helps when searching for deep targets such as some treasures or war relics.
| | |
| --- | --- |
| Model | Teknetics T2 |
| Weight | 3.5 lbs. (1.6 kg) |
| Length (Adjustable) | 45" – 54" |
| Batteries | 4x AA (not included) |
| Headphones | No |
| Warranty | 5 years |
| Operating Principle | VLF |
| Standard Searchcoil | 11-inch DD |
| Operating Frequencies (kHz) | 13 kHz |
| Water resistance | Waterproof coil |
| Submersion Depth | No |
| Discrimination | Yes |
| Ground Balance | Auto, manual |
| Updatable Software | No |
| Audio Threshold | No |
| Sensitivity – Depth Adjustments | Yes |
| Electronic Pinpointing | Yes |
| VDI (0 to 99 scale) | Yes |
| Build-in flashlight | No |
Last update on 2022-01-09 at 11:45 / #ad / Images from Amazon Product Advertising API. Undercoil.com is reader-supported. When you buy through links on our site, we may earn an affiliate commission.
The review
Teknetics T2 is delivered in a carton box with a full color print on it. Inside the metal detector is put as several layers with carton insertions between them.
On the very top, you will find a control unit attached to the upper shaft section. Below it, under the carton insertion you will find a search coil and other components of the metal detector.
Assembly of the device should be performed as follows:
Attach the coil to the bottom shaft section.
Insert the bottom shaft section into the middle one.
Attach the middle shaft section to the upper one.
Wind the cable (not tightly) and attach it to the cable entry on the device control unit.
Adjust the shaft length to the user's height and tighten the joints and the cable, use special fasteners included in the package set to fixate the cable.
Insert the batteries (plus sign should be on top).
Adjust the armrest width and position to the user's parameters.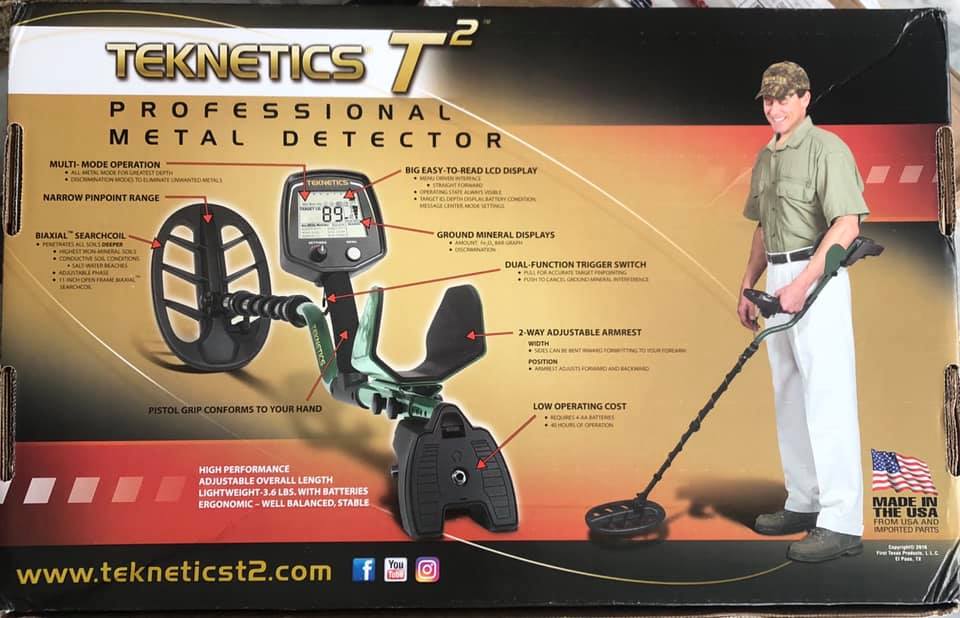 The shaft
The shaft is an S-shaped one and it consists of 3 sections: upper and bottom ones made of aluminum and the bottom section made of carbon fiber.
All the sections are connected with each other by means of double fixation system. First, you should fixate the shaft sections position using spring buttons and after adjusting the shaft length to your height, (there are many adjustment holes in the middle section for this purpose) you should perform final fixation with swivel washers having collet clamps inside. Once you do so, you shouldn't worry about possible looseness of joints.
Т2 control unit is attached to the device handle. The latter has a rugged and not very rigid rubber coating. Besides, such a location of the control unit ensures that the user perfectly sees all the data on the screen. Under the control unit, you will find the main feature of this metal detector a trigger. Using it the user can activate a pinpoint mode that helps detect the target center and quickly switch to the ground balance function.
By moving the control unit under the user's elbow the device designers have resolved two issues at the same time – they've decreased the control unit size and weight and performed proper balancing of the device.
Therefore, now the search coil insignificantly upsets the device balance and presses the armrest to the user's elbow.
Besides 4 AA batteries the battery holder has a potentiometer you can use to switch the device on/off and to adjust the target response sound level; also there is a headphones jack on the back of the battery unit.
Teknetics T2 weighs just 3.5 lbs. (1.6 kg) considering the fact that the metal detector is equipped with a large DD coil. This is a rather impressive characteristic; taking into account proper balance of the device you can be sure that your arm won't get tired fast.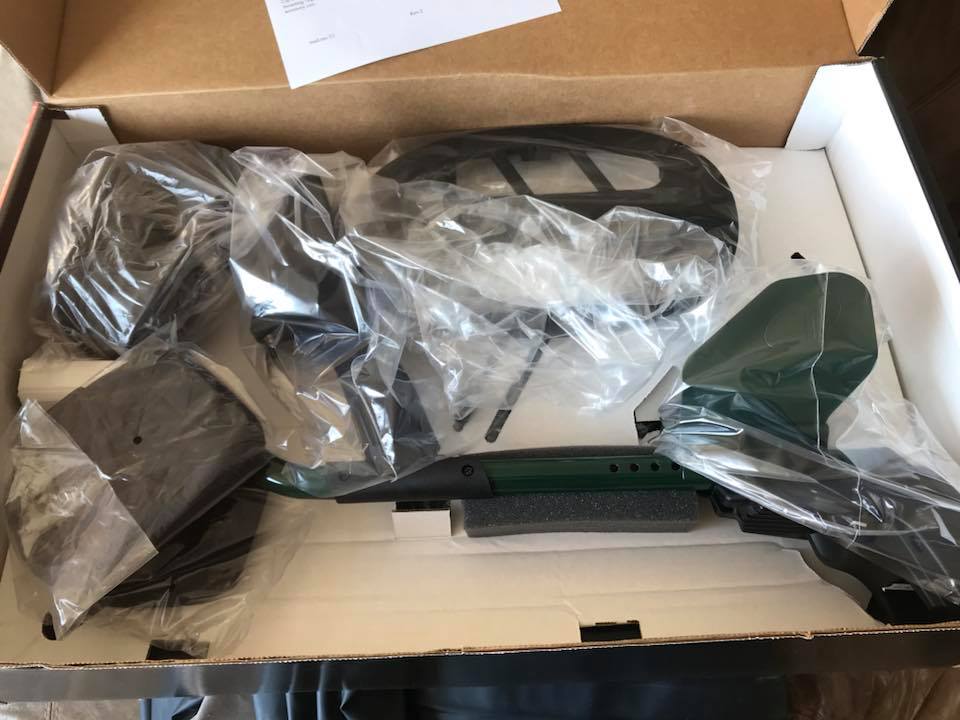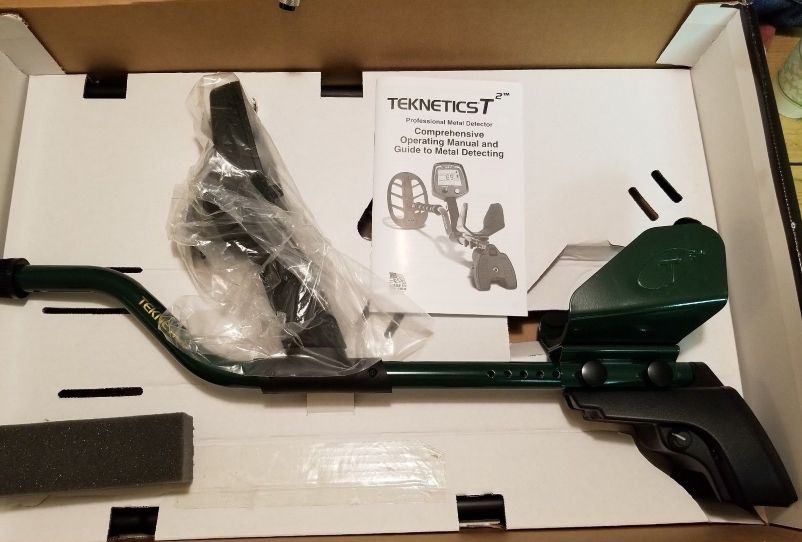 The coil
The metal detector has elliptical DD search coil, 11 inches or 28 cm in diameter. The coil was designed to work at tough conditions. It is protected against water ingress, so beach hunting won't be a problem for the device.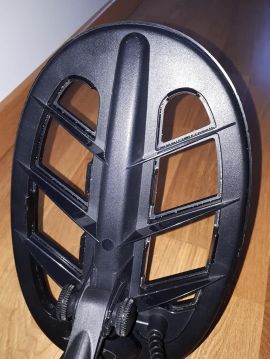 Teknetics T2 uses 13 kHz operating frequency and this allows it to operate as a multi-purpose device. It perfectly deals with detecting large ferrous targets as well as very small non-ferrous targets. The metal detector is good for gold nuggets prospecting and jewelry hunting.
The search coil jack plug is inserted into the jack on the control unit and fixated by means of a threaded nut – this way you receive a reliable and stable connection as well as the jack won't unplug in case if the cable gets hooked on bushes or grass.
Another nice small thing to use is special soft touch fastener clamps you can find in the package set to fixate the coil cable to the shaft
Headphones
They are not included into the device package set, but you can get them additionally.
The battery
The battery holder is under the armrest. You should use 4 AA batteries as a device power supply (they provide about 30 hours of continuous metal detector operation). You can increase this time by using headphones.
There is a potentiometer on the battery unit to turn the device on/off as well as to adjust the volume; there is also a headphones jack on it.
Teknetics T2 Classic Metal Detector with Waterproof 11" Coil and 5 Year Warranty
The American classic is back! 11" Bi-Axial Search Coil Straightforward Menu-Driven User Interface
Trigger Actuated Target Pinpointing with variable audio pitch Double Filter Discrimination Modes For Searching In Trashy...
Manual Ground Cancellation Option Continuous Ground Monitor - Ground Mineralization Bar Graph Readout
Last update on 2022-01-09 at 11:45 / #ad / Images from Amazon Product Advertising API. Undercoil.com is reader-supported. When you buy through links on our site, we may earn an affiliate commission.
Control unit
The system is rather simple. All metal detector settings are adjusted using two buttons: MENU is used to switch between the menu items and SETTING switch, which changes settings parameters (sensitivity, discrimination level, etc.)
The display is divided into several sections. In the middle of it you will see rather large and readable VDI numbers. Basing on the number the digger understands what kind of target was detected.
On top of the display there is a horizontal scale of target identification, under it you will see two rows of symbols. There are numbers in the upper one and pictograms in the bottom row. The indicator needle moves along the scale depending on the target under the search coil.
On the right section of the display there are two vertical stripes. The left one shows ground mineralization level, while the right stripe indicates the batteries charge level.
In the window on the left the user sees a diagram providing information about ground mineralization.
In the lower right corner there is a message window. For example, there you can see hints on what to do while adjusting ground balance or a message concerning a large object located under the coil. Therefore, you'll receive not only an audio signal, but also a text message on the display.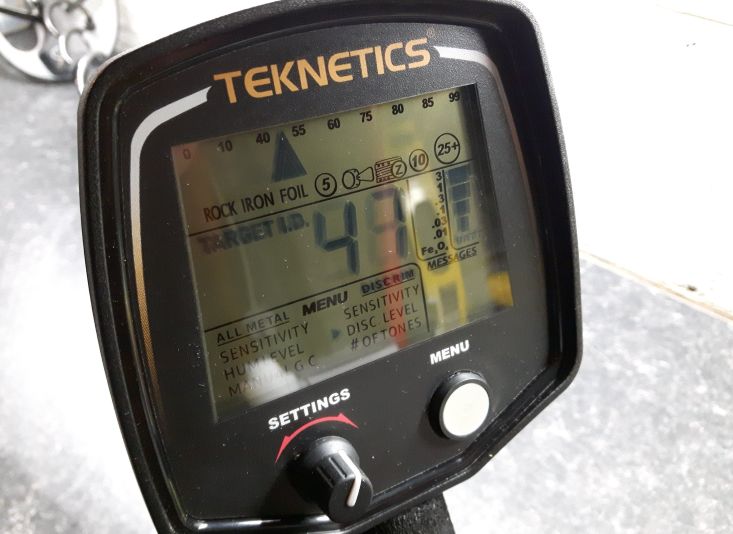 Search modes
The metal detector has two basic search modes – discrimination mode using which you can adjust the discrimination pattern and All metal mode.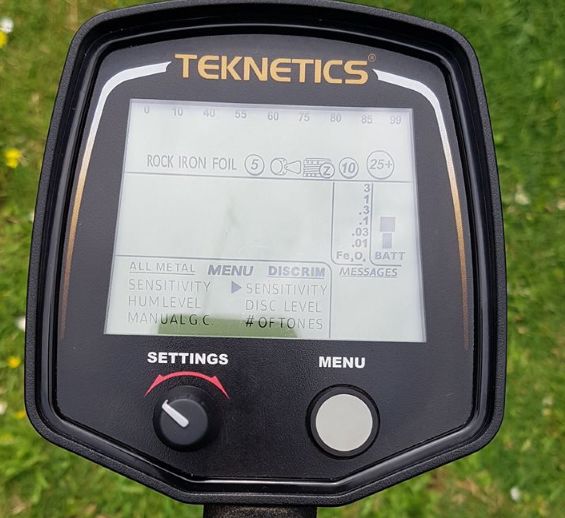 In discrimination mode there are also several pre-set settings, which we can consider as separate modes.
All Metal – the mode doesn't have discrimination, but it has sensitivity level settings, manual ground balance and Hum Level — as a rule, other manufacturers call this setting a Threshold.
Discrimination mode allows adjusting the device sensitivity and discrimination level as well as number of tones — # OF TONES.
Ground balance
Teknetics T2 has two ways of ground balance adjustment: automatic and manual one.
Pros
pinpoint mode
DD coil
seven other coils
many other compatible accessories
5 years warranty
variable discrimination
sensitivity is highly adjustable
long battery life
Cons
only two search modes
only coil is waterproof
price
Comparison
Teknetics T2 vs Equinox 800
Standard Searchcoil
11" DD coil with skidplate
Operating Frequencies (kHz)
Batteries
In-built rechargeable Lithium-ion
Detect Modes
5 (All metals, Park, Beach, Field, Gold)
Operating Frequencies (kHz)
Standard Searchcoil
11" DD coil with skidplate
Operating Frequencies (kHz)
Batteries
In-built rechargeable Lithium-ion
Detect Modes
5 (All metals, Park, Beach, Field, Gold)
Last update on 2022-01-09 at 11:45 / #ad / Images from Amazon Product Advertising API. Undercoil.com is reader-supported. When you buy through links on our site, we may earn an affiliate commission.
Conclusions
Advantages: VDI scale ranges from 0 to 99, double discrimination filter for trashy areas, Fast grab option, manual ground balance adjustment and 13 kHz operation frequency.
However, the device also has some disadvantages. The main one is absence of memory to store the metal detector settings. If you work on several areas during the day it is rather annoying and time consuming to adjust the settings each and every time.
I would say, that the main rival of this metal detector is Minelab Equinox 600, which is a bit more expensive, but it is more modern and it offers wider functionality.