Here is Bounty Hunter Discovery 1100 metal detector review. The article has information about the device operation frequency, its search coil type, if the headphones are supplied, how long the device can operate using one battery set and other stuff as well as what differs this metal detector from other models produced by the company.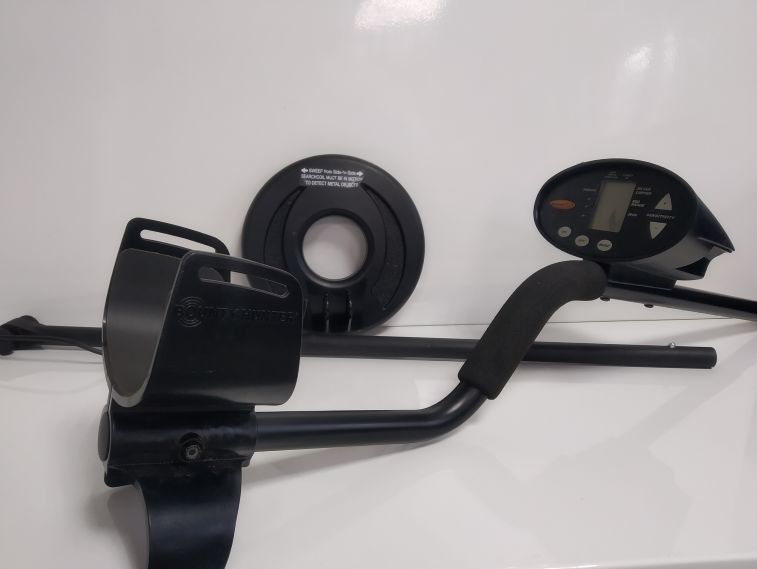 What the device was designed for?
Bounty Hunter Discovery 1100 metal detector is a consumer grade device of beginner level. Therefore, there is no point in expecting some super-valuable findings from it, but it will definitely do as a first metal detector aimed just to try out the treasure hunting process itself.
Discovery product line opens Bounty Hunter devices line. It consists of three devices. Except 1100, there are also the following device models – Bounty Hunter Discovery 2200 and Bounty Hunter Discovery 3300.
If you are looking for something even simpler than these devices, it can be Bounty Hunter BHJS Junior, which is considered a toy.
The metal detector is the simplest one, it has no complicated settings – just the most necessary things to turn it on and start treasure hunting.
The device is so user-friendly, that you don't even need to read user's manual. The menu is easy-to-use and even a beginner will be able to deal with it.
| | |
| --- | --- |
| Model | Bounty Hunter Discovery 1100 |
| Weight | 4 lbs |
| Length | Adjustable |
| Batteries | 2 9V alkaline batteries |
| Headphones | No |
| Warranty | 5 years |
| Operating Principle | VLF |
| Standard Searchcoil | 7 inch waterproof |
| Operating Frequencies (kHz) | 6.6 kHz |
| Water resistance | No |
| Submersion Depth | No |
| Discrimination | Yes |
| Ground Balance | Yes |
| Audio Threshold | No |
| Sensitivity – Depth Adjustments | Yes |
| Electronic Pinpointing | No |
| Visual LCD Display | Yes |
| Build-in flashlight | No |
Bounty Hunter DISC11 Discovery 1100 Metal Detector
Discriminating metal detector gives a unique sound for different types of metals
3 Mode metal detector
3-Segment target identification
4-segment depth display
Detects coin-sized objects 6" deep; larger objects up to 2'
Last update on 2023-09-29 / Affiliate links / Images from Amazon Product Advertising API
The review
The shaft
The metal detector has S-shaped shaft with a convenient armrest. The shaft consists of two sections which you can adjust to your individual parameters. Just push the spring button and find an adjustment hole in the shaft section that makes the shaft length fit your height.
The metal detector weighs just 1.3 kg, so it won't be a problem to wave it for a long time. Discovery 1100 is a small sized and light weighted device, though it's not perfectly balanced.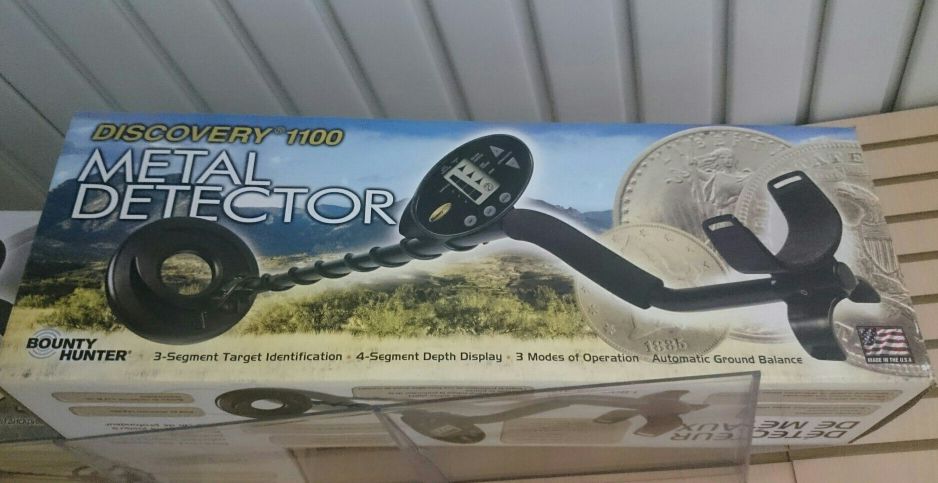 The search coil
The metal detector uses VLF approach; it has 6,6 kHz operating frequency. Round concentric coil 7 inches in diameter is included into the device package set. The search coil is waterproof, so you can submerge it, but make sure you leave the control unit above water.
Headphones
They are not included into the device package set, but the metal detector has a headphones jack, so you'll be able to use headphones once you get them.
The battery
Two 9 V batteries are used as the device power supply. One battery set is enough for about 20-25 hours of continuous metal detector operation.
Unlike AA batteries, which are sold almost everywhere, it is more challenging to find 9V battery, which is a minus in this case.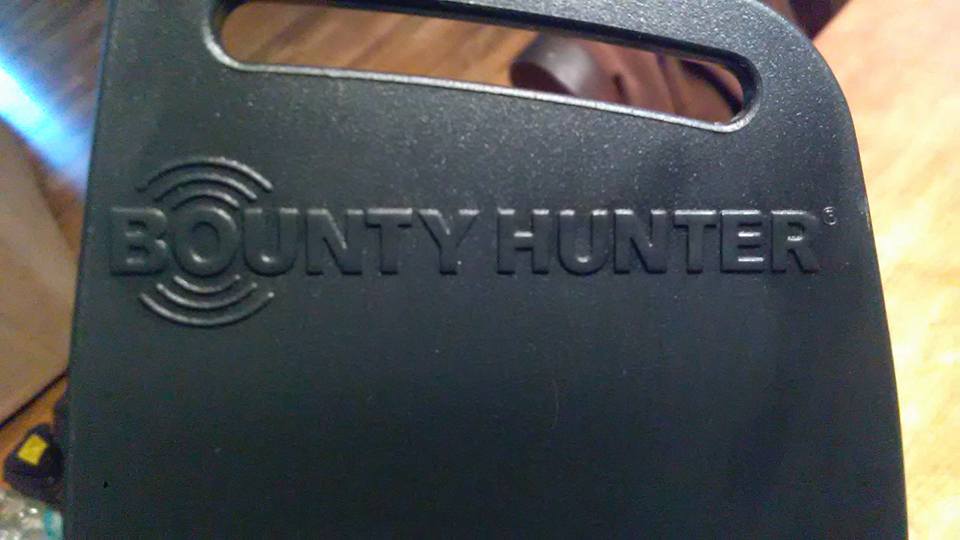 Waterproofness
The metal detector can be used only for ground search, even though its search coil is a waterproof one.
Control unit and settings
The device has rather user-friendly menu plus there are no complicated adjustments required. Even a beginner detectorist will be able to deal with the metal detector settings without reading the user's manual. All you should do is turn on the device and start treasure hunting right away.
To turn the metal detector on use ON button. The LCD display has a backlit and maintains its contrast even in the sunlight, which ensures that the data in readable.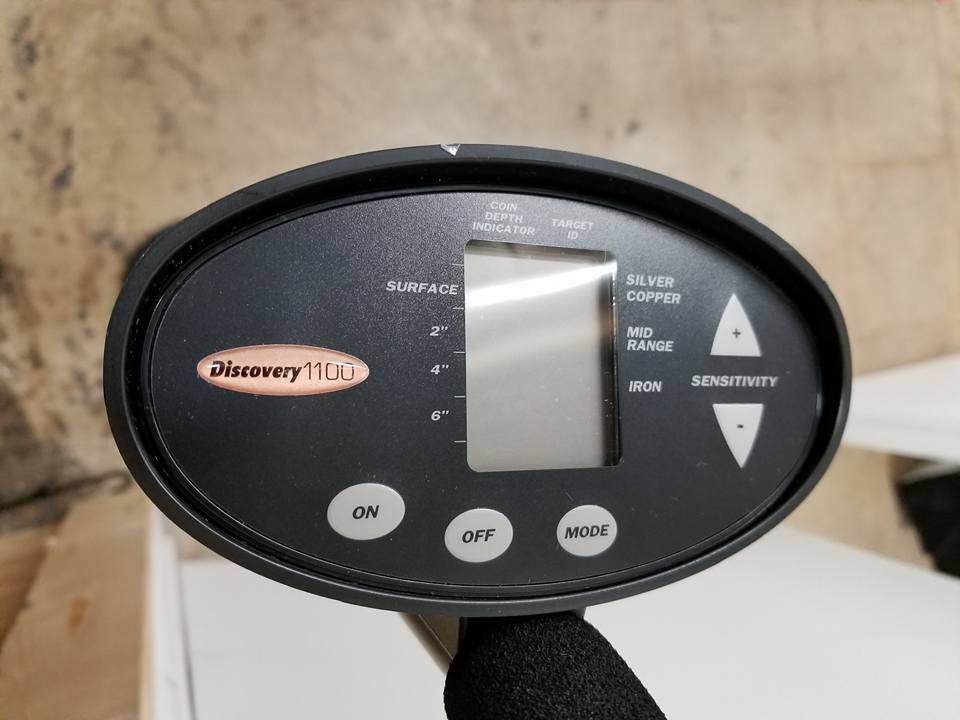 On the left there is a 4-segment scale, that informs the user about the depth of the detected metal object. Also, this scale is used to adjust the device sensitivity level. If you see three active segments, it means that the device is sensitivity equals «3/4».
You can change the adjusted sensitivity level by pushing arrows 'up' and 'down' correspondingly. At maximal sensitivity level the device detects a coin (or any other object of a similar size) up to 6 inches deep. The larger is the object, the higher is the detection depth.
The 'pyramid' has two values. After the device detects the object, the pyramid displays the approximate depth of the target (in inches).
Small sized targets which are on the ground or close to its surface will be indicated on the upper segment of the pyramid. Deeper located objects will be indicated in the bottom segments numbered 2, 4 or 6 (inches).
VDI number is not foreseen for this metal detector since this is a consumer grade device.
On the right-hand side of the display there are indicators which divide the detected objects into three groups:
Silver/Copper
Here the arrow will point the objects containing the above-mentioned metals. However, some other corroded objects, large aluminum targets sometimes can get into this group by mistake.
Mid Range
Most of iron targets get into this group. These can be can pull tabs, nickel coins, various zinky objects as well as goldware.
Iron
Here you will find most of ferrous targets. However, some small objects made of aluminum or gold can also appear here by mistake.
Using MODE button, you can exclude some unwanted metals from the search cover. By pushing the button, you select one of the discrimination modes.
In lower right-hand corner of the display there is a battery charge indicator. It starts to flash once the battery charge decreases to 7,35 W. Discovery 1100 will inform you in advance that the battery is discharging by means of a blinking icon in bottom right corner of the display.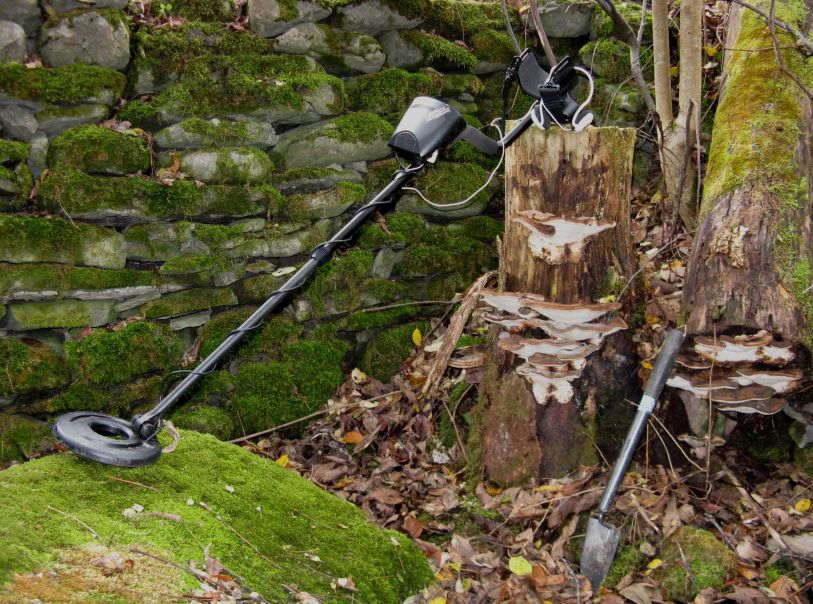 Tones
It is very convenient to use LCD display to identify the detected object. However, when you are working in the fields, it is rather difficult to monitor all the data on the display.
That's why the metal detector has additional sound identification for the detected objects.
The sound indication informs about target presence and possible type of the metal. But more precise information about the object and its location can be obtained from the data displayed on the device screen.
There is a three-tone sound identification (the following models have 4 tones). Low tone corresponds to ferrous metals.
The middle tone is peculiar to all types of bottle caps, Coca-Cola tabs, wire, etc.
High tone corresponds to copper and silver coins, bronze and copper domestic implements. Sadly, some corroded iron targets may sound the same. Though, in fairness it must be said that even more expensive metal detectors have this fault – targets from corroded iron also produce high tone response signal.
So, it is very challenging to see between corroded ferrous targets and non-ferrous ones, since they produce almost identical sound tone.
Ground balance
According to what the manufacturer states, ground balance is adjusted automatically in «GroundTrac®» mode, and it doesn't affect the device sensitivity level. In plain language this means, that the ground balance has a pre-set value, which you can't adjust. Which is of no surprise for a metal detector of this level.
Bounty Hunter Discovery 1100 vs 2200 vs 3300
Operating Frequencies (kHz)
Coil
7 inch waterproof searchcoil
8 inch waterproof searchcoil
Depth Readout
Visual and Numeric Depth Indicators
Operating Frequencies (kHz)
Operating Frequencies (kHz)
Coil
7 inch waterproof searchcoil
Operating Frequencies (kHz)
Coil
8 inch waterproof searchcoil
Depth Readout
Visual and Numeric Depth Indicators
Last update on 2023-09-29 / Affiliate links / Images from Amazon Product Advertising API
Conclusions
All in all, I must say that this metal detector is more a toy, than a real device. I'd recommend it for kids and those, who like going treasure hunting from time to time.
Why? Well, first of all, because the manufacturer has a metal detector model, which is a bit more expensive, but it's much better – Bounty Hunter Tracker IV. So, if you are a beginner digger, I'd advise you buying Bounty Hunter Tracker IV.