Here you will find Fisher Gold Bug Pro metal detector review. The article contains information about operating frequency the device uses, its search coil type, if headphones are included into the device package set, how long it can operate using one battery set and many other useful things.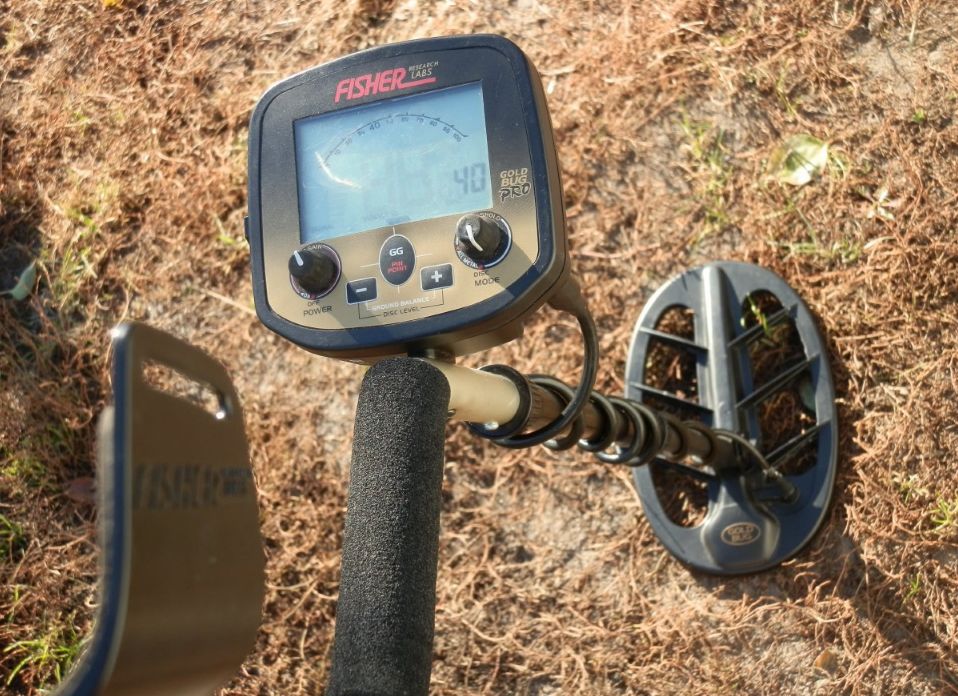 What was the device designed for?
The first thing you should know is that the metal detector has 4 different package sets. These are Fisher Gold Bug, Fisher Gold Bug Pro, Fisher Gold Bug DP, Fisher GoldBug-ProCCMB. Despite their different names, the package sets distinctions are not that significant, and they are basically about various search coils the sets include.
To simplify the review process, let's talk about them as about one model – Fisher Gold Bug Pro. The metal detector is aimed at gold nuggets prospecting, but unlike other gold prospecting metal detectors, this one will be irreplaceable when small coins shooting and jewelry hunting.
This is one of the most sensitive gold nuggets prospecting metal detectors you can get for rather affordable price.
| | |
| --- | --- |
| Model | Fisher Gold Bug |
| Weight | 2.5 lbs |
| Batteries | 9 Volt (1) |
| Headphones | Not included |
| Warranty | 5 years |
| Operating Principle | VLF |
| Standard Searchcoil | Three types of coils (5″ round DD, 7″ x 11″ elliptical DD, 5″ x 10″ elliptical DD) |
| Operating Frequencies (kHz) | 19.2 kHz |
| Water resistance | Waterproof coil |
| Submersion Depth | No |
| Discrimination | Yes |
| Ground Balance | Auto, manual |
| Audio Threshold | No |
| Electronic Pinpointing | Yes |
| VDI (0 to 99 scale) | Yes |
| Build-in flashlight | No |
Last update on 2023-09-30 / Affiliate links / Images from Amazon Product Advertising API
The review
The shaft
The assembled device weighs just 2.2 pounds (1 kg). The bottom shaft section is made of carbon, which is rather durable and light weighted. The metal detector can be supplied with various coil types and it should maintain proper balance using any of them.
The shaft sections are connected by means of spring buttons, while collet clamps ensure additional fixation of the construction elements and make sure that no looseness will appear in the joints.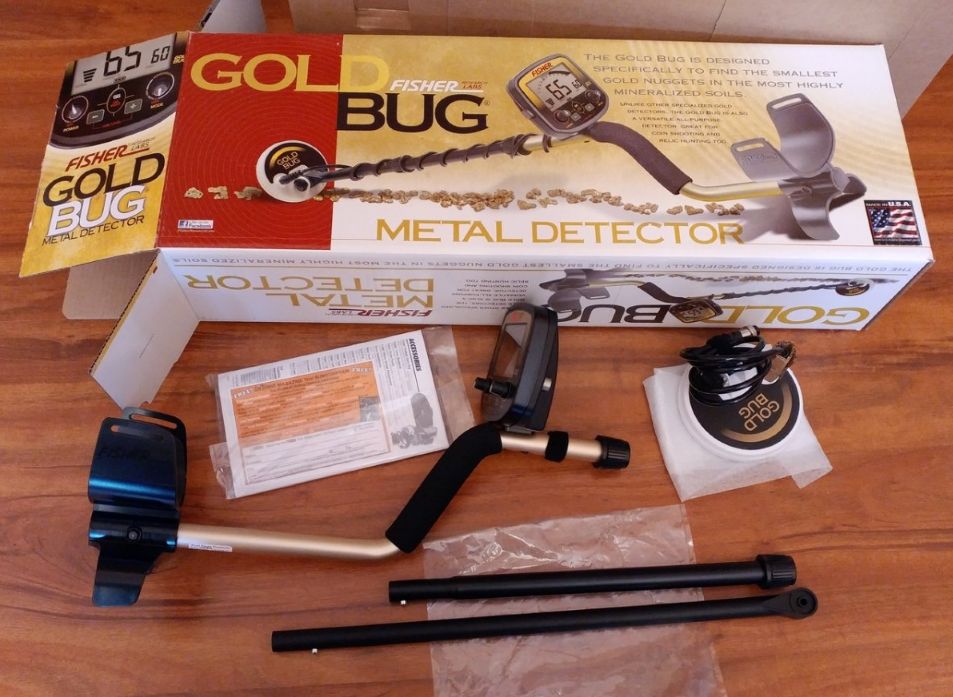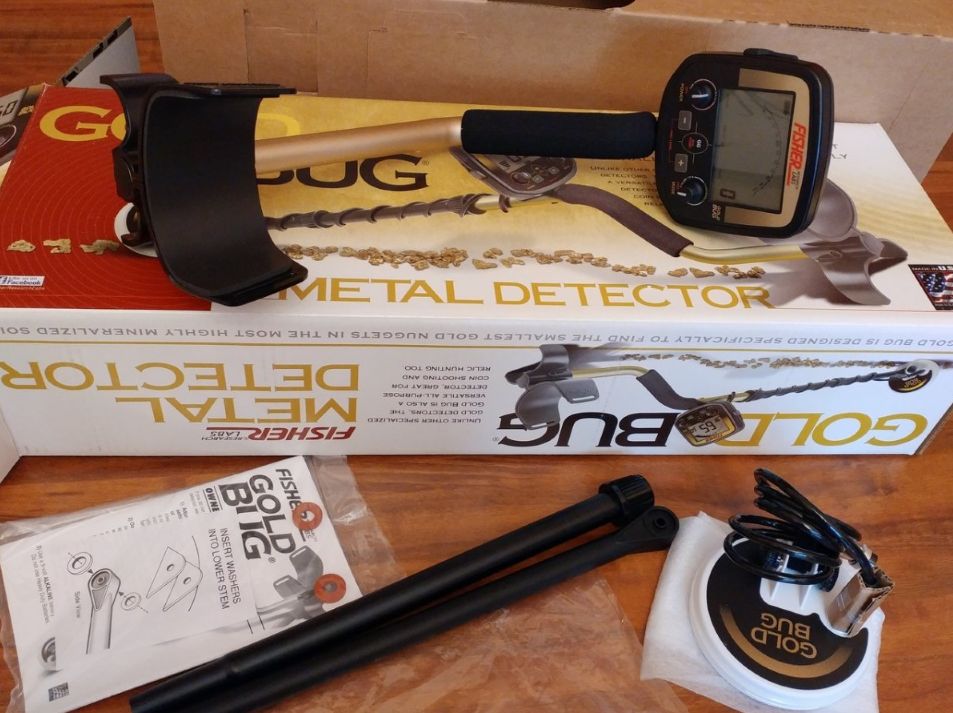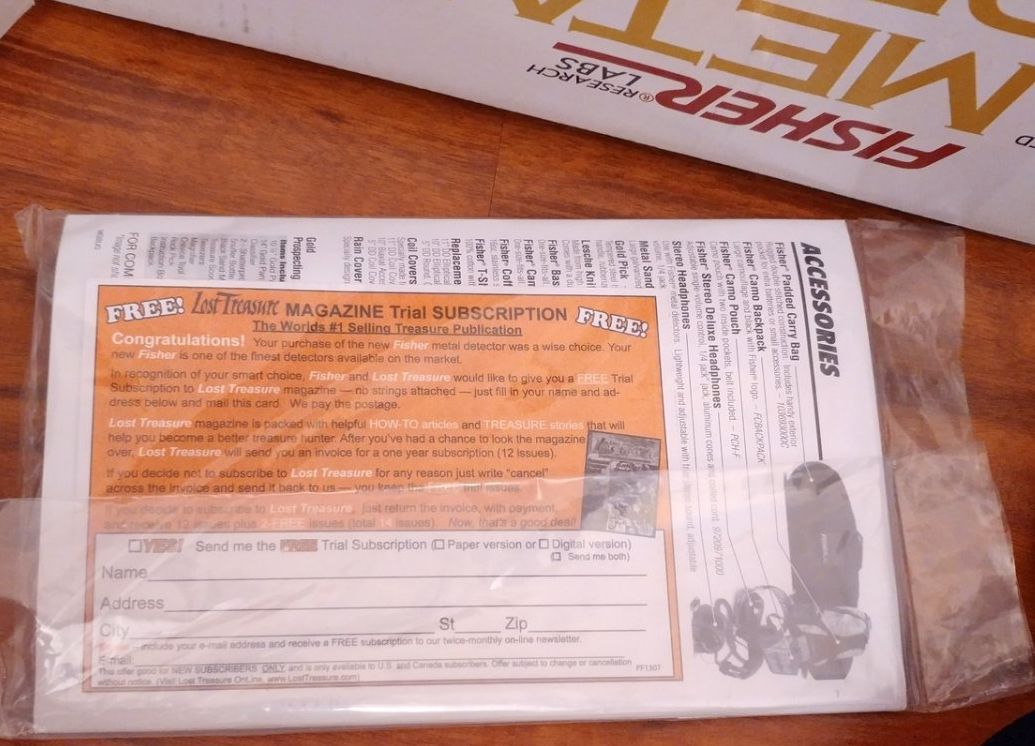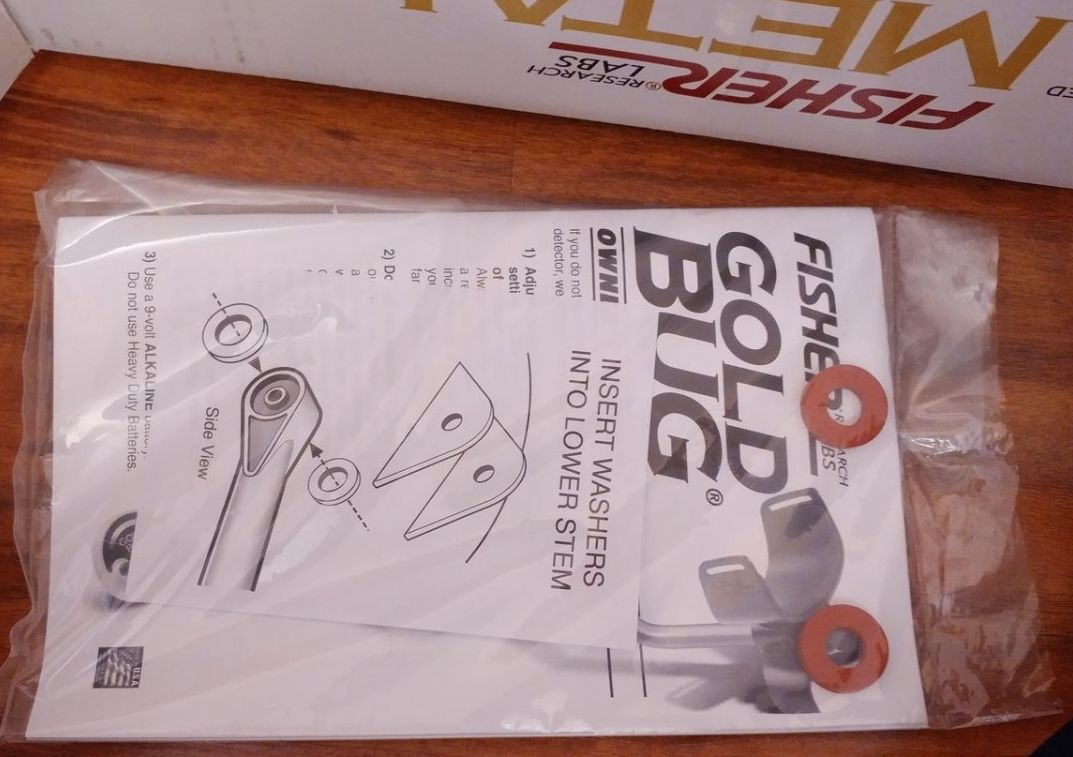 The coil
Please, keep in mind that Fisher Gold Bug Pro can be equipped with three types of coils. This is 5″ round DD coil, 7″ x 11″ elliptical DD, 5″ x 10″ elliptical DD. Besides, there is also a package set that includes two search coils – 5″ round DD coil and the 5″ x 10″ DD.
All the devices use the same VLF approach. They have the same operating frequency equal to 19 kHz. This is the high frequency operation frequency that makes the device an indispensable helper when gold nuggets prospecting. Since as a rule, you can find gold in the areas with highly mineralized ground.
DD coil means that it provides large scanning area as well as the signal penetrates the ground uniformly along all the coil length, which excludes missing even the smallest targets at each step.
All the search coils are completely waterproof, which ensures beach hunting as well as searching in puddles and shallow waters. Especially since the metal detector was designed for gold nuggets prospecting and various jewelry detection, which are more often found on beaches and coastal areas.
People on the beach don't like taking their jewelry off, so quite often they lose it in the sand or in shallow waters.
However, you should keep in mind that only the coil is waterproof, the control panel is not. Therefore, by no means should you submerge the device control unit, since this may lead to the metal detector breaking down.
The search coil wire is rather elastic, and it has a double braid, which makes it weather-resistant and wearproof. To ensure additional fixation of the wire to the shaft the device package set includes two touch and close fastener clips.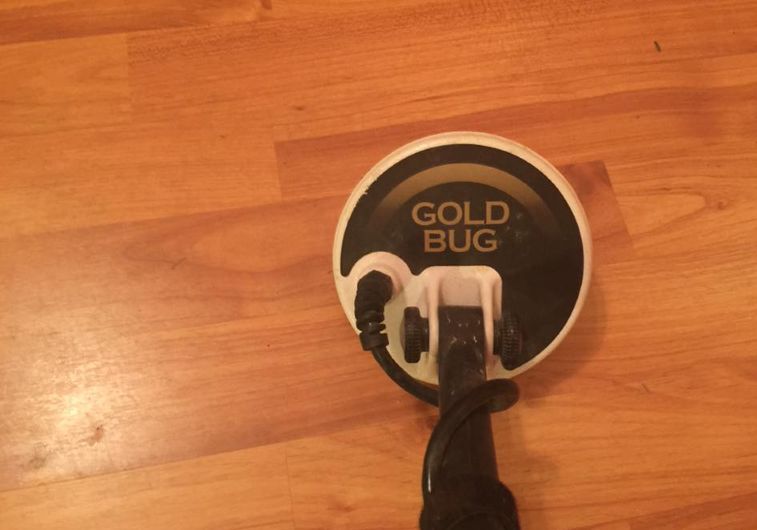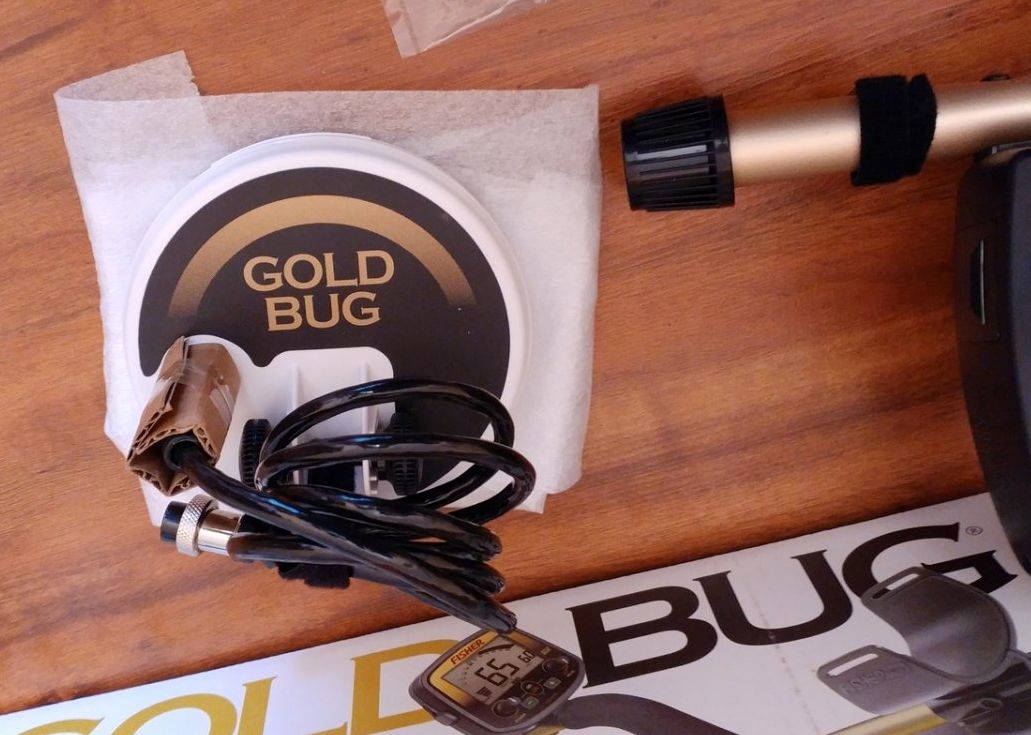 Headphones
They are not included into the device package set, but you can bet them optionally or attach the ones you have to the control unit. It has two different headphone jacks (1/8" and 1/4 "), to make sure you won't need an adaptor.
Using headphones during gold nuggets prospecting is almost a must, since by exploring the tiniest deviations of target response you'll be able to detect small gold targets or nuggets located at significant depth.
The battery
The metal detector uses just one 9V battery as a power supply. Using this one battery the device can operate continuously up to 25 hours (depending on whether the digger uses external speakers or headphones).
The battery holder is on the back of the control unit, which makes it rather easy and convenient to change the battery.
The control unit
It has a user-friendly interface. On the front panel of the control unit there is a large LCD display, touch sensitive buttons and two potentiometers.
In the bottom left there is a switch On/Off/Gain, which you can use to turn the device on/off and adjust its sensitivity level. Turning the switch clockwise improves amplification of the signal sent into the ground.
In «Disc» mode the sensitivity range varies from 1 to 100, in «All Metal» this is from 5 to100 correspondingly at 5 interval.
In the bottom right you will find «Mode» potentiometer, which is used to select the mode and to control the Threshold mode.
If the switch is all the way to the left, the device will operate in dynamic mode with discrimination on; when you turn the switch clockwise and hear a click, the device will switch to 'all metal' search mode with a threshold tone (Threshold).
In this mode the metal detector can detect the smallest metal particles at the highest depth, at that the user can track the threshold changes the level of which is adjusted by turning the potentiometer.
In the middle of the display there is a button to control the static search mode «Pinpoint» (precise target detection) and it can be used to perform the ground balancing of the device.
Buttons «+» and «-» are used to correct parameters (in «Disc» mode with their help you can change discrimination level within the range from 0 to 80, in «All Metal» mode the ground balance function is adjusted within the range from 0 to 99,9).
On top of the display you'll see a semi-circle discrimination scale. At that the segment from 0 to 40 is for targets made of ferrous metals and from 40 to 100 – is for non-ferrous ones.
In the bottom left under the discrimination scale there is a scale to display ground mineralization level GND PHASE. Digits that you see at this moment in the middle of the display – this is a number characterizing mineralization type. You can read about this in details in the user's manual.
Information about ground mineralization level and its type is one of the main things to consider when adjusting the metal detector settings and when gold nuggets prospecting.
Large digits in the center of the LCD display are called VDI number.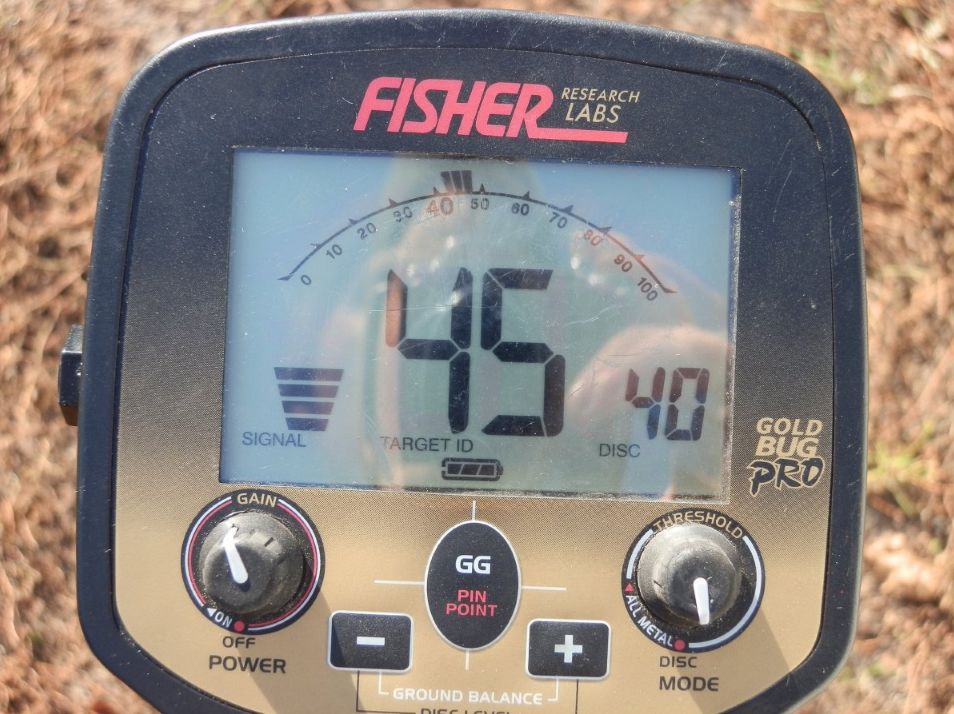 Search modes
The device can operate in three modes: 'all metal' – to search all metal objects, DISC – excludes all unwanted target groups and PINPOINT – this is a static mode to detect the target center.
Fisher Labs Gold Bug Metal Detector, Black (GOLDBUG)
Threshold and gain adjustments - 1/4 and 1/8 inch headphone jacks - lightest...
2 search modes: all-metal and discriminate - large lcd screen with 0-99 numeric...
No-motion pinpoint - computer assisted ground grab and ground balance -...
2 Tone VCO - Super Sensitive
Recommended for gold nugget / prospecting
Last update on 2023-09-30 / Affiliate links / Images from Amazon Product Advertising API
Discrimination
Fisher Gold Bug pro has sequential discrimination type, which means that objects are excluded starting from those with low conductivity to the ones with high conductivity. Discrimination improves treasure hunting process and allows to avoid situations when objects made of gold are excluded from the detection range.
However, when coin shooting you should use this function too often, since among targets with low conductivity you may get your most valuable and interesting findings. That's why after excluding such objects as foil, iron, bottle caps from the search, you may also miss some valuable findings.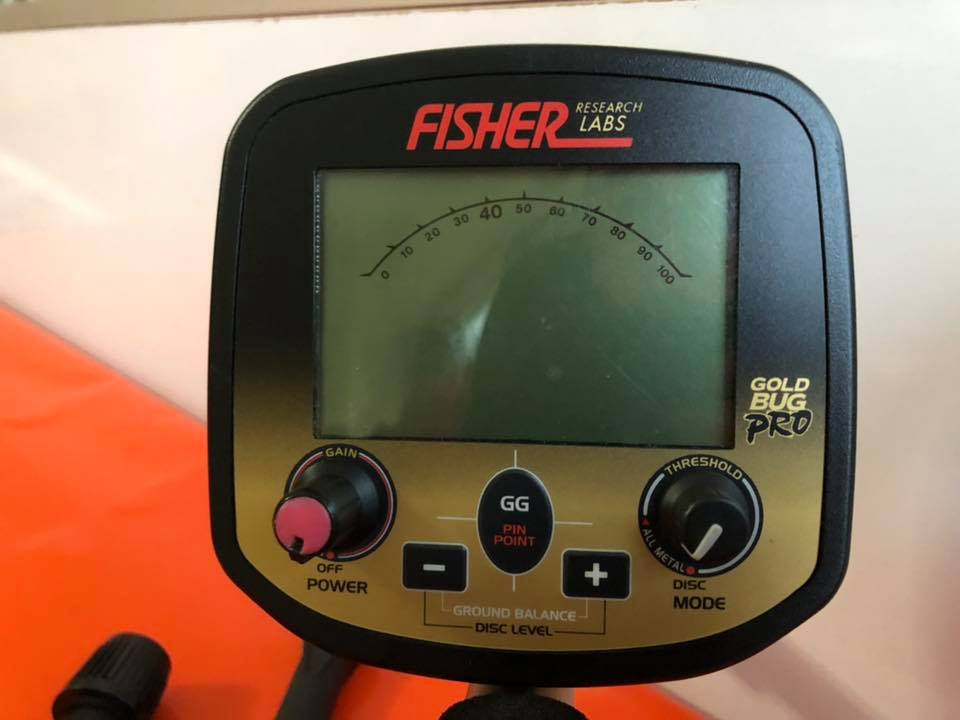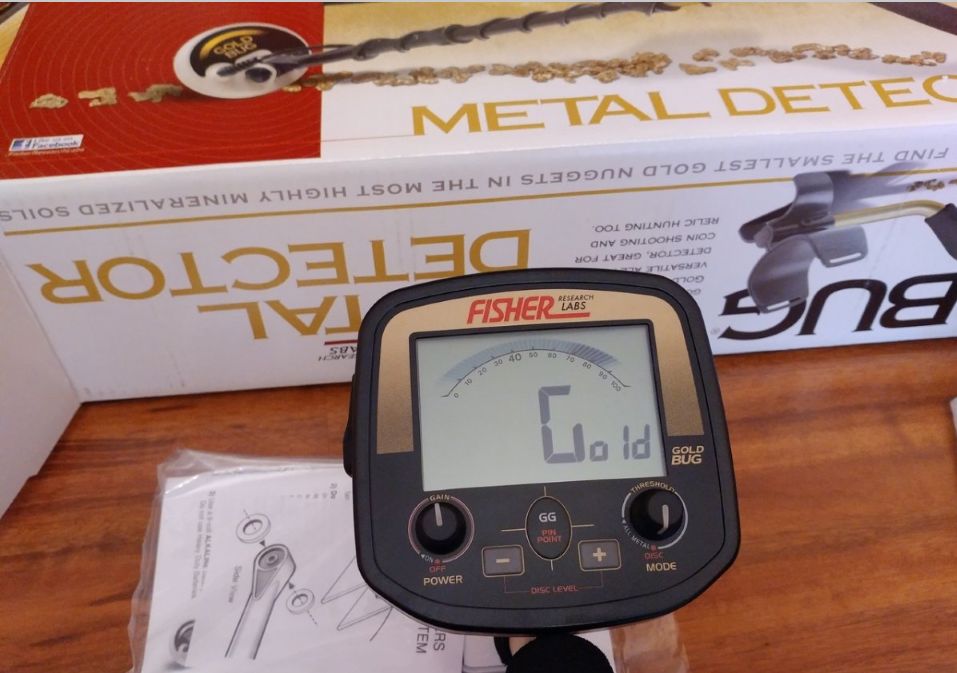 Ground balance
There are two options to adjust this function – automatic and manual. Both are quite simple and fast, but the purpose of automatic ground balance adjustment is to achieve calibration values quickly, while manual adjustment is to achieve some specific device adjustment for this specific ground properties. That's why professionals prefer this way of ground balance adjustment, when they can get the most of it.
Gold nuggets are more often encountered in highly mineralized ground. Using some standard metal detector is quite challenging in such conditions, since there are to many phantom signals. Manual and automatic ground balance adjustment allows to exclude such signals and work even at very complicated conditions.
Noise Cancel
Experienced diggers know that mobile phones, electric power transmission lines and metal detectors working closely produce electric noise, which prevents proper operation of the metal detector. Noise cancel function helps to ignore the noise and lets you continue the treasure hunting process even at high electromagnetic radiation present around.
Pros
light weight
three types of coils
easy ground balance
easily finds coins and jewelry
user friendly
5 year warranty
very sensitive to gold (19 khz)
simple interface
Cons
instructions are not really good
Conclusions
Fisher Gold Bug Pro metal detector deals with its tasks even in case of highly mineralized ground, where gold nuggets are most often found.
A waterproof search coil 11″ Double and 19 kHz operation frequency allow detecting the smallest objects located quite deep.
At that the metal detector price is lower than that of other gold nuggets prospecting metal detectors. The main rival of the device is Garrett AT Gold, but it's better to use it for jewelry hunting on the beach.