We are reviewing Garrett Ace 300 in this article. Garrett has designed a new device Garrett Ace 300 to substitute a well-proven metal detector for beginners Ace 250. Let's take a look whether the device new functionality improves detectorists possibilities and whether it is worth getting the new metal detector instead of Ace 250. Is there any alternative to it?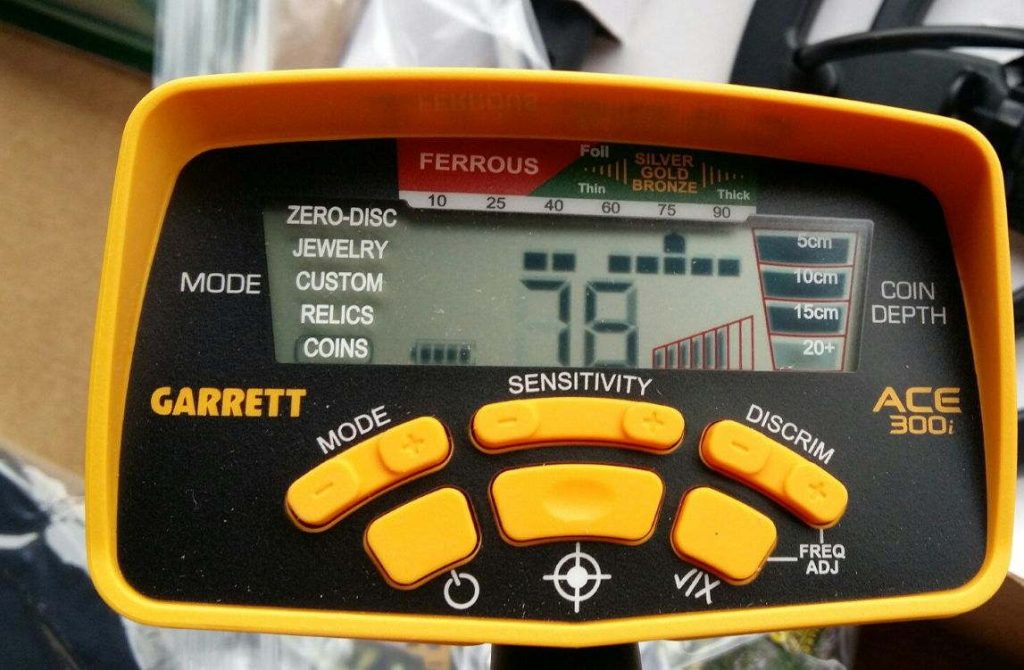 Garrett Ace 300 vs Ace 250
So what has changed in Garrett Ace 300 metal detector?
In general, this is the good old Garrett Ace 250, but with some improvements, such as:
the device shaft is now equipped with camlocks
the device set now includes ClearSound Easy Stow headphones, a case for control unit and a protection case for the coil
The manufacturer states that the device processor was substituted with a newer and faster one
The coil size is larger
VDI was added
Operating frequency was increased from 6.5 kHz to 8 kHz
Adjustable Frequency function was added
In this case the changes are quite significant. The new shaft is really more convenient, the headphones will also come in handy (though not all package sets include them). The larger coil provides higher detection depth and VDI is a must have for any metal detector.
As for the processor, this issue is rather controversial, but those who have used 250 for a long time say that the difference is noticeable.
The operating frequency increase is just a marketing trick – 8 kHz instead of 6.5 kHz. The difference of 1.5 kHz doesn't affect the detection depth and the device sensitivity. Even if the frequency is doubled, you still get about 5-7% of detection depth increase.
For example, the difference between 3 kHz and 7,5 kHz gives just 7-10% of detection depth increase, and this is at almost more than doubled operating frequency.
Considering all the above mentioned, is Garrett Ace 300 worth buying? Yes. Since in comparison with Garrett Ace 250, this metal detector is better in terms of detection process convenience.
Is there an alternative to Garrett Ace 300? Yes, this is Fisher F44 or F22 metal detector with DD coil. Both devices are time-proven and reliable ones and you can get them for almost the same price.
| | |
| --- | --- |
| Model | Garrett ACE 300 |
| Weight | 2.75 lb |
| Length (Adjustable) | 40″ to 53″ (1.016 m – 1.35 m) |
| Batteries | 4 AA (included) |
| Headphones | No |
| Warranty | 2 Year |
| Operating Principle | VLF |
| Standard Searchcoil | 6.5″ x 9″ concentric PROformance |
| Operating Frequencies (kHz) | 6.5 kHz |
| Water resistance | No |
| Updatable Software | No |
| Discrimination | Fixed |
| Ground Balance | Fixed |
| Audio Threshold | No |
| Sensitivity – Depth Adjustments | 4 |
| Audio Tones | 3 |
| Electronic Pinpointing | No |
| VDI (0 to 99 scale) | Yes |
| Build-in flashlight | No |
Last update on 2023-09-30 / Affiliate links / Images from Amazon Product Advertising API
Review
The metal detector package set includes a wide range of various add-ons. It has a basic package set (only the device is included) and an advanced one.
The advanced package set for this metal detector includes:
Control unit attached to the S-shaped shaft;
Two shaft sections;
The coil;
Fixing system for the coil;
Wireless headphones;
4 AA batteries;
Manual;
Protective case for the control unit;
Protective case for the coil;
Carry Bag
The are also other package sets for this device on the market, but these are usually promo sets and they are not always available for purchase.
The shaft
The shaft consists of the standard three sections. The bottom one is made from plastic and the rest two are from light aluminum alloy and they are covered with durable powder paint.
The middle shaft section has nine length adjustment holes to ensure fast and precise adjustment of the metal detector shaft length to user's individual parameters.
Unlike previous models of this product line, the shaft section fixing system has not only standard spring buttons, but also swivel type clips/camlocks (these were earlier used in professional metal detectors of such brands as AT Pro or AT Gold).
The camlocks provide the device with additional rigidity and firmness. There is no looseness, squeaking or clicks. Due to this, the metal detector also produces less phantom signals when bumping into grass.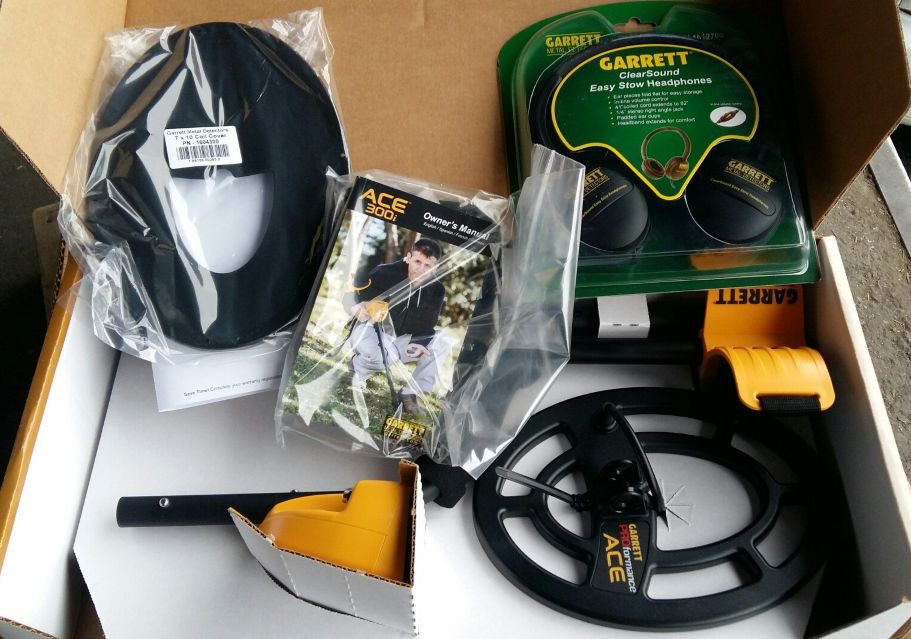 The upper shaft section has an armrest, a handle and a control unit on it. The armrest provides comfortable and reliable fixation of the user's forearm.
The standard device package set includes a convenient strap with a touch and close fastener, by means of which you can fixate your arm in the armrest more tightly.
The device handle is made from polyurethane. However, actually it's more convenient and practical if the shaft handle is made from some rigid plastic or rubber. And yet, you can find these when buying metal detectors of premium class.
The coil
The old 6.5″ x 9″ concentric PROformance coil was far from perfection. The new standard coil for Ace 300 is 7х10" PROformance™, which is definitely better than the previous one, both in terms of performance stability and detection depth.
Nevertheless, the above mentioned doesn't mean that the coil has got rid of the main drawback of all concentric coils – their cone-shaped signal. In comparison with Double D, with Ace 300 the user has to wave the coil more and the chances are high to miss a deep-lying target.
On the other hand, mono coils are good when you go treasure hunting in places full of iron rubbish.
In the real life you will face not only treasure hunting in some places clean from iron rubbish, but also with rather complicated search conditions including places with lots of rust nails, foil, bottle caps and various rubbish of this kind.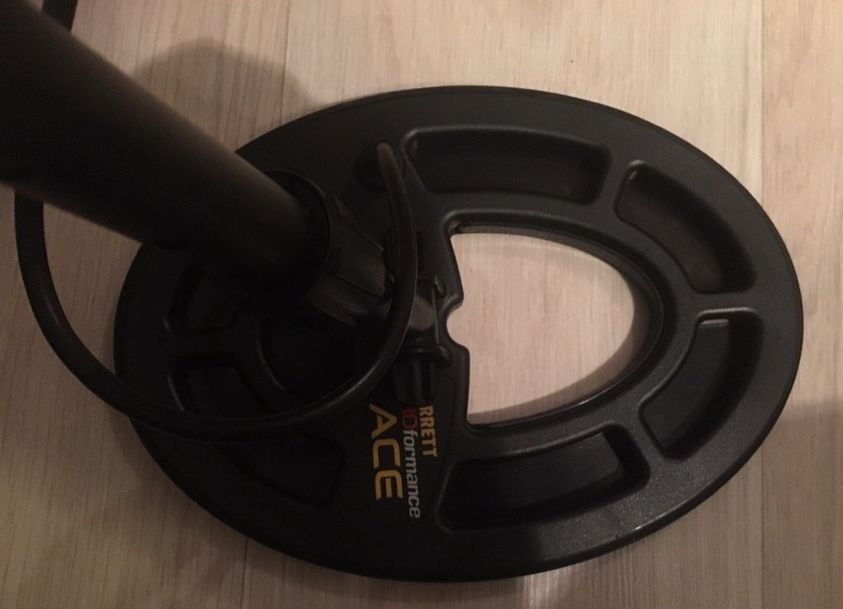 Namely for places like these (there are quite many of them) the 7"x10" PROformance™ coil will perfectly do.
The coil case is leakproof and it is made from impact-resistant plastic, which is mechanical wear and temperature gradient resistant as well.
When buying the advanced device package set, you will also get a plastic protective case for the coil, which will protect it when bumping into some stones or roots hidden in the grass.
The operating frequency
The metal detector uses 6.5 kHz operation frequency. All metal detectors for beginners work using operating frequency close to this one.
Such a frequency allows the metal detector to provide maximal search depth and detect objects made from very different metals and alloys.
Last update on 2023-10-01 / Affiliate links / Images from Amazon Product Advertising API
The headphones
Garrett™ ClearSound Easy Stow. They are not included into the basic device package set, but you can find them in the advanced one. Sadly, the headphones are wired ones, this is not the metal detector, which will be equipped with wireless ones.
There is nothing special about the device headphones. They are reliable, convenient to use and time-proven ones – there is nothing to add here.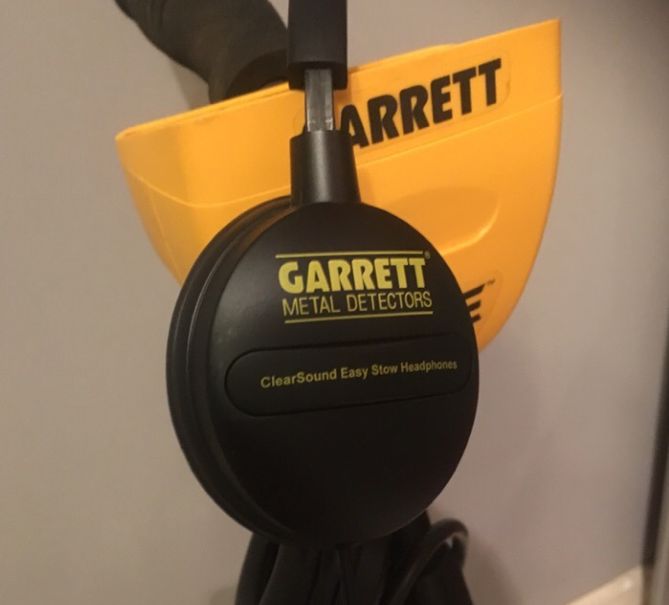 The battery
Batteries are included into the device set. They are enough for about 20-24 hours of continuous device functioning, which is about 5-6 treasure hunting trips.
However, to save money you are welcome to get accumulator batteries.
The control unit
The control unit appearance is no different from the previous model, but still there are some differences. Firstly, this is adjustable frequency function; also, additional VDI 0…99 indicator was added. It enables more precise target detection.
The metal detector control unit is recognizable due to its shape and bright orange color of the plastic – the latter was adopted from the previous models.
When shifting the top cap of the control unit you'll see the battery section; there are slots on the control unit bottom, the internal speaker of the device is located there.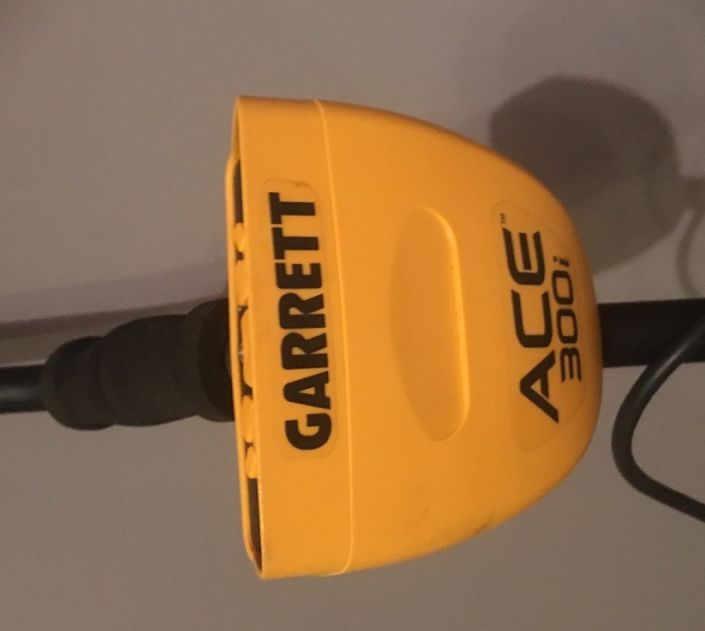 Jacks to plug in the coil and the headphones are located on the control unit bottom side as well. By the way, the coil plug has a special threaded screw to keep the connection safe.
There is a large and rich in contrast LCD display and six control buttons on the front panel of Ace 300 metal detector control unit.
As for the largest device improvements, this is definitely VDI indicator (the values range from 0 to 99; the higher is the VDI number, the higher is the target conductivity).
It's rather challenging for a beginner detectorist to go treasure hunting without VDI, since you move the coil above the target, hear some unclear tone signal and who knows what it means.
Is it a can pull-tab? A bottle cap? A ring or a coin? Of course, if this is your tenth treasure-hunting trip, you will hear the difference. However, what do you have to do if this is your first time and you are just a newbie in all this stuff?
VDI helps a detectorist to understand what exactly can be under ground and what the received signal may mean. For example, you come to the beach and this is the fifth can pull-tab you have dug.
The sixth time the VDI number will tell you that the target signal is very much alike to the one received from can pull-tabs and you will have more information to decide whether to dig or not.
Modes of operation
Just like its predecessor, Garrett Ace 300 has 5 modes of operation:
ZERO DISC — or All Metal;
RELICS
JEWELRY
COINS
CUSTOM
Four of these five modes of the device operation are the pre-set ones. Which means that they have specially created discrimination matrix that allows ignoring signals from iron rubbish and focus on more promising signals.
There is a mode with zero discrimination called «zero-disc», using it you will hear responses and signals from any ferrous target. The merit of this mode it that using it the device works with maximal detection depth, but the mode itself is rather noisy.
Therefore, you can use it where there is no rubbish or where you failed to get any interesting signals.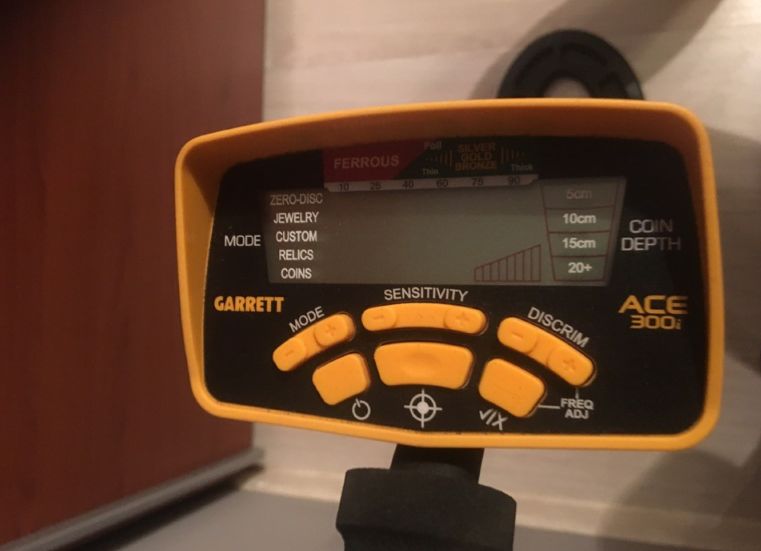 There is also a user's mode, where you create a discrimination mask yourself. When using this mode, you can set the device to search for some specific targets and ignore all the rest.
Discrimination adjustment is available for all modes of operation except the first one. Use two right buttons for this. The upper one is used to select the scale segment; the bottom button switches the segment on and off.
Besides the latter one helps to cut off the discrimination scale segment quickly right during the treasure hunting – when you find a piece of foil or a bottle cap, push the button and exclude this segment.
Only in the user's mode the settings are saved in the metal detector memory. As for the rest of the modes of operation, the device settings will get back to the default ones after you switch the device off.
Ground balance function
Does Garrett Ace 300 have adjustable ground balance function? No. The ground balance value is set by the manufacturer, therefore you won't be able to adjust it as it can be done with metal detectors like AT Pro.
Because of the above mentioned, I wouldn't recommend this metal detector model, if you live in the area with highly mineralized soil.
Can you use the device for beach hunting?
Yes, on a dry white sand. Nevertheless, this is a single frequency VLF metal detector, therefore it won't demonstrate high performance on a wet sand or brackish water, since salt will cause too many phantom signals and will significantly limit the detection depth.
At this point, you are welcome to read our review of the best metal detectors for beach hunting.
Adjustable frequency
The good news is that the function of electric interference suppress was added. The device is a single frequency VLF metal detector, that uses 6.5 kHz operating frequency, but you can adjust the frequency if needed. Garrett Ace 300 has a function that enables operation frequency shifting.
Such a function is rather helpful, when you go treasure hunting with a friend who also uses Ace 300 or another metal detector with the same operating frequency and both devices distort each other's signals if you don't keep proper distance between them.
The metal detectors start to disturb each other's signals and produce noises.
In this case, you can suppress the noise by pushing just one button, at that the operating frequency will shift a bit and allow searching in close proximity to another device used by your partner.
Pros
Fixing system of the shaft sections was reinforced by means of camlocks
The device has higher operating frequency. Different sources give different values – 8 and 10 kHz.
Adjustable frequency function was added.
VDI number was added on the LCD display
Automatic ground balance function was added
Cons
Fixed ground balance value
No audio control
The device produces phantom signals when touching the grass
Conclusions
The metal detector has been improved in comparison with the earlier models and it has become more convenient to use. It is quite good for a beginner-friendly metal detector.
Though, if you aren't Garrett fan, you can consider Fisher F44. It's not considerably more expensive, but it has more functions.