In this article we are reviewing Garrett Ace 250. Without a doubt, this device is a legend in the world of metal detectors. It's reliability, simplicity and characteristics have made Garrett Ace 250 one of the bestselling metal detectors in the world. However, time is marching on and new models of metal detectors have appeared to replace it.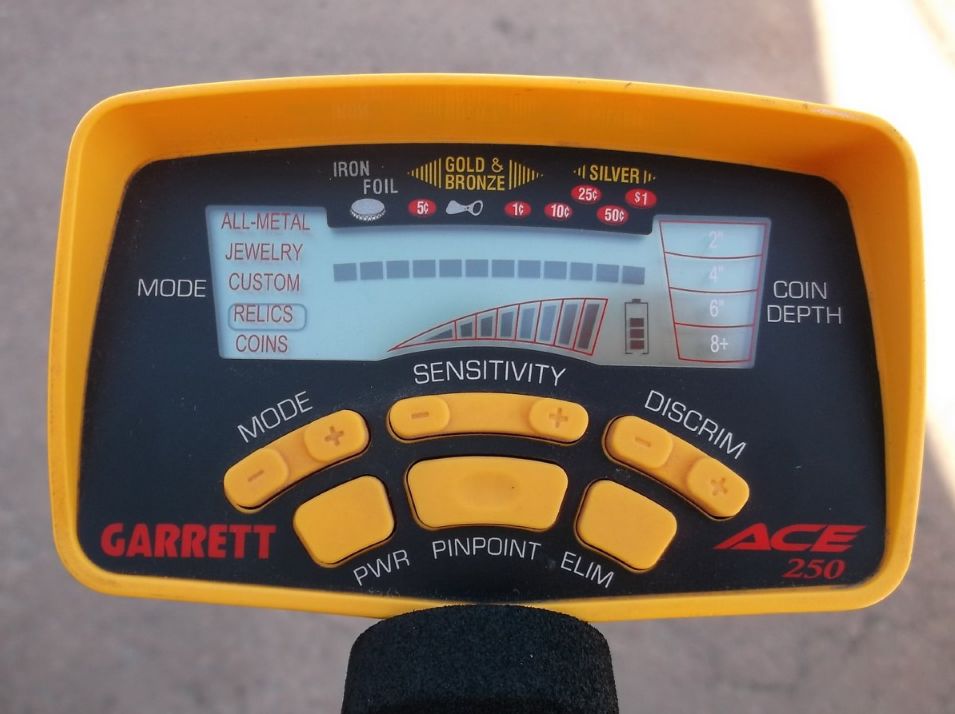 Is Ace 250 still worth buying? What was the device designed for? What about its performance? Does this MD have any rivals on the market? How is it different from other devices from Ace product line? All the above mentioned you'll find in this review.
Garrett Ace 250 vs Ace 300 vs 400
Metal detector models 300 and 400 have become a logical extension to Ace product line. Without any experience in treasure hunting it's rather challenging to see what has changed and whether these changes are worth the money spent.
Speaking briefly, yes, they are. You are welcome to read in more details about the difference between Garrett Ace 300 and Garrett Ace 400 in our special review.
In you wish to quickly get the idea of what these differences are about, there is a table below. You can see from it that Garrett Ace 300 has such a convenient function as Digital Target ID and camlocks.
The difference between Ace 400 and Ace 250 is even more significant.
Last update on 2023-10-01 / Affiliate links / Images from Amazon Product Advertising API
| | |
| --- | --- |
| Model | Garrett Ace 250 |
| Weight | 2.7 lbs (1.2 kgs) |
| Length (Adjustable) | 42″ to 51″ (1.06m – 1.29m) |
| Batteries | 4 AA (included) |
| Headphones | Included |
| Warranty | 2 Year |
| Circuit Type | VLF |
| Standard Searchcoil | 6.5″ x 9″ PROformance |
| Operating Frequencies (kHz) | 6.5 kHz |
| Water resistance | Waterproof coil |
| Submersion Depth | No |
| Iron Discrimination Segments | 4 |
| Ground Balance | Preset |
| Search Modes | 5 (plus Pinpoint) |
| Audio Threshold | No |
| Updatable Software | No |
| Sensitivity/Depth Adjustments | 8 |
| Electronic Pinpointing | Yes |
| VDI (0 to 99 scale) | Yes |
| Build-in flashlight | No |
What is the metal detector designed for?
Ace 250 has been manufactured since 2004 till now, at that there have been almost no changes in the device design since then.
Simplicity and reliability – this is how we can characterize the device. This is a beginner-friendly metal detector for those who have little experience, so you can just turn it on and go treasure hunting. This is what is good about this metal detector. We can't call it a medium level device, though. This fact was also clear for Garrett, so they've manufactured the whole generation of metal detectors to substitute the 250 model.
You can read about the difference between them by clicking the link above, since now we'd like to discuss the device rivals among other metal detectors. There are some quite tough competitors on the market.
So, even though I like Ace 250, the device is an outdated one.
For example, Bounty Hunter Land Ranger Pro or Fisher F22 offer much more functionality for almost the same money. Now Turkish manufactures are snapping at their heels with the devices they've designed – these are Nokta Anfibio Multi and Makro Multi Kruzer.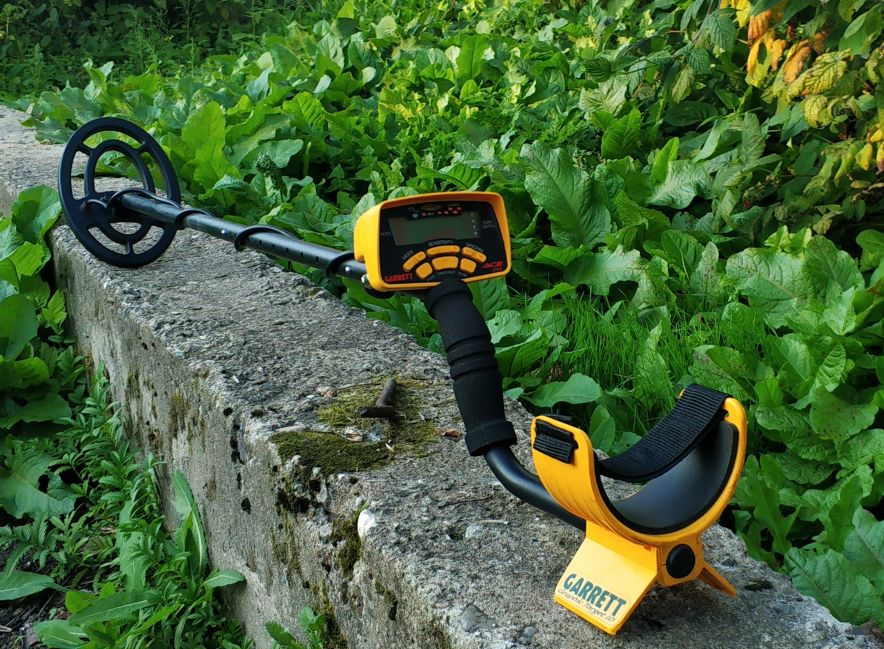 Garrett ACE 250 with Water-Proof Searchcoil and Headphones
Graphic Target ID cursor
Accept/Reject notch for specific target detection and to ignore unwanted items
Electronic pinpoint for easy target recovery
Sensitivity Control : Adjusts to 8 Levels of Sensitivity for Differing Ground...
Continuous target depth indicator
Last update on 2023-09-29 / Affiliate links / Images from Amazon Product Advertising API
The review
Ace 250 is an improved Ace 150 model. This reliable, easy in mastering device has a strong presence among modern metal detectors. It is a legend among treasure hunters.
Considering price-quality ratio it is no surprise that this metal detector has been over demanded. Both the beginners and those who can't afford buying more expensive and sophisticated device enjoy using it.
This is a budget-friendly metal detector and its package set includes only the most important items: the coil, the shafts, the fixing system, the armrest and the user's manual.
Additionally, you can get a protective case for the device control unit, a carry bag, headphones and a pinpointer.
The device characteristics are very close to the ones of Garrett Ace 150 and, actually, this is the same device, except its control unit internals.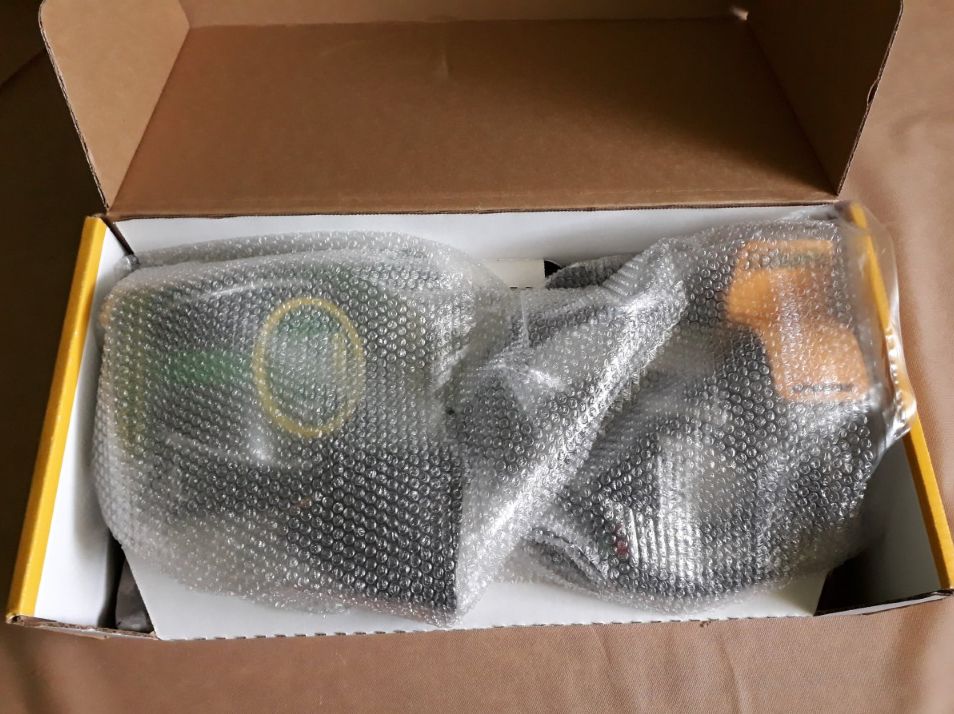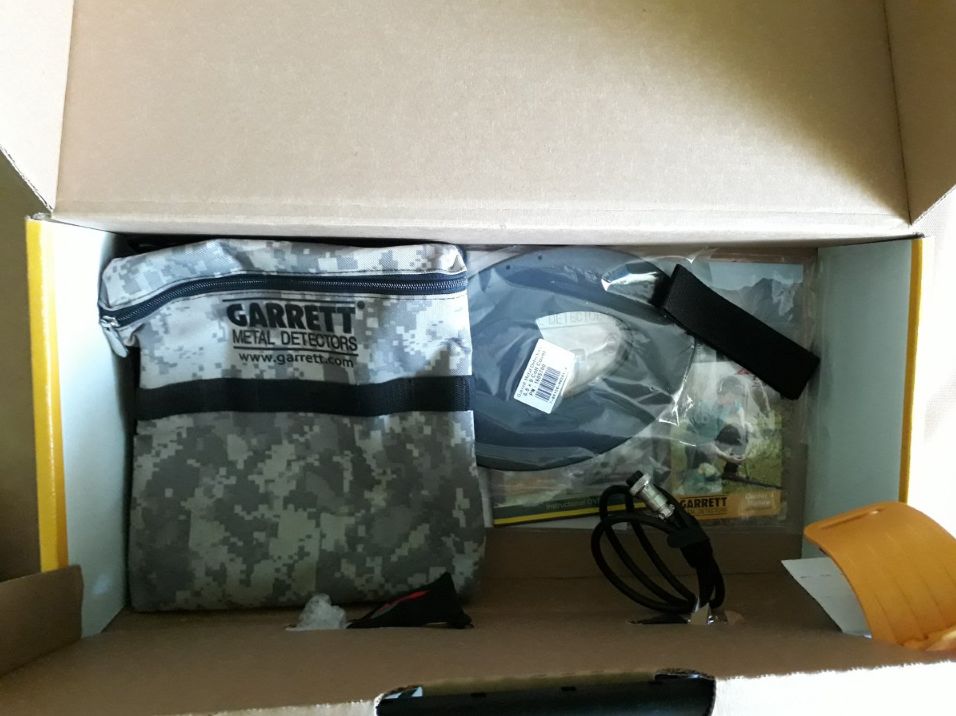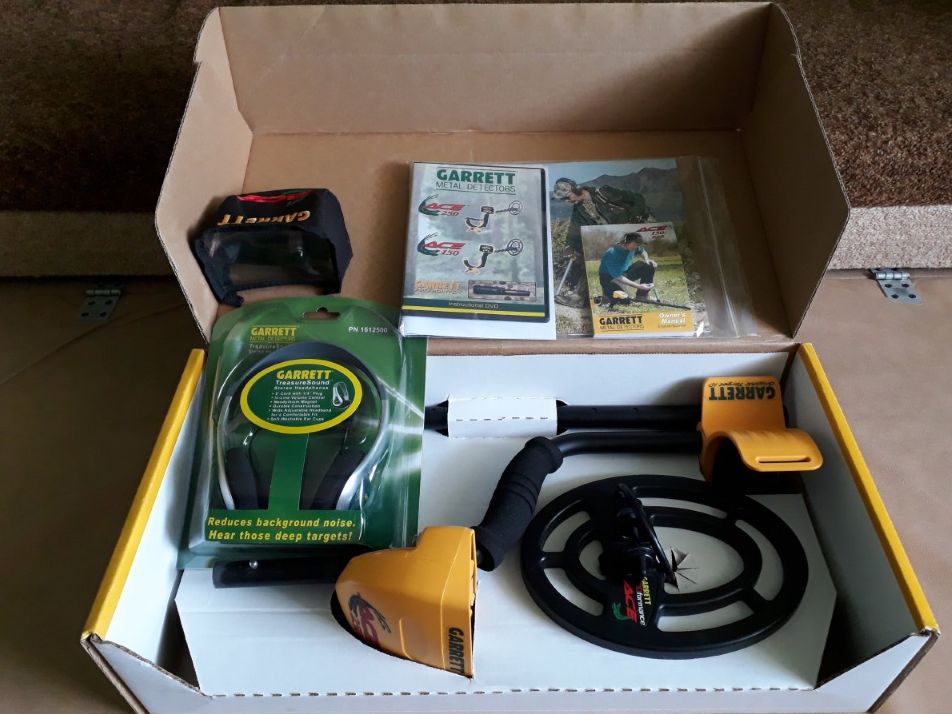 The shaft
The metal detector has a standard S-shaped construction consisting of three shaft sections. When the device is disassembled, it has 3 disconnected sections and it can be assembled in about 30 sec.
The shaft sections are connected by means of spring buttons. Actually, the construction isn't the most reliable one, therefore the further models of the device have camlocks. This kind of fixation makes the shaft more rigid and enduring.
The upper shaft section has an armrest, a control unit and a handle attached to it. The armrest is rather convenient, but it's plastic and rather thin, and it easily cracks.
There is a possibility to shift the armrest towards the shaft; the standard device package set also contains a strap for the armrest. The strap is used rather seldom, since the user's forearm is already reliably fixated and if you also use the strap, it won't be convenient to take the hand from the armrest.
The metal detector handle is made from polyurethane, which is cheap, convenient, but not the most practical decision in this case. For example, AT Max has a rubber-coated handle.
The total weight of the metal detector is 2.7 lbs (1.2 kgs), the shaft length varies from 40″ to 53″ (1.06m – 1.29m).
The length of the device when it is disassembled doesn't allow putting it into most of standard backpacks, therefore it's better to use some elongated bags or backpacks for transporting the metal detector.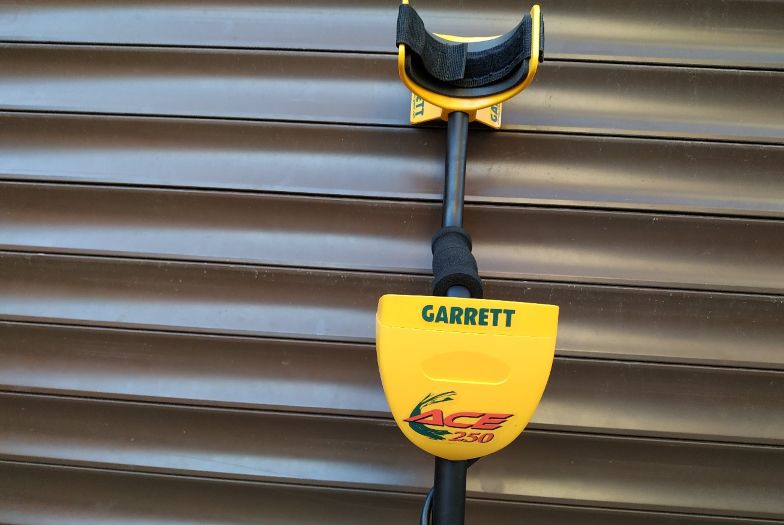 The coil
Garrett Ace 250 will do for searching both small and large targets, its operating frequency is 6,5 kHz, which is a compromise between low (high searching depth, but less sensitivity to small targets) and high frequencies (less deep, but more sensitive to small targets).
Searching depth stated by the manufacturer – for a coin it's 10 inches, for large target – 20 inches. From my experience of using Ace 250 I'd like to add that these values can be improved.
To a large extent they depend on a soil parameters in some specific area as well as on how a target is located towards the metal detector (flatside or edgewise) and on the soil oxidation level.
The device is equipped with a small mono coil PROformance 6,5″ x 9″ (16 x 22,5 cm).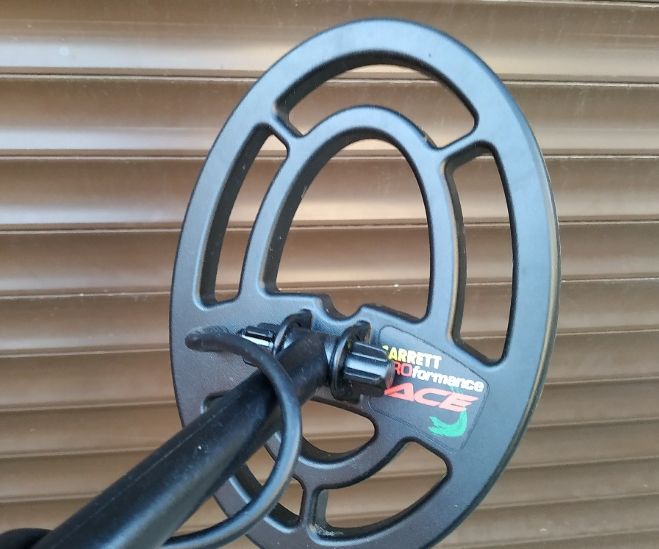 This is a rather small coil, and this is a mono one. It offers medium performance, which enables quite successful treasure hunting, yet there is nothing special about it.
Sooner or later the user starts researching how to upgrade the device. This can be done by installing "DD" coil of a larger size/higher performance manufactured by some other brand.
The coil is covered with an enduring case made from impact and wear resistant plastic, and it is completely leakproof.
The sensor is connected with the control unit by means of an elastic and solid double braid wire. The searchcoil has a threaded screw that ensures reliable connection with the control unit and guarantees absence of phantom signals when the coil hits some obstacles or when the cable waves.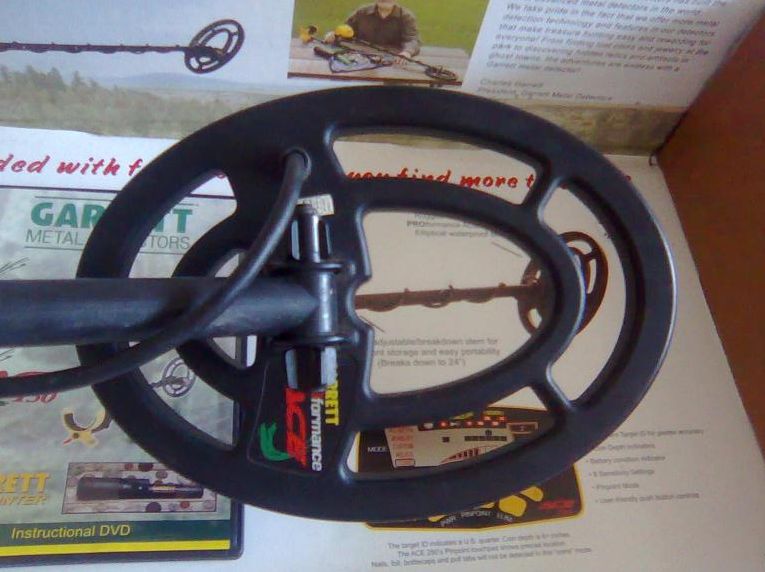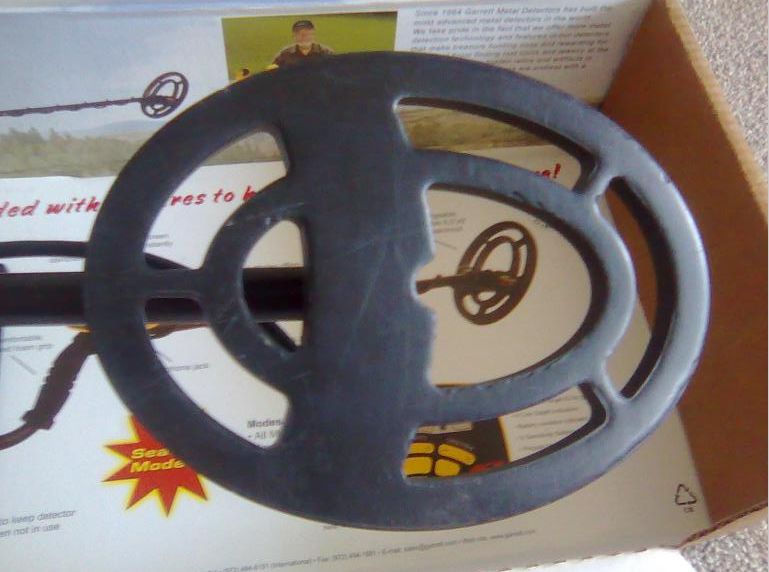 The headphones
The metal detector has a headphones jack, but headphones are not included into the device standard package set. However, there are lots of package sets which include both headphones and a pinpointer and many other things.
Ace 250 has no volume control. Therefore, when choosing headphones make sure that they have one as well as a stranded wire (this will let you prevent wires from tangling).
The battery
Ace 250 uses 4 AA batteries as a power supply; they ensure continuous operation of the device for 8-10 hours. From my experience, one set of batteries is enough for 2-3 treasure hunting trips.
Replacing batteries with 1,2V AA accumulator batteries (if compared to 1.5V of the AA batteries) will allow saving money. Quite often you can see the opinion, that as the power supply voltage decreases, the metal detector sensitivity/detection depth decreases as well. This isn't true.
The battery charge scale has 4 segments. When using accumulator batteries, the 4th segment will go out quite fast, but the 3rd and the 2nd one will stay active longer, if compared to the batteries.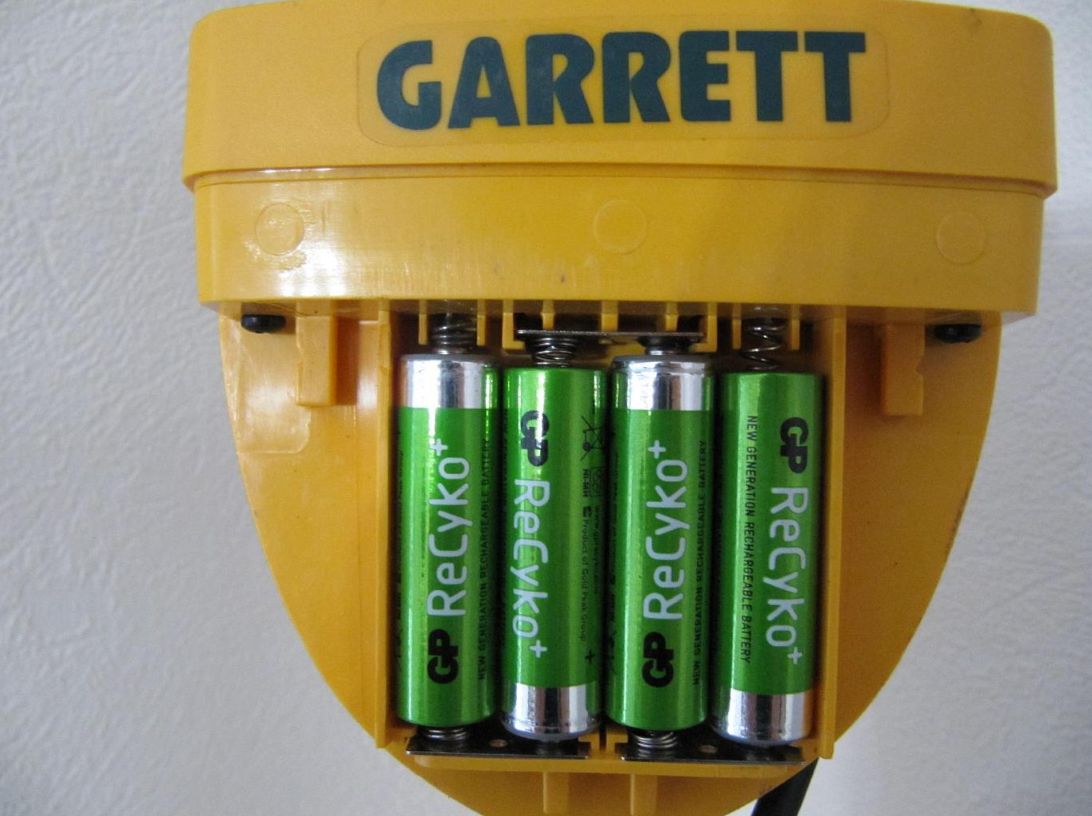 The control unit
Bright orange coloring of the device control unit makes Ace 250 quite recognizable. In real life it helps to see the MD quickly in the grass.
The metal detector has just six control buttons. It will take the user about 15 minutes to understand how to use them, which allows a newbie to start treasure hunting right away.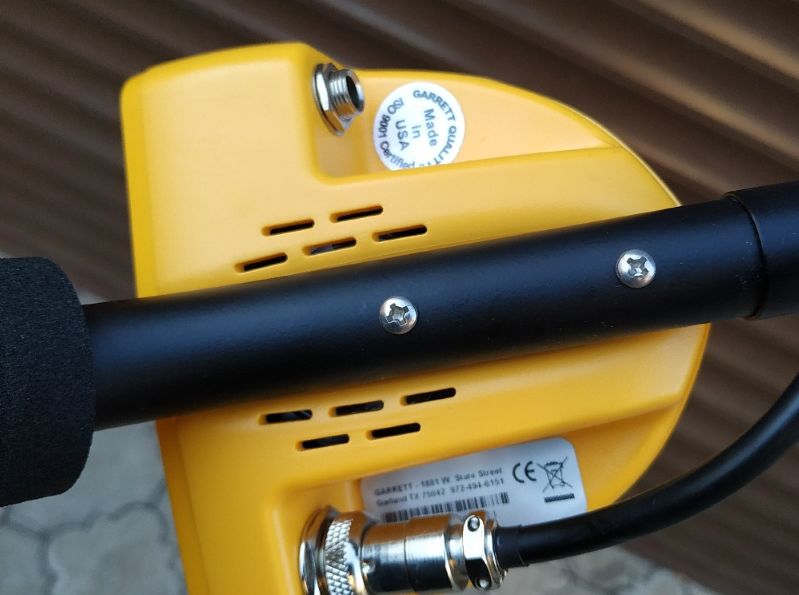 All Ace-250 control buttons have rather convenient location – you can push them with the finger of one hand right during the process of treasure hunting. The buttons are quite large, so it is easy to push them even if you are wearing gloves.
External speaker is located on the control unit bottom surface, while the headphones and the coil jacks are on its back.
The LCD display of Ace 250 shows:
Target identification – displays the metal which the target is from by means of one of 12 segments of the device discrimination scale;
Target depth — displays approximate target depth, inches;
The batteries charge level;
The level of the device sensitivity – by means of the scale with eight sections;
Discrimination program – shows which exactly discrimination program is chosen now.
The indicator of a target depth now has 4 values – 2, 4, 6, 8 + inches. The device sensitivity can be set within 1 to 8 range, which improves your ability to adjust it to certain searching conditions.
Garrett Ace 250 Sportsman Package with Detector Carry Bag Plus Headphones
Includes garretty carry bag and treasure sound headphones!
Electronic pinpointing: to precisely locate target and speed recovery...
Five search modes: select pre-set discrimination pattern or create your own...
Battery condition indicator: shows battery life continually interchangeable ace...
Expanded target id legend: easy-to-read above large led screen pushbutton...
Last update on 2023-09-30 / Affiliate links / Images from Amazon Product Advertising API
Discrimination
The software (it has 5 modes) allows you to turn off any unnecessary segments on discrimination scale and save these settings into the device memory. As for the discriminator scale, now it has 12 segments instead of 5, which ensures more efficient operation.
At that, for example, you can turn off the discrimination scale segments both for targets made of low and high conductivity metals. "Custom" mode will help you to save discrimination scale settings when the device is off.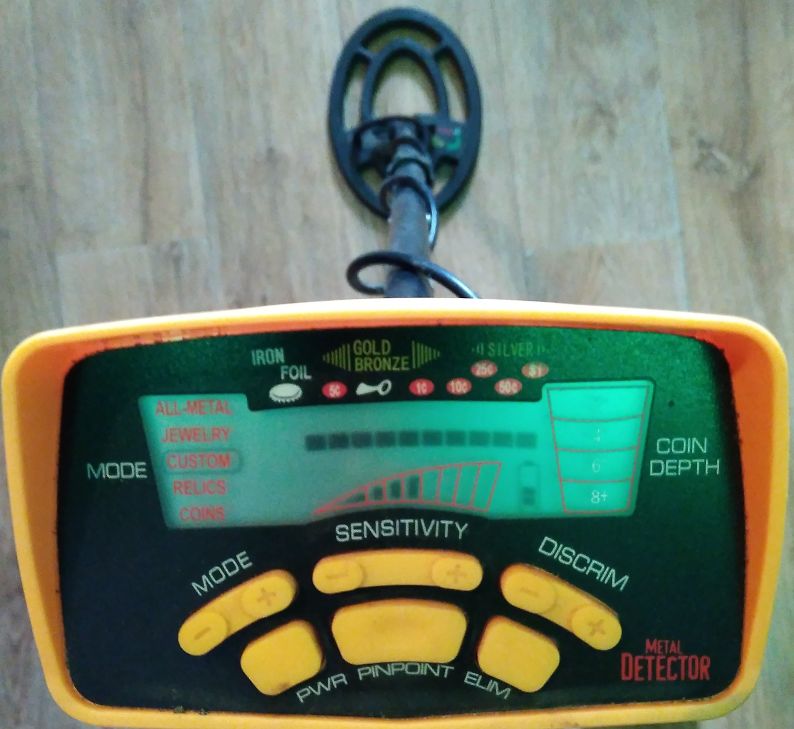 Modes of operation
The beginners will appreciate symbols put above the discrimination scale to depict the most typical targets for certain segments. There are 4 pre-set searching modes: coins, relics, jewelry and all metal.
ALL-METAL – allows detecting all types of metals both ferrous and non-ferrous ones. The device sensitivity is maximal in this case. This is the easiest search mode. It doesn't exclude anything and reacts on all metals. In a word, everything is simple here – turn it on and go treasure hunting.
JEWELRY – the name itself says, that this mode is for jewelry hunting. It allows excluding iron and its derivatives. Though you should keep in mind that in this mode the device may miss some small jewelry items if they are located close to some large amounts of ferrous metal or aluminum alloys.
Relics – this mode is the most comfortable for searching various relics made from different low conductivity metals. For example, lead, tin, gold. This mode automatically excludes iron, but all other metals aren't discriminated.
Coins – the search mode is optimal for detecting coins made from non-ferrous metals. In this mode the discrimination is applied to iron and aluminum. This is the most convenient mode for a beginner detectorist, since it suppresses all the phantom signals received from iron rubbish and leaves only the ones from coins.
CUSTOM – the mode allows adjusting the device settings as you need it. If you get confused with all the settings, the device can switch them back to the pre-set initial values.
To do this push the button and hold it for 10 seconds and the device operation mode will switch back to the manufacturer's settings automatically.
«So which mode is the best?» you say. There is no optimal choice for all the tasks, it depends on your aims. If you are a beginner detectorist, you can try ALL METAL mode at the beginning. At first, you will have to dig all the signals received to get used to the device and get the required experience.
Then, in the course of time you will start seeing between the signals (their tone and indication) received from bottle caps and coins.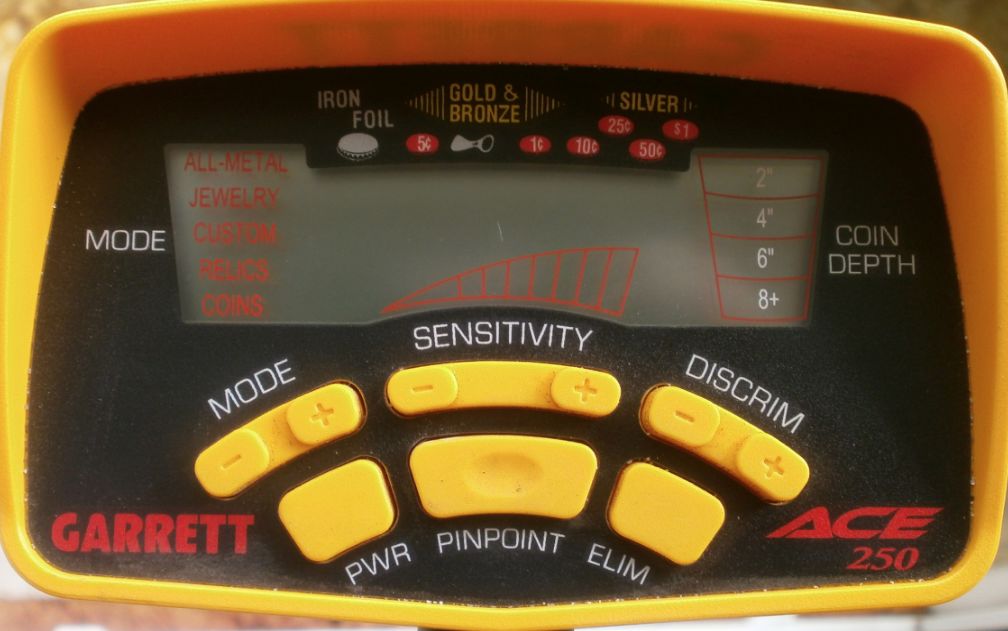 Pinpoint
Pinpoint is another important function that was added as well. This is the mode you use to define a target location precisely, which significantly reduces searching time and helps beginners not to damage the target when digging it out.
When using this mode, signal from the target is received continuously even if the coil is still, which enables identifying precise target location.
Due to the embedded pinpointer you will never damage a precious coin when digging it out with a shovel.
Ground balance
Affordable models of beginner-friendly metal detectors, for example, Garrett Ace 250 has an embedded ground balance function, which is activated when the device turns on.
In such metal detectors the user doesn't have a chance to adjust this parameter and all he can do, is to trust his device and accept average value of soil mineralization.
This is very convenient for beginner detectorists, since they don't have to dig deep into the metal detector settings and it's enough to just turn on the device.
However, as the time goes, this is not enough anymore and to increase the metal detector performance the user needs additional device settings, including the possibility to adjust the ground balance function.
Pros
Reliable
Easy in use
Light weight
Pinpoint mode
Fast response to a target found (you will pass through large search areas rather quickly)
Cons
Sensitive to cold
The coil gets scratched rather fast
Sometimes some background noise appears
Small searching depth
No adjustment of audio signal
Conclusions
Garrett Ace 250 is a good metal detector for a cheap price. It can be easily adjusted to any specific task – everything is plain and simple. The device reliability has been proven by generations of treasure hunters. This metal detector is a user-friendly one, so this is exactly what you need to make your first steps in this hobby.
Furthermore, while the others will be spending their time trying to master complex expensive devices, you'll be already collecting your first nickels, dimes and pennies found.