In this article we are reviewing Garrett ATX – pulse induction metal detector. This metal detector appeared on the market in 2013, but it hasn' become rather popular since then. In this review we'll take a look at such device properties as operating frequency (and how many frequencies it has), how to assemble/disassemble it, the weight of the device, the batteries it requires and the device price.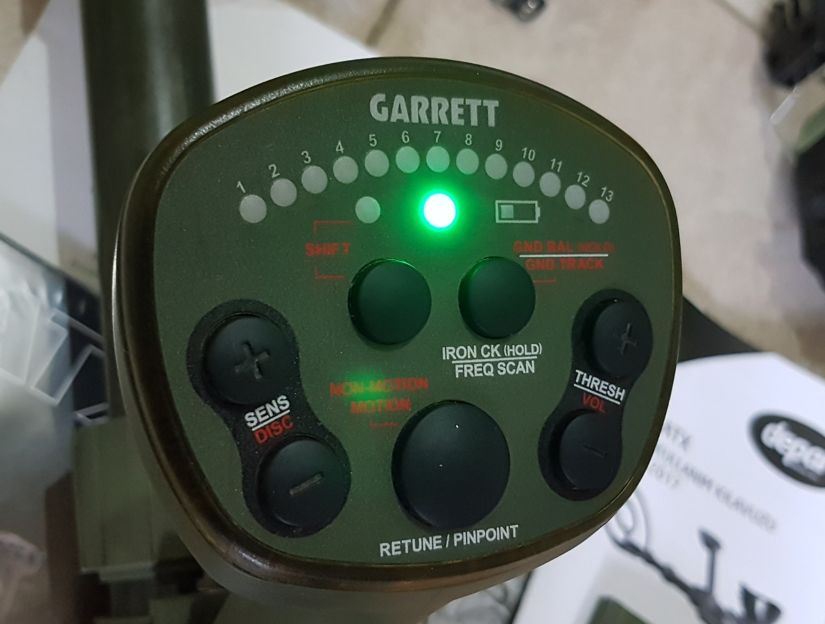 What the metal detector was designed for?
Garret is an American company manufacturing metal detectors. In 2013 it decided to impress the treasure hunting community by designing a flagship device Garrett ATX.
The device has strongly pronounced military style design and its appearance very much resembles the one of military metal detectors. Such an approach isn't peculiar to the manufacturer, but they've decided to try it for a change.
Why? The answer to this question is quite simple – this metal detector was constructed under the influence of Garrett RECON-PRO AML-1000 mine locator design with only one exception: Garrett ATX is a device, which can be used for gold nuggets prospecting, treasure and coin hunting.
Briefly speaking, this is a metal detector adapted to work on any type of soils including highly mineralized and salty ones.
The device demonstrates high performance on various soils – dry and wet land, clay, sand. Another advantage of the MD is that the device is portable – you can easily carry it from one place to another and go treasure hunting even at most complicated conditions.
ATX was designed as a gold prospecting metal detector as well as the one to use for relics hunting both on standard or highly mineralized soils and even in brackish water.
Model
Garrett ATX
Weight
6.9 lbs (3.13 kgs) includes batteries
Length (Adjustable)
20″ to 68″ (1.51m – 1.72m)
Batteries
8 AA (included); rechargeable
and charger also included
Headphones
Included
Warranty
2 Year
Circuit Type
Advanced Pulse Induction
Standard Searchcoil
10″ x 12″ DD
Operating Frequencies (kHz)
Pulse, 730 pulses per second, adjustable
Water resistance
Yes
Submersion Depth
Up to 10 feet (3m)
Discrimination
Adjustable, 25 settings
Ground Balance
Manual
Search Modes
2 (Motion and Non-Motion)
Audio Threshold
Yes
Sensitivity/Depth Adjustments
13
Electronic Pinpointing
Yes
VDI (0 to 99 scale)
No
Updatable Software
No
Build-in flashlight
No
Last update on 2023-09-30 / Affiliate links / Images from Amazon Product Advertising API
The review
The device peculiarity is that it uses Pulse Induction technology (PI). Garrett ATX doesn't have an LCD display, but it has a LED signal indicator, ground balance function, threshold tone, etc.
Pulse Induction (PI) technology provides sufficient detection depth if compared to VLF technology due to better filtration of minerals that soils may contain. Besides PI technology is better for detecting small-sized targets.
The device package set
The metal detector is sold in two package sets – the standard one and DeepSeeker package set.
In DeepSeeker set you will additionally get the following:
Double D 15″ x 20″ PROformance coil, which increases the detection depth for large objects located deep in the ground. The coil has low senility to iron rubbish.
Plastic protection cases for the coils 10″ x 12″ and 15″ x 20″ – they will protect the coil from mechanical damages such as hitting some stones during treasure hunting, for example.
Convenient and durable plastic carry bag to transport and store the metal detector.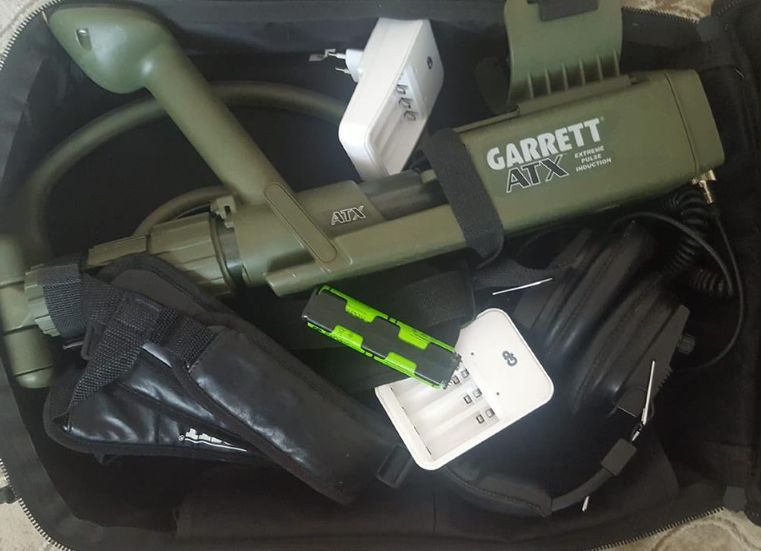 The shaft
The device has an all-screw construction, which is rather convenient to carry and store the metal detector. The device construction uses telescopic shafts.
Screws will help you to assemble the device quickly or disassemble it to prepare for transporting. To do this you should loosen the screws, extend the shaft and clamp it again by means of the screws.
Control unit, battery holder and armrest are attached to the upper section of the shaft.
The coil is attached to the bottom section of the shaft. The middle section is a telescopic one, which means that you'll easily adjust the device height to yours (within 20″ and 68″ or 51m – 1.72m).
The device case is made from durable khaki colored plastic. Garrett ATX has got it military style design from its predecessor created for military purposes.
Last update on 2023-09-30 / Affiliate links / Images from Amazon Product Advertising API
The coil
Garrett ATX is equipped with 10″ x 12″ DD coil. The linking cable is inside the telescopic shaft.
The coil is a waterproof one, which allows beach hunting in shallow waters, rivers and streams. Also, the coil has quite high sensitivity level, which ensures detecting even the smallest gold nuggets missed by other detectorists.
The coil uses PI technology. When gathering information about a new metal detector, we often ask questions about its operating frequency. However, considering the fact that ATX uses PI technology, this question is an improper one to ask.
The only thing that is worth mentioning here is, that the device produces 730 pulses per second (this is an adjustable value).
We also should mention that DeepSeeker package set foresees also an additional 20 inches coil.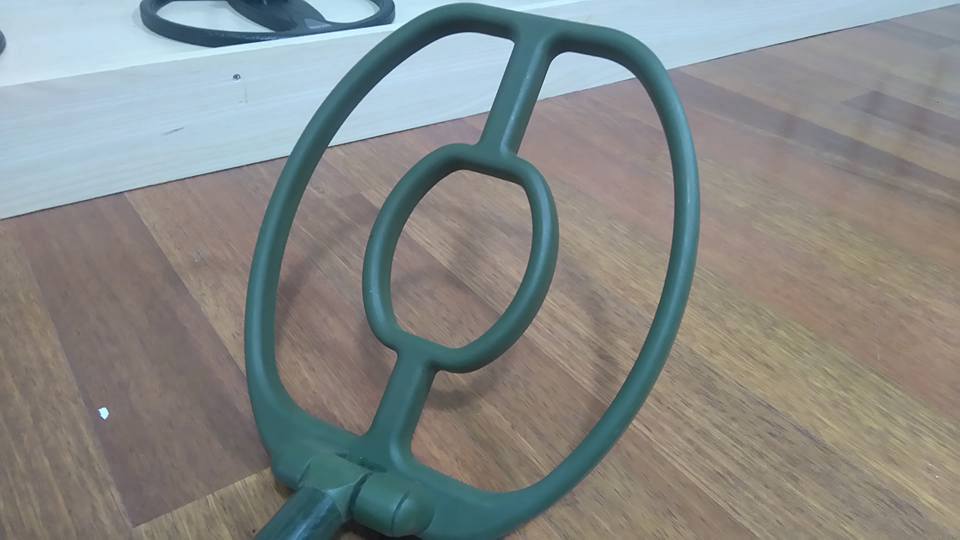 The headphones
This metal detector is equipped with wired headphones and has an embedded external speaker as well.
These standard headphones for Garret devices are specialized terrestrial headphones and they weren't meant for using them under water.
The battery
The device power supply is provided by 8 AA batteries (they are placed in 2 containers – 4 batteries in each). A battery charger and accumulator batteries also come in the device set.
Waterproofness
Garrett ATX metal detector can search for various targets both on the ground and under water. Its highly durable and waterproof case (it can be submerged up to 10 feet (3m) deep) easily stands rain, dust and dirt.
This metal detector was designed to have a mine locator case, which is optimal in case when the treasure hunting process requires high resistance to weather conditions and at the same time you need to study the area with maximal thoroughness.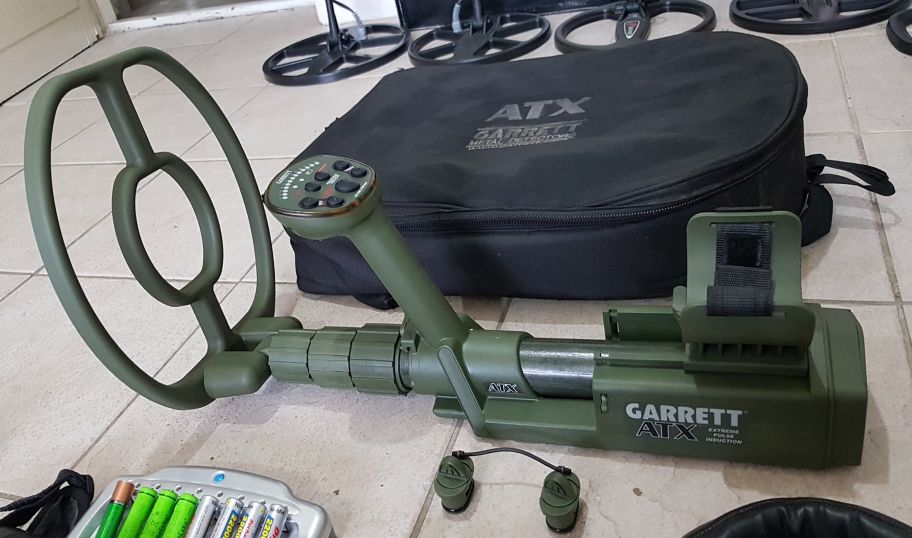 The device weight
Total weight of the metal detector is 6.9 lbs (3.13 kgs). Which is significantly higher, than that of many modern metal detectors.
Garrett ATX manufacturer has also took care about the detection process comfort and equipped the device with an additional enduring belt to carry the device.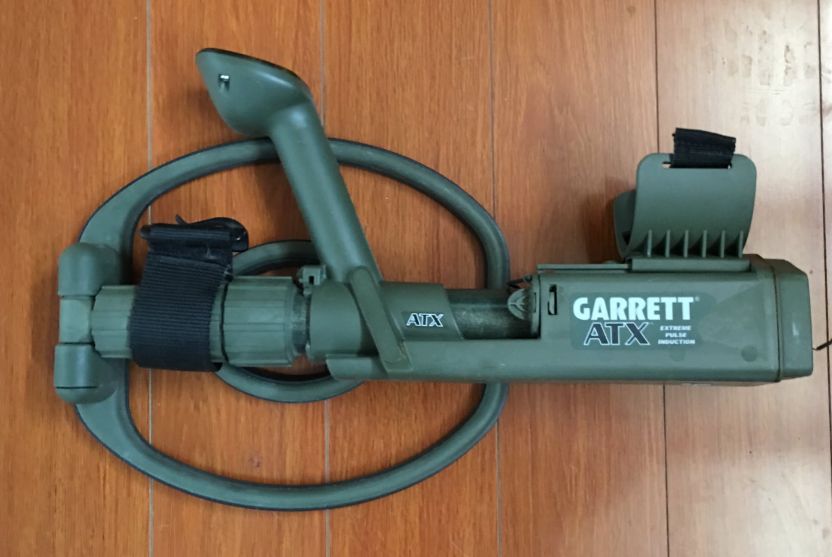 The control unit
LCD display is absent Garrett ATX construction. So, you can forget about a complicated menu with numerous icons and pictograms! The device control unit now resembles a remote control with large buttons, LED indicators and battery charge indicator.
You can control the metal detector by means of 7 buttons. They are large and they are made of rubberized material.
Each button has two functions. Here are the most interesting ones:
Ground Tracking: constantly monitors soil mineralization level and adjusts the ground balance;
Iron Check: allows to see between ferrous and golden targets using the signal tone;
Frequency scan: selects convenient operating frequency depending on the soil type.
Modes of operation
One of the metal detector peculiarities is its constant background noise, which is normal for all PI devices. However, this what usually annoys all the detectorists.
The case when the device detects a target and produces a tone signal is not about Garrett ATX. This metal detector constantly produces some sounds. When detecting a target, the sound changes depending on the target metal conductivity.
Monotonous sound of various volume and frequency allows the user to define basic characteristics of the detected object: its size, detection depth, conductivity, etc. The user gets this information by means of the embedded speaker or the headphones and LED indicators provide the detectorist with some additional information.
The metal detector definitely requires some preliminary study before you start using it. It's not even about the absence of such helpful thing as a VDI number, but about the tone signals the device produces. It will take a long time to get used to the ones received from Garrett ATX.
Two modes of the device operation allow detecting targets when moving the coil towards the target and at stationary position of the coil. To receive more precise location of the detected object the metal detector is equipped with a supplementary PINPOINT mode.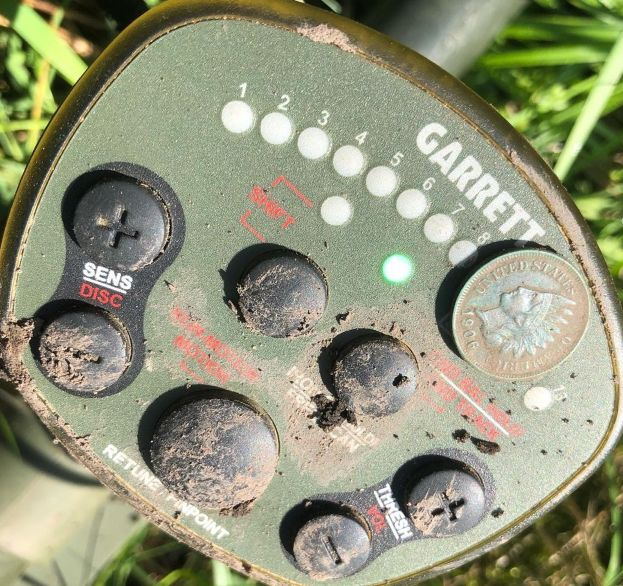 Pros
Pulse Induction technology
Very high sensitivity
High depth of detection
Cons
No discrimination
Too heavy
Battery consumption
Garrett ATX vs Minelab Equinox 800
Standard Searchcoil
11" DD coil with skidplate
Operating Frequencies (kHz)
Pulse, 730 pulses per second
Batteries
8 AA alkaline, plus 8 AA rechargeables
In-built rechargeable Lithium-ion
Detect Modes
2 (Motion and Non-Motion)
5 (All metals, Park, Beach, Field, Gold)
Operating Frequencies (kHz)
Pulse, 730 pulses per second
Batteries
8 AA alkaline, plus 8 AA rechargeables
Detect Modes
2 (Motion and Non-Motion)
Standard Searchcoil
11" DD coil with skidplate
Operating Frequencies (kHz)
Batteries
In-built rechargeable Lithium-ion
Detect Modes
5 (All metals, Park, Beach, Field, Gold)
Last update on 2023-09-30 / Affiliate links / Images from Amazon Product Advertising API
Conclusions
Like all metal detectors, this device has its pros and cons. The metal detector can successfully work on various soil types both on standard and highly mineralized ones without the necessity to switch from one operation mode to another.
The device is completely portable and a small sized one, plus it has an adjustable telescopic shaft.
The most essential drawback of this metal detector is its rather significant weight, if compared with other devices of the same class.
Though this MD is highly portable and convenient to carry, its excessive weight may lead to the situation when the user will be exhausted just after an hour of treasure hunting.
Frankly speaking, I wouldn't get this metal detector myself. What for? If you are looking for some top ranked device, there is CTX 3030. It costs and weighs approximately the same, but at that, it is definitely better in terms of functionality and it is more modern.