Here you will find Fisher F75 metal detector review. The article will provide you with the information about the device operating frequency, its search coil type, if headphones are included into the package set, how long the device can function using one battery set and other features.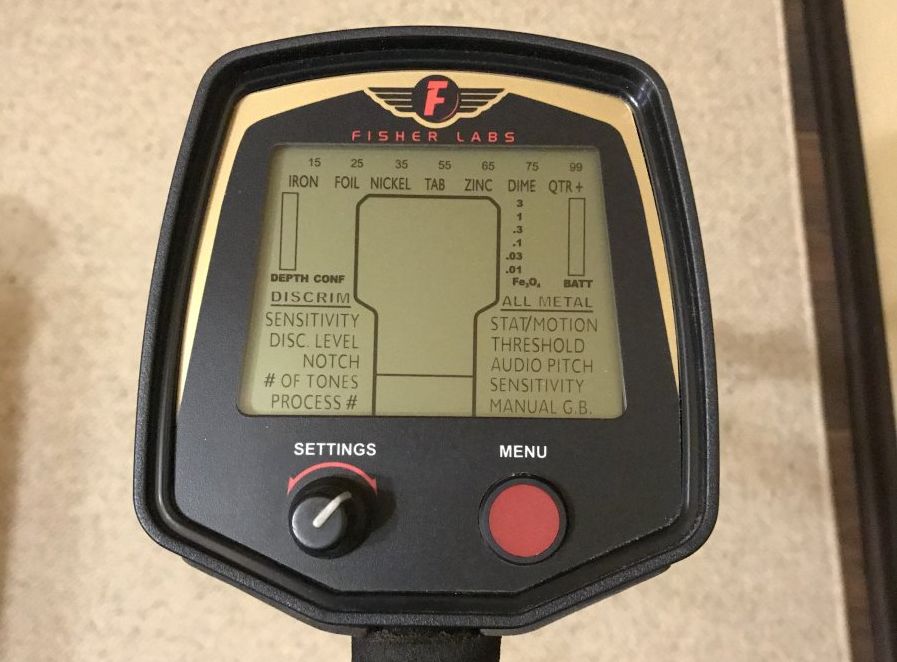 What was the device designed for?
Fisher F75 metal detector is a device of professional level. It was designed by a famous manufacturer First Texas Instruments. Its facilities are located in the USA, so American quality is one of many advantages of the metal detector.
| | |
| --- | --- |
| Model | Fisher F75 |
| Weight | 3.5 pounds (1.6 kg) |
| Batteries | 4 AA, alkaline (not included) |
| Headphones | Not included |
| Warranty | 5 years |
| Operating Principle | VLF |
| Standard Searchcoil | 11" (28 cm) DD |
| Operating Frequencies (kHz) | 13 kHz |
| Water resistance | Waterproof coil |
| Submersion Depth | No |
| Updatable Software | No |
| Discrimination | Yes |
| Ground Balance | Auto, manual |
| Audio Threshold | Yes |
| Electronic Pinpointing | Yes |
| VDI (0 to 99 scale) | Yes |
| Build-in flashlight | Yes |
Last update on 2023-09-30 / Affiliate links / Images from Amazon Product Advertising API
The device has two versions. The first one is a standard package set (you can easily identify it by a golden shaft included) and the second one is Fisher F75 Special Edition (it has a black shaft).
Of course, you'd like to know what is the difference between them? According to what the manufacturer says, the second version of the device turned out to have significantly better characteristics than the 1st one.
Fisher F75 Special Edition demonstrates detection depth 15-20 % higher than that of its rival, the device has more powerful processor as well as improved waterproof properties.
In addition, the device settings have two new search modes (described below in details):
«Boost Process»
«Cache Locating Process»
Besides, Special edition has a different package set: 5 inches search coil is included into it and sometimes you can find protection cases and a pinpointer in it as well.
All above mentioned explains the price difference.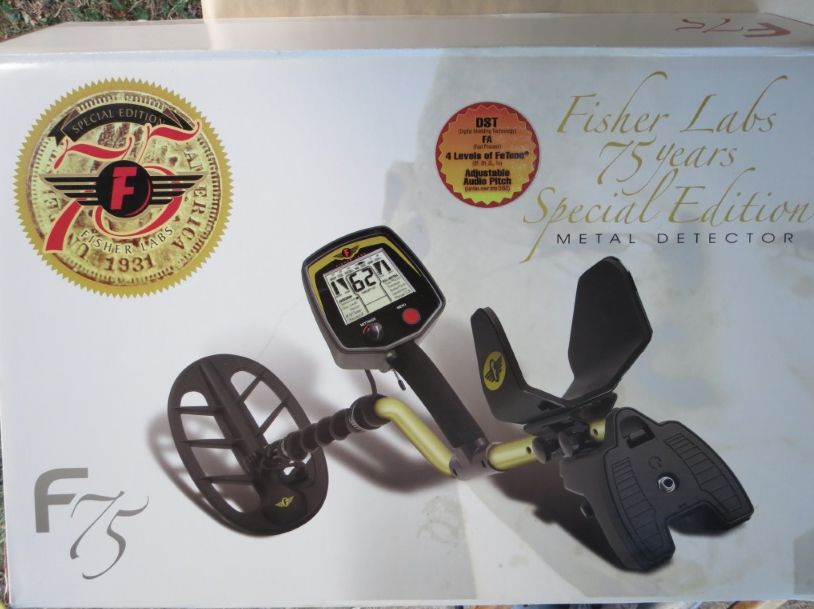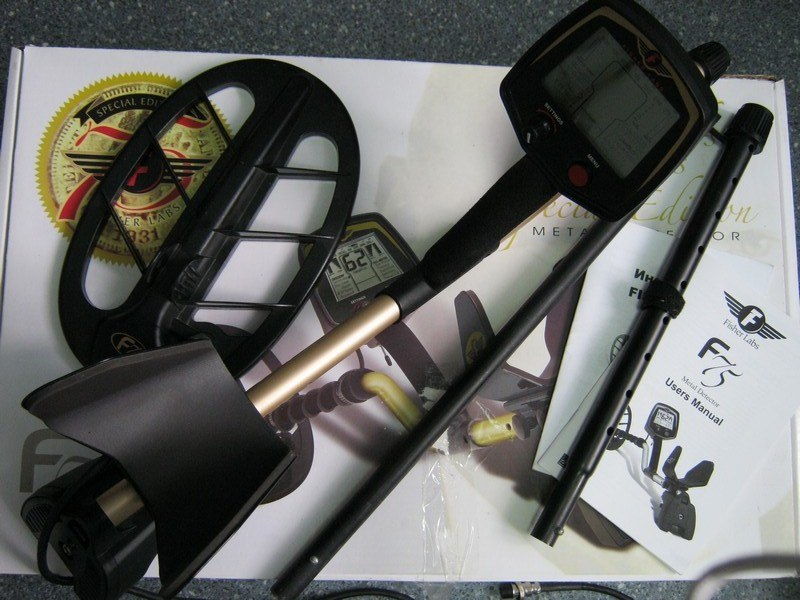 The review
Shaft
Shafts of both Fisher F22 and Fisher F44 metal detectors are rather good, while design of F75 shaft differs from the standard one used by the engineers for the earlier device models.
The company designers invented a new shaft design for their flagship model. They've shifted the battery holder, headphones jack to the armrest, which improved the metal detector balance, and the armrest is made of aluminum now.
For this device an S-shaped shaft sections system was used and the control unit is attached to the extended handle.
Three shaft sections are connected with each other by means of spring buttons and then with the help of swivel type clips with collet clamps, so as a result you receive rather durable construction.
The middle and upper shaft sections are made of aluminum alloy and covered with a wearproof powder paint. The bottom shaft section is made of carbon fiber, which is a non-magnetic, enduring and light weighted material.
The middle shaft section has several adjustment holes using which you can adjust the shaft length to your individual parameters.
The armrest is rather unusual, there is no other metal detector of this company that has such an armrest. It was designed especially for F75. The armrest is made of aluminum, not from plastic. The advantage of such technical approach is that aluminum won't crack after some accidental hit. You can widen or narrow the armrest sides to ensure better position of the forearm in it when wearing different clothes.
If you go treasure hunting in summer, for example, you can make the armrest narrower, while in winter you can make it wider to make sure that your hand in a winter clothes will fit the armrest comfortably.
Under the armrest there is a rest you can use to lean the metal detector on the ground. While digging your findings you quite often will have to do this, and due to this rest, it won't get dirty or fall on the ground or in a puddle, for example.
Besides, under the armrest there is a battery holder unit with a target response volume control, external speaker and headphones jack.
As this is a flagship model of the device, it can't have small weight, since its hardware components require proper power supply and the shaft should be reinforced to make sure it will hold large sized search coils.
For this reason, Fisher F75 weighs 3.5 pounds (1.6 kg) together with batteries. If compared with similar professional metal detectors, it has the lightest weight.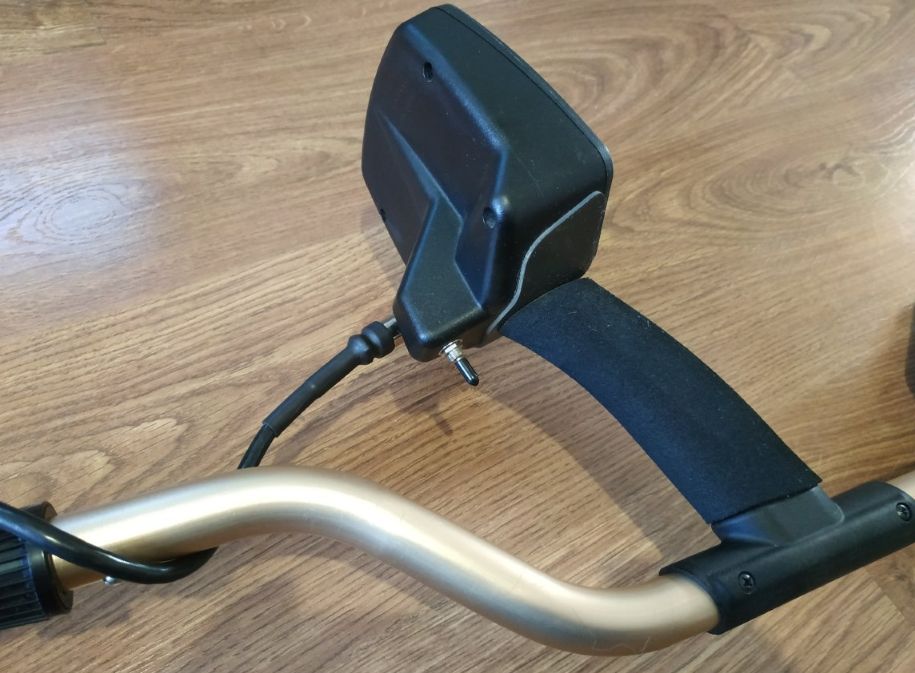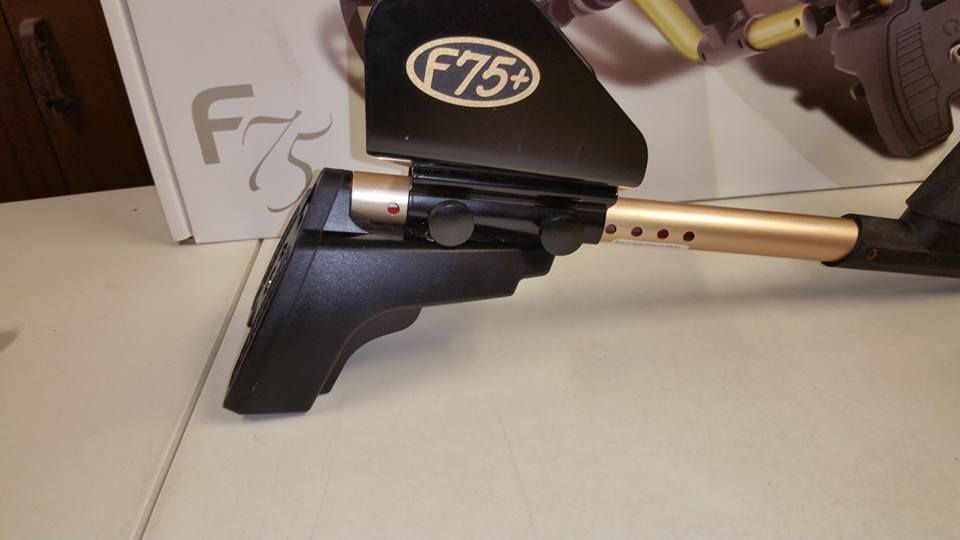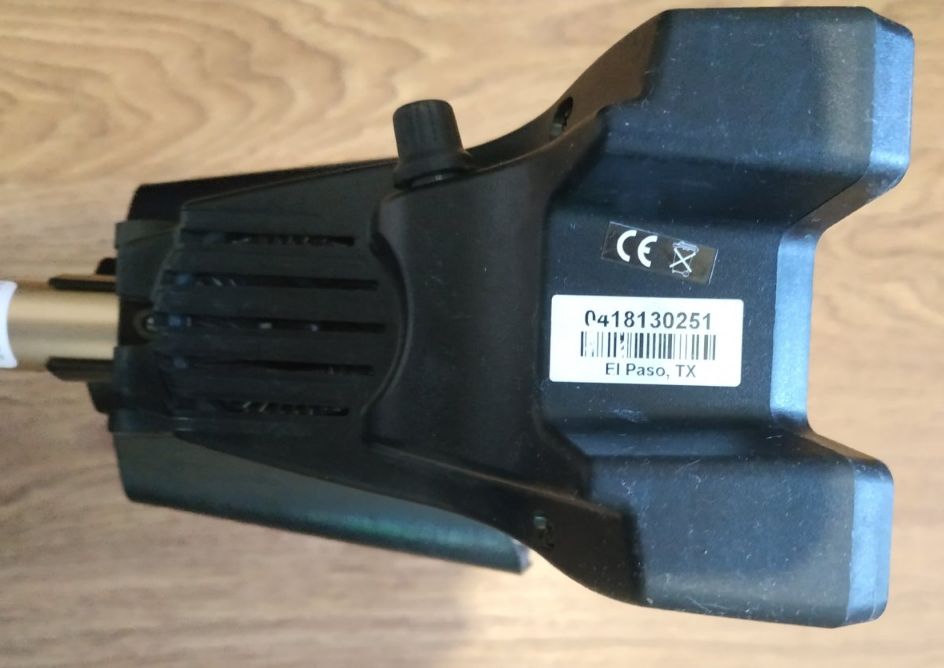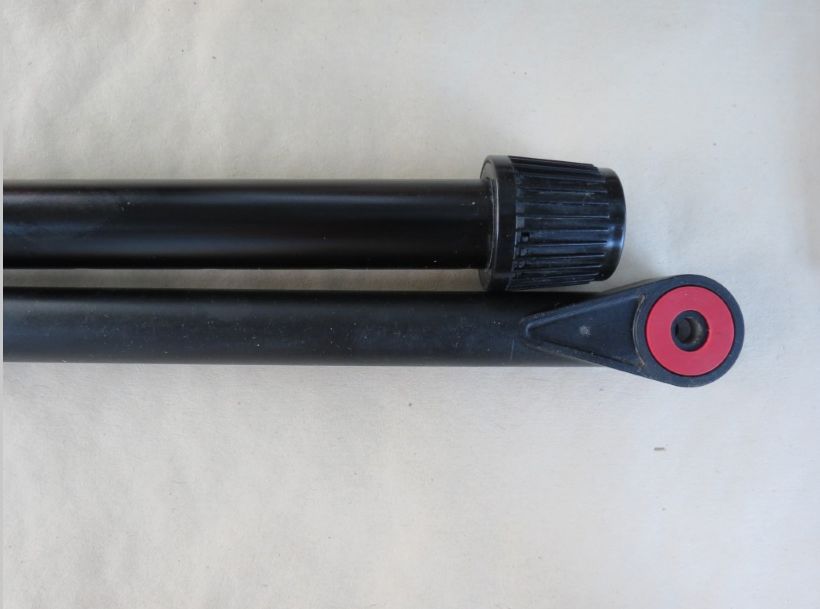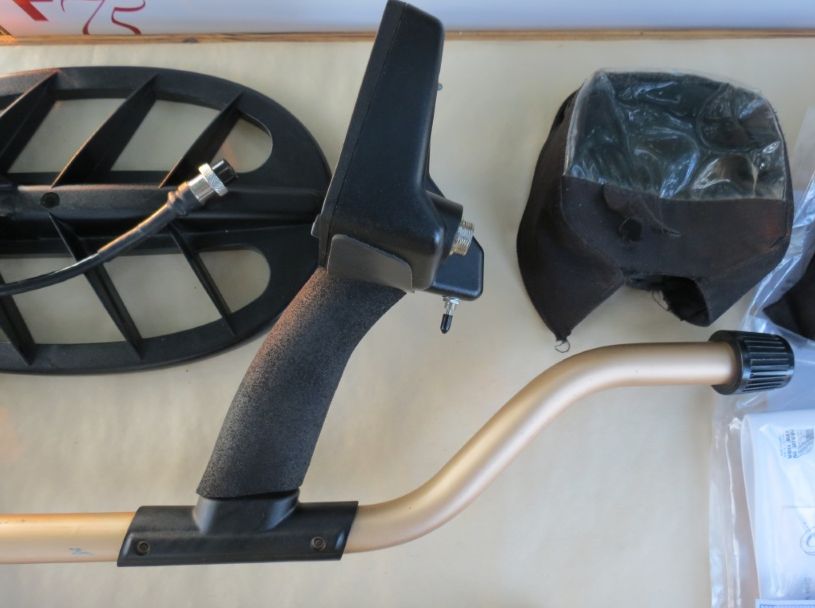 The coil
Fisher F75 search coil is 11 inches elliptical DD coil. The features of this coil are the following: significant detection depth, high level of discrimination and sensitivity for small non-ferrous targets. This kind of coil is good both for coin shooting and large size targets. In case of small sized targets, the device demonstrates high precision of target center identification.
The metal detector uses 13 kHz operating frequency, this is rather high frequency if compared to other device models of this brand as well as with metal detectors made by other manufacturers.
High frequency quickly attenuates in the ground, but due to this the metal detector becomes more sensitive to small sized golden, silver jewelry or copper targets.
F75 search coil has a protective case made of special plastic, which is rather durable and wearproof as well as it doesn't lose its structural characteristics in course of time. The case is of monolithic type with a reinforced bottom and clamps.
The coil jack plug has a threaded nut, which ensures a reliable connection.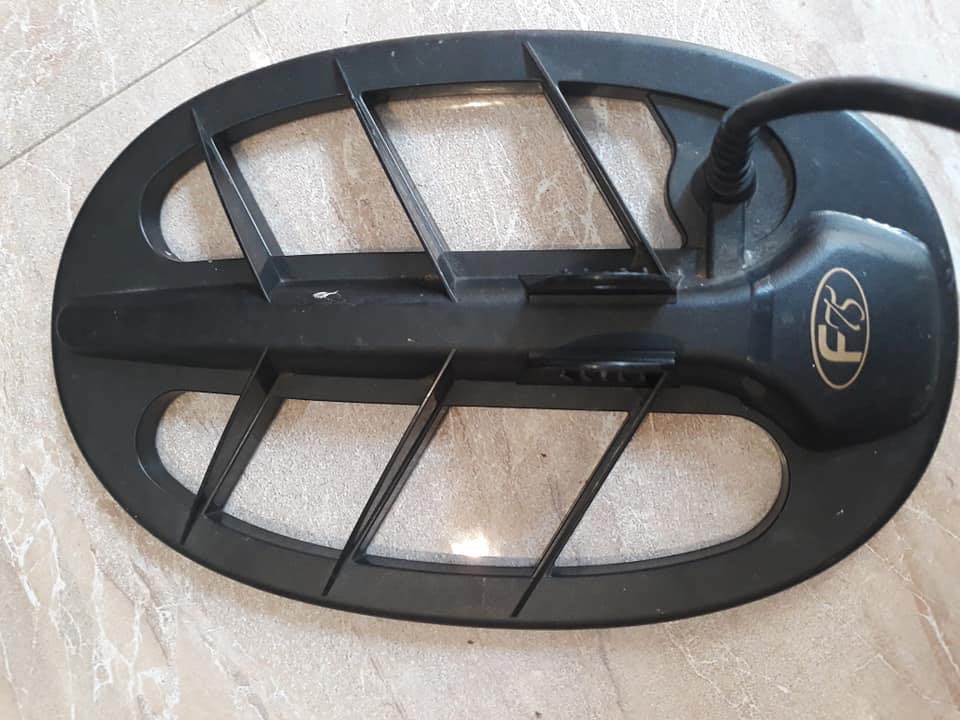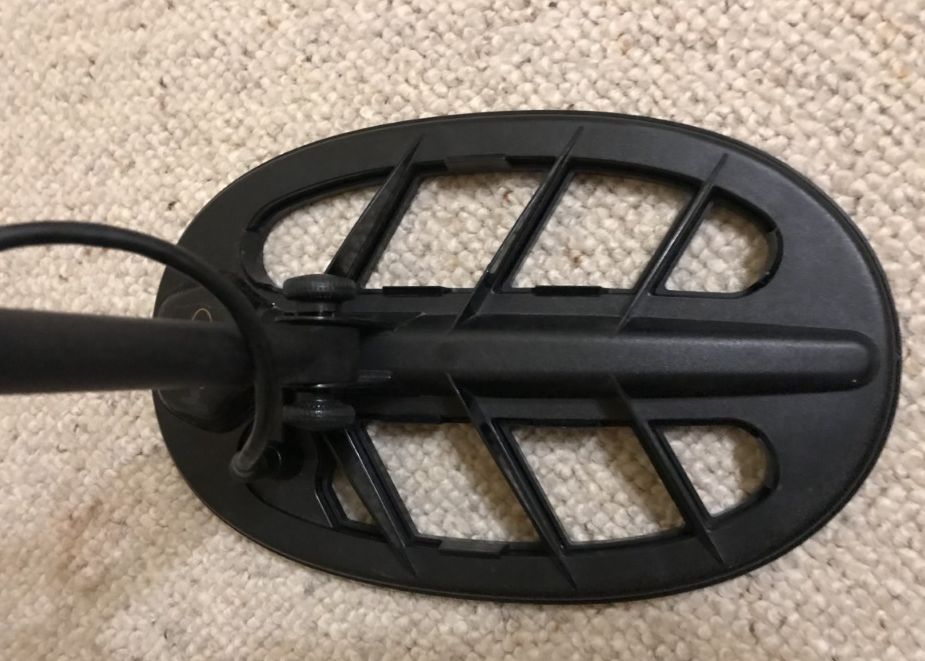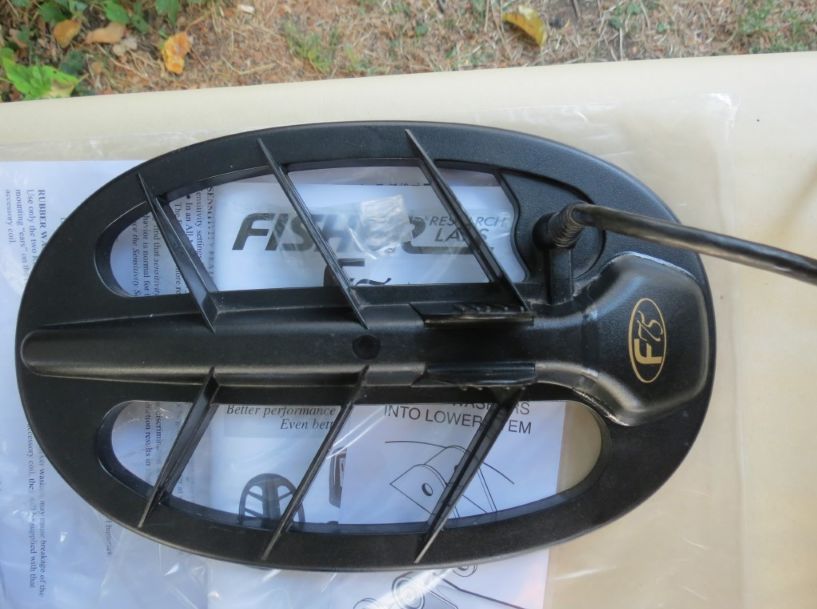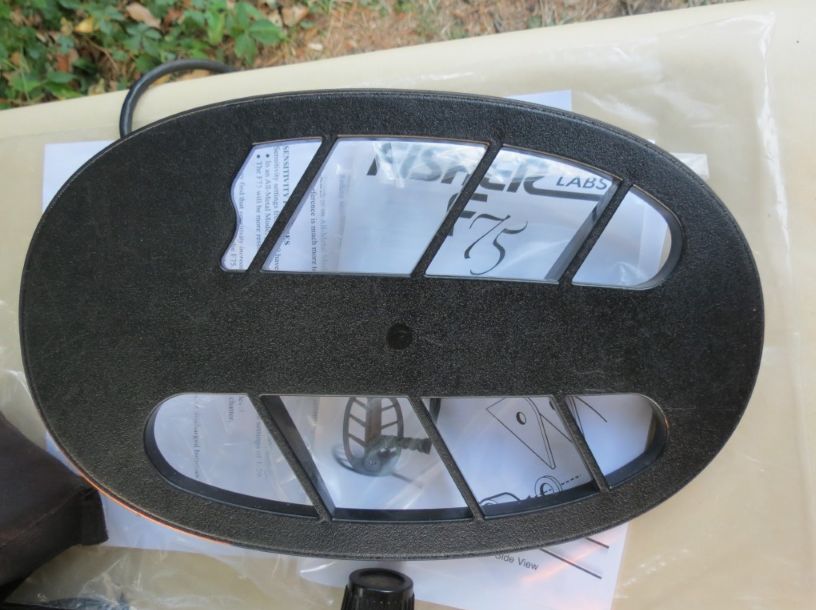 Headphones
As a rule, headphones are not included into the device package set. Though, the device has a headphones jack.
As for the volume control, a continuously adjustable analog potentiometer has replaced a numeric scale used before. The potentiometer is located on the battery holder unit. With the help of it, you first turn on the metal detector and then you can adjust the volume.
Such technical approach has allowed making the control unit less loaded with functions.
Fisher F75 Multi-Purpose Metal Detector
Lightest weight / best ergonomics in the industry - powerful performance...
Double-filter discrimination modes for searching in trashy areas - magnetic...
Non-volatile memory saves settings - backlight – for low light hunting...
Double-D Waterproof Search Coil - Rain Cover for Control Housing & Battery...
Recommended for: coin shooting, relic hunting, beach hunting, gold prospecting....
Last update on 2023-10-01 / Affiliate links / Images from Amazon Product Advertising API
The battery
The metal detector uses 4 AA batteries as a power supply; they are enough for about 30 hours of continuous device operation.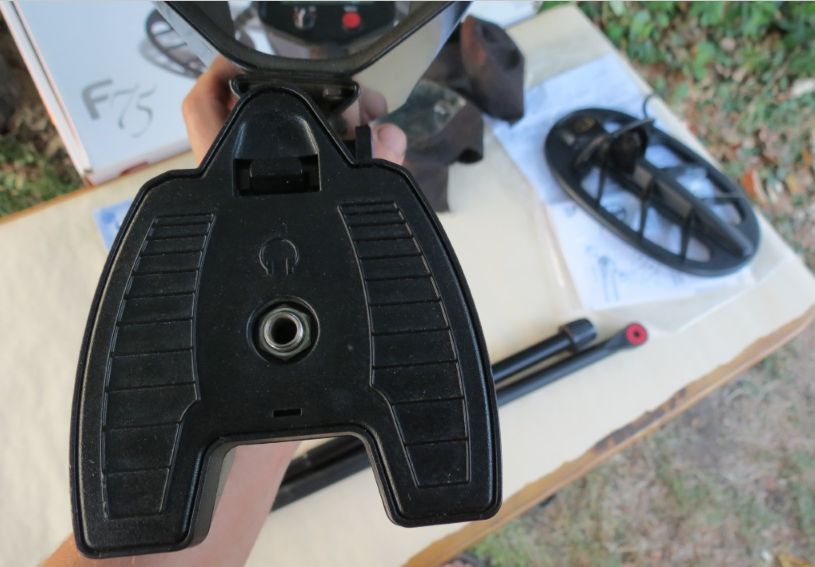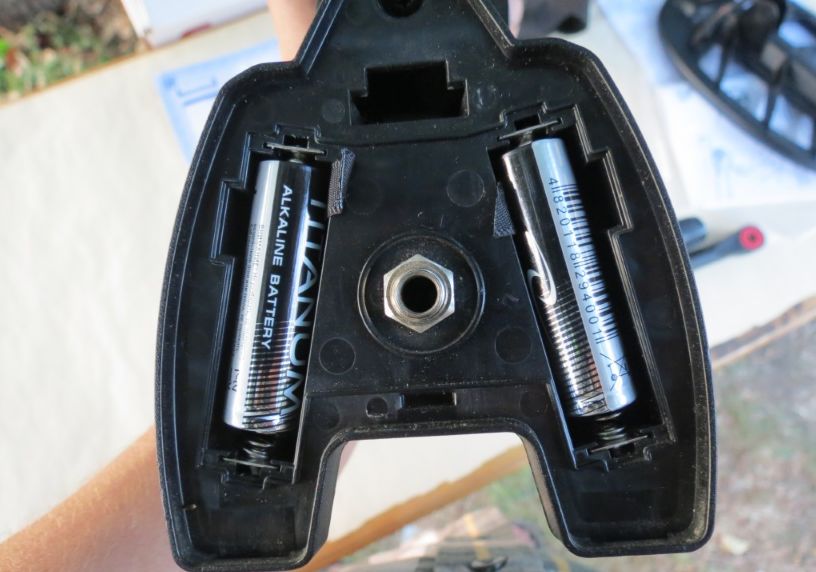 The control unit
To control the device there is a rotary switch and a button as well. This is a rather unexpected technical solution, but a convenient one, since it's easier to turn the switch, then to push small sized touch buttons.
Another thing you can use to control the metal detector is under the control unit, this is a three position trigger. You can easily operate it with your pointer finger. If the trigger is in a 'towards the user' position, the pinpointer mode is on, if it is in the opposite position – FastGrab is on (a ground balancing mode).
On the LCD display you can see the following: VDI, detection depth parameters, metals scale.
Besides the standard data you can also see the confidence indicator — Conf (Confidence). The scale has 6 segments. If all of them are active, the confidence of the displayed VDI number is maximal. If there are 3 or less active segments – something is wrong with the target, maybe instead of some non-ferrous metal you will find a target made of corroded ferrous metal.
The metals scale has 8 segments, to make it convenient to exclude the whole group of metals – iron, for example. In the bottom left you can see the device settings in the discrimination mode; in the top right the target detection depth is displayed as well as ground mineralization level.
In the bottom right you will see the metal detector settings, such as sensitivity, tones, etc. In the top right there is batteries charge and ferric oxide content in the ground indicator.
When switching the device on/off it saves the latest user's settings. The LCD has a backlit, which is rather useful.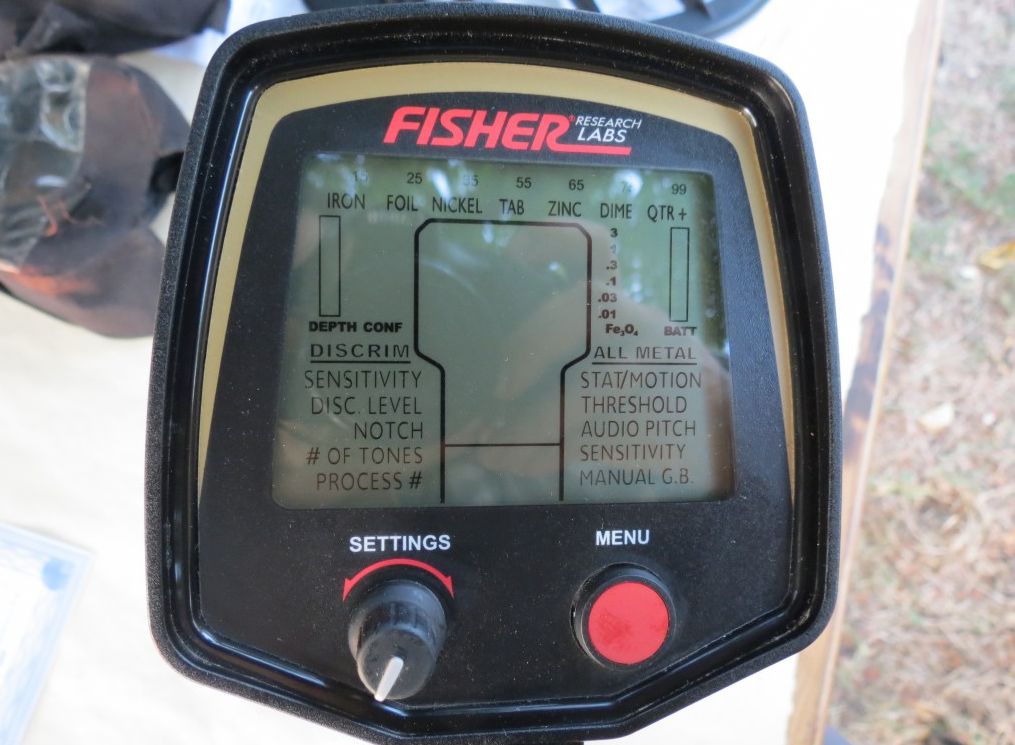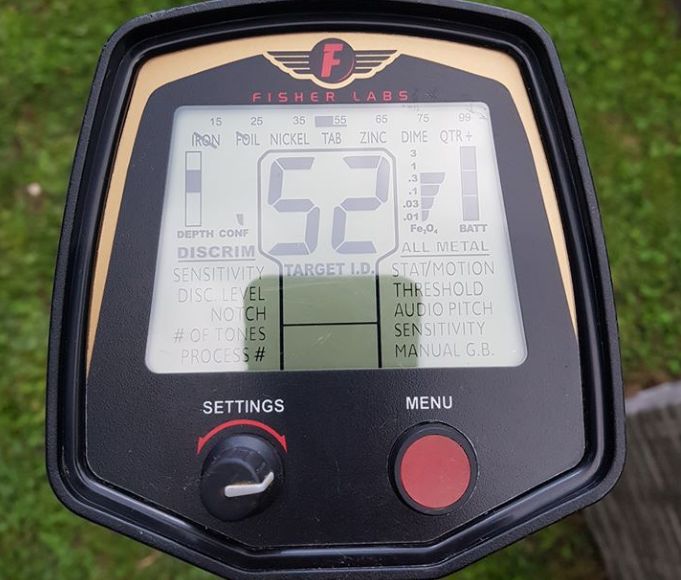 Search modes
For metal detectors using VLF approach there are always two basic search modes.
This is a mode without discrimination — All Metal and the discrimination mode. All other search modes are manufacturers' professional settings, which the user can additionally adjust to correspond to specific search conditions.
Standard F75 has the following search modes:
FA (FAST PROCESS)
This mode is used in trashy areas. It provides maximum fast target response and improves target identification by ear.
dE (DEFAULT PROCESS)
This is a multi-purpose search mode. It has medium response and recovery time, at that it demonstrates maximal detection depth and sensitivity for one coil wave.
JE (JEWELRY PROCESS)
You'd better not use this mode on trashy areas – it detects all targets except those made of ferrous metals. Jewelry hunting will require slow movements.
BC (BOTTLE CAP MODE)
The caps will generate a special type of signal – it will be unstable or repeated one. If you are digging in the area with lots of caps around, it' worth switching this mode on. Discrimination is a bit less efficient, than that for dE.
PF (PLOWED FIELDS)
Even the user's manual gives rather vague description of this mode.
Two more modes were added in Fisher F75 Ltd SE.
BP (BOOST PROCESS)
This mode is the same as dE, but it has amplified detection depth parameters. It is worth switching on when you can't move the search coil closer to the ground. The mode it aimed at neutralization of unwanted air-space at such conditions.
BP is quite challenging to use, you'll receive lots of phantom signals after increasing the device sensitivity. The device is especially sensitive to forge iron. However, if you move the search coil slowly all phantom signals can be identified. This mode is the best for detecting ferrous targets without discrimination.
CL (CACHE LOCATING PROCESS)
This mode can be used together with All Metal mode. It provides maximal detection depth, while it has minimal recovery and response time. The mode is good for slow waving with the search coil when searching for deep large sized targets.
Target signal tones
To identify the detected target the metal detector uses 4 tone sound signals.
I'm sure, many of you have heard, that F75 is considered more noisy if compared with some other metal detectors. We should mention that this metal detector uses rather shrill and squeaking sound for target sound identification. So, it is very challenging to adjust to such a sound, but it is easily explained with high sensitivity of the device.
Its sensitivity is rather impressive for both small sized targets and large coins. You will never miss or confuse this clear signal received from a coin. A wide range of the sounds the device produces is the result of its high sensitivity level and they will never be an obstacle for a professional digger.
Volume level for ferrous targets — FeTone — is available in the device menu. It allows decreasing the volume level for specific VDI ranges as well as improving target discrimination by ear and makes the user less tired. In simple words: signals from ferrous targets will be less annoying for the user at top volume. It is such a relief.
Also, I'd like to mention that the metal detector has modes ensuring more comfortable searching process (for example, DE). You'll hear more sounds mainly using the most sensitive mode – JE. However, trust me, the device is worth it – the detection depth and target response it provides are rather impressive!
Discrimination
It is perfect. Precision of corroded iron detection is rather impressive. Sometimes you can receive some unclear signals, but to a high extent, you can be sure that this is a ferrous target. Very often these are some flat, round shatters, which are rather challenging for many devices to detect properly.
As a result, we can say that F75 demonstrates rather high accuracy rate when detecting corroded iron.
Threshold
This is a special mode used to detect deep targets. When switching the mode on, the digger transforms the metal detector into a large powerful pinpointer. Now you don't have to wave it. Instead, you should move the search coil slowly to localize a deep target.
So, both for static and dynamic mode, it is recommended to set the Threshold so, that background noise won't annoy the user much. The main thing is to make sure that the user hears when the tone breaks. This is quite enough.
Ground balance
Automatic ground balance function (FastGrab) is performed using a standard approach by waving the search coil over the ground.
However, this is not it. You can turn on or off DST (DIGITAL SHIELDING TECHNOLOGY). You can do the adjustment manually. An additional scale (ground mineralization indicator) will help you with this task.
Level of ground mineralization you will see on the LCD display in real time. It is displayed as a bar diagram, which is very convenient.
Conclusions
Pros
Prefect discrimination function
13khz operation frequency
Light weight
Lots of settings and options
Suitable for small coins searching
Perfect for hunting around littered areas
Sufficient depth
Low energy consumption
Very quick target response
Cons
It is difficult to master this metal detector for the beginners, especially if they used to have ACE 250
The device's audio sound is rather loud and it may annoy you
Comparison
FISHER F75 VS GARRETT AT PRO
Standard Searchcoil
8.5″ x 11″ DD PROformance
Operating Frequencies (kHz)
Batteries
4 AA, alkaline (not included)
Detect Modes
6 (3 Standard, 3 Pro modes)
Operating Frequencies (kHz)
Batteries
4 AA, alkaline (not included)
Standard Searchcoil
8.5″ x 11″ DD PROformance
Operating Frequencies (kHz)
Detect Modes
6 (3 Standard, 3 Pro modes)
Last update on 2023-10-01 / Affiliate links / Images from Amazon Product Advertising API
Fisher F75 vs Minelab Equinox 800
Operating Frequencies (kHz)
Multi-IQ (5, 10, 15, 20, 40 kHz)
Batteries
4 AA, alkaline (not included)
In-built rechargeable Lithium-ion
Detect Modes
5 (All metals, Park, Beach, Field, Gold)
Operating Frequencies (kHz)
Batteries
4 AA, alkaline (not included)
Operating Frequencies (kHz)
Multi-IQ (5, 10, 15, 20, 40 kHz)
Batteries
In-built rechargeable Lithium-ion
Detect Modes
5 (All metals, Park, Beach, Field, Gold)
Last update on 2023-10-01 / Affiliate links / Images from Amazon Product Advertising API
Conclusion
F75 has quite many advantages: excellent discrimination function, significant detection depth, lots of useful settings, it is good for small sized targets detection.
As for the device demerits, these can be the following: it is quite noise (it produces many odd sounds), it has rather complicated primary process of settings adjustment, so it won't do for beginners.
Due to the high operating frequency of the search coil, the user will hear many 'odd' sounds and it is complicated to select the one you need from all of them. However, after using the device for more than a few weeks, you'll get used to this.
Also, the metal detector is rather sensitive to electric noise. It doesn't have conflicts with other devices in this respect, but it is completely impossible to use the device if there are some power transmission lines around.
As for the device rivals, we can name Minelab Equinox 600, Garrett AT Pro and Teknetics Omega 8500.