This is Makro Racer 2 metal detector review. The article offers information about the device operating frequency, its search coil, if headphones are included into the device set, how long it can operate using one battery set and other peculiarities.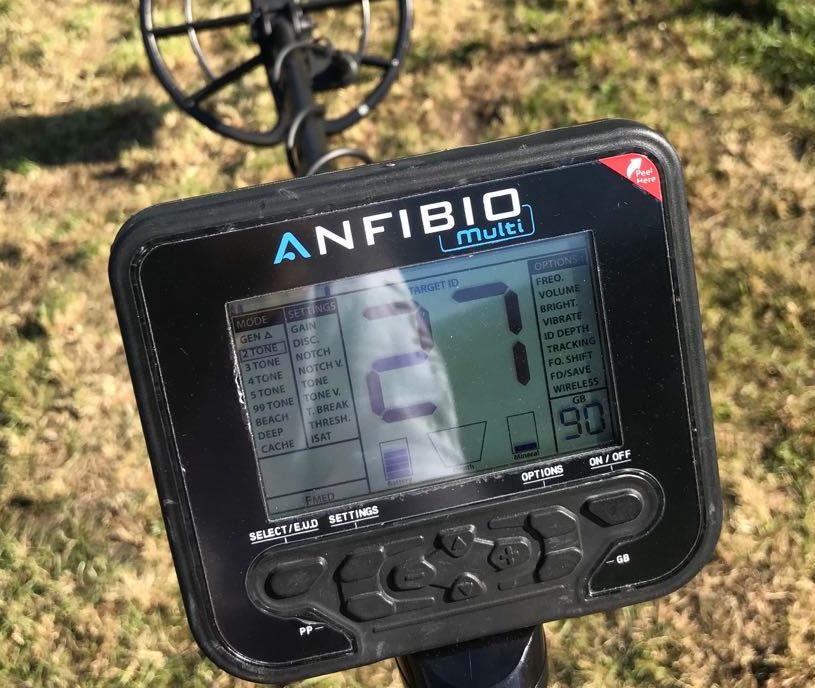 What the device was designed for
Makro Racer 2 is an upgraded version of a renowned Makro Racer metal detector. The company designers have followed up the users' feedbacks and updated the metal detector.
This is a middle level metal detector. It is not as good as Nokta Impact, though the device is more professional than Nokta Simplex. It belongs to metal detectors product line of approximately the same level, but of different use (Nokta Makro Multi Kruzer and Nokta Anfibio Multi).
The review
The metal detector is supplied in a small glossy box with brand labels on it.
The standard package set includes the following:
S-shaped shaft with an adjustable armrest and an LCD display as a unit
The bottom shaft section consists of two sections with a step length
Double D 11 x 7 inches search coil. The coil has a protective cover on it.
Two sets of coil fixation system with rubber sealing bushings.
Two sets of batteries – 4 AA batteries in each, at that one set of batteries is already inserted into the battery holder.
Headphones with soft ear pads.
User's manual.
The metal detector also has a Pro Package that includes:
Nokta Pulsedive Pointer
Nokta Makro Hat
Nokta Makro Standard Digger
Search Coil 11″x7″ and Cover
DD Search Coil 5″ and Cover
Carrying Bag
Rain Covers
Extra Lower Shaft
Headphones
4 x AA Rechargeable Batteries
AC and Car Charger
User Manual and Warranty Certificate
| | |
| --- | --- |
| Operating Principle | VLF |
| Operating Frequency | 14 kHz |
| Audio Frequencies | 100 Hz – 700Hz (Adjustable) |
| Search Modes | 5 (All Metal / Two Tone / Three Tone / Beach / Deep) |
| Iron Audio | Yes |
| Tone Break | Yes |
| Notch Filter | Yes |
| Ground Balance | Automatic / Manual / Tracking |
| Pinpoint | Yes |
| Frequency Shift | Yes |
| Vibration | Yes |
| Gain Setting | 01-99 |
| Target ID | 00-99 |
| Search Coil | Waterproof DD Search Coil 28.5×18 cm / 11″x7″ (RC29V) |
| Display | Custom LCD |
| Weight | 1.4 kg (3 lbs.) including search coil and batteries. |
| Length | 120 cm – 140 cm (47″ – 55″) adjustable |
| Battery | 4 x AA Alkaline Battery |
| Warranty | 2 Years |
The shaft
This metal detector has a light weighted, but rather solid construction: S-shaped shaft with a comfortable and soft handle, an LCD display with a wide view angle and an ergonomic armrest.
The armrest is large with a battery holder under it. The speaker is located on the battery holder. There is a volume regulator and 6.3 mm audio jack covered with a rubber cap on the front edge of the battery holder.
The device balance is a bit lower than its handle, but it doesn't shift the whole metal detector balance or twist the user's hand forward. The device shaft is light weighted, so the total weight of the assembled metal detector with batteries inserted is just 1.4 kg.
The control unit is attached to the shaft curve. From backside of the control unit, there is a flashlight. To ensure comfortable treasure hunting process at nighttime the device handle can vibrate when detecting a target.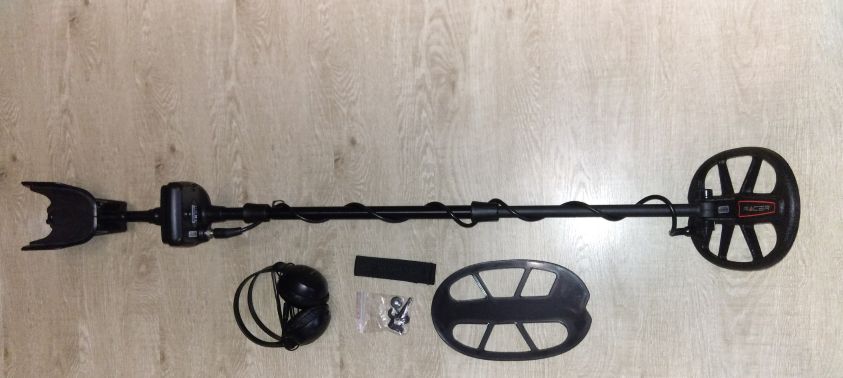 The coil
The metal detector is using a VLF technology and it is equipped with 11 inches Double D search coil using 14 kHz operating frequency. High operating frequency of 14 kHz ensures high sensitivity to small sized targets, which is a prefect characteristic in case of coin shooting, small relics and jewelry hunting.
The device has a frequency shift function to cancel the noise caused by other devices and electric power transmission lines.
The bolt used to fixate the search coil is non-typical, its head is made as a small trigger. Such a design helps to screw the bolt with one finger while digging.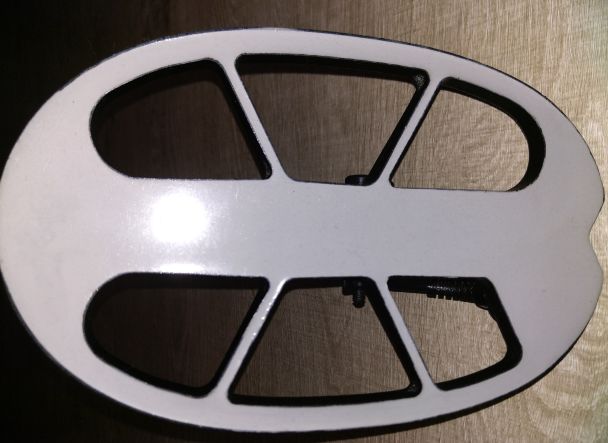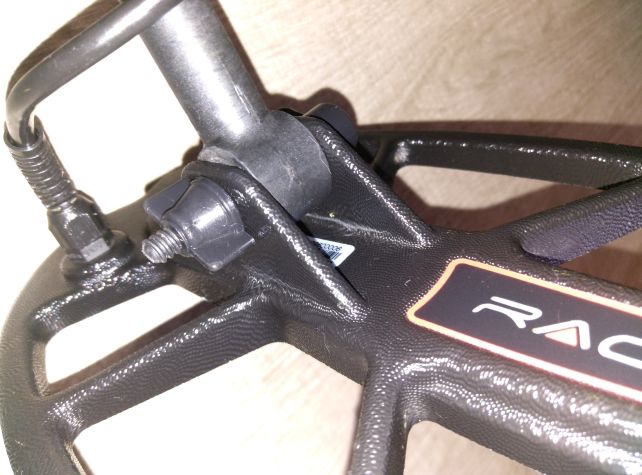 Headphones
The metal detector is equipped with 6.3 mm jack wired headphones and it has an embedded speaker. The volume can be adjusted.
The battery
The device uses 4 AA batteries as a power supply; they are enough for about 25 hours of continuous device operation when using headphones.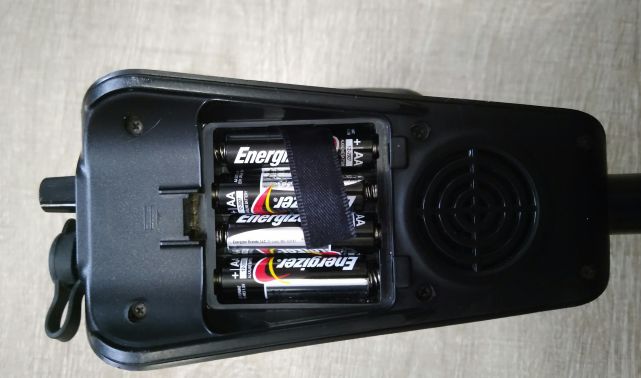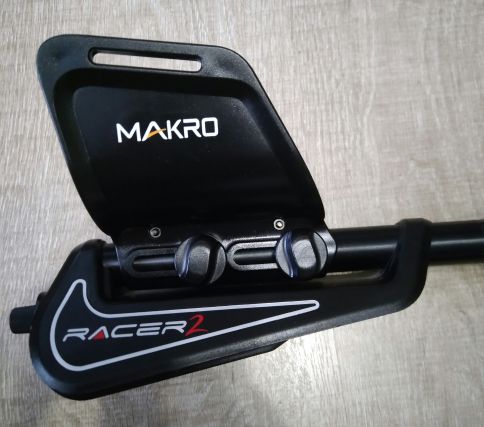 Waterproofness
Only the search coil is waterproof, the metal detector itself is not submergible.
The control unit
The device has a large LCD display with an adjustable backlit, VDI number is rather clearly seen on it.
The central place in the scree is taken by the VDI number that varies from 0 to 99. Discrimination scale is made as a stipe with icons on top of the display.
The device has convenient control – 4 buttons (you can push them with your thumb and a double-trigger for your forefinger. When you pull the trigger, the Pinpointer mode activates, and when you push it – the Ground balance function turns on.
Search modes
The manufacturer has added standard Nokta functions into Racer 2 set of functions:
Notch Filter allows excluding some specific segment regardless of the basic discrimination pattern (ID Filter). This way you can exclude several segments at your discretion.
Iron Audio gives the possibility to deactivate sound identification for ferrous targets. The metal detector defines targets and the ID is displayed, but the device doesn't emit audio signals. This mode is helpful when treasure hunting around trashy areas.
Tone Break – this mode allows shifting audio threshold depending on the discrimination. For example, ferrous targets tone varies from 0 to 10 basing on their ID, so in case of necessity we can shift this value and widen audio signals range for ferrous targets up to 15. This function will be useful for experienced users, who have studied the device and want to adjust it to their specific requirements.
ISAT – this is a threshold tone in 'All metal' mode. It allows stabilizing the threshold tone during the treasure hunting process. By default, it equals to 6. It is recommended to increase the value in case of high soil mineralization and decrease in the opposite case.
FD/SAVE gives the possibility to reset the device to the factory settings or to save the user's settings. Is seems like there's nothing special here, but the previous Marco Racer didn't have such a function.
By pushing «-» or «+» button you can quickly switch the search mode and at that you don't have to perform ground balancing again.
There are 5 search modes available:
All metal
This mode has one audio tone for any kind of metal targets, at that VDI is displayed even for deep targets. Which means that a nail and a coil have the same sound identification, but they have different VDI numbers.
Therefore, you should use All metal mode rather thoughtfully, without any haste, constantly looking at the display.
Two tone
As many diggers state, this is the main search mode for this metal detector. For Makro Racer 2 this mode is set by default and it is the basic one.
When the mode is on, the targets have 2-tone sound identification and it requires swinging the coil at moderate pace. Also, the mode has more settings available.
For example, you can exclude whole discrimination segments from the audio identification. By excluding segments 0-10 and 40-50, you won't here a sound when targets are identified.
Three tone
This search mode offers 3-tone audio identification: low tone for iron, a bit higher one for non-ferrous targets with medium conductivity and high tone for copper and other targets with VDI values higher than 70. Current mode allows ignoring 'rubbish' and it is good for trashy areas.
Beach
The name of this search mode speaks for itself, but you can also use it on complex ground like beaches.
Deep
Like Two tone mode, this one has two sound response tones and it is aimed at searching for deep targets. This mode requires moving the search coil at a slower pace.
Ground balance
There are three modes available: auto, manual and ground balance tracking.
Conclusions
Key advantages of Makro Racer 2 are the following: 14 kHz operating frequency (ensures excellent detection depth for all soil types), high discrimination speed for metals, the device settings are so easy, so it will do even for a beginner detectorist.
However, please keep in mind, that you shouldn't increase the metal detector sensitivity, since in this case it will be quite challenging to understand the information provided by the device.
In general, high noise level is peculiar to all Nokta metal detectors and Makro Racer 2 is no exception in this case.