The article will tell you which metal detector is better for beach hunting and what you should take into account while selecting the device as well as why brackish water is a problem for beach hunting, what black sand is, what is wrong with gold chains and what VLF stands for.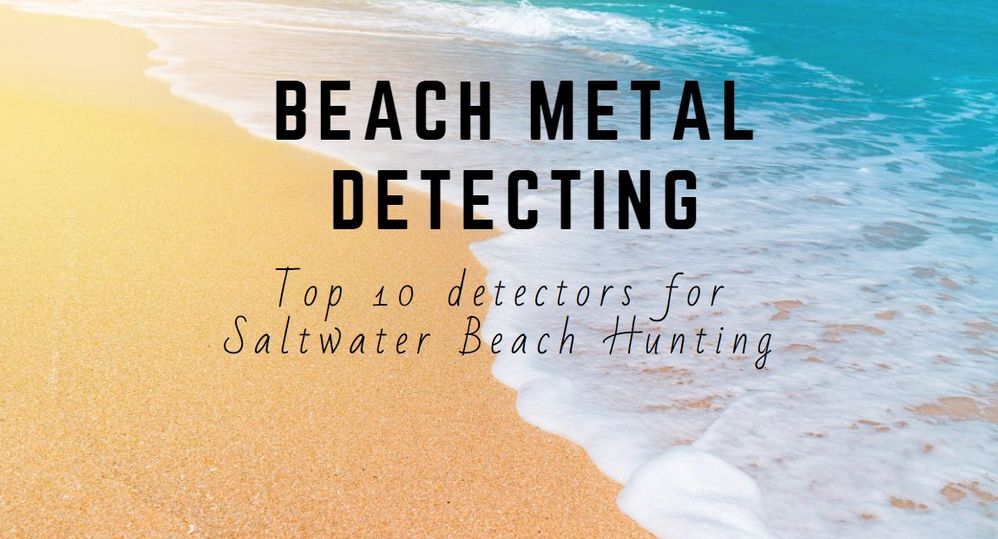 The most important in this article
The article consists of two parts. Best metal detectors for beach hunting are listed in the first one, while the second part contains a guide on how to do beach hunting properly. I do recommend reading it even you already know everything about the process.
But you won't read it, right? That's why, especially for you, here are some main points mentioned in the guide:
Not all metal detectors are good for treasure hunting on a salty beach, because salt is an essential obstacle for beach hunting.
You can get a metal detector using a PI principle, and it will ignore soil mineralization, but at that, it has quite poor discrimination.
If you are not a professional digger, don't get PI just for beach hunting since PI is required for underwater treasure hunting.
Yes, beach hunting and underwater treasure hunting are not the same things. You'll need completely different metal detectors for each option. You can read about underwater treasure hunting in detail here.
Common metal detectors will do for beach hunting, but they should have some specific features such as ground balance, special Beach mode, protection from water ingress into the device.
It is difficult to detect gold since it has low conductivity, and quite often, the device detects and recognizes it as a foil. Gold chains are invisible for most of the metal detectors since the device sees them as separate chain links.
For this reason, metal detectors that use high operating frequencies are more preferable for this purpose; multi-frequency ones are even better.
Black sand is formed from lava, which after volcano eruption gets into the water, and after it cools down, it crashes into a million small back grains of sand. If you go treasure hunting on a beach with black sand, the latter will be a significant obstacle for a metal detector.
Be ready to dig a lot. Bottle caps, foil, and other iron trash are your' friends forever' during beach hunting.
Use a scoop even if you go metal detecting on the beach, not underwater treasure hunting. Here you can find detailed information about this tool, how to choose it, and where to get.
Use headphones. Always. Firstly, you won't miss any weak signals. Secondly, here is the link that will provide you with more reasons why.
Best metal detectors for beach metal detecting
The device models in the list are equipped by the manufacturers. It's ok if you see in the list several metal detectors of the same manufacturer. They have different functionality and price.
Almost every model has a detailed review, so you can read it to get additional information before making your choice. One thing is for sure – you won't find any low-quality metal detector models on the list.
However, it is quite challenging to choose one best metal detector for beach hunting. First of all, because the functionality it offers highly depends on its price. The higher the price is, the wider is the range of detector functions.
Nokta Simplex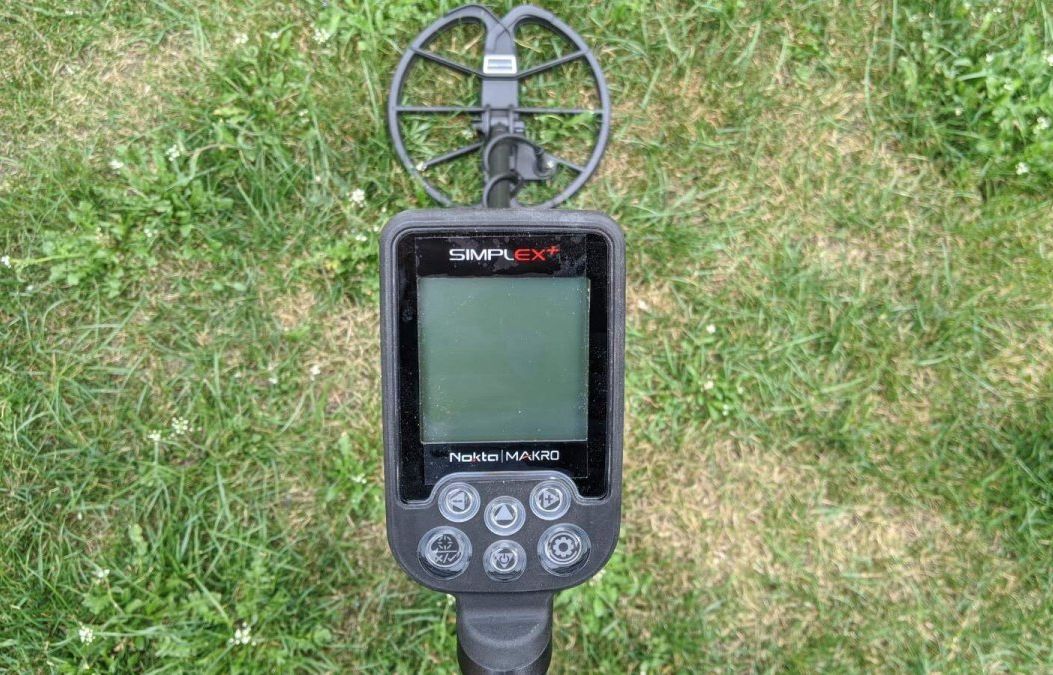 Nokta Makro Simplex review
Nokta Simplex metal detector is a device for beginners, which can be submerged. It offers a standard set of functions for metal detectors of this class: automatic ground balance function, several discriminator modes, a pinpointer function, a backlit, etc.
The metal detector has four pre-set search modes: All metal, Beach, Field, Park. We should mention the device search mode called 'Beach" – it allows beach hunting and metal detecting in brackish water. The metal detector handle vibrates when the device detects a valuable target in the ground. Such a feature allows buch treasure hunting without using a display and headphones.
The device search coil is 11 inches large, and it provides a good response on any kind of soil due to the frequency shift function.
This device model is equipped with a 2300 mAh battery accumulator that provides continuous operation of the metal detector. Due to this, you don't have to get any extra batteries.
The device package set also foresees and unit by means of which you can connect wireless headset to the metal detector.
To cut a long story short – are you a fan of beach hunting? This is a device for you. It won't be a perfect one, but many metal detectors fail during beach hunting, especially on black sand. However, you won't find anything better for this price.
Nokta Simplex Ultra Waterproof Metal Detector with Carbon Fiber Shaft and 11" Search Coil
Waterproof metal detectors for adults: The Nokta Simplex New Generation series…
Lightweight (2.6 Ibs / 1.2 kg): Well balanced – Enjoy detecting for extended…
Fabulous Lighting for Underwater & Low Visibility Use: SIMPLEX has it all – LCD…
Fully Carbon Fiber: Simplex Ultra is a solid product with its carbon fiber…
Online Firmware Updates: Stay up-to-date with firmware updates (via USB on PC)…
Last update on 2023-09-28 / Affiliate links / Images from Amazon Product Advertising API
| | |
| --- | --- |
| Model | Nokta Simplex |
| Weight | 2.9 lbs (1.3 kg) |
| Length (Adjustable) | 25″ – 52″ (63 cm – 132 cm) |
| Batteries | 2300mAh Lithium Polymer |
| Headphones | Wireless |
| Warranty | 2 Years |
| Operating Principle | VLF |
| Standard Searchcoil | 11″ (28cm) DD Waterproof |
| Operating Frequencies (kHz) | 12 |
| Water resistance | up to 10 feet (3 meters) |
| Search Modes | 4 (All Metal / Field / Park /Beach) |
| Ground Balance | Auto, manual |
| Frequency Shift | Yes |
| Sensitivity | 6 Levels |
| Electronic Pinpointing | Yes |
| VDI (0 to 99 scale) | Yes |
| Build-in flashlight | Yes |
---
Nokta Makro The Legend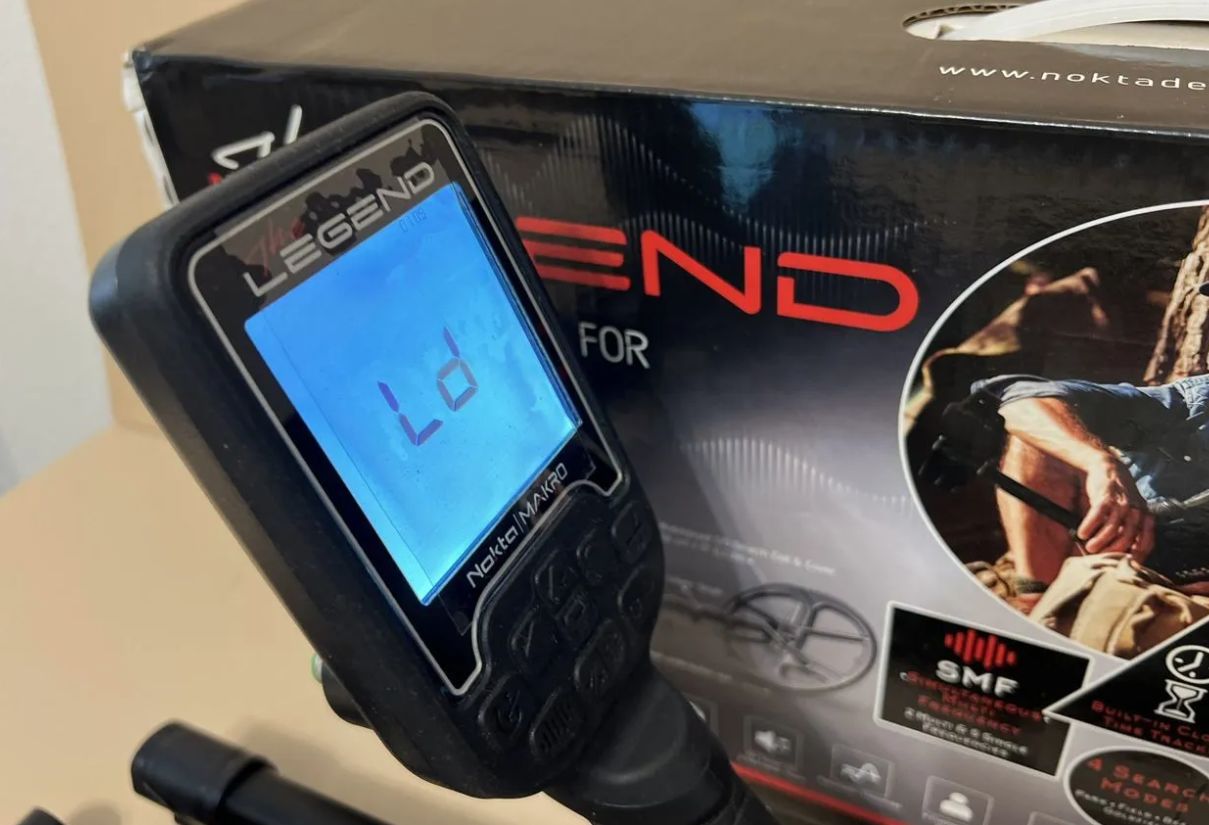 Nokta Makro The Legend review
This is a modern metal detector (manufactured in 2022) that combines all search types in it, including underwater treasure hunting up to 3 meters deep. This device will do for beginners since the pre-set search modes (Park, Field, Beach, Goldfield) are quite well-adjusted, and they don't require any deep knowledge of metal detecting basics.
A significant advantage of this metal detector is its ability to operate both using multi-frequency when all the frequencies work simultaneously and using a single frequency.
5 kHz
10 kHz
15 kHz
20 kHz
40 kHz
Multifrequency (3 modes)
Also, we should mention that the device has wireless headphones included in its package set. They use Bluetooth technology.
Last update on 2023-10-01 / Affiliate links / Images from Amazon Product Advertising API
Model
Nokta Makro The Legend
Operating Frequencies
Multi(3), 4kHz, 10kHz, 15kHz, 20kHz, 40kHz
Audio Frequencies
100Hz – 1200Hz Adjustable
Search Modes
4 (Park / Field / Beach / Gold Field)
Custom User Profiles
4
Audio Tones
60
Tone Volume
Yes
Tone Break
Yes
Tone Frequency
Yes
Adjustable Threshold
Yes
Notch Filter
Yes
Ground Balance
Automatic / Manual / Tracking
Pinpoint
Yes
Frequency Shift
Yes
Noise Cancellation
Yes
Vibration
Yes
Sensitivity Setting
30 Levels
Target ID
01-60
Search Coil
The Legend WHP:
Waterproof DD Search Coil 28cm / 11″ (LG28)
The Legend PRO PACK:
Waterproof DD Search Coil 28cm / 11″ (LG28)
Waterproof DD Search Coil 15cm / 6″ (LG15)
Display
Custom LCD
Backlight
Yes
LED Flashlight
Yes
Weight
1.4 kg (3.0lbs.) Including The Search Coil
Length
63cm – 132cm (25″ – 52″) Adjustable
Battery
5050mAh Lithium Polymer
Warranty
3 Years
---
Garrett AT Max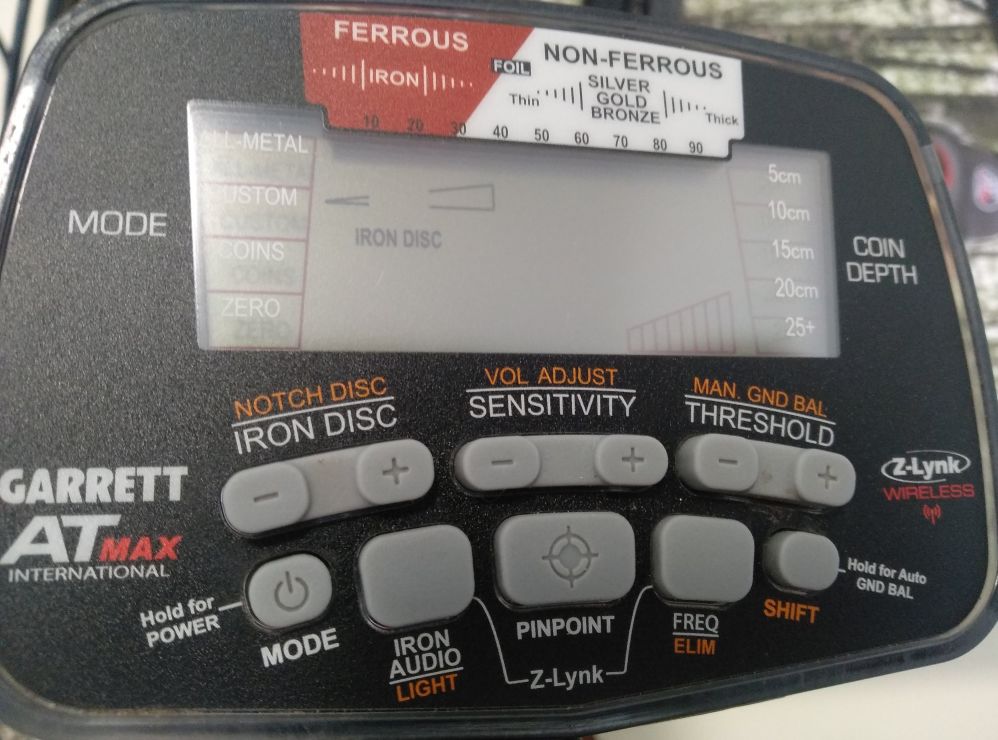 Garrett AT Max review
It autumn 2017 new Garrett AT MAX appeared on the market – an amphibian metal detector which you can put under water up to 10 feet (3m) deep.
This new model combines all the best features of Garrett AT PRO and Garrett AT GOLD since this device continues the product line. Actually, it really is an AT PRO metal detector, but this is its improved and upgraded version.
What makes Garrett AT MAX different if compared with AT Pro:
Increased search depth
Built-in wireless Z-lynk unit — allows using new wireless headphones Garrett MS-3
Improved automatic ground balance function
Adjustable threshold
Backlight was added
Improved grip, it doesn't slide and get worn out
Operation frequency 13.6 kHz
Garrett AT MAX is an amphibian metal detector and that's why its headphones and coil connectors, control buttons and battery unit lid are protected from possible moisture ingress. Due to this you can easily go coin and jewelry hunting up to 3 meters deep under water. Rain, dust, dirt and even snow are not a problem at all for this metal detector.
The headphones use wireless Z-lynk technology – it has no transmission delay and it is several times faster than Bluetooth devices. Wireless headphones are not just convenient to use, but they also provide more accurate target response.
The device search depth was improved due to its power increase and using of improved electronic components. Therefore, even when you go metal detecting around popular treasure hunting sites, there are high chances that you'll find valuable targets others have missed.
Optimized 13,6 kHz operation frequency ensures detecting even tiny objects including coins, relics and even gold nuggets, though the device isn't classified as a specialized cold prospecting metal detector.
It is possible to shift the operation frequency that's why interference from other devices or transmitting lines won't affect the MD efficiency in any way.
The display has a backlight which will be very helpful when it's dark. You can see all the info about your target on the device display including Target ID and 40-segments discrimination cursor.
Adjustable manual and automatic ground balance function allows treasure hunting on soils with high mineralization level and on saltwater beaches as well. Scalable threshold provides more precise information about the target found.
The shaft can be customized to user's height; the MD weight 3.03 lbs (1.4 kgs) ensures long term treasure hunting without getting tired. A standard 8.5″ x 11″ DD coil comes in the device set. It can be used for fast area reconnaissance as well as for speedy metal detection process.
This is an upgraded device for beach hunting and common treasure hunting. It is waterproof, capable of working deep under water, it has high operation frequency to look for coins and jewelry – what else could be possibly needed? As for the device demerits, sadly, none of them have been reported yet, so we have no information about them. However, considering the manufacturers experience in designing all its previous MDs, this new device has no drawbacks and none will be found.
Last update on 2023-09-28 / Affiliate links / Images from Amazon Product Advertising API
| | |
| --- | --- |
| Model | Garrett AT Max |
| Weight | 3.03 lbs (1.4 kgs) |
| Length (Adjustable) | 43″ to 56″ (1.09m – 1.4m) |
| Batteries | 4 AA |
| Headphones | Included, wireless |
| Warranty | 2 year |
| Circuit Type | VLF |
| Standard Searchcoil | 8.5″ x 11″ DD PROformance |
| Operating Frequencies (kHz) | 13.6 |
| Water resistance | Waterproof metal detector |
| Submersion Depth | up to 10 feet |
| Iron Discrimination Segments | 44 |
| Ground Balance | Manual |
| Search Modes | 4 (all Pro Audio) |
| Audio Threshold | Yes |
| Sensitivity/Depth Adjustments | 8 |
| Electronic Pinpointing | Yes |
| VDI (0 to 99 scale) | Yes |
| Build-in flashlight | Yes |
| Enhanced Detection Depth | Yes |
| True All-Metal Mode | Yes |
| Auto Ground Balance Window | Yes |
| Iron Audio™ (Disc. Modes) | Yes |
| All Metal Iron Audio | Yes |
| Fast Recovery Speed | Yes |
| Target Depth Indicator | Yes |
| Battery Condition Indicator | Yes |
---
Minelab Equinox 800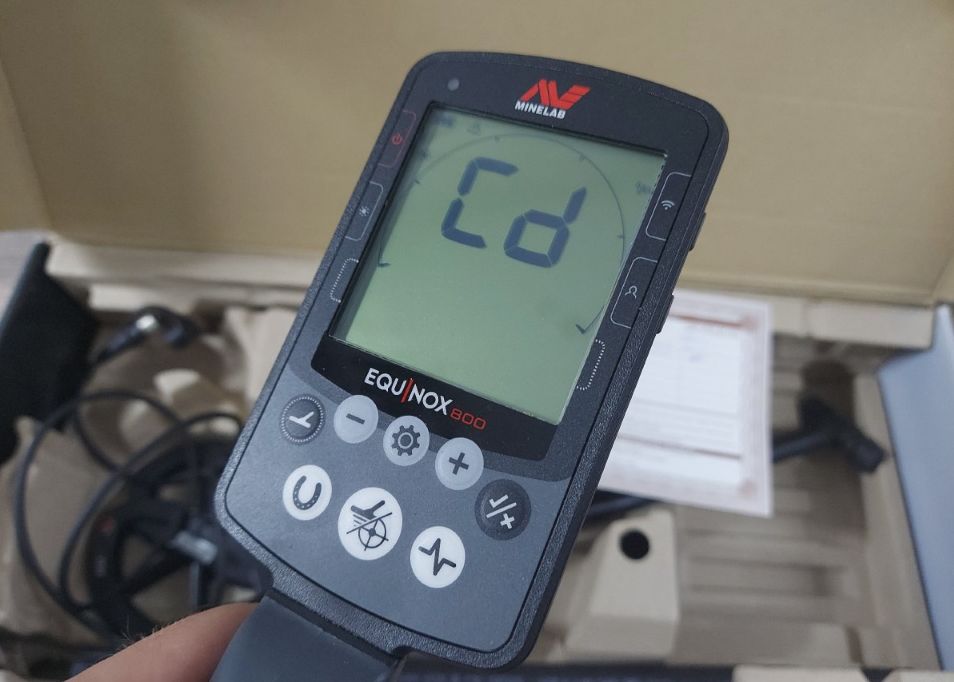 Minelab Equinox 800 review
Minelab Equinox 800 is a multi-purpose metal detector meant for various types of treasure hunting. You can drown Equinox 800 into water up to 3m (10-feet). The device is equipped with three manufacturer's programs for beach hunting as well as for working in fields and parks.
Minelab Equinox 800 can function both in multi-frequency and single-frequency mode.
When using multi-frequency mode (Multi-IQ), the device scans the ground using 5 frequencies simultaneously (5, 10, 15, 20, 40 kHz), which increases the search depth and excludes phantom signals occurrence as well as allows to conduct any type of treasure hunting.
800 version of Minelab Equinox has wireless headphones ML 80 in its set as well as an audio unit WM 08 with very low audio delay to connect wired headphones.
In addition, the device control has been completely changed. The manufacturer decided to go back of the complicated user menu and all device settings are now set by means of the main display using control buttons without going though all these sub-menu points.
Adjustment simplicity together with professional functions the device offers allow us recommending Minelab Equinox 800 for beach metal detecting. Several operation frequencies is all that is needed for such a thorough search, that nothing is left behind you. Besides, the device is a multi-purpose one – you can use it for beach hunting as well as to search in fields or parks. At the same time its wireless headphones won't get stuck in every bush you pass by.
Bestseller No. 1
MINELAB Equinox 800 Multi-Frequency Waterproof Metal Detector for Adults with EQX 11″ Double-D…
SIMULTANEOUS MULTI-FREQUENCY. The Equinox 800 combines the power of multiple…
FULLY WATERPROOF. Don't stop your search at the beach or the bank. This metal…
4 DETECT MODES. Easily select from Park for high-trash recreation areas, Field…
ACCURATE TARGET ID. Confidently sort trash and treasure thanks to the fast and…
SLEEK & LIGHTWEIGHT. The lightweight design is easy to operate, allowing you to…
Last update on 2023-09-25 / Affiliate links / Images from Amazon Product Advertising API
| | |
| --- | --- |
| Model | Minelab Equinox 800 |
| Technologies | Multi-IQ/Bluetooth |
| Weight | 1.34 kg (2.96 lbs) |
| Length (Adjustable) | 1440 mm (56.7″) |
| Batteries | In-built Lithium-ion |
| Headphones | Included, bluetooth |
| Warranty | 3 years |
| Operating Principle | VLF |
| Standard Searchcoil | 11-inch Double-D |
| Frequencies (kHz) | Multi, 5, 10, 15, 20, 40 |
| Water resistance | Waterproof |
| Submersion Depth | up to 3m/10-feet |
| Noise Cancel | Yes |
| Ground Balance | Auto/Manual |
| Modes | Park, Beach, Field, Gold |
| Audio Threshold | Yes |
| Sensitivity Adjustments | 1-25 |
| Electronic Pinpointing | Yes |
| VDI (0 to 99 scale) | Yes |
| LCD Backlight | Yes |
---
XP Deus II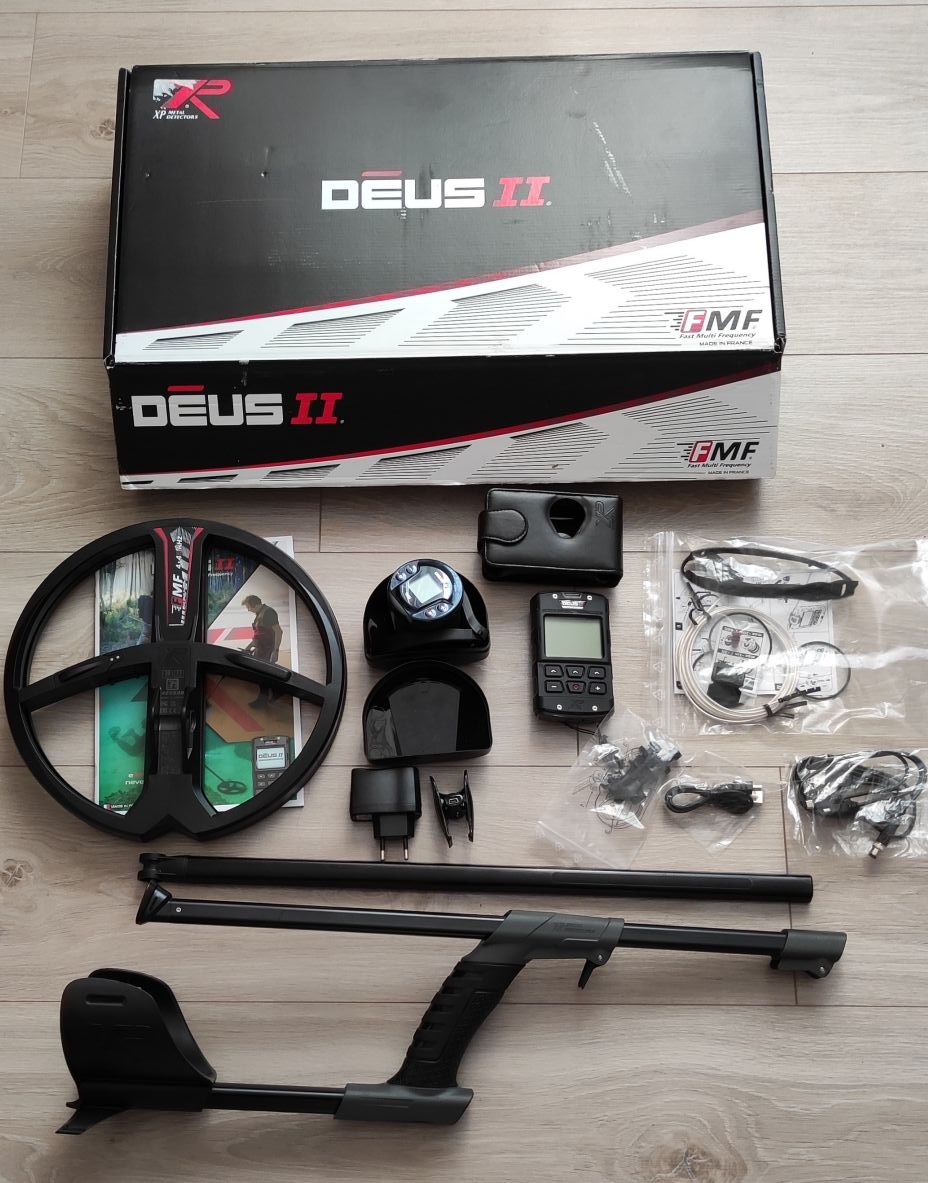 XP Deus II review
Nowadays it is the best metal detector on the market. XP Deus 3 has accumulated all the best groundwork made by XP during all these years.
XP Deus II is a metal detector designed in 2022 that is one of the best multipurpose metal detectors nowadays. It is fast both for ground and underwater metal detecting, with FMF ® technology (fast multifrequency technology), extra lightweight (it weighs just 800 grams), the device is mobile and completely wireless: its control unit, search coil, headset, connection with a pinpointer are wireless. This is the best metal detector model designed by XP.
The most important about this novelty is its own technology, FMF – Fast Multi Frequency. This means the ability of the device operation simultaneously using a multifrequency from 4 to 45 kHz. At that, the frequencies in multi-frequency mode will be selected according to the device operation mode selected.
While XP Deus predecessor was good in many ways but not for beach hunting, XP Deus II can be used not only for beach hunting but the device also can be submerged up to 20 meters deep!
For underwater treasure hunting, there was designed a bone conduction headset that allows for hearing the weakest signals. Vibration mode was also added to the headset features.
Moreover, XP Deus II is a multifrequency device that efficiently searches both large-sized targets and small gold nuggets for which it has a special program, «Goldfield»
XP Deus II is as light weight as possible (it weighs 815 g max), which means that the device is very convenient in use. Since we all know how hard it is to sweep with any other device and then your hand starts aching. Now these issues are settled and you can enjoy using this metal detector.
Deus II is quickly assembled and dismantled and at that there is no chance of loosing or breakage of any device's components. The metal detector has embedded batteries with at least 2 years term of service and then you should replace them with new ones. The batteries high capacity ensures very long service term without recharging.
XP Deus II can be considered the most light-weighted, ergonomic, and multipurpose metal detector with the highest efficiency when searching for any targets under any conditions. It is obvious that here we have a really new device, not just a veiled upgrade of the previous device model.
XP Metal Detectors Deus II – Waterproof and multifrequency, Ideal for Treasure and relic…
World's first fully wireless Fast Multi-Frequency (FMF) metal detector with…
Including headphones with a 10 Times faster wireless technology compared to…
Choose one of the 12 Fast and simultaneous Multi Frequency factory programs or…
66 feet waterproof detector thanks to its shockproof and underwater remote…
All terrain: high performance metal detector on land for Gold or Relic hunting,…
Last update on 2023-09-28 / Affiliate links / Images from Amazon Product Advertising API
Weight
Total detector weight with batteries
750-815 g
Stem weight
370 g (S-Telescopic) – 305 g (S-Telescopic lite)
Remote weight with battery
150 g
Headphone weight with battery
WS6: 82 g – WSA II: 72 g – WSA II XL: 250 g
Coil weight
22.5 (9'') – 345 g; 28 cm (11') – 470 g; 34×28 cm (13''x11'') – 570 g
Length
Stem
Fully telescopic, S-shaped
Length of folded stem
58 cm
Length of extended stem
130 cm
Coils
Wireless coils
DD 22.5cm-9''/28 cm-11''/34x28cm-13''x11'' (fully waterproof 20m – 66 ft)
Temperature
Operating T°
0 to + 40°C
Max ambient T° during charging
0 to + 40°C
Recommended storage T°
25°C
Waterproofness
Coil
IP 68 – 20m – 66 ft
Bone conduction headphones
Waterproof IP68 – 20m – 66 ft (optional)
Wireless Headphones optional
WS6 (rainproof) – WSAII (rainproof) – WSAII XL (IP 68-1m)
Batteries
Batteries
Remote/Coil: 700 mAh – Headphones: 320 mAh
Battery level indicator
Yes: Remote/Headphones/Coil/MI-6
Wireless Remote Control battery life
~ 15 to 30H depending on audio output activated
Wireless Headphone battery life
~ 15H WSAII/WS6
Wireless Coil battery life
8H to 20H depending on programs and frequencies
Mains power charger
Depending on version, Input 100-220V 50/60Hz, Output 5V- 1A max
Charging time
~3 h
Features
Software updates
Yes, by USB/Internet connection
Hip mount remote control case
Yes
Headphones storage case
Yes (WS6, WSA II)
Warranty
Five years parts and labor. Batteries, chargers and connectors have a 2 year
warranty
Settings
Detection frequencies
Simultaneous Multi Frequency or between the 49 single
frequencies from 4 to 45 kHz
Sensitivity
99 levels
Sound type
Different sound options: PWM, SQUARE
Audio Volume
10 levels for each audio output
Reactivity
9 levels (0/0.5/1/1.5/2/2.5/3/4/5)
Audio Response
8 levels
Iron Volume
6 levels
Multi Tones
1, 2, 3, 4, 5, Pitch and Full Tones 1 and 2 + EXPERT modes
Ground balance
Tracking, Grab, Manual
Multi-Notch
Yes, with adjustable window width
Pinpoint
Yes, with and without Autotune – Audio and visual
Discrimination
Audio and visual/ferrous bottle cap rejection on 5 levels/Silencer
Threshold
Threshold and Audio frequency adjustable
Equalizer
4 Bands configurable
Programs
12 factory programs + 12 users
Backlight
20 levels adjustable, very low power consumption
---
A guide to beach metal detecting
In summer, some treasure hunters switch from general ground search to beach hunting. Since this is the place and time when holidaymakers use their jewelry more often. What can you find on the beach?
Most of the things you find will be beer bottle caps, and I don't think there is a beach without them nowadays. When digging out a bottle cap, don't throw it back to the sand; take it with you and throw it into a garbage can later. The next thing after the caps are modern coins.
People often lose their chains, rings, earrings, and other jewelry on the beach. Quite seldom, these are golden ones. Also, to be able to find something like this, you'll have to dig out a dozen or a hundred bottle caps first. As one of my friends says – who doesn't dig out bottle caps, can't find golden rings.
Nevertheless, the money you get after selling the rings you find can be quite significant, and this can be quite essential making for you at the end of the beach season. The best choice, in this case, is a metal detector performing both on the ground and in the water.
There is a wide variety of metal detectors on the market, and they can work on any type of ground. However, for beach hunting, you should select the models that can deal with high soil mineralization level peculiar to the beach sand.
What is so peculiar about brackish water?
The largest problem when you go beach hunting with a metal detector is sea salt. The salt from water easily penetrates the ground and makes its mineralization level higher.
The high salt content in seawater has a strong effect on a metal detector performance. It is manifested in chaotic signals you receive, inability to define the required discrimination correctly, losing the detection depth.
A beach, especially a salty one – is a complicated ground for metal detecting. This explains why many metal detectors have Beach as a separate search mode. Inhomogenous humidity and high mineralization, presence of loads of metal rubbish – all these make the device go nuts.
It is quite challenging to set proper ground balance values in this case. If a device doesn't have ground balance function at all, it may incredibly misbehave on salty sand and produce signals where there is nothing at all.
If the device has a ground balance function, you should adjust it as you approach the water since ground mineralization level changes.
The more humid the sea sand is, the higher is the influence of ground mineralization. For example, you can set the ground balance on dry sand and go metal detecting, but once you get closer to the water's edge (or when submerging a search coil not very deep), you can get even more false signals from the device. For this reason, you will need a metal detector capable of ignoring high ground mineralization.
Salt also influences the state of metal detectors – it slowly corrodes aluminum shafts. At the same time, the plastic the search coil is made of, and wires covering suffer from salt influence as well. Therefore, don't leave your metal detector as is after using it in brackish water. Wash it with running water or at least wipe it with a wet cloth, it will leave less salt on the device when it gets dry.
VLF and Pulse Induction technologies
Standard ground metal detectors (those using VLF technology) generate constant electric current inside the coil transmitter and the change of the receiver voltage phase or amplitude indicates the presence of metal objects under ground.
Metal detectors using pulse induction (PI) generate electric currents for the transmitter, which turns on for some period of time and then abruptly turns off.
The coil field generates pulse vortex currents in the object they detect and analyze the pulse attenuation in the receiver coil.

PI metal detectors are irreplaceable during coastal and underwater treasure hunting as well as on highly mineralized soils.
The device productivity doesn't depend on water or ground influences. Such devices demonstrate the same successful productivity both under water and on the ground.
That's why PI technology is used in underwater metal detectors. They demonstrate good results when searing on sandy beaches and wet sand metal detecting.
The depth of objects detection in the ground and in brackish water is larger if compared with the results obtained by VLF metal detectors.
VLF is good for treasure hunting on the ground, but under water such devices show significantly lower productivity and the detection depth is less if compared with those of PI ones.
If you do treasure hunting professionally and use VLF instead of a PI metal detector, you essentially decrease your chances to find something really valuable.
Key points when selecting a metal detector
The device should have several important functions that you'll need.
The absence of ground balance function means that it's not recommended to use the device on the seaside. You will get nothing but disappointment from such a treasure hunting process.
For beach hunting, you will need excellent discrimination function. Each digger finds lots of rubbish – such as bottle caps, foil, beer can tabs, etc. To make sure you won't be distracted by such rubbish, you will need high-quality discrimination.
It's good if a metal detector has different ways of target identification (sound, visual, LED, graphical) – they will make it easier to define whether the target is worth digging or not.
Target separation ability should be rather high as well. Quite often, a ring can be under some corroded object, and if a metal detector can't separate these two targets, it won't see the ring.
As for the operating frequency, it's desirable to get a high-frequency metal detector with an operating frequency from 8 to 18 kHz. These are the frequencies that ensure the best detection of targets with high conductivity (gold, silver).
I saw information on some sites that a standard metal detector model without waterproofing will do for beach hunting as well. I don't agree with this. Though many modern metal detectors indeed have waterproof search coils, and you can submerge them up to the control unit.
But.
The main thing you should keep in mind during beach hunting is water. The water is close to you, and it is inside the ground. If you get a device without waterproof properties and then put or drop it in the water, you get damage instead of profit – it is quite expensive to mend the device.
Besides, it happens that the device just slips out from your hand and falls into the water and drowns.
Nowadays, almost all manufacturers offer a wide range of metal detectors for underwater treasure hunting. There are various models of amphibian metal detectors designed for different submerging depth. All of them are completely waterproof, a sound signal from the target you can hear in headphones. If such a device slips out from your hands, it will come to the water surface.
Where on the beach can you get more finds?
Nominally we can divide the beach into three sectors.
1) Towel line – with dry sand, where usually only coins are found and rubbish such as bottle caps, foil, etc. As for the jewelry, it comprises about 20% of all the above mentioned.
2) Breaker zone is the most optimal area for metal detecting, and it is relatively not trashy. But if you go treasure hunting in brackish water, you will have issues with setting ground balance. This problem manifests in phantom/false signals appearance, which can be decreased by reducing the device sensitivity level.
3) Water zone – this is the place where most jewelry is lost, and it is the least trashy from all three zones. People play there, and this is when they lose jewelry. The deeper you search, the more finds you get. But underwater metal detecting is complicated due to water around you. You should have some special additional equipment. For example, it can be a wetsuit and a specialized underwater metal detector.
On sea beaches, you should follow the water. If it is low tide, go with it to the deeper areas. At high tide, go to the sand and start coin shooting.
As for the device settings, don't chase after high detection depth. If there were a lot of diggers on this beach, the main finds would be located about 6, maximum 8 inches deep.
Sand in breaker zone of sea beaches mixes more efficiently; that's why you should raise the device sensitivity there. Golden rings tend to stick in the sand.
What Features You Need
The main thing for beach hunting is an experienced digger who uses the metal detector. Without this important thing, any advanced and sophisticated equipment turns into a useless and very expensive toy.
However, there are several additional peculiarities you should be aware of.
Coil Size
As we know, for more precise target identification, you should minimize the chances of several targets getting under the coil, since beaches are quite trashy. Thus, a search coil for beach hunting shouldn't be large! For oval-shaped coils – not larger than 6×10 inches, for round ones – not larger than 8 inches, while the perfect coil size is about 6 inches. Also, you should take into account the coil type.
Coil type
In terms of coil type for beach hunting, many people advise using only mono-coils. I don't support this idea, and I think that you can use both Mono and DD coils.
Protection cover for a coil
Stones, sand, corals – all these can scratch the search coil. Even though modern coils are quite good protected, I wouldn't advise taking chances in this case.
Besides,
When salt gets dry on surfaces, it affects the device's performance. If you use protection case for your coil, wash both the coil and the cover after using them in brackish water. This will prevent salt accumulation in various slits of the device and affect its performance.
If you don't have any fresh water close at hand, you can use the coil without a protection case, but clean it dry after that.
Operating frequency
If you have financial means, it's better to select a metal detector that uses high operating frequency – 13 kHz, 15 kHz, and higher. The first advantage is that high operating frequency is better for the detection of small-sized targets such as earrings, chains, small rings, etc.
The second advantage is that this frequency detects targets with medium electric conductivity, which gold is.
The third one is a better differentiation of metals.
The fourth advantage of the high-frequency search coil is its high protection from electric noise since there are plenty of them in urban settings.
Accessories for beach hunting
Gloves
Besides a metal detector itself, a digger may need good safety gloves. It's quite easy to cut yourself a finger with broken glass or sharp edges of tin-cans on the beach then when digging in the fields, for example.
A shovel
The next accessory you will need is a shovel. A spade won't do for beach hunting; the ground is not heavy. That's why a lightweight wide shovel is better than a heavy spade. You can select one from this rating. They all are of almost the same quality.
A scoop
If you have serious intentions as for the beach hunting, I'd advise you to get a scoop. This is a perforated metal box with a handle, which you can use to dig and sift the ground. Scoops can be with or without a handle, homemade, and branded ones.
A pinpointer
If you don't have a scoop, get a pinpointer, since it is quite challenging to find something in the pouring sand. Sometimes I used to spend several minutes to get a coin out of the sand. Keep in mind to get a waterproof device like one of these, for example.