Here you will find Nokta Makro Simplex metal detector review. The article contains information about the device operating frequency, its search coil type, if headphones are included into the package set, how long the device works using one batteries set as well as other important things.
What the device was designed for?
Nokta Simplex+ is a newly-designed product introduced by the Turkish manufacturer Nokta | Makro in 2019. Simplex is a metal detector for beginners. It is completely waterproof. The device is both ground and underwater metal detector.
This device has classical set of functions peculiar to metal detectors of this class: automatic ground balance function, several discrimination modes, pinpointer, backlit, etc.
The metal detector also has some pre-set search modes, including a beach hunting mode. At that, the device menu is rather user-friendly.
However, the main advantage of this new metal detector is its lowest ever price. The rivalry between metal detectors of beginner level is rather high on the market. Here is just the beginning of the rivals list – Garrett ACE 250, Fisher F22, Whites Coinmaster Pro, Teknetics Delta 4000!
The most important thing is the ratio between the functionalities and the price of the device. This is when the Turkish manufacturer has done something impossible – it has created a modern, easy-to-use metal detector with sufficient number of functions available for rather affordable price.
Let's take a closer look.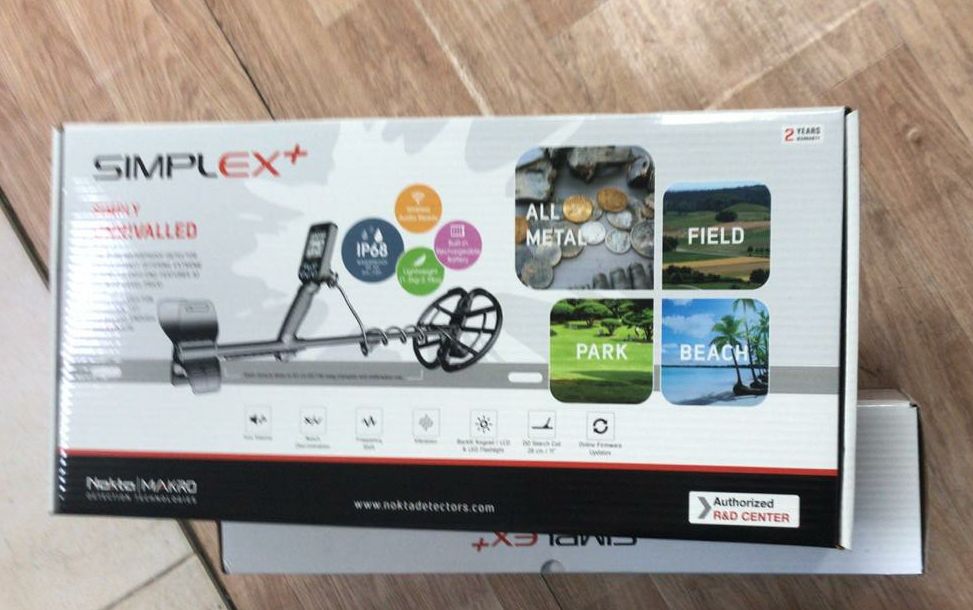 | | |
| --- | --- |
| Operating Principle | VLF |
| Operating Frequency | 12kHz |
| Search Modes | 5 (Field / Park 1 / Park 2 / Beach / All Metal) |
| Audio Tones | 3 |
| Notch Filter | Yes |
| Pinpoint | Yes |
| Vibration | Yes |
| Frequency Shift | Yes |
| Sensitivity Setting | 6 Levels |
| Target ID | 00-99 |
| Search Coil | Waterproof DD Search Coil – 28cm / 11″ (SP28) |
| Display | Graphic LCD |
| Backlight | Yes |
| Keypad Backlight | Yes |
| LED Flashlight | Yes |
| Weight | 1.3 kg (2.9lbs.) including the search coil |
| Length | 63 cm – 132 cm (25″ – 52″) adjustable |
| Battery | 2300mAh Lithium Polymer |
| Warranty | 2 Years |
Nokta Makro Simplex Waterproof Detector with 11" Coil
IP68 - Fully submersible up to 3 meters (10 ft) and protected from total dust ingress.
Iron Volume - Turns off or adjusts the volume of the low iron tone.
Notch Discrimination - Discriminates Target IDs of unwanted metals.
Last update on 2022-05-20 / Affiliate links / Images from Amazon Product Advertising API
Software update
By the end of March 2020, Nokta Makro manufacturer has planned to release a new firmware update V2.76 for the Nokta Simplex. The update will include new functions, improved detection depth, new advanced ground balance function.
The new firmware number is 2.76, while the basic version still has a V2 number. However, the new one has so many changes that would be enough to create a new metal detector version.
After the firmware renewal, the metal detector will have 5 search modes (before it had 4). Park mode that we knew in the previous version, now is called Park 2, as well as a new mode was added – in this version, it is called Park.
The first mode gets deeper targets, and the second one works faster. When using Park 1, the metal detector emits low 'iron' tone for objects withing ID 0-15, the medium tone for gold and non-ferrous objects within ID 16-69 range, and high tone for non-ferrous metals within ID 70-99, such as silver, copper, lattin.
To increase the detection depth, the device sensitivity level was increased up to 7 (it was 6 before this). At maximum sensitivity and search conditions, some false response is possible.
In 'All metal' mode, the threshold signal value has been optimized for each sensitivity level to provide the best performance for various types of the locality. You can change the threshold signal value depending on the type of soil within the range from -50 to +50.
The ground balance adjustment function has been improved as well.
If the metal detector receives too many signals or emits false signals and you can't suppress them, despite decreasing the device sensitivity level, first set the latter back to the default set of options.
Then increase the ground balance value by one step at time to exclude the unwanted signals. When increasing the Ground Balance value, the device sensitivity decreases for coins with high conductivity and silver, copper and lattin objects.
The ground mineralization indicator was added, and now you can see it on the device display.
Some other changes have also been introduced. These include information displaying, but they are just visual changes and don't influence the device functionality.
The review
The metal detector has two package sets – Nokta Makro Simplex and Nokta Makro Simplex+ WHP. This is a common approach used by the company, since when I bought Nokta Impact, the device also had two package sets available on sale.
The price difference of the package sets equals about 100 US dollars (it depends on where you buy the metal detector). Let's find out what are we exactly paying for?
Nokta Makro Simplex package set includes the following:
the assembled metal detector
28cm / 11″ search coil with a protection case
USB cable to charge the device and firmware updates/downloads;
a charger
an adaptor for wired headphones
user's manual and a warranty certificate
The only difference between Nokta Makro Simplex+ WHP package set and the basic one is only that it has wireless headphones (only for ground treasure hunting, they can't be used for underwater search) and a branded cap SimplEX.
Whether it is worth it, it's for you to decide. If you ask me, I'd recommend getting the advanced package set. Since when I bought my Nokta Impact, wireless headphones weren't included into the device package set, it only had the wired ones.
I had many issues with these. When you dig a lot, quite often you have to put a metal detector on the ground, which ends up with pulling the headphones wire when you stop digging and stand up. If you go treasure hunting in the fields or in the forest, the wire clings to grass and bushes, which is very inconvenient.
I started thinking about getting wireless headphones (by the way, the same that are included in SimplEX package set), but then I've changed my mind and switched to using XP Deus.
If you decide to go digging without headphones at all, from my experience this won't be the best idea. In this case, you can forget about beach hunting and metal detecting in parks, since you will annoy the holidayers. They once came to me in the evening asking to turn off my radio, since sounds produced by the metal detector reminded them radio noises.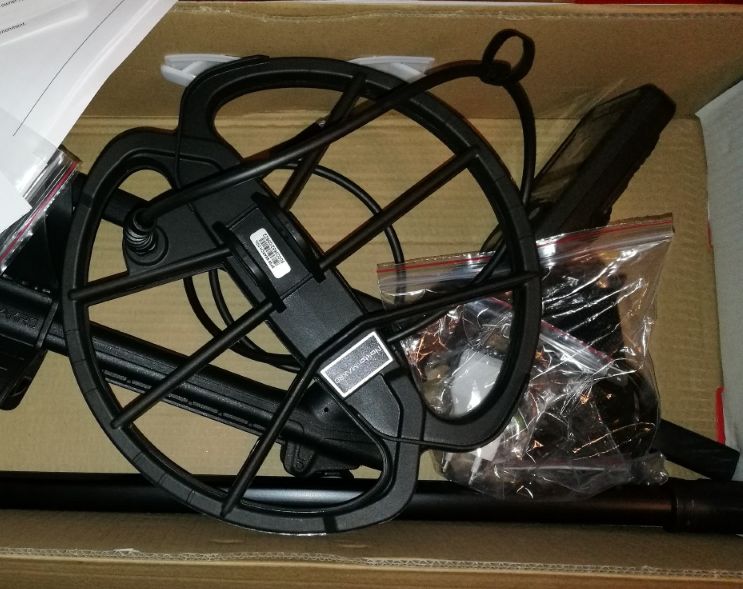 The shaft
This metal detector model has rather modern and stylish appearance, especially if compared with classical metal detectors for beginner diggers. The device has a light-weight shaft of adjustable length with a plastic ergonomic armrest.
Play attention, that the shaft isn't an S-shaped one and it has a pistol grip like the one used by Anfibio Multi. I consider such a technical approach to be a more convenient one. S-shaped shaft with a polypropylene covered handle looked good and usable about 10 years ago.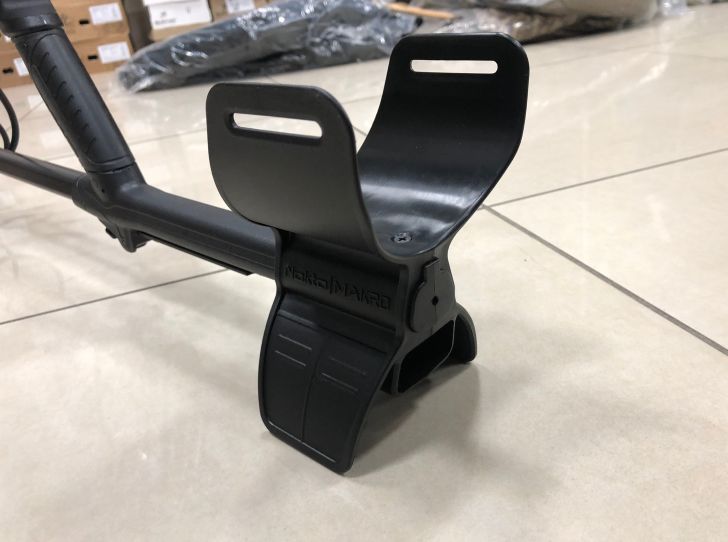 Having quality and convenient handle plays rather important part in the metal detector efficiency and performance as well as in obtaining good device balance. In this case, the handler is rather convenient, the user's palm doesn't slide or get tired of holding it, unlike it happens with Minelab Equinox 800.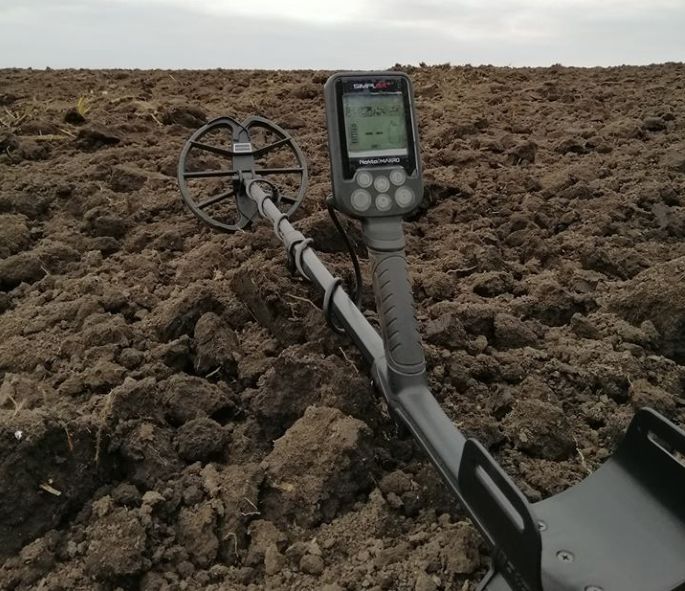 The metal detector has a telescopic shaft, which doesn't require much space in its initial state – it is a bit longer than 25 inches (63 cm). The total shaft length is 130 cm or 51 inches.
The metal detector weighs just 2.9 pounds (1.3 kg), which isn't the lightest model and I wouldn't recommend it for a child, since this is a model for teens or adults. However, the proper balance of the metal detector offsets the device weight.
Simplex Plus WHP is a well-balanced metal detector, so you can use it for a long time without feeling any discomfort or tiredness.
The shaft is light weighted, thin and flattened from top, which ensures rather low hydrodynamic resistance, since having 11″ search coil won't let you wave it fast in the water. However, this is not required because due to the response rate the device performs rather good when the user waves the coil slowly.
Last update on 2022-05-20 / Affiliate links / Images from Amazon Product Advertising API
The search coil
Simplex Plus WHP is equipped with a waterproof round DD search coil, 11 inches (28 cm) large, and it uses operating frequency equal to 12 kHz. This frequency is optimal for multi-purpose treasure hunting. The device detects and recognizes various targets (coins, jewelry, relics, ancient artefacts, iron targets).
This 11″ DD coil together with Iron Volume and selective discrimination with frequency shift ensure high accuracy of target response even on ground with complicated conditions. Vibro signals obtained by the user enable underwater treasure hunting without using underwater headphones and information from the display.
Additional plastic protective case is included into the metal detector package set.
UPDATE.
In summer, 2020 the company has introduced two new search coils on the market. These were marked SP24 and SP22 made for Nokta Simplex metal detectors. SP24 is an oval-shaped DD-coil sized 9.5 x 5 inches. This coil is designed for metal-detecting in trashy areas, beach hunting, and treasure hunting in some other places full of disturbing signals.
SP22 is a circle-shaped DD coil 8.5 inches large. I was surprised, that this is a DD search coil, since I've expected something like mono coil type from a round-shaped search coil. In this case, the coil could be certainly promoted as another search coil for trashy areas. However, it is sold and said to be a multi-purpose one.
Pay attention, that both coils are sold without plastic protection cover in the set, so you'll need to get it additionally. However, some shops add the protection cover into the set at once (the price gets higher, of course). Also, you should keep in mind that there is no alternative to these search coils, since they are the patented ones, and it is highly unlikely that any 3rd party manufacturers will be able to produce some alternatives to these.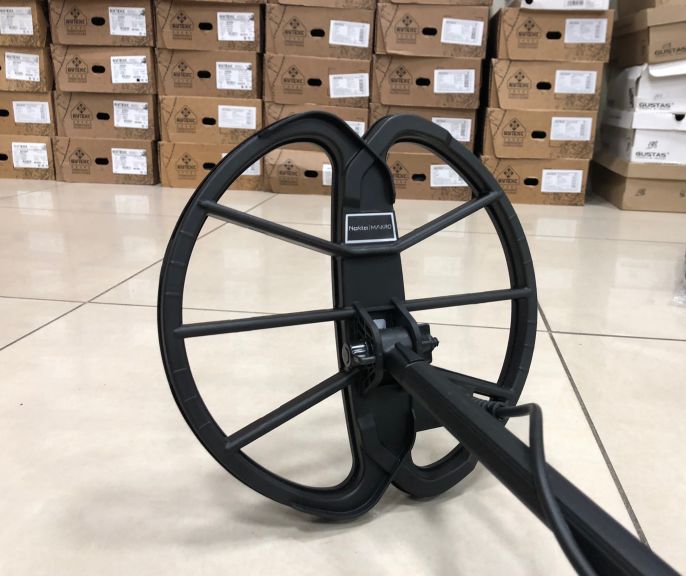 Headphones
As we've mentioned above, wireless headphones are included only into Simplex+ WHP package set.
For basic Simplex package set you can additionally get some wireless headphones, but the branded ones will be more expensive considering the delivery costs.
The metal detector has headphones jack to connect wired headphones. You can also find on sale underwater wired headphones for Nokta Simplex metal detector (multi-purpose ones for all Nokta / Makro metal detectors, which can be submerged).
The battery
Li-ion battery 2300 mAh is used as a power supply for the device and it provides about 18-24 hours of the metal detector continuous operation. You can charge the battery using a standard USB connector.
You can charge the metal detector like your mobile phone: using electricity mains, some external power supply (power-bank), cigarette lighter in a car, etc.
Nokta Simplex can be charged right during the treasure hunting process by means of a power bank or any other portable charger by connecting the latter to the device via a standard USB cable.
Waterproofness
Nokta Simplex is considered an amphibian metal detector which can be submerged up to 10 feet (3 meters) deep. At that the manufacturer has foreseen a possibility to use wireless headphones without involving any additional units. However, you'll have to get underwater headphones yourself.
The control unit
The device control unit has an LCD display with adjustable backlit for the screen and buttons. There is a small LED light on the control unit case to make underwater treasure hunting process more convenient.
On the display you will see all the data necessary for efficient detection process. This data includes VDI number, target detection depth, etc.
When switching the metal detector on, rise the search coil above the ground and try to stay far from large metal objects. The device is turned on by means of one button, the middle one in the bottom row of buttons.
When the metal detector tuns on, you'll see the number of the device firmware in the bottom left corner. If the manufacture has updated the firmware recently, compare the number you have with the one on the manufacturer's site.
Search modes
The device has 4 search modes (all metal, park, field and beach). The possibility to adjust the device sensitivity, volume level, backlit intensity makes a treasure hunting process with Nokta Simplex metal detector comfortable and productive at any conditions.
The optimal search mode is 'all metal'. If there are a lot of ferrous targets where you are digging, switch Iron Volume to minimum.
Field mode provides good target response rate and recognition. This mode will do for general treasure hunting in not very trashy areas. The coil wave should be average and slow.
Park mode is optimal for trashy areas. The coil wave should be average and fast.
It's worth noting the Beach search mode of the device, since it allows beach hunting on the shores and brackish waters. Ability to receive vibro signals is also an advantage when you go beach hunting. The metal detector demonstrates good performance on the beach and even on black sand.
The device has quite many functions, including the ability to adjust the device settings according to the user's preferences. It has some adjustable discrimination segments, VDI number (from 0 to 99), volume and display brightness can be adjusted as well, frequency shift, changing the target indication signal to vibro response, manual ground balance function, Iron Volume adjustment, target depth indicator and other necessary functions.
The metal detector has easy-to-use control and its menu consists of pictograms, which are seen on the display. You can update the device firmware by means of any computer around, which is very convenient.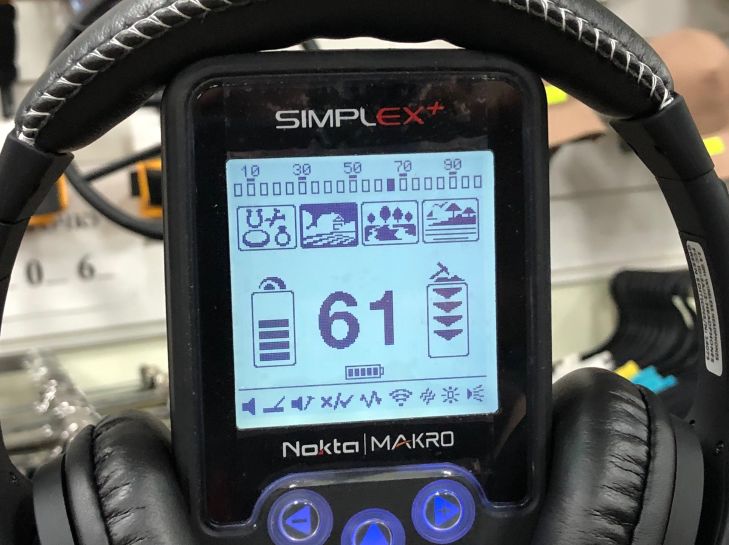 Frequency shift
This is the function, which can't be expected from the device of beginner level. For those who don't really know what it is about, we have a simple explanation. We are talking about the ability to shift the operating frequency of the metal detector to make sure it ignores electric noise from power transmission lines, mobile phones or other metal detectors working nearby. Simplex has three frequency shifts – F1, F2, F3.
Ground balance
Ground balance function has only automatic mode, which is quite common for metal detectors of beginner level. However, pay attention that this is not a pre-set ground balance value like the one that Garrett 250 has; this is an automatic mode of ground balance adjustment. Which means that you push the button, wave the metal detector and this way you get the optimal ground balance value.
Comparison
Nokta Simplex vs Minelab Vanquish
Operating Frequencies
Multi-IQ (5, 10, 15, 20, 40 kHz)
Batteries
In-built 2300 mAh Lithium Polymer
4 x AA Alkaline replaceable
Detect Modes
5 (All Metal, Field, Park, Beach, Park 2)
5 (Coin, Relic, Jewellery, Custom, All Metal)
Batteries
In-built 2300 mAh Lithium Polymer
Detect Modes
5 (All Metal, Field, Park, Beach, Park 2)
Operating Frequencies
Multi-IQ (5, 10, 15, 20, 40 kHz)
Batteries
4 x AA Alkaline replaceable
Detect Modes
5 (Coin, Relic, Jewellery, Custom, All Metal)
Last update on 2022-05-20 / Affiliate links / Images from Amazon Product Advertising API
Nokta Simplex vs Equinox 800 vs AT PRO
Weight
1.3 kg (2.9lbs.) including the search coil
Standard Searchcoil
11" DD coil with skidplate
Operating Frequencies (kHz)
Batteries
In-built 2300mAh Lithium Polymer
In-built rechargeable Lithium-ion
Detect Modes
5 (All Metal / Field / Park /Beach/ Park 2)
5 (All metals, Park, Beach, Field, Gold)
Weight
1.3 kg (2.9lbs.) including the search coil
Operating Frequencies (kHz)
Batteries
In-built 2300mAh Lithium Polymer
Detect Modes
5 (All Metal / Field / Park /Beach/ Park 2)
Standard Searchcoil
11" DD coil with skidplate
Operating Frequencies (kHz)
Batteries
In-built rechargeable Lithium-ion
Detect Modes
5 (All metals, Park, Beach, Field, Gold)
Operating Frequencies (kHz)
Last update on 2022-05-20 / Affiliate links / Images from Amazon Product Advertising API
Pros
The device waterproofness allows submerging it up to 25 feet (3 meters) deep
Ability to use wireless headphones without involving some additional units
An embedded 2300 mAh battery allows decreasing expenses on supplies
Light weighted
The device is foldable, in its initial state it is 25 inches (63 cm) long. So, it is quite easy to carry, store and dive with this metal detector!
11″ DD coil is included into the device set as well as a branded protection case for it
Simple menu with pre-set search modes: All metal, Field, Park, Beach
Iron Volume and selective discrimination with frequency shift ensure excellent target response
Vibration type of the signals received allows using the device under water without using the display
Ability to update the firmware
Backlit and a LED light ensure convenient operation in dark conditions
Cons
buttons are hard to push, especially when it is cold
The sounds the metal detector produces may sound a bit annoying and not all users like them
Conclusions
When I was digging with Nokta Impact, I understood that the Turkish company is rather serious rival on metal detectors market. Sadly, in the USA their devices haven't become top ones, at least for now. The USA market is rather conservative in this respect and to achieve some high rating positions there a lot of efforts from marketing experts are required.
So, now the company has its magic stick to conquer this market. I assume, that Nokta Makro Simplex has all it needs to become a top selling model.
The price, the functions it offers, the device performance – these are the components of the device success on the market. You are still thinking whether it is worth it? Yes, it definitely is.
In Europe this metal detector sets selling records. Yes, the device has less functions if compared to some more expensive metal detector models. But it has many functions, which his rivals don't have.
At that, don't forget that this is a metal detector of beginner level. It offers quite many functions for the price unlike its rivals, which are more expensive. These can be Minelab Equinox 800 or XP Deus, for example.