Here you'll find a review of metal detectors from product line Minelab GPX – 4500, 4800, 5000.
The article contains information about the technology they use, what the devices were aimed at, how they differ from each other, etc.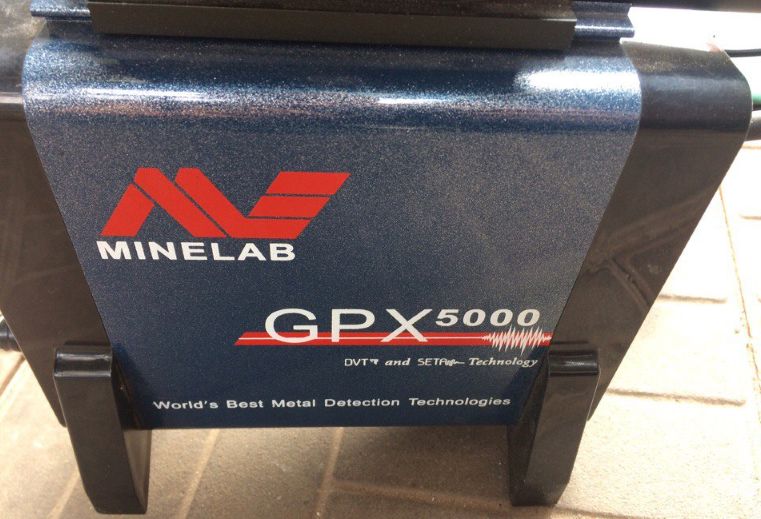 What the device was designed for?
Metal detectors of Minelab GPX product line are expensive devices for gold nuggets prospecting. Currently, there are three of them available on sale.
These are Minelab GPX 4500, GPX 4800, GPX 5000. The fist model of the product line, GPX 4000 is no longer in production.
The abbreviation GP in the model name stand for Ground Penetration, and the index number means that the package set increases (as well as the price rises).
Which means, that the entry-level model GPX 4800 differs by the number of search programs — it has three modes, while the flagship model GPX 5000 has 6 search modes.
We should also mention GPZ 7000 metal detector that belongs to another product line, it is twice more expensive, but it uses the most modern technologies.
In this review, we'll discuss the flagship model GPX 5000, since it is the most multi-purpose device and it offers the widest set of functions.
However, at the end of the review we'll provide a separate description for each of the metal detectors.
The review
GPX 5000 has two package sets – standard and PRO set.
PRO package set differs from the standard one, since it includes the following:
Minelab Commander Series 15″ x 12″ Elliptical Monoloop;
Minelab Armrest Strap;
Minelab Finds and Rubbish Bag;
Minelab PROSONIC wireless Metal Detector Audio system;
Armrest Strap, Armrest Wear Kit, Coil Wear Kit
The metal detector is supplied in an ordinary cartoon box. The package set includes nothing extra, but it has lots of various items.
Assembling the metal detector isn't a challenging task and it should be performed as follows:
Attach the search coil to the bottom shaft section.
Assemble the shaft.
Put on a plunger pin and a handle on the upper shaft section and fasten them.
Assemble the armrest on the upper shaft section.
Attach the straps to the armrest.
Put the control unit on a flat surface and attach the shaft to it.
Fixate the handle cable in the corresponding cable entrance of the control unit. Before this, you should wind the cable around the shaft.
Wing the search coil cable around the shaft and fixate it with touch fasteners, insert the jack plug into the cable entrance of the control unit and screw the fixation nut.
Insert the battery accumulator into a webbed gear and make sure that cable entrances are on the right side.
Connect the battery and the control unit with the cable.
Attach the elastic thread with a spring hook to the upper shaft pin and adjust its length so, that the thread attached to the D-shaped buckle would support the shaft, but not raise it up.
Here you are, the detector is ready to use.
The shaft
All metal detectors of this product line are using the same design, so that even their length is the same – 1100 mm – 1300 mm (43.3″ – 51.2″).
The metal detector has two units. The control unit is attached under the armrest and it has two control panels on its sides – the front and the back panel.
The second unit is a battery one and the user carries it. The device total weight is 2.4kg or 5.3lbs (ex. battery).
The main thing you should keep in mind is that the most convenient way to carry the metal detector is using a utility vest.
The thing is that you won't enjoy the process when just carrying the device in your hands, because it is heavy and the battery accumulator is attached to your belt.
If you use a 15 inches search coil, you will get tired in a moment. I'd advise you to consider the device package sets that already include a utility vest, if you want to get the most of the device and not to be disappointed with it.
The metal detector has a straight shaft, which actually holds the whole device construction. The device control unit and bottom shaft section with a search coil are attached to it.
The handle by means of which you hold the metal detector can be shifted and this way it adjusts to the arm length, which allows adjusting the whole construction a bit.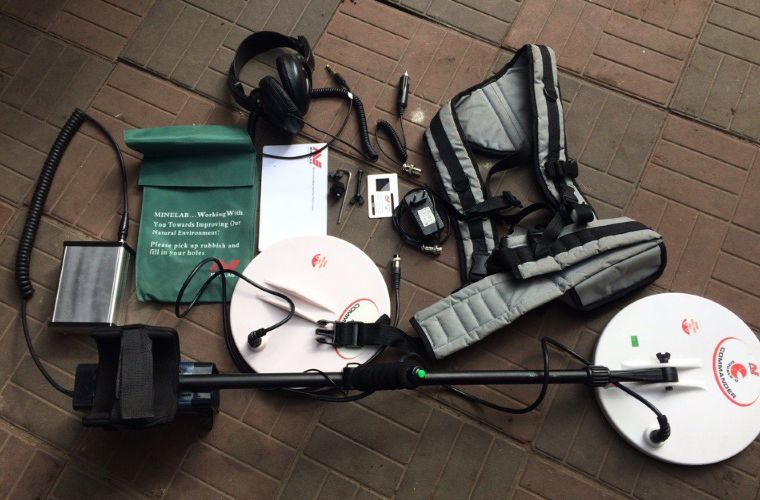 The coil
The package set includes two search coils: 11″ Double-D and 11″ Monoloop. Pay attention, that this kind of package set is available only for GPX-5000, since other GPX package sets may include different search coils.
Moreover, even GPX 5000 has two package sets and the Pro set includes an additional search coil which is 15 x 12-inch Monoloop.
The metal detector uses PI principle, so this is not a VLF metal detector, and you shouldn't expect it to behave as a VLF device.
Using PI technology is peculiar to metal detectors aimed at searching for deep targets or gold nuggets prospecting. However, while PI ensures detecting deep targets it can't properly recognize targets basing on their conductivity and inductivity.
This means that there is almost no discrimination in this kind of devices, which narrows the application area of such metal detectors to gold nuggets prospecting and only then come coin shooting, jewelry, relics, etc.
At that GPX 4500 and GPX 4800 are definitely aimed at gold prospecting, and only GPX 5000 can be somehow used to search for other kinds of targets. Which we can see from the wide range of search modes the device offers.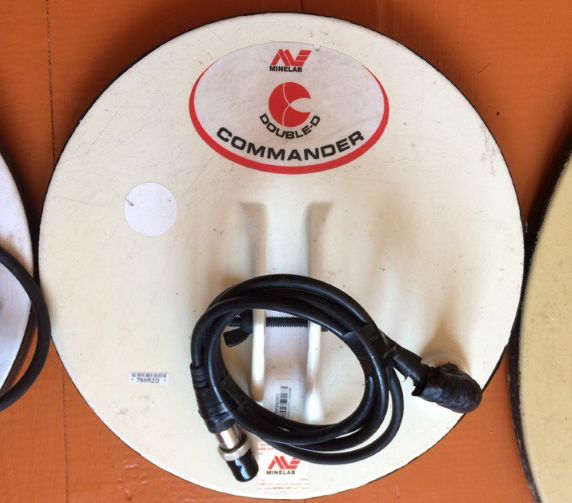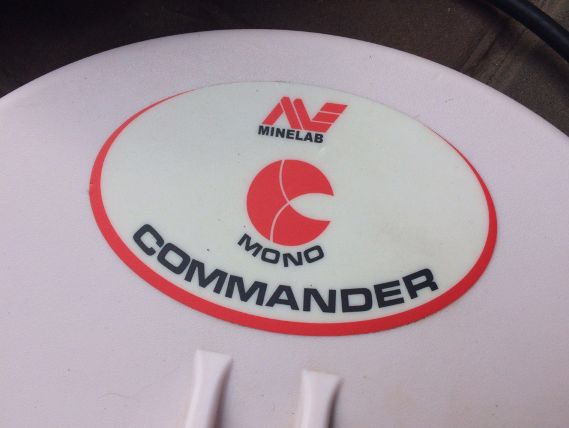 Headphones
All the metal detectors of this product line are equipped with headphones, but less expensive device models have wired headphones using 6.35 mm (1/4″) jack, while expensive ones have a wireless headset.
The metal detector has headphones jack, which is located on the battery holder. This is rather convenient, since quite often you need to put the device on the ground and when using a utility vest there will be only one loose wire that connects the metal detector with its control unit.
The battery
All the metal detectors of this product line use modern quickly charging lithium accumulator battery 7.4V-9.2 A/h, which provides about 13 hours of continuous device operation.
The battery accumulator is not inside the device, it is put into the utility vest.
The accumulator weighs 780g (1.7lbs), which allows also carrying some spare batteries with you.
You can charge the battery even after an hour of treasure hunting, which means that it's not required to discharge it completely to start charging. Complete charging cycle of the battery takes not less than 3 hours.
The device package set includes a charging unit, so you can charge the battery from mains or in a car when on your way to the place where you'll be digging.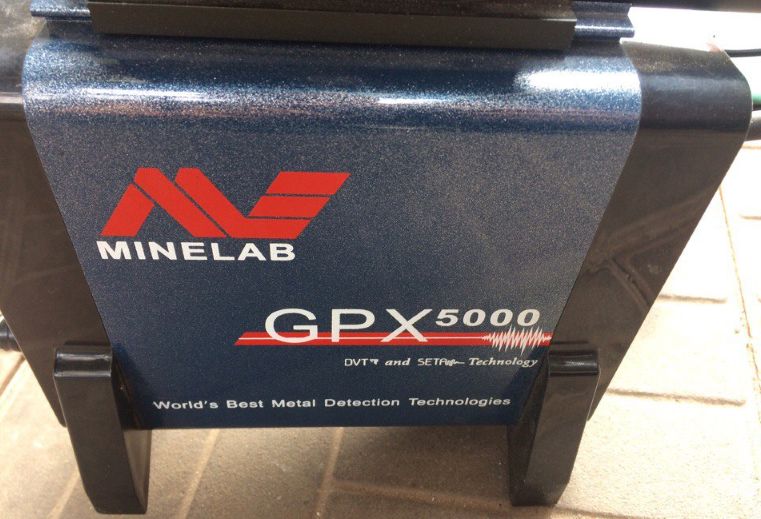 Waterproofness
The metal detector is aimed at ground search for gold nuggets.
The control unit
Since this isn't a VLF metal detector, but a PI one, it is quite easily controlled, but it has a small LCD display.
The device has a complex control. There are 5 multi-function switches and three potentiometer regulators located on the front panel with an LCD display on it (with a backlit). The user's menu supports four languages – English, Spanish, Russian & Arabic.
GPX 5000 switches between the following modes:
deep;
custom;
user's mode.
While GPX 4800 has different set of modes:
deep;
custom;
high mineralization.
Settings menu is rather wide, so you can adjust the device as you need.
Almost all necessary settings are present to ensure professional prospecting surveys. Coin and Relic modes, which VLF metal detectors have, were added to GPX 5000 search modes, thus as we've mentioned above, this makes GPX a more multi-purpose device.
The metal detector has a button on its handle to let the user switch from the main ground balance mode to the tracking mode.
By letting the button go, you'll get back to the main mode. This is rather convenient and helpful when quick ground balancing is required.
Search modes
Minelab GPX 5000 is a professional device, which means that its user has to think during the whole treasure hunting process, not only just when adjusting the device.
Here is the list of the pre-set modes:
General;
Deep;
Custom;

Patch – quick search, exploration. Preliminary study of the area.
Hi Mineral – highly mineralized ground.
Hi Trash.
Timings:
Enhance
Normal
Sensitive Smooth
Sensitive Extra
Sharp
Salt Course
Coin/Relic
Salt/Gold & Fine Gold
Let's keep in mind that GPX 4500 and GPX 4800/5000 search modes are different, so you'll definitely need to read the user's manual. Since within the scope of this article we won't be able to discuss all the peculiarities of the device, these 100 pages of the user's manual will require a thoughtful study.
The difference between 4800 and 5000 isn't that essential. For example, search modes "Fine Gold" and "Salt/Gold" are available only in 5000 model, while on the contrary, only 4800 device model has "Salt Course" mode.
Nevertheless, 4800 has just three pre-set search modes, while 5000 model has six search modes.
GPX 5000 uses a new technology Multi Period Sensing (MPS) as well as Dual Voltage Technology (DVT).
MPS technology significantly increases the metal detector sensitivity when working on the upper ground layers. When the device uses MPS technology, it sends pulses of different length into the ground: short pulses are replaced with long ones and vise versa. Due to this, it is possible to increase maximum detection depth by 4 folds (in comparison with GPX 4000).
DVT technology is a military one. In addition, this technology increases the device sensitivity to small sized objects. Such an effect was obtained by changing the voltage of the electromagnetic field emitted by the search coil. Also, DVT technology ensures full compensation of the field produced by the coil into the ground with some mineral inclusions.
In addition, the metal detector use Smart Electronic Timing Alignment (SETA) due to which the device became less sensitive to the ground with a high content of ferromagnetic minerals.
This technology allows the metal detector functioning on complex ground at that the device maintains its initial detection depth. Many other metal detectors decrease their detection depth automatically when dealing with high soil mineralization or salinity, while GPX 5000 demonstrates high performance in this case.
A new function was added, that shows the search coil tracking speed. Target response time and optimal ground balance values depend on the coil tracking speed. Properly selected value of the 'tracking speed' setting that corresponds to the common speed of how the user moves the search coil allows decreasing the interference level and increase target detection depth.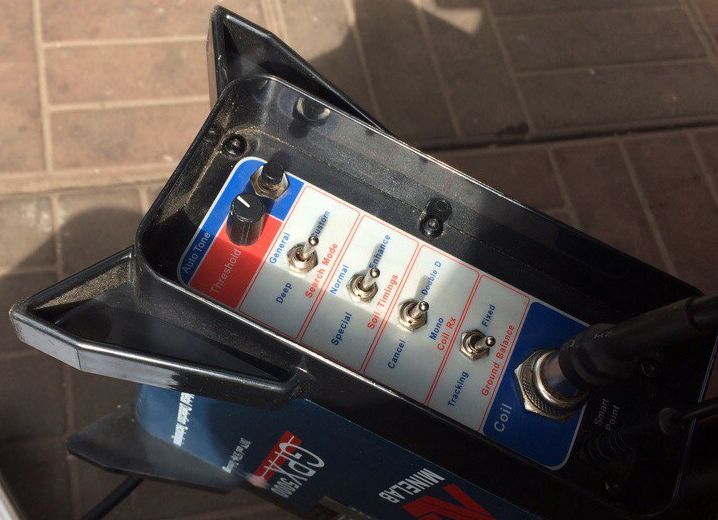 Ground balance
Minelab GPX has an automatic ground balance function. When it is on, GPX uses Tracking mode, which automatically adjusts the ground balance depending on the soil composition. This happens continuously when the user moves.
Though, you can turn it off and in this case the metal detector will do ground balancing once and the device won't follow the ground parameters changes after this.
Besides, there are some peculiarities in the ground balancing process itself.
In some ground types, such as sand or not mineralized black soil there may be no interference from the ground and in this case it is recommended to turn off the ground balance function, which will increase the device detection depth and sensitivity level.
It is also worth mentioning, that GPX 5000 has rather wide abilities when adjusting to the ground that ensure increasing sensitivity to small gold nuggets in any kind of highly mineralized ground.
Discrimination
I'm sure, you remember that discrimination is possible only for DD coils. The metal detector has sound discrimination, so when the coil goes above a ferrous target the threshold tone completely disappears. You can adjust the discrimination function so you won't miss gold nuggets or to ignore iron objects when coin shooting.
Discrimination function performs rather well, but the device detects almost every grain made from metal in trashy areas, which is a problem.
Noise cancel
It is very important always before you go digging to cancel various noise such as electric noise, radiation from mobile phones, electric power transmission lines, etc.
This may be some minor interference, but yet it affects PI metal detectors significantly.
Models
Minelab GPX 4500
Minelab GPX 4500 appeared in March, 2018 and it substituted GPX 4000. The device is used for gold nuggets prospecting and it suited professional gold prospectors' taste.
Minelab GPX 4500 demonstrates high performance even on complex grounds, including mineralized ones.
Another feature of GPX 4500 is its improved sensitivity to the tiniest gold nuggets. Discrimination function quality was improved as well, extra noise and errors were removed due to using new SETA technology.
In GPX 4500 there are three sensitivity levels. The user can select the most suitable one according to the current search conditions.
The metal detector has some pre-set standard search modes that allow to start the treasure hunting process right after turning the metal detector on. All search modes of the device can be changed depending on the user's preferences.
There is a possibility to adjust the turn-off time for the LCD display backlit to save the battery accumulator charge.
Minelab GPX 4500 Metal Detector for Relic and Gold Prospecting with 2 search...
This package includes 2 Search Coils: 11 inch Double-D for general use AND 11-inch Monoloop for deeper detecting - MPS, DVT &...
Versatile Timing settings for various ground conditions. The Enhance timing is a powerful feature, similar to the Sensitive...
Stabilizer control for the smoothest threshold. In noisy conditions, turning it up will provide you with a smoother...
Last update on 2021-01-22 at 17:25 / #ad / Images from Amazon Product Advertising API
Minelab GPX 4800
Minelab GPX 4800 has a new unique search system – Coin/Relic that includes six search modes with pre-set functions which change the signal settings and timely adapt it to various targets.
Each of the modes describes one situation and all together they cover a wide range of particular cases that you may face during your treasure hunting trips.
Minelab GPX 4800 is popular among gold prospectors for the reason, because it perfectly combines high precision and detection depth.
Minelab GPX 5000
GPX 5000 unlike the earlier device models has wider abilities in terms of ground balancing, which allows increasing the device sensitivity to small sized gold nuggets in highly mineralized ground.
This detector was designed for professionals, for those who require the highest performance possible!
This metal detector has several innovations if compared with the earlier GPX 4500 and GPX 4800 models. First of all, these are new search modes, which the device didn't have before.
Initially the metal detector has six search modes, which can be changed by the user. Besides, you can select one user's search mode out of four.
Minelab GPX 5000 (New Configuration) (3300-0420)
MPS, DVT & SETA Technology delivers to you the most technologically advanced detector yet making small hard to hear nuggets...
Automatic Ground balance options make it easy to adjust the detector to suit all ground conditions
Audio adjustments to maximize target signals for your personal hearingAutomatic and Manual options to minimize electrical...
Last update on 2021-01-22 at 13:19 / #ad / Images from Amazon Product Advertising API
Minelab GPX 5000 Metal Detector Special with PRO-Sonic Wireless Audio System
Minelab GPX 5000 Gold Detector, Minelab PRO‑SONIC wireless Metal Detector Audio system, Minelab Lithium Ion Battery w/...
Minelab Commander Series 15" x 12" Elliptical Monoloop Search Coil, Minelab Metal Detector Headphone - Model UR-30, Minelab...
Minelab GPX Series Battery Harness, Minelab Finds and Rubbish Bag, Armrest Cover
Last update on 2021-01-22 at 17:25 / #ad / Images from Amazon Product Advertising API
Conclusions
Actually, GPX product line represented by 4500, 4800 and 5000 models has demonstrated quite good results and these devices are widely used around the world.
All the metal detectors have a very deep menu structure, lots of settings, they are very sensitive to metal objects and their detection depth is rather high.
However, everything comes with a price. You should keep in mind that these are gold prospecting metal detectors. Yes, the manufacturer has added some search modes for coins and relics into the 5000 model and the device will easily deal with the task.
The question is, will you be able to find a place where there are only coins and relics in the ground and there is no trash at all?
Besides, coin shooting with such an expensive metal detector looks a bit…unprofitably, doesn't it?
And don't forget about the device weight. These metal detectors are for strong and enduring diggers.
Though, if you want to go gold prospecting, but you don't like getting deep into the device settings, you can consider getting Minelab Gold Monster 1000. It has simple settings and lighter weight as well as it is less expensive.