Here you will find Minelab Gold Monster 1000 review. From this article you will find out about the device operating frequency, what kind of search coil it has, if there is a headset included into the device package set, how long can the metal detector operate using one battery set and can it really detect any gold.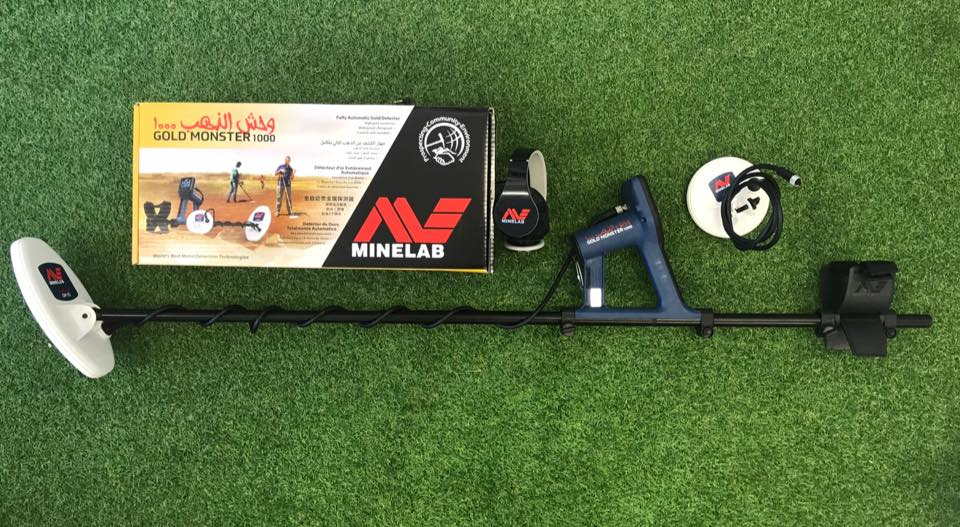 What was the device designed for?
As far as I know, this metal detector was designed especially for Africa. The thing is, that these were African gold diggers who needed a rather efficient, but easy to use metal detector. And they were ready to pay for it.
As a result, we've received a small sized, light weighted and user-friendly metal detector that can be used for gold nuggets prospecting. Gold Monster 1000 was designed and aimed at gold nuggets prospecting, goldware hunting at challenging climate and soil conditions.
The metal detector is made for beginners and those who aren't good at adjusting settings of all these modern electronic devices. This device turns newbies into professionals due to its completely automatic functions.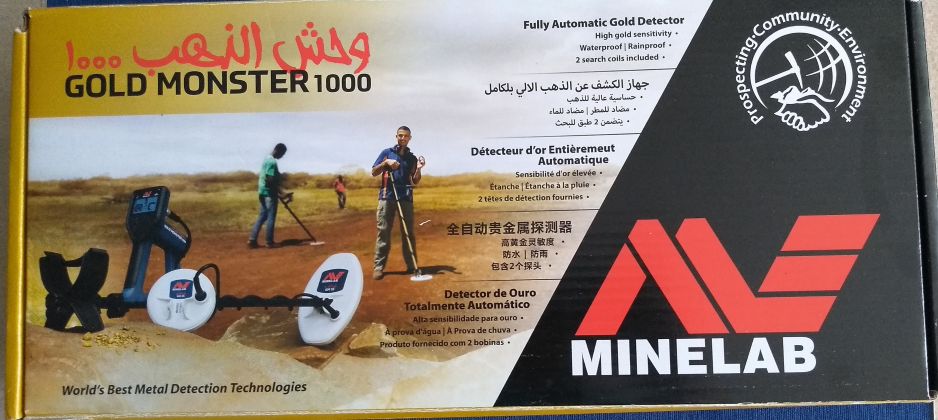 Minelab designers and developers have done a great job, everything is automatic in this metal detector. You won't have any trouble with the device settings adjustment. All you have to is to decide is whether you'll adjust the device sensitivity manually or you'll trust automatic settings.
At that, you should keep in mind that automatically adjusted sensitivity level will be a bit decreased to improve the device performance stability.
Minelab Gold Monster 1000 is a high-frequency metal detector aimed at treasure hunting on highly mineralized ground. Due to the device high frequency 45 kHz, it has rather high sensitivity to small sized gold nuggets.
The device has automatic ground balance with tracking function, two-stage sensitivity adjustment (Auto and Auto + Sensitivity).
| | |
| --- | --- |
| Model | Minelab Gold Monster 1000 |
| Weight | 1.33kg (2.94lbs) excluding battery |
| Length (Adjustable) | 1382mm–944mm (54.4″–37.2″) |
| Batteries | Li-Ion (included), 8 AA Batteries (not included) |
| Headphones | Included |
| Warranty | 2 years |
| Operating Principle | VLF |
| Standard Searchcoil | 2 coils: 10″ x 6″ Double-D, 5″ Double‑D |
| Operating Frequencies (kHz) | 45 kHz |
| Water resistance | Coils waterproof to 1m (3′), Control box rain/splash-proof |
| Submersion Depth | No |
| Discrimination | Yes, Gold Chance Indicator (high/low) |
| Ground Balance | Automatic (Easy-Trak) |
| Noise Cancel | Automatic (On start-up) |
| Detect Modes | 2 (Gold (Iron reject), Deep All-Metal) |
| Sensitivity Adjust | Manual (1–10), Auto (11), Auto+ (12) |
| Volume Adjust | Manual 1–6 |
Last update on 2020-11-28 at 15:32 / #ad / Images from Amazon Product Advertising API
Minelab Gold Monster 1000 Detector Bundle w/PRO Gold Gold Panning Kit
The Minelab GOLD MONSTER 1000 Easy-to-Use High Performance Metal Detector features fully automatic operation and comes with a...
An 18 kHz detector will normally have a depth advantage on nuggets ≥ 1.0g over a basic mid-frequency detector, and a 71 kHz...
Features: Fully automatic operation, Extra sensitive 45 kHz VLF performance, Highly adaptable, 2 search coils included, Easy...
Last update on 2020-11-28 at 22:11 / #ad / Images from Amazon Product Advertising API
The review
The shaft
Unlike classical s-shaped shafts that other metal detectors have, this metal detector has a plain and reliable construction.
The shaft itself is straight. The shaft sections are twisted into each other, so it is quite difficult to break such a construction.
The control unit is installed on the shaft where you feel it is convenient for you. You just attach it where you need it and fasten then. You can remove the bottom shaft section at all, if you plan to go treasure hunting in some constraint environments. The metal detector package set even includes a special adaptor to help you install the search coil on a middle shaft section.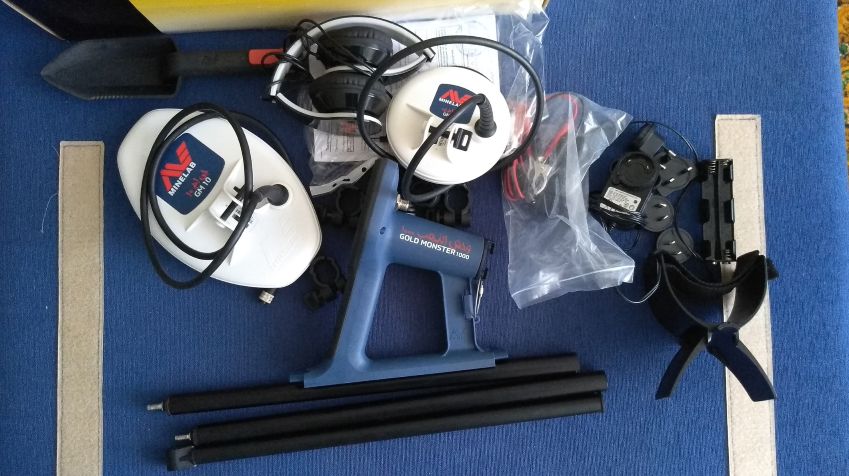 Unusual location of the battery holder ensures excellent balance of the metal detector, which is extremely important when going treasure hunting over areas with a challenging terrain.
The control unit itself is a dampproof one, thus none of natural precipitations such as rain, some water splashes, etc. won't damage it. However, keep in mind that the device is not submergible!
Six steps to assemble Gold Monster 1000:
Connect middle, upper and bottom shaft sections. They should be twisted into each other.
Attach the search coil by means of a plastic bolt. You can use elliptic coil GM 10 to increase the device detection coverage and detection depth; or concentric coil GM 5 to search for the tiniest goals.
Attach the control unit to the upper shaft by means of a special fixation system (first put on the first ring that supports the control unit bottom, then use the 2nd ring to fixate the construction. Then tighten both rings by means of special bolts.)
Install the armrest on the upper shaft (by means of two fasteners). Adjust the armrest positions according to your personal preferences.
Wind the searchcoil cable around the shaft. If you don't do this, the loose cable will cause phantom signals to appear.
Attach the search coil cable to the control unit.
Insert a battery or a battery accumulator into the battery holder. For Gold Monster 1000 you can select a Li-ion battery which can be recharged from the mains (it is sold with a charger) or 8 standard AA batteries. Close and screw the cap.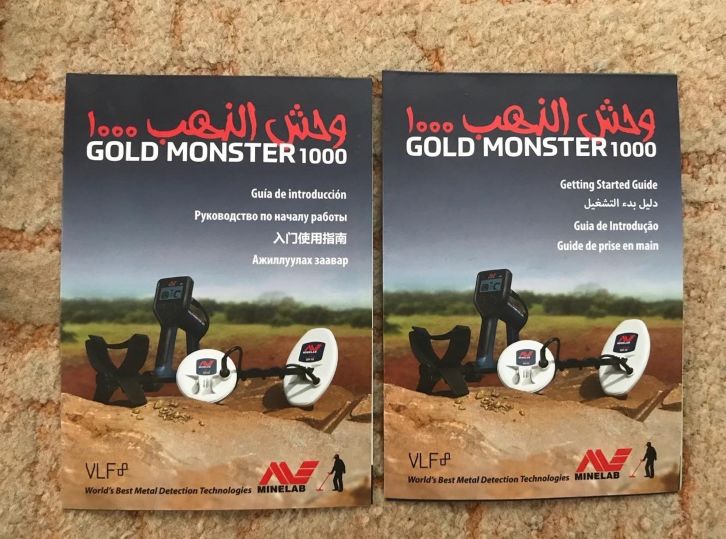 The coil
The device package set includes two search coils! One of them is a multi-purpose search coil, elliptical 10х5 inches DD coil, while the other one is concentric 5 inches DD coil. Both search coils are waterproof, which means that you can use them for underwater treasure hunting.
The metal detector operating frequency is 45 kHz. Thus, the device provides maximum detection depth and sensitivity to the tiniest objects made from low conductivity metals. the device demonstrates such a performance almost on any kind of soil.
Metal detectors using 18 kHz operating frequency, as a rule, have more significant detection depth when gold nuggets (≥ 1.0 gram) prospecting if compared to an ordinary metal detector using medium operating frequencies; while a metal detector with 71 kHz frequency will be at an advantage in terms of detection depth when searching for gold nuggets ≤ 0.1 gram.
In the upgraded Gold Monster 1000 используется an intermediate frequency of 45 kHz and a high-speed 24-bit processor for signals processing.
Such a combination essentially increases the device sensitivity to gold in comparison with other single frequency VLF-detectors at the condition of various sized gold nuggets, complex soils and false targets.
Headphones
Wired branded Minelab headphones are included into the metal detector package set.
The battery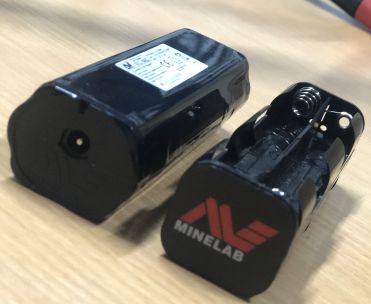 The metal detector uses 8 standard AA batteries or a battery accumulator as a power supply. The device package set includes wires you can use to charge the accumulator from another one, for example, the one that your car has.
Waterproofness
The device search coil is submergible, while the control unit is a dampproof one and you can't submerge it. The metal detector was designed to use it on a dry land, though it is protected from rain and dust.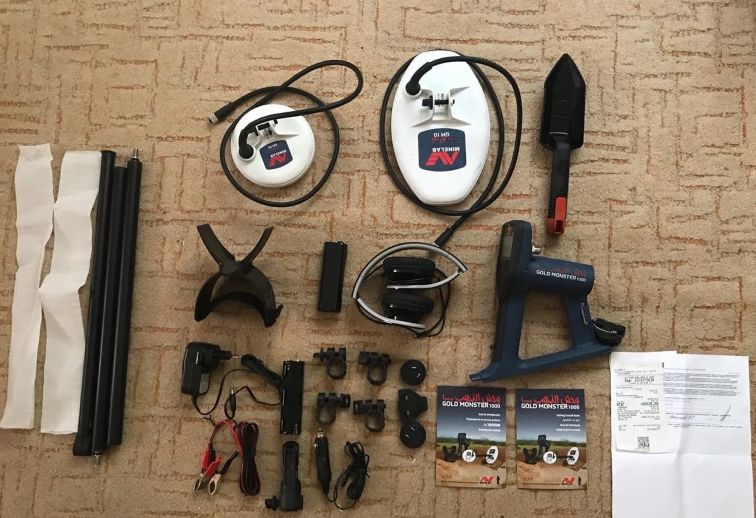 The control unit
Minelab Gold Monster 1000 has 6 control buttons which allow adjusting the metal detector just in one minute.
One of these buttons is on/off button.
The central button (Detect Mode) is to select the search mode; there are two of them – All metal and Iron Reject.
Buttons + and – on the right are for volume adjustment.
Buttons + and – on the left are to adjust the device sensitivity. The scale has 10 units, the 11th one is for automatic sensitivity adjustment.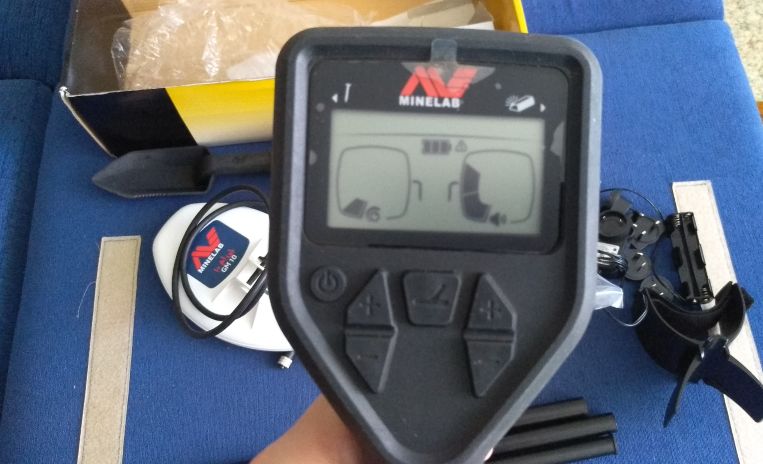 Search modes and settings
Detect Mode button is responsible for selecting the mode you will use during your treasure hunting trip. You can select the mode by pushing the button with a search coil pictogram.
The metal detector has two search modes:
Gold (Iron Reject) – when this mode is on, all targets except those made from gold, are ignored. You'll hear signals only from targets which contain gold.
Deep All-Metall – when this mode is active, you hear all targets, the depth is higher, but the interference in higher as well.
There is an auxiliary scale on top of the display – Gold Chance Indicator. Due to it, it is easier to define what kind of target is under the metal detector search coil. If the chances are high to find gold, the signal shifts to the right side of the scale, and if there is something iron under the coil – it shifts to the left.
Sensitivity can be adjusted manually by means of buttons «+» and «-» on the left. At that, on the display the 'circle' will be filled with the sensitivity values.
The sound volume is adjusted the same as the sensitivity using «+» and «-» on the right.
Here is some advice you are welcome to use:
Listen to small sized targets. Usually detectorists look only for large targets with clear signals. Pay more attention to those signals you can barely hear!
Slow down. Most of diggers tend to go around the whole area as fast as possible. Don't do this. Thoroughly and slowly study each area. Remember: it's not the speed that is important, it is the number of gold nuggets you find.
Look after the search coil position. Don't rise it too high at the end of the swing. The coil always should stay parallel to the ground. The distance between the coil and the ground shouldn't exceed 2 inches.
Overlap each coil swing. Don't leave blank areas between the lines the coil moves. This is how you won't miss any target.
Gain more experience working in the field. Go far from electric power transmission lines and other electronic devices. Practice in finding very small gold targets located in different depth.
Be patient. Gold is a precious metal, since it is hard to find.
Ground balance
Minelab Gold Monster 1000 is a completely automated device. That's why you won't have to adjust the ground balance all the time, because it is adjusted automatically. Therefore, during the treasure hunting you'll be able to devote more time to the process itself instead of adjusting the metal detector all the time.
VLF metal detectors are very sensitive to ground interference, that's why automatic ground balance function is very useful in this case. GM 1000 demonstrates stable performance and allows receiving signals from deep targets.
Discrimination
The device has automatic discrimination function and it can't be adjusted manually. When the discrimination mode is on, the metal detector doesn't produce signals for ferrous targets, but it displays them on the discrimination scale.
Gold Monster 1000 has an improved discrimination of ferrous and non-ferrous targets and it deals better with conducting ground.
Manuals
Conclusions
The main feature of Minelab Gold Monster 1000 is that it is easy to use.
It will take you several minutes to assemble the metal detector. The large search coil will be really efficient when searching in the open field, while the small one will do for searching in trashy areas.
Last update on 2020-11-28 at 15:32 / #ad / Images from Amazon Product Advertising API
The device construction is rather light weighted and it is not very heavy to carry.
The main advantage of this metal detector is its simplicity and automated settings. You may now nothing about the ground balance, discrimination or high frequencies and then buy Gold Monster 1000, go and find your first gold nugget.
Minelab has managed to create a simple and efficient metal detector, which has quite a reasonable price.