Metal detecting shovel is the second tool without which you won't be able to enjoy the hobby. You only have to get a metal detector and a shovel, you can do without all the rest. In the beginning, you can use any shovel that is at hand, but in time you get the idea that you need a different tool for each task.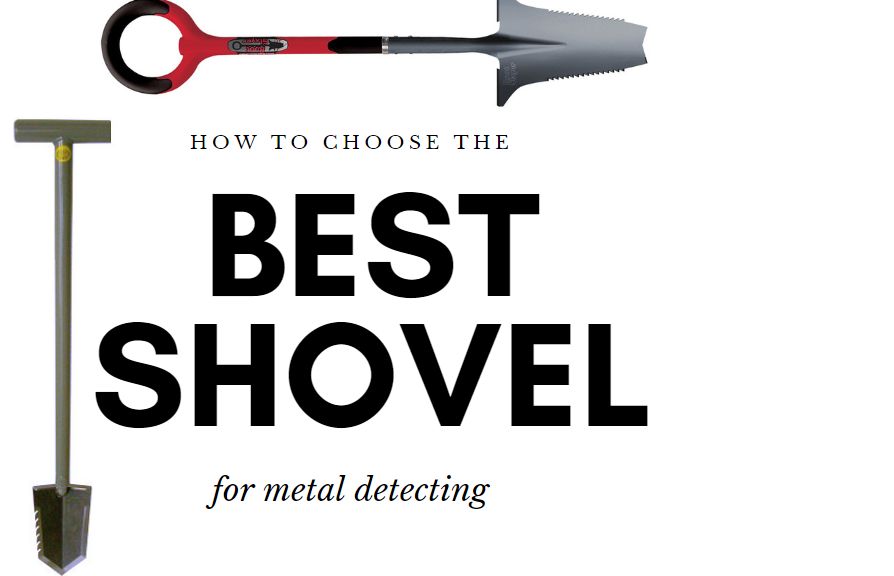 I have some experience of using various kinds of shovels, and I'd like to share it in this article. There is a wide variety of shovels: portable shovels, full-sized ones, soil knives, trowels, hand-made shovels, etc. So, in this article, we'll try to figure out what is the difference between all of these.
We've already described here how to select a metal detector for beginners, and this article is about metal detectors for experts. If you need a scoop, you are welcome to read this review.
In case if metal detecting is am interesting, but a new hobby for you here is a huge guide for you. If you are currently looking for the best metal detecting shovel, make yourself comfortable because I have something to say in this respect.
There is some theoretical stuff at the beginning, to make sure you understand how one tool differs from another and where it's better to use them. Then there is a list of ten best shovels for metal detecting.
What is the difference?
A shovel that is not convenient to use, not enduring enough or too heavy can either make you tired or even break in the middle of your treasure hunting trip, and you'll have to finish it earlier than planned and go back home, etc.
That's why selecting a proper shovel for digging isn't that simple task as it may seem at the beginning.
Several kinds of shovels are the most popular among metal detecting fans, so let's take a closer look at these.
Full-sized shovel
This is the most convenient shovel type. With it, you bend down fewer times when digging. We'd gladly use just this kind of shove, but there's an issue here. Not every treasure hunter has a car, and it's impossible to put such a shovel in a backpack and walk with it. Besides, there are some places where it's not a good idea to take this kind of shovel.
Because…
Despite having such a common name, this object is a far cry from your grandpa's shovel the same as his car significantly differs from yours. Years ago, a shovel was a piece of metal attached to a stick, while nowadays, this is a combination of plastic, titanium, and steel with a serrated blade.
Some people may consider it a threatening or dangerous object. At this point, attracting unnecessary attention or having it out with the police isn't our plan.
This leads us to the next type of shovel…
A travel/portable shovel
There is only one of this kind in the list of best metal detecting shovels, but just because these aren't very popular in the USA. In other countries, this is the most spread shovel type for metal detecting. I personally had used such a shovel quite often, when it was impossible to use a full-sized shovel.
Frankly speaking, the latter is more convenient to use, since I have to bend more often when digging with a travel shovel. However, it is twice shorter and more enduring at the account of a short lever.
Another advantage is that quite often, a travel shovel shank is made from metal. This makes it almost unbreakable. At that, you have to deal with the disadvantage, such as its heavy weight.
Folding shovels
Things are pretty simple here. This is an attempt to join the advantages of the two types described above. Quite often, such shovels are aimed at using by adventure travelers, and they combine several tools in one.
There are several quite good options, and I'll describe one of them below.
Soil knives
Actually, these appeared as some helpers for gardeners. This is a useful thing, but nit a multi-purpose one. If you are going to go metal detecting on clayey soils covered with perennial grass or on rocky ground, it'll be quite challenging to use this tool there.
But if you are looking for coins in a park or some private territory, you'll make perfect holes with it. This tool will do for beach hunting as well. Though, scoops suit better for beach hunting.
Materials
All shovel types mentioned above are made for use at various conditions, from different materials, have different lengths and weights. Of course, in terms of durability, a shovel with a metal shank is essentially better than the ones with a wooden shank.
The metal one is attached to the shovel with steel rivets or gets welded to it (which more preferable), and it allows carrying higher loads than those in case of using screws or nails. In case you need some more enduring tool, you'll have to deal with the disadvantage, which is its heavy weight.
Best metal detecting shovels
Radius Garden Root Slayer Metal Detecting Spade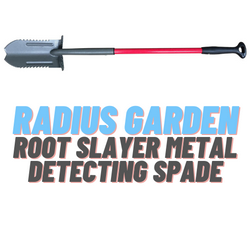 This shovel was designed for those who like metal detecting. These people definitely know about shovels. It easily penetrates puddled soil because it has an inverted V-shaped cutting tip. It is saw-shaped with sharp edges designed especially for cutting tree roots.
The blade is 30 inches long, and it is made from powder coated carbon steel. The shank design ensures easy use of the tool with one hand. The shovel is very lightweight and quite enduring at the same time.
If it suits gardeners, it'll definitely work for metal detecting. Besides, it has the manufacturer's lifetime guarantee (but only for the USA citizens).
Radius Garden 23811 Root Slayer Metal Detecting Spade
Root Slayer metal detecting shovel specially designed for the treasure hunting community
Metal detecting Root Slayer with the same great features as the Root Slayer Nomad shovel with a forward step to improve...
Shovel for metal detecting with a large foot platform for better leverage
Last update on 2022-05-20 / Affiliate links / Images from Amazon Product Advertising API
Radius Garden Root Slayer Shovel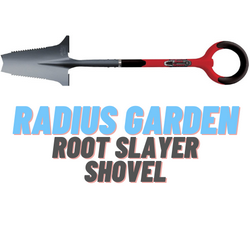 This is another product made by the same company. Its o-shaped ergonomic shank catches the eye. It looks rather unusual, but when you start using it, you see that all shovels should be made like this one.
Root Slayer is a multi-purpose tool that combines a shovel and a saw in it.
Inverted V-shaped cutting blade allows using its narrow tip to dig, and this way decreases the friction of soil.
Digging with this shovel is easier than with a standard one, but you should be careful not to damage your find.
This tool has the following characteristics:
Blade length – 13″
Blade width – 10,5″ on top
Total length – 44,5″
Weight: 5 pounds. 8 ounces
Balde is made from tempered medium-carbon steel,
The handle is from medium-carbon steel with polypropylene coating
The shank is from an elastomeric material
Radius Garden 22011 Root Slayer Shovel, Red
Serrated shovel designed for reducing stress on your hands and wrist
Digging shovel with V-shaped cutting tip to easily rip roots and dirt
Garden digging shovel with durable powder-coated carbon steel tip
Last update on 2022-05-20 / Affiliate links / Images from Amazon Product Advertising API
Lesche Ground Shark Shovel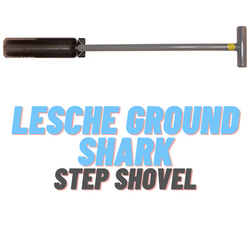 Lesche Ground Shark is made from rustproof aircraft steel. It has a long handle. Its long cutting blade gets self-sharpened while digging.
An ordinary shovel will never perform like this one, and it will leave craters instead of small round holes.
This shovel is for exquisite workmanship.
It has the following parameters:
Length: 36″
Weight: 2.75 Pounds
Serrated edge for cutting
T-Handle
Sharp clean edge
Last update on 2022-05-20 / Affiliate links / Images from Amazon Product Advertising API
Seymour SV-DT35 Shovel
Seymour Shovel length is 29″, weight – 1.6 pounds. It is convenient to use for people of any height. It perfectly fits not only specialized rucksacks for treasure hunters but also any other standard ones (but not city backpacks). Thus, transporting the shovel won't be a problem, and it won't attract any unnecessary attention as well.
Due to a special curved handle, this shovel deals well with pulling the ground out from the hole and digging deep holes as well.
As for its advantages – it is small-sized, completely made from steel, convenient in use regardless of the search conditions, portable and easy to transport. In the case of walking on sharp climbs or slopes, this shovel can be used as a lever.
Last update on 2022-05-20 / Affiliate links / Images from Amazon Product Advertising API
iunio Folding Shovel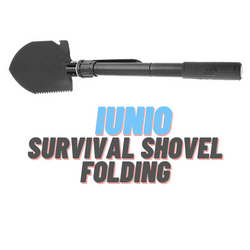 This multi-purpose tool is designed for fishing, hunting, and other outdoor activities fans as well as for those who have metal detecting as a hobby. In case of a zombie apocalypse, this will definitely be the thing you take with you without a moment's hesitation.
IUNIO is one of the best folding shovels on the market (length 31 inches). Its length gets adjusted to the user's height, and it can be transported in a special case that is attached to the user's belt.
The shovel gets folded easily and can be stored in a bag.
The blade and the handle are made from quite enduring and wearproof steel, while its handle is made from rubber. It means that the shovel won't change much even after using it for a long time. Besides, it has a lifetime guarantee.
iunio Camping Shovel,Shovel Folding, Portable, Multitool, Foldable Entrenching Tool ,...
Portable Folding Shovel (17-inch Length) - It is designed and produced according to self-driving experiences of many...
Extension Bars - Features a regular survival shovel doesn't even have, all in this convenient folding shovel: Shovel Board,...
Sturdy & Durable - The camping folding shovel blade and handle are made of high-carbon steel which is high-strength and...
Last update on 2022-05-20 / Affiliate links / Images from Amazon Product Advertising API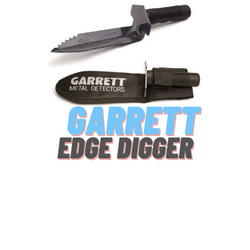 Garrett Edge Digger
This is a tool for precise digging in parks and other public places or if you dug a hole, but your target is still somewhere near, and you can't find it.
Don't expect that with Garrett Edge Digger you'll be able to saw tree roots or stones.
It has a blade from carbon steel with cutting edges and teeth. The blade length is 7,5," and total length is 12 ". The package set includes a belt mount and 2 years warranty.
Last update on 2022-05-20 / Affiliate links / Images from Amazon Product Advertising API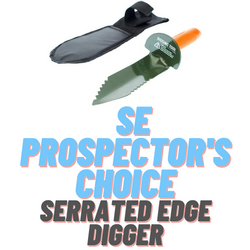 SE Prospector's Choice
Well, this is an alternative to the above-mentioned digging tool, but you won't have to pay extra money for the brand name. Surprisingly, this is the case when cheaper doesn't mean lower quality.
Edge Digger is made from heat-treated carbon steel; the and guard minimizes possible injuries.
The blade length is 7 1/2 inches, and the total length of the digging tool is 12 inches.
Last update on 2022-05-20 / Affiliate links / Images from Amazon Product Advertising API
Conclusions
Please, don't neglect our advice and recommendations.
Keep in mind that a shovel should be usable, serve more than just a year, and it shouldn't cost a fortune. At that, you may find that one shovel is not enough for you, especially if you dig at different conditions. Before getting a digging tool, think where you are going to use it, how often, and how much you plan to spend on it.