Here is the review of Teknetics Eurotek Pro metal detector. This article has information about the device operating frequency, its coil type, whether headphones are included into the device package set, how long the metal detector can operate using one battery set and other important things. What is the difference between Teknetics Eurotek Pro and Teknetics Eurotek?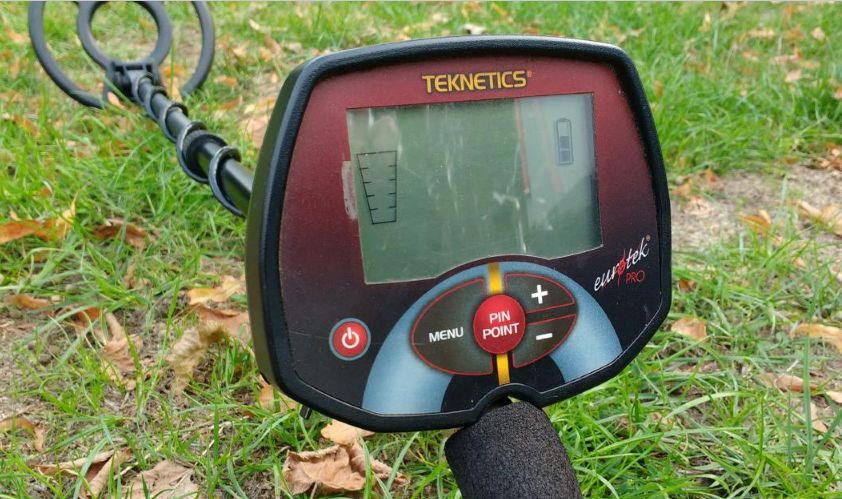 What was the device designed for?
Eurotek metal detectors are affordable devices for beginner diggers. They are a good choice for coin shooters. Currently there are two models of the device available on the market: Teknetics Eurotek or Teknetics Eurotek Pro.
Teknetics Eurotek can be considered as a device of a basic type, which is recommended for beginners, while Teknetics Eurotek Pro will do for more experienced diggers.
The metal detectors don't differ much in terms of their appearance. Except for the color range selected for their control units appearance: Eurotek control unit is colored in green, while Eurotek Pro – is red.
The main difference between Eurotek and Eurotek Pro is about their searchcoils (Pro has a large coil and it has different shape), pinpoint function and the number of signal tones. This means that basing on the target signal tone you can define what is located under the coil. Standard Eurotek metal detector has 2 tones, while Pro has 3.
The review
The metal detector is packed into a carton box with a full color print on it. The box is small since the device control unit and the upper section of the shaft are packed separately.
In the box you can find the following:
Three shaft sections;
A searchcoil and fixation system for it;
An armrest;
User's manual;
A control unit.
You will need a cross screwdriver to assemble the metal detector. By means of the screwdriver you should mount the armrest on the upper shaft section; the armrest has several possible positions.
Right after attaching the armrest you can mount the control unit on the upper shaft section – two bolts required for this are included into a standard device package set.
| | |
| --- | --- |
| Model | Teknetics Eurotek Pro |
| Weight | 2.4 lbs. (1 kg) |
| Length (Adjustable) | 37.25" – 50.5" (95 cm – 128 cm) |
| Batteries | 9-Volt alkaline (not included) |
| Headphones | No |
| Warranty | 5 years |
| Operating Principle | VLF |
| Standard Searchcoil | 8" Concentric or 11″ DD |
| Operating Frequencies (kHz) | 7.81 kHz |
| Water resistance | Waterproof coil |
| Submersion Depth | No |
| Discrimination | Yes |
| Ground Balance | Preset |
| Audio Threshold | No |
| Sensitivity – Depth Adjustments | Yes |
| Electronic Pinpointing | Yes |
| VDI (0 to 99 scale) | Yes |
| Build-in flashlight | No |
Last update on 2023-09-30 / Affiliate links / Images from Amazon Product Advertising API
The shaft
Teknetics Eurotek Pro is designed to have an «S»-shaped shaft. The device uses light and durable materials – plastic and aluminum, which make the metal detector light weighted and convenient in use.
Upper and middle shaft sections of Teknetics Eurotek Pro are made of aluminum and covered with durable powder paint – silvery and black. The bottom shaft section is made of plastic and it is rather light weighted and solid.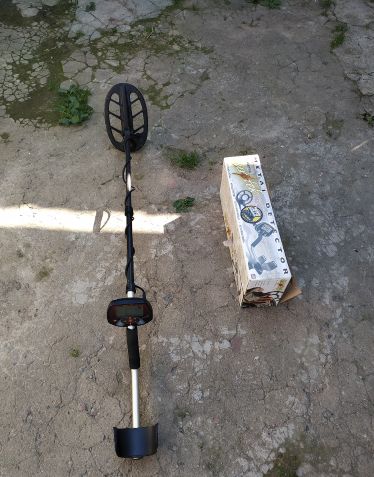 Teknetics Eurotek Pro shaft sections are easily connected with each other; the middle shaft section has 9 adjustment holes, so the metal detector length can be adjusted to the individual user's parameters.
Teknetics Eurotek Pro uses system of double fixation for all its joints. First the shaft sections are fixated by means of spring buttons and then the final fixation is performed using convenient swivel washers with a collet clamp inside.
The armrest has holes to attach the fixation strap, which you can get optionally. Inside the armrest has soft foamed lining to ensure proper fixation of the forearm and to avoid any looseness.
The device handler has a cover made of foamed polyurethane.
The searchcoil
The metal detector has two package sets: Teknetics Eurotek Pro 11″ DD is supplied with DoubleD coil 11 inches large, but the standard package set includes 8-inches concentric coil. So, read the description attentively before the purchase!
Mono and DD searchcoils differ from each other in terms of the electromagnetic field they create. Mono coil has cone-shaped electromagnetic field, while DD coil has a blade-shaped one.
When using a mono coil you have to wave it more often, since it can detect deep targets only with a top of the cone, while you can move a DD coil less often, which means that you can walk and check the area faster.
At the same time electromagnetic field of DD-coils is narrower, which allows better ground balance adjustment (if the device has this function) and it turns out be a significant advantage when working on areas full of iron rubbish.
DD-coils are considered to be a bit better than concentric ones.
Eurotek uses VLF approach; its operating frequency is 7,81 kHz. The manufacturer promotes the device as a coin shooter, though operating frequencies of about 14 kHz are more common among modern metal detectors of this category.
The searchcoil wire has double braid, so it's almost impossible to damage it. The coil is attached to the control unit by means of a jack plug with a locking threaded nut.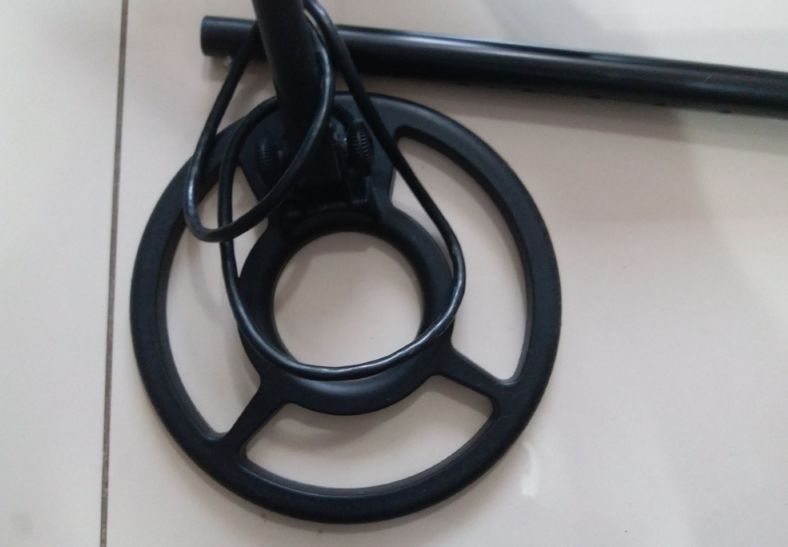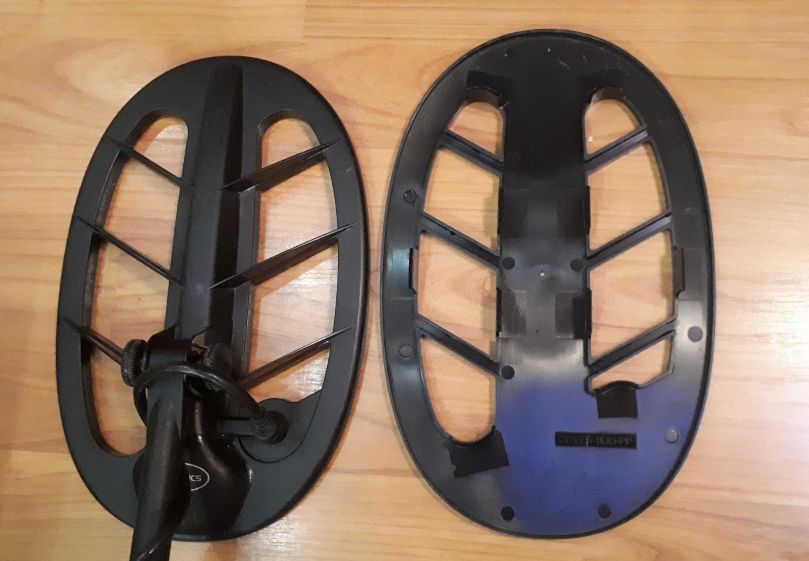 Headphones
Headphones aren't included into the device package set, but in the bottom left of the control unit there is a headphone jack (¼" (6.3 mm) to connect headphones, so later you can get the ones you like. To protect the jack from dirt, dust or water ingress it has a special sliding cover.
The battery
The metal detector uses 9V alkaline battery, which is enough for approximately 20-25 hours of continuous device operation. Teknetics has special warnings for users to avoid using zinc-carbon battery as well as powerful batteries such as Heavy Duty.
The control unit
The metal detector has a small sized plastic control unit. Under the solid wearproof surface there is a large high-contrast LCD display and touch sensitive buttons to adjust the device settings or to turn it on/off.
The settings are standard for metal detectors of beginner level – discrimination, sensitivity level and audio control. Please, keep in mind that when using headphones volume control stops working, so you'll have to get headphones that provide this function.
The user can save all selected settings by pushing and holding the Menu button for 8 seconds.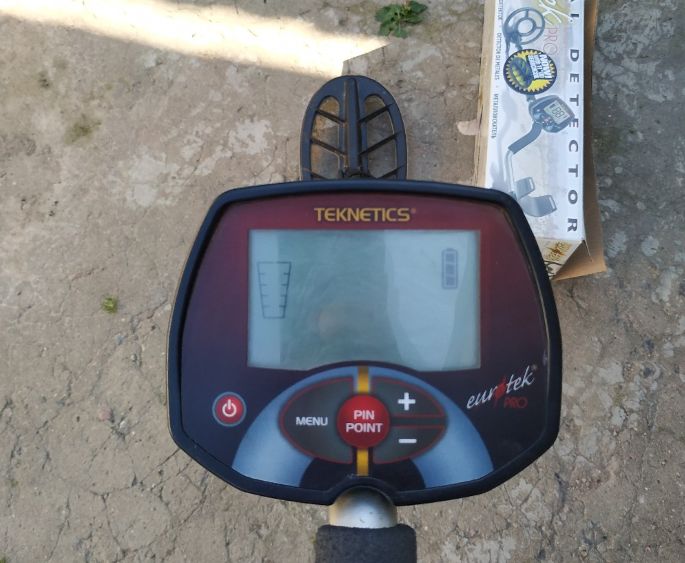 Search modes
Teknetics Eurotek Pro metal detector has two search modes – dynamic and static ones. Dynamic search mode is the basic one – you wave the coil and search for the target.
Actually, there is one program of the device operation – searching using discrimination with 3 tone audio signal.
You can exclude targets (with VDI number up to 69 inclusive) from the search range and for Target ID from 70 to 99 you can change the audio signal tones number — but this is it.
Static search mode (pinpointer) is for precise target center location.
Last update on 2023-09-30 / Affiliate links / Images from Amazon Product Advertising API
Discrimination
The metal detector has a linear discrimination scale, which means that you can exclude metal targets from the search range sequentially. The advantage of Teknetics Eurotek Pro discrimination scale is the number of segments it has.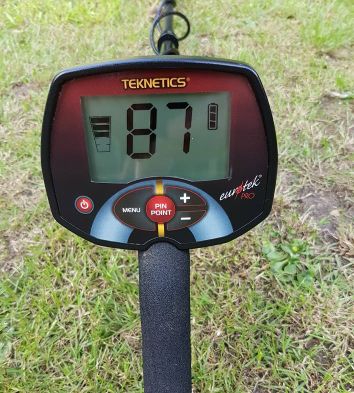 80 segments make it possible to ignore corroded bottle caps and nails, beer can tabs and foil.
According to the user's manual, discrimination adjustment differs from that of other metal detectors. By pushing '-' button the user switches off lower VDI numbers one by one starting from the scale bottom. This way you can move from 0 to 69. Higher VDI numbers can't be excluded, you can just change the sound tone for these targets.
Actually, you can use 'all metal' mode, for Teknetics Eurotek this is – Disc 0. But not to get distracted with signals from 'rubbish' targets, you can set the level at about 40.
The sound
Eurotek Pro has rather simple settings and it also has some nice add-ons in its menu. Volume control, for example. If you set it to 11, you will clearly hear, whether there is a ferrous target or another one under the coil. Ferrous targets have rather low and not annoying tone… this a is very convenient feature.
Here, it is the same as for the standard Eurotek – high sound tone corresponds to large silver coins, while the sound produced for targets from 40 to 80 depends on the target detection depth and size. Ferrous targets range is from 1 to 40. Rising the discrimination value causes changes of sound tone for all targets.
Ground balance
The metal detector has fixed ground balance parameters and the user shouldn't worry about it. The device automatically selects ground balance values from several pre-set values, the user can't adjust this function manually.
Teknetics EuroTek PRO vs Fisher F22
Batteries
9-Volt alkaline (not included)
Operating Frequencies (kHz)
Batteries
9-Volt alkaline (not included)
Operating Frequencies (kHz)
Operating Frequencies (kHz)
Last update on 2023-09-30 / Affiliate links / Images from Amazon Product Advertising API
Conclusions
I was really impressed with Teknetics Eurotek Pro! This is a reliable, easy-to-use and affordable metal detector. This device will suit best both beginner detectorists and those, who want to get a consumer grade, but reliable metal detector.
If you are looking for alternatives to this device, I can advise considering: Fisher F22, Teknetics Delta 4000 or Bounty Hunter Land Ranger Pro.