In this review you will find Teknetics Delta 4000 metal detector review. From the article you will know what frequency the device uses, what kind of searchcoil it has, are headphones included in the package set, how long it can work using one battery set and many other things.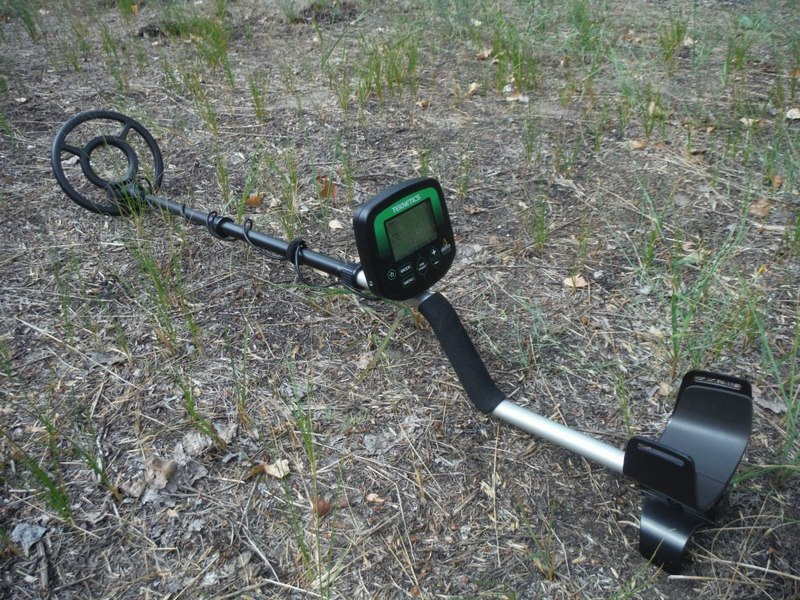 What was the device designed for?
The company manufactures a product line of metal detectors, where names of the models are based on Greek alphabet and range from Alpha to Omega (Teknetics Alpha 2000, Teknetics Gamma 6000, Teknetics Omega 8500). The designers and engineers did their best to make their products maximally multi-purpose ones.
The product line includes all the types of metal detectors, so each user may choose the device he needs, and it will meet the detectorists requirements completely.
Teknetics Delta 4000 takes the 2nd place in the product line if we consider the devices from the simplest to the most complicated one. This is a multi-purpose metal detector for beginner and amateur detectorists.
| | |
| --- | --- |
| Model | Teknetics Delta 4000 |
| Weight | 2.5 pounds |
| Length (Adjustable) | 42″ – 51″ |
| Batteries | 9 Volt (1) |
| Headphones | No |
| Warranty | 5 years |
| Operating Principle | VLF |
| Standard Searchcoil | 8″ Mono |
| Operating Frequencies (kHz) | 7.8 |
| Water resistance | Waterproof coil |
| Submersion Depth | No |
| Updatable Software | No |
| Discrimination | Yes |
| Ground Balance | Preset |
| Search Modes | 3 |
| Audio Threshold | No |
| Sensitivity/Depth Adjustments | Yes |
| Electronic Pinpointing | Yes |
| VDI (0 to 99 scale) | Yes |
| Build-in flashlight | No |
The review
Teknetics Delta 4000 Metal Detector
User-friendly metal detector ideal for coin shooting, relic hunting, and gold...
Large, easy-to-read LCD display with 2-digit numerical target ID system
Running depth indicator identifies target depths from 0 to 8 inches
Discrimination and All Metals modes; 3-tone audio discrimination
Runs for up to 25 hours on single 9-volt battery; 7.8 kHz operating frequency
Last update on 2023-09-29 / Affiliate links / Images from Amazon Product Advertising API
The shaft
In terms of design the metal detector doesn't differ much from its fellows: it has S–shaped shaft consisting of three sections. The upper and the middle section are made of aluminum alloy colored with a wearproof powder paint; the bottom shaft is made of plastic.
The shaft sections are connected by means of spring buttons and clamps with swivel washer; at that the construction has no looseness.
There are adjustment holes in the middle shaft section to adjust the shaft length to the user's parameters. By sliding the bottom shaft section, you can set the shaft length you need.
On the upper shaft section you will find: the device control unit, a handle and an adjustable plastic armrest. The control unit is attached to upper section by means of two screws. There is no need to dismount the control unit for transportation of the metal detector.
The armrest can be shifted along the shaft and it has some special sealants inside to fixate the forearm in it. There are two holes in the armrest to use a fixation strap, which you can buy as an additional accessory.
A slight drawback is that that the armrest is rather small, i.e. it may be a problem to use it for someone with a large forearm while wearing a winter jacket at the same time.
The handle is soft and comfortable, it is made of polypropylene. It gets dirty over the time, but you can wash it.
The metal detector weights just 2.5 pounds!
It became possible to create a metal detector with such a light weigh due to the control unit small size and light weight as well as to the special design of the searchcoil.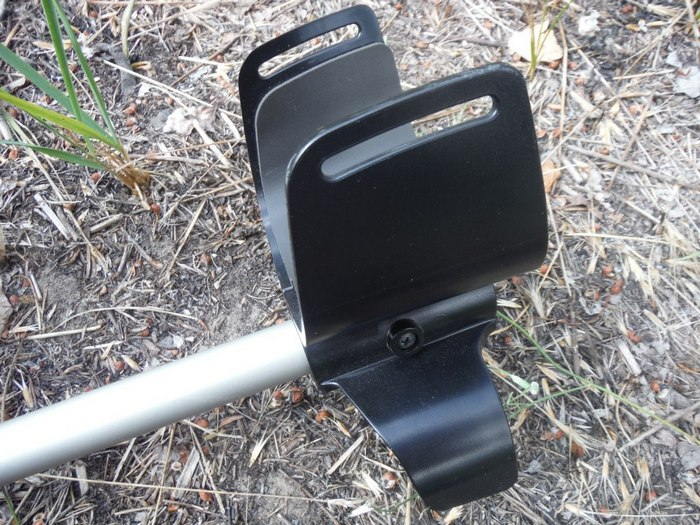 The searchcoil
Teknetics Delta 4000 metal detector is equipped with 8 inches mono coil. This is a coil with a stable and reliable performance for all types of search conditions. It is completely waterproof.
The coil cable has soft elastic braid and it is protected from repercussions of exposure to sunlight or frost; the cable is a wearproof one. Its jack plug has a special threaded washer.
The operation frequency of this metal detector is 7.8 kHz, so you can consider the device a multi-purpose one, because it can be used to search for any metal targets regardless of their size and the alloy they are made of.
The detection depth and sensitivity of the metal detector can be increased (by about 20-30%) by installing more powerful DD coil.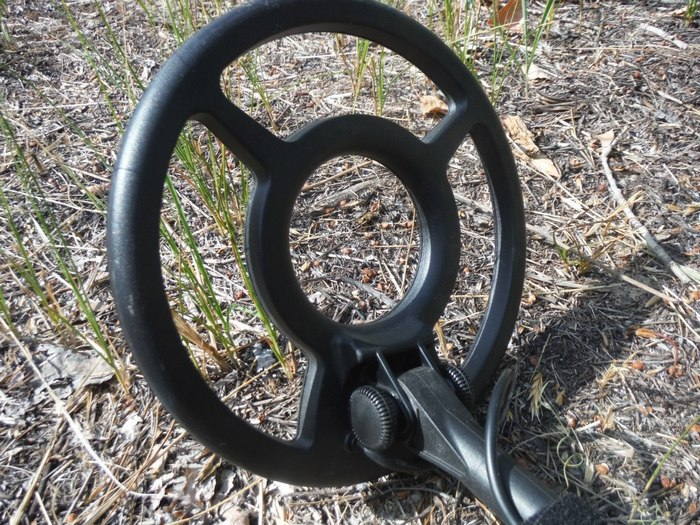 The battery
The device uses one 9 Volt battery as a power supply. The charge of one quality battery is enough for 18-20 hours of continuous device operation. In case of using headphones, the operation time increases up to 22 hours.
Control unit
Control unit of the metal detector isn't a waterproof one – you should keep this in mind.
There are 6 buttons on its front panel. By means of them you can control the device. The buttons are easy to push and there is a tactile click you feel when pushing the button.
All the information about the settings and search results is displayed on a large LCD display. It has large digits, icons and signs, which ensure successful reading of the information even at poor lighting or at twilight.
The display is rich in contrast, so you can read the data even at direct sunlight. It has no backlit.
Two-digit VDI number is also displayed, it varies from 10 to 99. In simple words, in the middle of the display you can see the number which identifies electrical conductivity of the target.
The higher is VDI number, the higher is the conductivity of the detected metal object. Low VDI values indicate ferrous metal, yellow metal, while high values are peculiar to copper, silver and other non-ferrous metals.
To increase the informativeness and detection preciseness, you should consider not only VDI number, but the position of the marker on the discrimination scale – since it will indicate the segment to which the target belongs. You can read about this in more details in Discrimination section.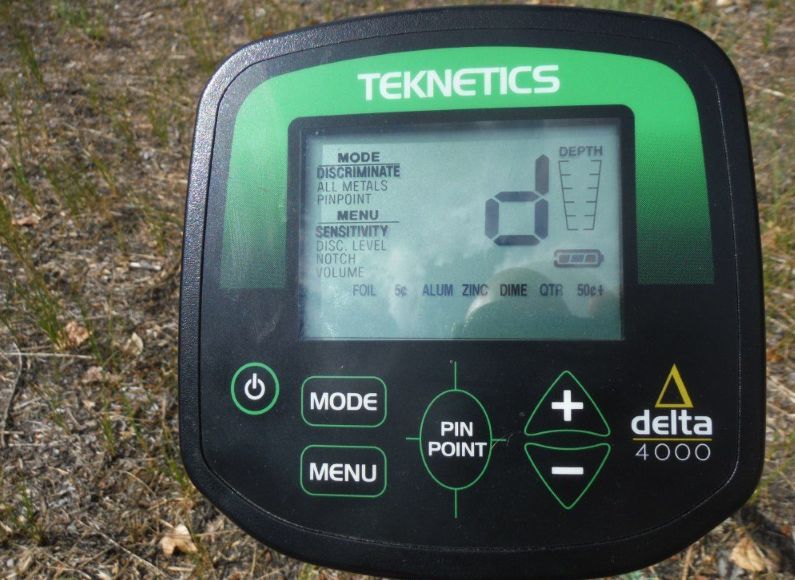 Control
The metal detector performance capabilities and settings are rather significant: discrimination scale has eight sections with the ability of setting an individual discrimination pattern, All metal search mode and pinpoint mode.
The metal detector is controlled by means of six buttons located on its front panel. The buttons are located so, that it is convenient to perform necessary adjustments with a thumb.
The button on the left turns the device on and off.
MODE button allows switching between two search modes – discrimination mode and All metal.
MENU button allows switching between the menu items. Parameters change is performed by means of «+» and «-» buttons.
PINPOINT button switches the metal detector into a static mode to define the precise target location.
On the display MODE list and MENU settings list are located on the left, one below the other. When selecting the menu item, active items are highlighted.
Detection depth is displayed on a diagram that looks like an upside-down pyramid; it is on the right of the screen.
Under the detection depth indicator there is an icon displaying battery charge level as well as indicating when the battery needs replacement.
As for the response rate, i.e. the time interval between the moment of target detection and indication (sound or visual) appearance, it takes a split second and there is no feeling that the indication is somehow delayed.
Three tone sound signals
We should mention that Teknetics Delta 4000 metal detector has three identifiers, which are used to define the target before digging it. These are VDI number, position of the marker on the discrimination scale and sound identification.
In case if target is made of iron, the user will hear a low sound; midtone sound is peculiar to a small nickel coin and high sound tone corresponds to targets made of copper and silver alloys.
All three identifiers together provide detectorists with comprehensive information about the detected object and the case when all three indications coincide means that there is high probability to find this specific object in the ground.
When detecting a complex target, for example, a piece of thin corroded iron, there may be some deviations between the indicators readings and instability, which may convince a detectorist that the target is of no interest to him and there is no point in spending time on digging it.
Discrimination
In the bottom of the display there is a discrimination scale consisting of 8 segments; the scale was created for American coins (iron, foil ,5c, alum, zinc, dime, qtr, 50c+).
When discrimination mode is on, by means of "+" and "–" buttons, the user can sequentially exclude metal objects from the search range, starting from those with low conductivity level.
Thus, by gradually excluding discrimination segments one by one, one can create a discrimination pattern to ensure that the metal detector will produce signal only when detecting objects made of copper and silver. This way, such objects as foil and iron will not be detected by the device.
However, sometimes there is a necessity to exclude some segments which are in the middle of the discrimination scale and leave high and low conductivity objects available for detection.
In this case there is a special function called NOTCH; it is responsible for creation of the user's own discrimination pattern. You can leave active or deactivate any discrimination segment at your discretion.
Discrimination mode is convenient for everyday use, but it doesn't provide detection depth as high as when All metal mode is used. Since, when the latter is active, the signal from the target doesn't get through the filters and it is sent directly to the user.
All metal mode is useful when you are searching for absolutely all objects located in the ground, without defining what they are made of and their size.
When detecting these objects deep in the ground Teknetics Delta 4000 informs the user by means of high and loud sound signal about not deep large objects detected; by lower and quieter sound – about small or not deep targets, but you have no information about what these objects are made of.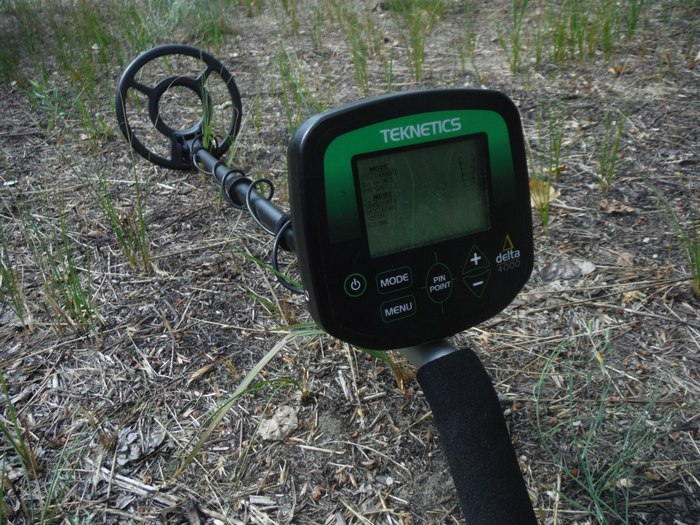 Ground balance
Like most of metal detectors of this level, this device has a pre-set ground balance function. This means that engineers have selected the settings providing stable device performance on all types of soils.
Pros and cons
Pros
Light weight
Quite fast and reliable target response
Three tones audio identification
Has a plug-connection for head-phones Jack 1/8 inches, you may also use your player head-phones as well
Sensor buttons are located on the same level that the display is, which is quite convenient
Dirt and dust ingress are not the case for this device
Cons
8″ coil isn't the most powerful one and it's better to replace it
The wire connected to the coil is very thin
Demanding as for batteries type
Conclusions
Delta 4000 is a light weighted, small sized device with an excellent response time and it uses just one battery as a power supply. This is a metal detector with good characteristics for beginner detectorist. However, the device has quite many worthy rivals, such as – Fisher F22, Bounty Hunter Land Ranger Pro, Garrett Ace 250, Nokta Anfibio Multi.