In 2015 FISHER introduced a new product line to the treasure hunters community, these were F11, F22 and F44 metal detectors. The devices are based on the good old VLF system. All the three models have operation frequency equal to 7.69 kHz.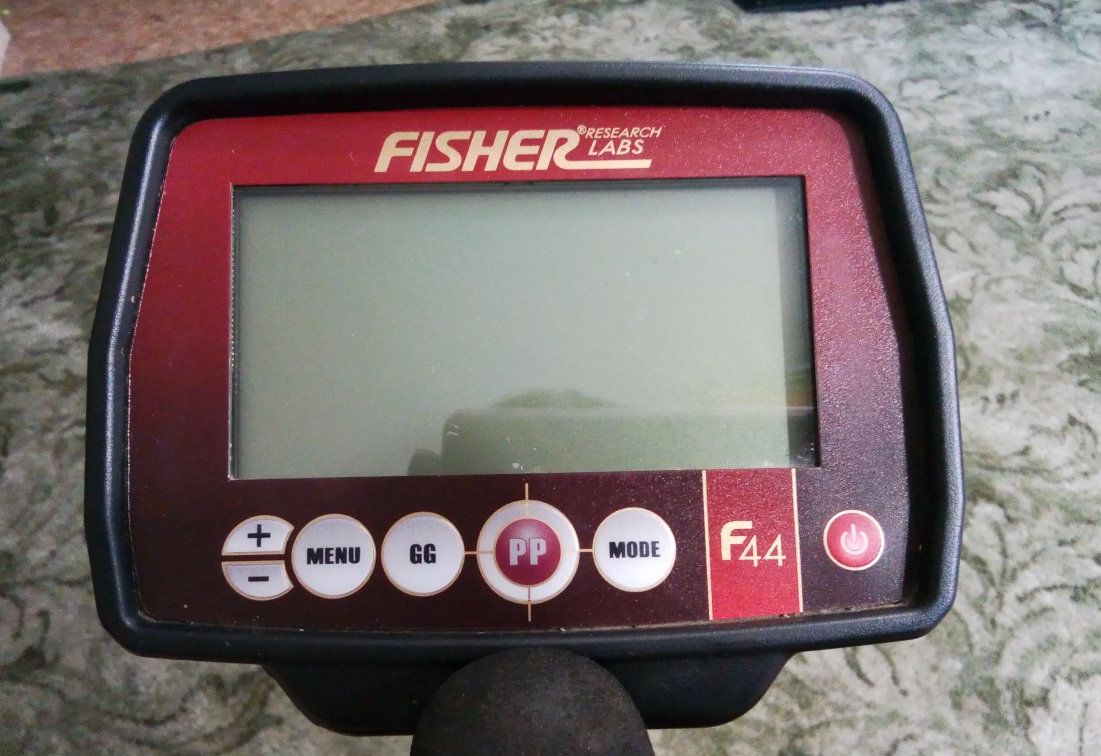 However, this wasn't restyling of the old metal detector models, but all-new products specially designed to fit the new changed market of metal detectors.
Nowadays, F11 has been removed from the market, since I suppose it was not as good as the other two models. Thus, F22 and F44 are still actively sold. Actually, the models are very much alike, but we'll discuss each of them in details.
In this review we'll take a look at Fisher F44. Let me mention, that we also have F22 review. Despite the fact that the devices are quite similar, the review contains detailed description of how to assemble and adjust this metal detector.
I do recommend reading both reviews and then making up your mind as for which one to buy.
Review
Fisher F44 is a flagship device of the product line. Unlike F22 it has some additional features, which increase its capacity.
So, let's take a look at what the company offers for the money?
| | |
| --- | --- |
| Model | Fisher F44 |
| Weight | 2.3 pounds |
| Batteries | 2 AA |
| Headphones | No |
| Warranty | 5 years |
| Operating Principle | VLF |
| Standard Searchcoil | 11″ DD |
| Operating Frequencies (kHz) | 7.69 |
| Water resistance | Weatherproof detector |
| Submersion Depth | No |
| Ground Balance | Preset |
| Search Modes | Jewelry, Coin, Artifact, Custom, A/M (All Metal) |
| Audio Threshold | No |
| Electronic Pinpointing | Yes |
| VDI (0 to 99 scale) | Yes |
| Build-in flashlight | No |
Last update on 2023-12-09 / Affiliate links / Images from Amazon Product Advertising API
What does the device set include?
Taking into account that this is a metal detector for beginners, there is no point to expect to find something extraordinary in the device set. It has no headphones, charging device, additional cases, shafts, etc.
The package set includes the metal detector itself, shafts, spare seal, manual and that's it.
You should assemble the device using a cross diver. This takes about several minutes and then after you attach the control unit and the armrest, you can forget about the assembly process, since you'll have to do it just once.
The assembly process is discussed in details in F22 review.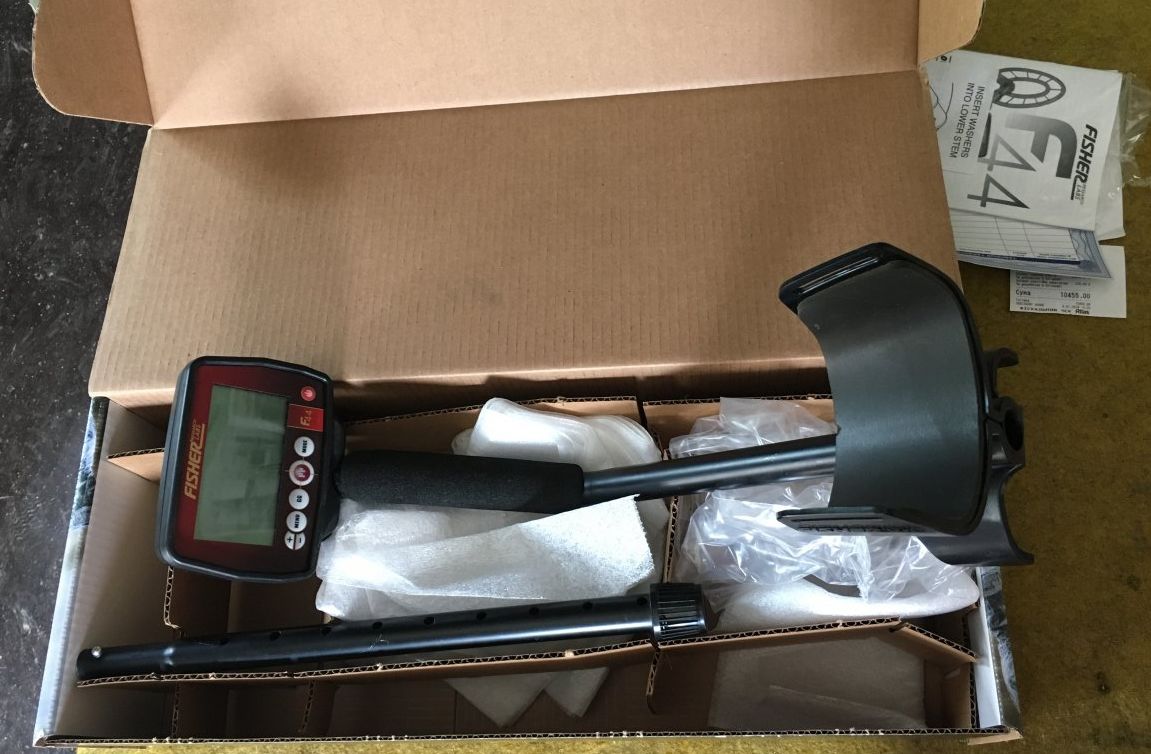 The coil
F44 metal detector is equipped with 11-inch standard concentric coil operating in mono-mode.
The coil has a complex drop shape, it weighs 350 grams and it is a water-proof one. If this one coil is not enough for you, you can get a DD coil additionally.
The coil shape is not a standard one for metal detectors. Such a modification is used since this is the optimal coil shape for treasure hunting.
Due to the coil shape the device can do things, which other metal detectors with oval and concentric coils can't.
In Fisher they think that this shape of the coil allows treasure hunting in some hard-to-get-to places, for example, under tree roots, around building foundations, in the forest, since the coil is said to cover all 'dead-zones' in the corners or between tree roots.
It really seems to be some kind of marketing trick, but we can't deny that the coil has quite high performance and no negative reviews.
If you aren't satisfied with mono coil or you need a coil of a larger size, the company offers additional coil types to buy:
7" Concentric Elliptical Searchcoil
11" Triangulated Concentric Elliptical Searchcoil
11" DD Elliptical Open Searchcoil
Still not enough? There are also coils made by other manufacturers, for example, NEL and Detech.
A coil cover for this coil is not required, since the manufacturers have protected it well and it is almost impossible to damage it while using.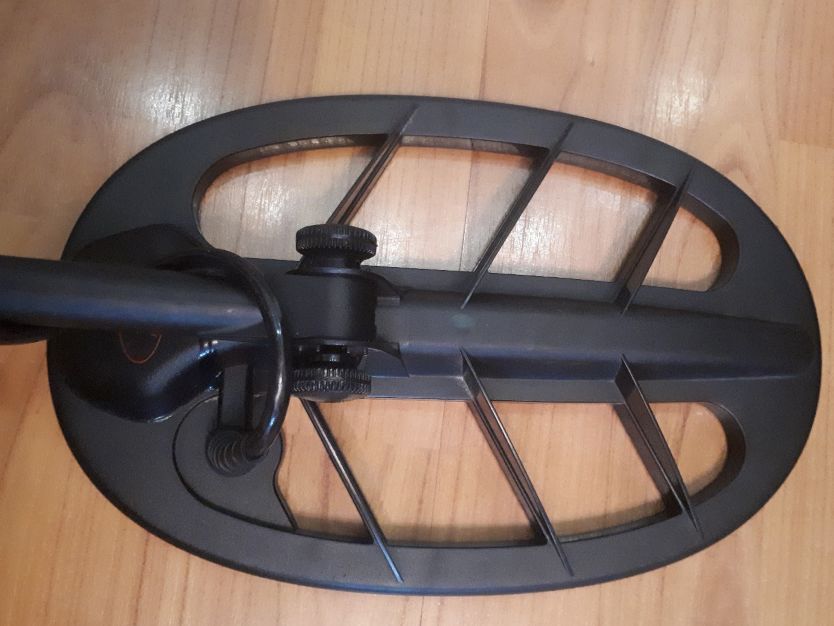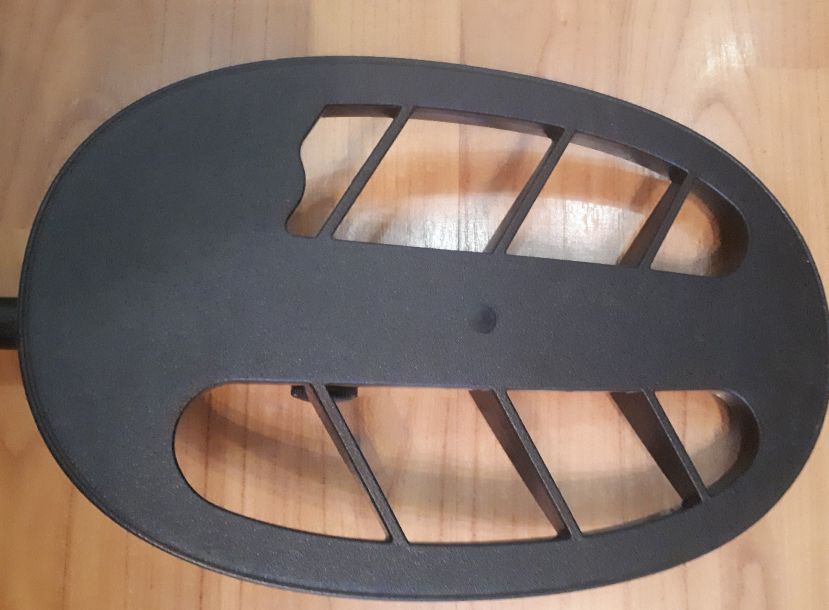 Control unit
This metal detector is equipped with a 5 level backlit LCD which allows trouble-free treasure hunting under low light conditions. When using the backlit the device battery runs down, so I'd recommend using it only in case of extreme necessity.
You can see the following information displayed: info about the target (segment), VDI, target depth, current device settings (selected search mode), battery charge and FE indicators.
The metal detector control is performed by means of seven buttons: control button, menu button, search mode selection button, pinpoint, ground balance, turn on/off and multi-purpose button to select the settings (+/-).
The device settings can be adjusted by means of touch keys. Such a feature decreases the possibility of malfunction and wearout of the control buttons. There is a graphical icon on each button, which stays visible under any weather conditions.
Fisher F44 control unit except the LCD itself and control buttons also has a headphone jack on its side, which is very convenient (if compared to the one located on the back wall of the control unit).
And here is another advantage of this metal detector.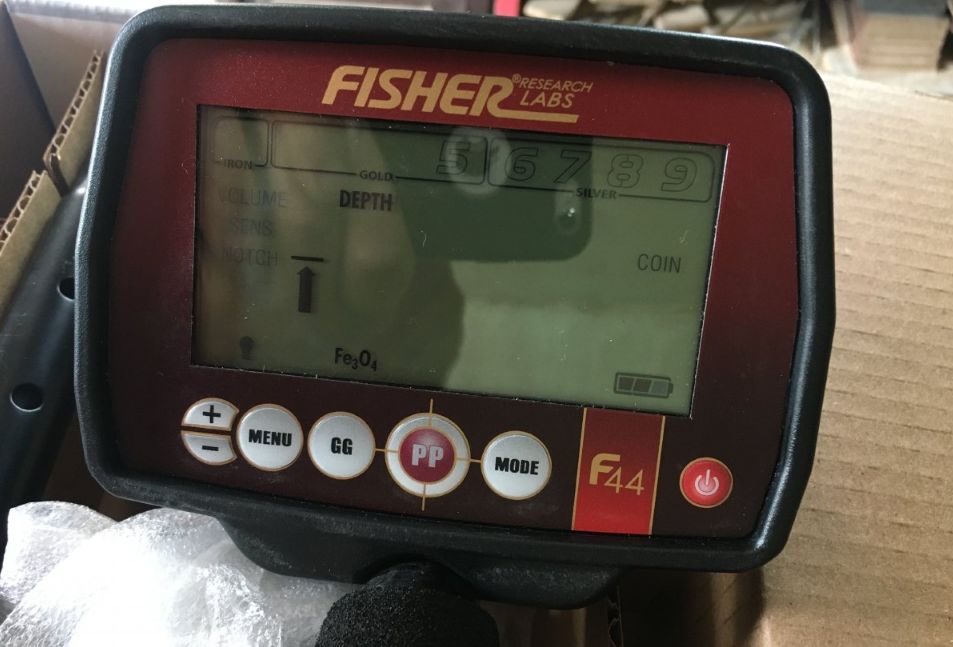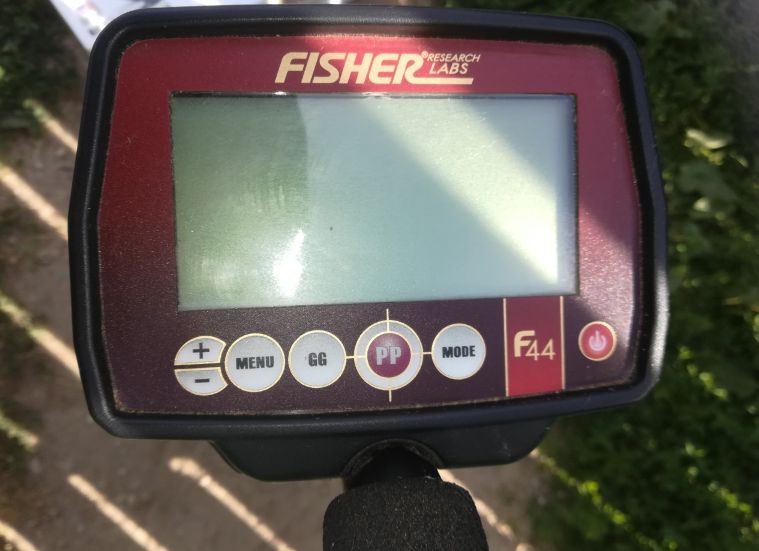 The device is a water-proof one
Besides all the above-mentioned merits of the metal detector, there is another one. F44 control unit is designed as a waterproof one, which means that it is protected from rain, though it won't survive diving into water, of course.
However, pouring rain won't be a problem for it at all. In addition, you can easily wash it under running water.
The headphone jack has a cap, which is a rather well-thought-out decision. Therefore, even if you don't use headphones, it will be closed to avoid dirt and water ingress inside, which in its turn prevents contacts greasing and oxidation.
The device coil is completely water-proof as well, thus submersion won't damage it at all. However, please keep in mind that this device wasn't meant for underwater treasure hunting.
Last update on 2023-12-07 / Affiliate links / Images from Amazon Product Advertising API
Shaft
Just like always all Fisher metal detectors have shafts consisting of three sections, which can be connected by means of spring buttons and reliably locked with collet clamps to eliminate any looseness.
The device set includes 3-section S-shaped shaft. Two upper sections are made from aluminum and the bottom section is from carbon fiber composite. Both materials are light weighted and have high reliability.
F44 bottom shaft provides necessary endurance and, at the same time, it acts as a buffer when the coil hits some obstacles.
The middle section of the shaft is not only a constituent of the whole construction, but it also plays an important controlling and adjusting role.
This section has nine length-adjustment holes, so when assembling it you can easily adjust the shaft to your height and bodily constitution.
The upper S-shaped shaft has a control unit case, a handle and an armrest on it.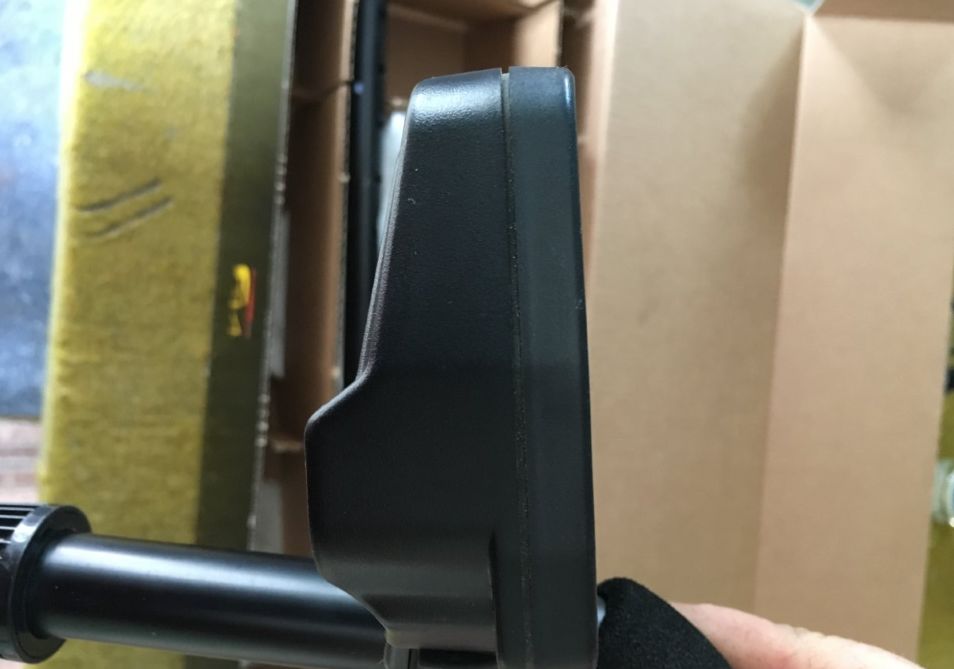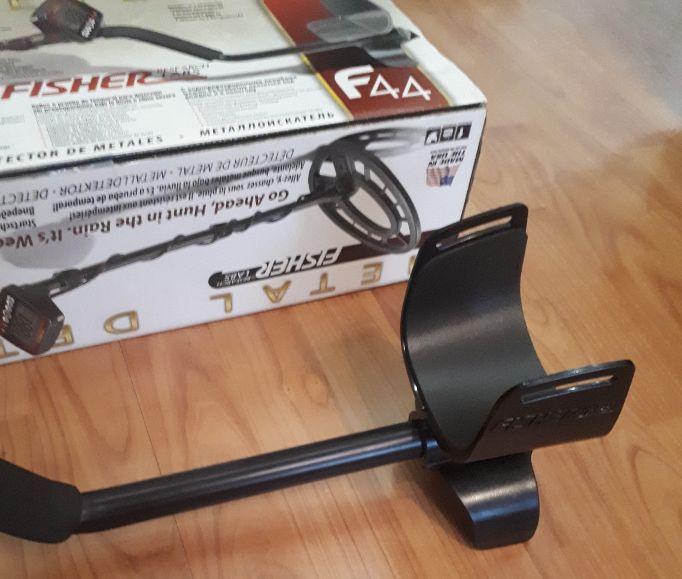 Power supply
What makes Fisher F44 a unique device is its power supply, since it uses just two AA batteries. The batteries installed in a special unit are under the plastic cover, and they are easily removed from the control unit by means of a handy small lever.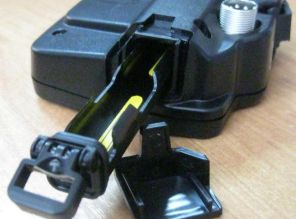 In addition to a plastic cover, the unit with the batteries is also protected from moisture ingress by means of rubber edging.
Two batteries used for the device power supply indicate rather low energy consumption of the device, which demonstrates the high technology level the device uses.
However, it's better to get some accumulator batteries and to save money this way.
Search modes
To make the device easy to use the manufacturer designed embedded search programs for it. F44 has 5 search modes with a pre-set discriminator, which is selected according to the search mode chosen by the user, there is also a search mode for 'all metal' (static mode).
The device has the following search modes:
Jewelry
Coin
Artifact
Custom
A/M (All Metal)
If you are using Coin search mode outside the USA, first test how the device 'sees' the coins of your country. This metal detector is manufactured for the US market and therefore it is adjusted for the coins of this country.
When a target appears under the coil, a corresponding notification about the segment appears on the device display as well as the conductivity digital value according to the metal the target contains (VDI), a tone signal is also produced.
The selected settings are saved when you turn off the device as well as when you turn it on after this.
The metal detector has an independent nine segment discriminator – from low conductive targets to high conductive ones.
You can optionally activate each of these segments and adjust the device for a specific required search mode.
Fisher F44 is equipped with a multi-tone target response: for low-conductive targets it has a low tone, for non-ferrous targets the tone is higher. There are four tones all in all.
If you are an experienced treasure hunter, it'd be more efficient to use the 'all metals' search mode (A/M).
Discrimination mode disables not only iron segments, but also other segments which you can select (yes, Fisher F44 have this function to disable unnecessary segments), but at the same time it significantly decreases the search depth.
However, this is peculiar to all metal detectors using VLF technology.
This metal detector is equipped with a pinpoint mode for more precise localization of the target.
The device has 20 level audio volume setting and 20 level sensitivity setting, which is essentially better than that of F22, for example, – it had 10 segment scale of sensitivity level setting.
However, I wouldn't recommend doing so, since in such devices the target ID segment includes quite large number of levels and since F44 has 9 segments, by disabling one of them you'll lose more than 10% of signals received by the device.
I.e. when disabling some segments, you won't get more precise adjustment of the device, but it is more likely to shut off 'neighboring' signals, which can then appear to be some interesting targets.
When using metal detectors for beginners, it's always better to dig more target signals, since this way you'll get the understanding of what signals and targets can be as well as the number of you findings will be much higher.
Ground balance
In this specific model the ground balancing function is performed by means of Ground Grab program unit, in automatic mode and there is a possibility to adjust ground balance manually in 'all metal' mode.
Pros
The device is manufactured and assembled in the USA in its own FISHER plants
Automatic ground balance function
PinPoint option to localize the target location
Fe Tone option – it decreases the target response obtained from iron and other rubbish and increases the one received from non-ferrous targets
Simple to use – turn on the device and it's ready for treasure hunting
Dynamic and static search modes
Programmable discriminator
Pre-set search modes
Digital identifier of a target
Polyphonic audio response from the target
Productivity
Light weight of the device
Stable performance
Affordable price
Cons
Poor device package set
Insufficient search depth
One operation frequency
The device was designed for the USA (Coin search mode)
Conclusion
First of all, this metal detector will be definitely evaluated by professional treasure hunters, those who require a bit more settings than F22 can offer.
The device is light weighted, easy to use, but at the same time, it won't drive you crazy by sending lots of phantom signals.
The huge advantage of this metal detector is its all-weather capability. You can definitely go treasure hunting with it in rainy or windy weather or safely go beach hunting.
As for the device demerits, there are some of them, but keep in mind that this metal detector can hardly be called a professional one.
And yes, it doesn't have the best target separation function, it uses just one and low operation frequency, it has no advanced settings as well.
However, its price is just several hundred dollars, not thousands. The device has proved itself as a good quality one and it looks like it will stay popular for a long time.