Have you been thinking of buying an underwater metal detector? In this article you will learn to see between the underwater metal detector and a waterproof metal detector. You will understand how they differ from each other and what they can and can't do. What is the difference between Pulse Induction and VLF. There is a separate section containing rating of the best metal detectors for both beach and underwater hunting.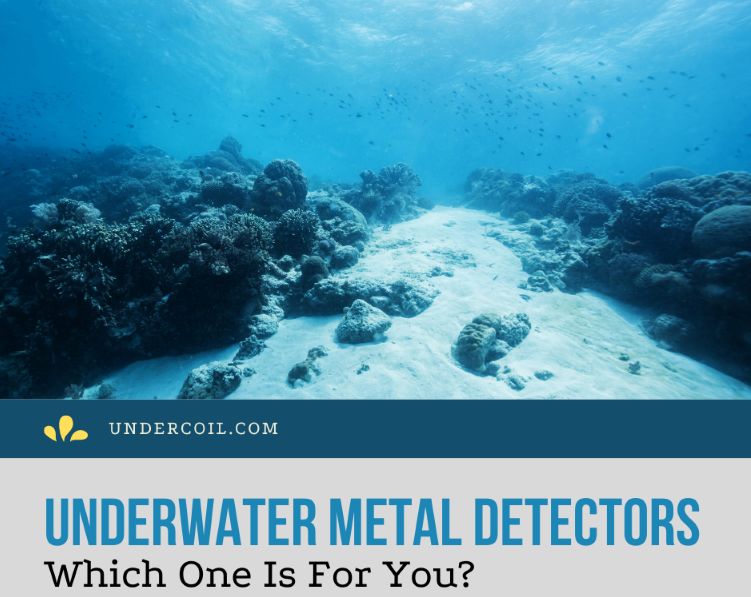 Do you know?
Underwater metal detector and metal detector for beach hunting isn't it one and the same thing
First of all, you have to understand that all metal detectors are conventionally divided into underwater ones (those that you can completely drown into the water up to 70 meters deep and the ones that can function in a brackish water) and waterproof metal detectors that are used for coastal and beach treasure hunting (such detectors can be put up to 5 meters deep into water and they demonstrate poorer productivity in brackish water).
So what makes these metal detectors different?
The thing is, that manufacturers of top metal detectors try to design them as multi-purpose ones, so they would be in high demand among the majority of treasure hunting fans.
Which means that a waterproof metal detector is a device capable of functioning both on the ground (moreover, it was designed for this) and under water at insignificant depth.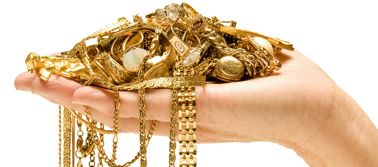 Waterproof metal detectors typically have screens and function using a classical technology common for all metal detectors; it is called VLF (very low frequencies) and they can be put under water at some limited depth.
Most of professional underwater metal detectors doesn't have a LED display, they use Pulse Induction (PI) technology and can be drowned quite deep into water.
For convenience some underwater metal detectors have separated control unit and search coil.
This is really handy, since the control unit is usually fastened to a waistband and you search the pond bottom by means of a coil fixed to a metal detector shaft.
This way it is easier to perform underwater metal detecting.
VLF and Pulse Induction technologies
Standard ground metal detectors (those using VLF technology) generate constant electric current inside the coil transmitter and the change of the receiver voltage phase or amplitude indicates the presence of metal objects under ground.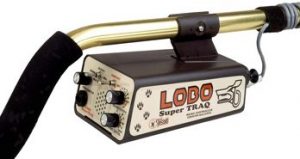 Metal detectors using pulse induction (PI) generate electric currents for the transmitter, which turns on for some period of time and then abruptly turns off.
The coil field generates pulse vortex currents in the object they detect and analyze the pulse attenuation in the receiver coil.

PI metal detectors are irreplaceable during coastal and underwater treasure hunting as well as on highly mineralized soils.
The device productivity doesn't depend on water or ground influences. Such devices demonstrate the same successful productivity both under water and on the ground.
That's why PI technology is used in underwater metal detectors. They demonstrate good results when searing on sandy beaches and wet sand metal detecting.
The depth of objects detection in the ground and in brackish water is larger if compared with the results obtained by VLF metal detectors.
VLF is good for treasure hunting on the ground, but under water such devices show significantly lower productivity and the detection depth is less if compared with those of PI ones.
If you do treasure hunting professionally and use VLF instead of a PI metal detector, you essentially decrease your chances to find something really valuable.
Which metal detector to choose?
You should make this decision after making your mind as for where you are going to go treasure hunting – on the beach and around coastal area or deep under water.
Most of treasure hunters dive not that deep, since all gold and silver jewelry that people loose in water is usually located in a coastal area.
If your task is to go around the beach, search not far from it and you will maximum get waist-deep under water, you should get a waterproof metal detector for beach hunting.
For example, this can be Garrett AT Pro or AT Max. Going up to 3 meters deep is also possible both with Minelab CTX 3030 and with Minelab Equinox 800. Such metal detectors identify even small targets, for instance, rings or bracelets.
But if you've decided to become a professional underwater treasure hunter, you should turn your attention to a professional underwater metal detectors.
For underwater treasure hunting you will need a PI metal detector. It performs better on a sandy beach and brackish water, easily tunes out of noise.
However, these detectors aren't as sensitive as VLF detectors and they don't search that deep. Here we can recommend you to buy one of the most affordable underwater PI-metal detectors —Tesoro Sand Shark.
Best underwater metal detectors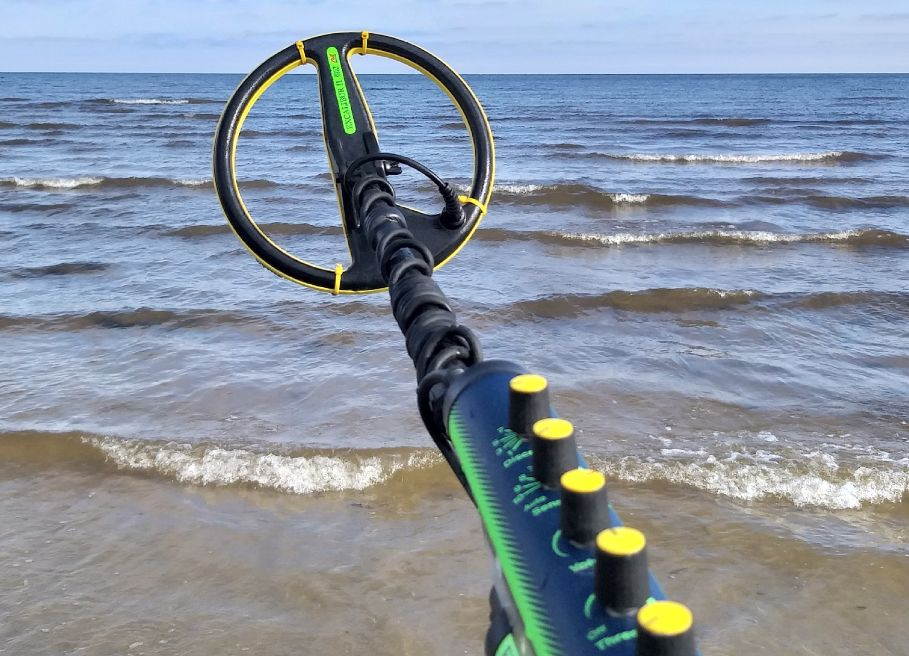 This is a classical device for underwater treasure hunting. We can't even count how many treasures and troves were found by means of it. This is a time-proven and very quality metal detector and after buying it you can go underwater treasure hunting right away. Excalibur II is considered to be the most high-tech underwater metal detector and I guess you won't find anyone who will argue with this.
You can dive up to 60 meters deep with it; it has a highly efficient discriminator which can see between ferrous and non-ferrous metals.
This metal detector uses a unique technology of broad band scanning (BBS) that works with 17 frequencies simultaneously in the range from 1.5 kHz to 25.5 kHz. The device has a pin pointer by means of which you will identify the target center. The metal detector has Koss waterproof headphones in its set and a lot of other stuff.
We should mention that Excalibur 2 uses the technology of signal amplification by the coil (RCB). The coil with RCB technology amplifies any weak signals from small objects or deeply resting ones; due to its design the coil simultaneously suppresses interference and false signals.
The metal detector case color is bright and fluorescent, due to which you won't loose track of it in muddy water. The device has S-shaped shaft and it is more convenient to use for underwater treasure hunting than a straight one.
The device is powered by eight AA batteries or by accumulator; its capacity is quite large – up to 1000 Ah. Though the metal detector weighs 2.5 kg, you all know that things become lighter under water.
Last update on 2022-05-20 / Affiliate links / Images from Amazon Product Advertising API
---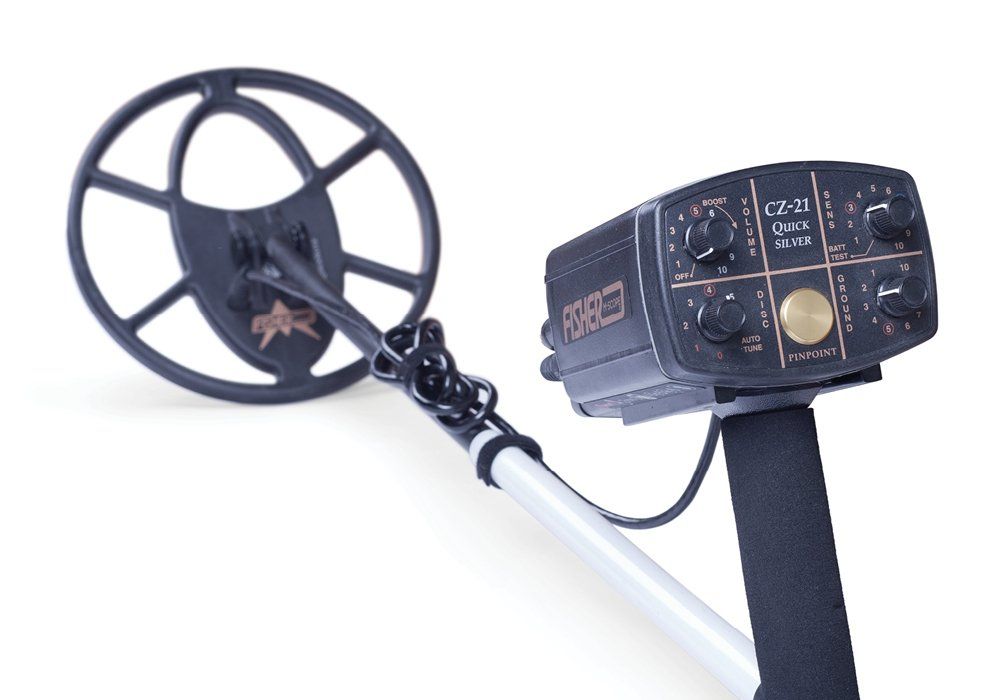 This is an underwater metal detector that functions using 2 frequencies – high (15 kHz) and low one (5 kHz). The high frequency easily detects small targets including those made from precious metals and 5 kHz frequency allows searching large sized objects.
As its designers say, the metal detector was created to work in brackish water. That's why if you've decided to dive with a metal detector in the sea, Fisher CZ-21 is one of the perfect options. Its maximal depth of immersion is 76 meters; at that it can function both in brackish and fresh water.
Two signals VLF (5 or 15 kHz) that penetrate deep provide twice more information for the target identification. The device has a function of compensation of destabilizing effects of salt water, tunes out false signals generated by brackish water.
The ground balance function is adjusted manually and a tone signal informs you about the target found. At that there is an amplifier of weak signals that allows to hear them.
Last update on 2022-05-20 / Affiliate links / Images from Amazon Product Advertising API
---
Fisher 1280X-8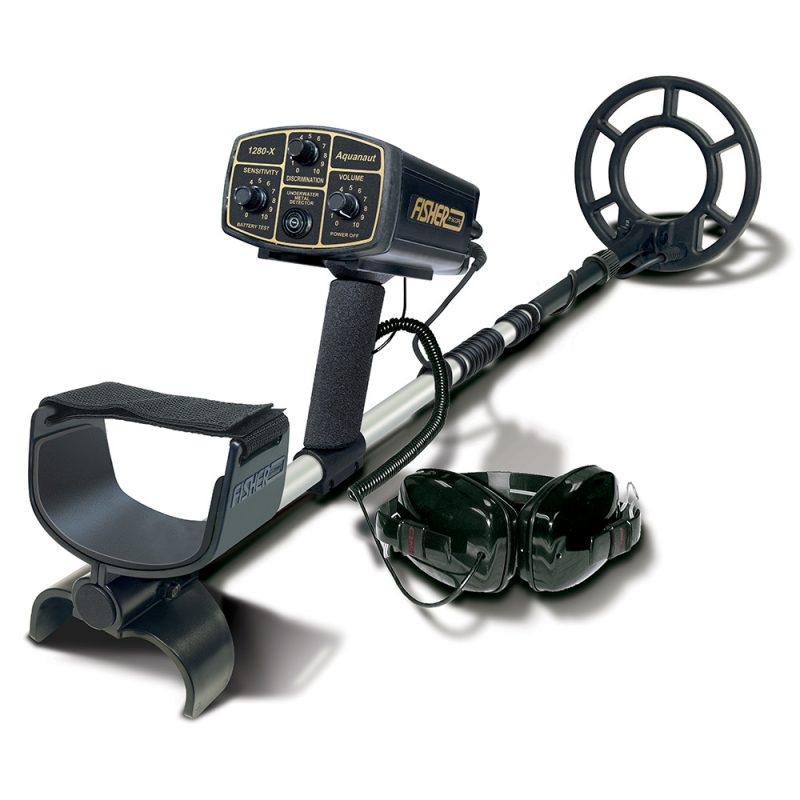 1280X-8 is an underwater metal detector made by American manufacturer Fisher. You can put 1280X-8 up to 76 meters under water. Fisher made its 1280X-8 completely easy-to-use. Maximum number of the device settings are adjusted automatically – threshold signal, ground balance, compensation of salt water influences.
Fisher 1280X-8 has sequential metals discriminator with the ability to adjust the metal detector sensitivity. Fisher 1280X-8 has 3-tone audio target response, volume adjustment. Visual control of the target response. Increased time of offline work.
Last update on 2022-05-20 / Affiliate links / Images from Amazon Product Advertising API
---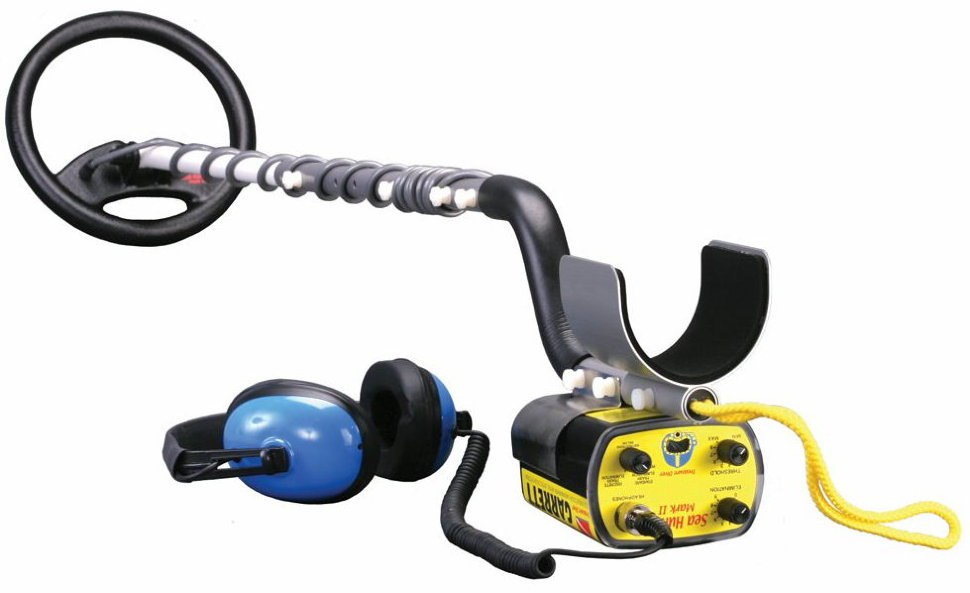 Sea Hunter Mark II is a professional underwater metal detector made by American company Garrett. You can put Sea Hunter Mark II up to 65 meters deep into the water. Waterproof headphones and straps to fasten the device to a diving suit come in the device set.
The settings are quite simple and flexible at the same time – these are discrimination, threshold tone and sensitivity.
The device design is rather ergonomical – the control unit can be fastened to upper, middle or bottom section of its shaft.
Also you can assemble the metal detector without using the middle shaft for more comfortable hunting at tough conditions.
Sea Hunter Mark II is a metal detector based on PI search technology. Application of this technology allows Garrett Sea Hunter Mark II get an immediate target response.
Last update on 2022-05-20 / Affiliate links / Images from Amazon Product Advertising API
---