In this article we are reviewing Garrett Ace 200. This is one of the easiest to use metal detectors manufactured by the company. A metal detector Garrett Ace 200 is the simplest device you can ever think about. However, it is a quite fully-featured one. Its undoubted advantage is price, simple adjustment and light weight.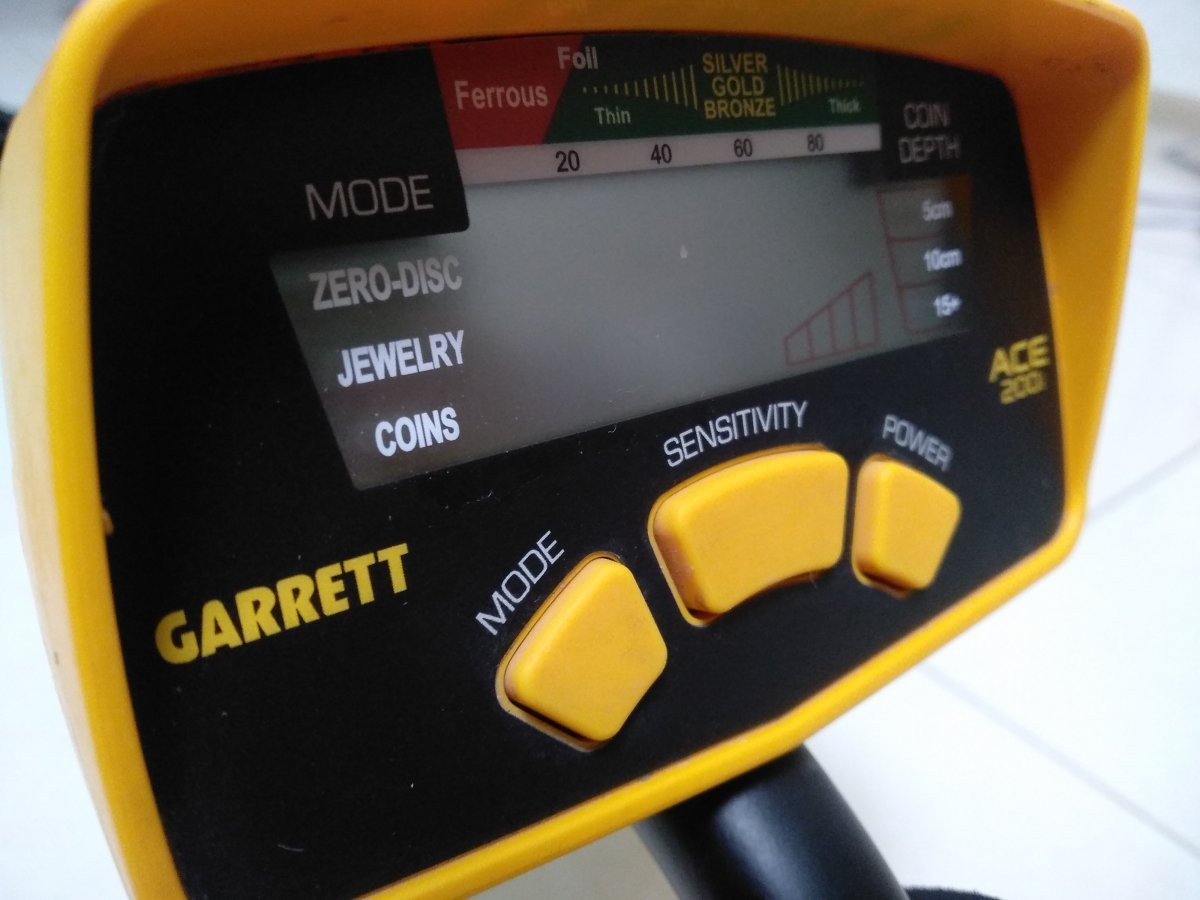 What is this metal detector designed for?
Metal detector Garrett Ace 200 is one of beginner-friendly devices and it will do for beginner detectorists. It has been on the market for quite along time and it has gained the reputation of a quality metal detector.
Its nearest competitors are Garrett Ace 250 and Garrett Ace 300. In the table where we are comparing metal detectors you can see the difference and get the idea, which device will suit your needs best.
| | |
| --- | --- |
| Model | Garrett Ace 200 |
| Weight | 2.75 lbs (1.27 kgs) |
| Length (Adjustable) | 40″ to 53″ (1.016 m – 1.3462 m) |
| Batteries | 4 AA (included) |
| Headphones | No |
| Warranty | 2 Year |
| Circuit Type | VLF |
| Standard Searchcoil | 6.5″ x 9″ PROformance |
| Operating Frequencies (kHz) | 6.5 kHz |
| Water resistance | Waterproof coil |
| Submersion Depth | No |
| Iron Discrimination Segments | 1 |
| Ground Balance | Preset |
| Search Modes | 3 |
| Audio Threshold | No |
| Sensitivity/Depth Adjustments | 4 |
| Electronic Pinpointing | No |
| VDI (0 to 99 scale) | Yes |
| Build-in flashlight | No |
Last update on 2023-10-01 / Affiliate links / Images from Amazon Product Advertising API
Review
The metal detector uses VLF scheme; the operating frequency is 6.5 kHz. All the device characteristics are the same as those of its predecessor Garrett Ace 150. Even the coil is completely the same – a concentric one, 6.5×9 PROformance.
The metal detector has also inherited some drawbacks from its predecessor; these are – absence of pinpointer and ground balance function.
The main change introduced in the device control unit is that VDI number is displayed on it now. VDI number is some index of the object, which helps to identify the target.
Of course, after several treasure hunting trips the detectorist stops using the information from the display and starts relying only on tone signals obtained from the target.
Nevertheless, in case when you have doubts as for the target, VDI number may give you a hint whether the target is worth digging.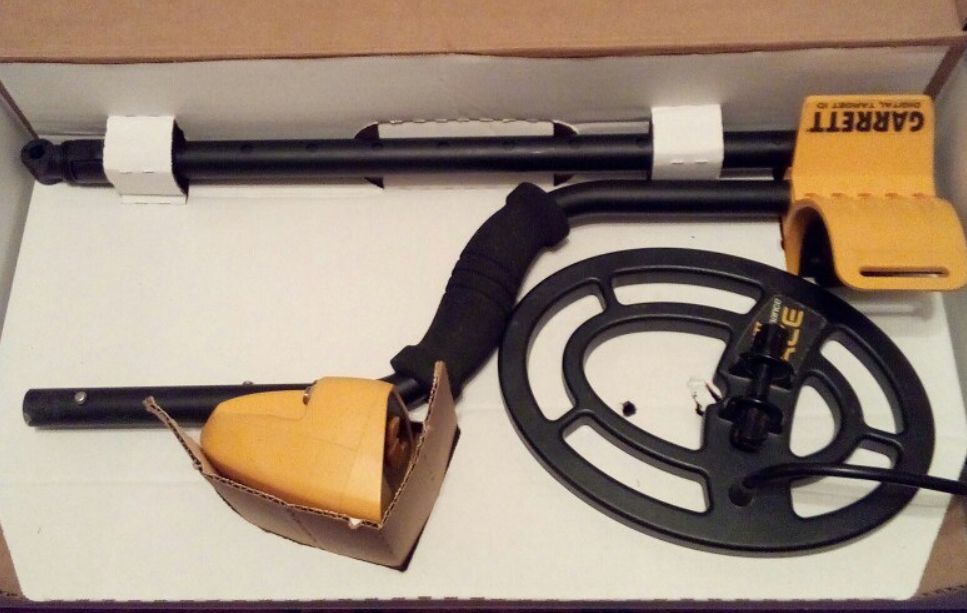 The shaft
Garrett fans will definitely see the likeness of the 200 model and previous models of the metal detector. It has the same orange colored armrest and control unit, a black colored shaft.
The device has a standard design – two straight shaft sections and one S-shaped section with a control unit and an armrest attached to it.
The shaft consists of three sections with camlocks. Two upper sections are made from light-weighted aluminum alloy and are covered with powder paint; the bottom shaft section is made from plastic.
The middle shaft section has many length-adjustment holes, due to which the process of the shaft length adjustment to the user's height becomes easy and fast.
Now all three shaft sections are connected with each other not only by means of spring buttons, which the previous device models use, but also by means of camlocks.
The metal detector construction has become more solid and now replacing the searchcoil with a heavier one doesn't cause any significant shaft looseness during treasure hunting.
It takes several minutes to assemble the metal detector; no special instruments are required for this.
The armrest is made from plastic with strengthening ribs, since armrests of the first Ace models without strengthening ribs used to break quite often. The armrest has a polyurethane coating inside.
There are holes on top of the armrest for a special strap with a touch and close fastener for more reliable forearm fixation.
You can shift the armrest towards the shaft section, which has several adjustment holes.
The camlocks have become a pleasant update if compared with the previous metal detector model.
The total weight of the device is 2.75 lbs (1.25 kgs), the shaft length varies from 40″ to 53″ (1.06 m – 1.29 m).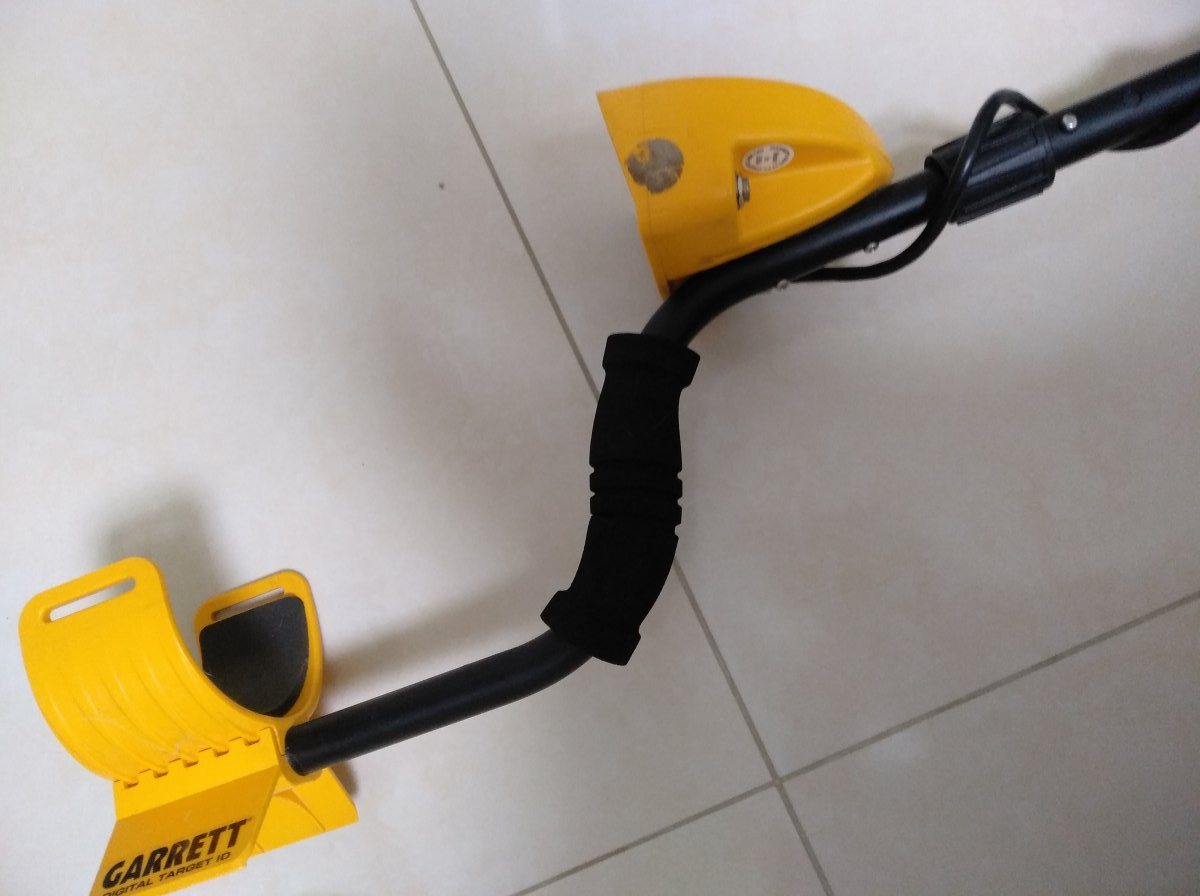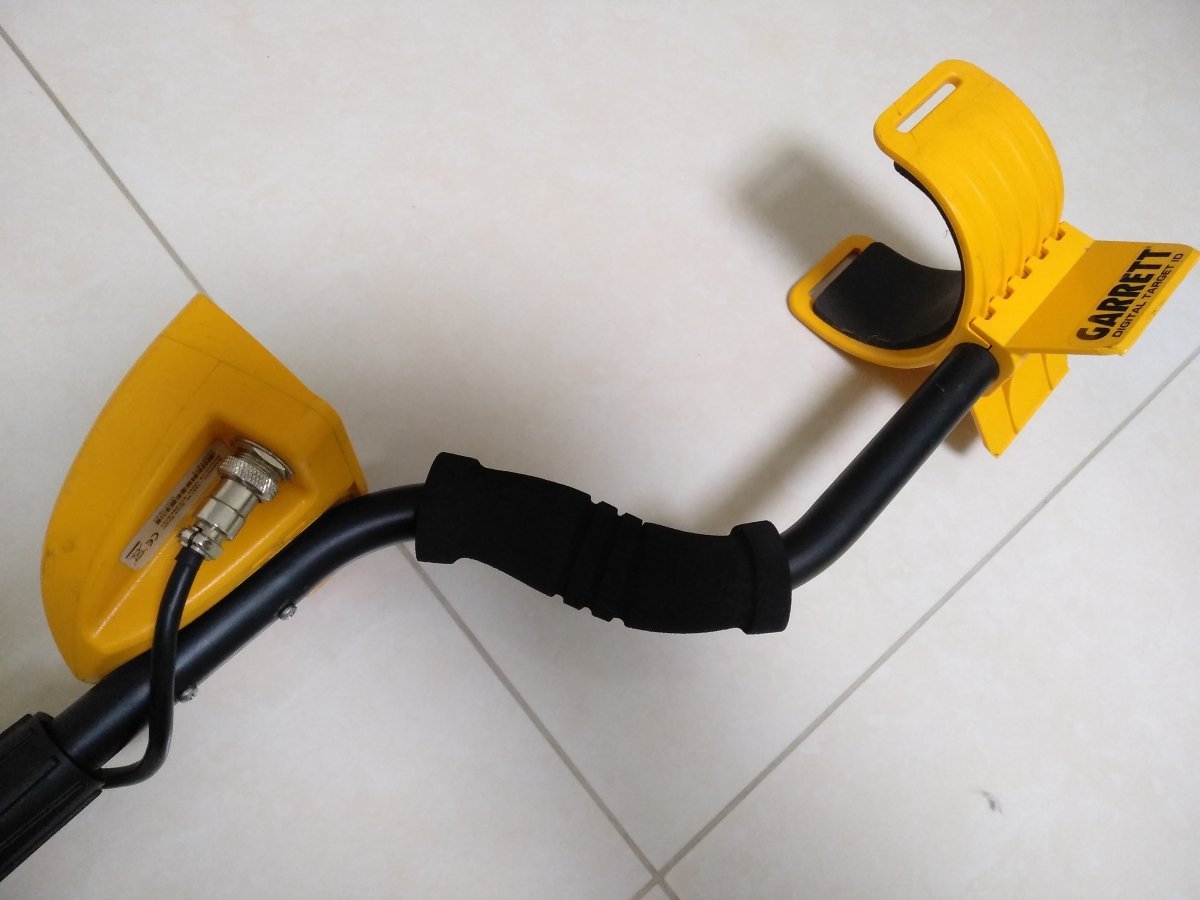 The coil
This Garrett metal detector has an oval-shaped coil PROformance 6.5 x 9.0 inches, designed using mono technology.
The coil is completely waterproof.
The coil cable is a double braided one, which is protected from any kind of damage. The coil is connected with the control unit by means of a plug with a threaded screw, which makes it a rather reliable connection preventing signal break or absence.
The coil itself is rather reliable, but this is not the best one possible. Any time you can substitute it with a DD coil, but is it really necessary? Since spending the same amount of money will let you buy another metal detector of higher level.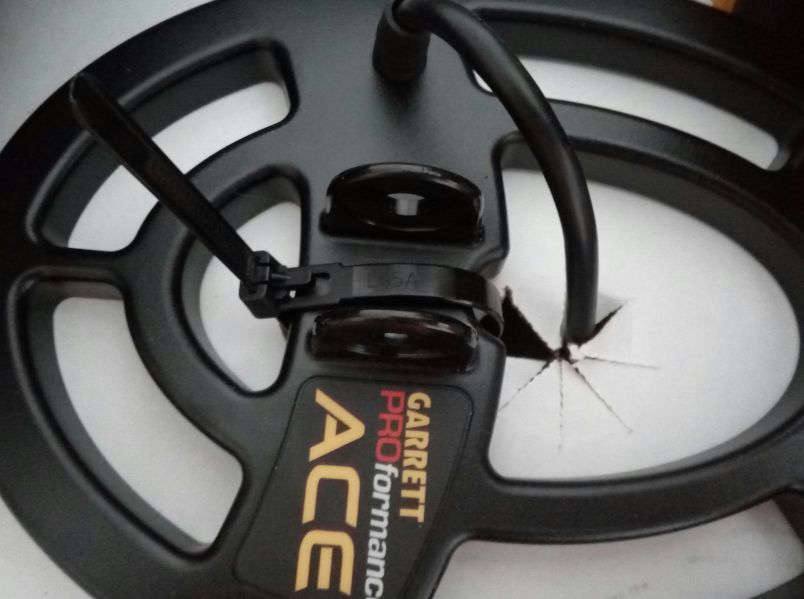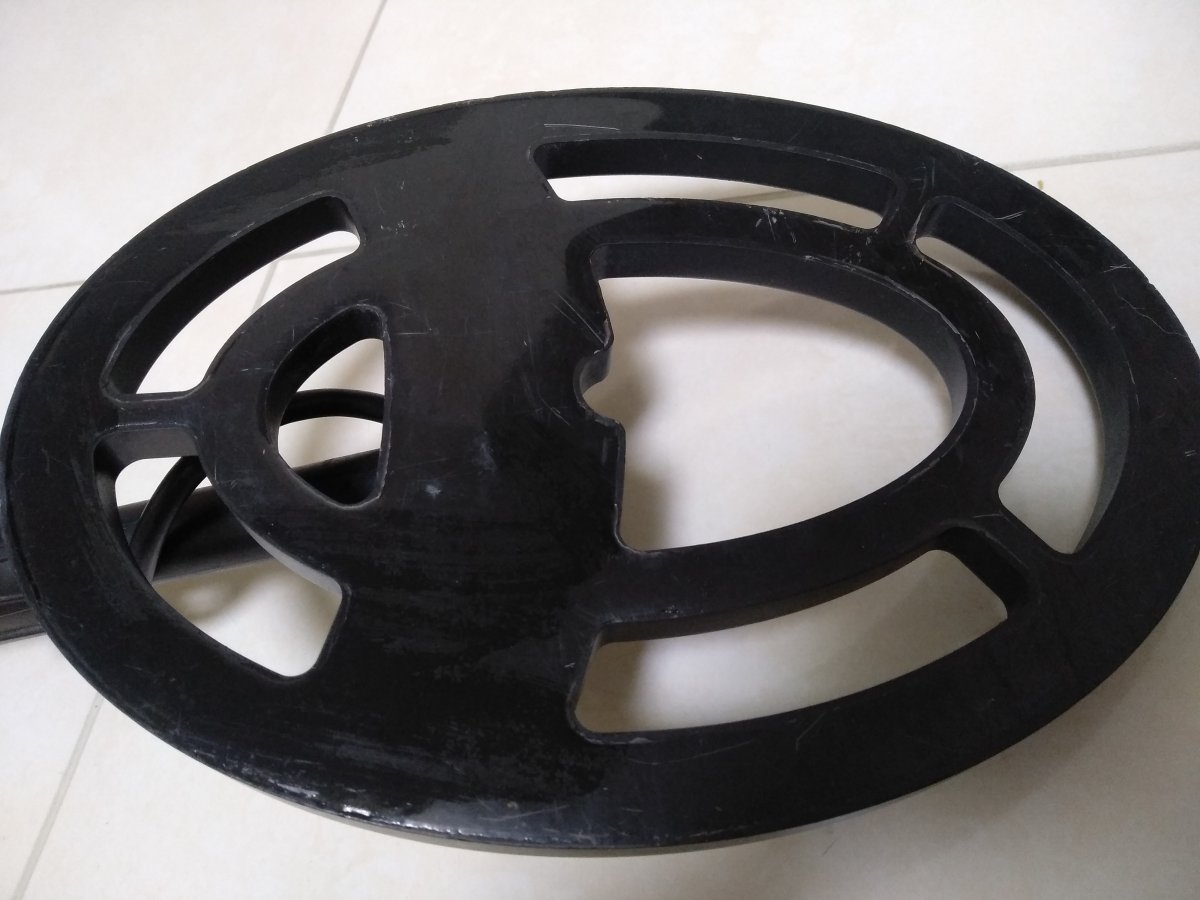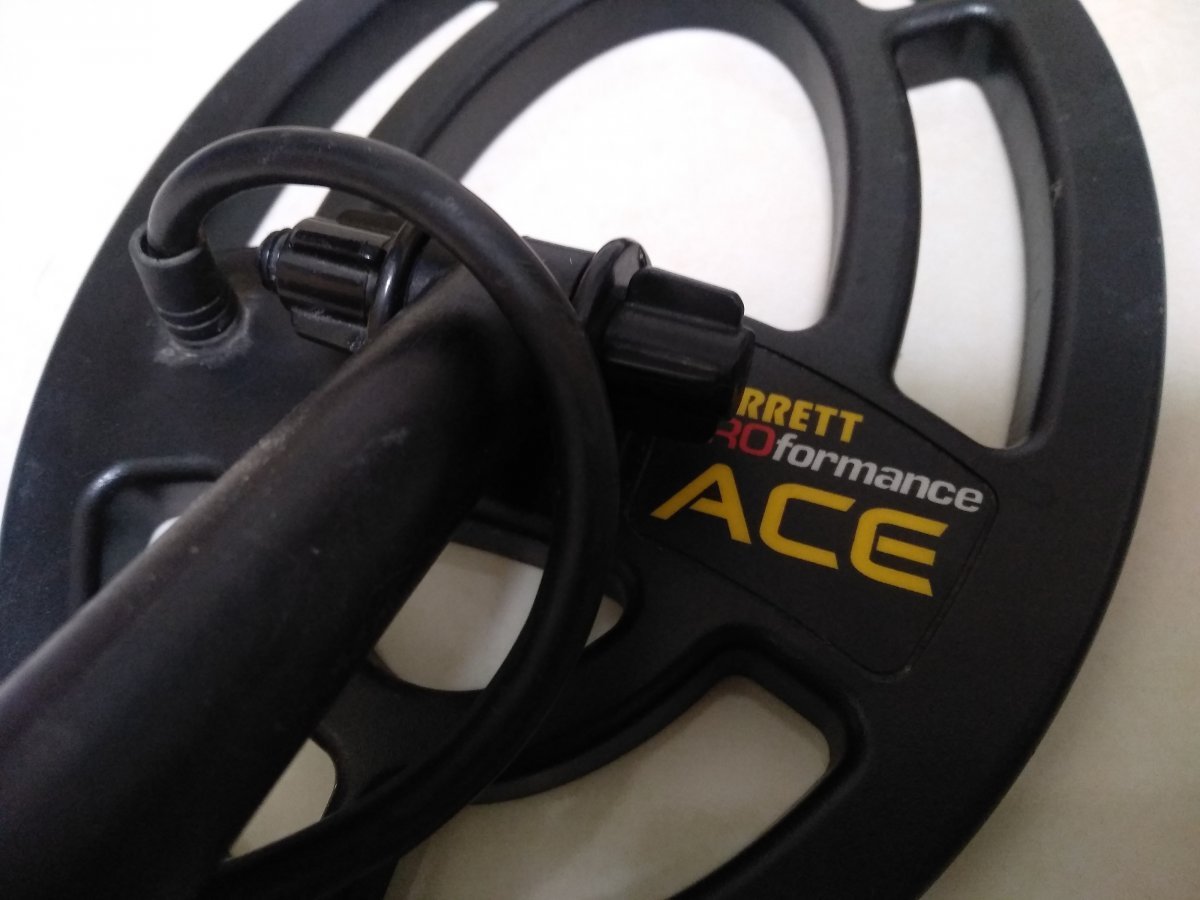 Headphones
Headphones aren't included into the standard device package set, but the advanced ones quite often have them.
If you plan to use headphones made by other brands (which is quite possible), don't forget about one important issue – Garrett Ace 200 has no audio gain control at all.
Therefore, you should buy only the headphones which have audio volume control function.
I have tried to use headphones without it, and it turned out to be impossible to go treasure hunting with them. The sound was very loud, so I took the headphones off and wore them on my neck and only this way it was convenient to work.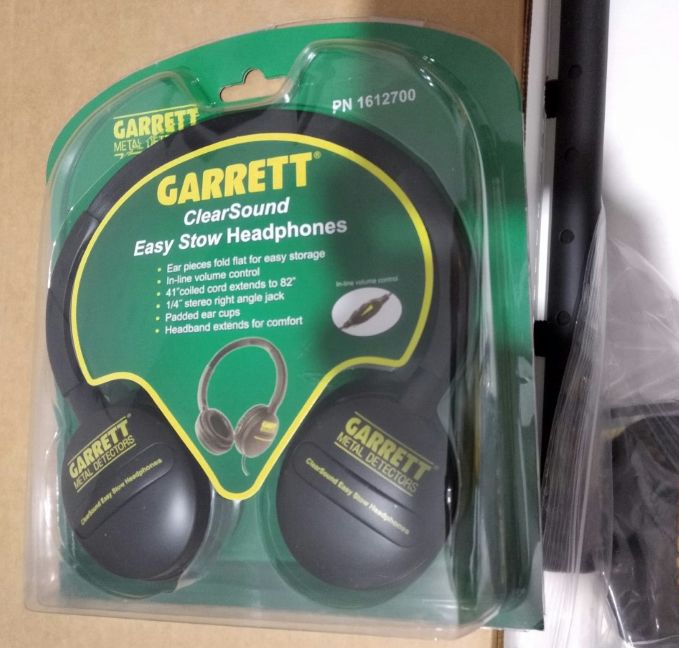 The battery
The battery unit is located in the top section of the control unit under its cover.
Four high-quality alkaline AA batteries are already installed there. The device operation time equals to about 40 hours at normal climatic conditions. But if you plan to use the metal detector regularly, it's better to get some accumulator batteries.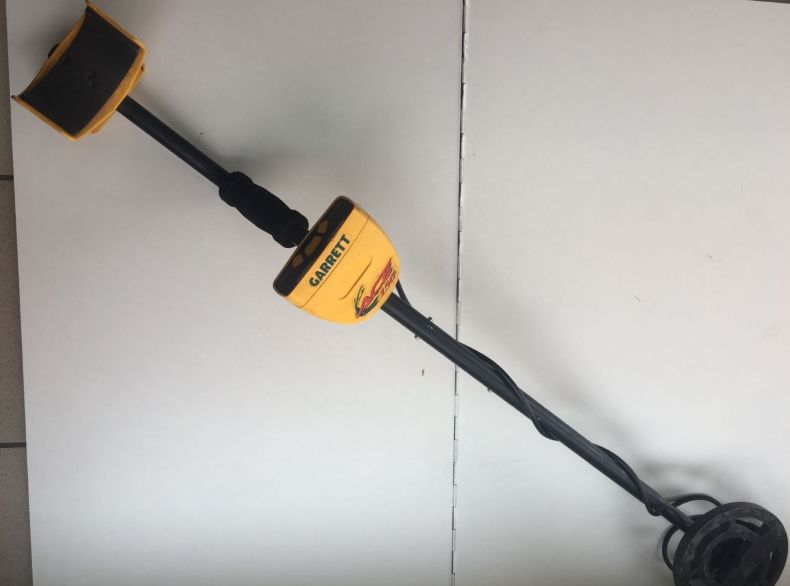 The control unit
The control unite appearance hasn't changed. It has the same color; uses 4 AA batteries as a power supply; headphones jack 6.3 mm and three control buttons. Therefore, if you'd like to use more popular headphones with 3.5 mm jack you'll have to get an adaptor.
Garrett Ace 200 control is performed by means of three buttons. The left one is to select the mode of operation. The middle button is to adjust the device sensitivity. The left button is to turn the device on/off.
Depending on the selected mode of operation, the second scale from top displays the segments that are on; i.e. the discrimination value is pre-set in advance for each search mode.
The user can adjust only the metal detector sensitivity level and the rest is done for him by the device. This completely stays within the concept of the first metal detector – you buy it, turn it on and find your target.
Last update on 2023-10-01 / Affiliate links / Images from Amazon Product Advertising API
Modes of operation
The device has three modes of operation:
Zero = All Metal. Zero means zero discrimination.
Coins.
Jewelry.
No discrimination is applied in the first mode of operation; using this mode the detectorist receives signals from all metal objects that appear within the searchcoil radius.
The second mode completely excludes the right section of the discrimination scale. The third one ignores iron rubbish (ferrous metals).
In general, the metal detector provides the required minimal functionality. This is quite enough for beginner detectorists, but if you want more, you should buy another metal detector of higher level.
Pros
Affordable price
Easy to manage and operate
Small size
Light weight
S-shaped 3-section shaft with a convenient armrest
Multi-tone audio identification system
Internal speaker, you can connect head-phones
Oval shaped coil has a sealed case
Target depth indicator
5 segments of discrimination scale
Battery level indication
Cons
The device control unit and display are not waterproof
It can be barely used for beach hunting, searching on complex soils and in mountains as well as for relics hunting
Rather low searching depth
Has no audio signal adjustment
No ground balance function
No pinpoint
Low selectivity
Conclusions
I can say, that this is a good device for the money; an easy-to-use and reliable metal detector. The device will perfectly do as the first metal detector for those, who would like to see whether this is an interesting hobby for them.
However, Bounty Hunter Tracker IV will also do to take one's first steps in treasure hunting, and this device costs less. But if you need a metal detector with more functions and not very expensive one – there is a wide choice in this case.
For example, Bounty Hunter Land Ranger Pro or Fisher F22 offer much more functionality for the same money. Turkish manufacturers offer Nokta Anfibio Multi and Makro Multi Kruzer, which are also quite good.