In this article we are reviewing Garrett ACE 400. It provides maximal functionality and a good package set, thus you get a quality metal detector for quite an affordable price. All these makes the device a rather interesting option to consider.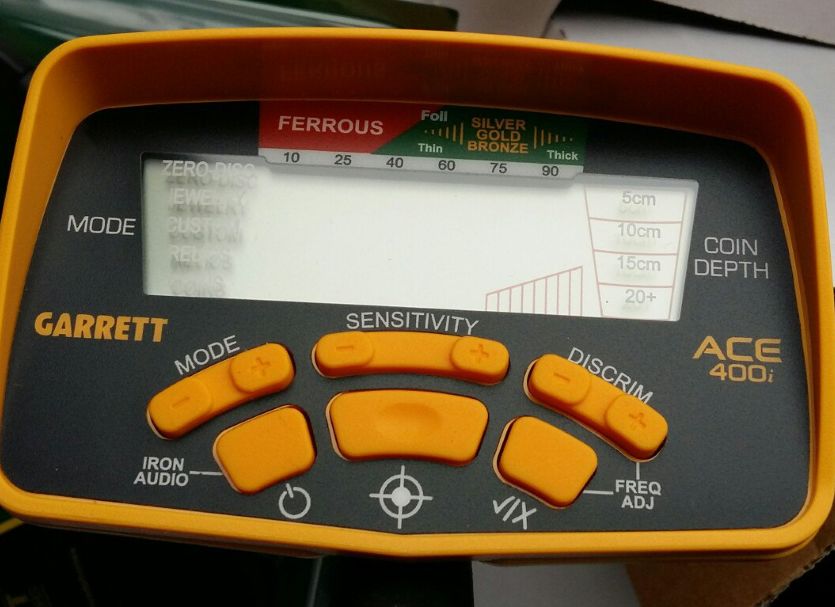 The metal detector purpose
The company produces several metal detectors in ACE product line. All of them are budget-friendly, though as the device index grows (from Ace 250 to ACE 400), the metal detector performance capabilities increase correspondingly.
Garrett ACE 400 can be called a top-selling metal detector among the budget-friendly devices. This fact is proven both by the metal detector characteristics and its package set.
The device package set includes:
The metal detector and the coil
Coil Cover
Batteries set 4 x AA
Branded wired headphones
Coil Hardware Kit
Garrett ACE Rain Cover
Instruction Manual
The standard device package set includes a coil cover, protective case for the control unit and even headphones. The batteries are already installed in the battery unit, so there is no need to get them in advance.
There were some changes introduced into the device design. In comparison with the earlier versions, the metal detector performance capabilities have increased as well.
The following changes were made:
Operating frequency has become higher – 10 kHz
VDI
Iron Audio function added
Frequency Shift
Advanced discrimination scale
| | |
| --- | --- |
| Model | Garrett ACE 400 |
| Weight | 2.9 lbs (1.32 kgs) |
| Length (Adjustable) | 40″ to 53″ (1.016 m – 1.3462 m) |
| Batteries | 4 AA (included) |
| Headphones | Included |
| Warranty | 2 year |
| Circuit Type | VLF |
| Standard Searchcoil | 8.5″ x 11″ DD PROformance |
| Operating Frequencies (kHz) | 10 |
| Water resistance | Waterproof coil |
| Submersion Depth | No |
| Iron Discrimination Segments | 4 |
| Ground Balance | Preset |
| Search Modes | 5 |
| Audio Threshold | No |
| Sensitivity/Depth Adjustments | 8 |
| Electronic Pinpointing | Yes |
| VDI (0 to 99 scale) | Yes |
| Build-in flashlight | No |
Last update on 2023-10-01 / Affiliate links / Images from Amazon Product Advertising API
The review
All Garrett metal detectors are manufactured on the company's own factories located in the US; all materials and component parts pass quality review.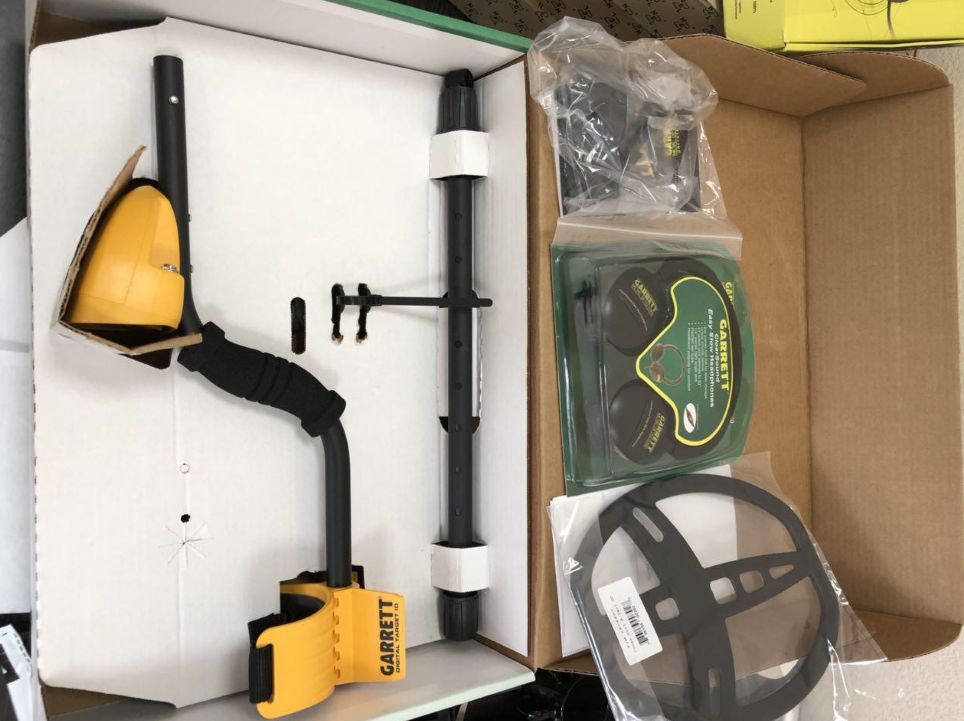 The shaft
Garrett ACE 400 appearance can't be called the innovative one, since almost all of it was adopted from the previous models of the product line. We consider this as a manufacture's wish to ensure consistency and recognizability of the product line.
The construction consists of three shaft sections. The middle and the upper one are made from a light-weighted aluminum alloy (covered with wear-resistant paint), the bottom shaft section is made from plastic. It is rigid, enduring and quite light weighted.
There are nine length-adjustment holes in the middle shaft section. Besides, you can shift the armrest towards the upper shaft section by shifting the fixing screw.
The shaft length is adjustable from 40″ to 53″ (1.016 m – 1.34 m). The full weight of the device is 2.9 lbs. (1.32 kgs.), which is a perfect characteristic.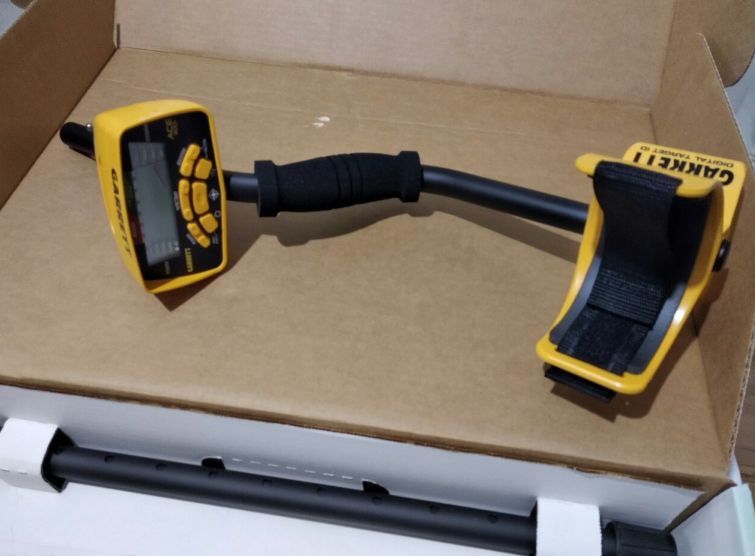 It takes less than 3 minutes to assemble the metal detector. Easily recognizable orange-yellow control unit and the armrest are attached to the upper shaft section.
The armrest reliably fixates the forearm, but to make the fixation more reliable the standard package set includes a strap with a touch and close fastener.
The handle made from polyurethane is easy to grab, it has an ergonomic shape and makes the shaft more convenient to use.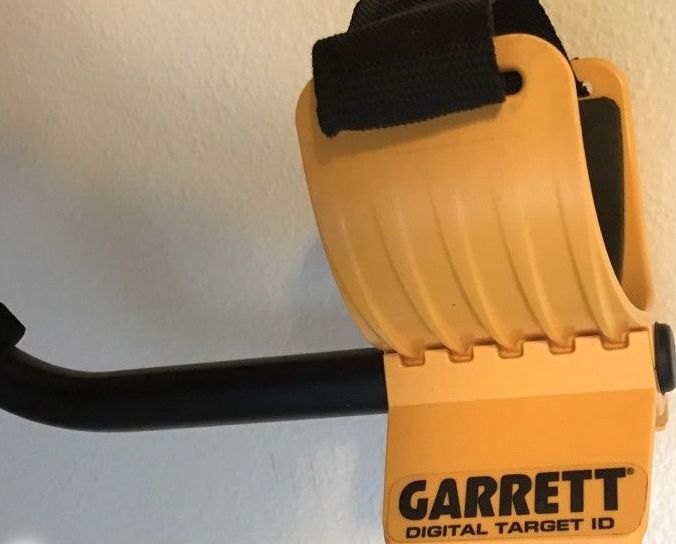 In previous device models the fixing system of shaft sections used spring buttons, but the current one has additional fixation by means of camlocks.
This can be considered a significant improvement, since the same kind of fixing system is used by more expensive metal detectors manufactured by Garrett – AT Gold, AT Pro, AT Max.
Such a fixing system prevents any junction looseness. But the main thing is the construction integrity, which excludes receiving phantom signals from the coil and ensures comfortable treasure hunting process by getting proper signals from the detected targets.
Garrett Ace 400 Metal Detector with Waterproof Coil and Headphone Plus Accessories
Extra Accessories: Garrett 8.5" x 11" Search Coil Cover, ClearSound Headphones,...
Also Includes: Garrett 8.5" x 11" PROformance DD Waterproof Search Coil,...
Includes Electronic Pinpointing: precisely locates targets and speeds recovery...
New Adjustable Frequency, New More Stable Camlocks, Enhanced Iron Resolution
2 year Warranty, 5 Search Modes, New Higher Frequency 10 kHz, Digital Target ID
Last update on 2023-10-01 / Affiliate links / Images from Amazon Product Advertising API
The coil
Garrett marketing specialists have finally heard the users of 6,5×9 inches mono coil and they've substituted it with DoubleD 8,5×11" PROformance™. Double-D technology has allowed creating the coil with higher detection depth if compared to mono coil.
Other metal detectors produced by the company use the same type of coil – AT Pro, AT Max.
The coil is completely leakproof and compound filling was used for its bottom side to make it more wear-resistant.
The company markets the coil as the one that doesn't require any additional protective case. Yet, I bought a plastic coil cover for my ACE 400. Well, experience has proven that it came in handy.
In AT Pro review we've mentioned that during beach hunting the device coil gets scratched rather quickly when hitting stones and sand. Of course, ACE 400 is not a metal detector for beach hunting, but it'd be good if the device package set contained an additional protective case.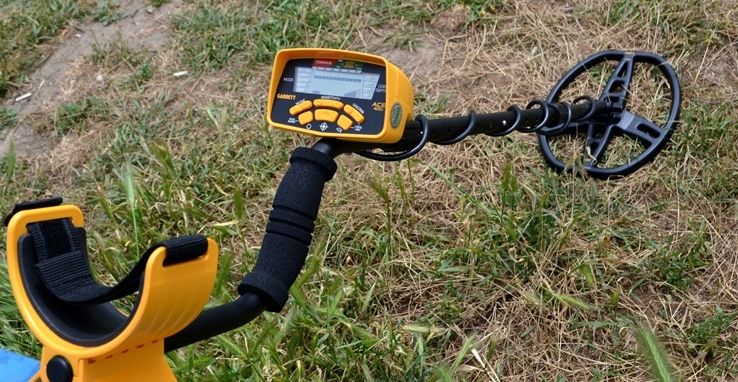 In terms of operating frequency, Garrett ACE 400 has 10 kHz, which makes it rather high-quality mid frequency metal detector. As the operating frequency grows, the probability of small target detection rises as well, but high frequency faster attenuates in the ground.
The earlier models used 6.5 kHz or 8.5 kHz operating frequency. All metal detectors for beginners used these frequencies, since they provide a compromise between the detection depth and the device sensitivity.
In case of 10 kHz operation frequency, the coil has high potential in terms of detection depth and sensitivity to small and complex targets.
The searchcoil shape is an oval flattened from the top and bottom. Such a shape has allowed designing a coil able to work in space-limited environment.
The headphones
Standard package set of the metal detector includes branded Garrett™ ClearSound Easy Stow headphones with audio-level control. Experienced detectorists have been using these headphones for quite a long time, since only these headphones allow hearing quiet and short signals from deeply located and small ferrous targets.
Some objects located rather deep under ground can generate a weak signal, which you may miss when working without headphones and navigating only using the tone signal from the device external speaker.
Sound of the wind, highways proximity, farm machinery working nearby, even sounds made by your neighbor's metal detector may stop you from hearing short and weak signals received from targets.
This is why it's important to use headphones, since this way you'll be totally concentrated on the received signals.
Sadly, ClearSound Easy Stow are wired headphones. However, having wireless headphones in a package set of a budget-friendly device would be too much to ask.
The battery
Batteries come in Garrett ACE 400 standard package set. The metal detector has become more efficient in terms of power consumption, but the power-supply circuit stays the same – it requires 4 AA batteries.
A set of 4 AA batteries is enough for 25-40 hours of continuous work. The manufacturer recommends using only high-quality batteries.
We'd advise getting some accumulator batteries for Garrett ACE 400, which will significantly save money when using the device.
The control unit
The device control unit has a standard plastic case. The battery unit is located on top covered with a slip cover.
There is an external speaker in the control unit bottom as well as a jack for the searchcoil plug. The coil is connected to the control unit by means of the thick double braid wire; the plug with a threaded screw provides a reliable connection. There is a headphones jack (1/4 inches) on the other side of the control unit.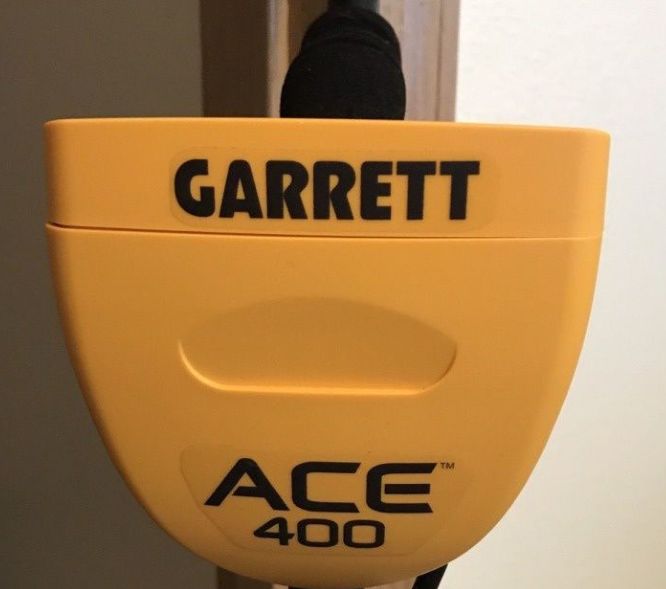 There is an LCD display and six control buttons on the front panel of the control unit. One of the main complains of Garrett metal detectors users was that the old version of ACE didn't have VDI with digits from 0 to 99 on the LCD display.
Like the earlier models, Garrett ACE 400 has VDI number in the middle of the display.
The higher is the metal conductivity, the higher VDI number is displayed. Hardly ever a budget-friendly metal detector has such a function.
Modes of operation
ACE 400 has the same modes of operation as its earlier models:
Zero disc — or All Metal.
Relics
Coins
Jewelry
Custom — the mode is completely adjusted by the user and stored in the device memory
These are pre-set discrimination templates and they are perfect for beginner detectorists.
The modes differ from each other in pre-set sensitivity level and discrimination settings. Discrimination can be adjusted in any mode of operation except Zero disc. You can adjust any of these modes by varying their discrimination parameters.
For example, you wish to search for coins, but not all of them, only silver ones. You can start treasure hunting using Coins mode and then apply nickel, copper and zinc discrimination. To do this use two buttons on the right of the control unit.
You can quickly exclude some segment of the discrimination scale after finding, for example, a bottle cap.
To detect the target location you can use a pinpointer – the middle button in the bottom of the control panel. As for approximate depth of the target location, use the vertical scale on the right of the screen. Pay attention that the scale is displayed upside down and its graduation marks start from its top, not from the bottom.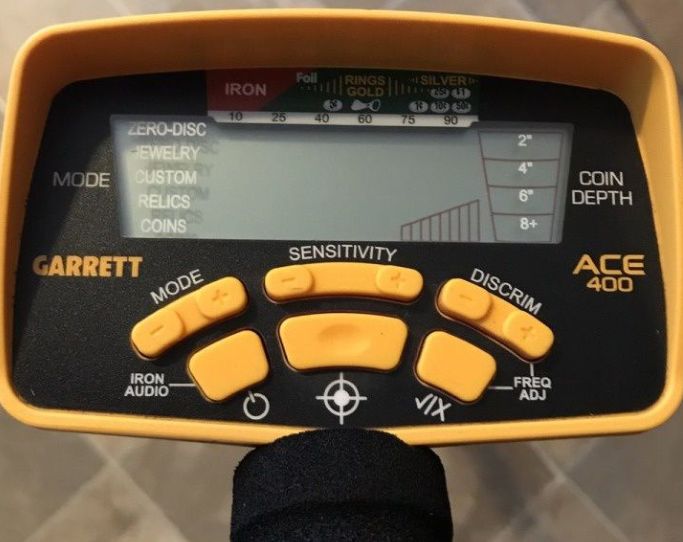 Except choosing the mode of the device operation, the detectorist can adjust the metal detector sensitivity (the scale is located in the middle of the screen in the bottom and it has 8 segments).
Left button in the bottom is a turn on/off button; it has an additional function – turn on/off Iron Audio function.
You will understand what is Iron Audio for after reading its description in the user's manual. The function allows easy defining of hidden iron rubbish. Iron Audio is actively used in devices of Garrett AT Gold and AT PRO product line.
Iron Audio enables receiving tone signals from ferrous targets even in case if the corresponding sections of the discrimination scale are disabled. For example, if you turn off this function, a rust bottle cap will sound as a pure non-ferrous signal and with Iron Audio 'on' it will have some ferrous tone.
There is a peculiarity here – when you are working in places full of iron rubbish, it's better to turn off Iron Audio, since you'll get sick and tired of various noises.
Iron Audio is a very useful function. Turn on Iron Audio, if you receive some unclear signal from the target. However, yet you have to learn and see between 'good' and 'bad' signals.
We'd like pay your attention to ZERO-DISC mode of operation, this is when the device works with a zero discrimination. This is the most professional way of treasure hunting.
The thing is that only in this mode the metal detector works with a maximal detection depth (because any, even the smallest discrimination applied decreases the detection depth). You can use this mode of operation in places with not much iron rubbish around or for more thorough search in places popular among detectorists.
The metal detector operates using two main modes – dynamical (this is the main search mode, when you search for the target that generates the signal only when the searchcoil moves above the soil surface) and static mode, which is required to define a precise location of already detected target (this is a pinpointer mode, when the searchcoil almost doesn't move).
Ground balance
Does Garrett ACE 400 have adjustable ground balance function? No. The ground balance value is set by the manufacturer, therefore you won't be able to adjust it as it can be done with metal detectors like AT Pro.
Because of the above mentioned, I wouldn't recommend this metal detector model, if you live in the area with highly mineralized soil.
Can you use the device for beach hunting?
Yes, on a dry white sand. Nevertheless, this is a single frequency VLF metal detector, therefore it won't demonstrate high performance on a wet sand or brackish water, since salt will cause too many phantom signals and will significantly limit the detection depth.
At this point, you are welcome to read our review of the best metal detectors for beach hunting.
Adjustable Frequency
This metal detector is a single frequency VLF device with 10 kHz operation frequency, but you can adjust it a bit, if needed. Garrett ACE 400 has a function that allows shifting its operation frequency.
Such a function is rather helpful, when you go treasure hunting with a friend who also uses ACE 400 or another metal detector with the same operating frequency and both devices distort each other's signals if you don't keep proper distance between them.
The metal detectors start to disturb each other's signals and produce noises.
In this case, you can suppress the noise by pushing just one button, at that the operating frequency will shift a bit and allow searching in close proximity to another device used by your partner.
Pros
Iron Audio function
Large DD coil
VDI
Easy to use
Cheap
Cons
No ground balance adjustment
Cheap headphones
Conclusions
Garrett ACE 400 metal detector is the most powerful device with maximum of functions among the beginner-friendly metal detectors of ACE product line.
It will do for those who aren't ready either to buy a semiprofessional device (since it is considerably more expensive), or to get some extremely simple models.
However, if you aren't a fan of Garrett, you can consider buying Fisher F44. This device is definitely as good as ACE 400.