Are you going to buy a metal detector for your kid to make treasure hunting your family hobby? But what metal detector model to get and what to explain to your kid before taking the first treasure hunting trip? This is what we are going to discuss in this review.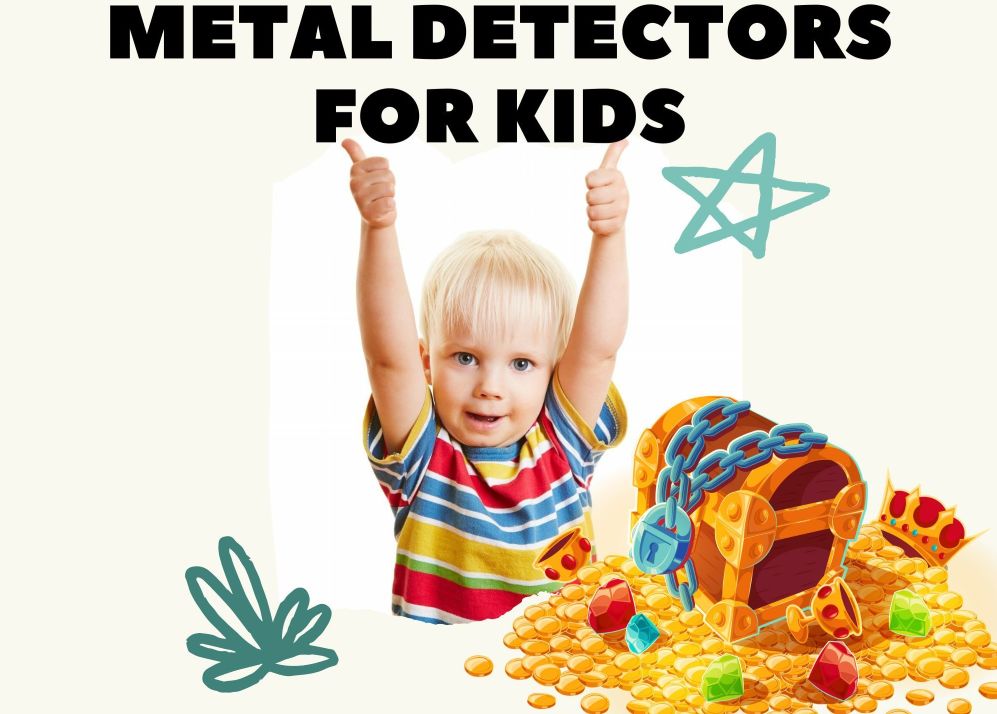 Introduction
This review contains two metal detectors. Some of them can be considered a toy for kids aged from 4 to 9, while others are simple models of real metal detectors.
Even with the help of the latter, you can find quite a sufficient number of coins. Actually, they were designed for adults, but due to their simple settings and light weight, they will do for youngsters.
Sometimes it happens that people who bought a cheap and toyish metal detector start wondering why it doesn't search for gold. This situation occurs since their concept of metal detectors was too naïve.
So, let me emphasize one more time that this review includes only simple metal detectors, which are not likely to find some objects located more than 10 inches deep. So, you should treat these devices as nothing more than smart toys.
If you aim at a more serious treasure hunting process, you should select a more sophisticated metal detector. In this case, prices may vary, since there are quite many devices on the market to choose from.
As for metal professional metal detectors, they may be designed for some specific tasks and various environments (including aquatic one, for example). The target response these devices provide depends on the ground mineralization (thus, more upgraded devices offer the ability of fine adjustment), they can have several operating frequencies (low frequency provides higher detection depth, but it won't do for small-sized objects search), etc.
But all these peculiarities of treasure hunting for adults are beyond the scope of the current review. If the topic sounds interesting for you, you are welcome to read this article about metal detectors for beginners, and here is the link to the best metal detectors review.
So, what is the best metal detector for a child????
Best metal detectors for kids 4-9 years old
As we've mentioned above, there is no need to spend a fortune on this device. Affordable metal detectors for metal detectors for children that are listed below are quite enough to demonstrate a kid what treasure hunting is about and explain basic physical principles of the device operation.
National Geographic Junior Metal Detector for kids
This device doesn't have many settings. Here there is a volume and sensitivity controller.
In terms of target detection depth, the device is almost the same as Bounty Hunter Junior. The metal detector uses 3 AA batteries that you should buy optionally.
Let me mention that the device shaft is much more convenient. The metal detector weighs 1.4 lb (0.6 kg). Your kid's arm won't get tired when using it.
NATIONAL GEOGRAPHIC Junior Metal Detector – Adjustable Metal Detector for Kids with 7.5″…
FIND BURIED TREASURE – The 7.5" waterproof dual coil has adjustable…
GREAT FOR KIDS – A telescoping arm provides length adjustment while a padded…
LIGHTWEIGHT AND PORTABLE – The detector weighs just 1.4 lb (0.6kg). With the…
FULL-COLOR LEARNING GUIDE – Learn the history of metal detectors, how the…
HIGH-QUALITY EDUCATIONAL TOYS – National Geographic is proud to make the highest…
Last update on 2023-10-01 / Affiliate links / Images from Amazon Product Advertising API
RM RICOMAX Metal Detector for Kids
The device has a really straightforward control with LCD display. The LCD display is extremely easy to understand, making it great for anyone. When the detector locates a metal object, it typically emits an audible beep or tone, accompanied by a visual indicator.
I was surprised that this device really works.
Another exciting thing is that when using RM Ricomax, you can detect the target depth by the sound it emits, and if the device had at least 3-tone polyphony, this would make the metal detector a perfect one for kids.
Last update on 2023-10-01 / Affiliate links / Images from Amazon Product Advertising API
Nokta Makro Midi Hoard and Mini Hoard
Nokta Makro Midi Hoard is a modern metal detector with an LCD that shows simple and informative pictures for kids. The device has an operating frequency of 15 kHz and three sound tones for target identification – low tone for ferrous targets, middle and high for non-ferrous metals.
There is a scale with three segments for the target depth definition as well as two discrimination levels. The metal detector is equipped with a circular 7″ (18 cm) mono coil. The device is very convenient to use and transport. In its built-up condition, it is from 83 to 109 cm long.
Shaft
63 cm – 90 cm (25" – 35")
83 cm – 109 cm (32.5" – 43")
Operating Frequencies (kHz)
Shaft
63 cm – 90 cm (25" – 35")
Operating Frequencies (kHz)
Shaft
83 cm – 109 cm (32.5" – 43")
Operating Frequencies (kHz)
Last update on 2023-09-30 / Affiliate links / Images from Amazon Product Advertising API
| Model | Nokta Makro Mini Hoard | Nokta Makro Midi Hoard |
| --- | --- | --- |
| Ideal Age | 4 – 8 yrs | 8 – 12+ yrs |
| Operating Frequency | 15kHz | 15kHz |
| Audio Tones | 2 | 3 |
| Sensitivity Setting | | 3 Levels |
| Pinpoint | Yes | Yes |
| Discrimination | Iron Discrimination | 2 Levels |
| LED Indicator | Pinpoint & Discrimination | Pinpoint & Discrimination |
| Depth Indicator | 3 Levels | 3 Levels |
| Battery Indicator | Yes | Yes |
| Auto Shut-off & Alarm | Yes | Yes |
| Search Coil | 15 cm (6″) | 18 cm (7") |
| Display | Custom LCD | Custom LCD |
| Weight | 780g. (1.7lbs.) | 880g. (1.9lbs.) |
| Length | 63 cm – 90 cm (25" – 35") | 83 cm – 109 cm (32.5" – 43") |
| Battery | 2 x AA (not included) | 2 x AA (not included) |
| Warranty | 2 Years | 2 Years |
Bounty Hunter Junior
Bounty Hunter Junior is the best metal detector among metal detectors for kids. We've already described it in detail in our review.
This metal detector was designed especially for children. Pay attention that there are two versions of the device – the one is brighter colored with pictograms, and the other is black with a needle indicator. If this is a little kid you have, take the first model of the device. What does a kid have to do with this needle indicator?
This model will definitely do for children who want to take up treasure hunting as a hobby. The metal detector was made from lightweight and durable materials, and it is perfectly balanced, so your kid's arm will not get tired while using the device.
The device control unit is designed to be extremely user-friendly and straightforward, it has two controllers: to turn on the device and to adjust the sensitivity. Thus, things are easy here – turn on the device, adjust its sensitivity, and you are ready to go.
The metal detector uses a search coil six inches large, which is rather small-sized and movable. You can use it not only in the fields, forests but also in a coastal area and in shallow waters. With this device, your kid will feel like a real treasure hunter.
The device has various discrimination modes – you can set the necessary type of metal for treasure hunting. Target response signal has different kinds of signals; information about it is also displayed on the indicator. At that, the sound becomes louder when the user approaches the target.
Bounty Hunter Junior T.I.D. Metal Detector for Kids, Easy To Use, Lightweight, Comfortable…
FIND LOST TREASURE: A superb metal detector companion for any child's treasure…
DETECTS ALL METALS: Find all kinds of metal, valuable coins, relics, silver,…
EASY TO USE FOR THE YOUNG TREASURE HUNTER: Easy to understand emoji's tells…
COLLAPSIBLE AND PROTABLE: This compact, lightweight metal detector has a…
INSPIRE ANY CHILD TO DISCOVER AND LEARN: Bring joy and inspire young treasure…
Last update on 2023-09-30 / Affiliate links / Images from Amazon Product Advertising API
Best metal detectors for kids 9+ Years Old
Minelab Go-Find 22
This is a metal detector from Minelab product line, which we've mentioned in this article. This device is a full-fledged metal detector, though it is a very simple one.
The device has exceptionally straightforward control, small size, lightweight, and sufficient detection depth. No complex actions are required to get the metal detector into the working trim.
All a kid has to do is to unpack the metal detector, turn it on and push «FIND» button – this is it. The device is ready to work.
The new metal detector model has all the functions required for a successful search. These are discrimination, sensitivity, and volume adjustment, as well as two search modes.
The device has fold design, and it is not heavy, the search coil is waterproof. All the above mentioned will make treasure hunting a real pleasure to your kids, and it will give them lots of unforgettable memories.
Minelab GO-FIND 22 has two search modes: All Metal and iron discrimination. The device sensitivity has three adjustment levels. There are five levels of the sound volume; the headphones are connected using ¼" jack. The ground balance function is an automatic one. The device uses 4 AA batteries as a power supply.
Minelab GO-FIND 22 Metal Detector
COMPACT & PORTABLE: The entire detector collapses and conveniently folds to fit…
ULTRA LIGHT DESIGN: At just 2.2 lbs (1.00 kg), the GO-FIND 22 provides instant…
PRESET FIND MODES: With 2 find modes and 3 levels of sensitivity, accurate…
SIMPLE DISPLAY: Large intuitive icons convey battery life, signal strength and…
CAMOUFLAGE SKINS: Peel and stick skins allow you to personalize and protect your…
Last update on 2023-10-01 / Affiliate links / Images from Amazon Product Advertising API
Bounty Hunter Tracker IV
This metal detector is a good one for beginners (adults), but it will also do for big kids. Here you can read about the device in more detail.
The device is easy-to-use and reliable; it is equipped with 8″ mono coil using 6,6 kHz operating frequency.
The metal detector has a needle indicator that demonstrates a type of detected metal and the battery charge level.
There are two controllers – one is for sensitivity adjustment and another – to set the discrimination range. The three-position switch is responsible for three search modes:
All Metal, discrimination, and tone discrimination. The latter is used for coin shooting.
The metal detector ignores iron, emits short breaking signal for aluminum trash, the low sound tone for nickel, high tone for other precious metal. The device ground balance is an automatic one; there is a ¼" headphones jack to connect a headset. The metal detector uses two 9V batteries.
Bounty Hunter TK4 Tracker IV Metal Detector with 8-inch Waterproof Coil
Rugged metal detector ideal for detecting treasure in extreme ground conditions
Motion All-Metal mode, Discrimination mode, and 2-Tone audio mode
Preset ground balance neutralizes response to mineral content in the ground
Disc/notch control distinguishes between targets and unwanted metals
Rugged metal detector ideal for detecting treasure in extreme ground conditions
Last update on 2023-09-30 / Affiliate links / Images from Amazon Product Advertising API
Safety
As you know, children will never be satisfied with just searching and finding some objects. They will definitely want to dig out what the device detects, while metal objects they will find may be quite different.
Usually, their first tests of the metal detector take place at home – this is where kids detect wires and electrical outlets. In the street, there are fewer chances to detect a cable, since as a rule, they a buried deeper than a real metal detector can see them, not mentioning a device for kids. However, such a possibility exists.
My first advice is: give a metal detector only to those children, who can understand that they shouldn't play around with wires and cables. This means that such a present should be given to a kid who is at least five years old.
The second advice is: possibly when buying a metal detector, and you imagined your child detecting only gold coins with it. In real life, your kid's new toy will beep when detecting bottle caps, corroded nails, cans with sharp edges, etc.
Therefore, you should equip your kid with a good shovel and explain that most of the findings mustn't be dug out with bare arms since there is a shovel for this purpose. Getting gloves is a good idea as well.
There is one more danger. Luckily, this is rather a rare thing to happen, not in every country you may encounter these findings. I'm talking about World War II relics. However, in Europe, you can find quite many of these – bullets, grenades, bombs, mortar shells, etc.
Sadly, these are the most common findings in some areas. Thus, this may turn out to be quite an unpleasant surprise when you find out what danger has been hidden underground, especially if a kid finds it.
Please, keep this issue in mind.
Warn your child, show him or her what a bullet or a mortar shell looks like. Make sure that kids know that they mustn't touch any of these.
Do this even if you live in a country where there has been no war ever. This information anyway may be useful for children in the future.
What should you consider when choosing the device?
The main criterion is how good the metal detector defines metals, i.e., how good will you kid see between some valuable signals and those obtained from iron rubbish.
It is crucial for children to find some exciting things – coins, jewelry, objects made from metal-filled plastic, etc.; otherwise, their interest in treasure hunting will fade quite quickly (thus, if needed, you can bury some objects yourself for your kid to find).
Really, who will be interested in digging out nails, bottle caps, and other trash for the whole day? Proper discriminator, several target identification tones, and clear indications of the display will be quite enough since, in our case, a metal detector shouldn't be excessively informative so that a kid won't get puzzled with signals and complicated settings.
One of the significant aspects when choosing a metal detector for children is simple and easy to understand control with a minimum of buttons and a user-friendly menu.
Take a metal detector without a polyphony, since several tones will be enough.
Also, such a metal detector shouldn't have any complicated settings.
Of course, it should be light weighted and durable – keep this in mind, since it will be difficult for a kid to carry a bulky device made for adults.
Besides, take a look at the device user's manual – it should be readable for a kid to avoid additional questions while using the metal detector.
Where to go treasure hunting?
Beaches
Beaches are probably the most popular places to go treasure hunting with children. Firstly, there is always what to search for there – various coins, jewelry, etc. Secondly, it is much more pleasant to search for something in the sand, but not in the fields or the dirt.
However, for each advantage, there is also some drawback. First of all, there are tons of rubbish on the beach, which a metal detector for children will also detect. Thus, till a kid finds a coin, several dozens of bottle caps will be found.
Another problem is mainly of ethical origin – many lost things can be found on the beach. These can be earrings, chains, bracelets, etc. (besides, gold prospecting is a challenging task even for a professional metal detector).
In theory, a well-behaved child should give such a finding back to its owner, or shouldn't it? This is for you to decide. The main thing is that it shouldn't be a surprise for you if somebody sees your kid having somebody else's belonging.
Local parks
Parks are less convenient for treasure hunting, but they are less trashy. Also, this is where you can find some fascinating stuff, such as old coins. Just don't forget that you should be careful when digging your findings out since you should fill up the hole as well. Don't leave any signs of your activity.
In your backyard
This is the first place where you should test your metal detector, and believe me, and there will be lots of findings there. Especially if the house has been there for many years.