Here is a review of Minelab pinpointers. There will be two models in the review – Pro-Find 35 and 15. Despite the fact, that the devices are very much alike, they have different functionality. Below we'll describe these differences in detail. In the article you will find information about the operating frequency of the pinpointer, what kind of batteries it requires, if you can submerge the device, etc.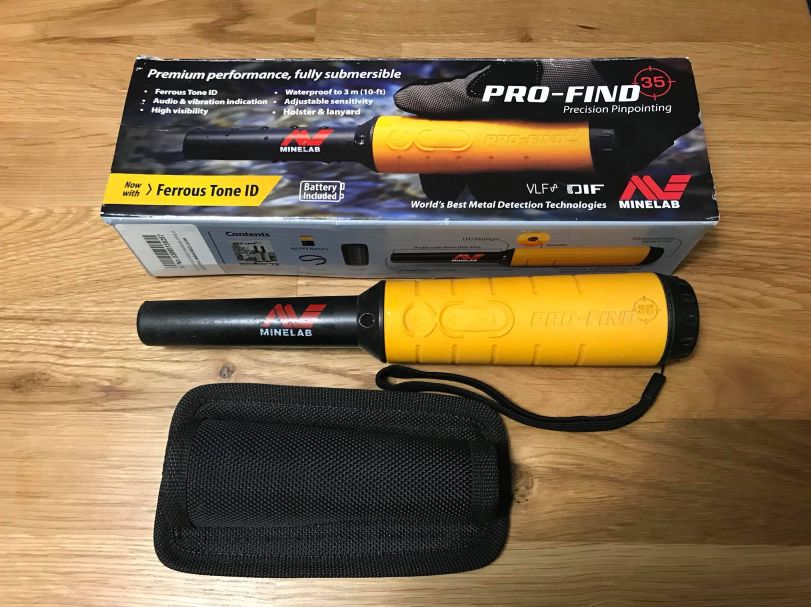 What was the pinpointer designed for?
The pinpointer allows precise detection of targets located in the places, where a metal detector can't reach, or the search coil can't fit. That's why, when using this device, you won't need to dig large holes. Another advantage of the device is that it sufficiently decreases time you spend to find the target.
In 2017 during the detectorists festival called Detectival, Australian company Minelab introduced its new pinpointers to the community: Pro-Find 15 and Pro-Find 35. These devices came to substitute Minelab Pro-Find 25, which wasn't quite successful and wasn't in demand due to this.
Pinpointer Pro-Find 35 designed by Minelab has lots of functions such as an adjustable sensitivity level, two search modes, waterproof construction and it uses a technology enabling detection of interference from a metal detector called Detector Interference Free (DIF).
Minelab Detector Interference Free (DIF) significantly decreases interference when the metal detector is on, i.e. the pinpointer doesn't affect the magnetic field of the metal detector search coil.
Pinpointer Minelab Pro-Find 15 vs Pro-Find 35
Waterproof
Waterproof to 3 m (10-ft)
Waterproof
Waterproof to 3 m (10-ft)
Last update on 2023-10-01 / Affiliate links / Images from Amazon Product Advertising API
Minelab manufacturers two pinpointers. At this point the question arises: is there any difference between them except the price?
Let's take a close look at this issue:
Pro-Find 35 can see between ferrous and non-ferrous metal, while Pro-Find 15 can't.
Pro-Find 35 can be submerged up to 10-ft (3m), while Pro-Find 15 is protected only from natural precipitations such as rain.
Pro-Find 35 uses sound and vibration signals, but Pro-Find 15 has only audio signals.
Pro-Find 35 package set includes a lanyard and holster, Pro-Find 15 has only a holster.
Pro-Find 15 has all basic functions which ensure that the device is easy to use.
Dampproof case
Audio indication
Clear visibility
Holster is included into the device package set
Pro-Find 35 is has full functionality in the waterproof case, since the device was designed for the expert detectorist.
Ferrous Tone ID
Waterproof case
Target indication: sound, vibration
Adjustable sensitivity
Clear visibility
Holster and lanyard are included into the device package set
The battery is in the set
| | |
| --- | --- |
| Model | Minelab Pro-Find 35 |
| Weight | 6.82 oz (193 g) |
| Length | 23.7 cm (9.3″) |
| Batteries | 9V (included) |
| Warranty | 2 years |
| Operating Principle | VLF |
| Water resistance | Up to 3 m (10-ft) |
| Thickness | 1.5″ (3.8 cm) Tapered to .875″ (2.2 cm) |
| Discrimination | Audio, Vibration |
| Controls | Power, Retune, Adjust Switch |
| Ground Balance | No |
| Sensitivity | Adjustable (5 levels) |
| Build-in flashlight | Yes |
Minelab PRO-FIND 35 Waterproof Pinpointer Metal Detector for Experts with Tone ID & Adjustable...
DIF TECHNOLOGY. An essential part of your detection tool kit, the PRO-FIND 35...
FULLY WATERPROOF. Don't stop your search at the beach or the bank. This...
FERROUS TONE ID. Add another layer of high-power performance, even with...
ADJUSTABLE SENSITIVITY. 5 sensitivity levels allow you to maximize depth,...
AUDIO & VIBRATION INDICATION: Intensifying vibrations accompany increasing audio...
Last update on 2023-09-30 / Affiliate links / Images from Amazon Product Advertising API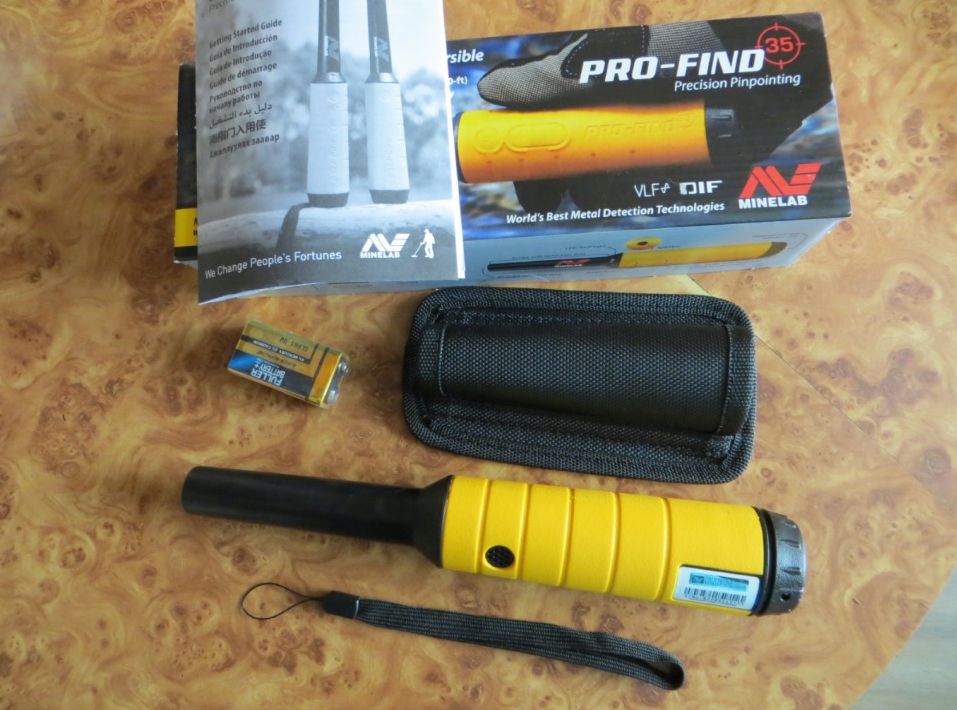 The review
Design of both pinpointers differs from the one of their predecessor Pro-Find 25. Two colors are used in device appearance: the handler is yellow, and the device tip is gray. Due to this, the pinpointer can be easily seen if you accidentally leave it on the ground.
Shape of the new Pro-Find 35 has changed in comparison with that of Pro-Find 25. The new pinpointer was designed a bit larger and with a more rounded shape, this way it is more convenient to hold the device in a hand.
Both devices have a durable semirigid holster in their package sets.
The pinpointer construction is enduring, the control is convenient and simple. Even very simple: it has ON button, plus, minus and that's it. The speaker is on the other side, opposite to the buttons.
If we compare this device with other pinpointers, with Pro-Find 25, for example, the 35th model has louder sound indication. At least, it seemed so to me. As for the LED flashlight, it has more dim light, which doesn't blind the user at twilight.
Both device models use VLF technology, at the same time they are using a unique technology Minelab Detector Interference Free (DIF).
Another feature of Pro-Find 35 is the lost device signal. If you don't use the pinpointer for three minutes, the device starts producing loud and long warning signal that repeats each 10 seconds till you push the button.
The signal will continue beeping for five minutes and if the button isn't pushed, the pinpointer turns off automatically. However, five minutes are quite enough to find the lost device.
The pinpointer has a strong LED flashlight, and what is more important, it is completely covered from dirt or sand ingress, so they won't close the light.
Pro-Find 35 also has battery charge indicator: the LED indicator will blink continuously to warn the user, that the battery is low and it's time to replace it. If the battery charge becomes too low, the pinpointer switches off.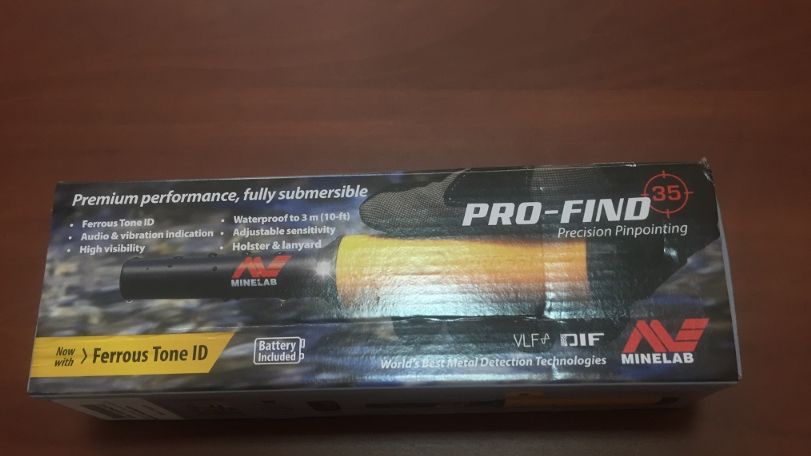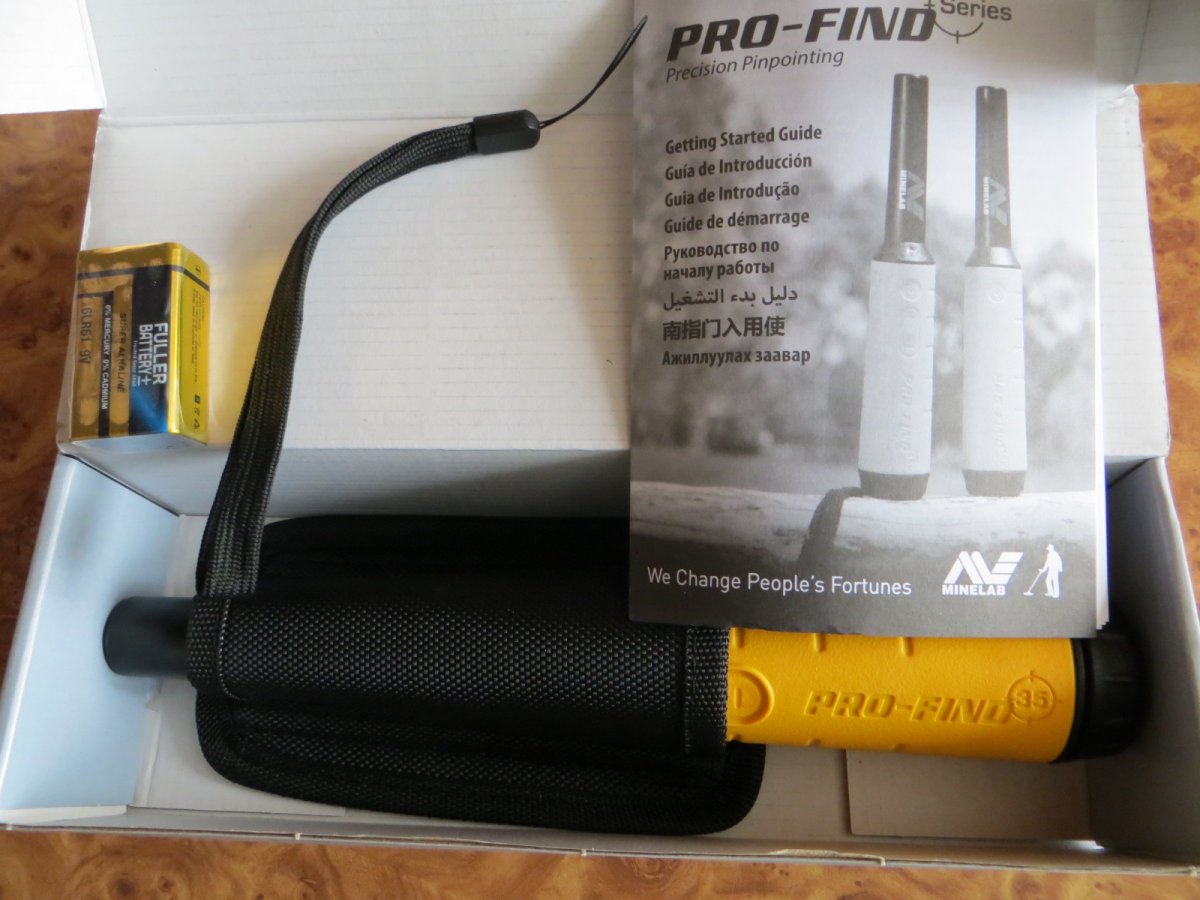 The battery
The device uses 9V (included into the package set) as a power supply; you can easily access the battery holder by taking off the protective cap.
Waterproofness
As we've mentioned above, Pro-Find 35 has a solid waterproof case, which is perfect to operate under water and to use during beach hunting. This pinpointer is good choice to work with an underwater metal detector. The device can be submerged up to 10-ft (3m).
Audio and vibration signals increase, when the pinpointer gets closer to the target, which is especially important for underwater treasure hunting.
However, please keep in mind, that you can't submerge Pro-Find 15!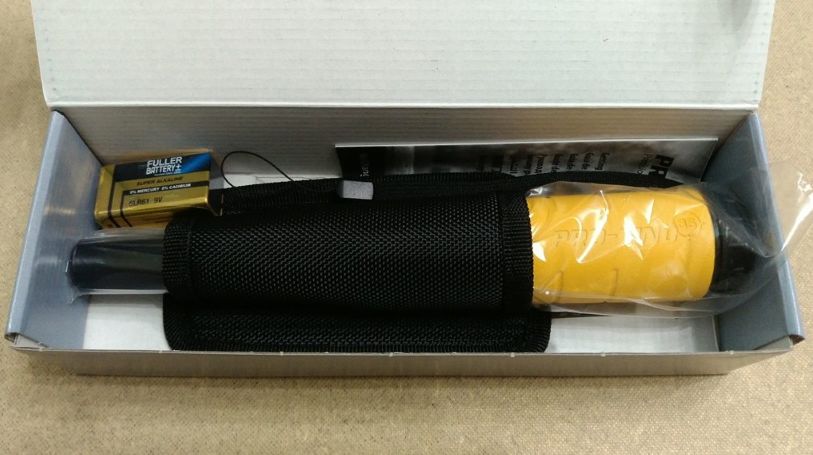 Sound discrimination
Two different types of sound signals help to see between various iron trash and non-ferrous targets.
Sound discrimination is made rather simple. If when pointing on the target the sound breaks, this is a ferrous target; if not, the target is a non-ferrous one.
To activate this function, you should push and hold '+' button for three seconds. To deactivate it, push button '-'.
To be fair, we should mention that the function doesn't perform quite precisely. So, I'd advise not to rely completely on the results obtained with it.
Pros and cons
Pros
High sensitivity to small targets
Significant detection depth
Reliability
Cons
A bit too heavy
You can't turn of the vibro signal
A flashlight isn't very strong
Sound discrimination is not quite precise
Conclusions
Pro-Find 35 is a standard pinpointer, which has both advantages and disadvantages. Though I can't say that the device is bad, yet it is missing some features. As for the sound discrimination… this is rather a controversial issue. As for me, I will dig the target till I see what it is myself.
In general, the pinpointer is not worse than White's TRX Bullseye or Garrett Pro-Pointer II and it is definitely worth the money.
However, if you are looking for a pinpointer for underwater treasure hunting or beach hunting, I'd recommend considering Teknetics Tek-Point.