Here you will find a review of Garrett Pro-Pointer II. This is a pinpointer designed in 2015 by the American manufacturer of metal detectors. This article has information about whether it is possible to submerge the device, what type of battery it requires, what the device features are and if it has any rivals.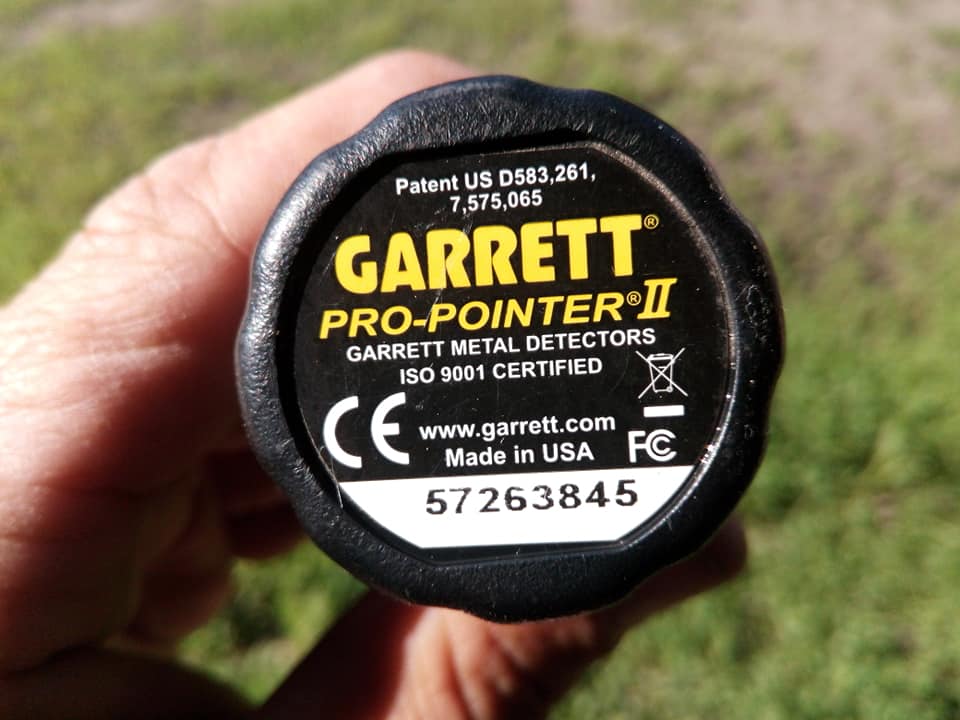 What the device was designed for?
Pinpointer Garrett Pro-Pointer II will help you find the tiniest metal object quickly and with the highest precision. This device will be your best helper during treasure hunting trips. You will get rid of time and energy consuming routine tasks when using this device.
For example, if usually it takes you 3 minutes to detect a target, it will take one minute less when you are using the pinpointer. So, if you dig about 30 holes a day, it makes 30 minutes!
This device will come in useful when working in garrets, basements and other places that have limited space, which is not enough to use a metal detector.
| | |
| --- | --- |
| Model | Garrett Pro-Pointer II |
| Weight | 6.5 oz (0.2 kg) |
| Length | 9″ (22.9 cm) |
| Batteries | 9V (included) |
| Warranty | 2 years |
| Operating Principle | VLF |
| Operating Frequencies (kHz) | 12 kHz |
| Water resistance | No. Weatherproof, splashproof |
| Discrimination | No |
| Ground Balance | No |
| Vibrating alert | Yes |
| Sensitivity – Depth Adjustments | No |
| Build-in flashlight | Yes |
Last update on 2023-09-28 / Affiliate links / Images from Amazon Product Advertising API
Garrett Pro Pointer II vs Pro-Pointer AT
Garrett Pro-Pointer 2 – is a new version of renowned Garrett Pro Pointer (it has been removed from the market), Pointer II has inherited all the advantages of its predecessor as well as it has some new useful functions that make the device even more efficient and convenient.
So, what does Garrett Pro-Pointer II have, which its predecessor Garrett Pro Pointer doesn't:
The case with a loop to attach a keeper probe security lanyard
Lost pinpointer alarm
Automatic off mode after 1 hour of idle
Higher sensitivity
Quick reset/adjustment of the pinpointer
In addition, this pinpointer has better designed fixation for a keeper probe security lanyard. Although, the list is not long, for a pinpointer this is rather significant list of differences.
While Garrett Pro Pointer has been removed from the market and it's challenging to find it on sale, the situation is the same with another pinpointer produced by this company. It is on sale, it is popular and at first glimpse it doesn't differ much from Garrett Pro-Pointer II.
We are talking about Garrett Pro-Pointer AT, which we have already reviewed. So, what is the difference between these?
Actually, it is all about their ingress protection rating (IP). Garrett Pro-Pointer AT — has the highest possible ingress protection rating of its case – IP 68.
Garrett Pro-Pointer II has a bit lower ingress protection rating – IP 66. The number here means dampproofness of the device. The higher is the number, the better and more reliable is the device protected from moisture ingress.
You can submerge Garrett Pro-Pointer AT up to 20 foot (6 meters) deep.
However, Garrett Pro-Pointer 2, won't function under water at all. The device isn't designed to be submerged, but it will easily deal with any natural precipitations such as rain, snow, dew, etc.
Garrett Pro Pointer II price is more affordable in comparison with Pointer AT. So, if you plan to use the device only on dry land, it will definitely meet all your requirements.
Garrett Pro-Pointer II
Water Resistant
360° Side-Scan Detection Area
Patented Features like Audible/Vibrating Alarms and Scraping Blade
LED Flashlight
Last update on 2023-10-01 / Affiliate links / Images from Amazon Product Advertising API
The review
Garrett Pro Pointer II is a classical pinpointer with a black case. Garrett Pro-Pointer II functions in a static mode, that's why there is no need to move it from side to side and you can thoroughly study each inch of the ground surface.
When a target is detected, you'll receive both audio and vibro signal. At that, the closer the device is to the target, the louder is the signal you hear.
Pinpointer sensitivity adjustment is performed by pushing a large on/off button. Using the same button you can mute the pinpointer and switch the sound back.
The pinpointer has an embedded LED flashlight to use it in low-lit places. The LED flashlight lights only a spot where the pinpointer tip is directed and you can see this area only when being in close vicinity to it.
To make sure that Garrett Pro-Pointer II won't be lost during the treasure hunting process the manufacturer has equipped it with an alarm.
If you accidentally drop the device or leave it idle for more than 15 minutes, it will start producing a sound signal that becomes louder in time. The device will keep doing this for half an hour.
In addition, to improve the pinpointer safety you can attach it to a security lanyard or a narrow strap. There is a special loop for this purpose on the device case.
Operating surface of the device (sensitivity zone is 360 degrees around the cylindrical sensor-case) is equipped with a kind of scraper to shovel the ground and at the same time this scraper serves as a reinforcing rib.
Here is an important notice! You should turn on the pinpointer when being away from the possible target location.
The thing is that Garrett Pro-Pointer has automatic ground balance function and it can automatically use the target for this. Put simply, – take the pinpointer, turn it on and only then put it into a hole or bring it closer to the ground surface.
In addition, please consider some advice from me. Sometimes the pinpointer starts producing sound signals for no reason. Whatever has happened to the device, first try to reboot it – turn it off and then on.
If the above mentioned didn't help, it means that:
1) While you were using the device the dirt stuck to its case and it contains some metal particles, so you just need to clean and wash the pinpointer.
2) You have some issues with the battery. Even if you have just bought it, there are many counterfeits and defect items in this segment of the market. Also, phantom signals may appear when the battery (or accumulator battery) is almost discharged.
3) It is also possible, that you didn't take sufficient care of the device and there is some moisture inside the pinpointer. In this case, you should dry the device. That's why I always recommend taking the battery from the pinpointer and leaving the device to dry with the battery holder open once you come back from the digging trip.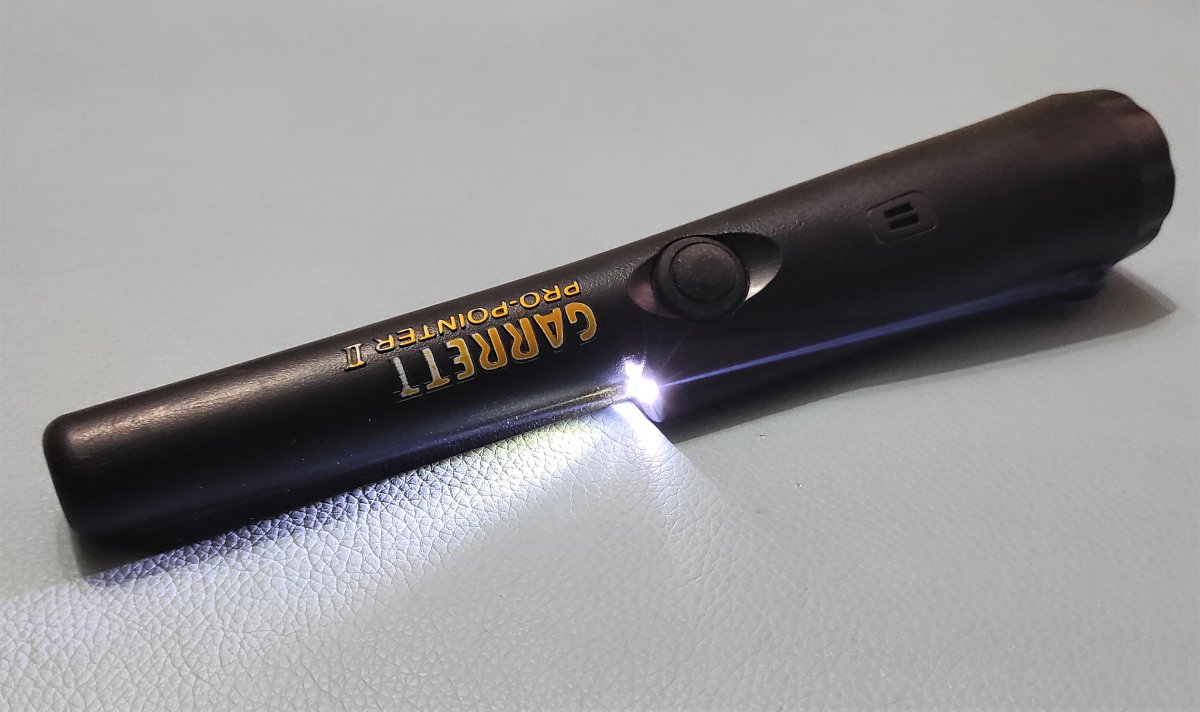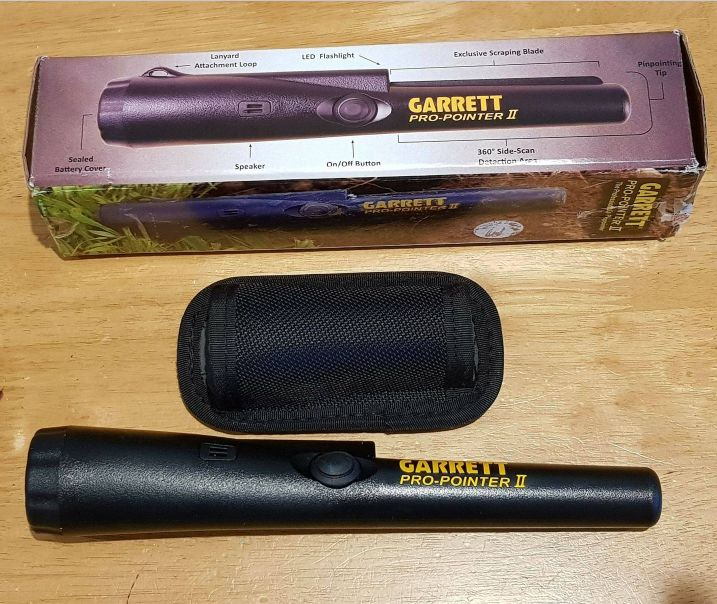 The battery
The battery holder is inside the device case and it is reliably covered with a screw cap. The pinpointer uses one 9V battery as a power supply.
The operation time provided by one alkaline battery is about 30 hours, while when using an accumulator battery this time equals 6 – 10 hours depending on its capacity.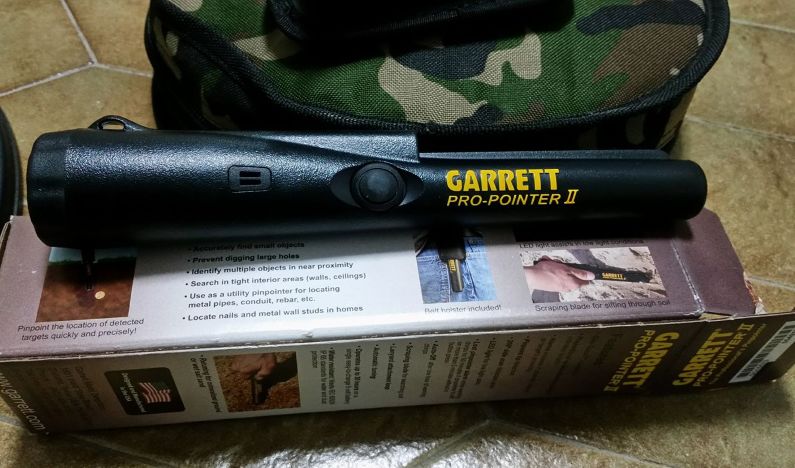 Waterproofness
The pinpointer case is damp proof (IP66). Therefore, you can definitely use it even in damp ground.
However, you should keep in mind, that the device is not completely waterproof, so you mustn't submerge it.
Even though the device is a damp proof one, the speaker is not protected from water ingress. So, when washing it, close the speaker with your finger.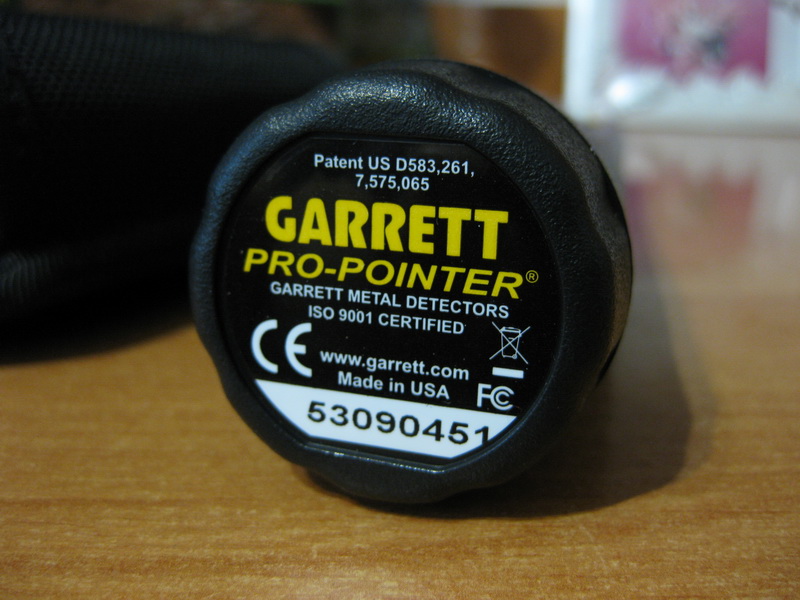 Pros
easy to use
compact
sensitive
reasonably priced
Cons
Conclusions
Garrett Pro-Pointer II is a simple, reliable, time-proven pinpointer. If you don't plan to go beach hunting, you can buy it without any doubts. However, if you need a pinpointer to use it under water or you will go beach hunting, it's better to get Pro-Pointer AT. Though, I personally recommend getting Teknetics Tek-Point for beach hunting, since this pinpointer demonstrates higher performance on highly mineralized ground.
If you don't stick to some specific brand, you may consider buying White's TRX Bullseye. It is quite possible, that you'll like it even more than the above mentioned devices.