Garrett AT Pro review. This is a well-proven American metal detector. Its main advantages are water resistance and precise detection of coins and relics. Except Garrett AT Pro, the company manufactures two similar models – Garrett AT Gold (for gold prospecting) and Garrett AT Max (an advanced version of AT Pro). We have a separate review for each of them and we recommend to read them, since maybe these models of the device will better suit your needs.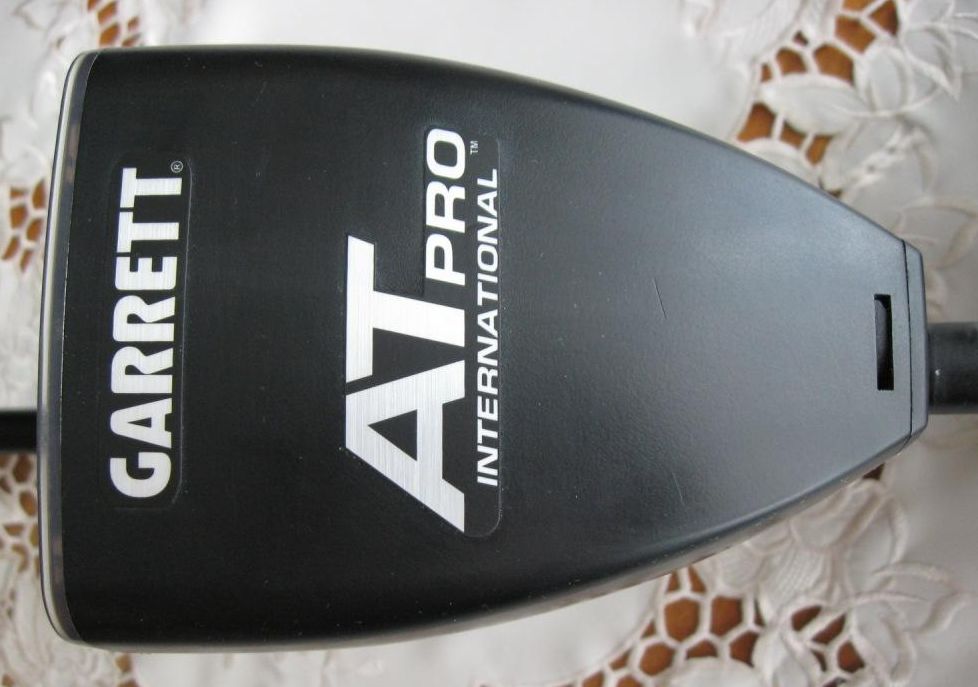 The metal detector purpose
Garrett AT Pro isn't a new model of metal detector. When it was introduced on the market, it was meant for coins and relics hunting and it was a multi-purpose device. Only after this Garrett AT Gold and Garrett AT Max appeared.
AT Gold is perfect device for gold prospecting, including beach hunting, while AT Max is an upgraded and improved version of AT Pro.
If you are interested in coins and relics hunting, then you have to choose between AT Pro and AT Max. AT Max is more modern device and it has several additional options. However, it is for you to decide whether they are worth paying extra money.
Review
Garrett AT PRO appeared on the metal detectors market at the end of 2010. The device itself is a rather unique one – it's not just a ground search metal detector it is also an amphibian one.
It combines all the advantages of ground search metal detector together with the ability to use it under water or under the pouring rain.
The device is a light weighted one, it uses just 4 AA batteries put into the battery holder, it is convenient to hold and to assemble.
Also, we'd like to specially focus on the new design of the shaft sections connection, where due to the hold-down bolt any looseness is avoided. In general, the design is simple and reliable.
Garrett AT Pro uses classical VLF pattern. It's worth mentioning that the device uses high operating frequency – 15 kHz, due to which it is especially sensitive to small sized targets.
It's completely low weight – 3.03 lbs (1.4 kgs), which is a very important parameter for a metal detector.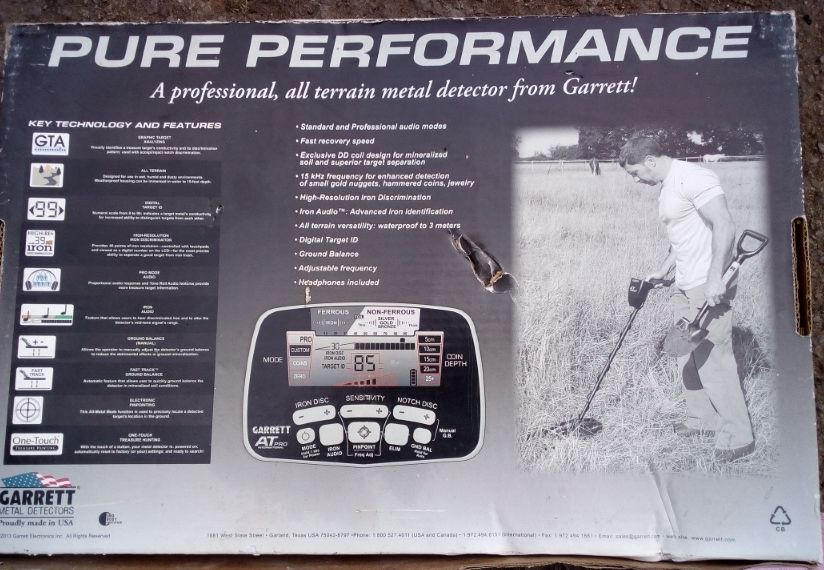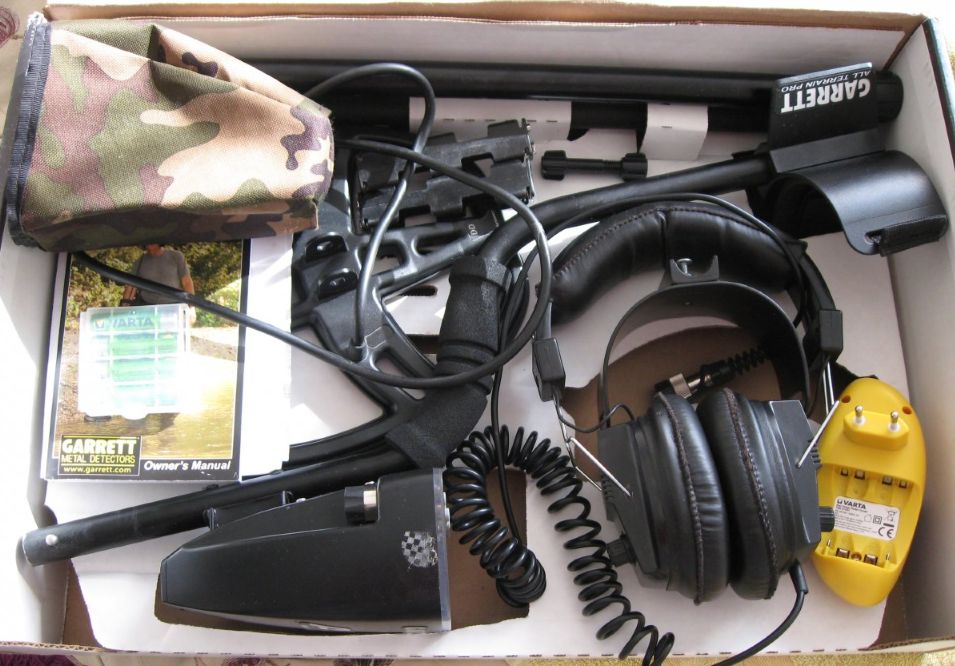 | | |
| --- | --- |
| Model | Garrett AT Pro |
| Weight | 3.03 lbs (1.4 kgs) |
| Length (Adjustable) | 43″ to 56″ (1.09m – 1.4m) |
| Batteries | 4 AA (included) |
| Headphones | Included |
| Warranty | 2 year |
| Circuit Type | VLF |
| Standard Searchcoil | 8.5″ x 11″ DD PROformance |
| Operating Frequencies (kHz) | 15 |
| Water resistance | Waterproof detector |
| Submersion Depth | up to 10 feet |
| Iron Discrimination Segments | 40 |
| Ground Balance | Manual |
| Search Modes | 6 (3 Standard, 3 Pro modes) |
| Audio Threshold | Yes |
| Updatable Software | No |
| Sensitivity/Depth Adjustments | 8 |
| Electronic Pinpointing | Yes |
| VDI (0 to 99 scale) | Yes |
| Build-in flashlight | No |
Last update on 2023-09-29 / Affiliate links / Images from Amazon Product Advertising API
The shaft
The metal detector shaft is S-shaped, it contains of three sections connected in series. The upper and middle sections are made from aluminum alloy and the bottom one is from solid and tough carbon fiber.
The device color has black brand colors and it has rather stylish and sophisticated look.
The shaft length varies from 43″ to 56″ (1.09 m – 1.4 m). The upper shaft section has an armrest, a control unit and a convenient polyurethane foam handle on it.
The design was adopted from the previous metal detector models. It is very convenient, easy to use and reliable, so the manufacturers decided to continue using it, though yet some changes were made.
For example, the upper shaft section has become several inches longer, which enabled more comfortable underwater search when you are waist or chest deep in water.
Besides standard fixation system AT Pro has got a system of double fixation – by means of spring buttons and camlocks.
These enable total absence of looseness, the construction obtains desirable rigidity and firmness.
Garrett AT Pro is easily and quickly assembled, in disassembled state it doesn't occupy much space and can be put in a rucksack.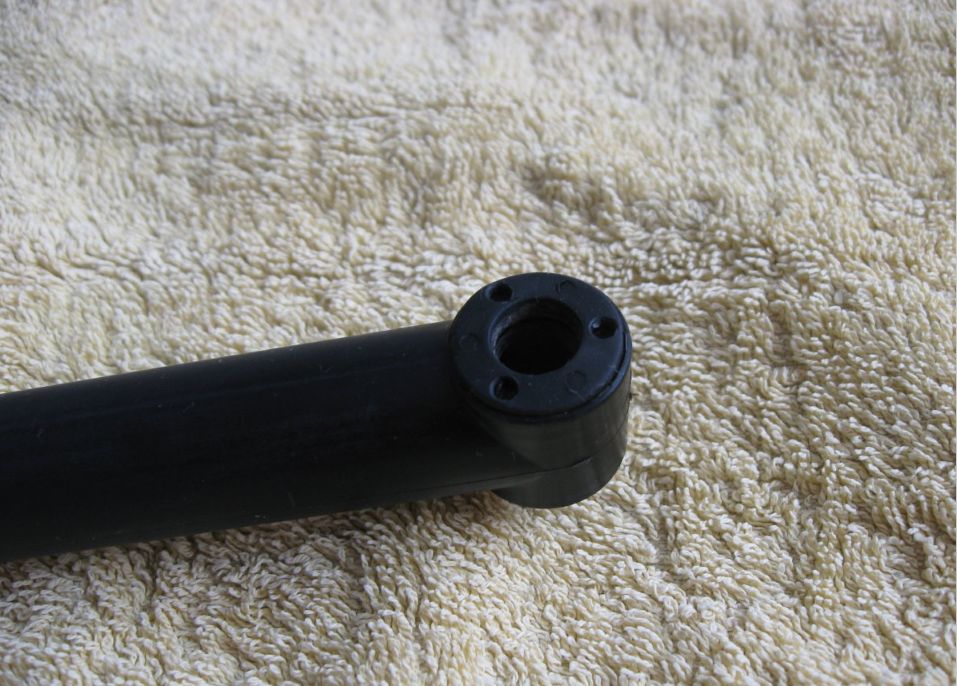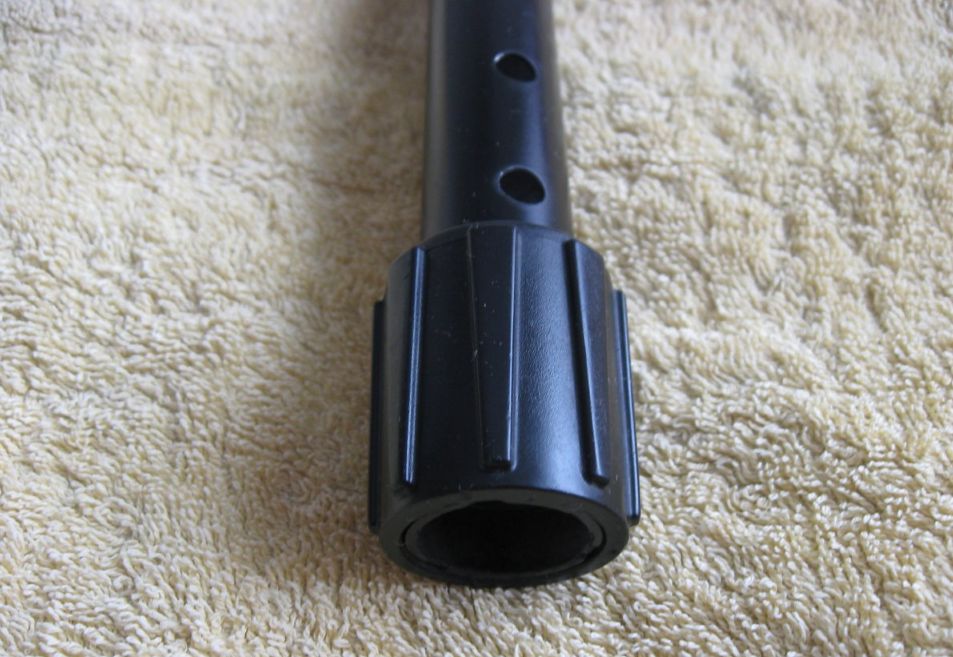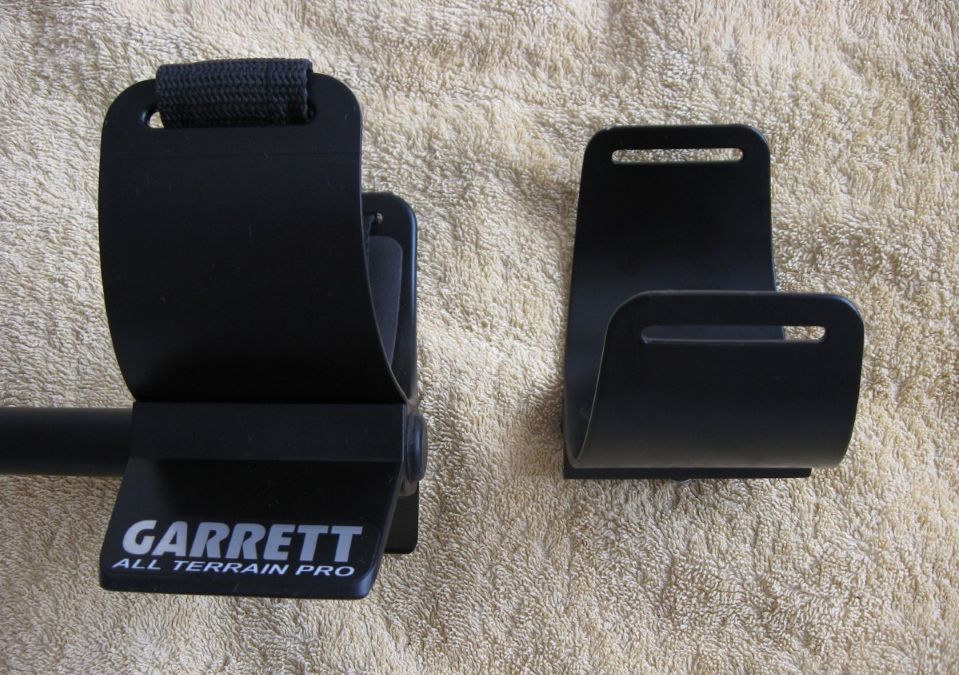 The coil
PRO coil is a DD one; it has considerable dimensions 8.5" x 11" and weighs 2,2 pounds (400 grams). In addition, it is well balanced, that's why the device feels light weighted in a hand and is convenient to use.
The coil main feature is, that its bottom side is covered with a compound which protects it from hitting sharp objects, it is wear resistant and durable.
As a result the coil doesn't require any additional protection. However, you can get a plastic protective case for it, though the manufacturer guarantees that you won't need it.
But experience has proven that yet it would be nice to have the additional protection for the coil.
The coil cable (42 inches or 105 centimeters) is protected with double braid, which is hit, friction and temperature gradient resistant.
The jack connecting the coil and the control unit is equipped with a threaded nut and a system of elastic rubber gaskets, which guarantee fail-safe joint protected from moisture ingress.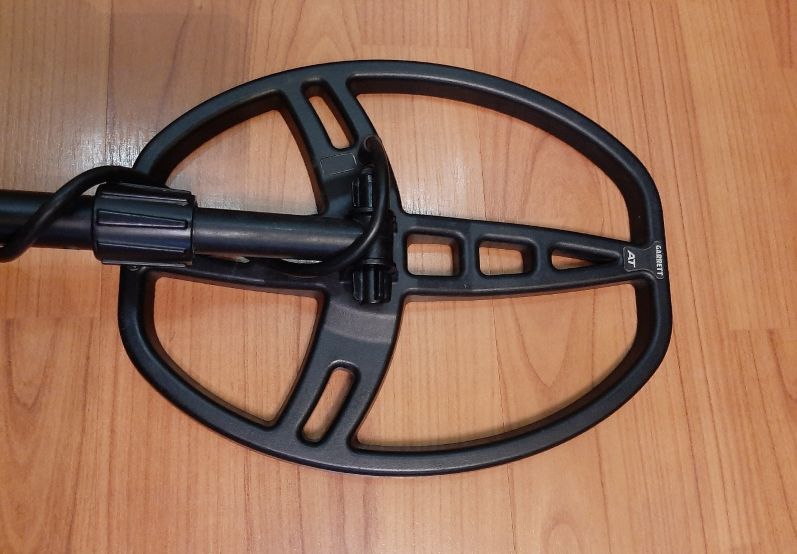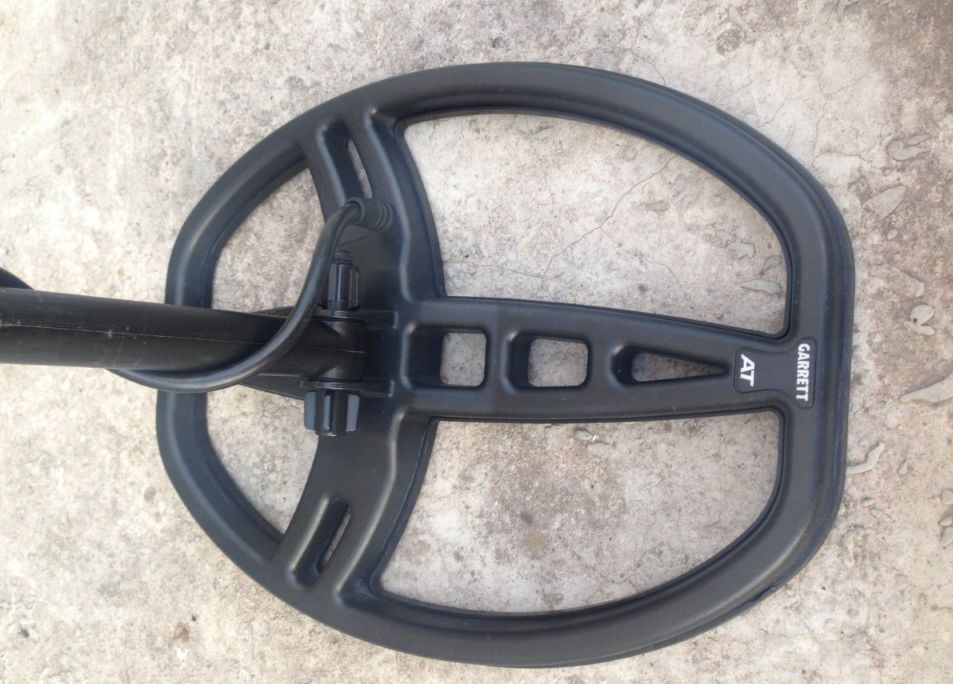 Headphones
The headphones that come in the device set can also be used when treasure hunting under water. The junction point of the headphones jack with the metal detector is leakproof, though you shouldn't submerge them completely.
If full submerge of the headphones is required, it's better to get specially designed waterproof ones, which are sold as a separate device.
The battery
You'll see the battery charge level on the four section scale in the right corner of the device screen. Some users complain about the metal detector poor economy, but at that the batteries it uses are always enough for one treasure hunting trip.
Waterproofness
AT Pro easily stands dust, rain, water, splashes. When submerging the device its control unit is completely protected from water; all important connections such as the coil and headphones jacks are leakproof.
The external speaker of the metal detector is waterproof as well, so you can submerge it up to 10 feet deep and be sure that the device will work successfully.
The only thing is, that before submerging the device it's worth to tighten the threaded nut of the coil and headphones and make sure that the battery holder clip is working. Also you shouldn't leave the device in the sun for a long time and then submerge it.
Garrett AT Pro Metal Detector
Headphones Included
8.5" x 11" PROformance DD Searchcoil Included
Submersible Up to 10 Feet
High Resolution Iron Discrimination
Electronic Pinpointing
Last update on 2023-09-30 / Affiliate links / Images from Amazon Product Advertising API
Control unit
Garret designed this device like all its previous ones to be quite user-friendly and easy to use: simple interface, buttons, self-explanatory and easy to remember functions.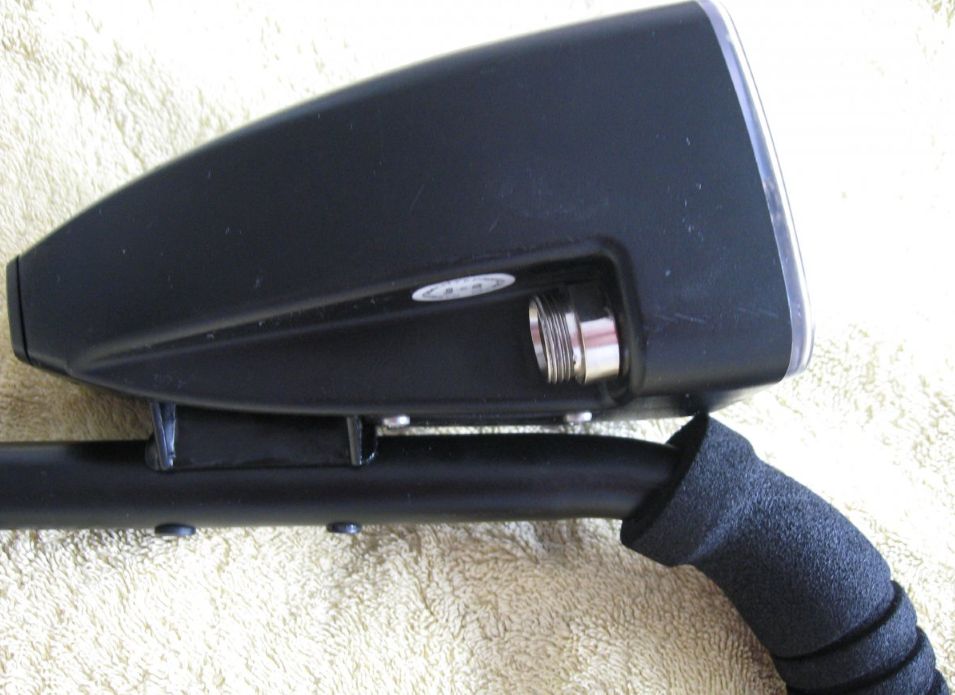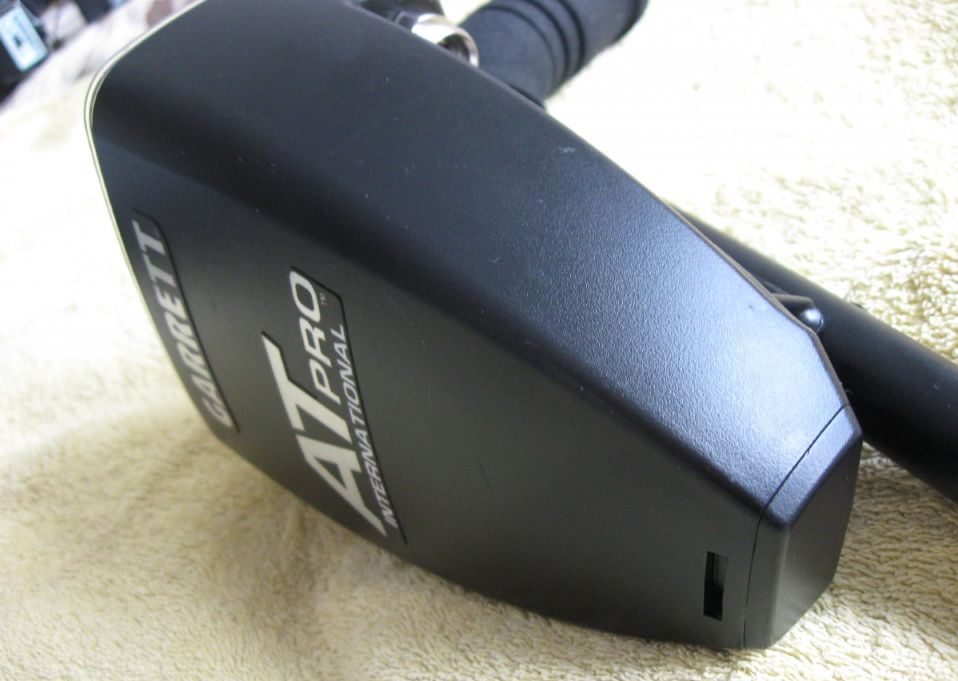 Control panel
MODE is used to select the mode of operation (discrimination mode) and also to turn the device on/off (in case of holding the pressed button for 1 sec).
The long press of the button allows resetting to the manufacturers settings. Short press allows changing the mode of operation.
SENSITIVITY – has two control buttons «+» increase, «-» decrease the sensitivity level.
PINPOINT – enables precise identification of the target location, but to shift the operating frequency SENSITIVITY button is used.
NOTCH has two control buttons «+» and «-» to move along the discrimination scale to select the required element (is used together with ELIM)
ELIM – turn on/off the element selected by means of NOTCH function
IRON DISC – level of iron discrimination. It has two control buttons «+» to increase, «-» to decrease the discrimination. The function is responsible iron discrimination settings. There are 40 iron segments.
IRON AUDIO — this is a function that allows detecting ferrous targets to eliminate digging phantom signals. This function is especially helpful in professional mode of the device operation. The metal detector produces tone signals when ferrous target is detected and creates additional signals of different tones.
If you wish not to go deaf after receiving various tone signals when working on complicated soils full of iron rubbish, it's better to switch this function off. It is worth switching it on if some unclear signal is received from the target.
PINPOINT — is a mode for precise target detection to define the exact target location. The target depth is displayed in the right section of the display.
GROUND BALANCE is needed for automatic ground balance adjustment. You should use NOTCH button to do it manually. Push and hold the GROUND BALANCE button for automatic adjustment.
Push, hold and at the same time use NOTCH DISC – these allow manual ground balance adjustment.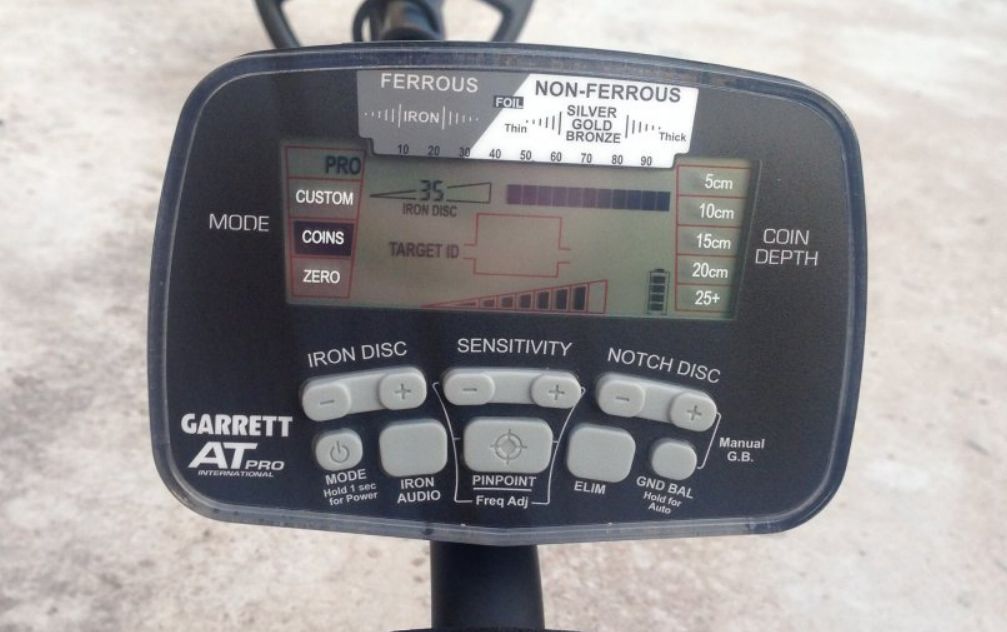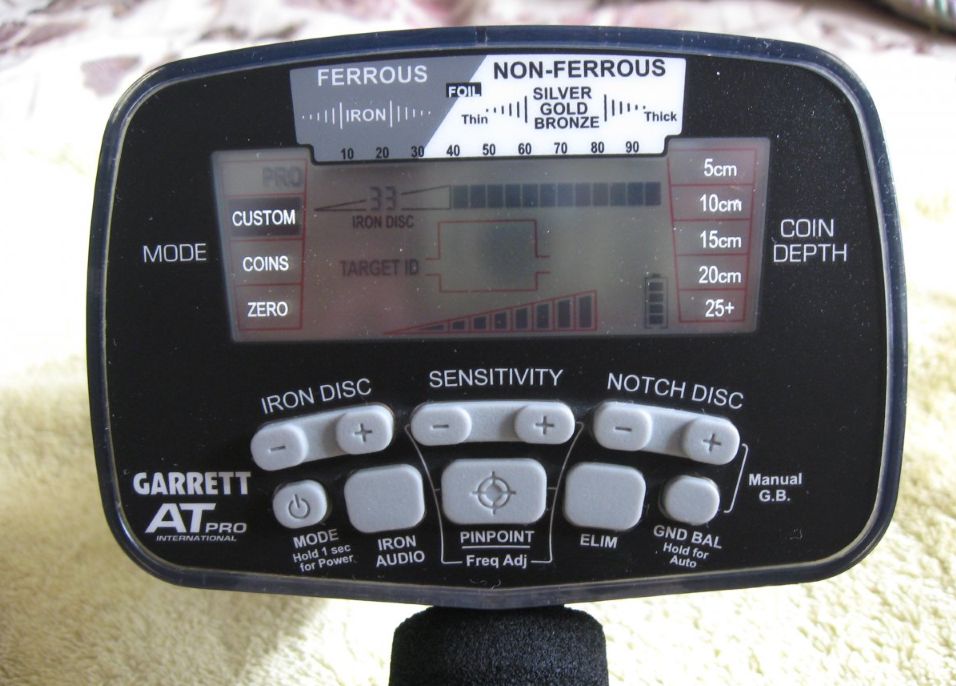 Modes of operation
At Pro has six modes of operation: three standard ones (STD) and three professional modes (PRO). If you have no experience of using this metal detector, it's better to start from using standard operation modes. You can switch between the modes using MODE button.
Discrimination functions works a bit different depending on the selected operation mode of the device. Recovering time is different for different operation modes. For standard (STD) modes — ZERO, COINS or CUSTOM the recovering time value is larger than that for PRO modes of operation.
The following three programs are available both in standard and professional modes of operation:
• Custom – the device user adjusts the settings; the settings changes are remembered after the device is switched off; manufacturer's default settings are identical to those in Zero mode
• Coins – is for multi-functional coins and jewelry hunting; ferrous metals and foil are excluded as well as discrimination segment for foil; iron discrimination level is equal to 35
• Zero – is for all metal search; no ferrous targets are ignored; 12 discrimination segments are on; iron discrimination level is 0
STD mode of the device operation is good for beginners or if you need to study the metal detector features. In this mode AT Pro produces a binary signal at top volume which indicates detection of the target.
If the target is heterogeneous, for example, it is a bullet with a steel lining or a coin covered under ferrous metal rubbish, in the standard mode of operation the user will hear the same signal tone.
In PRO mode of operation the tone signal gives more information, which allows quickly locate two neighboring objects – this is a perfect solution for soils with lots of ferrous rubbish.
Tone signal produced by Pro Audio consists of the following:
• Proportional Audio – the signal volume is proportional to the target signal strength
• Tone Roll Audio – the signal tone pitch varies when approaching to the object
So, when adjusting the mode of operation you should keep in mind that: two neighboring targets in STD mode of operation produce a single tone signal and in case of Pro operation mode you'll hear two signals and at that the tone will vary depending on the target conductivity.
In case of Pro mode of the device operation the target signal will be quivering and combined, which indicates presence of two and more targets of different conductivity.
Function Proportional Audio will make the scale segment sound louder or quieter depending on this or that metal amount in the target.
Ground balance
Ground balance is a function that allows the metal detector ignoring signals received from various soil minerals.
Ground balance function not only reduces the number of unnecessary signals received from the soil, but also it enables detecting deeper located targets with higher target identification precision.
That's why if you live in some areas with highly mineralized soils, you'll definitely need a metal detector with such a function.
Garrett has equipped its metal detector with two options of ground balance function: automatic and manual one. This allows using the device on highly mineralized soils and on mixed soils.
Automatic ground balance function is performed as follows: find a plot of soil clean from metal rubbish, push GND BAL button and wave the coil up and down, when the sound level reaches its minimum, release GND BAL button and you can start detecting.
Low level of ground balance corresponds to high conductivity soil, while high level is peculiar to the soil with high iron content.
For manual ground balancing you should push and release GND BAL button and wave the coil at the same time.
When receiving low signal tone you should increase the ground balance level by means of (+) NOTCH DISC. And vice versa, in case of high signal tone you should decrease the ground balance level by means of (-) NOTCH DISC.
Once the signal tone decreases to its minimum you can stop the adjustment process by pushing GND BAL button one more time.
Noise cancel
To decrease the noise from electrical power transmission lines or from another metal detector working in the neighborhood you can slightly shift the operating frequency.
Quite often it happens, that several detectorists are working at the same area using the same metal detectors with similar operation frequencies. In this case, the devices can create electromagnetic noise.
AT Pro has 15 kHz operation frequency with the possibility to shift it, which allows to avoid electromagnetic noise influence (when working closely to electrical power transmission lines or other metal detectors). To adjust the operation frequency you should do as follows:
1. Push PINPOINT/Freq Adj button
2. Using (+) or (-) SENSITIVITY buttons change the operating frequency to the required value – when the noise is minimal
3. The selected frequency value will be displayed (F1–F4)
4. Release PINPOINT button
You should adjust the frequency when electromagnetic noise influence is rather significant. The selected operating frequency value only suppresses the noise and it doesn't have an impact on the detection depth.
Pros
Multi-purpose device
Easy-to-use
The device is assembled in the USA and it's a time proven device
Can be used both on the ground and under water
Cons
One operating frequency
Price
Conclusions
Garrett AT PRO has rather good performance for its semi professional level. Of course, we can say that this is a device for professionals and its price bracket is not the one where you can find a professional metal detector, nevertheless it is a high quality semi-pro device.
As for the device advantages – it is easy to learn to use it. Any beginner detectorist after several days of using Garrett AT PRO will see its true value.
It is convenient to work with this metal detector. It is good for hiking. The device will do for both beginners and detectorists with more experience, which are switching from metal detectors for beginners to devices for professional search.