This review is devoted to underwater metal detector Garrett Sea Hunter Mark II. It will be a good purchase for beginner detectorists, since the device is reliable and easy-to-use. As for the disadvantages, we should mention absence of proper discrimination, which means that you should be ready to dig a lot.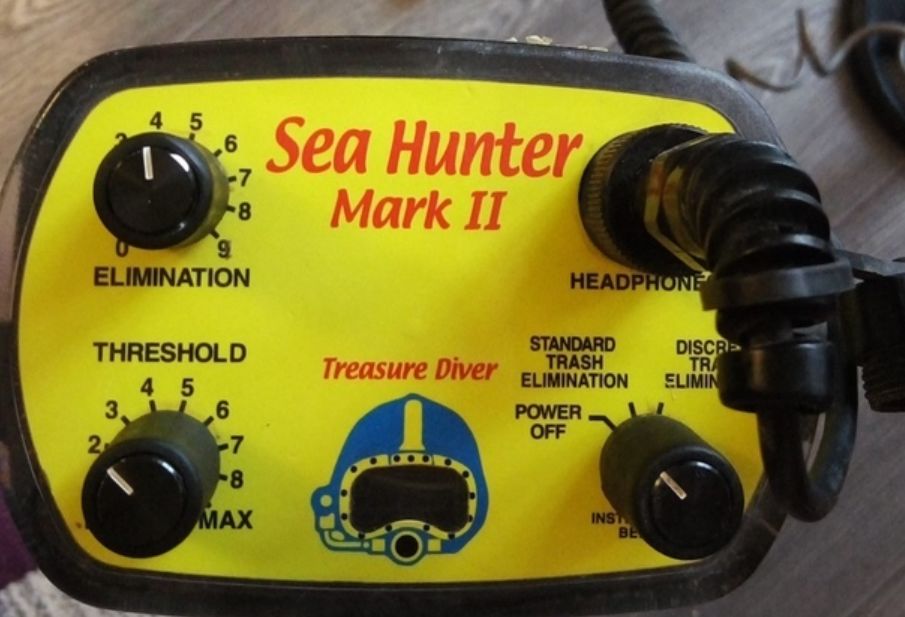 Review
Garrett manufactures excellent metal detectors for beach hunting (AT Gold, AT Pro and AT Max), but the company didn't pass by underwater treasure hunting as well.
Therefore, they've designed some underwater metal detectors and Garrett Sea Hunter Mark II is one of them. This device allows underwater treasure hunting for ferrous targets in fresh and brackish water, it has simple settings and it is quite easy to master.
Using this metal detector you'll be able to submerge it up to 200 feet (65 m) deep into fresh and brackish water.
Not only the device control unit and coil are leakproof, but also the headphones that come in the device package set. The device ignores influence of brackish water and most of soil minerals.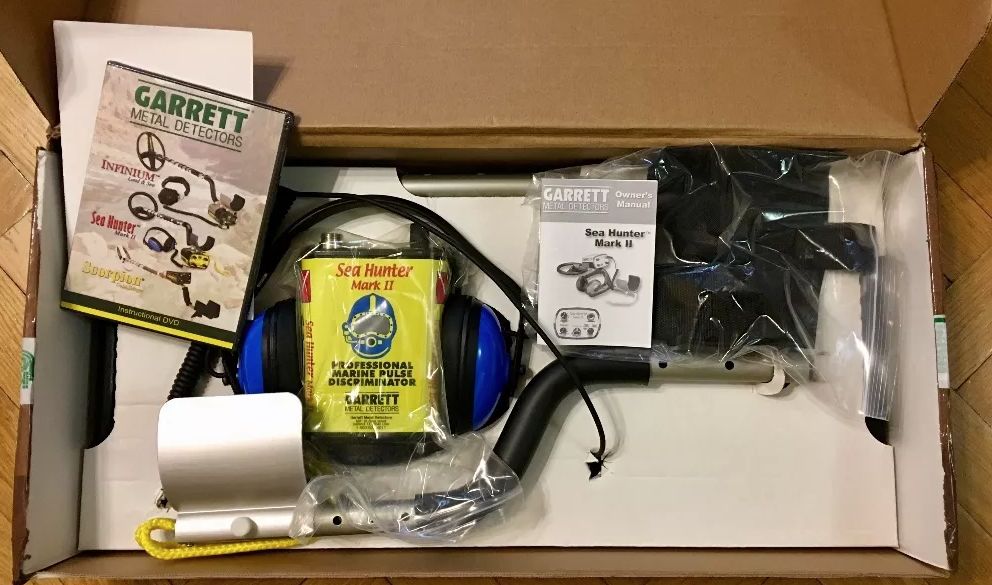 | | |
| --- | --- |
| Model | Garrett Sea Hunter Mark II |
| Weight | 5.1 lbs (2.3 kgs) stem-mounted |
| Control Housing | 31 oz (88 kgs) |
| Length (Adjustable) | 28″ to 52″ (.71m – 1.32m) |
| Batteries | 8 AA (included) |
| Headphones | Submersible headphones included |
| Warranty | 1 year |
| Circuit Type | Pulse Induction |
| Standard Searchcoil | 8″ PROformance™ mono |
| Operating Frequencies (kHz) | 750 pulses per second, adjustable |
| Water resistance | Underwater detector |
| Submersion Depth | 200 feet (65m) |
| Discrimination | Full Range (PI) |
| Ground Balance | Preset |
| Search Modes | 3 |
| Audio Tones | 1 |
| Audio Threshold | No |
| Detector Buoyancy | Near neutral |
| Updatable Software | No |
| Electronic Pinpointing | No |
| VDI (0 to 99 scale) | No |
| Build-in flashlight | No |
The shaft
Garrett Sea Hunter Mark II is a multi-purpose underwater metal detector.
For your convenience it has 4 types of assembling depending on the search conditions:
1) full length configuration – the control unit is installed under the shaft with fixation under the elbow to provide proper device balance and mobility;
2) long shaft – the control unit is installed lower than the armrest;
3) shortened shaft – for underwater treasure hunting;
4) the control unit is fixated on a waist belt – this will do for any type of shaft configuration.
S-shaped aluminum upper shaft with an armrest is the basic part of the construction. You can attach short or long shaft section to it (by means of a special extension bar) and you will either get a small sized device, or it will have an elongated shaft.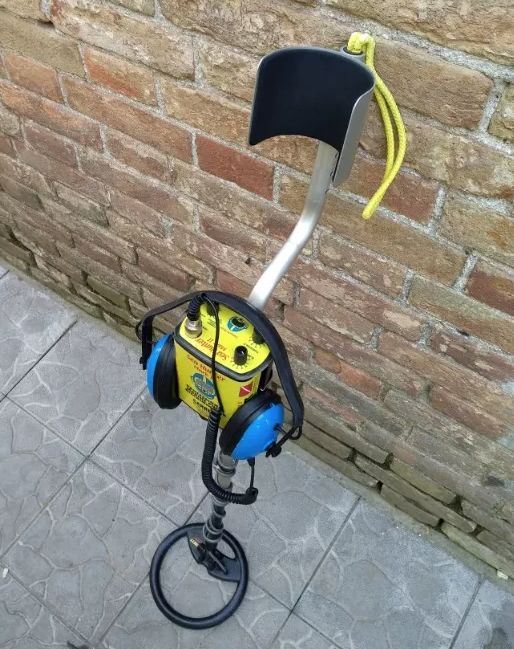 The metal detector armrest can be shifted along the shaft for more precise adjustment of the device size to the user's height, which doesn't require any special instruments.
The device handle is made from foam rubber, which makes it rather convenient to use.
The control unit is attached to the upper shaft section by means of special clamps. If necessary, you can fasten it to a waist-belt after putting into a special case that comes in the metal detector package set.
The coil
Garrett Sea Hunter Mark II metal detector is equipped with a coil Mono PROFormance 8" in diameter. The coil is waterproof, just like other parts of the device.
It can be submerged into fresh and brackish water up to 200 feet (65 meters) deep.
Coil connecting cable is rather long to ensure the user's mobility in case when the control unit is attached to the user's waist-belt.
The coil jack is designed using the technology providing leakproofness of contact elements.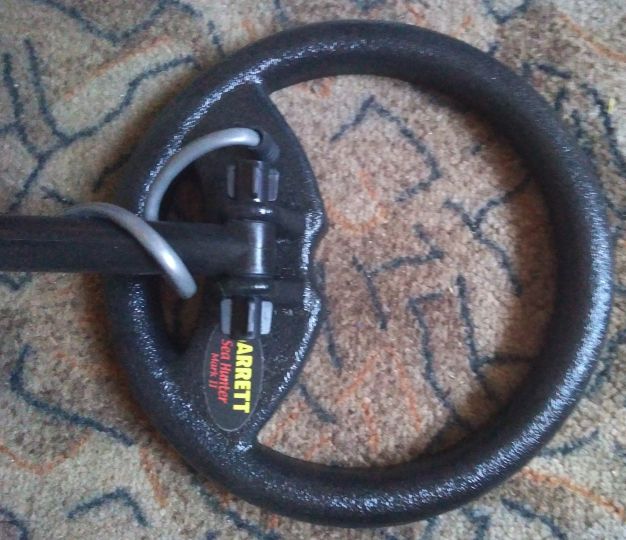 Headphones
The metal detector has wired headphones in its set; they are connected to the control unit by means of a leakproof jack plug.
Twisted cable of the headphones doesn't get hooked on clothes, bushes, etc.
Battery
The metal detector uses eight AA batteries as a power supply. These are enough for 30-40 hours of the device active use.
The batteries are included in the device package set and are already installed into the control unit, so you can start treasure hunting right after you buy the metal detector.
The battery unit is on the back of the control unit, it has a special leakproof crimp cap.
Waterproofness
The metal detector is completely waterproof; you can submerge it up to 200 feet (65 meters) deep.
Control unit
The metal detector is designed so, that the settings adjustment requires minimal time. The fact that the device is easy-to-use is very important for underwater treasure hunting.
The device doesn't have visual indication (VDI) – all the information is received through the headphones, which seems quite reasonable.
There is no chance to read information from the display under water and quite often search conditions worsen the visibility or sometimes there can be even zero visibility.
The background color of the control unit panel and its contrast with black handles have reason behind it, since in this case it is rather easy to see and quickly adjust the device settings under water.
There are two potentiometers, one switch and headphones jack on the control unit panel.
Operation modes switch has three positions and it is in the lower right corner of the panel. When the switch is all the way to the left, the metal detector is off.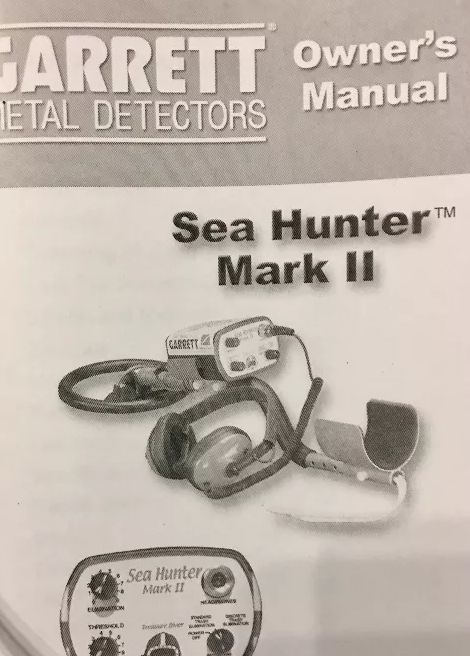 The first switch position turns on the device standard mode of operation (Standard Trash Eliminator).
At that you'll hear a series of tone signals – they indicate that the batteries are being tested. If you hear 4 or more signals, it means that the batteries are in a very good condition; if there are 2 signals – their condition is satisfactory, and one signal or its absence means that the batteries require replacement.
The second position of the switch turns on a special mode of operation (Discrete Trash Eliminator).
The THRESHOLD potentiometer is responsible for adjustment of the threshold noise level, which should be barely heard during detecting.
Threshold noise divergence indicates presence of some ferrous metal in soil.
The ELIMINATION potentiometer is for discrimination adjustment. When you turn it clockwise, unnecessary objects get sequentially excluded from the search.
However, the manufacturer recommends to go treasure hunting at minimal discrimination values, since you may miss targets such as golden jewelry at high discrimination level.
We should notice that the potentiometers and the switch are rather hard to turn. They were designed so in purpose, to make sure that the device settings won't be disrupted because of accidental contacts.
Since it is more challenging to control the potentiometers or the switch position under water.
Modes of operation
Garrett Sea Hunter Mark II uses PI (pulse induction) scheme, which does not get affected by brackish water or highly mineralized sand.
PI technology was specially developed for treasure hunting in brackish water or on the beach.
The only disadvantage is absence of discriminator. Though, some PI metal detectors have metals discrimination function.
However, we can also say that Sea Hunter Mark II has some function similar to discriminator, which VLF metal detectors have. It is called Discrete Trash Elimination and it allows ignoring some specific unwanted targets.
The metal detector has two modes of operation: a standard one – Standard Trash Elimination and a discrete one – Discrete Trash Elimination.
Treasure hunting process with the help of this metal detector is quite simple. You just need to see the difference between these two modes of the device operation – a standard one and a special mode.
The basic difference between the modes is that Discrete Trash Elimination is a dynamic mode of operation, so while detecting you should move the coil over the bottom surface and only in this case the metal detector will generate response signals.
The discrete mode (discriminator) works like a standard VLF metal detector. You should move the coil above the target to receive a response to some metal, this is a dynamic mode.
Using discriminator allows selecting precisely some specific range of targets to ignore them without sufficient decrease of the detection depth.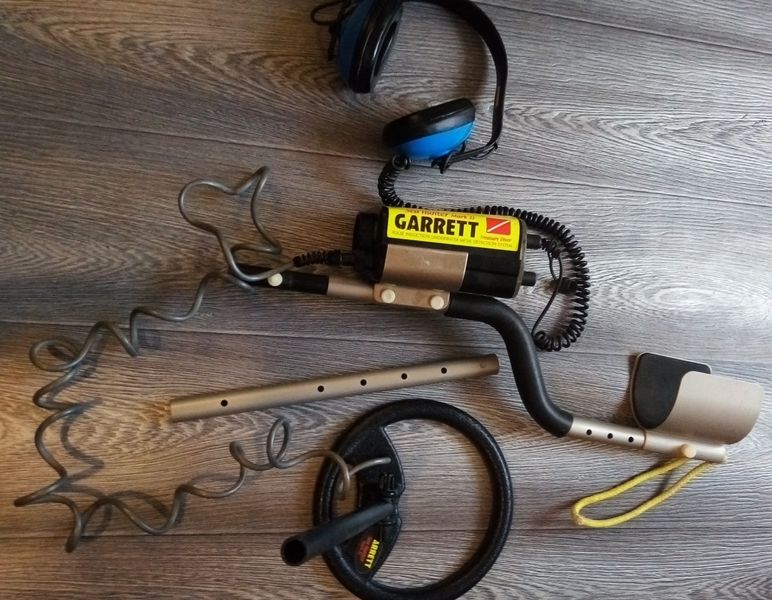 When using Standart Trash Elimination mode there is no need to move the coil, the device switches to static mode of operation with threshold noise the level of which is maintained in both modes.
Discrimination is possible in this mode, but when discrimination level rises, the detection depth decreases. At the end point position of the discriminator, the detection depth may be about 50% worse.
Thus, when using the dynamic mode of the device operation you can search for metal containing targets, while the static mode is good for double checking the target and detecting its center basing on the target signal amplification when the coil center moves above it.
The static mode of operation is convenient when the detection is conducted in space-limited environment, when there is no possibility to wave the coil and also when different targets are quite close to each other.
In other cases special mode of operation is more preferable to use.
Pros
neutral buoyancy
rechargeable battery pack
extremely sensitive detector
headphones
Cons
the rod is very wobbly
sharp edges
Conclusion
Garrett Sea Hunter Mark II is a good and affordable PI metal detector (unlike Minelab Excalibur II) designed for underwater treasure hunting.
The device designers succeeded to do the most important sing – to create a simple, reliable metal detector with stable performance for underwater detecting, which doesn't require any special skills.
The device discriminator is designed as a typical one for PI metal detectors and it almost doesn't get affected by mineralized soils.
This metal detector is quite convenient to assemble and thus you get a small sized underwater metal detector.
The device will do for a wide range of divers, especially for beginners, who want to try diving with a metal detector.
As for its disadvantages, we can name the absence of discrimination, which means that you'll have to dig a lot.
On the other hand, it can be considered an advantage as well, since there is no target you will miss and you'll be able to find much more than other detectorists.