Here you'll find Minelab Vanquish – 340, 440, 540 metal detectors review. It has information about the devices operating frequency, their weight, how they differ from each other and other stuff.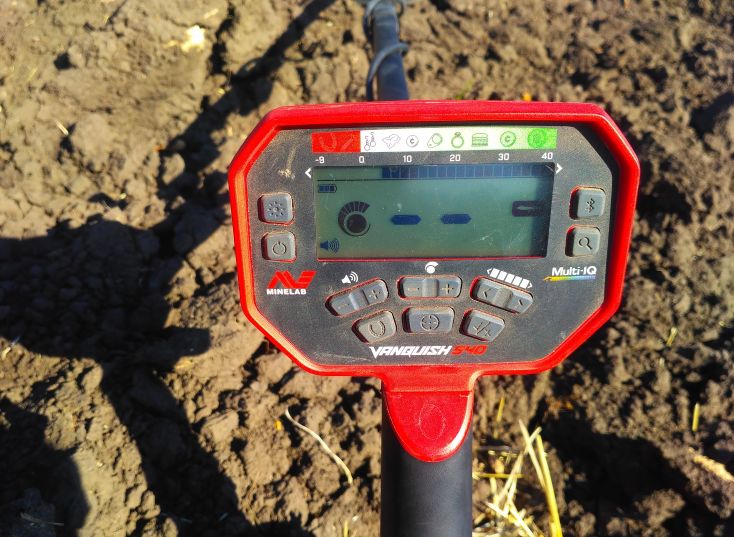 What was the device designed for?
In May 2019 Australian company Minelab announced its new metal detector Vanquish and in September it appeared on the market. Actually, these were three metal detectors (340, 440, 540), which had different functions and package sets. Later on, the 4th model appeared – Minelab Vanquish 540 Pro. This metal detector model is almost the same as 540, but it has two search coils and other additional options.
To start with, let's define what kind of product line is that? Well, things are quite simple here. Minelab has a product line of metal detector for beginners called Minelab Go-Find. It turned out to be not very successful one. It hasn't been in demand from the very beginning and, moreover, nowadays it has become outdated.
At that, the rivals on the market are very active and they continue designing new metal detectors. For example, Turkish Nokta Simplex can successfully compete with most of modern metal detectors for beginners.
All the above mentioned made Minelab create another new product line. To be more exact, they started this process long ago by designing a middle level metal detector – Minelab Equinox. Then the company announced another metal detector, which I expected to be an alternative to their flagship device CTX 3030, but it wasn't….
Frankly speaking, I was disappointed, when I saw the novelty. It was like Garrett ACE 250, but in red. However, the reality has exceeded my expectations.
So, let's take a closer look at Vanquish. Here we'll deal with a metal detector pretty similar to Minelab Equinox, but with sufficiently decreased functionality.
Why decreased? Because the device was designed for beginners only, however it can offer more than its rivals.
| | |
| --- | --- |
| Model | Minelab Vanquish 540 |
| Weight | 2.9lbs (1.3kg) |
| Length (Adjustable) | 760 mm (30″) – 1450 mm (57″) |
| Batteries | Included, 4 x AA NiMH rechargeable |
| Headphones | Wired 3.5mm (1/8″) |
| Warranty | 3 years |
| Operating Principle | VLF |
| Standard Searchcoil | V12 12″x9″ Double-D |
| Operating Frequencies (kHz) | Multi-IQ |
| Water resistance | Coil to 1m/3-feet |
| Submersion Depth | No |
| Search Modes | Coin, Relic, Jewellery, Custom, All Metal |
| Ground Balance | Auto |
| Audio Threshold | No |
| Sensitivity | 10 levels |
| Electronic Pinpointing | Yes |
| VDI (0 to 99 scale) | Yes |
| Build-in flashlight | Monochrome LCD with red backlight |
Minelab Vanquish. Firmware update ver. 1.6.1
Metal detector Minelab Vanquish 340, Vanquish 440, and Vanquish 540 have had their first firmware update. As the developers say, VANQUISH 540 has become more effective. A new setting, Iron Volume Control, was introduced. It will allow controlling the iron volume you'd like to hear and make trashy and mineralized soil easier for metal detecting.
Ten setting levels ensure decreasing iron volume to its minimum and leave non-ferrous targets sound clearer and louder. You can activate and adjust this function by holding the All metal, Volume, and +/- buttons.
Except that, some general improvements of all VANQUISH models were implemented. The update also includes improved ways of using batteries for all models as well as new reporting when the battery is low.
Minelab Vanquish comparison
Standard Searchcoil
V12 12" x 9" Double-D; V8 8" x 5" Double-D
Detect Modes
Coin, Jewellery, All Metal
Coin, Relic, Jewellery, Custom, All Metal
Coin, Relic, Jewellery, Custom, All Metal
Coin, Relic, Jewellery, Custom, All Metal
Last update on 2020-11-22 at 18:22 / #ad / Images from Amazon Product Advertising API
The review
First of all, let's keep in mind that there are three devices in the product line (Minelab Vanquish 340, 440, 540) and one more advanced model. The device package set, and functionality increases as its numerical index grows. Which means that 340 is simpler than 440 and much simpler than 540. There is no functional difference between Minelab Vanquish 540 and 540 Pro, but they have different package sets.
Minelab Vanquish 540 Pro-Pack is equipped the same as 540 model, but its package set includes wireless Bluetooth headset. Moreover, the device is supplied with waterproof search coils 8 and 12 inches to ensure more sufficient detection depth and precision.
Since all these metal detectors belong to the same product line, their basic characteristics (weight, shaft length, etc.) are almost identical.
The shaft
The company designed a new shaft for its new metal detectors product line, as it was done for Minelab Go-Find. However, unlike that model, this one has a sectional shaft and it's not that small sized.
Now the shaft handle has a plastic fastener by means of which you will be able not only to adjust the armrest length, but to remove it completely. For example, when transporting the device, you can turn the armrest in reverse (to make it parallel to the shaft).
The shaft to which the search coil is attached is a telescopic one. On one hand, this is convenient, but on the other hand, I know that if come sand gets into such a shaft, you can't fold it up.
The new telescopic shaft that Vanquish has doesn't require disassembling to transport the device. Its maximum length is 57 inches (145 cm) it can be folded up to be 30 inches long (76 cm), due to shifting of its upper and bottom sections.
The bottom shaft section is made from carbon, while the upper one is made from metal alloy. The handle is rubberized (hurray, even metal detectors of beginner level have a rubberized handle now) and it has some notches to prevent the user's palm from slipping. The handle is straight, and it will do for any palm size.
The weight of 340 and 440 models is 1.2 kg (2.6 lbs), 540 model weighs 1.3 kg (2.8 lbs). It is a bit heavier, which is explained by the fact that the flagship model includes accumulator batteries, while the others don't.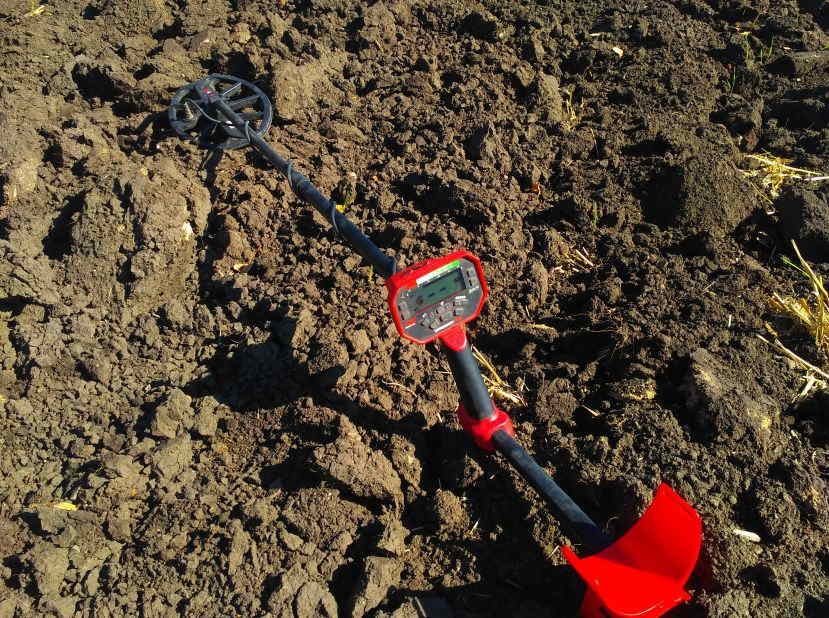 The coil
Here the situation is the same as in case of Go-Find, when the flagship model has one kind of search coil and the rest have the other. Models 340 and 440 are equipped with V10 10×7 inches Double-D search coil, 540 – V12 12×9 inches Double-D, 540 Pro has two search coils in its package set – V12 and V8.
All the coils are equipped with a plastic protection shell and if you take it off, you'll see that the coil bottom isn't monolithic, it has some cavities and rib stiffeners. These are to make the coil more light-weighted.
The search coil fixation system has changed as well. While most of metal detectors use a bolt and a screw to attach a coil to a shaft, in this case the manufacturer decided not to use the screw. The bolts are twisted into special holes in the coil with a thread inside them.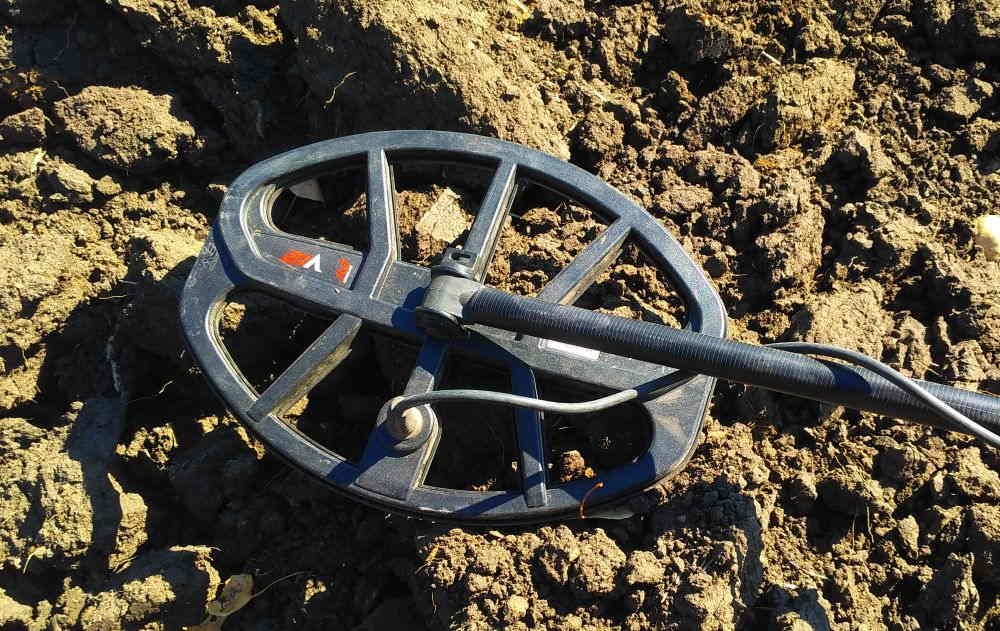 Multi-IQ
The product line is unusual since the devices are using a new Multi-IQ technology, which is based on simultaneous using of several operating frequencies.
What kind of targets the metal detector sees better, how it deals with interference and mineralization – all these depend on the device operation frequency.
The higher is the operating frequency, the more sensitive metal detector is to single small targets, for example, coins facing its edge to the search coil. The lower is the frequency, the better is device at detecting middle sized and large targets, for example, large coins, relics and troves.
Metal detector manufacturers usually use the operating frequency corresponding to the aim the device model.
As a rule, some average value of operating frequency is selected for metal detectors of beginner level, while professional metal detectors usually have higher frequencies. In some professional devices you can select the operating frequency, but yet the metal detector operates using just one frequency.
Multi-IQ technology enables simultaneous search using several operating frequencies. Signals received from low, medium and high frequencies are processed, generalized and then displayed.
Due to this the following is obtained:
Maximal high sensitivity to all types of targets from small coins located edgewise to large flatwise targets
High noise resistance
High target identification precision at end values of detection depth
Vanquish uses Multi IQ mode constantly, i.e. the target is simultaneously processed with five operating frequencies 5, 10, 15, 20, 40 kHz and you can't select one specific frequency to use.
Headphones
Minelab Vanquish 540 Pro-Pack package set includes wireless Bluetooth headset. Moreover, the Bluetooth headset can be connected only to Vanquish 540, for earlier models 3,5 mm (1/8 ") headphones jack is used.
Minelab Vanquish 540 package set includes wired headphones, but you can connect a Bluetooth headset as well. The device models 340 and 440 are not equipped with headphones.
The battery
Metal detector models 340 and 440 require 4 AA batteries as a power supply, while model 540 has battery accumulators included as well as a charging device for them.
When you open a box with Minelab Vanquish 540 metal detector, among others, you will see 4 NiMh batteries with a charging device for them. Since this is a metal detector of the beginner level, cheaper batteries are used. Other Minelab metal detectors – Equinox, CTX use Li-ion batteries.
The most significant difference between NiMh and Li-ion is that you can discharge Li-ion to any level and charge it whenever you want. While it is recommended to charge NiMh right after you get it and then you should completely discharge it.
That's why you shouldn't combine batteries of different types in one metal detector. Also, it's not worth using old batteries and new ones together. The process of the battery charging and discharging should be done at least 5-10 times. In general, it is good for NiMh batteries when they get charged and discharge completely.
If you plan to store them for a long time without using, charge the batteries to the full. There is also such a notion as self-discharge. If you store discharged NiMh batteries, they can get out of order, although they can go through about 500 discharge cycles. And there is one more thing.
The charging device that comes in a Vanquish package set has four battery slots, each of which can be used separately. The device not only charges batteries but also checks their operability. If you insert a damaged or non-functional battery, it will be rejected.
Waterproofness
The search coil is a waterproof one and it can be submerged up to 1 m (3 ft). Please, keep in mind, that Vanquish itself is totally a ground search metal detector, only its search coil is waterproof.
Control unit
The device control unit has a large display and not that many buttons. At that the number of buttons depends on the metal detector model. While model 340 has 4 buttons, 540 has 10 control buttons.
Pay attention that 340 and 440 device models have Monochrome LCD, but 540 model uses Monochrome LCD with red backlight.
All metal detector models of this product line have Multi-IQ sign on them.
When turning on the metal detector, it tunes out from noises and then you'll see the following on the display:
Battery charge level
Sensitivity level (340 – 4, 404 and 540 – 10)
Volume level (340 – 3, 404 and 540 – 10)
Discrimination scale (340 – 4 levels, 440 and 540 5 levels)
Icon corresponding to the search mode
VDI number
All these data are controlled by three buttons, since the 4th one is to turn the device on/off. Model 340 has just three search modes – Coin, Jewellery, All Metal. Therefore, the device has minimum of settings, so you can just turn it on and go treasure hunting right away.
However, the flagship model of the product line is more complicated. Remember, it has 10 control buttons (in comparison with 4 buttons that model 340 has). You turn on the device by means of the same button and then it tunes out from noises, but above the on/off button now you have a button to adjust the backlit. The button to connect Bluetooth headset was added as well.
The device has 5 search modes – Coin, Relic, Jewellery, Custom, All Metal. Each of the modes can be adjusted by the user by deactivating or adding some search segments. You can do this by means of two additional buttons.
There is also a pinpoint button and the button to open the discrimination pattern to all metal.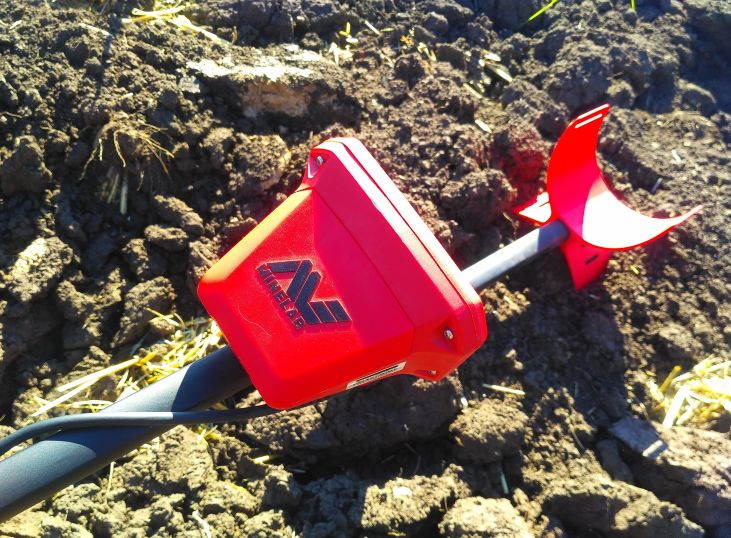 Tones
Minelab Vanquish 340 and 440 have just 3 tones available (Low, Mid, High), while model 540 has 5 tones.
Discrimination
Minelab Vanquish – 340 has 5 segments, 440 – 12 segments, and 540 – 25 discrimination segments! Which means that when using model 340 you can perform discrimination as follows: ferrous metals, foil, non-ferrous metals. While for Minelab Vanquish – 540 this scale will be 5 times longer!
Pay attention to this parameter if you plan to have some real treasure hunting trips. If you get Minelab Vanquish – 340 you'll dig 5 times more holes. However, this can make you a professional, since they dig all the signals.
But.
You'll be a bit crazy professional. Since, I personally, won't be able to dig having 5 discrimination segments in my device…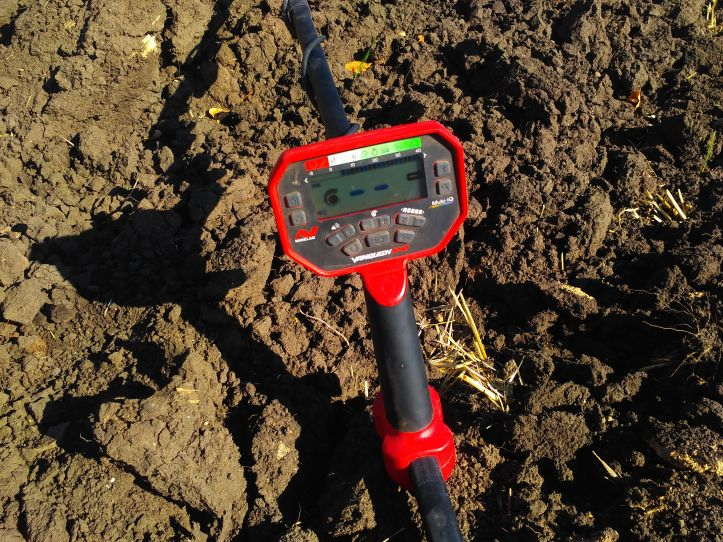 Noise cancel
This is an automatic setting, that is adjusted right after the metal detector is turned on. There are 19 channels available.
Iron BIAS function in Minelab Vanquish
Minelab Vanquish has a new function, which any of the other metal detectors produced by the company have. By default, Iron BIAS is set to High, but you can set it to Low. However, it isn't quite clear why Minelab Vanquish 540 needs this Iron BIAS function and how it works.
This function ensures better detection of large ferrous targets. Nails and various metal trash are detected better when Iron BIAS is set to High. What for? To make sure that the metal detector discriminates these more efficiently.
However, if you set Iron BIAS to Low, the metal detector will perform better when detection coins among iron rubbish. This function does provide clearer signals from coins, but during the testing process, the metal detector functioned in All Metal mode. We didn't perform testing at various discrimination modes; thus, I'd recommend using this function with care in this case.
Models
Minelab Vanquish 340
Vanquish 340 is a perfect device for youngsters – for those, who don't need many settings, but they want to start coin shooting right away.
The metal detector has minimum settings, automatic ground balance function and it can tune out from some external noises. So, when you hear somebody describing a metal detector as a device you can turn on and go treasure hunting right away, this is about Minelab Vanquish 340.
Even though Minelab Vanquish 340 is an inexpensive metal detector, it uses a professional Multi-IQ technology.
What are Minelab Vanquish 340 functions and settings?
The metal detector has 3 search modes – Coin, Jewelry, All Metal. The device has three tones for target response signal, graphic discrimination scale and VDI number is displayed.
Sound response is divided into low tone (for ferrous metals), medium (bronze, aluminum, gold) and high tone (copper, silver).
Discrimination scale has 5 segments, one segment is for targets made from ferrous metals.
VDI values vary from -9 to 40, negative values are for iron.
In addition, Minelab Vanquish 340 has sensitivity and volume adjustment, battery charge indicator, and target detection depth indicator.
There are 19 channels for automatic noise cancel. All the settings are rather plain and simple, the settings values are displayed on monochrome high-contrast LCD display.
Minelab Vanquish 340 has a standard search coil V10 DD, it has elliptic shape and its size is 10×7 inches. The coil is supplied with a plastic protection case.
Last update on 2020-11-22 at 18:22 / #ad / Images from Amazon Product Advertising API
Minelab Vanquish 440
This Vanquish model is the one that comes before the flagship model. Vanquish 440 was designed for those, who go treasure hunting in trashy areas, since the device has not very large coil and its discrimination scale has more segments. The device is perfect for those who value preciseness and efficiency.
What settings and functions does Minelab Vanquish 440 offer?
This metal detector has 4 search modes – Coin, Relic, Jewellery, Custom, All Metal. There are 3 sound tones available for the target signal, graphic discrimination scale, VDI number is displayed as well.
The device sensitivity adjustment has not 4, but 10 levels now and volume adjustment has 10 levels by contrast with 3 levels of the previous device model; detection depth indicator has not 4, but 5 levels. However, the most important is that the number of discrimination levels was increased from 5 to 12.
Last update on 2020-11-22 at 18:22 / #ad / Images from Amazon Product Advertising API
I've received many questions about whether Vanquish 440 is more similar to the 540 or 340 models? I would say that it is 540. Even though the 540 model shows different results, and it has some new functions as well as the possibility of wireless connection, the 340 model is still better in terms of a sensitivity level and detection depth.
It is quite logical that Jewelry mode will differ and have higher operating frequencies, while Relics mode will have lower ones. However, the company doesn't specify the exact values of operating frequencies. So, you go metal detecting with one device, but it seems that it has five different operating frequencies simultaneously. This way, target detection precision, and differentiation are guaranteed.
Vanquish 440 has four search modes: coins, relics, jewelry, and custom. As for me, I use Relics mode more often. I'd advise using All metal at the beginning, but you should pay attention to how each target sounds, including iron. This way, you'll learn to hear what kind of metal is under the coil, and then you can switch to other settings and feel more confident when using them.
You should walk slowly and smoothly with Vanquish 440, just like with all Minelab metal detectors. Hold the search coil 1 inch above the ground, and each wave of the coil should cover 1/3 of the previous one. A nice bonus is that you don't have to take extremely small steps or bend over (it is quite annoying).
The metal detector itself is quite lightweight, and even with a large coil, it is quite convenient to walk with it and hold it in hand.
Let me also mention that Vanquish 440 is the best when you need to detect small-sized targets, including small shots. Also, it detects small coins at quite sufficient depth (like Equinox).
In general, I have no negative comments for this metal detector. I've heard that some users complain that the batteries don't serve long, about 10 hours. But there is nothing you can do here, and this is what multi-frequency function and good results require. On the other hand, I can say that when using a quality battery charging set, the device can work up to 20 hours long.
Minelab Vanquish 540
Vanquish 540 is a flagship model of Vanquish product line. The device was designed for those who want to get the most of it.
What settings and functions does Minelab Vanquish 540 offer?
The metal detector has 5 search modes – Coin, Relic, Jewellery, Custom, All Metal.
There 5 sound tones to identify the target, graphic discrimination scale, VDI number is displayed as well.
The number of discrimination scale segments was increased to 25. It has 3 segments for ferrous targets and the rest are for non-ferrous targets.
The device package set includes a Bluetooth headset, large search coil (V12 12″ x 9″ Double-D), the metal detector uses accumulator batteries and there is a charging unit for them in the set.
Last update on 2020-11-22 at 18:22 / #ad / Images from Amazon Product Advertising API
Minelab Vanquish 540 Pro
As we've already mentioned above, this device just has an advanced package set. It includes two search coils – V12 12″ x 9″ Double-D and V8 8″ x 5″ Double-D as well as Bluetooth headphones.
Maybe there is something else in the package set, but we don't have exact information in this respect.
Last update on 2020-11-22 at 18:22 / #ad / Images from Amazon Product Advertising API
Manuals
Conclusions
Remember I said at the beginning that I was disappointed when I fist saw the new product line? Well, I can't say that I'm very impressed now, but I've changed my mind. These are just ordinary metal detectors for beginners.
They are even more than ordinary if compared with the rivals. Since, I believe this is the time to move on and offer the users something more than a standard control unit on a primitive shaft.
I see that Minelab and … Nokta got the idea. Right, this is Nokta Simplex that I consider as a main rival to these devices. Especially, for beach hunting fans.
As for the Minelab Vanquish metal detectors advantages, this is definitely their user-friendly interface, where things are plain and simple, they are light weighted and small sized. In addition, their most significant plus is the new Multi-IQ technology they use, since it has already proved itself in Minelab Equinox metal detectors!
Besides, let's not forget that the manufacturer has also designed three branded search coils of different size.