If you want to try jewelry hunting on the beach, you will need a metal detecting sand scoop. What is it for, how to use it, and which of them is better? You will find out in our article.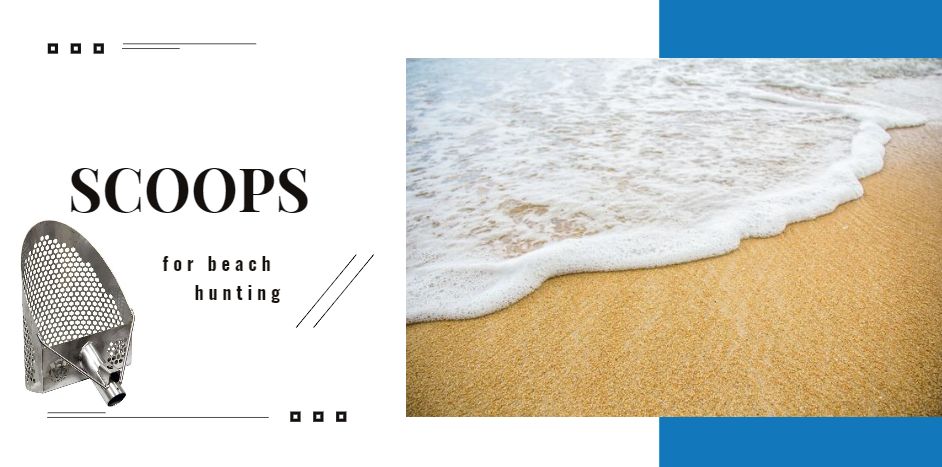 Best sand scoops for metal detecting
National Geographic Sand Scoop & Shovel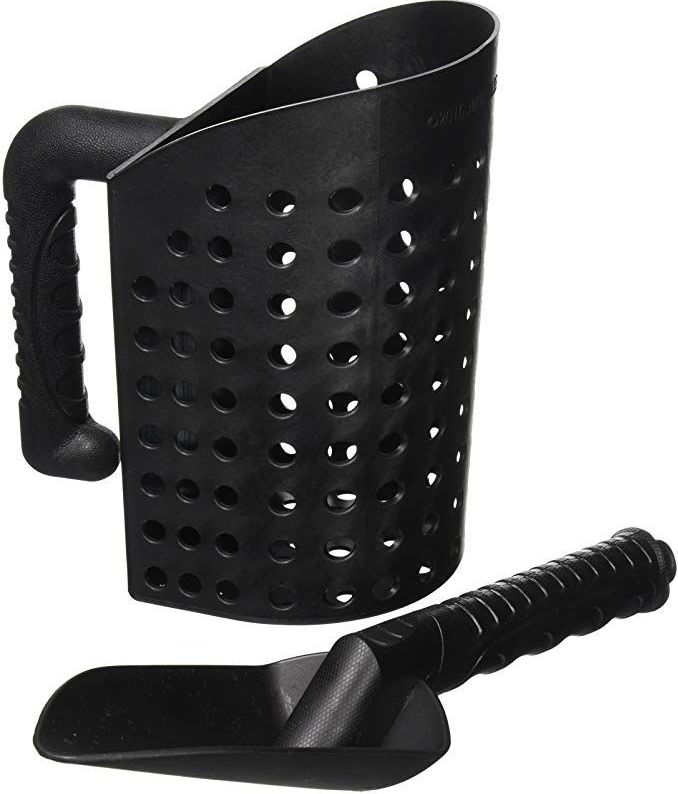 National Geographic sand scoop this is two in one tool – a sand scoop made by a famous brand and sand shovel for metal detecting. Unlike the many models, this tool is made of plastic, and it has round-shaped holes. In general, it has the same usage, since it doesn't have a long handle as well. This means that it will be convenient to use this scoop on the beach, but not under water. All in all, this is a reliable time-proven model.
NATIONAL GEOGRAPHIC Metal Detector Accessories – Includes Sand Scoop for Metal Detecting and…
DISCOVER BURIED TREASURE – This heavy-duty trowel and sifter set makes…
ULTRA DURABLE & LIGHTWEIGHT – These metal detecting tools are built to last with…
SIZED RIGHT – We designed these metal detector tools to be comfortable to use…
PERFECT FOR THE BEACH & MORE – No matter where your metal detecting adventures…
HIGH-QUALITY EDUCATIONAL TOYS – We're proud to make the highest quality hands-on…
Last update on 2023-09-29 / Affiliate links / Images from Amazon Product Advertising API
| | |
| --- | --- |
| Brand | National Geographic |
| Material | Plastic |
| Weight | 12 oz (349 gr) |
| Dimensions (LxWxH) | 7.75 in (19.7 cm); NA; NA |
| Holes | 0.31 in (8 mm) |
SE 3 Quart Sand Scoop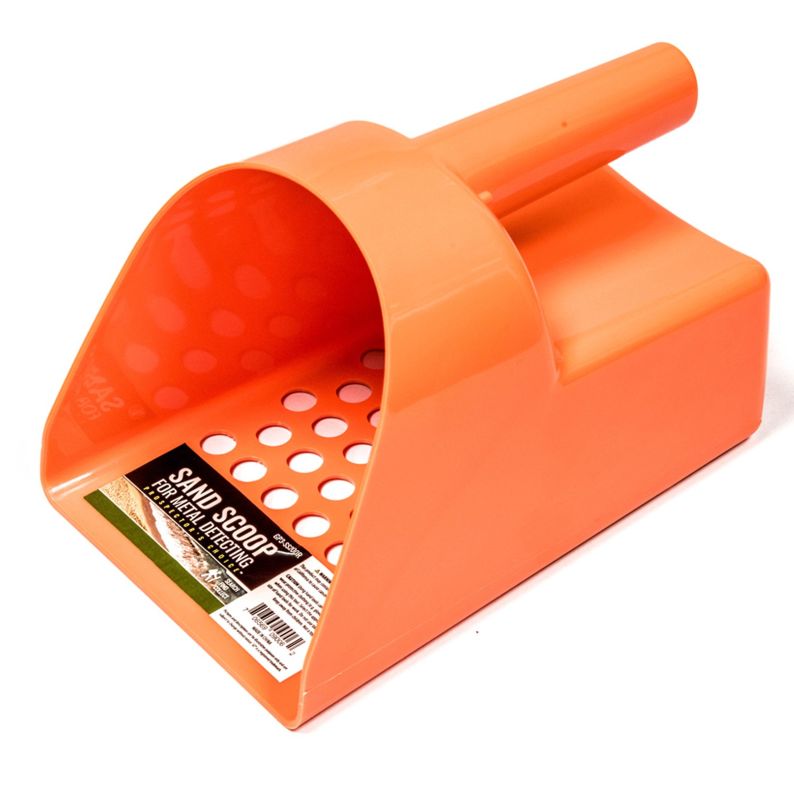 This is a plastic scoop that is manufactured in two colors: green and orange. The tool is simple, reliable, and a time-proven one. However, its price is its largest advantage. You can lose it each season, month, and even day without losing that much money.
SE 3 Quart Sand Scoop Sifter with 0.5″ Holes – Use for Gold and Metal Prospecting, Orange
LIGHTWEIGHT – Made with a 100% plastic design, this sand scoop weighs less than…
EASY TO USE – When used with a metal detector, this sand scoop can easily locate…
3 QUART CAPACITY – You need a sand scoop for metal detecting that sifts a lot at…
GREAT FOR DRY SAND – The 0.5″ hole size allows sand to easily exit the scoop…
DESIGNED FOR GOLD PROSPECTING – Sona Enterprises has been long-time creators of…
Last update on 2023-09-29 / Affiliate links / Images from Amazon Product Advertising API
| | |
| --- | --- |
| Brand | SE |
| Material | Plastic |
| Weight | 1.98 lbs (0.900 g) |
| Dimensions (LxWxH) | 8.5 in (216 mm); 6.25 in (159); 5.8 in (147 mm) |
| Holes | 0.5 in (12,7 mm) |
SD SandScoop – metal detector sand scoop with long handle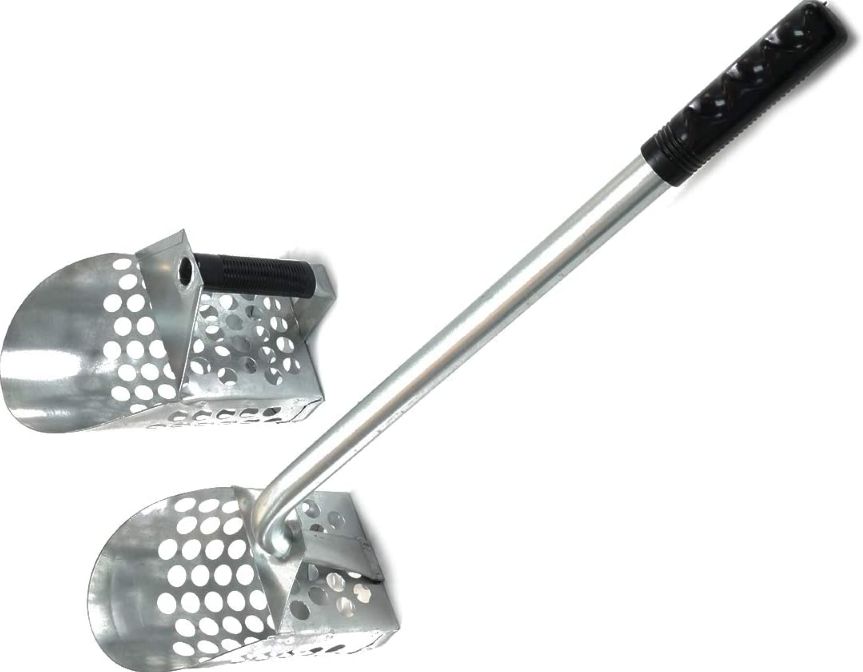 SD SandScoop is made of galvanized steel and has 5/8″ diameter round holes. Scoop has a long handle that allows you to search without putting stress on your back. It comes in a pack of two so that you get more results in less time and efforts. However, it is made in the USA and has great reliability in terms of built quality.s model is lightweight and compact in design.
Last update on 2023-09-30 / Affiliate links / Images from Amazon Product Advertising API
| | |
| --- | --- |
| Brand | SD SandScoop |
| Material | Galvanized steel |
| Weight | 2.59 pounds |
| Dimensions (LxWxH) | 5 3/4″ wide x 9″ long; 24″ in length |
| Holes | 5/8″ |
Garrett sand scoop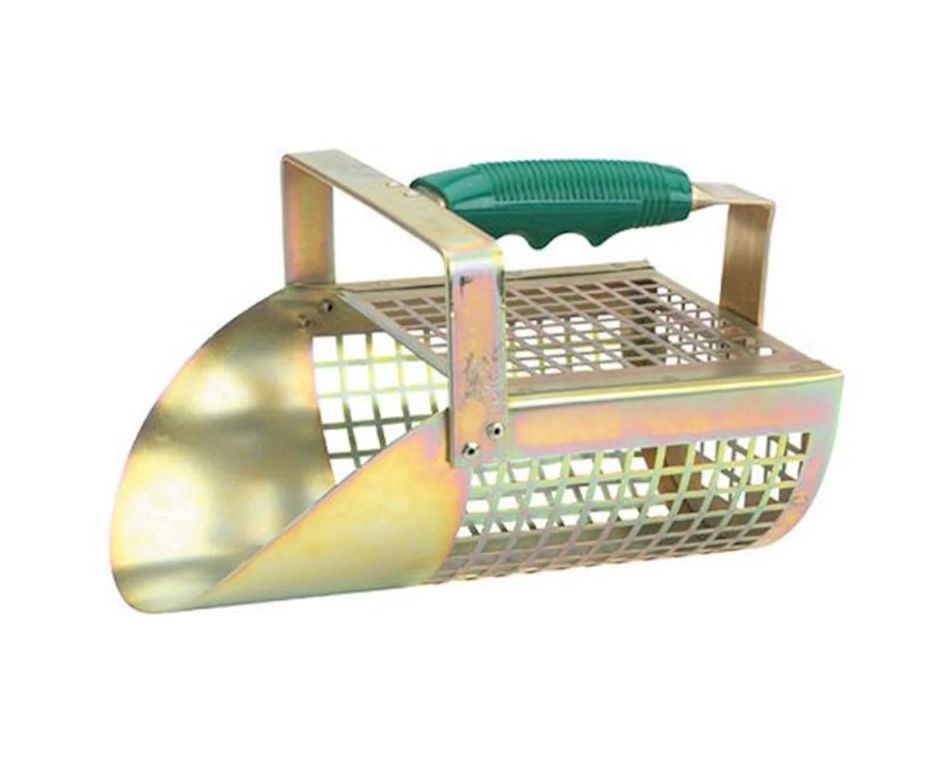 Garrett has been manufacturing excellent metal detectors, including those for beach hunting. For example, Garrett AT Pro. Garrett scoop deals perfectly with the sieving of sandy ground. It is quite large (10 x 8′). Its size simplifies the process of searching for gold and silver jewelry. However, you should keep in mind that it has a disadvantage – it doesn't have a long handle, which means that it will be inconvenient to use it in water.
Besides, edge machining is not that good, but this is a disadvantage almost all of the scoops have, except the plastic ones.
Last update on 2023-09-29 / Affiliate links / Images from Amazon Product Advertising API
| | |
| --- | --- |
| Brand | Garrett |
| Material | Alloy Steel |
| Weight | 1 lbs (450 gr) |
| Dimensions (LxWxH) | 21 in (530 mm); 10.5 in (266 mm); 5 in (127 mm) |
CKG – long handle beach sand scoop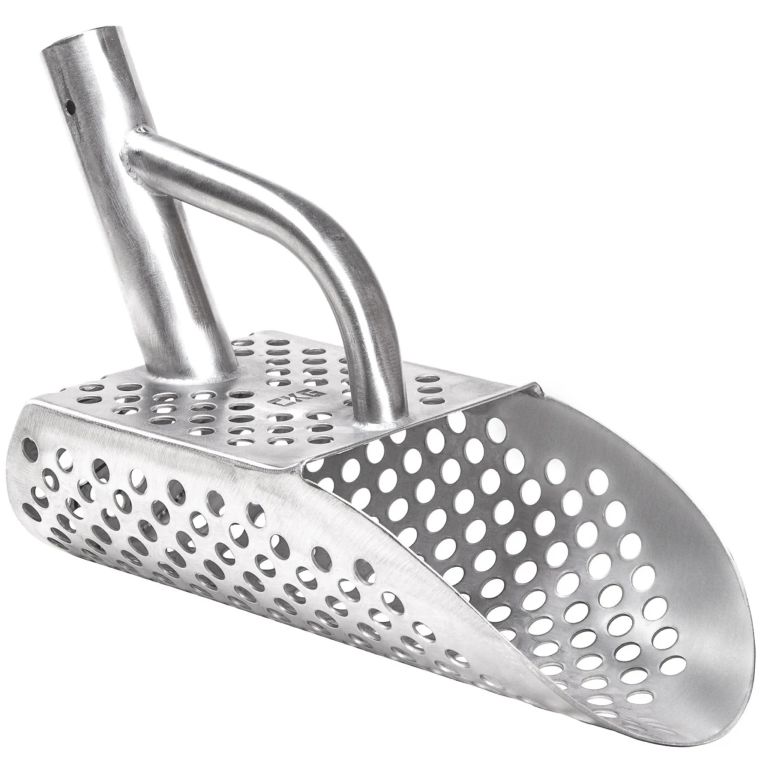 This scoop is made from non-magnetic stainless steel. Its size (11.8 x 5.12″) and weight (1.98 lbs) are optimal for the treasure hunting process, and the digger doesn't get tired when using this tool. The holes diameter is 0,4 Inches (10 mm), which is larger than that of the model below and ensures successful usage both for dry and wet sand.
Besides, this scoop has a long handle, and it is convenient to use it for underwater treasure hunting. As for disadvantages, this is high price and poor edge machining – so, be careful.
Last update on 2023-09-29 / Affiliate links / Images from Amazon Product Advertising API
| | |
| --- | --- |
| Brand | CKG |
| Material | Stainless steel |
| Weight | 1.98 lbs (0.900 gr) |
| Dimensions (LxWxH) | 11.8 in (300 mm); 5.12 in (130); 4.95 in (90 mm) |
| Holes | 0.31 in (8 mm) |
CKG sand scoop with carbon handle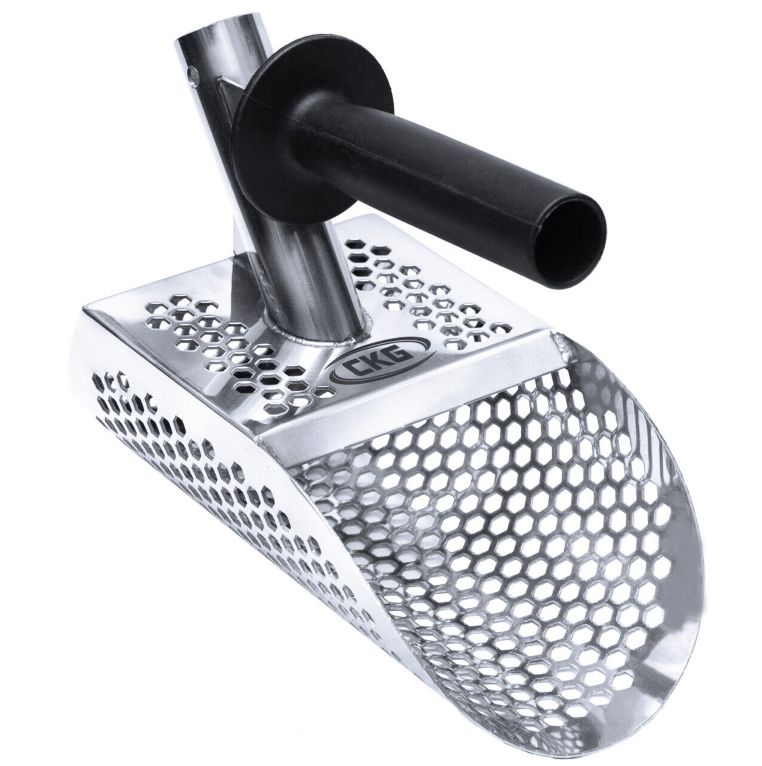 This is another scoop made by the same company, but it has a carbon handle and hex-shaped holes. Its sizes is: length 9.85″, width 5.12″, height 4.95″. The holes diameter is 0.27″ (7 mm); they have a shape of a hexagon. The scoop weight is 1.6 Pound (0.750 g).
This is a small scoop with small holes to search for small targets. As for the disadvantages, it has small holes (which is a minus when working on dry sand) and poor edge machining (at least it is true for some devices).
Last update on 2023-09-30 / Affiliate links / Images from Amazon Product Advertising API
| | |
| --- | --- |
| Brand | CKG |
| Material | Stainless steel |
| Weight | 1.76 lbs (0.800 gr) |
| Dimensions (LxWxH) | 9.84 in (250 mm); 5.12 in (130); 4.95 in (90 mm) |
| Holes | 0.28 in (7 mm); hexagon |
Sand scoop for metal detecting – what is it?
Beach hunting with a metal detector is the only kind of treasure hunting in which every year, the number of finds increases. What else can make it attractive? Well, maybe the fact that it is allowed in most countries, which means that you can go to the beach with a metal detector without worrying that you are breaking some law at this moment.
Most common finds on the beach are currently used coins, but the ones from earlier ages, other countries, as well as toys, hear clips, brooches, etc. can also be found. Those who get very lucky find silver or gold jewelry: chains, pendants, rings, and earrings.
But beach finds aren't limited only to these.
The most spread finds there are bottle caps and can tabs. There are so many of them that you just wonder if people really drink that much.
There is one peculiarity here. Those diggers, who went beach hunting just once, they know that digging in the sand isn't the easiest and very interesting task.
While in the field or forest, an ordinary shovel is an irreplaceable tool, beach hunting requires a bit different equipment. It is more convenient to use a sand scoop or sand sifter for metal detecting in this case.
Scoop is like a dipper with holes through which go sand and soil, but larger objects are left in it, including coins, rings, etc.
It is rather inconvenient to dig on the beach using a shovel. The sand continuously falls down from the hole sides, and it makes it more difficult to detect a signal. Scoop easily deals with this task since most of the finds on the beach aren't deep ones.
Instead of a standard handle, it can have a fixation for a longer one that allows digging without getting down every time, which is quite convenient. If required, you can find these multi-purpose devices on sale.
When beach hunting without a scoop, every time you have to drop curtsies and dig the sand looking for a target. With a scoop on a long handle digging and finding the target, you do all these in a vertical position, which is definitely more comfortable and faster. However, you can do without a scoop on the beach, even though it won't be that convenient.
But during underwater treasure hunting, you won't do without it.
To make the whole construction more lightweight, long handles are usually made from wood saturated with some substance preventing soaking. As a rule, hot wax, or paraffin is used for this purpose. Handles are usually made from an ash tree, birch, or maple.
What kinds of sand scoops exist?
This is a very simple tool, and it can differ in terms of materials used, its shape, and holes diameter. The best sand scoop for metal detecting can be made of metal or plastic.
Plastic scoops are cheaper, and they are the most affordable ones. Their lightweight and absence of interference into metal detector operation are significant advantages of these tools, as well as your hands get less tired and you can define your find just by moving it closer to the search coil.
Relative softness of plastic excludes the option of attaching a long handle, since this will lead to fast wearing or breakage of the tool, which doesn't let using it at complicated conditions and high loads. But if you want to try beach hunting to see what it's like, you can get a plastic scoop. At least you won't spend much money and can make your conclusion if this way of treasure hunting is interesting for you.
An advantage you get with a metal scoop is its reliability and durability. These scoops are divided into iron and steel ones.
Iron scoops are durable, and you can attach a long handle in this case. They are a bit too heavy – about 1.5 kg. As a rule, they are covered with some antirust compound, that fades in time, and the metal corrodes and loses its initial appearance, but it doesn't affect its properties. So, if the device appearance isn't crucial for you, you can get this kind of tool. Moreover, it costs twice less than a scoop made of stainless steel.
The latter has all the advantages of iron scoops and one more undeniable advantage – they preserve their appearance for a long time without oxidation appearance even on welding seams, which makes the owner happy and allows selling the tool later on.
How does the shape of holes affect the process? When selecting the size and shape of scoop holes, you should stick to the following idea: the fewer stones and shells are in the send, the better is to use scoops with small holes.
Dry sand pours through such scoop worse than the one in the water. A scoop with hex-shaped holes is better than the one with round holes of the same diameter, and sand pours through it significantly better.