Here's the article with the review of Whites TreasureMaster metal detector. From this review you will find out about the number of the device operation frequencies, what kind of coil it has, if wireless headphones come in the package set, how long the device can work using one battery set and other characteristics.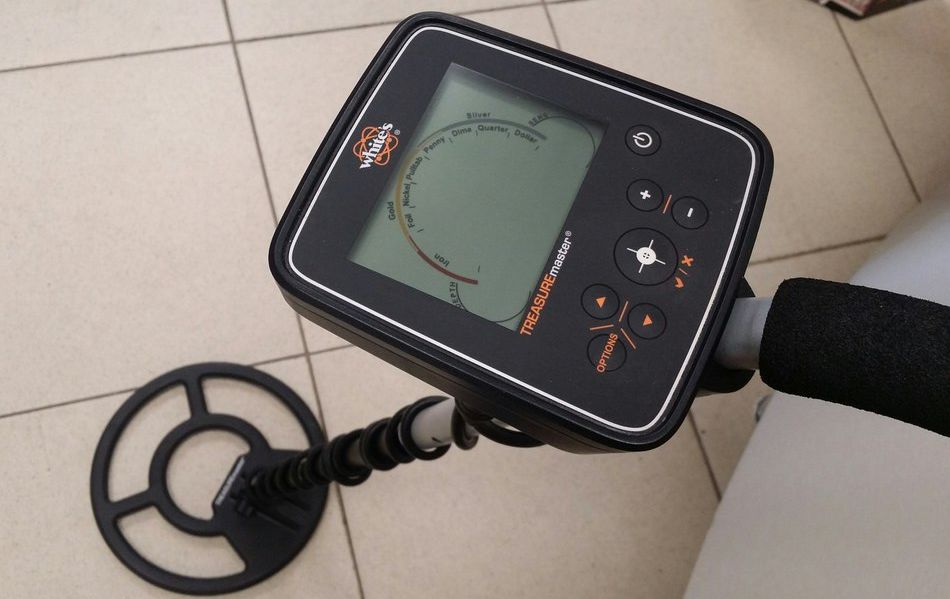 What was the device designed for?
Whites Treasure Master metal detector is a basic model for beginner detectorists. The device is easy to master, it has quite a sufficient detection depth and improved ergonomics parameters. Discrimination function simplifies the process of non-ferrous targets searching and 4 pre-set search modes allow ignoring signals from iron and ferrous rubbish.
Except this metal detector, its earlier model exists and it is called Whites TreasurePro. This device additionally has a backlit, one additional search program, automatic ground balance function, 8 tones. Its coil is a bit larger and it is of DD type, not a mono coil, as a TreasureMaster has.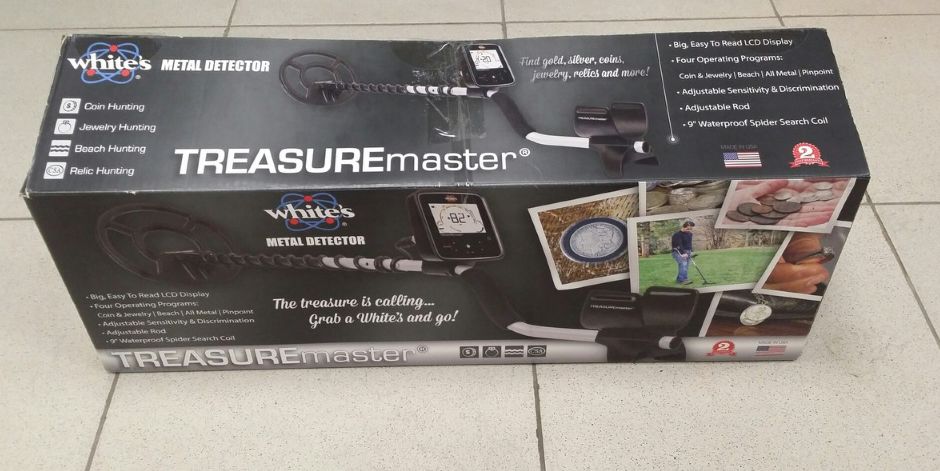 The review
| | |
| --- | --- |
| Model | Whites TreasureMaster |
| Weight | 3 lbs |
| Length (Adjustable) | 46″x51″ |
| Batteries | 2 AA |
| Headphones | No |
| Warranty | 2 years |
| Operating Principle | VLF |
| Standard Searchcoil | 9.5″ Concentric |
| Operating Frequencies (kHz) | 8.2 |
| Water resistance | Waterproof coil |
| Updatable Software | No |
| Submersion Depth | No |
| Ground Balance | Preset |
| Search Modes | coin/jewelry, beach, all metal |
| Audio Threshold | No |
| Electronic Pinpointing | Yes |
| VDI (0 to 99 scale) | Yes |
| Build-in flashlight | No |
The shaft
In terms of design, the metal detector has classical S-shaped shaft consisting of two sections.
The device has a weight which is standard for metal detectors of this class; the shaft is solid and durable, so you will have to try really hard to break it. The process of assembling/disassembling doesn't take much time and the disassemble device easily fits into a standard backpack.
The metal detector handle is covered with an elastic and soft material; wide and solid armrest reliably fixates a forearm even without using a strap.
As for the disadvantages, we can name absence of clamping mechanisms to prevent appearance of looseness in the joints.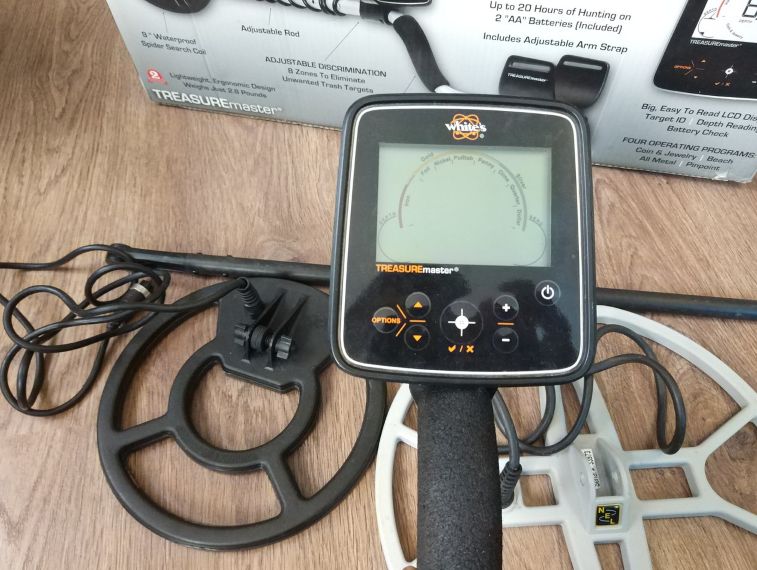 The coil
White's TreasureMaster is equipped with 9.5 inches coil. This is a high-quality water-proof coil demonstrating stable performance and sufficient detection depth. It uses 8.2 kHz operating frequency, which is an average or, as they say, a multi-purpose frequency, i.e. it works for any type of treasure hunting (beach hunting or searching in the fields).
You can easily install coils of larger diameter on this metal detector model.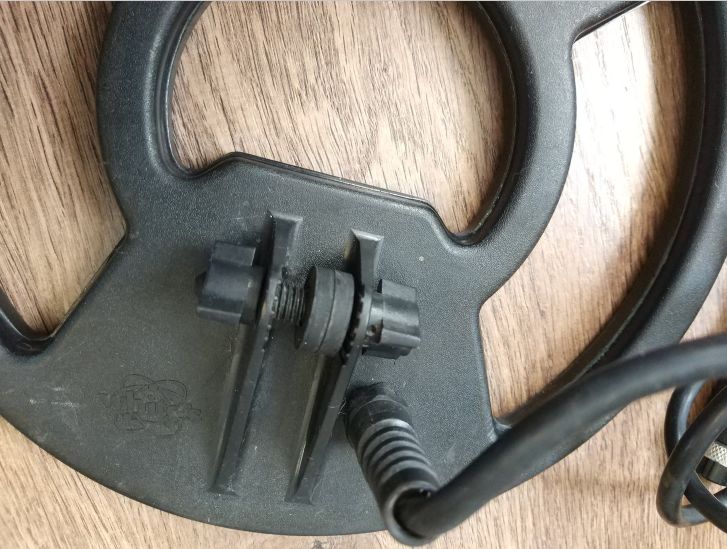 The headphones
They aren't included into the device package set and you can buy them as an additional accessory.
The battery
The battery holder is located on the back side of the device control unit. The metal detector uses just 2 AA batteries as a power supply. One battery set is enough for 20 hours of continuous operation, which is quite an impressive duration.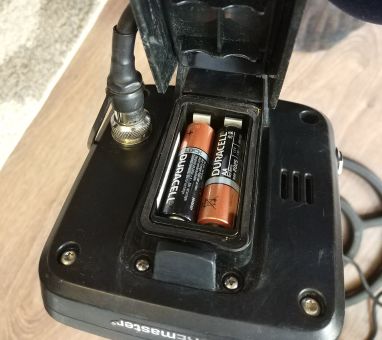 The control unit
The device control unit has a damp-proof case and has rather modern appearance with stream-line forms, touch-sensitive keys and no sharp corners.
The monochrome display is rather large and easy-to-read. There are no flare spots on the screen even in the bright sunlight, so the device readings are clearly seen. The control unit is hidden inside the damp-proof case made from quality, durable plastic.
The metal detector has rather easy-to-use and friendly user interface, therefore it won't be a problem to understand the displayed settings adjustment parameters and device readings even for a beginner detectorist.
Search modes
White's TreasureMaster can operate using three modes (set by means of the menu) – coin/jewelry, beach, all metal. As we've already mentioned, one mode of operation is absent here – high trash, while the earlier device model has it.
The discrimination scale located on the metal detector display is divided into 8 segments, and each of them corresponds to some specific group of targets. VDI numbers are displayed as well, they characterize the detected object.
At that you can create your own discrimination patterns by activating and disactivating some discrimination segments (you can do this at random order). Which means that according to the search conditions, you ignore only the group of targets that is necessary in this case.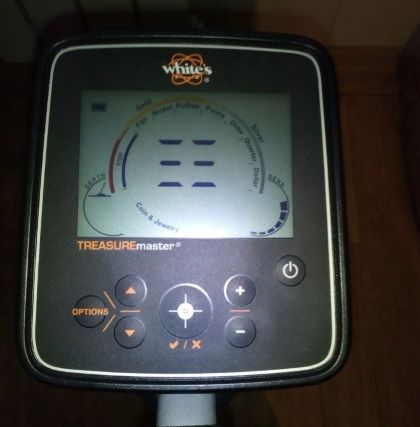 But when using the discrimination function, you should be careful, since when excluding a whole group of targets, it is quite easy to miss signals from targets made from low conductivity metals (gold), especially if they have some non-standard shape.
In TreasureMaster the number of sound tones produced by the device is adjustable. You can set it to 1, 2, 4 tones; the most informative signal will be the 4 tone one, correspondingly. As for the earlier device model, it has 8 sound tones.
We were surprised and at the same time happy to find an adjustable threshold tone function, which is not peculiar for devices of beginner level.
Since due to this function you can define more precisely what kind of target is located under your coil. Using the device menu, you can adjust the threshold tone volume.
Ground balance
You won't have to deal with manual ground balance adjustment, since TreasureMaster has an automatic ground balance function. Thus, regardless from the ground type change, the metal detector demonstrates rather stable performance.
Pinpoint
Of course, the device has a mode of precise target location identification – pinpoint. At that the approximate distance to the target is displayed numerically. Using the menu, you can set target location depth value to be displayed both in inches and in centimeters.
Pros
light weight (less than 3 lbs)
simple to use
2 years warranty
automatic ground balance
display is very easy to understand
Cons
text is small and very difficult to read while detecting, especially without a backlight
not waterproof
Conclusions
Whites TreasureMaster is a reliable and easy-to-use metal detector. It can be called a rather good device for beginners, though it is less popular than Garrett ACE 250.
Nevertheless, the rivalry in this market niche is quite high and the device has a lot of alternative options you can select from. These can be both Bounty Hunter Land Ranger Pro and Fisher F22 or Fisher F44.