Here is Whites TreasurePro review. In this article you will find out about the number of its operation frequencies, the coil type, if wireless headphones are included into the device package set, how long can device perform using one battery set and other peculiarities of this metal detector.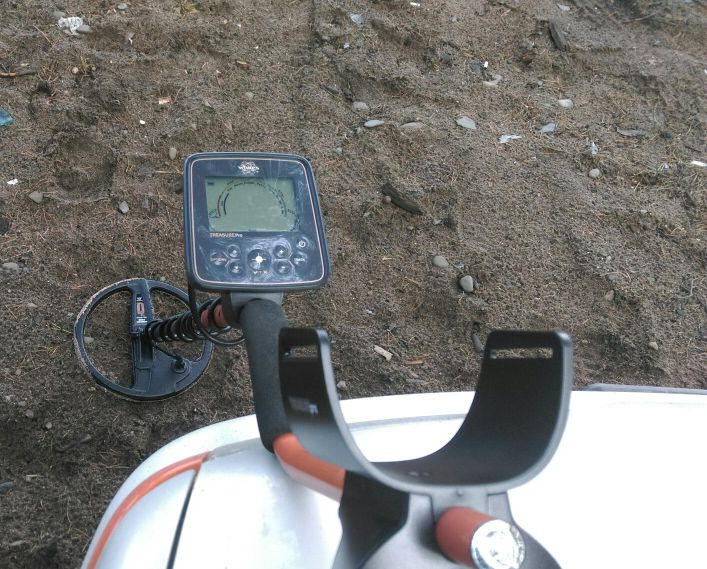 What the device was designed for?
Whites TreasurePro is an upgraded model of Whites TreasureMaster for beginner detectorists. Its main features are an additional search mode, automatic ground balance function and monitoring of the soil composition, LCD backlit, upgraded multichannel tone response and more modern coil, which is included into the device package set.
| | |
| --- | --- |
| Model | Whites TreasurePro |
| Weight | 3 lbs |
| Length (Adjustable) | 46″*51″ |
| Batteries | 2 AA |
| Headphones | No |
| Warranty | 2 years |
| Operating Principle | VLF |
| Standard Searchcoil | 10″ DD |
| Operating Frequencies (kHz) | 8.2 |
| Water resistance | Waterproof coil |
| Submersion Depth | No |
| Ground Balance | Auto, tracking |
| Search Modes | Coin-jewelry, beach, all metal, high trash |
| Audio Threshold | No |
| Electronic Pinpointing | Yes |
| VDI (0 to 99 scale) | Yes |
| Build-in flashlight | Yes |
The review
Whites TreasurePro was designed in 2015. It appeared on sale simultaneously with another device model Whites Treasure Master.
The shaft
White's supports classical approaches to metal detectors design and all the device components are located on a standard S-shaped shaft. At that, overall design of White's TreasurePro metal detector completely corresponds to the modern ergonomics ideas.
The shaft consists of two sections, so assembling the device will be rather easy and it won't take long. However, you should keep in mind its not standard length. If you use a standard backpack to carry the device, it may not suit in this case, since the shaft sections are rather long.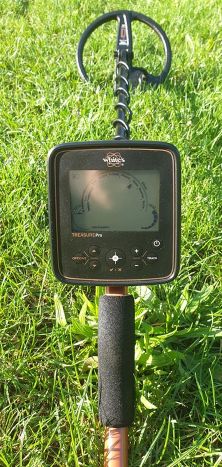 You can adjust the device armrest to your own parameters; three adjustment levels are available. The armrest is wide and made from durable solid plastic. It will be convenient for users with all types of bodily constitution.
The device handle is covered with some soft elastic material.
Whites TreasurePRO feels rather comfortable when you hold it in a hand. It has become possible due to the device excellent balance and low weight – 3 pounds (1,36 kg).
The coil
This metal detector has 10-iches DD searchcoil, which is completely waterproof. For such an affordable device a searchcoil of this type is a perfect option, since it is better than standard mono coils.
This coil improves the device detection depth, it captures larger area when scanning as well as provides more stable performance on mineralized soils.
The device operating frequency is 8.2 kHz – this is an average operation frequency, which is quite standard for metal detectors within these price brackets.
This, so called, average frequency penetrates quite deep into the ground and perfectly detects large and medium sized targets, such as coins and jewelry. So, the device will definitely do for multi-purpose treasure hunting and there's no need to worry that there are some targets that you've missed.
Besides the manufacturer offers lots of additional coils of various sizes and shapes for White's TreasurePro.
The above mentioned means, that the user has an ability to select a searchcoil for some specific task – for example, to improve the device detection depth or discrimination when working on areas full of iron rubbish.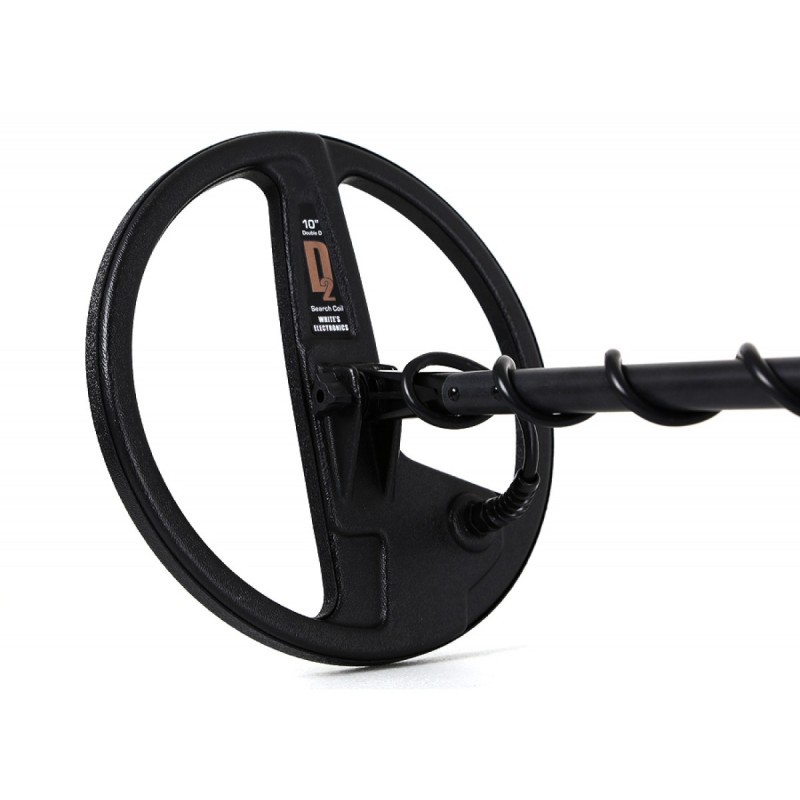 Headphones
The device has a headphones jack (1/4″), though standard device package set doesn't include headphones. Which is no surprise, since as a rule any manufacturer significantly rises the device price if its package set includes headphones.
However, this is not a problem, since there are standard package sets which include headphones as well as many other accessories.
The battery
Battery holder is on the bottom side of the control unit. The metal detector requires 2 AA batteries as a power supply. You can also get accumulator batteries and forget about the necessity to buy batteries from time to time.
But this is actually not that important, since all White's metal detectors are rather efficient and have low energy consumption. For the device with a standard coil 2 AA batteries are enough for about 15-20 hours of continuous treasure hunting.
Control unit
The device control unit appearance doesn't differ much from the one of the earlier model called Treasure Master. It has the same modern design of its damp proof (not a waterproof!) case.
The metal detector has rather flattened and streamline shape. The device display is large, so the information shown on it is clearly seen and readable, since low level of illumination won't be a problem – there's a backlit. Touch-sensitive keys are conveniently located on the control unit.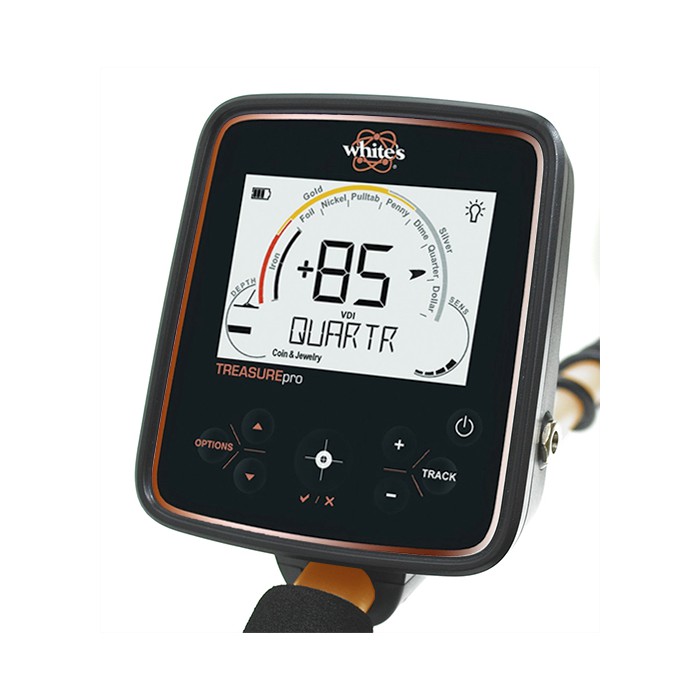 The sound indication
The sound indication contains — 1, 2, 8 tones, which is more than enough. Many experienced treasure hunters with expensive professional metal detector models use just 4 tones and this is quite enough for them.
The volume of the speaker can be adjusted and you can use headphones as well if needed.
Of course, besides the sound indication there is also visual indication on the LCD – a graphical discrimination scale which has a half circle shape. The scale is divided into 8 segments corresponding to specific target types; VDI numbers are also displayed.
Search modes
The metal detector menu offers the user to choose between the pre-set programs, which are the optimal ones for this or that search type. There are 5 such programs – coin/jewelry, beach, all metal, high trash and pinpoint mode.
This is very convenient for non-experienced users: you set the program you need and go treasure hunting.
VDI numbers vary from -95 to +95, where negative values correspond to ferrous objects and positive – to non-ferrous ones, correspondingly.
Such a wide range of VDI numbers will provide the user with additional information about the object and let him save time. There is also an indicator of (approximate) target detection depth on the display. It can display the depth both in inches and centimeters.
Like all modern metal detectors, this one has a mode for precise target location in the ground – Pinpoint. Adjusting the device sensitivity level (which is connected with the device detection depth and performance stability) is available during the detection process without using the device menu.
The same is about the device threshold tone adjustment. You should (and must) consider the device threshold tone as one of the tools to help you increase the precision of the located object identification.
Discrimination
White's TreasurePro has 16 discrimination segments. This is more than enough, to avoid digging various rubbish and concentrate only on valuable targets.
When discrimination mode is on, you can select the segments, which you'd like to be on or off. By means of Options button you enter the menu and select disc program, then by means of [+] or [-] move the cursor between the segments and with the help of [V/X] close or open them. And this is it. After you turn off the device, your settings are saved in the program, which is very convenient.
Another significant advantage of the device is that you can open or close the discrimination segments at random. Quite often it happens, that on a relatively small area the search conditions change. In this case, it is very important to have a flexible discrimination adjustment.
There is a peculiarity here: some detectorists, especially the experienced ones, don't use discrimination mode at all, since they prefer hearing signals from all targets that appear under the metal detector coil. And they have their reasons, one of them is that discrimination function doesn't always perform correctly.
However, unlike other devices, metal detectors White's and TreasurePro have really properly performing discrimination function.
Ground balance
Ground balance includes automatic ground balance with a Tracking function (it monitors the soil composition) and possibility to block ground balance function (Locked). Both these functions are available when pushing Track.
Here we aren't talking about a pre-set (average) ground balance. Besides the fact that the device automatically adjusts the ground balance, it also continuously monitors the ground balance state and adapts to the changes itself. This function is called AutoTrac. Thus, it is guaranteed that you don't miss any valuable target because of improperly adjusted ground balance.
Pros
easy to use
light weight
automatic ground balance
audio threshold
Cons
quite low operating frequencies (8.2 kHz)
Conclusions
So, what is so good about White's TreasurePro? It's rather challenging to classify this metal detector. On one had, it has simple settings and the device price is relatively low. On the other hand, it has functionality peculiar to middle level metal detectors.
So, this is a metal detector for those, who don't want to use completely simple metal detectors (such as ACE 250, Bounty Hunter Tracker IV), but they are not ready to switch to professional ones (Minelab Equinox 800).
The main thing that makes this metal detector worth buying, is simplicity of its settings, quiet operation and significant detection depth.