Here you will find Bounty Hunter Gold Digger metal detector. The article has information about the device operating frequency, its search coil type, whether headphones are included into the device package set, how long the metal detector can operate using one batteries set and other important things.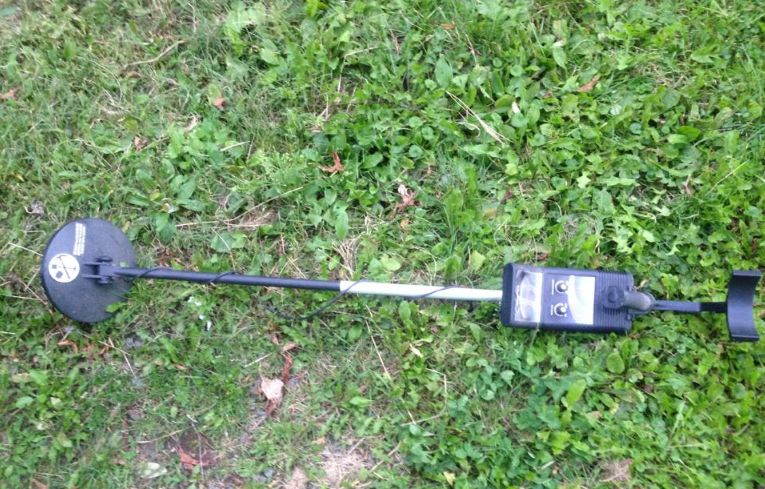 What was the device designed for?
Bounty Hunter Gold Digger is a metal detector for any user level, including children and elderly. The device itself was designed for beginners, since it doesn't have any special features.
If you want to get a more complicated metal detector, so I'd recommend you to consider buying Bounty Hunter Tracker IV. It is a bit more expensive, but it is definitely worth its money.
However, if you need a toy for your kid, below we'll give more detailed description of this device and compare it with another metal detector produced by the same company (the device which has more children oriented design).
| | |
| --- | --- |
| Model | Bounty Hunter Gold Digger |
| Weight | 3.6 pounds |
| Length (Adjustable) | 34.5″ to 45.5″ |
| Batteries | 9 Volt (2), not included |
| Headphones | Included |
| Warranty | 5 years |
| Operating Principle | VLF |
| Standard Searchcoil | 7″ |
| Operating Frequencies (kHz) | 6.6 kHz |
| Water resistance | No |
| Submersion Depth | No |
| Discrimination | Yes |
| Ground Balance | Preset |
| Audio Threshold | No |
| Sensitivity – Depth Adjustments | Yes |
| Electronic Pinpointing | No |
| VDI (0 to 99 scale) | No |
| Build-in flashlight | No |
The review
The shaft
The metal detector shaft design is far from modern standards, but it has one large advantage – this is its armrest. This means that the user's arm will be less loaded.
Besides, the device is rather light weighted (2.2 lbs), therefore you'll be able working with it for quite a long time without getting tired.
Anyway, this metal detector wasn't designed as a professional device, so you can't go treasure hunting with it for the whole day as an experienced digger. However, this device is rather convenient for short treasure hunting trips even for a kid.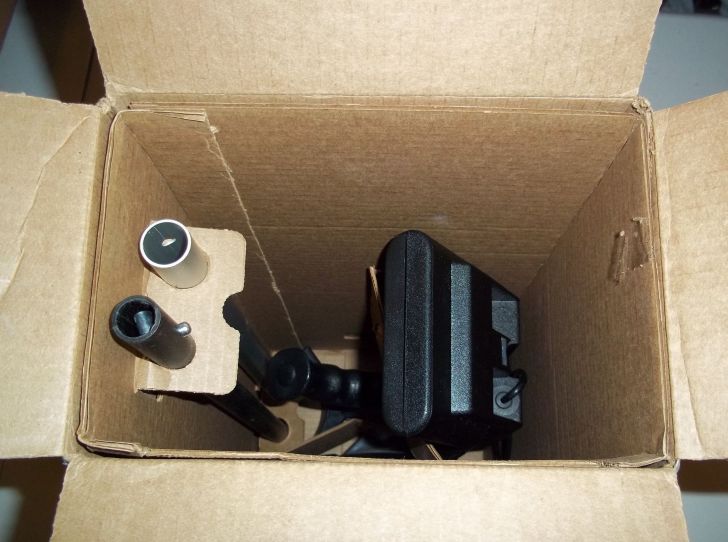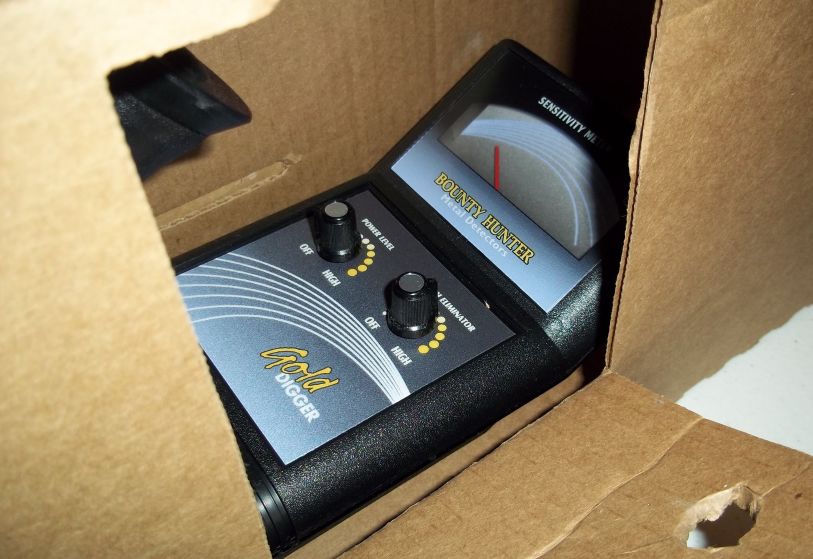 The coil
The metal detector has a concentric search coil 7 inches in diameter. The operating frequency of the device equals to 6.6 kHz. This is common frequency for all not expensive metal detectors.
There is one important thing, though. When the manufacturer named this device a gold digger – he fibbed a little. For gold nuggets prospecting (especially for beach hunting) a metal detector should have operation frequency starting from 12 kHz. Otherwise, the device will just not detect gold.
The coil is a waterproof one and it ensures safe and convenient treasure hunting both in wet grass and in shallow waters. However, you should keep in mind, that you shouldn't submerge the device completely.
Another thing is that the search coil has a demerit – you should wave it slowly and this may be tiring.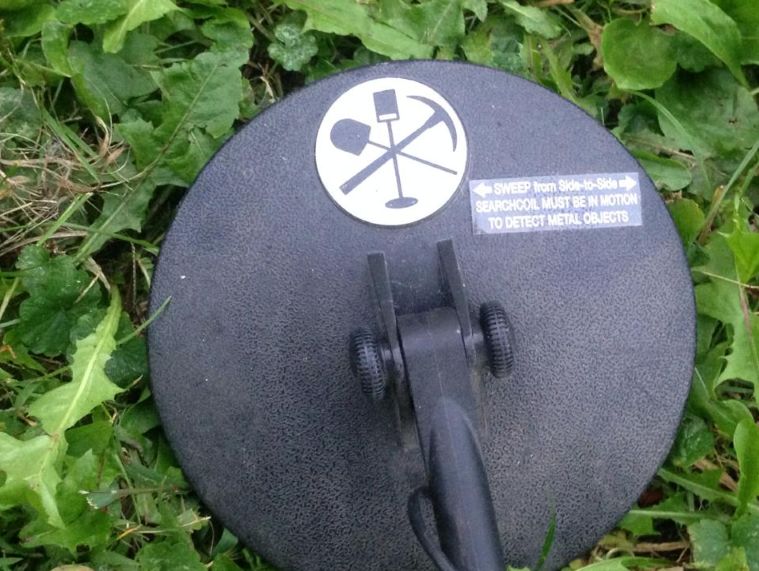 Headphones
The metal detector package set includes headphones and there is a special headphones jack for them on the control unit case. Using headphones during the treasure hunting process increases your chances to detect a valuable finding.
At that the headphones have no volume control and it means that you won't be able to mute lots of sounds you hear through them. When your treasure hunting takes a whole day, this may be quite tiring and annoying.
The battery
Two 9v batteries are used as a power supply for the device. You'll have to replace them rather often, since they get discharged rather quickly. Keep in mind, that the batteries are not included into the device package set and you'll have to buy them additionally.
Waterproofness
As we've already mentioned above, you mustn't submerge the metal detector! The search coil is protected from water ingress, but if you submerge the device, it will fail to function.
Control unit
There are two controllers on the control unit to adjust the device sensitivity and discrimination level (trash eliminator) and a needle indicator.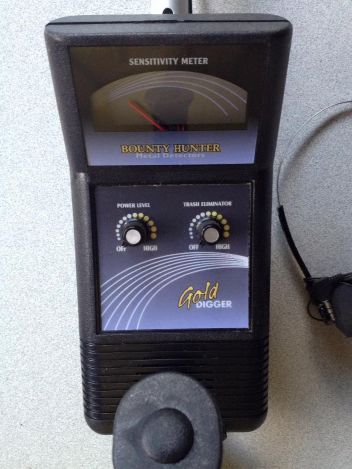 Needle target indicator allows getting information about the detected metal object and its conductivity (iron, gold, silver).
Position of the needle indicator depends on the metal conductivity.
Two-tone audio signals also help to identify the type of the detected target metal. If you put trash eliminator to zero position, the metal detector will produce one-tone sound for all metal types, but if you turn the controller to its middle position the second tone will appear.
Besides, the metal detector has a Battery Life Indicator.
Yet, I'd recommend Bounty Hunter for beginners, because they don't require a display that much at this stage and at the beginning it is more convenient to use resistors to adjust the device sensitivity and discrimination level.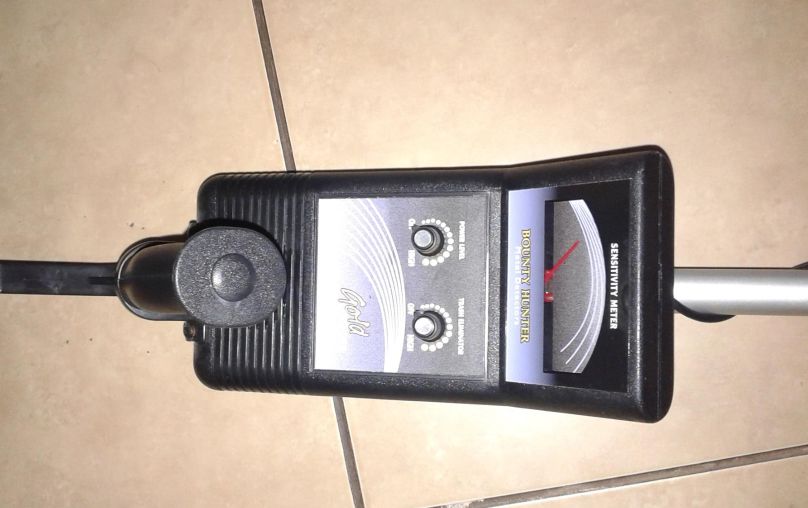 Search modes
The device has 'all metal' search mode. The metal detector design is rather simple. It is easy to master for any beginner detectorist. The only thing you should keep in mind, is to connect the headphones and insert batteries before you start your treasure hunting trip.
Bounty Hunter Gold Digger Metal Detector
The Gold Digger can be used anywhere to search for all kinds of valuable metal from gold coins to iron relics
Motion all-metal mode and trash elimination control help you find only the treasure you want
Identifies coin-size objects up to 6 inches deep underground, and senses larger items up to 2 feet deep
Last update on 2021-03-07 at 10:31 / #ad / Images from Amazon Product Advertising API
Pros
lightweight
simple display
very affordable price
really good for coins
Cons
no other compatible coils
no pinpoint mode
not protected from water
Ground balance
The metal detector has automatic ground balance function, i.e. the ground balance value is pre-set by the manufacturer and it can't be changed by the user.
Conclusions
To sum up, I can say that Bounty Hunter Gold Digger is quite a good option for beginners, who want to take up treasure hunting as a hobby. You shouldn't expect too much from it, since the device has a lot of rivals (Bounty Hunter Tracker IV, Bounty Hunter Discovery 1100), but it costs less.
However, if you plan to get this metal detector for a kid, I'd advise to buy Bounty Hunter Junior. It has a toy-like appearance, user-friendly interface and it won't be challenging for a child to use it.
Bounty hunter gold digger vs Tracker iv
Operating Frequencies (kHz)
Coil
7 inch weather resistant coil
Batteries
two 9V alkaline batteries
two 9V alkaline batteries
Adjustable Discrimination
Operating Frequencies (kHz)
Batteries
two 9V alkaline batteries
Adjustable Discrimination
Operating Frequencies (kHz)
Coil
7 inch weather resistant coil
Batteries
two 9V alkaline batteries
Adjustable Discrimination
Last update on 2021-03-07 at 10:31 / #ad / Images from Amazon Product Advertising API