Headphones are one of the most important accessories in metal detecting. In this article, we'd like to take a closer look at what headphones are better to use with a metal detector: wireless or wired ones, what characteristics they should have, what you should pay attention to when selecting them? Also, the article includes several reviews of the most popular and successful models.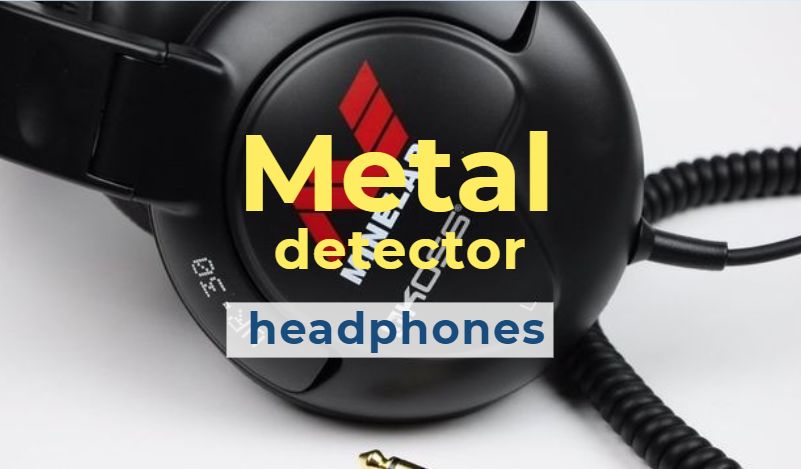 Introduction
You'll need headphones for your metal detector when working at windy weather and when it is noisy. All experienced detectorists use headphones during their treasure hunting trips. Since, in this case, it is always easier to hear the target signal.
The main reason for using a headset is that it ensures that you hear even the weakest signal from a prospective target, and this way, the device productivity increases. Besides, headphones are also blocking unnecessary sounds from the background.
Also, not all metal detectors have audio volume control (for example, Ace 250). In this case, there is no way you can do without headphones.
As well as any weak signal obtained at maximum detection depth is easier to hear.
As for disadvantages, there are some chances that you won't hear what is going on outside and won't notice the presence of other people around.
Wired vs. wireless
I have used both, and I must say that wireless headphones are much more convenient. If you use wired headphones, it is less convenient. The wire can tangle or get stuck in bushes or grass as well as it can wear down and break down after a while. Wired headphones are always pulling you somewhere. You moved the device shaft, and the wire starts to pull headphones.
Things are completely different with wireless headphones – nothing distracts you, or pulls your head. You don't have to switch off your headphones when you put a metal detector on the ground, and the wire starts pulling your head down.
Though I agree that wireless headphones have disadvantages, I don't consider them to be essential.
Wireless headphones have a self-contained supply; thus you should charge them from mains or have an additional set of batteries with you.
Wireless headphones are heavier, because the accumulator battery or power component, processor, Bluetooth-receiver increase their weight.
So, if you can afford buying wireless headphones, don't even think about getting wired ones.
What headphone manufacturers are there on the market?
Actually, there are many of them – from the world-famous Koss to Chinese noname companies. Moreover, quite often, metal detector manufacturers don't design headphones for them. They just take a headphones model and draw their logo on it.
There is nothing wrong with such an approach. As you'll find out later, requirements for these headphones aren't that high. Since it's not music, you'll be listening.
If you have a metal detector of some specific brand, it's better to get headphones of the same brand for it. For example, Garrett MS-2 headphones will suit Garrett AT Pro, AT Gold, and AT Max best. At that, Garrett ClearSound was designed for the Ace product line.
Correspondingly, Minelab has rather good headphones models Koss UR 30 and RPG, while XP has WS5, which are considered to be the best.
Best wired headphones for metal detectors
Bounty Hunter HEAD-PL
They will perfectly do for most metal detectors. Volume control is integrated inside them, and it will be a great benefit in case if a metal detector doesn't have one. You will be able to adjust the volume to your preferences and needs quickly. These headphones have volume control and a mono-stereo switch.
The long spiral wire will not hang loose and bother you during metal detecting. The device is equipped with an adapter that will allow using it with any metal detector.
Last update on 2022-05-20 / Affiliate links / Images from Amazon Product Advertising API
BEHRINGER A-B Box
These are comfortable and quite reliable headphones for everyday use. We could have added some more information, but what for? Take a look at their price, and all the rest won't matter. If you have a limited budget, and are eager to get quality headphones, take a closer look at this model.
Its obvious disadvantage is that it doesn't have any slits for airing and decompression. Besides, its earpads are made from faux leather, and they also prevent elimination of excessive heat from ears, which makes this model very inconvenient to use in hot weather.
Last update on 2022-05-20 / Affiliate links / Images from Amazon Product Advertising API
Garrett MS-2
These were designed to be used with Garrett AT Pro and AT Gold. Besides, Garrett MS-2 can be used with any metal detector that has a standard 1/4″ jack. As for the device features, we can mention – these are volume control, insulated wire, and a switch between mono and stereo modes.
Last update on 2022-05-20 / Affiliate links / Images from Amazon Product Advertising API
Minelab RPG Spare
These are monitor around ear headphones. They reproduce the sound with frequency starting from 25 Hz to 18 kHz; impedance is 8 Ohm; sensitivity 100 dB; good quality-to-price ratio.
The cable length is more than enough, and its jack allows using the device with all Minelab metal detectors.
Minelab RPG Spare Headphones Garden Accessory
Headphones provide full ear coverage effectively blocking external noise, such as wind, traffic, other detectors, etc.
They have an adjustable headband and left and right channel volume controls
Compatible with GPX-4500, Eureka Gold, X-TERRA 705 Gold Pack, X-TERRA 705 X-TERRA 505, X-TERRA 305, Safari, Explorer SE Pro,...
Last update on 2022-05-20 / Affiliate links / Images from Amazon Product Advertising API
Garrett Treasure Sound
These small-sized foldable headphones will ensure comfortable and productive metal detecting with any metal detector made by Garrett. The volume control is located on the device wire, which will help you to adjust the signal volume received from the control unit.
Garrett 1612500 Treasure Sound Headphone
Instruments & Compact Pouch Designed To Be Worn On A Belt For Target Retrieval While Metal Detecting
Reduces Background Noise While Metal Detecting
6-Ft Cord Wit .25" Plug
Last update on 2022-05-20 / Affiliate links / Images from Amazon Product Advertising API
Best wireless metal detectors for a metal detector
Garrett MS-3 Z-Lynk
Wireless headphones unit Garrett Z-Lynk can be used with metal detectors. It works using the transmitter and receiver principle. The transmitter is attached to the metal detector headphone output, and then it is fixated to the metal detector shaft.
The headphones are connected to the receiver, and this way, you get a metal detector with wireless headphones.
Garrett Z-Lynk has an internal battery. You can charge it using a USB cable; it ensures up to 30 hours of continuous operation. Garrett Z-Lynk set includes receiver, transmitter, USB cables, rubber gasket to fixate the transmitter on the shaft.
Garrett Z-Lynk has two package sets: a standard and an advanced one. The latter has an adapter to enable using it with Garrett AT PRO or Garrett AT Gold metal detectors.
Last update on 2022-05-20 / Affiliate links / Images from Amazon Product Advertising API
Nokta 2.4 GHz Wireless Headphone
Wireless Nokta headphones ensure maximal comfort while metal detecting. They suppress background noises and allow treasure hunting even in very windy weather, crowded places, and in the fields.
The total device weight doesn't exceed 170 gr, due to which you don't feel any discomfort even after many hours of using them.
You can adjust the headband and fix it in the most comfortable position. At that, if it's necessary, you can connect the device to any old model using a wire. For this reason, the device has a 3.5 mm jack.
These headphones have a Li-ion battery that provides about 20 hours of continuous device operation.
The device set includes micro-USB cable to charge it from a 5V adapter at 1A electric current. The process takes not more than 3 hours.
The headphones work using WiFi, which means that the speed of sound transfer and its quality is rather high. They are of the same quality as Garrett Z-Lynk both as for sound transfer speed (minimal and unnoticeable delay) and the sound quality.
This model is perfect for such metal detectors as Racer 2, Kruzer, Anfibio, and Impact.
Last update on 2022-05-20 / Affiliate links / Images from Amazon Product Advertising API
Minelab PRO-Sonic
This is a multi-purpose set for any of the basic Minelab detectors. It consists of a transmitter and receiver unit with wired headphones attached to it or without them.
Wireless receiving unit Minelab PRO-Sonic has 6.35 mm headphones jack, and now we connect them not to the control unit, but to PRO-SONIC unit. The device receiver is attached to your clothes with the help of a special clip, or it can be put into a chest pocket. A small and very light-weight transmitter is connected to the headphone jack and fixed to your metal detector.
Besides, you can work without headphones, since the receiver has an embedded speaker with volume control.
This unit works on a distance up to 10 meters from a metal detector. The device is charged via a USB-cable from mains (220V) or a car charger (12V).
The device set also includes an adapter for Minelab SDC 2300 headphones jack.
Minelab PRO-Sonic Wireless Audio System
WIRELESS OPERATION: Low-power (mW) radio waves relay detection signals in real-time to a built-in speaker that easily clips...
EXPANSIVE RANGE: The PRO-SONIC picks up transmitted audio from distances up to 32 feet (10 M).
ADJUSTABLE VOLUME: Adjustable setting ensures you hear even slight detection signals with full clarity.
Last update on 2022-05-20 / Affiliate links / Images from Amazon Product Advertising API
Best waterproof headphones for a metal detector
Garrett Submersible Headphones
These are waterproof headphones for Garrett AT Pro, AT Gold, Sea Hunter Mark II, Infinium LS metal detector product line. This model is completely waterproof and will be a perfect choice for those who enjoy scuba diving underwater treasure hunting. Complete waterproofness and high sound quality allow the user to enjoy the treasure hunting process and ignore all the rest. The device has a spiral wire 3 m long.
Last update on 2022-05-20 / Affiliate links / Images from Amazon Product Advertising API
Minelab waterproof headphones
These waterproof headphones were designed especially for Minelab metal detectors: CTX 3030, Equinox. They have a sealed connector and speakers that let submerging the device up to 3 m deep.
Specially designed construction allows covering your ears completely and excludes the influence of any background noises – you will hear only the sounds you need.
Last update on 2022-05-20 / Affiliate links / Images from Amazon Product Advertising API
DetectorPro Gray Ghost Amphibian II
Waterproof headphones designed by a famous company DetectorPro – Gray Ghost Amphibian. A sealed jack allows connecting them to Garrett AT Pro and AT Gold metal detectors. They don't have a volume control, and DetectorPro designers have takes this issue into account. They've installed a volume control on one of the earphones. Long spiral wire won't hang loose and bother you during the metal detecting process.
You'll be able to use these headphones both on the ground and under water. They're designed to be completely waterproof and can be submerged up to 200 feet deep.
DetectorPro Gray Ghost Amphibian II Headphones for Garrett AT Pro/Gold and Infinium Metal...
Radical redesign of the traditional method of waterproofing wired connections on Piezo transducers: All underwater headphones...
Quality, comfort, fit and finish you expect from Gray Ghost: Once worn, you won't believe our headphones are designed for...
Attention to details: We read the user forums to learn everything we could to improve and surpass the Garrett headphones. Our...
Last update on 2022-05-20 / Affiliate links / Images from Amazon Product Advertising API
What to pay attention to when selecting headphones
If you take a look at headphones used when writing music, you'll see that there are quite many important parameters for them. But if you need them just to use with a metal detector, quite simple models will do for this purpose.
Moreover, metal detector manufacturers don't state any requirements for headphones in their device manuals.
Nevertheless, there are several aspects that you should pay attention to first of all.
Jack
When selecting headphones, you should look at their jack. More often, they have 6.3 mm (1/8 inches) jack, but there are models with Mini-Jack 3.5 mm (1/4 inches). Sometimes you may need an adaptor to switch from 6.3 to 3.5 that may be included in the device package set.
Wire
It is advisable to choose a device with a spiral wire, and it makes using the headphones more convenient. The advantage is that the wire can wind around the metal detector shaft and doesn't distract the user. Due to its spiral shape, the wire can stretch, and in an idle position, it takes little space and doesn't tangle much.
Besides, long not spiral wire can be accidentally damaged by stepping on it or cutting it with a spade.
Size and density of earpads
Sometimes it happens, that when getting some advanced cheap headphones, a digger doesn't think about his comfort. In summer, when wearing some cheap Chinese headphones, you sweat more than when using some 'summer' models.
If you go treasure hunting in areas where it is hot in summer, it's better to get open headphones. Maybe you'll hear the signals a bit worse, but your ears will feel much better.
Volume control
It's desirable to buy headphones that enable manual volume setting. It is more comfortable to go treasure hunting with this kind of device.
Impedance
Impedance value is important only for wired headphones (since they have a wire), while for wireless ones, this is useless information (since the signal is sent through another kind of medium).
The higher the impedance is, the more quality sound you get, and the device battery discharges less. And vise versa, the less is the impedance value, the more distorted sound you receive, especially at the high volume level.
However, since a metal detector sends low voltage to headphones, there is no point in using high-impedance ones (more 100 Ohm). In this case, headphones volume will decrease, but it won't affect the sound quality at all.
Thus, the conclusion we get is that any low-impedance headphones (that are sold as the ones for metal detectors) will do to use them with this device.
Sound damping
This is the way of protecting you from background noises. It is not a crucial feature since, quite often, you need to hear what is happening around you (for your safety).
Besides, when it is hot outside, your ears will sweat when wearing headphones with a high noise-proof level.