Our current article is Nokta PulseDive pinpointer review. It has information about why the device requires two search coils as well as if it can be submerged, how to charge the device, and other peculiarities.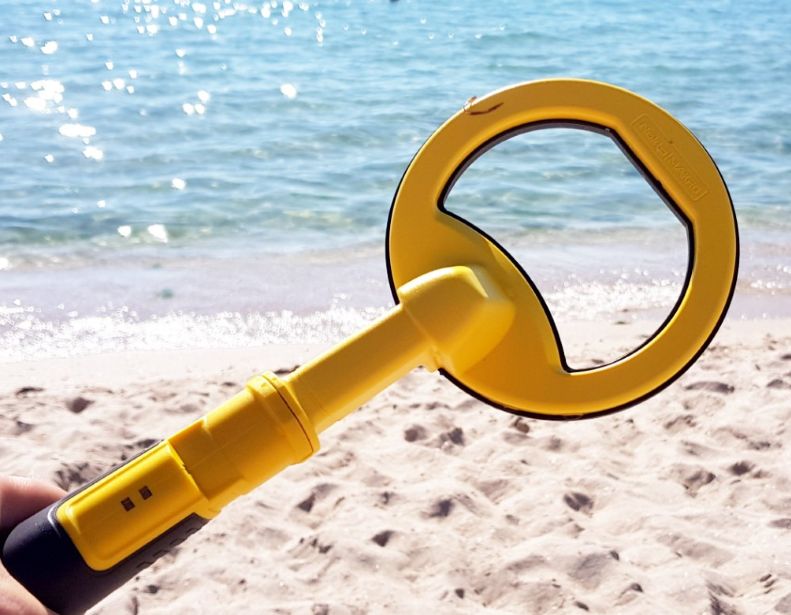 What was the device designed for?
Nokta PulseDive Scuba Detector & Pointer is a new device manufactured by the company in 2019. This is a multi-purpose device designed by Nokta Makro that includes a pinpointer and scuba pinpointer.
The device is a transformer pinpointer, which is an underwater metal detector and a pinpointer for ground search at the same time. How is this possible? Well, it is pretty simple.
Nokta PulseDive has a special search mono coil that can be attached to the device, and then it is used for deep underwater treasure hunting.
Underwater metal detecting is a very specific area. Coin shooting in the fields in one thing, but finding a particular metal object at the condition of limited time and low visibility, is an entirely different thing. Small-sized metal detectors are used for this purpose. Nokta PulseDive is one of them.
The review
The metal detector is supplied in a plastic case, and its package set includes:
System Box
Replaceable Scuba Coil
Replaceable Scuba Coil Cover
Replaceable Pointer Coil
Replaceable Pointer Coil Hard-Shell Case
Belt Holster
Security Lanyard
Rubber Wristband
Battery Compartment Cover For Land Use
Coil Connector Dust Protection Cap
USB Charging Cable
User Manual, Warranty Certificate
Hard-Shell Carrying Case
The package set includes quite a lot of items, especially taking into account that the device price is rather moderate. The pinpointer color set consists of two colors: yellow and black. Such an approach was used, so the user could select the device color depending on where the treasure hunting process will take place.
Most of the sea beaches have a light-colored ground (sand, pebbles), and the black-colored device is quite visible on it, but in case of dark-colored soil (black sand) – the black device can't be seen on it.
Scuba Detector weighs 419 gr (14.8oz), including the coil cover and for pinpointer: 419 gr (14.8oz), including the coil cover. The device length is 39 cm (15.3") (Scuba Detector) and 28 cm (11") (Pinpointer), correspondingly.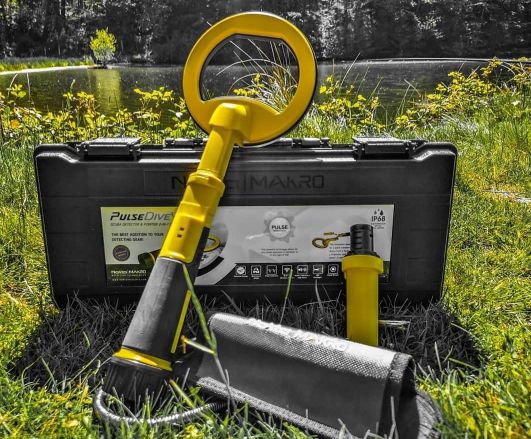 The replaceable coil
The pinpointer uses a PI approach, and its operating frequency is 3 kHz, which makes the device utterly unaffected by brackish water or highly mineralized soils. Such technology ensures more stable device performance in brackish water or on any soil type.
The pinpointer has the replaceable pointer coil for underwater treasure hunting; the coil is 14 cm or 5.5 inches in diameter. It is supplied with a dismountable hard-shell protection case. Besides, the package set includes a plastic protection case for ground search as well.
All replaceable units of the device have special plastic protection cases to make them more wear-proof.
Headphones
The main feature of Nokta Scuba Pointer is that it supports a wireless connection between the metal detector and the headphones,
The pinpointer has an embedded wireless unit to connect with any wireless headset using a 2.4 GHz frequency. For example, branded Nokta & Makro headphones from Green Edition product line will perfectly do for the device.
Wireless functions of Nokta Scuba Pointer are first of all aimed at operating together with Makro Multi Kruzer and Nokta Anfibio Multi metal detectors.
The battery
The device uses an internal rechargeable battery (it has a USB jack for charging). The battery charges quickly (2 hours), the battery capacity is 1650 mAh.
Last update on 2021-03-06 at 23:31 / #ad / Images from Amazon Product Advertising API
Waterproofness
This pinpointer model can be considered a multi-purpose one since it foresees not only ground search on any soil type, but also it is possible to submerge the device up to 60 meters (200 feet) deep. The device case protection is IP 68.
There is a special mode for deep submerging. It ensures more convenient and straightforward operation under the water by blocking the control buttons and this way, preventing their accidental activation due to water pressure.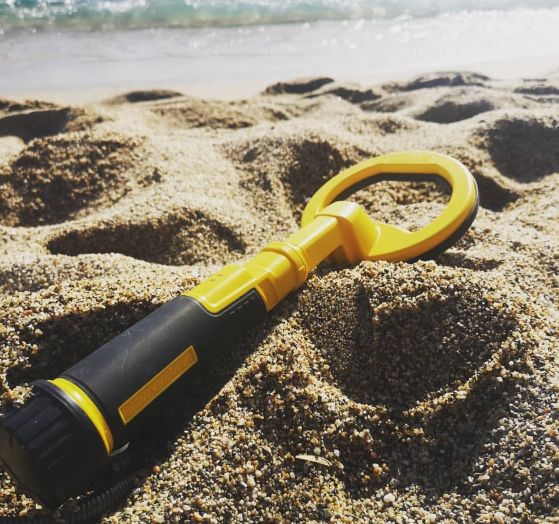 Search modes
There are only three buttons, but they are used to turn the device on/off, switch the modes, sensitivity, manage the wireless connection to the headphones, turn on the deep underwater search mode.
The device sensitivity is adjustable and it has five levels.
There are the following operation modes:
audio
vibro (noiseless)
vibro + audio
If you need to illuminate the area additionally, there is an LED flashlight for this purpose. The device activates the lost alarm function after 5 minutes of being inactive in case you forgot the pinpointer somewhere, and you can't find it.
| | |
| --- | --- |
| Operating Principle | Pulse Induction |
| Operating Frequency | 3kHz |
| Waterproof | Up to 60m (200ft.) |
| Detection Modes | Audio / Vibration / Audio + Vibration / LED |
| Sensitivity | 5 levels adjustable |
| Length | 28 cm (11") |
| Weight | 286 gr (10oz) including the hard-shell case |
| Battery | 1650mAh Lithium Polymer |
| Charging Time | ≈2 hours |
| Warranty | 2 years |
Last update on 2021-03-06 at 23:31 / #ad / Images from Amazon Product Advertising API
Pros
2 modes
USB Charging
Fully waterproof up to 200 feet
Stability
2 years warranty
Cons
it is not sensitive enough for fine gold
have a very small active zone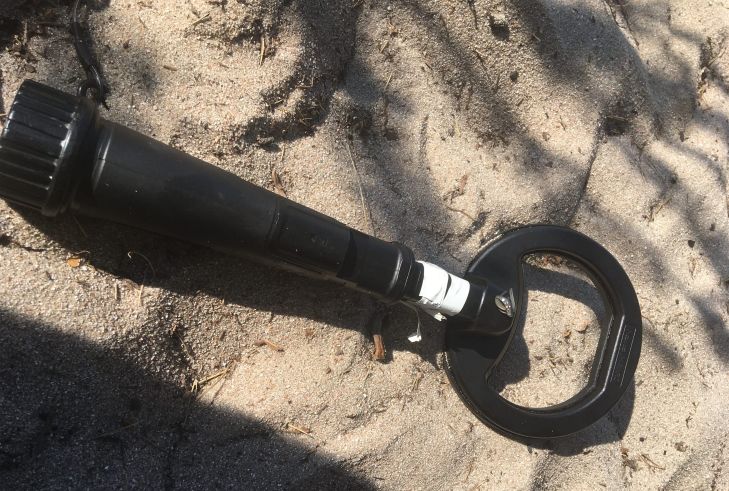 Comparison
Nokta Makro Pulsedive vs Quest Scuba Tector
Battery
Built in Li-Po rechargeable battery (with USB charger)
Detection Modes
Audio, Vibration/Audio, Vibration/LED
Audio, Vibration, LED Beam Lights
Detection Modes
Audio, Vibration/Audio, Vibration/LED
Battery
Built in Li-Po rechargeable battery (with USB charger)
Detection Modes
Audio, Vibration, LED Beam Lights
Last update on 2021-03-06 at 23:31 / #ad / Images from Amazon Product Advertising API
Conclusions
The device is rather unusual, and it has several advantages.
The first one is its small size. A diver has lots of stuff to wear and carry when diving as well as he has to deal with the water resistance, not to mention the metal detector in his hands.
The second advantage is the device's multi purposeness. Now you don't need to get two devices – one for ground treasure hunting and another for the underwater search.
And the third one is a PI-technology, but this is more important for fans of beach hunting and underwater treasure hunting.
Does Nokta PulseDive Scuba Detector & Pointer have any rivals? There are many of them! For example, Minelab Pro-Find 35, White's TRX Bullseye, Teknetics Tek-Point, Garrett Pro Pointer AT.