American company White's manufactures a wide product line of quite diverse metal detectors and continuously renews it. Very often, it is rather challenging to gain insight on all these devices and see how one differs from another.
Therefore, in this review we've tried to help you to deal with this task and here you can find brief descriptions of the most popular White's metal detectors.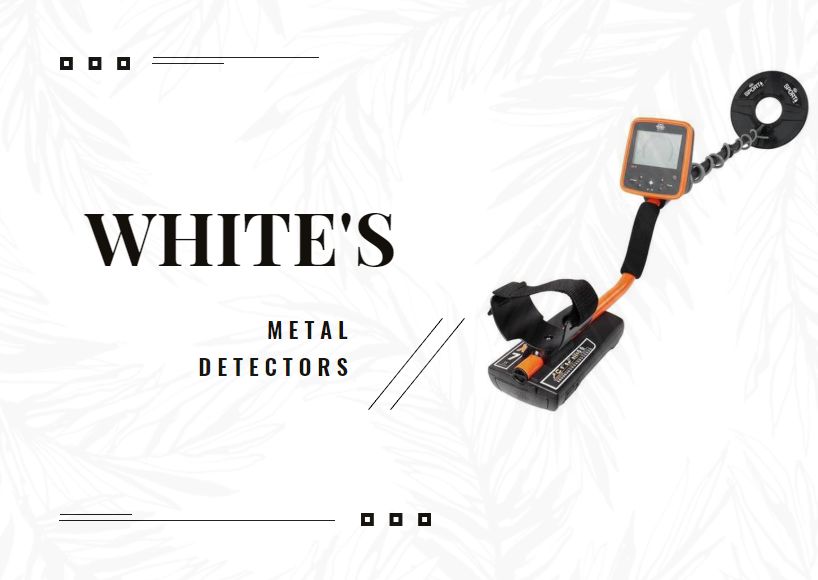 The story
UPD. White's, who had been in business since 1950 as a premier manufacturer of metal detection products, announced the suspension of operations on June 2020.
White's Electronics Ltd is the only manufacturer of metal detectors in the world, which has plants on both sides of the Atlantic.
One part of the manufacturing site works for Europe and Asia and the other one – for the USA and Canada. The company's European office and the plant are located in Scotland, Inverness. Manufacturing site for Australia, North and South America, New Zealand is located in Sweet Home, Oregon.
History of White's company dates back to 1950, the time when there was high global interest to uranium searching.
As all citizens of the country in those days, Kenneth White was busy with searching for uranium. The most popular approach that used Geiger detector was efficient only when working with headphones. However, for the country where there were lots of rattlesnakes around, it was rather risky to use such an approach.
That's why White decided to invent something more convenient, though his idea was considered as an impossible to implement by all the leading manufacturers of Geiger detectors.
So, he decided to make his own sample of the device. It took just one day for him and his co-worker to cope with the task. Due to this success, White could hire 65 workers through the next 7 years.
Even though in 1958 the USA government announced that they stopped procurement of uranium, the company was able to find how to stay on the market and created a new product. White designed a metal detector that became rather successful at that time.
That was a start of White`s company career as a metal detector manufacturer.
The company has a network of authorized distributors, which represent it in many cities all over the world. The company's specialists continuously carry on scientific researches, develop and design new metal detector models.
Nowadays White's Electronics is a leader among the world famous designers and manufacturers of metal detectors.
Reviews
Whites company manufactures metal detectors of beginner and professional level, those for industrial purposes (body scanners, walk-through detectors), components and accessories for metal detectors.
You can divide them according to their purpose, but such a division is rather conventional, since quite often one and the same model of the device can be used for different purposes. That's why we'll present metal detectors as a list, where items are arranged in descending order according to their price.
Whites Spectra V3i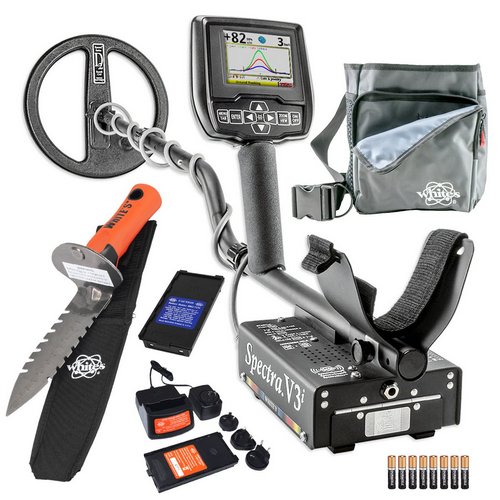 Whites Spectra V3i is a flagship metal detector produced by the company. The most important features of V3i is its color display, multilingualism, three operation frequencies, wireless headphones, it has Bluetooth and USB.
Whites Spectra V3i uses three operating frequencies (2,5 kHz, 7,5 kHz and 22,5 kHz), which can work all three simultaneously or separately.
Whites Spectra V3i metal detector has 12 embedded search modes for various search conditions. All the modes were preliminary tested in the real treasure hunting trips by experienced detectorists and the reviews are as good as they could possibly be.
For those who want to adjust the device to their specific requirements, the device has a specialized menu and many additional parameters.
Whites TDI BeachHunter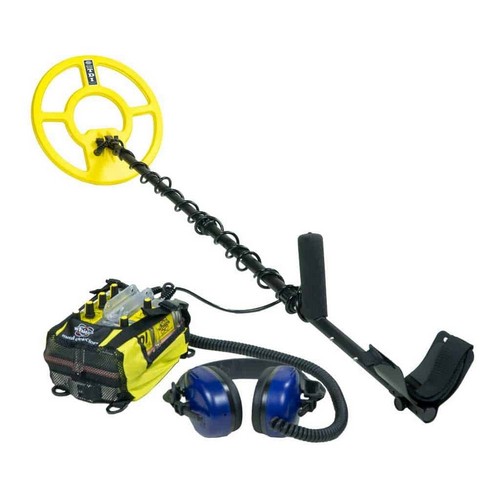 White's TDI BeachHunter was designed for beach hunting and it uses PI-technology, which allows ignoring the impact of the sea beach mineralization. The device easily eliminates mineralization influence and iron rubbish, it detects gold both on the beach and under water.
The metal detector operates in two modes: all metal and dynamical discrimination. Three control elements allow adjusting threshold noise, the device sensitivity level and ground balance.
The control unit is a dismountable one and color code of LED lamps ensure quick identification of the detected target type.
The metal detector is completely waterproof and it can be submerged up to 25 ft (7,5 meters).
Whites TDI SL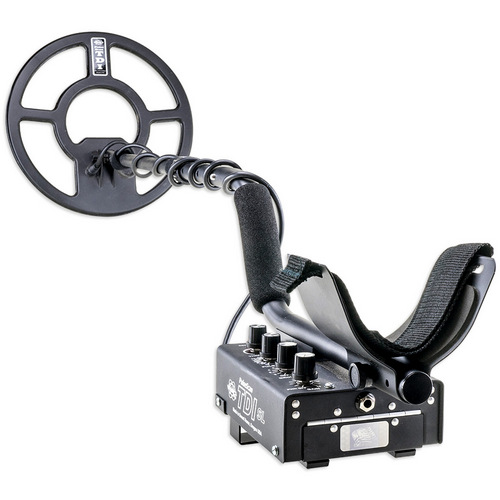 This is another metal detector for treasure hunting at complex soil conditions, which provides maximum detection depth. TDI SL metal detector uses impulse technology that enables relic hunting in rather sufficient depth.
By means of adjustable ground balance function the user can easily deal with highly mineralized soils. The device was designed specially for relic hunting and identification.
White's TDI SL is a very light weighted metal detector with rather high sensitivity. It is good for long-term treasure hunting trips that may take a whole day.
Whites Spectra VX3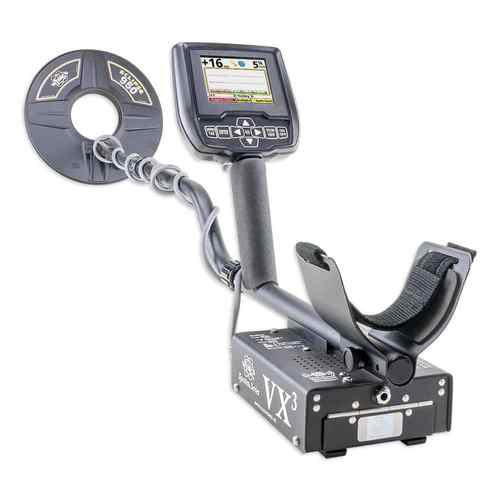 Whites Spectra VX3 is a simplified version of Spectra V3i. Basic thing that makes it different from Spectra V3i is absence of multilingualism (it uses only English language), there is no device registration required, it has less embedded programs and there is no separate tone for VDI numbers.
The device has eight pre-set search modes, three operating frequencies, possibility of beach hunting – with this metal detector you can search for almost everything: coins, gold and silver, relics.
Though the device has 8 embedded search programs, professional detectorists will be able to adjust the device to their needs. The metal detector has a mode for beach hunting.
To work with different targets the metal detector has 3 operating frequencies:2.5, 7.5, 22.5 kHz. The display is quite large and you can see all the necessary information about the target on it.
Whites MXT All pro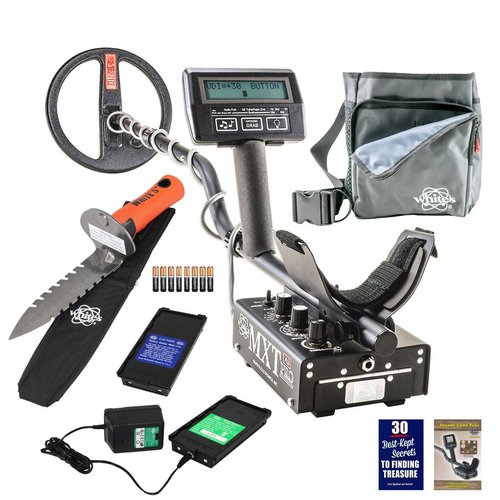 Whites MXT Pro metal detector is an improved version of Whites MXT. The changes are related to polyphony (now the device uses 7 tones instead of 2), ground balance function control, the device is initially equipped with a larger searchcoil – 12″ (with operation frequency 14 kHz), and the display has backlit as well. As for the rest of characteristics, they've remained the same.
The device sensitivity, discrimination, ground balance approach, threshold noise and the speed of its automatic fine-tuning can be adjusted.
Metals recognition is performed by means of a graphical cursor that has 16 positions. Besides, the cursor can be of different size, to identify the detected object more precisely.
Also, the metal detector uses visual discrimination indication (VDI number), it displays if the detected object belongs to some specific targets group and it provides multi-tone sound identification of the object.
Surfmaster PI Dual Field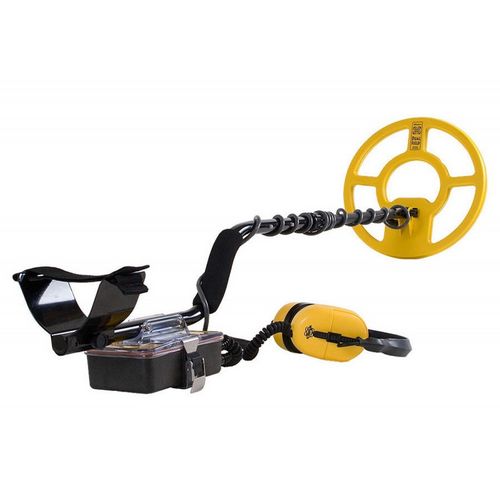 Surfmaster PI Pro is a metal detector for underwater treasure hunting, it is good for beach hunting. The price-quality-possibilities relationship is rather high.
This metal detector is above the average class, it has minimal number of settings and the most necessary functions for underwater treasure hunting are present.
Surf PI Pro Dual Field metal detector combines simplicity in use and incredible sensitivity. The device demonstrates higher performance if compared to the previous Surfmaster PI models.
This is a highly-efficient metal detector and it is a waterproof one – you can submerge it up to 100 feet (30 m) deep. The operating principle of the device is based on pulse induction. This metal detector demonstrates higher sensitivity to gold and copper nickel alloys, than to other metals.
This device doesn't require any additional ground balance adjustments. Unlike most of metal detectors using PI technology Surfmaster PI Pro Dual Field doesn't require performing treasure hunting process at a low speed to ensure maximum detection depth.
The device receives quick target response, that's why you can work with this metal detector with the same speed as with any VLF one without sensitivity level decrease.
White's Goldmaster GMT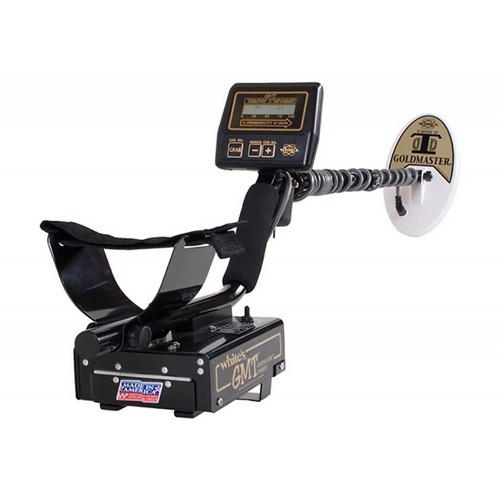 Whites GMT GoldMaster metal detector was designed for gold nugget prospecting. Like all metal detectors for gold nugget prospecting GoldMaster uses high frequency – 48 Hz.
The device is equipped with an efficient system of automatic ground balance adjustment (SAT), which allows to maintain the detection depth and avoid receiving phantom signals by GMT metal detector.
GMT is a very good device, but only if you use it as intended, i.e. for tiny gold nuggets search. It perfectly detects gold targets about half of match head large. Another advantage is that the metal detector has a very good system of automatic ground balance function.
Those who deal with gold nugget prospecting know how important it is when searching in black sand at the condition of high soil mineralization.
Whites TM 808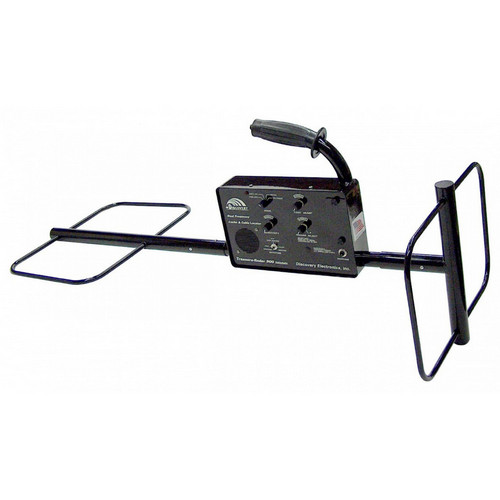 White's TM 808 was designed for searching for large and deep targets. It consists of two searchcoils connected with each other.
Theoretically, maximal detection depth can be up to 20 feet (6 meters). Actually, it is not that deep, but yet White's TM 808 can detect rather deep targets.
The device operating frequency is 6,56 kHz ensures decrease of soil mineralization impact.
Quite low operation frequency was chosen to improve the detection process and enable efficient ground balance to increase the detection depth.
Whites MX Sport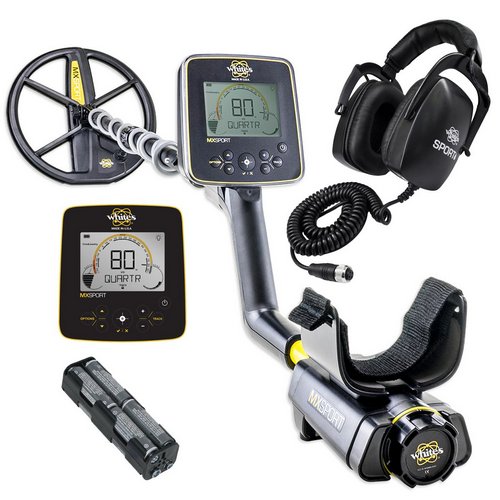 This metal detector was designed in 2016 as a multi-purpose device for ground and underwater treasure hunting (up to 10 feet deep). The searchcoil, control unit and all the device jacks are protected from water ingress. The MD can operate both in brackish and fresh water.
The device operation frequency is 13,8 kHz. It uses 20 tones sound identification. You can select any of the modes (1, 2, 4, 8 or 20 tones), where each target type will have different pitch level.
The feature of this metal detector is its high recovery rate. Which means that, MX Sport detects neighboring targets more precisely. This is a rather useful feature when you go treasure hunting in places with lots of iron rubbish.
White's Goldmaster 24K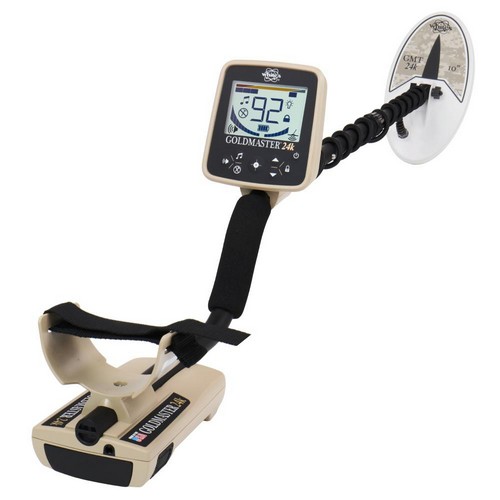 White's Goldmaster 24K is a new metal detector with operation frequency equal to 48 kHz; it was announced on the market in autumn, 2018. As we can see from its name, the main task of the device is gold prospecting.
The feature of this metal detector is its improved ground balance function, which allows using the device even on highly mineralized soils.
White's MX7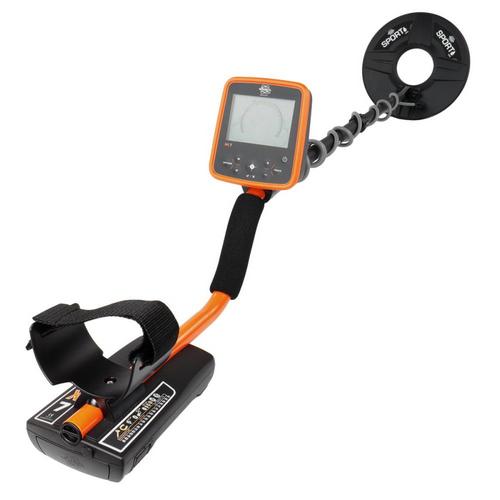 White's MX7 is a metal detector designed in 2017 aimed at standard ground search. It has stable detection characteristics and provides quite essential detection depth.
Due to its relatively high detection depth of 13,8 kHz, MX7 is good at detecting small sized targets (small silver coins and golden chains).
Threshold tone adjustment, VCO signal amplification, ground balance function, operation frequency shift, monitoring soil mineralization level, volume of iron targets identification – this is all that modern professional detectorist needs.
White's M6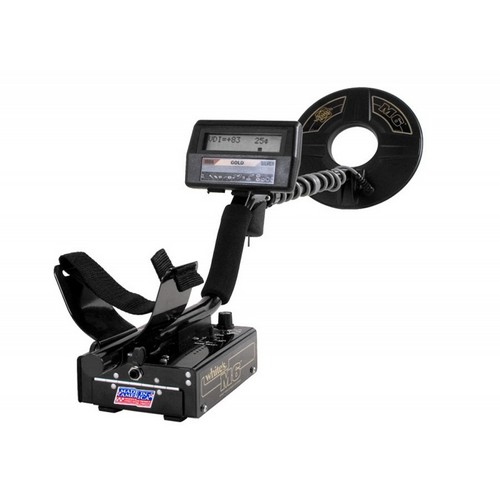 Metal detector M6 is a simple ergonomic device of a middle level. It will do for both beginner detectorists as well as more advanced users.
Being a simplified version of Whites MXT, White's M6 has rather sufficient sensitivity level to detect small sized target. It is simple in operation and adjustment. The device specializes coin and jewelry hunting and the principle here is 'turn it on and start treasure hunting'.
The new device model is equipped with an LCD display that shows VDI number and the all-new searchcoil, which differs from the ones of Spectrum and Prizm product line.
Also, the device provides smooth regulation of discrimination, sensitivity level and ground balance switch.
Whites TreasurePro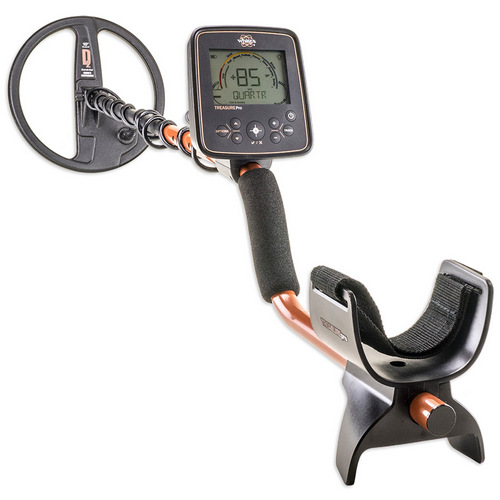 This metal detector model has all advantages of TreasureMaster, but it is equipped with 10 inches DD coil, it has AutoTrac function, larger number of pre-set search modes, LCD backlit and 8 audio tones.
Treasure Pro adapts to soil parameters itself due to its automatic ground balance function.

Whites TreasureMaster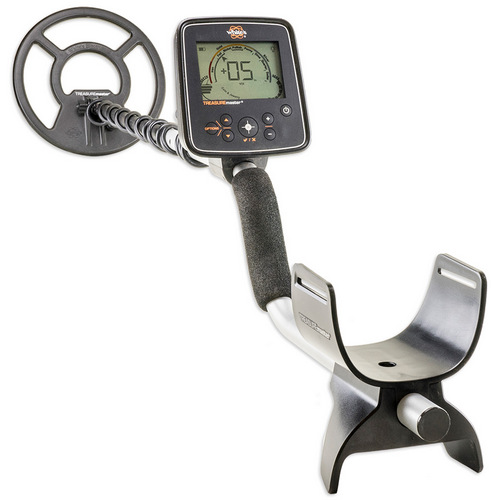 TreasureMaster is a metal detector of beginner level. The device has a color display, which is reliably protected from rain as well as its control unit. There are 4 search modes for various types of targets and soils. The discrimination scale has 8 segments.
Two AA batteries ensure the device operation for about 20 hours. The metal detector is equipped with 9.5 inches mono searchcoil.

Whites Coinmaster Pro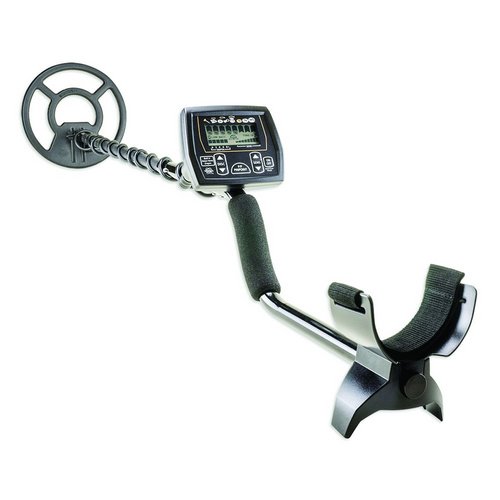 Metal detectors of CoinMaster product line will do for those, who would like to get a reliable multi-purpose device for an affordable price. There are two devices in the product line – CoinMaster and Coinmaster Pro.
Coinmaster Pro has better characteristics than Coinmaster (the basic model). It even has a Smart Notch function, which allows selective not sequential ignoring of signals from various iron rubbish.
Identification of tone signals by Coinmaster Pro is better than the one in the basic device model, since it uses three tones for the target indication and the Coinmaster – only one.
White's XVenture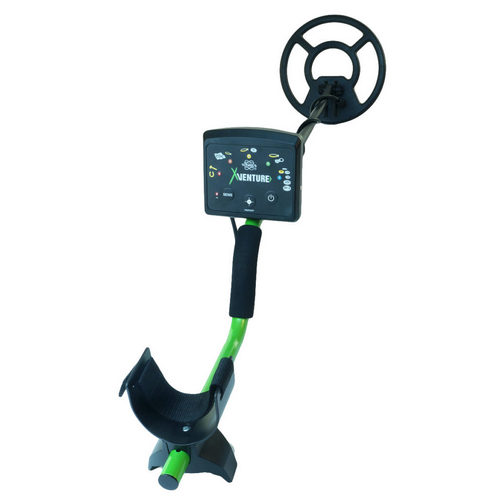 White's XVenture metal detector for kids. However, this is a light weighted and easy-to-use device, so it will do for beginner detectorists of all ages.
Unlike other metal detectors, XVenture shows what is under its coil by means of simple icons and blinking LEDs. This way you can easily understand what kind of target is in the ground: iron, foil, nickel, a coin or a beer can pull-tab.
The metal detector provides possibility of sensitivity adjustment and a pinpoint function.